This post may contain affiliate links. Please read our disclosure policy.
This Almond Milk Rice Pudding is an easy Middle-Eastern dessert recipe that is dairy-free, egg-free and gluten-free. This creamy rice pudding recipe makes a great low calorie dessert that is suitable for vegans. Almond milk pudding also makes for a great make ahead breakfast!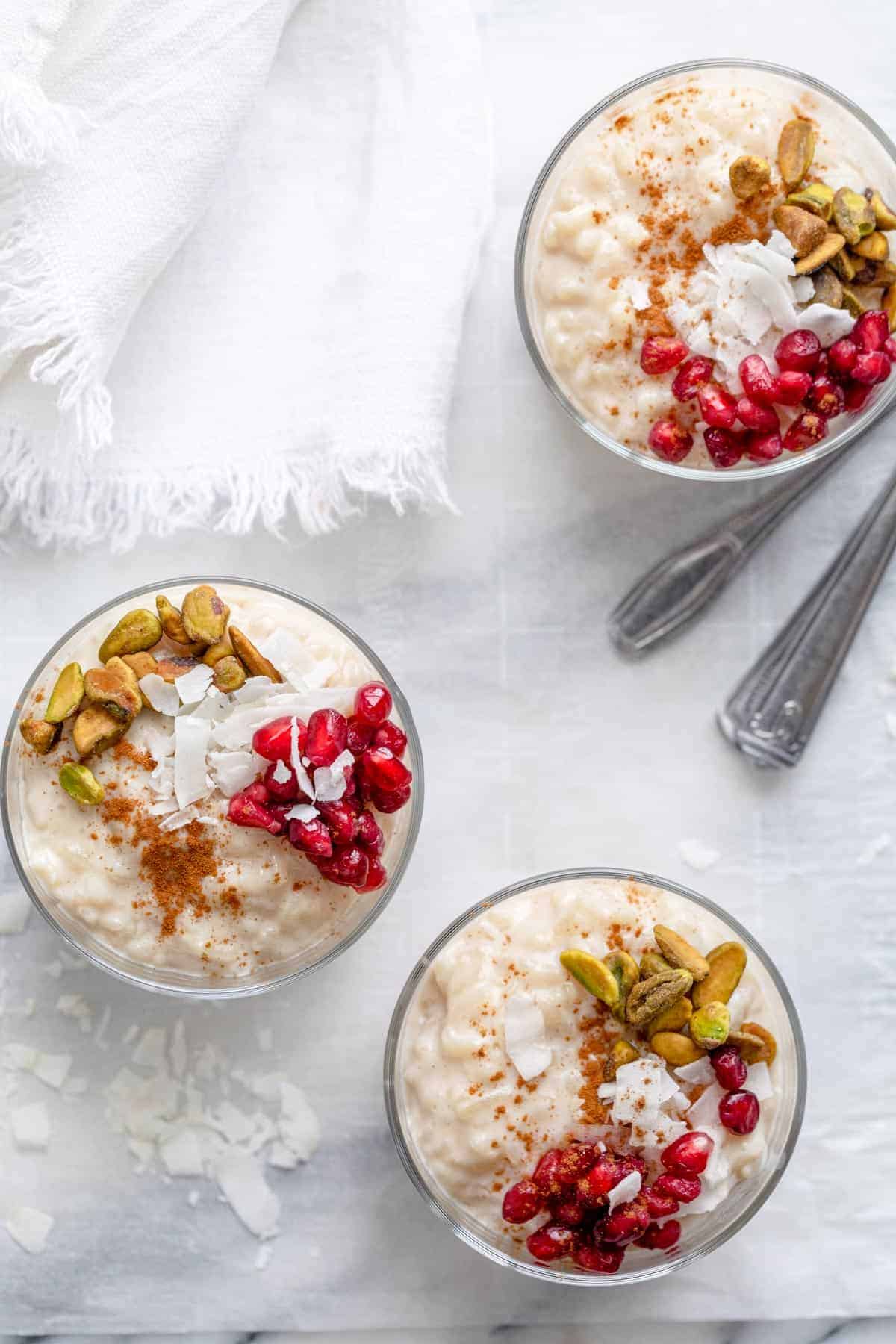 The Mediterranean diet is all about eating plant-based foods, such as fruits, vegetables, whole grains, legumes and nuts. And it's evident with popular dishes like fattoush, hummus and grape leaves. If you're looking for something on the sweet side, this almond milk rice pudding is your answer!
What is rice pudding?
There are many variations of rice pudding made all over the world and it most likely originated in China or India. It's pretty similar all over the world, but each region may add its own authentic twist. In Lebanon, where my parents are from, we add rose water to the mix to give it a unique fragrant taste.
Essentially, rice pudding is rice cooked in a creamy liquid with sugar. When cooled, it's usually topped with some nuts, dried fruit and spices like cinnamon, to add flavor and texture. It has a thick rich texture, a sweet flavor and an utterly appealing creamy dreamy consistency. With my almond milk rice pudding, I add a modern twist to the Lebanese version by making it vegan.
Can you make rice pudding with almond milk?
If you haven't guessed yet, yes you can and it is so yummy! I love the subtle flavor that the almonds add to the pudding and it's such and easy way to make a vegan dessert. You can also make this recipe with other plant based milks like soy, oat and coconut.
How to make rice pudding with almond milk
Start by rinsing the rice under running water until the water runs clear. Then add the rinsed rice, cane sugar, a pinch of salt and 1 cup of almond milk to a medium saucepan. Cook it on low heat until all the almond milk is absorbs.
The next 25 minutes will be a bit tedious. You're basically going to add ½ cup almond milk at a time while stirring and waiting for the rice to absorb the milk. You'll keep going until there's only ½ a cup left and the rice looks fully cooked and tender. That's when you will turn off the heat and add the final ½ cup of milk and rose water, if you're using.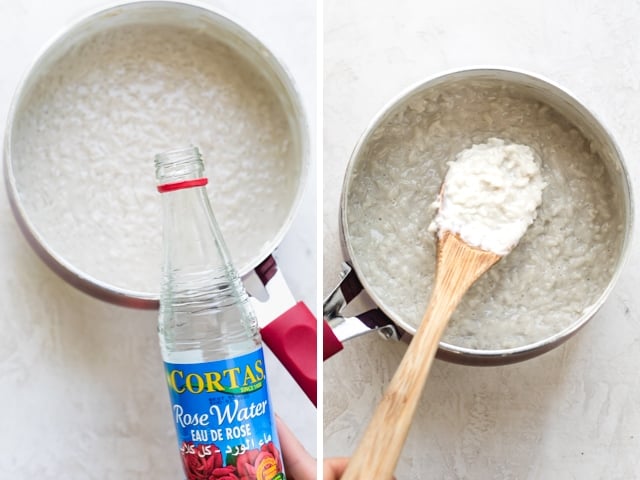 When all the milk is absorbed, transfer the almond milk rice pudding to one large glass container or individual glass containers for personal portions. Allow them to cool down before storing it in the fridge. You can enjoy it hot or cold whenever you're ready.
Now that you have this creamy chewy base, you can top it however you'd like! I love keeping with the Mediterranean theme and using ground pistachios, silvered almonds, shredded coconut and a pinch of cinnamon. It adds depth, flavor and a nice crunch to the rice pudding.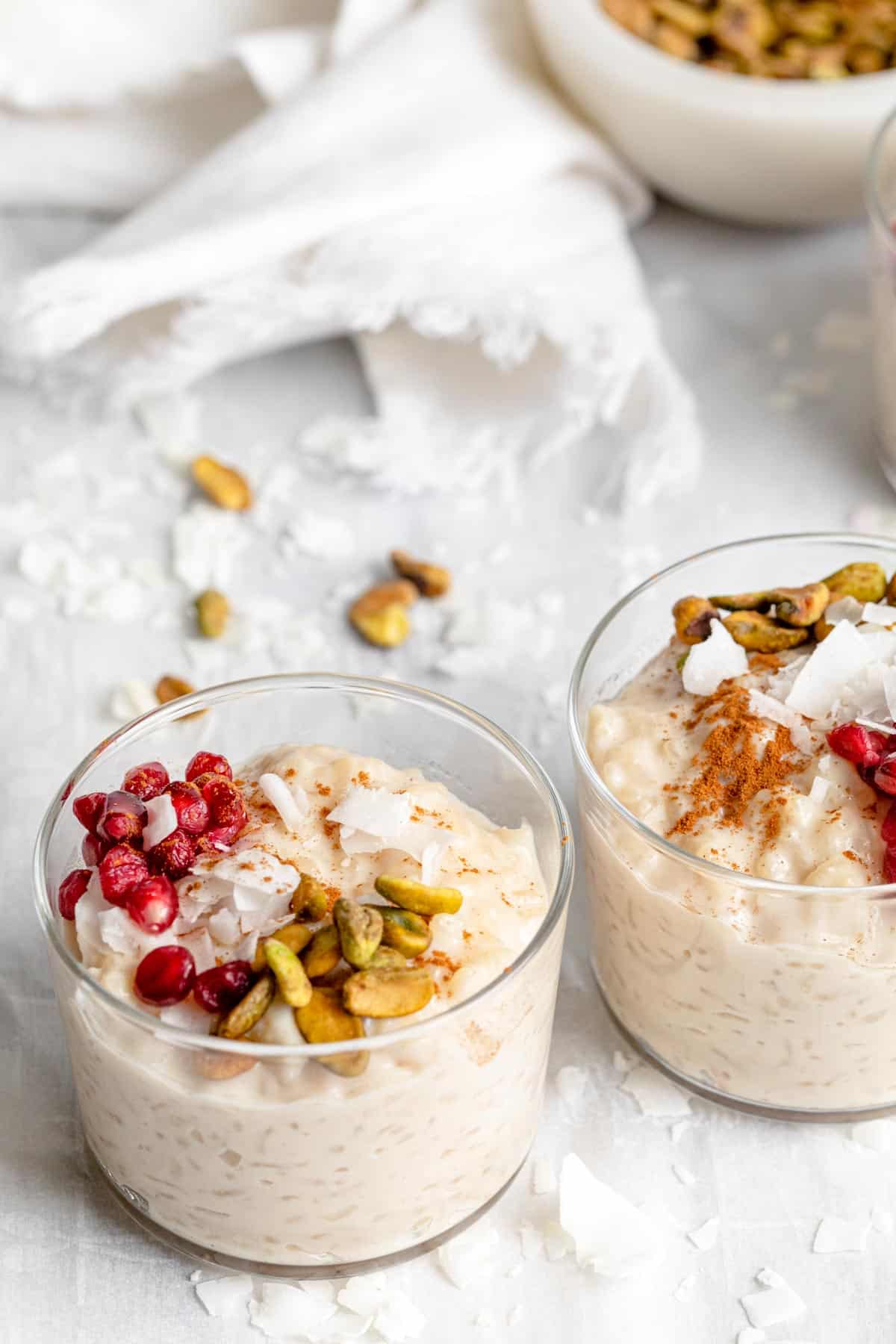 Tips for making almond milk rice pudding
Use a white, short grain rice for this recipe. The most popular type of short grain rice in the U.S. is Aroborio, but you can use other kinds.
Rinse the rice well before using it. Because of how starchy the short grain rice is, the rinsing step removes some of the surface starch, so they do not become overly sticky as they cook.
Substitute rose water for any other extracts or flavors. This works with vanilla extract, almond extract or even lavender essence.
Frequently asked questions
Do you serve rice pudding hot or cold?
It's a wonderful treat warm out of the oven or cold out of the fridge, and you can even enjoy it for breakfast served with your favorite fruits and nuts. If you aren't serving it straight away, be sure to keep it covered in the fridge, it will keep well for up to 7 days.
Can you freeze rice pudding?
Yes. Allow to cool, then transfer to individually-portioned freezer safe containers and freeze for up to 3 months.
Is almond milk rice pudding a healthy dessert?
Let's face it, you can't deprive yourself of sweets for too long if you're dieting, so I always like to go for something that is rich in flavor but light in calories and fat. And this almond milk rice pudding is exactly that! It's dairy-free, egg-free, gluten-free and practically fat-free. It's also low in sugar, which is a huge plus for anyone watching their sugar in-take.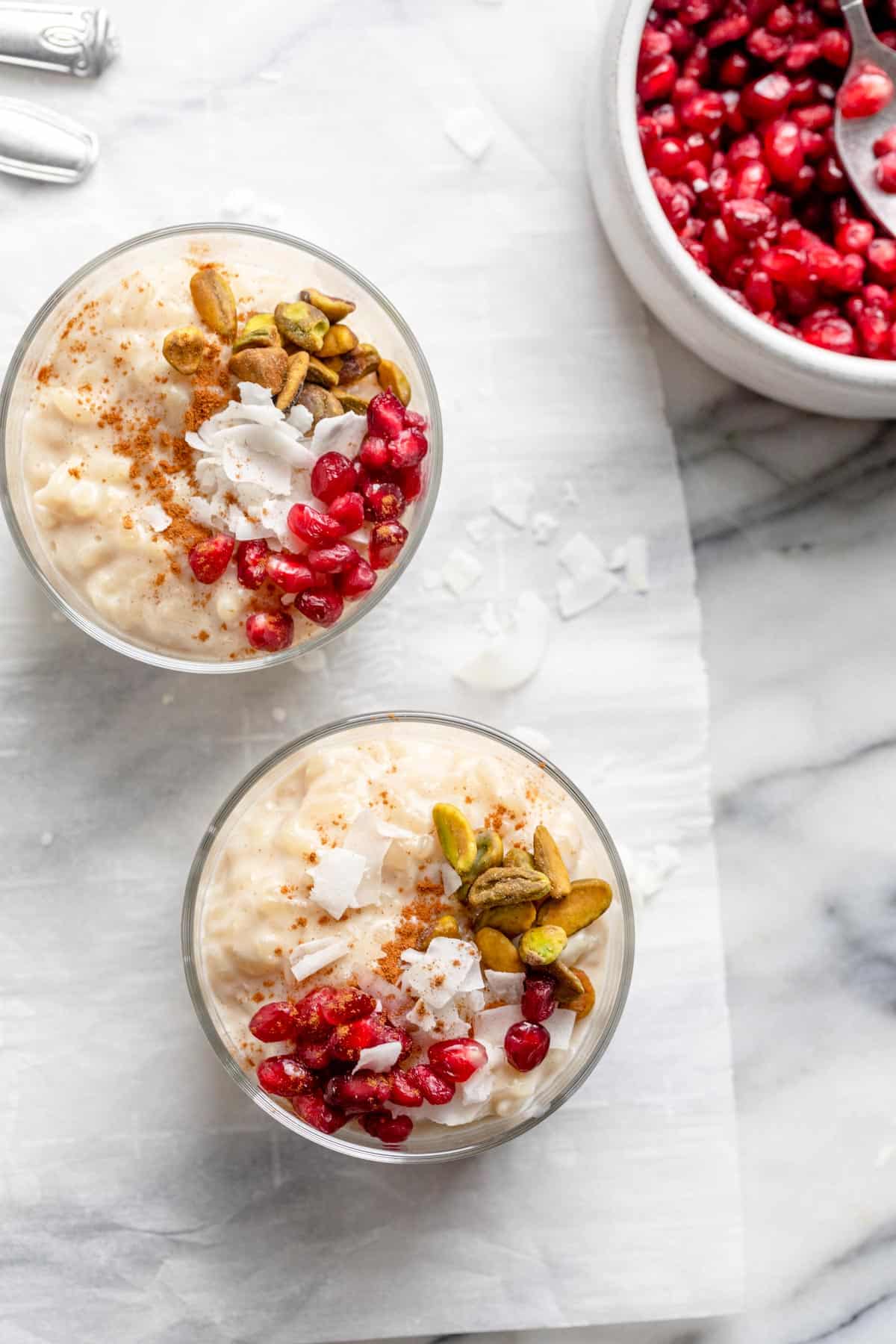 For more pudding recipes:
For more Middle Eastern inspired desserts:
When you're looking for an easy and indulgent dessert, this almond milk rice pudding really hits the spot! I love that it's gluten-free and vegan too. It's the perfect dessert to serve to guests! You really have to try this, it's a real treat for your taste buds!
If you've tried this healthy-ish feel good Almond Milk Rice Pudding recipe or any other recipe on FeelGoodFoodie, then don't forget to rate the recipe and leave me a comment below! I would love to hear about your experience making it. And if you snapped some shots of it, share it with me on Instagram so I can repost on my stories!
Almond Milk Rice Pudding
This Almond Milk Rice Pudding is an easy and delicious Middle Eastern dessert recipe that's dairy-free, egg-free & gluten-free – healthy take on a classic
Instructions
Rinse the rice under running water until the water runs clear.

In a medium saucepan, combine the rinsed rice, cane sugar, salt and 1 cup of the almond milk. Cook over medium low heat, stirring, until the almond milk is absorbed, about 5 minutes.

Gradually add 5 more cups of almond milk, 1 cup at a time, stirring and cooking until the texture becomes very thick, about 25-30 minutes. The mixture will start out watery, but the rice will absorb all the liquid until it is thick and creamy.

Let cool for 5 minutes, then stir in the rose water.

Serve with pistachios, pomegranate, coconut and cinnamon, if desired.
Notes
Storage: Store any leftovers in an airtight container. They will last about 7 days in the fridge. It's best not to add the toppings though until ready to serve since they may soften in the fridge.
Freezing Instructions: Allow to cool, then transfer to individually-portioned freezer safe containers and freeze for up to 3 months.
Sourcing: You can find rose at Middle Eastern markets, natural-foods stores or even in large supermarkets, often located with other Middle Eastern ingredients. If you can't find it, you can substitute vanilla extract or almond extract.
Substitutes: For best results, follow the recipe as is. However you can replace the cane sugar with honey, maple syrup or other sweetener. And you can replace the almond milk with regular milk. I have not tried this with other types of rice though.
Equipment: I served the rice pudding in these adorable weck tulip jars (Amazon affiliate link)
Nutrition
Calories:
178
kcal
,
Carbohydrates:
33
g
,
Protein:
3
g
,
Fat:
3
g
,
Saturated Fat:
1
g
,
Sodium:
325
mg
,
Potassium:
25
mg
,
Fiber:
2
g
,
Sugar:
6
g
,
Calcium:
300
mg
,
Iron:
1
mg
Nutrition information provided is an estimate. It will vary based on cooking method and specific ingredients used.
This post was original published in January 2018. I've updated it with new photos and tips.