This post may contain affiliate links. Please read our disclosure policy.
You can totally master making pizza dough at home. With a few pantry staples and a little bit of time, easy pizza dough -vegan by nature – is completely do-able. The main ingredients are flour and water. Throw in instant yeast, sugar, and olive oil and andiamo.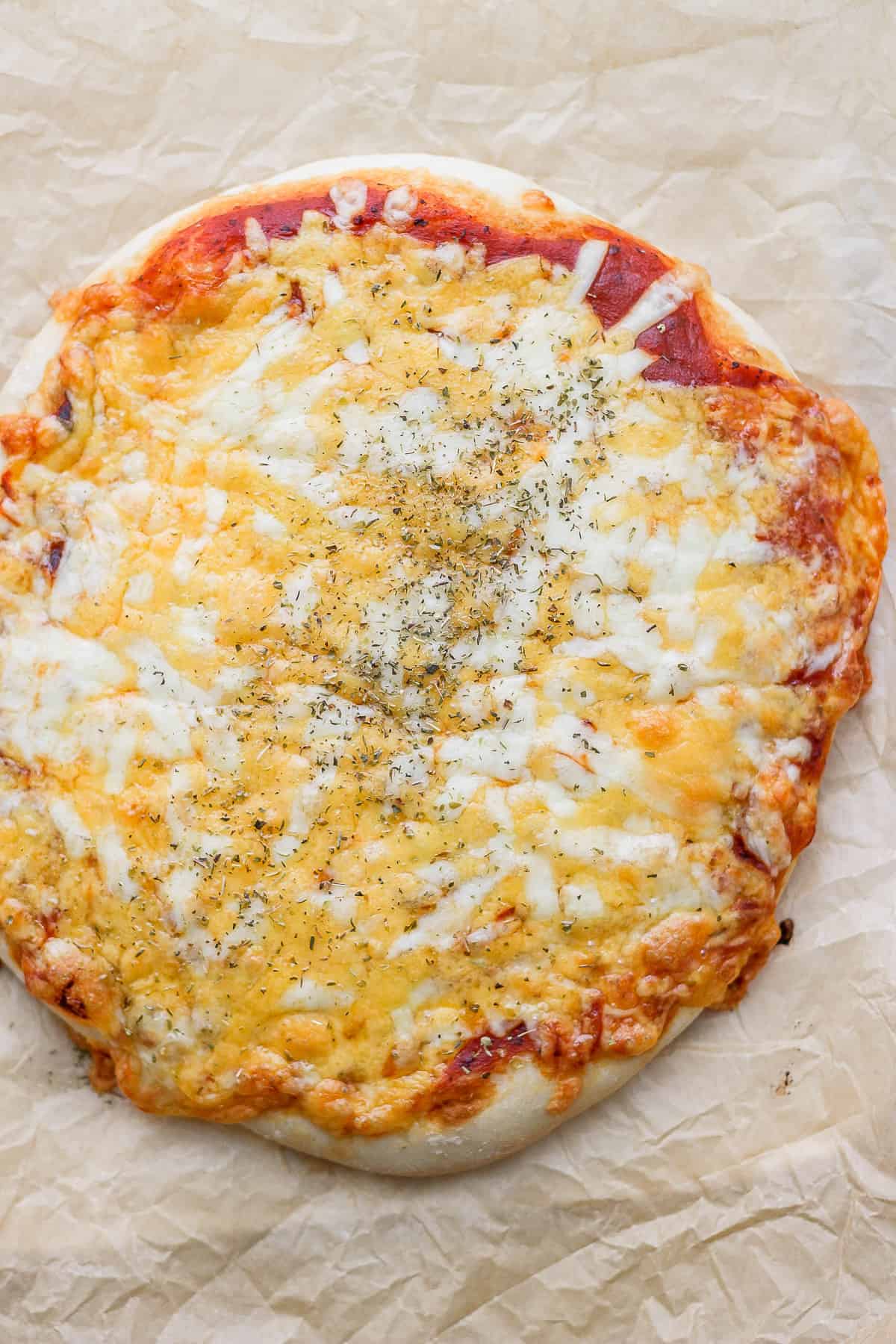 Homemade pizza dough is delicious, very inexpensive to make, and serves as a base for endless custom toppings whether your pie of choice is basic margarita or more esoteric mixes like ricotta, anchovies, capers, and lemon.
How to make pizza dough
Prepare the dough
Combine all ingredients except the salt in the bowl of a stand mixer.
The yeast will react with the warm water and sugar.
Mix on low with the dough hook for a couple minutes.
Add the salt and mix on medium/low for 6 minutes.
Remove the dough and lightly grease the bowl.
Place the dough back into the bowl, cover the bowl with a clean dish towel or some kind of wrap, and let rise until doubled.
Split and roll out the dough
Remove the dough from the oiled bowl.
Divide into two pieces.
Reshape pieces into round balls and loosely cover with a clean towel or wrap for 20 more minutes.
Roll out the dough to 12-14-inch circles, add toppings, and bake as desired.
Topping ideas
Basic: pizza sauce and cheese. I used a combo of mozzarella and cheddar below.
Meat lover: pizza sauce, mozzarella, plus bits of sausage (pre-cooked) or pepperoni.
White pie: brush the crust with olive oil, add white cheese of choice.
Mix it up: Home-made means loading up with your favorite toppings whether they are pineapple and peppers or goat cheese and baby broccoli. Go for it! Keep in mind, some toppers – like broccoli should be precooked.
After cooking: add herbs and seasonings like fresh basil, dried oregano, or hot red pepper flakes.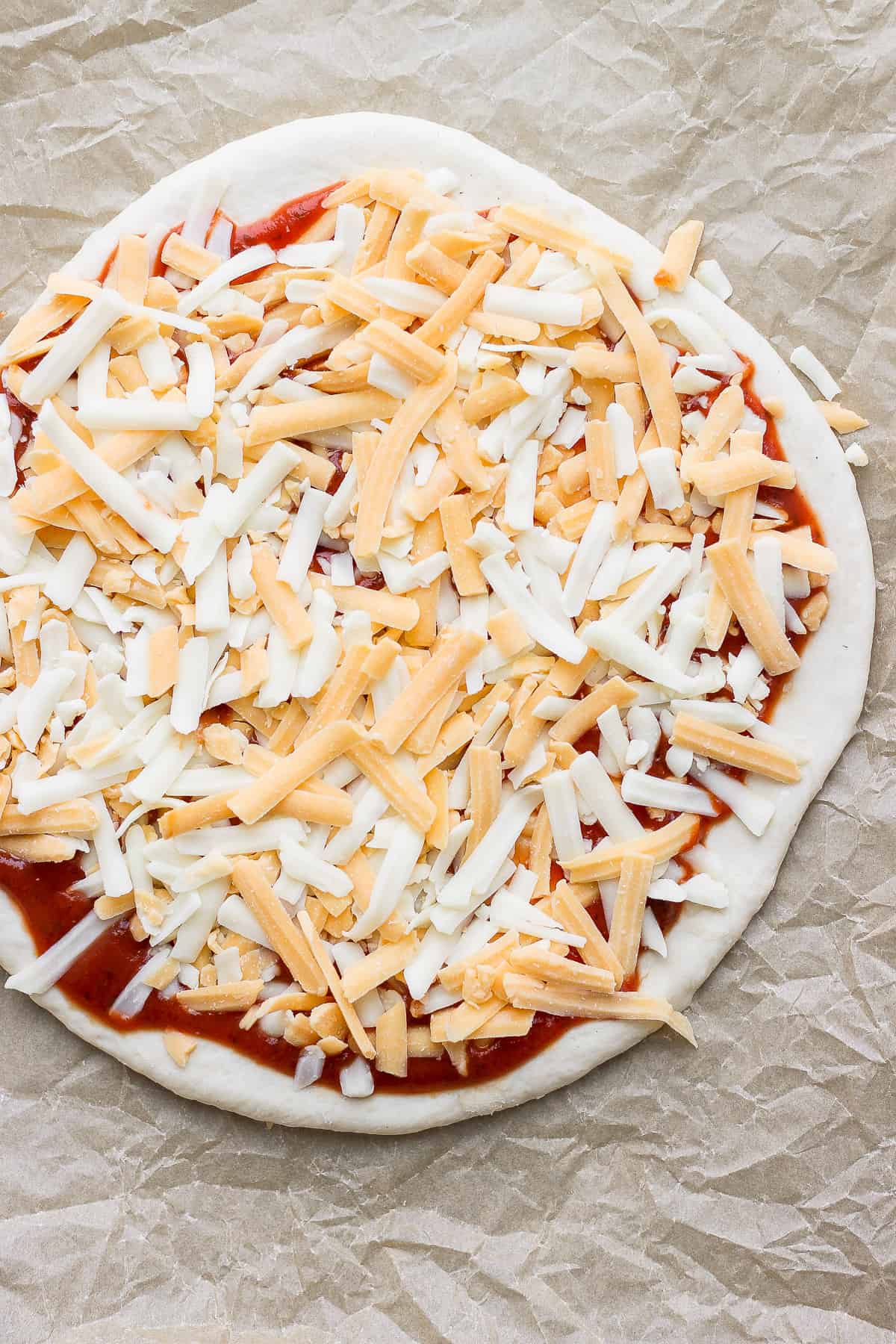 Tips for making pizza dough
Knead enough: knead with the dough hook (or your hands) for the full time recommended. This is what makes the dough stretchy and allows it to be shaped into a circle without breaking.
Always rest the dough. The final 20 minutes allows the dough to relax more and become even more elastic for rollout.
Try bread flour. Some pizza chefs swear by bread flour for a higher protein crust with more crunch on the outside.
Go whole wheat. Make this recipe whole wheat by subbing in whole wheat flour for up to half the white flour. Since whole wheat flour is generally thirstier than white, you may end up adding up to ½ cup more water.
Measure accurately but be flexible. The right proportions of water to flour are important for pizza dough. If your dough remains sticky well into kneading (this is called shaggy dough) try adding a sprinkle more of flour. If it is too dry, add more water.
Recipes with pizza dough
Frequently asked questions
How do you store extra pizza dough?
It is best to store dough after the first rise. For this recipe, refrigerate the portion you will not be using right after dividing the dough. Store tightly wrapped for up to 3 days in the refrigerator. Before using, let sit out for 20 minutes or until it reaches room temperature and puffs slightly.
Can you freeze pizza dough?
Absolutely! As with refrigeration, wrap tightly after its first rise. It should last for three months. Defrost in the refrigerator overnight before using.
Can I make this with active dry yeast?
Yes! First, use 25% more active dry yeast for a total of a scant 3 teaspoons of active dry yeast, and then activate the yeast as a first step in the recipe. To activate, add the yeast, the sugar, and ½ cup of the total amount of water warmed to 110° to 115° F to the mixing bowl. Let it sit for 5 -10 minutes until bubbling. Proceed with the recipe.
Can I make this recipe without a stand mixer?
It is possible with some patience and I do it often especially with my daughter. Mix in a bowl with a wooden spoon for the first two minutes until all ingredients are well combined. Then move to a well-floured counter and knead by hand for the remaining time.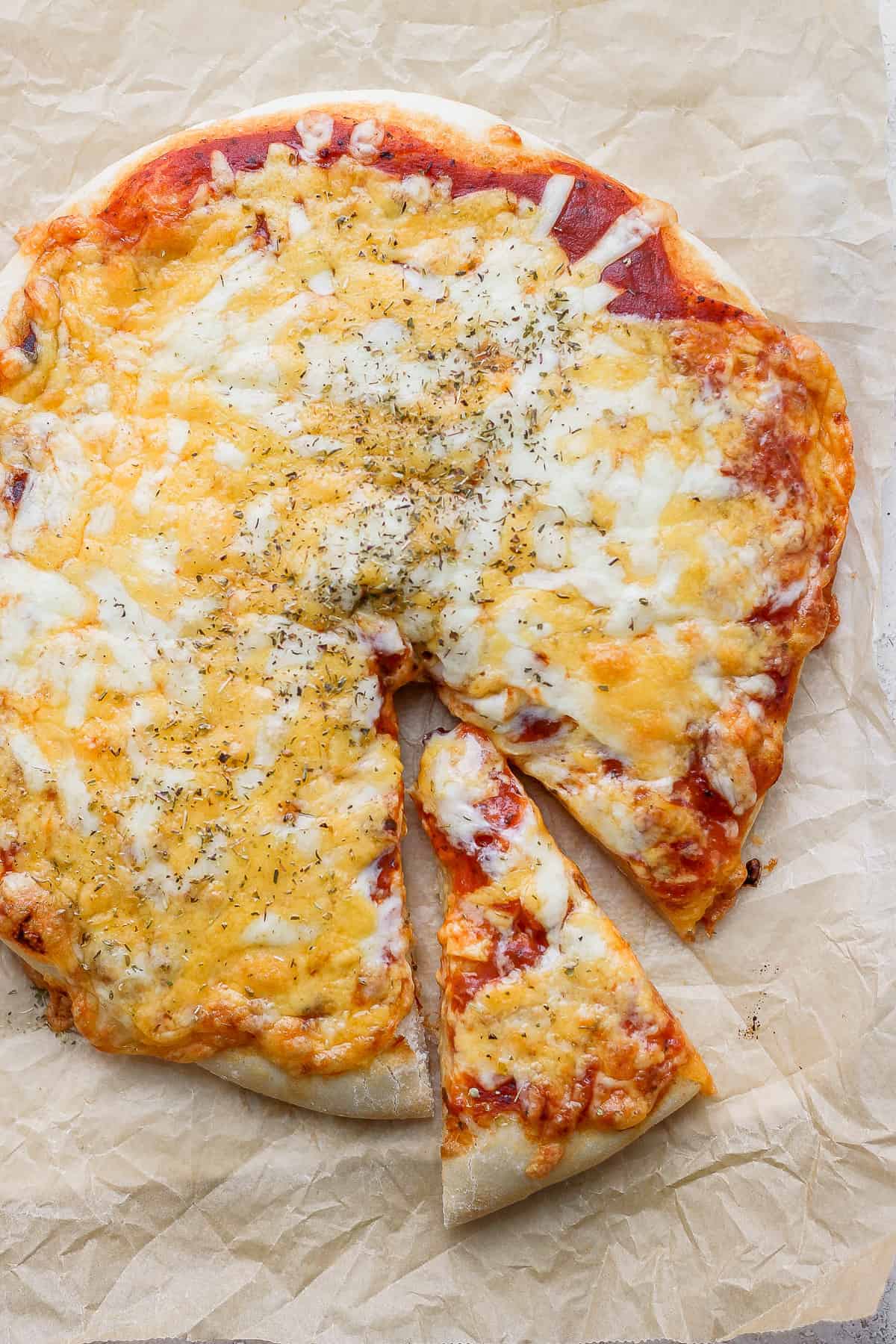 This pizza dough recipe (and the resulting pizza!) is a great activity for kids and can be the centerpiece of a fun family night.
For more kitchen tutorials, check out:
If you've found this cooking resource for How to Make Pizza Dough helpful or if you've tried any recipe on FeelGoodFoodie, then don't forget to rate the recipe and leave me a comment below! I would love to hear about your experience with this technique. And if you snapped some shots of it, share it with me on Instagram so I can repost on my stories!
How to Make Pizza Dough
Learn how to make pizza dough with this easy vegan dough recipe. The step-by-step tutorial walks you through making your own homemade dough!
Instructions
Combine all ingredients except the salt in a bowl of a stand mixer

Mix on low with the dough hook for 2 minutes.

Add the salt and mix on medium/low for 6 minutes.

Remove the dough and lightly grease the bowl, place the dough back into the bowl and let proof until doubled, about 30 minutes.

Remove the dough and divide into two pieces and reshape to round balls. Let sit for 20 minutes.

Roll out the dough in 12-14 inches, add toppings, and bake at 450°F for 10 minutes, or as desired.
Equipment
Notes
Storage: This dough will keep in the refrigerator for up to 2 weeks. Place the dough in  bowl and cover with plastic wrap to keep the surface of the dough from drying out.
Freezing: You can freeze the dough in wrapped balls for up to 3 weeks. To freeze, after the dough has been mixed and kneaded, divide in half and shape into balls, grease a tray and line with paper, place the dough on the tray and freeze.
To thaw place the dough balls in cool water for 5 minutes, remove and pat dry then proof until double then roll, top, and bake. Thawing for 5 minutes in water prevents a dry crust from forming when proofing/thawing.
Photo Credit:
Erin Jensen
Nutrition
Calories:
941
kcal
,
Carbohydrates:
183
g
,
Protein:
27
g
,
Fat:
10
g
,
Saturated Fat:
1
g
,
Sodium:
1175
mg
,
Potassium:
315
mg
,
Fiber:
8
g
,
Sugar:
2
g
,
Calcium:
38
mg
,
Iron:
11
mg
Nutrition information provided is an estimate. It will vary based on cooking method and specific ingredients used.