This post may contain affiliate links. Please read our disclosure policy.
Grilled pizza is a delicious way to enjoy pizza in the summer without firing up your oven or even leaving your house. Pizza ovens can cost loads of money, but you can get pretty close to a pizza oven with an outdoor grill.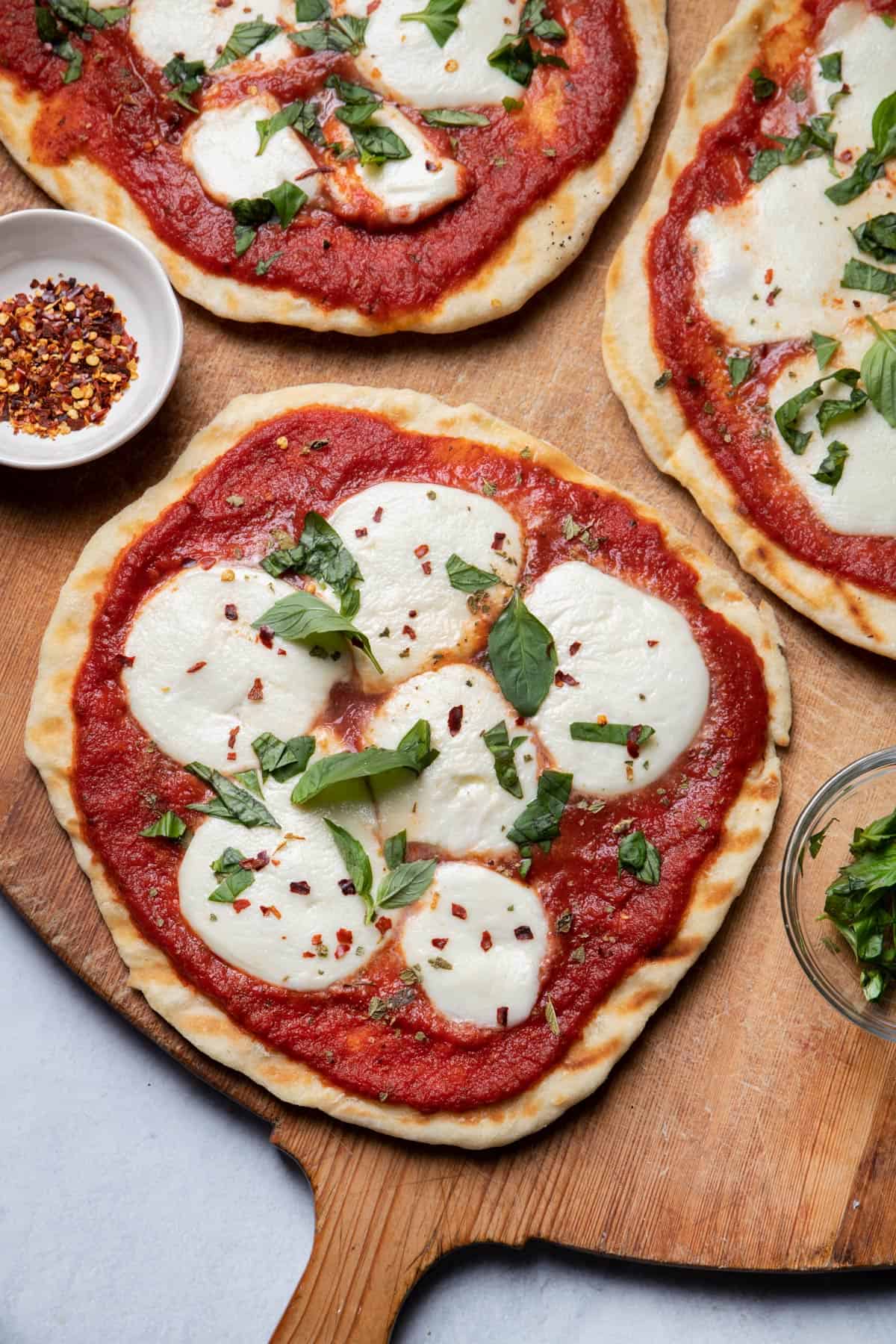 Ingredients
Pizza dough: Try making up a batch of your own homemade pizza dough, or use store bought for ease, it will still work well.
Oil: We need to add oil to the pizza dough, this will help it to get nice and crispy on the grill. I like to use olive oil for a nice rounded flavor.
Seasonings: Garlic powder, onion powder, oregano and crushed red pepper. Add some extra flavor to your dough with these everyday ingredients.
Toppings: For this grilled pizza, you can use any toppings you want. Tomato sauce, fresh mozzarella and basil are classic toppings that everyone will enjoy!
How to make grilled pizza
Roll the dough into any size and thickness you want, and transfer to a parchment paper.
Brush the olive oil on top of the pizza dough.
Carefully flip the dough onto the grill, oil side down with the parchment paper still on it, and then peel the parchment paper off.
When the bottom side has grill marks and is lightly golden, flip the pizza(s) onto a plate.
Add sauce, seasoning and toppings to the cooked side and return to the grill
Continue cooking until the cheese is melted and bottom crust is golden.
Tips to make this recipe
Use room temperature pizza dough. Let it sit at room temperature for about half an hour before adding some seasoning and stretching it. This will help it to rise, and cold dough is less pliable and more likely to rip.
Don't skip the parchment paper. This really helps you handle the pizza on the hot grill with ease since you place the pizza on the grill safely with the parchment barrier.
Add seasoning to your dough. Adding extra seasoning to the dough gives it something a little special. You can skip this, but it really gives your pizza a nice burst of flavor.
Preheat your grill. The trick to grilling pizza dough is to have the grill super hot so that it mimics a pizza oven. Don't be tempted to put it on too early. The high heat of the grill (around 500-600 degrees) gets much closer to a real pizza oven than your standard oven ever could. If you're using an indoor grill pan, go high.
Frequently Asked Questions
Can you make it ahead of time?
This grilled pizza is best served as soon as it's ready, but if you have leftovers, they will keep well for 3 to 4 days. Reheat in a hot oven or toasted oven to get it nice and crispy again.
How hot should the grill be?
The hotter the grill the better! Try getting it between 500 and 600F for the crispiest pizza base. Preheat it while you are waiting for the dough to come to room temperature.
How long does pizza dough take to cook on the grill?
This pizza takes less than 10 minutes to cook, so keep your eye on it! It will need 2 minutes on the first side, then once you add the toppings it will take another 5 minutes maximum. Way quicker than takeout!
This grilled pizza is all kinds of delicious! It's so easy to get a super crispy pizza at home, so skip the takeout and get grilling! It has a crisp texture on the outside but it's still soft on the inside.
More pizza recipes:
If you try this healthy-ish feel good Grilled Pizza recipe or any other recipe on Feel Good Foodie, then don't forget to rate the recipe and leave a comment below! It helps others who are thinking of making the recipe. We would love to hear about your experience making it. And if you snapped some shots, share it on Instagram so we can repost on Stories!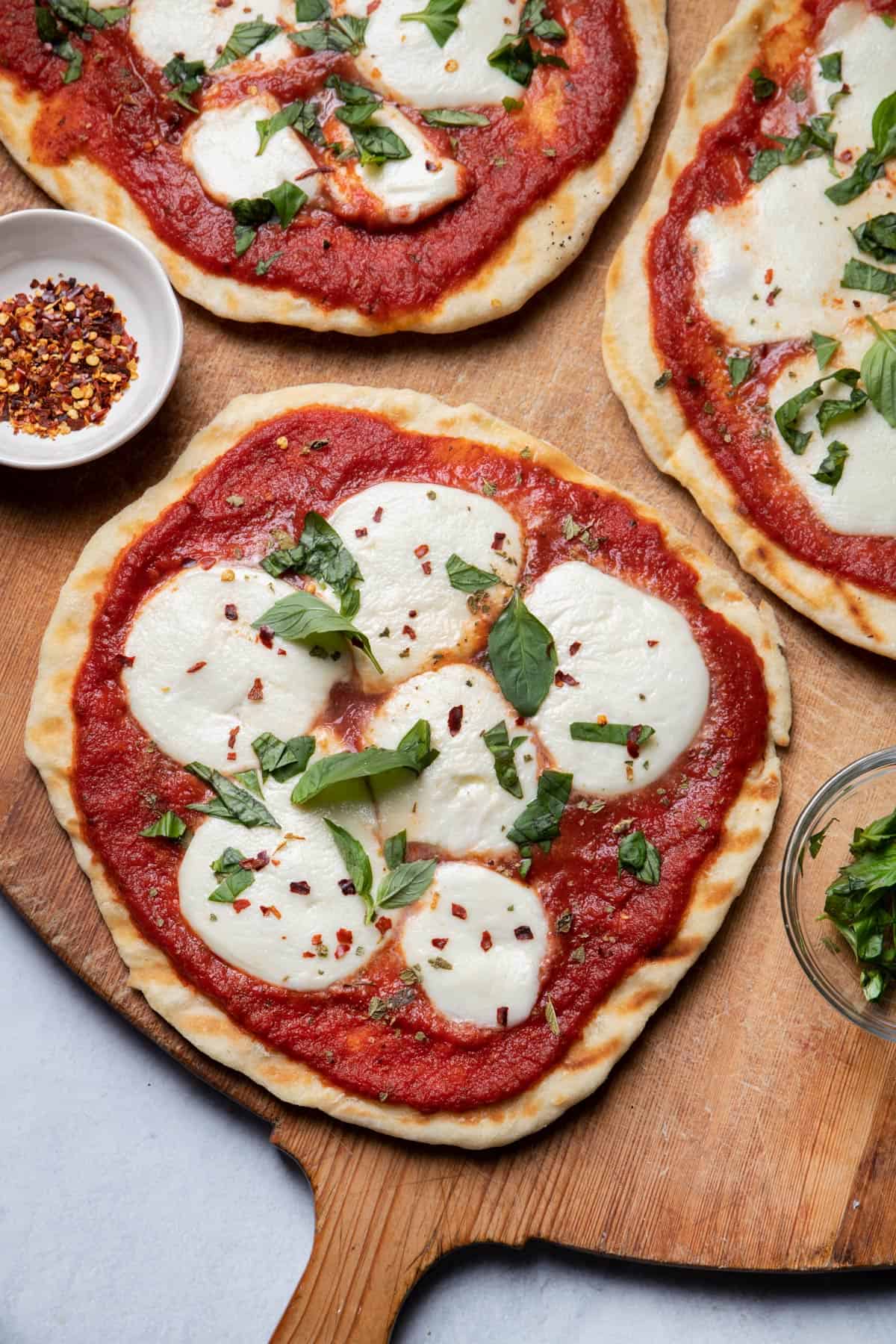 Grilled Pizza
Grilled pizza made on a grill is a great summer recipe when you don't want to turn on your oven; take advantage of the high grill temperature
Ingredients
1

pound

pizza dough

4

tablespoons

olive oil

½

teaspoon

garlic powder

½

teaspoon

onion powder

½

teaspoon

oregano

Tomato sauce

store-bought or homemade

Whole Mozzarella

Fresh basil

Crushed red pepper

for serving
Instructions
Preheat the grill to medium-high heat. Allow store-bought dough to rise at room temperature for 20 minutes.

Cut the pizza dough into 2 to 8 portions depending on how big and thick you want each pizza. Roll the dough into desired size and thickness and transfer to a parchment paper.

Brush the olive oil on top of the pizza dough. Lift the pizza dough off the surface with the parchment paper below it and carefully flip it onto the grill, oil side down. Peel the parchment paper off.

Cover and cook for 2-3 minutes and check for doneness with tongs to see if the bottom side has grill marks and is lightly golden. Flip the pizza(s) onto a plate and add sauce, seasoning and toppings to the cooked side.

Lower the grill heat slightly and slide pizzas back onto the grill to cook the bottom side for another 3-5 minutes, until cheese is melted and bottom crust is golden.

Use tongs to remove the pizza from the grill. Let cool for a few minutes and then slice.
Notes
Storage: Store any leftovers in an airtight container. They will last about 3-4 days in the fridge. To reheat, place in the microwave or toaster oven Substitutes: For best results, follow the store-bought pizza dough preparation outlined. However you can change out the seasonings and definitely change out the toppings. Nutritional Data: Please note that the nutrition label provided is an estimate based on an online nutrition calculator. It will vary based on the specific ingredients you use.
Nutrition
Calories:
406
kcal
,
Carbohydrates:
55
g
,
Protein:
9
g
,
Fat:
18
g
,
Saturated Fat:
3
g
,
Polyunsaturated Fat:
2
g
,
Monounsaturated Fat:
10
g
,
Sodium:
825
mg
,
Potassium:
17
mg
,
Fiber:
2
g
,
Sugar:
7
g
,
Vitamin A:
105
IU
,
Vitamin C:
1
mg
,
Calcium:
7
mg
,
Iron:
3
mg
Nutrition information provided is an estimate. It will vary based on cooking method and specific ingredients used.