This post may contain affiliate links. Please read our disclosure policy.
This broccoli crust pizza is low carb, gluten-free and a tasty alternative when you are craving a doughy pizza! This vegetable pizza crust is low in calories and easy to make. Top it with all of your usual favorites! It's a great addition to pizza night! This is similar to my cauliflower crust pizza but made with broccoli (and it's green!)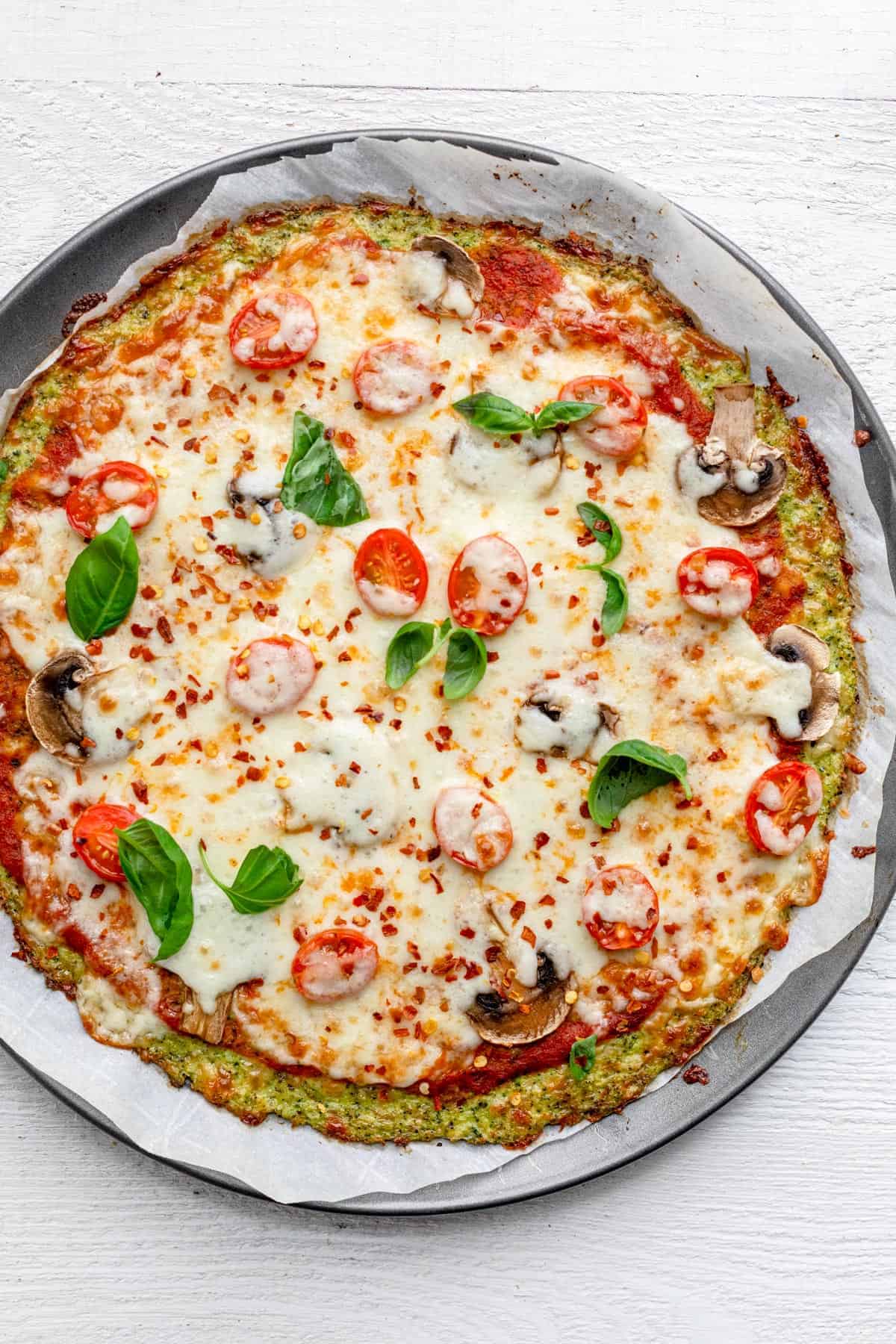 A homemade broccoli pizza crust is a great option when you are craving pizza but looking for something with lower calories and lower carbs. Plus, it's a great way of sneaking some extra veggies for the family. My daughter ate more broccoli in pizza form when I was testing this recipe than she probably did all year!
Ingredients to make the recipe
Broccoli: Broccoli is grated before being formed into the pizza base. By using broccoli, you can enjoy a healthier pizza, loaded with vitamins and nutrients. It is also gluten-free and low carb.
Eggs: To bind the ingredients for the pizza base together. I haven's tried an egg-free version.
Cheese: I use a mix of mozzarella and parmesan. This adds a great flavor and as the cheese melts it helps to hold the crust together.
Seasonings: Italian seasoning, garlic powder, salt and pepper.
Pizza sauce: Use your favorite pizza sauce to top the crust.
Pizza toppings: I'm using mushrooms, cherry tomatoes and basil, you can use your favorite pizza toppings.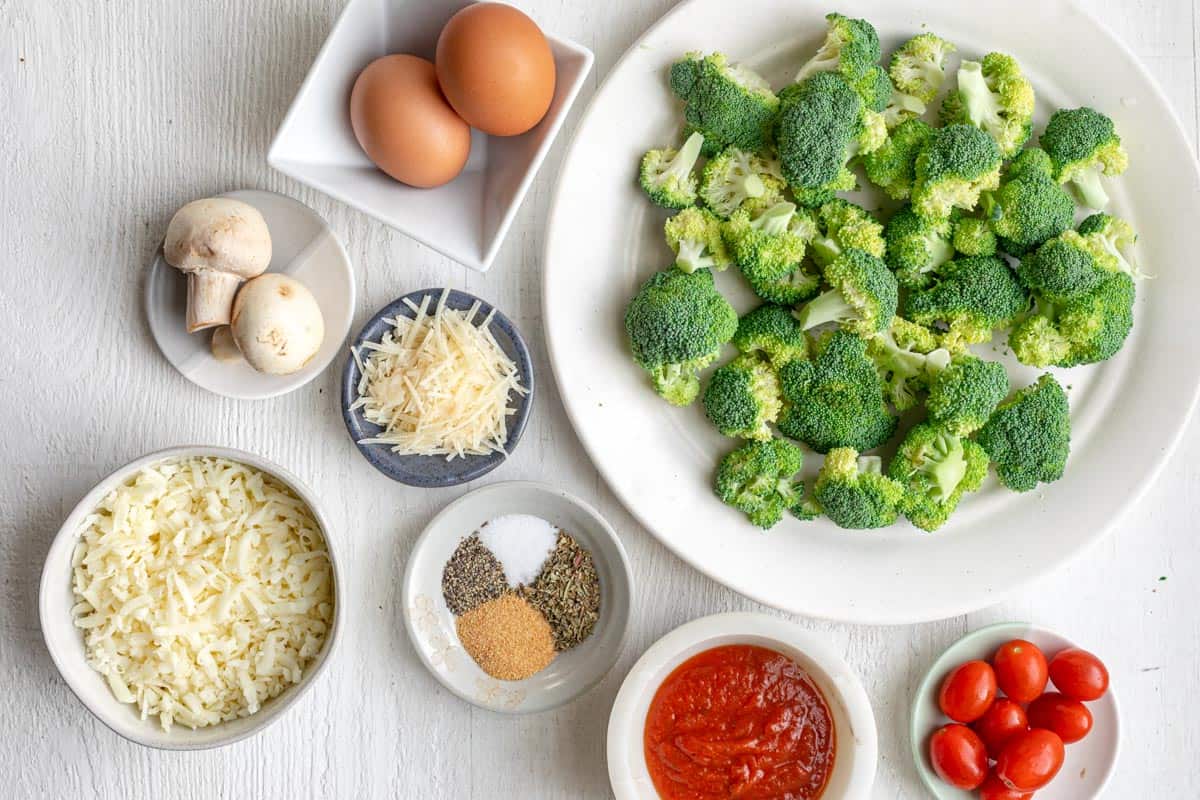 How do you make broccoli crust pizza
Grate the broccoli florets using a grater or food processor.
Microwave the broccoli or steam it so that it softens and releases its liquid. Then squeeze out all the extra liquid using a kitchen towel or cheese cloth, and transfer back to the emptied bowl.
Add the other ingredients to the bowl.
Use a fork or spatula to make the ingredients until they are sticky and well combined.
Transfer the mixture to a round pan and use your hands to shape the broccoli mixture into a crust.
Pop it in the oven until the cheese starts to melt and the crust becomes golden.
Add the pizza sauce, cheese and whatever toppings you're using.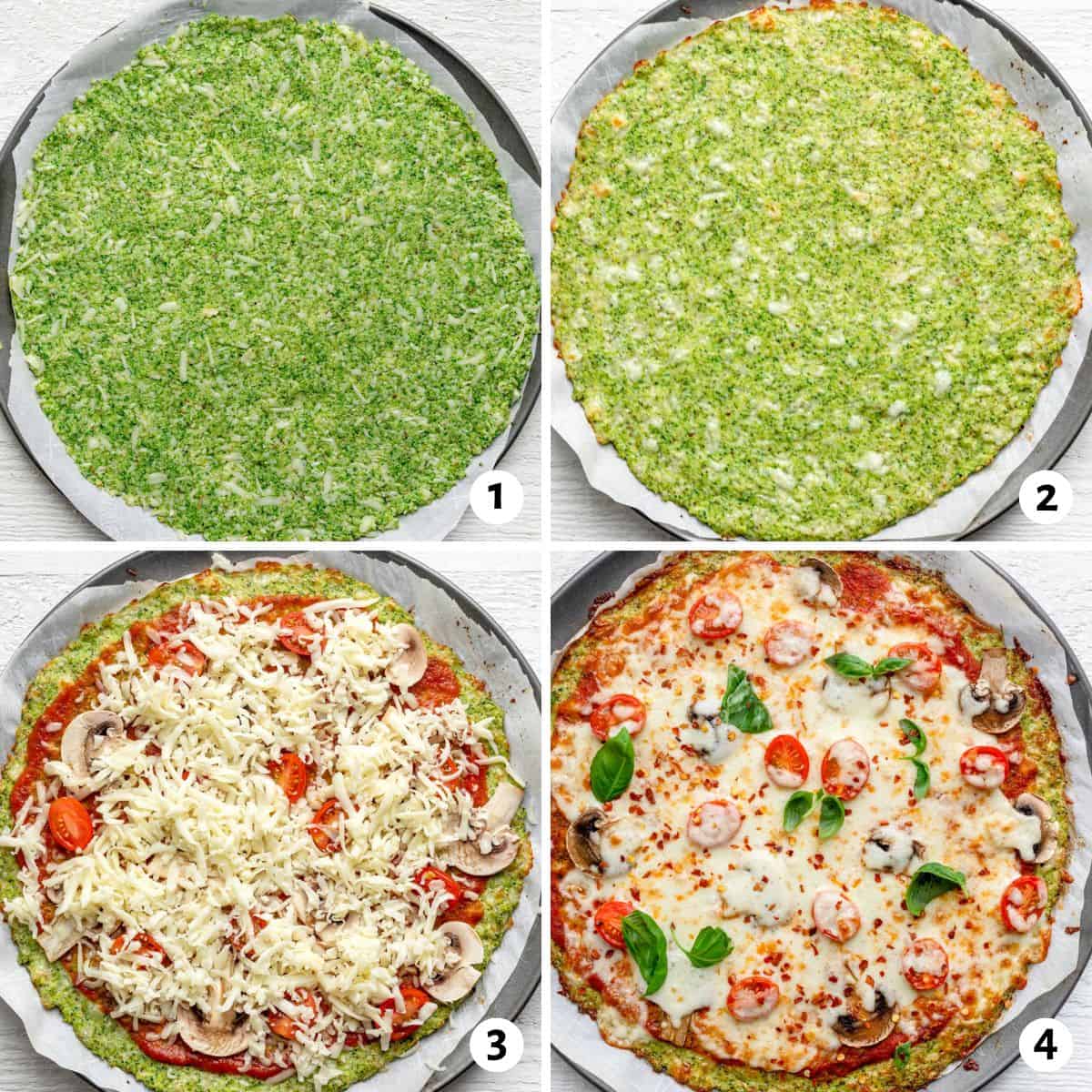 Because the broccoli pizza crust is cooked through and uniform before you add the toppings, you just want to bake long enough to melt the cheese and soften the toppings.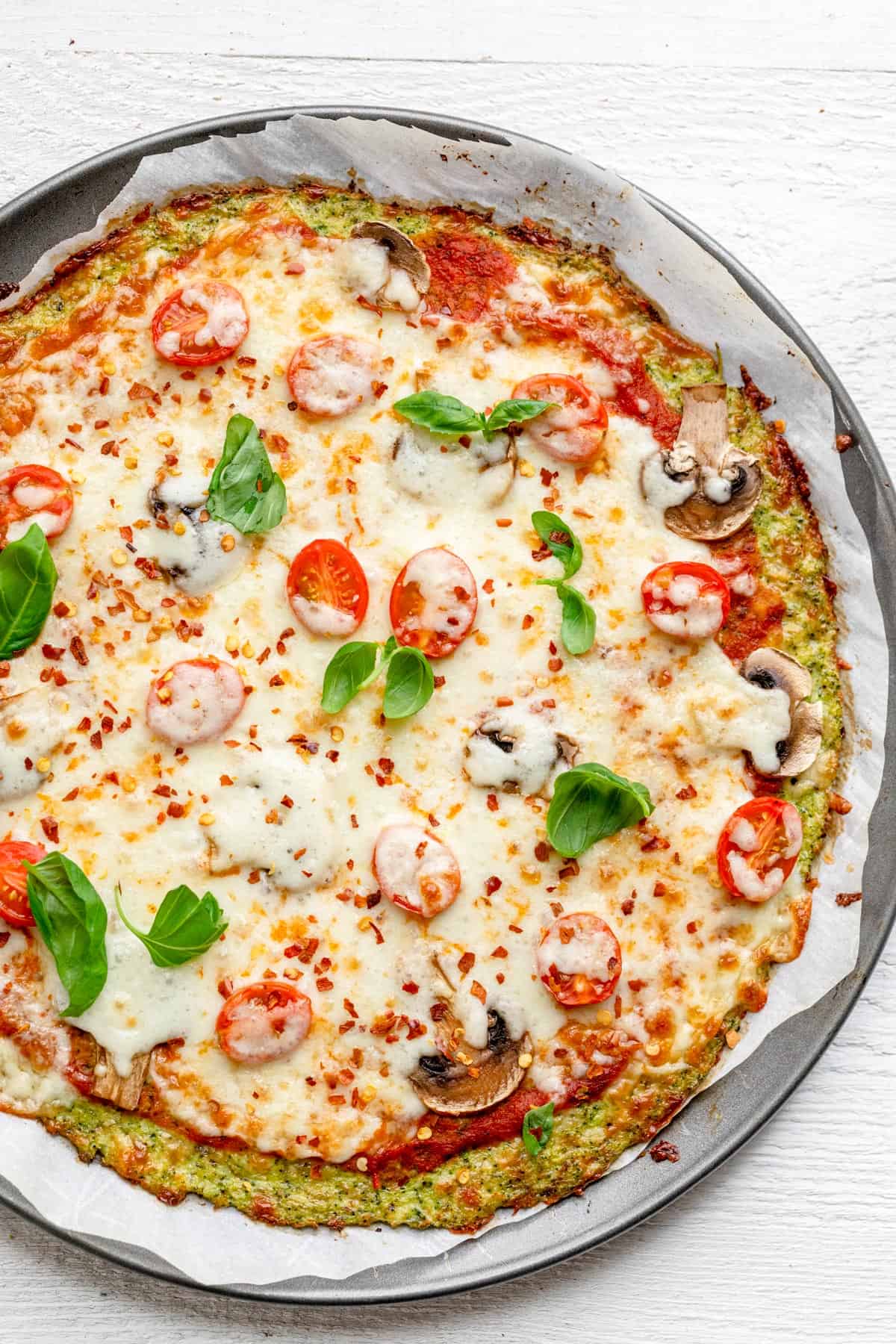 Tips for making the gluten-free crust
Make it faster by buying grated or riced broccoli. You can buy fresh or frozen grated broccoli to eliminate a step, but you'll still need to cook the broccoli and squeeze out the moisture. However, if it's frozen, you won't have to cook it because simply thawing it in the fridge will soften it.
Squeeze out as much water as you can from the broccoli. This step is crucial for making sure the broccoli crust doesn't get soggy. You'd be surprised how much liquid comes out of it!
Bake the 'dough' first before adding any toppings. It's important to dry out the crust in the oven and allow it to mold together before adding the heavy toppings, so I recommend doing it in two parts.
Don't use too many toppings. Keep the toppings light, and chop or slice them into small or thin pieces. The broccoli crust can otherwise get really weighed down with too many or too heavy ingredients.
Frequently asked questions
Does broccoli pizza crust taste like broccoli?
I totally devoured this pizza, and I'm happy to announce that it's also kid-friendly! It's not pizza dough, but it is a really great alternative that honestly, is super tasty and doesn't have a strong broccoli taste.
What toppings work best on the pizza?
I kept the toppings on this pizza fairly straight forward; mozzarella, tomatoes, mushrooms, parmesan, but feel free to use your favorite toppings! Pepperoni, pineapple, chicken, olives – there are no restrictions when it comes to topping this broccoli crust!
Can you make the broccoli pizza crust ahead of time?
You can make the crust 2-3 days ahead of time and store it covered in the fridge. You can also freeze the crust for up to 3 months so make a batch for easy to grab meals! Use a large ziplock bag to store the crusts and separate them with parchment.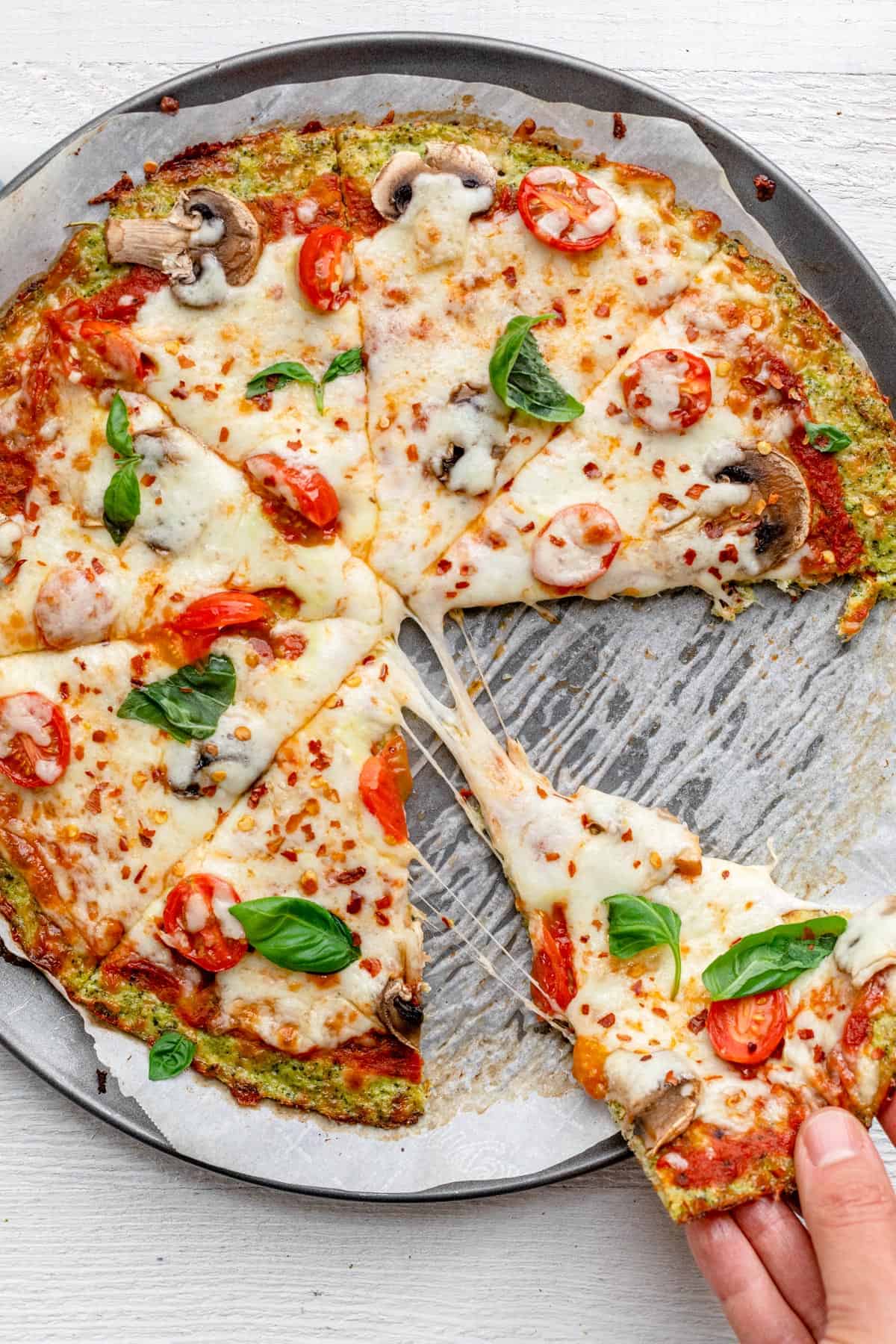 I love that it is so easy to make a gluten-free, low carb pizza crust using a vegetable like broccoli! It takes less than half an hour from start to finish – way quicker than waiting for that takeout to be delivered! It's a really tasty alternative that you can enjoy anytime, and the whole family will love it!
More pizza to recipes:
If you've tried this healthy-ish feel good Broccoli Pizza Crust recipe or any other recipe on FeelGoodFoodie, then don't forget to rate the recipe and leave me a comment below! I would love to hear about your experience making it. And if you snapped some shots of it, share it with me on Instagram so I can repost on my stories!
Broccoli Pizza Crust
This Broccoli Pizza Crust is a gluten-free and low carb healthy alternative to traditional pizza dough – similar to cauliflower crust pizza!
Instructions
Preheat oven to 425°F. Line a round 14" pan with parchment paper; set aside.

Place the broccoli florets in a bowl of a food processor. Pulse until the broccoli is grated and looks like rice or couscous, being careful not to over-pulse.

Transfer to a microwave-safe bowl, and cook for 2 minutes, or until softened. Place the steamed broccoli on an open cheese cloth or dish towel and allow it to cool. When it's cool to the touch, wrap the broccoli in the towel and squeeze out all the excess water so it is as dry as possible.

Transfer the broccoli to a large bowl, add the eggs, 1 cup mozzarella cheese, Parmesan cheese, Italian seasoning, garlic powder, salt and pepper. Mix with a spoon or your hands until all the ingredients are well blended and a dough forms.

Place the dough on the prepared baking sheet, and shape into a round pizza crust, about ½ inch thick.

Bake the dough in the preheated oven for 10-12 minutes until golden. Remove from the oven and add the pizza sauce, remaining mozzarella cheese and any other toppings.

Return to the oven and bake until the cheese is melted and the crust is crisp, about 10 more minutes.

Cool for a few minutes before cutting and serving.
Notes
Storage: Store any leftovers in an airtight container. They will last about 3-4 days in the fridge. Make Ahead: You can make the crust 2-3 days ahead of time and freeze for up to 3 months. When ready to cook the pizza, bake it in the oven at 425°F for 5 minutes, then add your toppings and bake for an additional 10 minutes. Substitutes: For best results, follow the pizza base recipe as is. However, you can change out the seasonings and definitely change out the toppings.
Nutrition
Calories:
282
kcal
,
Carbohydrates:
13
g
,
Protein:
22
g
,
Fat:
17
g
,
Saturated Fat:
9
g
,
Cholesterol:
130
mg
,
Sodium:
759
mg
,
Potassium:
604
mg
,
Fiber:
4
g
,
Sugar:
4
g
,
Vitamin A:
1559
IU
,
Vitamin C:
137
mg
,
Calcium:
445
mg
,
Iron:
2
mg
Nutrition information provided is an estimate. It will vary based on cooking method and specific ingredients used.