This post may contain affiliate links. Please read our disclosure policy.
It's back to school season, and it's time to start thinking about renewing the lunch boxes from last year, upgrading to bigger sizes, or just stocking up on healthy goodies for filling up those bento boxes. Read on for some great kids' lunch box ideas for the new school year, in addition to my favorite three lunch boxes that my kids have used through their stages and ages.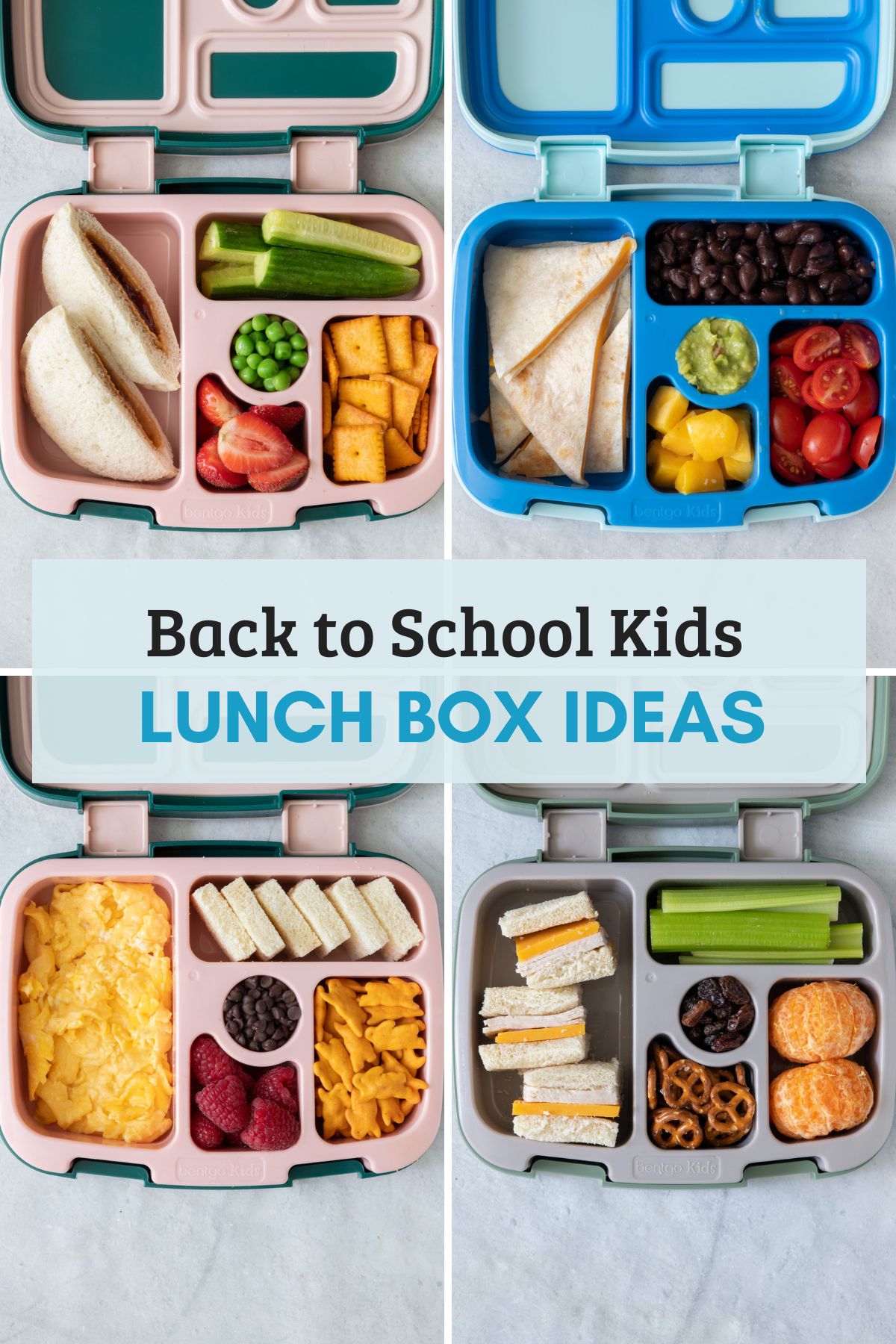 lunchbox ideas video
lunchboxes for three age groups
Below you'll find some lunchbox ideas for three different age groups. This is based on experience with my own kids with the lunchboxes that made the most sense for them and the food types and quantities most suitable for them during that growth stage.
Kids Children's Lunch Box (3-7): This age group is all about finger foods and variety. You'll notice the lunchboxes I prefer for this age group has five mini compartments to encourage kids this young to try different foods, textures, and tastes.
Meal Prep Lunch Box Set (ages 6-10): The lunchbox I used for my kids during this stage is actually a meal prep container that was practical for their age and provided ample space for a sandwich, fruits, veggies, and snacks.
Stackable Lunch Container (ages 9-15): When the kids get bigger, they may find themselves wanting more substantial meals at lunchtime. That's what I love about these stackable lunch containers because they are portioned to provide kids with a full meal in the main compartment along with smaller compartments for sauces, dips, veggies, fruits, and nuts (if allowed when they're older).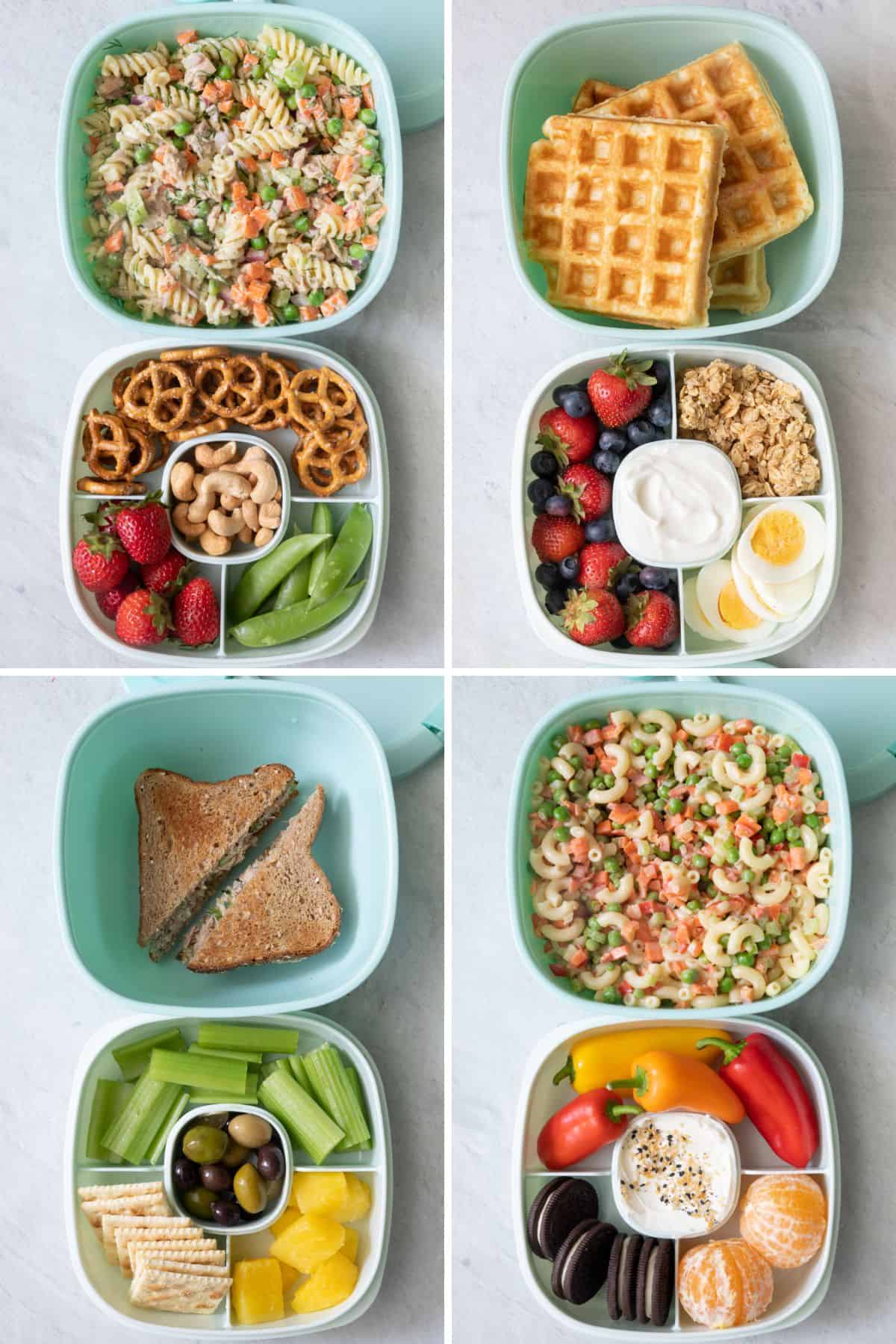 Lunch box brands I love
Everyone wants to know what are the best lunchboxes for kids. I've tried so many different kinds over the last 7 years since my oldest started going to school. There's a lot to consider when picking your lunchbox, including the age of the kids, their meal preferences (hot or cold), and the amount of variety they like to eat. My kids have used these three lunchboxes: Yumbox Lunch Box , Bentgo 3-Pack Fresh Pack, Bentgo Stainless Steel Leak Proof and Omie Lunch Box.
This post, though, will feature three lunchboxes, all by Bentgo, because I've found it useful to stick with one company and graduate the kids through their different lines of bento boxes. The three lunchboxes (affiliate links below) featured here and detailed below include:
young kids lunchbox
Just like the Yumbox Lunch Box that my kids used when they were in pre-school, this Bentgo is the perfect size for tiny mouths and slow eaters. I love that it's lightweight and compact with an easy-open latch, so it fits nicely in their backpacks or even in the standard-size thermal lunch totes. Then there's a leak-free lid, which means you can put salad dressing in one of the compartments or yogurt and not worry about it leaking out. With this lunchbox, there's no need for zip lock bags, multiple containers, plastic wraps, and snack packs…all the lunch is in one compact container…so easy, so cute, so fun!
Meal prep Freshpack lunchbox
While there's a regular Bentgo lunchbox, it's very similar to the Yumbox one, and my go-to is the Bentgo 3-pack Fres Pack. It's a leakproof lunchbox system that works for older children and adults. It has 3 compartment trays with a removable divider, so you can customize it to create 4 compartments instead. What I like about it is that for $40, you get three containers, instead of just one. So, you can essentially prepare three meals in advance, each with its own meal tray covers, and then transport the meals in the main lunchbox whenever you're ready. This works great if you're batch prepping on Sunday evening with items that can last 3-4 days in the fridge.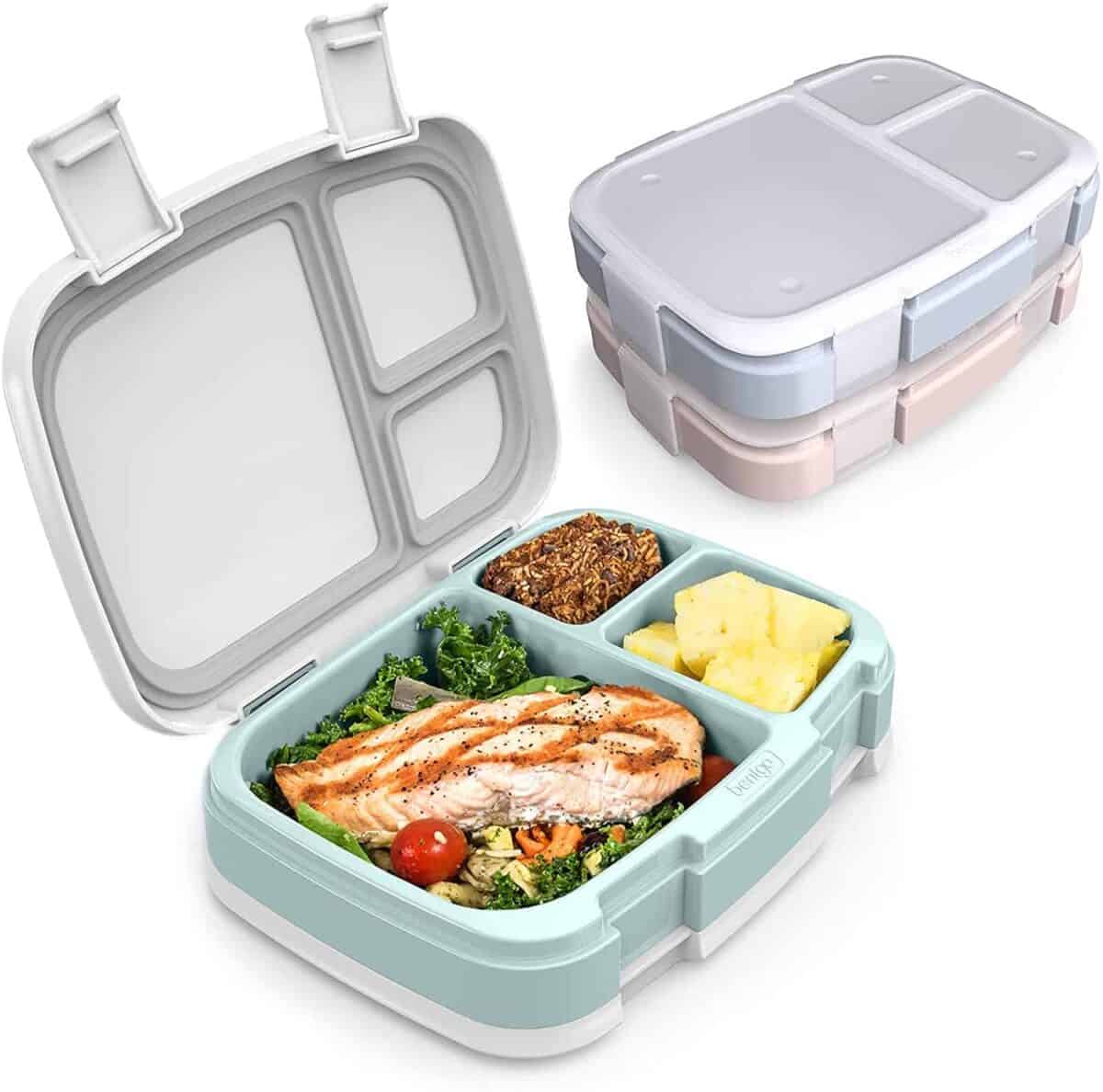 stackable Lunch box
Now that my kids are entering 6th grade and 4th grade, they have really been loving these stackable lunch containers, which are great for bigger appetites and even perfect for adult lunches if you want to double up. The great thing about them is the two areas that allow for a salad, pasta salad, or sandwich at the bottom, along with toppings, snacks, or condiments on the top. In fact, one of the compartments has a small Tupperware with a lid that's perfect so salad dressings, nut butters, or dips.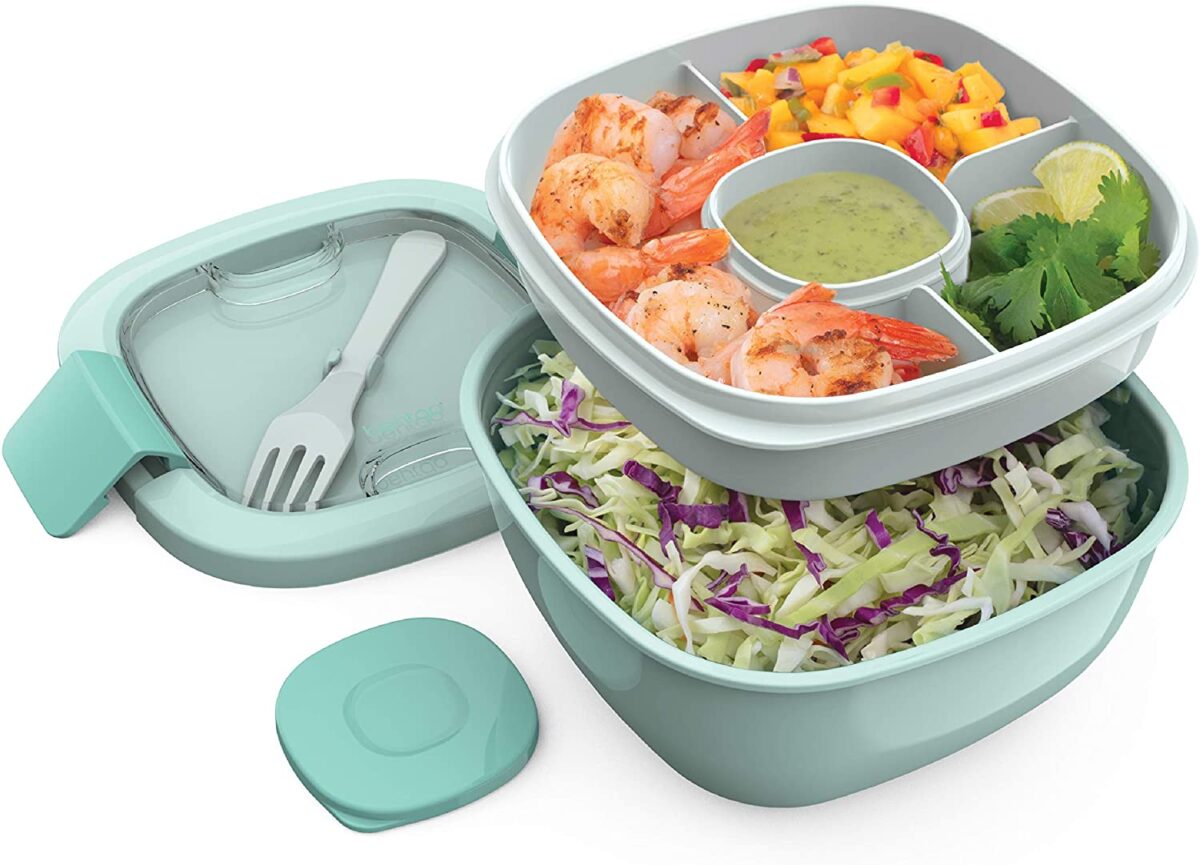 lunch box ideas for toddlers
Toddlers can be picky eaters, so don't fret if you find a mostly uneaten lunch box returned home. The bento box is ideal for them as it shows off variety and also avoids hard to open packaging that may frustrate little hands.
bagel & cream cheese
Mini bagels with cream cheese are popular for toddlers. You can add pretzel sticks or other snacks and small fruits or fruits cut in half like green grapes and strawberries.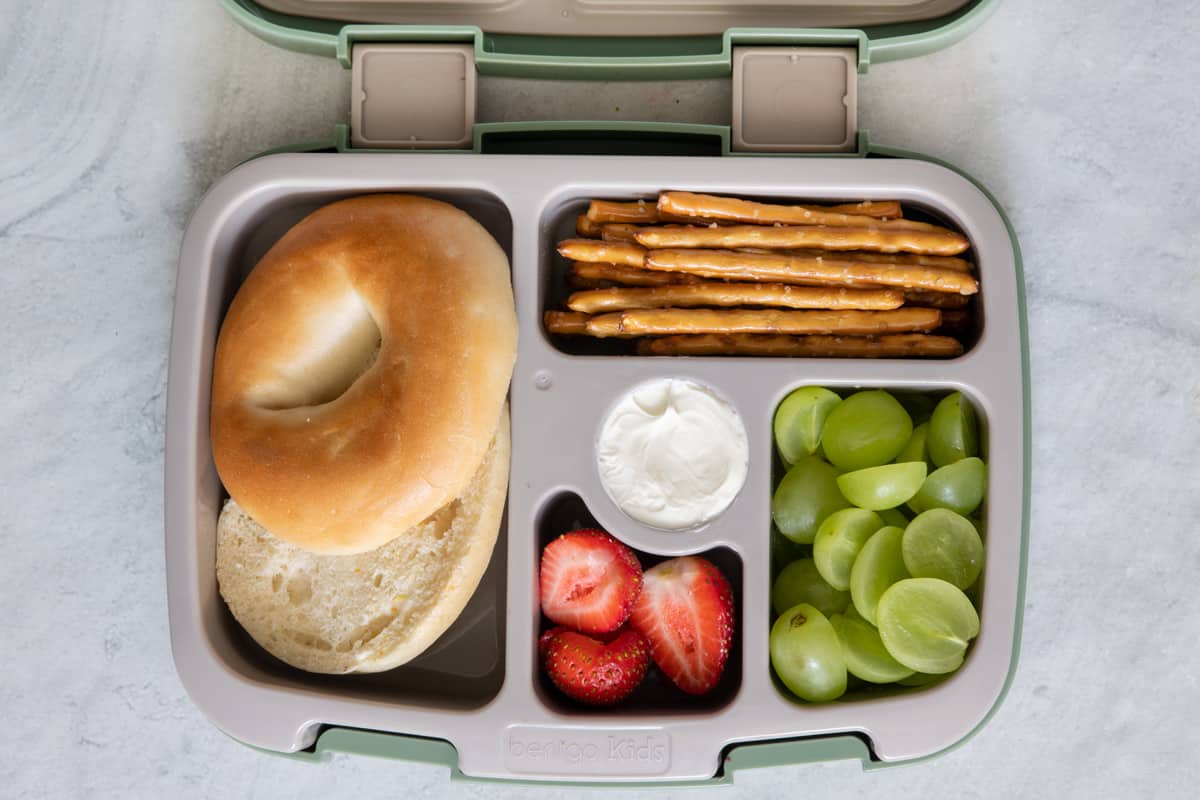 Cheese Quesadilla
These triangle-shaped cheese quesadillas are a fun shape that is appealing to toddlers. Including healthy sides that have interesting flavors like black beans, guacamole, and halved cherry tomatoes which also offer a variety of textures, too. Include fruit in small bite-size chunks like peaches, strawberries, or peaches.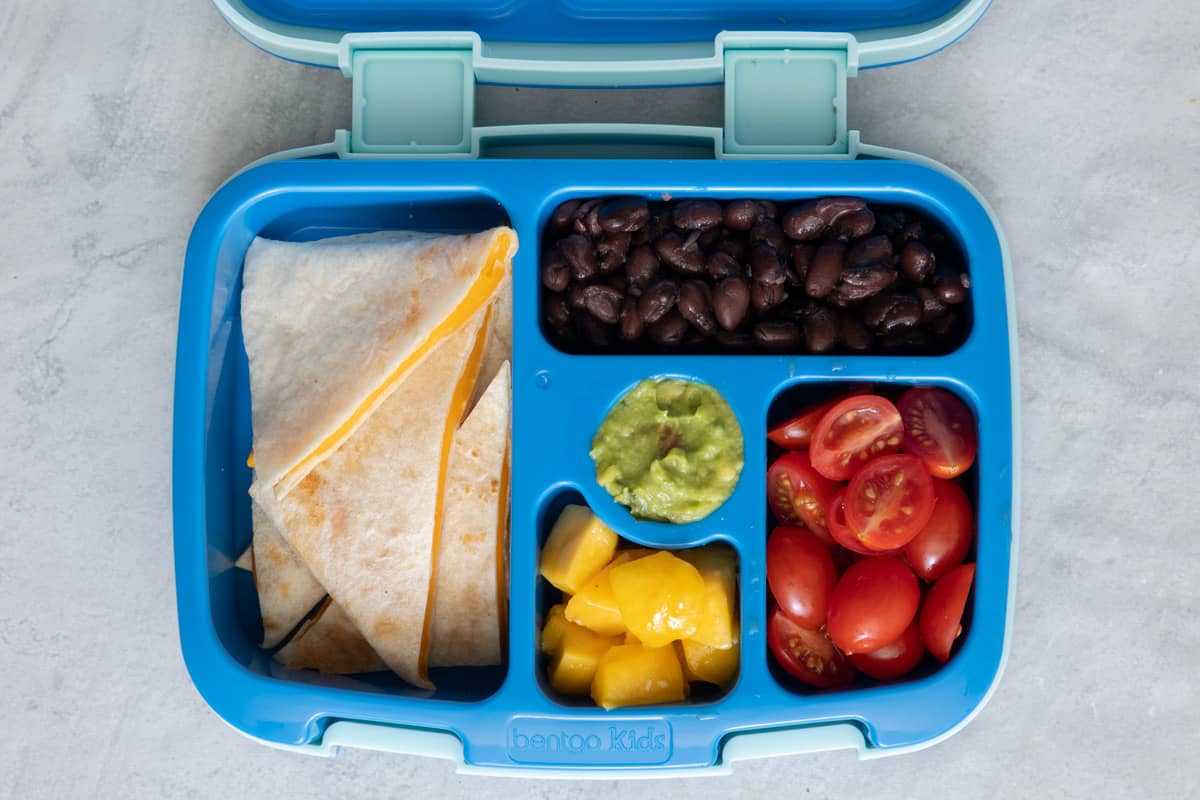 Scrambled eggs with Toast
A toddler lunchbox with scrambled eggs, bread cut into small squares, and fresh fruit like raspberries or pears offers a variety of easy-to-eat foods. Include a sweet treat like chocolate chips or M&M's, and crunchy like Annie's bunnies or Cheerios.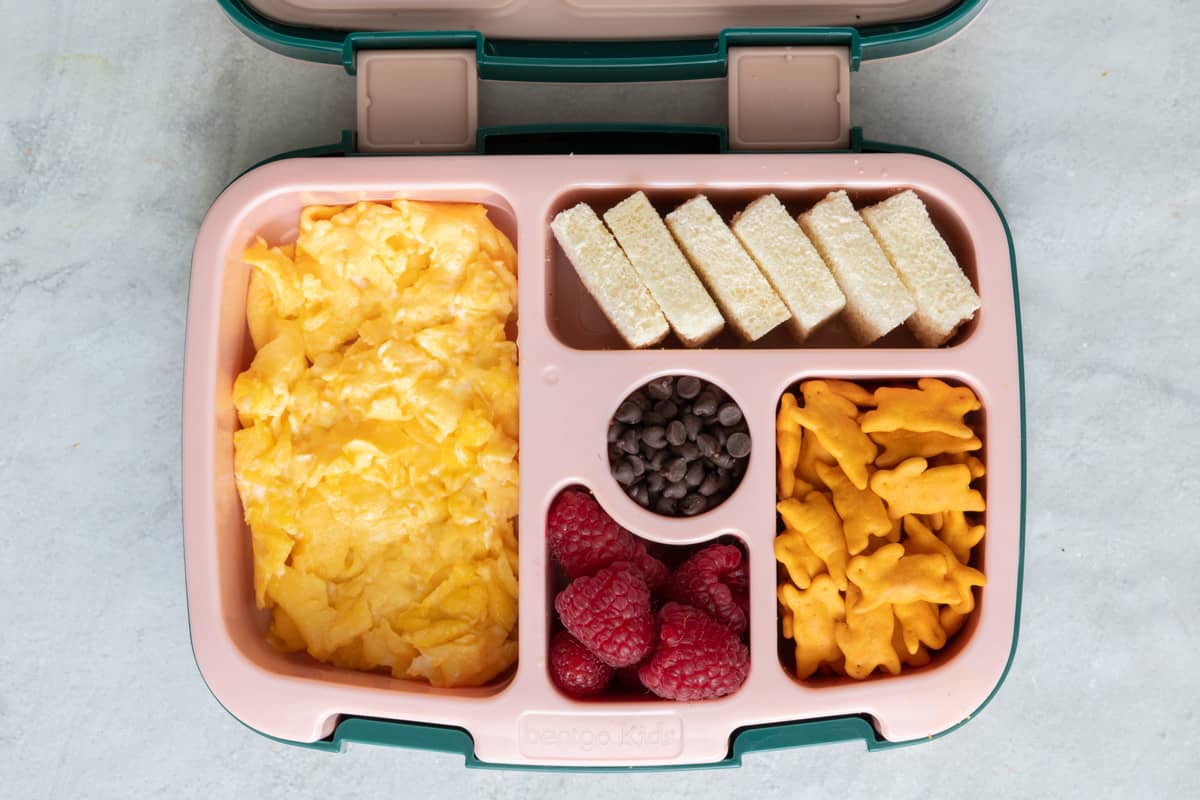 Uncrustable
Cut an uncrustable in half and pair with fresh fruit and vegetables like cucumber or carrot sticks, green peas, and halved strawberries or blueberries. Include a crispy snack like cheese squares or pretzels.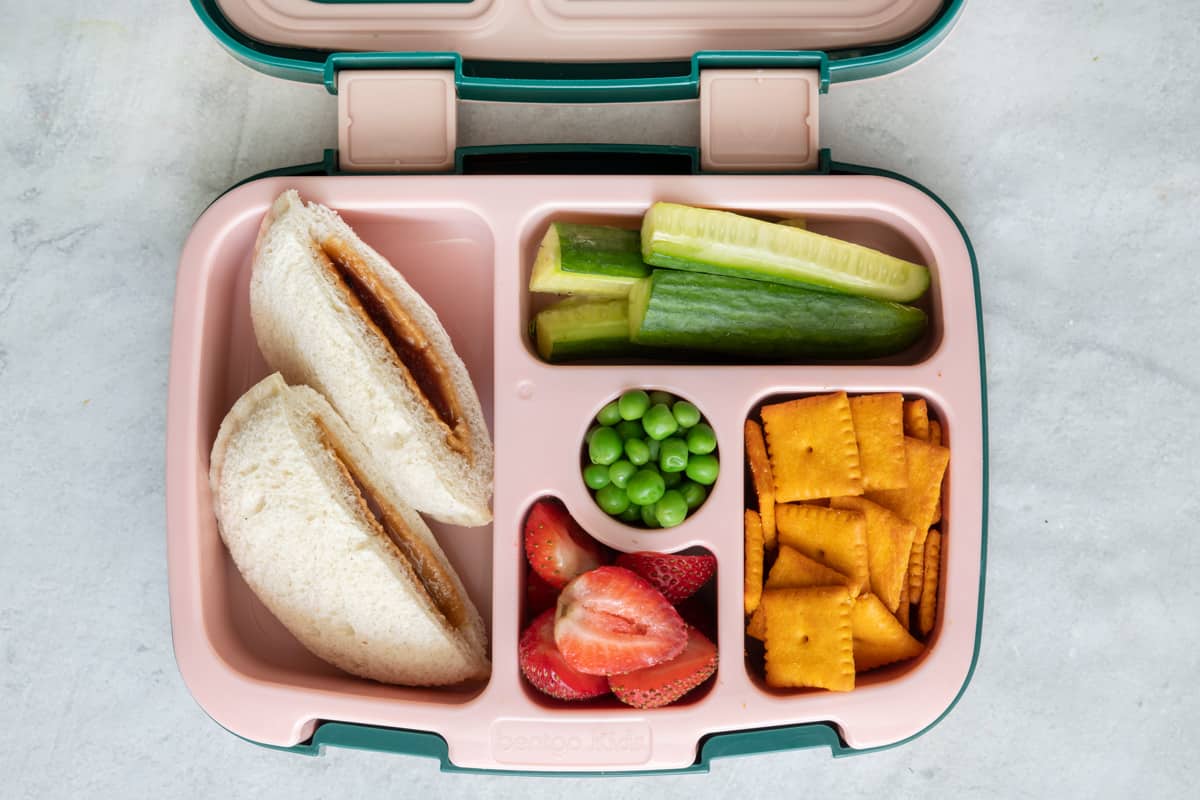 Nut Butter and Jam Sandwich
A favorite of most toddlers, make a peanut butter or sunflower butter and jam sandwich cut into triangles. Include a tube of Stonyfield yogurt and small bite-size items such as edamame, Cheerios cereal, and blueberries.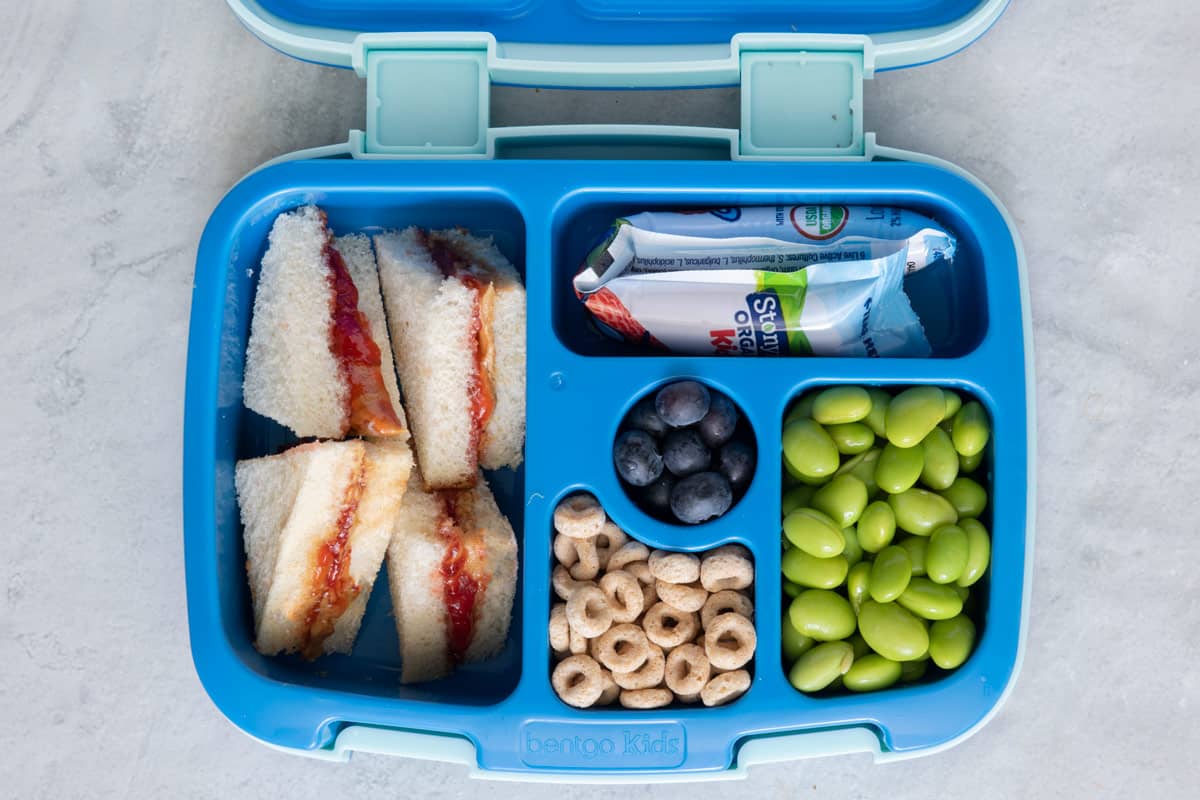 Turkey and cheese sandwich
Cut a turkey sandwich into squares and fill the remaining box with a few of your toddler's favorite textural foods. Use celery that's cut down into manageable sticks and pretzels for crunch. You can add peeled mandarin oranges or apple slices, plus a small snack like raisins.
lunch box ideas for little kids
By now, you've gotten a handle on what your child likes and doesn't like in their bento box. You can still add new foods for them to try to keep them exploring with food. The larger compartments of this bento box let you add a little more for growing tummies.
Pesto Turkey Pinwheels
Offer a variety of foods that are appealing and maybe new. Pesto turkey pinwheels have a herby flavor with cheddar cheese. You can also include sliced apples and crispy green peas for crunch, sweet, and salty foods. And as a treat, mini pancakes or a favorite food would be great to fill the last section.
Chicken salad pinwheels,
A chicken salad pinwheel lunch box is a light option for little kids. You can add a medley of fresh grapes and blueberries, Annie's bunnies or pretzels, and ribbons of carrots and cucumbers for tasty additions to graze on.
Everything Bagel Pinwheels
Do your kids love bolder flavors? These cream cheese pinwheels with everything but the bagel seasoning and fresh tomatoes are super tasty and creamy. Use each section to combine two foods such as carrot and celery sticks, pretzels and raisins, and cornichons with turkey roll-ups.
Hummus and veggie pinwheels
Creamy hummus with cheese and red peppers pinwheels have texture and flavor. It may be a new food for your child to try. Include sliced oranges, crinkle-cut carrots and cucumbers, and healthy mini muffins.
Breakfast Burrito
Prepare a hearty breakfast box for your kids that is rounded out with crispy jicama sticks and a hefty breakfast burrito. And to lighten up this breakfast, add creamy guacamole in a silicone muffin liner to dip the jicama sticks in and a medley of fresh juicy berries.
Quinoa Salad
Use leftovers from dinner like this quinoa salad to fill a lunch box. Pair it with green apple slices, grape tomatoes, and chewy apple butter cookies.
Cucumber Sushi
This cucumber sushi lunchbox is a fun way to eat vegetables. You can vary which vegetables your child enjoys and pair the vegetable sushi bites with whole edamame in the shell, turkey roll-ups, and fresh fruit like strawberries.
White Bean Avocado Sandwich
This sandwich lunch box is really great for picky eaters who hate meat. It's a beautiful variety of vegan or veggie lover foods like a white bean sandwich with avocado, sliced cucumbers and carrots, cheese crackers or pretzels, and fresh cherries. This kind of lunch box can be versatile in choosing their favorite vegetables.
Tuna and Rice
You can really get creative making lunchboxes for kids, like this sushi-inspired box. Include a few pieces of sushi rice paper snacks, a mix of tuna and rice with sesame seeds, fresh pomegranate seeds, and fresh vegetables like avocado and cucumber.
Coleslaw
Make a healthy coleslaw and pair it with a few kid favorites like crispy chicken nuggets, broccoli or cauliflower florets, and sweet fruit like watermelon or kiwi.
lunch box ideas for big kids
Ah, the pre-teen and teenager years! That old saying, the kids will eat you out of house and home really comes alive during this time. That's why these stackable bento boxes are so great. It really lets you provide the main course and some great side dishes.
Waffle Breakfast
Big kids can have big appetites and picky ones too. With breakfast boxes, you can give them a variety of foods that will surely satisfy growing kids. Include waffles or pancakes, fresh fruits such as strawberries and blueberries, a small section filled with Greek yogurt, some crunchy granola, and a sliced boiled egg for protein. This is a well-balanced meal for kids and adults alike.
Pizzadilla
Using these stackable lunch boxes gives you larger sections to fill for a hungry teen. For the sectioned container, include fruit such as halved kiwis or mango slices on the larger part, and then pretzels and cherry tomatoes in the quarter sections. Fill the center cup with pizza sauce for dunking the pizzadilla in that is stored in the larger bowl.
Tuna Salad Sandwich
Make a tuna salad sandwich to put in the large lunch box container. Then, include fresh fruits, veggies, and snack foods in the section container. Some options are celery sticks, pineapple chunks, saltine crackers, and marinated olives.
Tuna Pasta Salad
Adults and teens will love this wholesome, fully loaded lunch box with a hearty tuna pasta salad filling the large box, and pretzels, strawberries, sugar snap peas, and roasted cashews for grazing in the sectioned box.
Macaroni Salad
Veggie-loaded macaroni salad makes for a light but filling lunch box dish. Pair with whole multi-colored mini bell peppers, Oreo cookies, peeled clementines, and cream cheese with everything but the bagel seasoning.
Mediterranean Pasta Salad
A great leftover and meal prep salad, this Mediterranean pasta salad has all the best flavors with olives, red onions, and tomatoes. Fill the other lunch box with apple bread or another sweet bread, whole cherry tomatoes, sliced cucumber planks, and mixed nuts.
Veggie hummus sandwich
For the vegetable-loving, vegan teen, make a hearty veggie hummus sandwich on multigrain toast. Include sliced peaches, cheese cubes with sliced cucumbers, wheat crackers, and diced avocado for munching on.
Pizza Bites
This tasty pizza sampler lunch box has pizza bites, crispy green peeper sticks, juicy sweet grapes, black olives to munch on, and pizza sauce for dipping.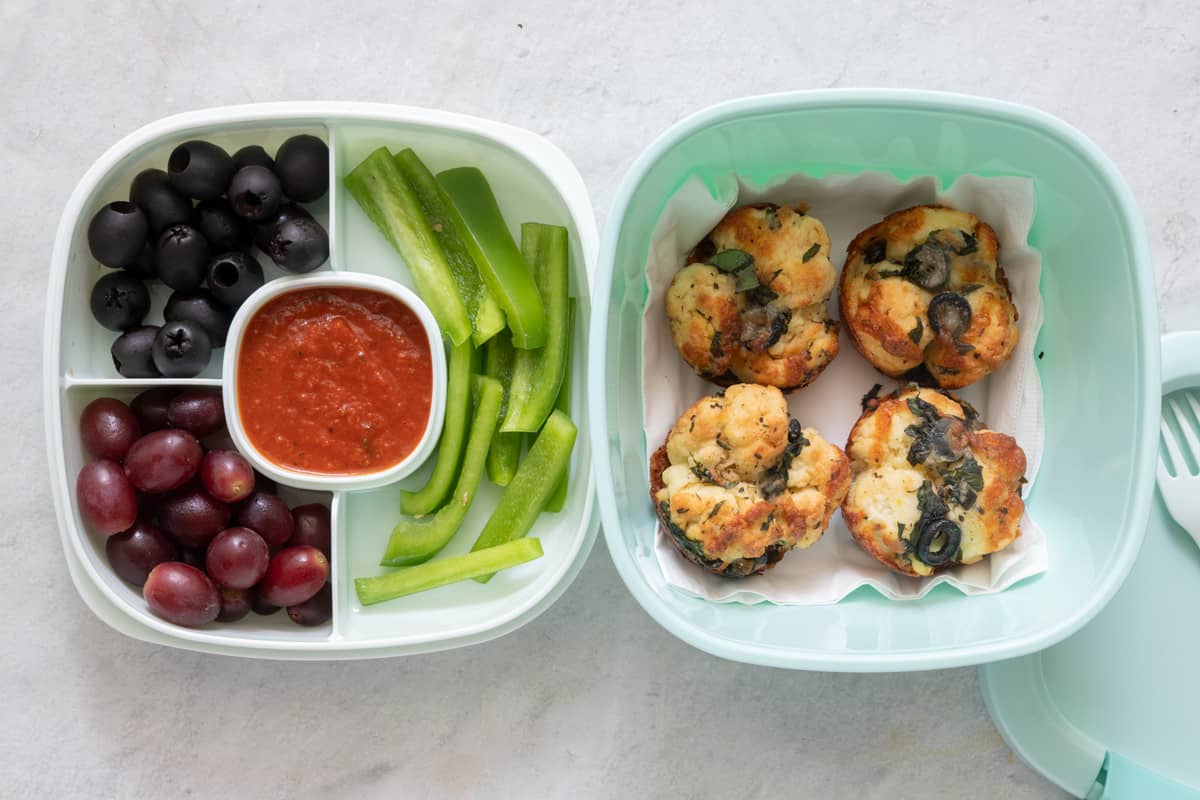 Egg, Cheese & Bagel
Mornings are essential for filling yourself up with fuel for the day. This breakfast box is perfect for older kids with a variety of foods like a bagel, grapefruit, cubed cheese, some protein from hard-boiled eggs, and a juicy Roma tomato.
more Kids Lunchbox Ideas by types
If you are packing a lunch box, it's good to keep it as well balanced as possible with a mix of protein, fruit, vegetables, and whole grains. This will give your kids the energy to make it through the afternoon!
Sandwiches & Handhelds
If your kids love having sandwiches, but you want to avoid deli meats and other processed meats, here are some yummy substitutes. Don't worry that your kids need an abundance of protein at lunch. They just need a well-balanced meal that contains whole grains, fruits and vegetables that will provide them ample nutrition and energy for their busy days.
Chicken salad, tuna salad, or egg salads. Consider using Greek Yogurt or avocado instead of mayo
Vegan "turkey" made from tofu – aka tofurkey – which tastes just like the real stuff and doesn't have all those nitrates and preservatives.
Variety of hard/soft cold/grilled cheeses with sprouted whole grain bread (I do this a lot)
Sunbutter (for nut-free schools) with bananas or other fruits or even honey in a wrap.
Veggie burger, bean burger, or quinoa burger
Black bean and cheese quesadilla, quinoa pizza bites
Veggie-filled cucumber sushi: An easy recipe that's fun to put together and a yummy twist to sushi. Plus, you can easily adapt to any taste preferences.
Salads for Lunchboxes
Fresh salads and pasta salads are a great option to fill a lunch box with additional sections for dressings and toppings.
Hummus Salad Bowl – This is a hearty lunch with homemade hummus, fresh veggies, quinoa, and feta that would be perfect for older kids, or packing lunch for adults.
Greek Orzo Salad has some bolder flavors the older kids will love with feta cheese, olives, and red onions.
Tuna Pasta Salad is a kid-friendly dish for any age with a creamy dressing and a bunch of delicious veggies.
Snacks and Desserts
On the sweeter side of handheld options, you can also throw in some of these treats!
No Bake Pumpkin Spice Balls: Have the kids help you make the batter. It's vegan, no-bake, and packed with lots of good protein and fats. Such a nutritious and delicious treat!
Kid-Friendly Muffins: The batter is pretty basic for this, and the fun comes in what you choose to stuff them with. Check out the list of ideas I included.
Utensils Needed
If your kids don't mind having something other than a sandwich, you can put leftovers from last night's dinner (I sometimes make extras for this very reason), which is always practical for busy days, or you can try some of these ideas.
cold options for Lunch Boxes:
Macaroni Salad: Pick their favorite pasta shape and throw in kid-friendly veggies like carrots, peas, and corn. You can use any on-hand salad dressing or the one I use with pickle juice in this macaroni salad.
Caprese Pasta Salad: Green pasta is so fun for kids. Try to find little pearl mozzarella and cherry tomatoes to add to it, and it makes for a colorful, nutritious lunch!
Tomato Cucumber Avocado Salad: This is Adam's favorite salad. Since I pack the lunches at night, I usually add the avocado in the morning and make sure it's well coated in the lemon juice from the salad dressing.
warm options for Lunch boxes:
One-Pot Chicken Rice & Veggies: This one is better served warm, so it's perfect for the Omie lunchbox, but my son usually doesn't mind having it at room temperature, so I also pack it in the Yumbox.
Pasta in a mug: You can literally make these two pastas while the kids are putting on their shoes. They take a couple of minutes in the microwave, use only one mug, and are perfect for one person.
Frequently asked questions about school lunches
What do you put in a fussy eaters lunch box?
What do you put in a fussy eaters lunch box?
If you have a fussy eater, I find that it's best not to stray too much from what you know they like. Ask them what they would like to eat, so they feel like they have control. Make the lunch boxes colorful and do fun things like cut sandwiches into shapes.
What drinks are best to pack in a kid's lunch box?
It's important that children stay hydrated throughout the day, and more so in the hot weather. Plain water is great for them to take to school. Let them pick out a water bottle with a design they love and hopefully, they will use it more! Try to stay away from sweetened drinks. If they don't like plain water, try adding a few pieces of frozen fruit to give it some flavor.
Are there any foods parents should not pack in a lunch box?
This will come down to your own personal preferences, but for me, lunchtime is an opportunity to ensure that my kids are getting a well-rounded meal in the middle of their day when they need energy and stamina for learning and playing. Personally, I try to avoid foods with high sugar, processed deli meats, and packages salty snacks as much as possible, but always make exceptions!
I hope these kids' lunchbox ideas serve as an inspiration and encourage your little ones to eat more whole foods and especially fruits and vegetables. Keep it colorful, keep it simple and keep it interesting!
If you enjoyed this blog post, please share it with your friends or on social media and tag #feelgoodfoodie on Instagram, Facebook, Pinterest, and Twitter!
For more parenting resources: