This post may contain affiliate links. Please read our disclosure policy.
Ban the bland salads with these Non Boring Salad Recipes! These fresh and vibrant bowls are as delicious as they are gorgeous! Whether you're after a protein packed chicken salad or a hearty and delicious vegetarian or vegan salad, I've got a bright and beautiful salad for you.
Whether you are a salad junky or not, there's an exciting salad here for you! Salads do not have to be boring, there's a cornucopia of seasonal produce that's just waiting to be turned into a bountiful bowl of goodness. Below you'll find an array of salads like succulent chicken or shrimp salads and hearty vegan salads loaded with different flavors and textures!
Tips for making the best salads
Use fresh ingredients whenever possible. Vegetables past their best are great for stews and stir-frys. But when it comes to a salad… vegetables take center stage and need to be at their best!
Dry your veggies. Water on the salad leaves will dilute the dressing and the flavor, plus wet ingredients do not allow the dressing to cling properly.
Dress heartier salads ahead of time. Salads that use grains like couscous or barley are best mixed with the dressing ahead of time. This way the grains can absorb the dressing over an hour or so.
Dress more delicate salads just before you serve them. It's great to give your guests some dressing on the side, but that can often end up pooling in one spot. If you toss your salad just before plating up portions, it will be evenly coated and much more satisfying!
Deseed any watery vegetables. Tomatoes and cucumbers are great base ingredients but they can make a salad soggy! To remove the seeds, use a paring knife, cut the vegetable in quarters and scoop out the seeds.
Have fun and Spiralize! Spiralizers make 'noodles' out of vegetables like zucchinis, beets and carrots. Spiralized veggies make for a more interesting salad that even your kids will love.
Sprinkle salt and massage tough greens. This tip helps turn collards, kale and cabbage into tender yet still flavorful veggies. Seasoning your greens is always a great way to add more flavor.
Salads with chicken or seafood
Packed with protein and fresh veggies, these delicious salads are filled with flavor. From Chicken Shawarma to Shrimp Cobb salad, these are heavy hitters that'll satisfy anyone's hunger!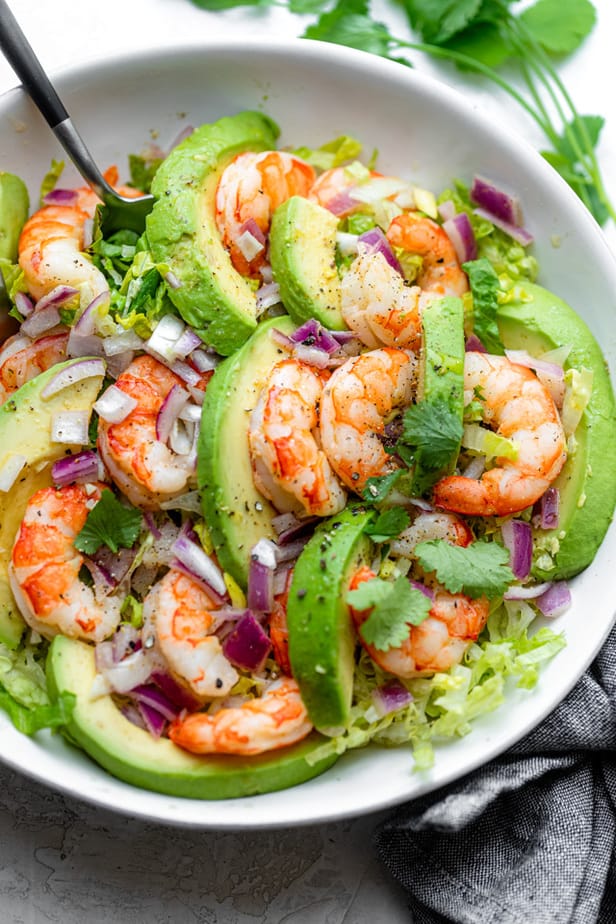 Vegetarian salad recipes
Healthy, meat free, delicious and super satisfying! These vegetarian salads have so many fun ingredients and unique combinations, from a sweet and peppery strawberry arugula salad to a hearty and warm breakfast salad with broccoli cole slaw, onion, and butternut squash – delicious!
Vegan salad recipes
Vegan salad recipes make a delicious addition to any plant-based diet. These easy recipes use a rainbow of veggies, grain and legumes.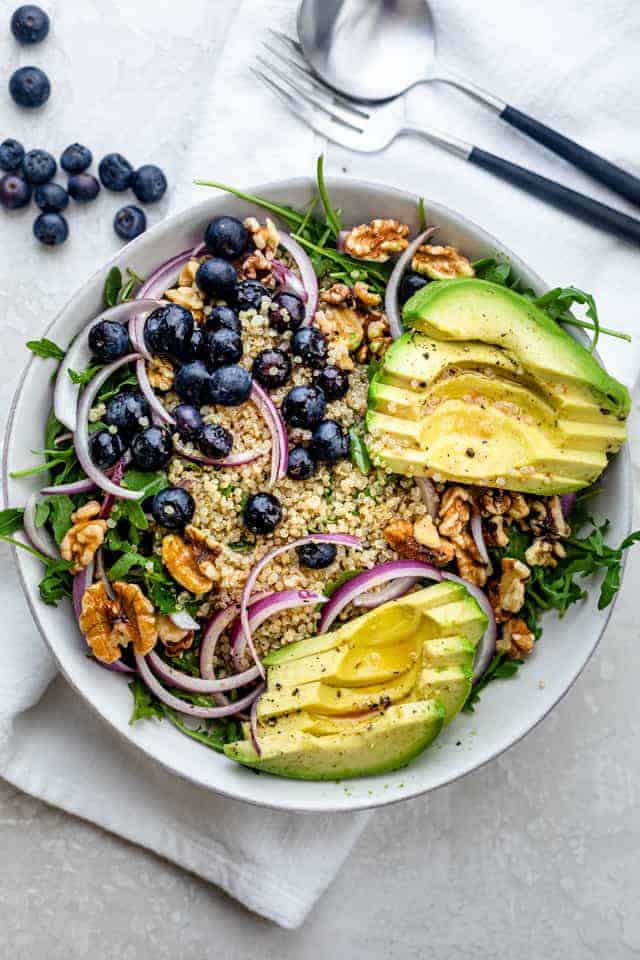 And for even more salads, be sure to check out over 50 of my favorite salad recipes for any season and any ingredients you would like to incorporate!
Other delicious recipe roundups
If you try any of these Non Boring Salad recipes or have more suggestions, I'd love to hear from you! And if you snapped some shots, share it with me on Instagram so I can repost on my stories!