This post may contain affiliate links. Please read our disclosure policy.
There's so many recipes that use vegetable broth beyond just soups. We've all been in the situation where we open a carton of vegetable broth, use one cup in a recipe, then store it in the fridge and forget to use it again. Sometimes it takes a little creativity to figure out what else to do with that vegetable broth. Sometimes it takes a little experimentation. And sometimes, it just takes practice to become familiar with the many ways you can use vegetable broth.
If you often have this problem like me, check out the 10 different recipes that are perfect for using up vegetable broth. I grouped them into 5 categories: soups, dressings, casseroles, pastas and grains. You'll never throw out another half used carton of vegetable broth again!
Broth 101
What's the difference between broth and stock
I used to use the terms broth and stock interchangeably. I thought it was pretty much the same thing – savory liquid made from boiling water with meat, bones, vegetables and/or herbs. But there is a actually a subtle difference between the two. Stock is generally made from bony parts of beef or chicken. But broth is made more out of meat or vegetables only. Stock tends to be richer, while broth tends to be more thin.
Both play supporting roles in many dishes to help deliver a boost in flavor. But let's focus on broth today.
How to buy the best broth
I do often make my own vegetable broth from scraps of vegetables and herbs. But that can be time consuming. And that's where store-bought vegetable broth comes in. All packaged vegetable broth are not created equally. So look for these three cues that you're buying a good one.
Minimal: Think about if you were to make vegetable broth at home. What ingredients would you include? Probably onions, carrots, celery and some herbs, and maybe garlic or some seasonings. Bottom line though is to keep the ingredient list simple and short.
High quality: Avoid any vegetable broths that contain low-quality ingredients that may taste good but aren't really good for your body. That includes MSG, natural flavor and dehydrated vegetables.
Organic: I know organic can be tough because of the pricing. But when it comes to broth, the organic one is only about $0.25 more. And that small price difference means it has no GMOs and no pesticides.
How to use vegetable broth
In soup recipes
Mediterranean White Bean Soup: Try this vegan Mediterranean White Bean Soup for lunch of dinner. It's a quick gluten free soup recipe that's filled with vegetables and plant-based protein
Chicken Lemon Orzo Soup: This Chicken Lemon Orzo Soup if similar to chicken noodle soup. It's full of juicy shredded chicken, heart-healthy vegetables and a delightful lemony broth!
In a dressing or gravy
Mediterranean Chopped Salad: Make this Mediterranean Chopped Salad for a large crowd. It's full of veggies, chickpeas, feta cheese and olives and tossed in an oil-free lemon herb dressing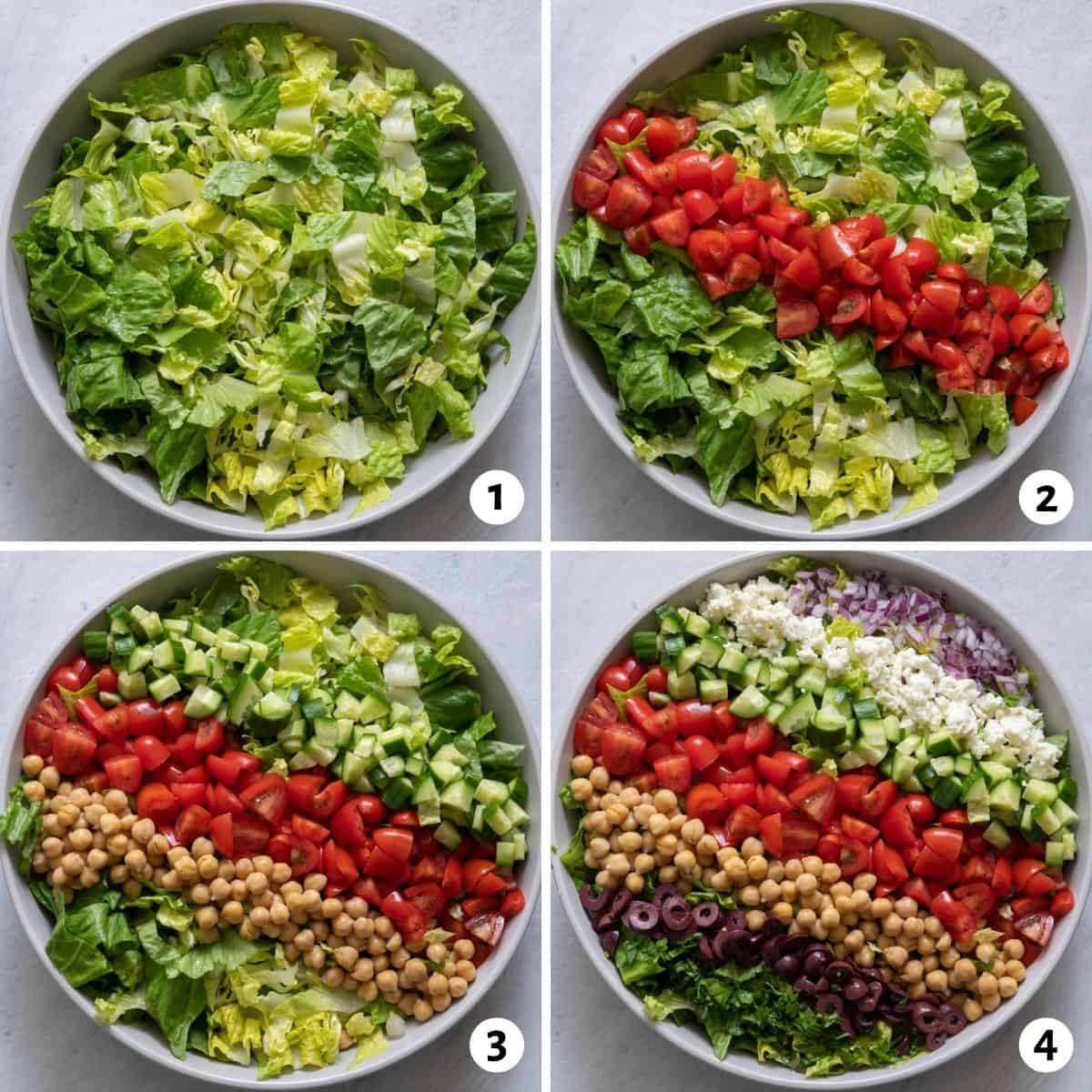 Vegan Mushroom Gravy: Try this easy delicious Vegan Mushroom Gravy for Thanksgiving – made w/ caramelized mushrooms & onions and flavored with vegetable broth, soy sauce & thyme
In a casserole
Eggplant Moussaka: This Easy Eggplant Moussaka recipe is a quick version of the Greek dish made with layers of eggplant and spiced ground beef and topped with a bechamel sauce
Potato & Cauliflower Casserole: This Cheesy Potato & Cauliflower Casserole is the BEST side dish made with cheesy layers of potatoes & cauliflower that pairs well with steak or chicken!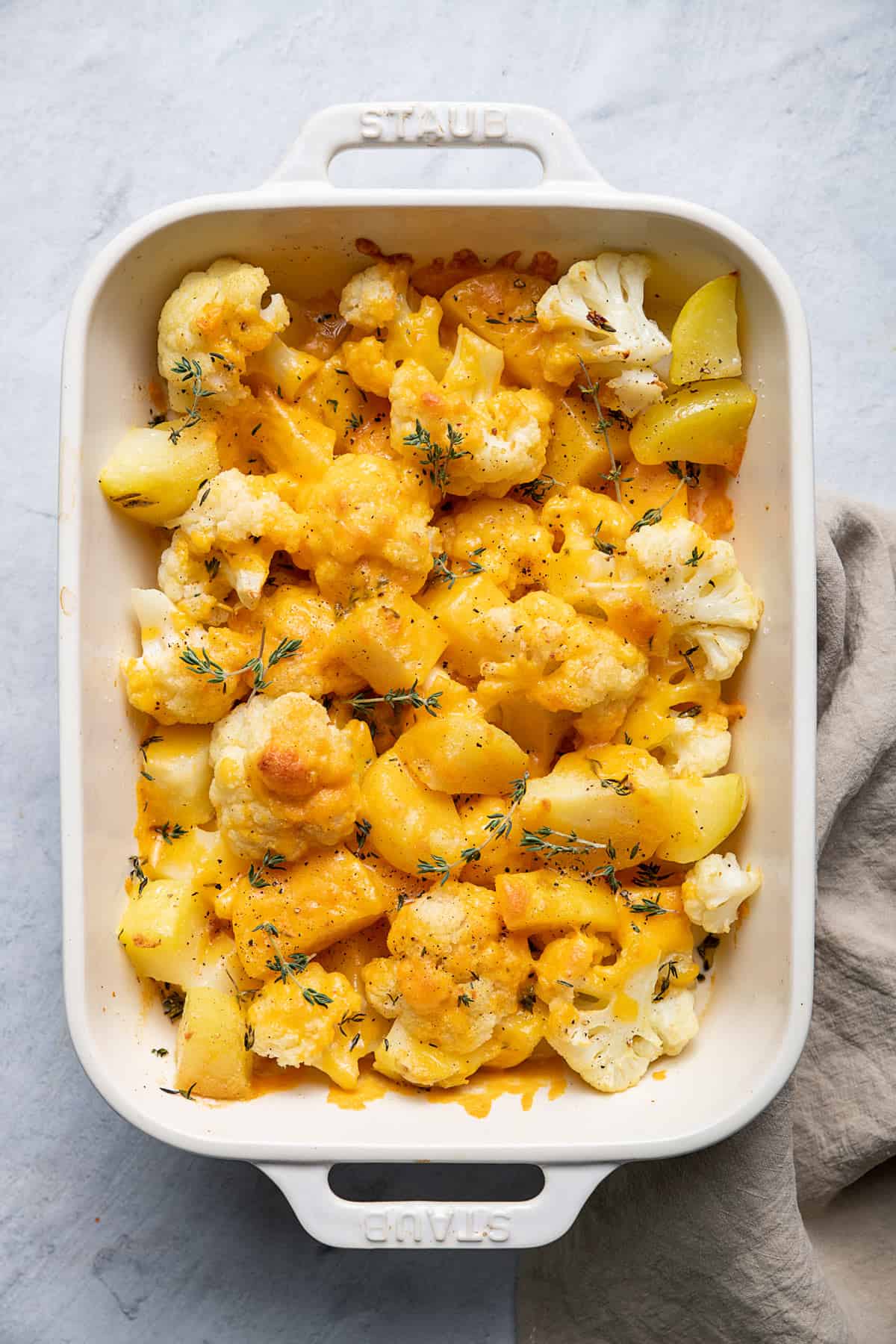 In a pasta recipe
Pasta Bolognese: Pasta Bolognese is a classic Italian dish made with ground beef, tomatoes and onions. This is a staple delicious dinner recipe that is such a crowd pleaser
Pumpkin Pasta: This Pumpkin Pasta with Crispy Sage is so easy to put together and makes for a delicious fall-inspired meal that the whole family will enjoy!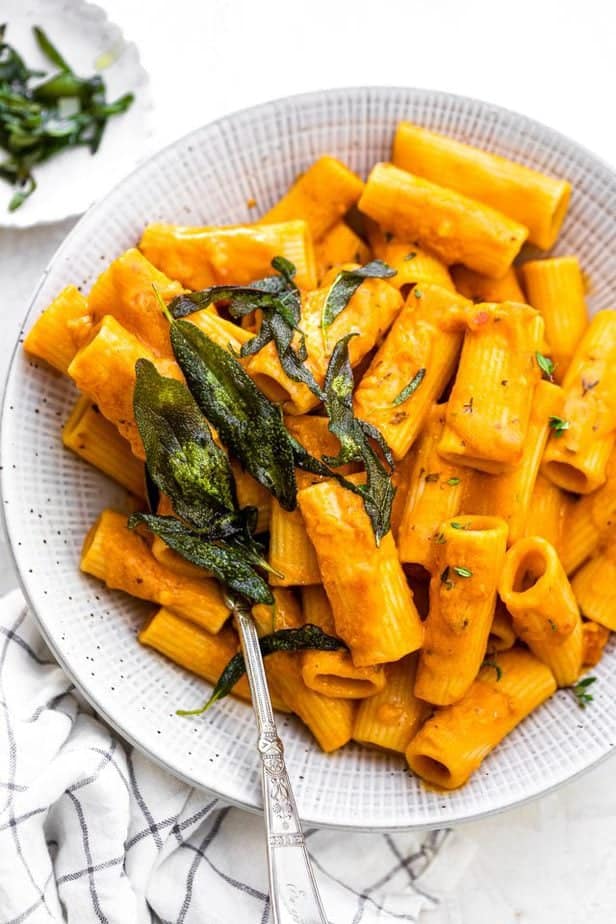 To cook grains
Mediterranean Couscous with Shrimp: A quick and easy summer recipe, this Mediterranean Couscous dish is made with shrimp, tomatoes, feta, olives and capers – it's fresh, healthy & irresistible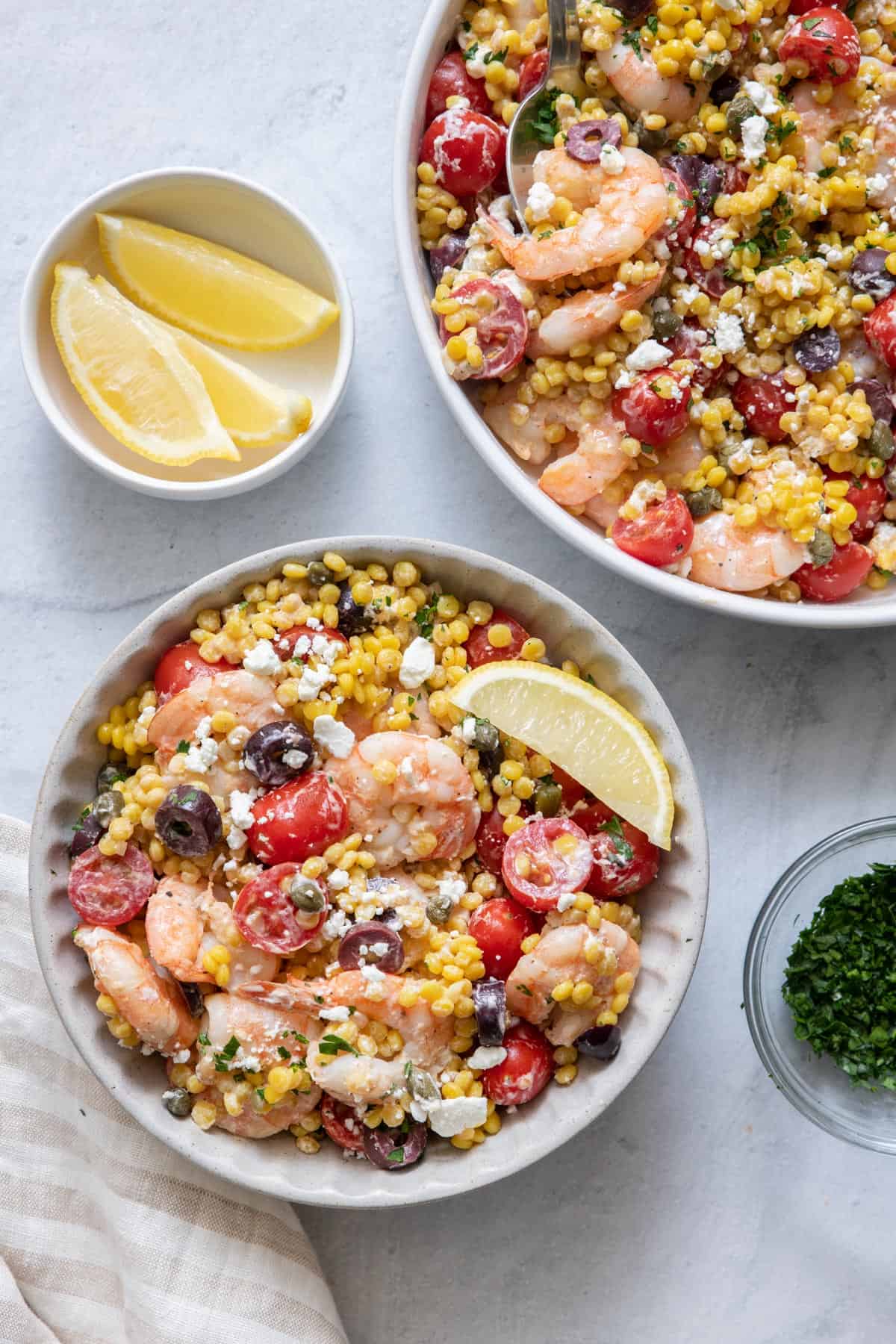 One-Pot Chicken & Rice: This One-Pot Chicken Rice and Vegetables is hearty, delicious and family-friendly! It has simple everyday ingredients, making it an easy go-to meal!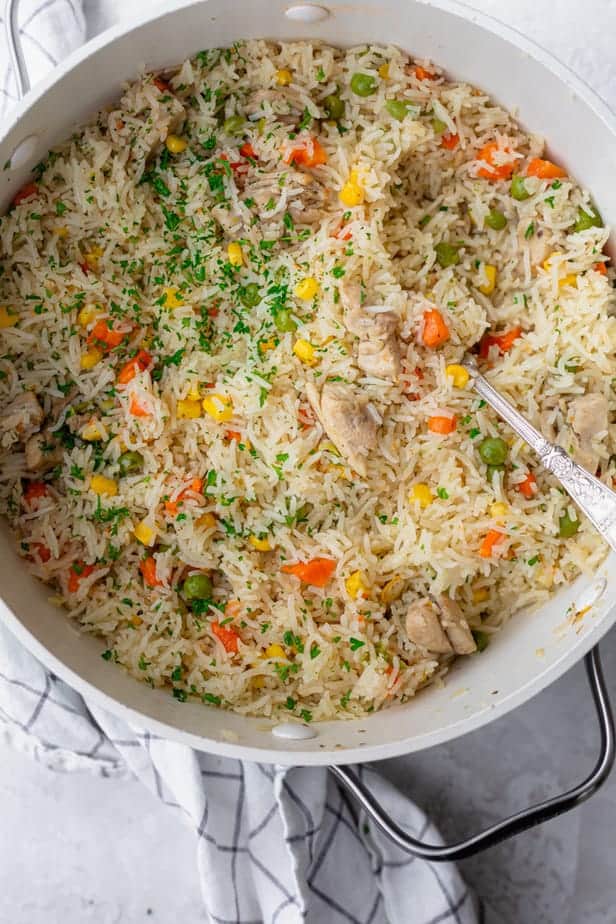 I hope you try more vegetable broth in your recipes. And think beyond soups! I hope you've learned some new ways to use vegetable broth and the way it can transform the flavor of simple dishes. Re-imagine your meal prep with these simple ways. You'll have a feel good better-for-you meal prep experience!
Frequently asked questions
How long does vegetable broth last?
Homemade vegetable broth will last 4-5 days. But store-bought vegetable broth will last a little longer, approximately 5-6 days.
Is vegetable broth vegan?
Because vegetable broth is made using vegetables and liquid, it is considered vegan. Be sure to check to package ingredients however to make sure that there is no dairy or eggs used for some reason.
Can you substitute vegetable broth for chicken broth?
With most recipes, it's definitely acceptable to substitute vegetable broth for chicken broth, especially if you're not following a vegetable diet.
If you've tried any of these healthy-ish feel good recipes with vegetable broth or any other recipe on FeelGoodFoodie, then don't forget to rate the recipe and leave me a comment below! I would love to hear about your experience making it. And if you snapped some shots of your recipe, share it with me on Instagram so I can repost on my stories!