This post may contain affiliate links. Please read our disclosure policy.
This roasted tomato soup recipe is my go-to when I need some extra tomato-y goodness. Roasting the tomatoes makes them even sweeter and richer, and if you pair them with aromatic basil and a hint of spice from red pepper flakes, you're in for a real treat. It's one of the dishes I make the most when it's tomato season because of its rich flavor and easy prep, and honestly, it never fails to impress!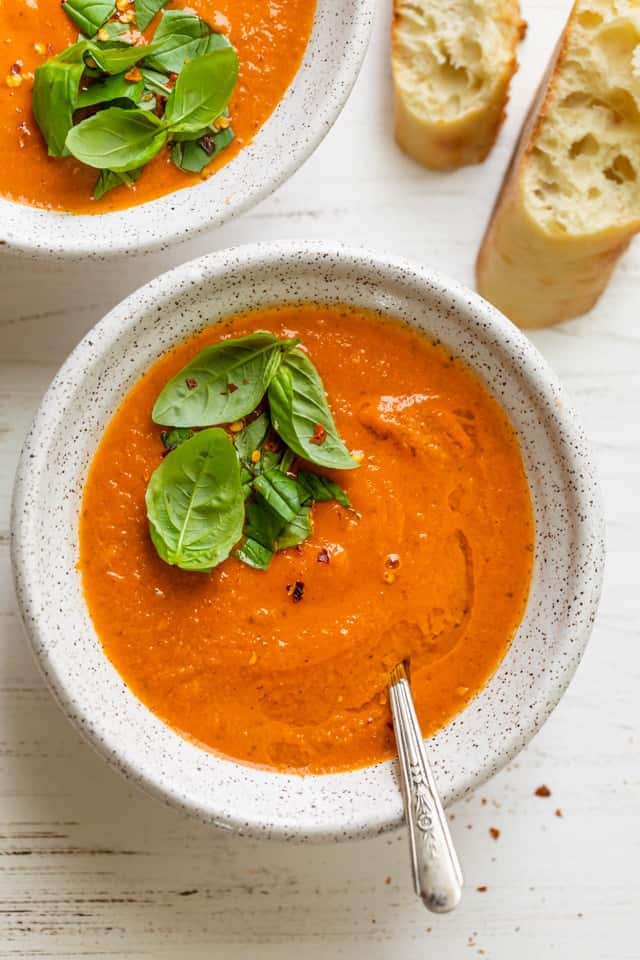 Hands down the best homemade tomato soup I've ever had was from Ina Garten. So this Roasted Tomato Soup recipe is a loose adaptation of hers. It's simple to make, uses basic pantry ingredients and is loaded in flavor from the juicy ripe tomatoes and basil!
Table of Contents
Recipe at a glance
Cuisine Inspiration: American
Primary Cooking Method: Oven, Stovetop
Dietary Info: Gluten Free, Vegan, Vegetarian
Key Flavor: Sour, Sweet
Skill Level: Easy
Summary
Flavorful: Unlike other tomato soups, this roasted tomato soup is full of flavor by itself – it doesn't need butter or cream to shine.
Versatile: Depending on the occasion, this soup can be served both as an entrée or as a main course.
Fresh Ingredients: The use of fresh tomatoes makes the soup taste much better and feel more natural than most store-bought options.
Great for Beginner Cooks: Even if you're not a pro in the kitchen, this easy tomato basil soup is very forgiving. It doesn't have any complicated steps or highly specific amounts of ingredients.
Ingredients to make roasted tomato soup
Tomatoes: The juicier, the better. If you don't have plum tomatoes, Roma or any ripe tomato variety will do, but adjust the roasting time accordingly.
Olive Oil: Extra virgin works wonders for a rich flavor. If you don't have olive oil on hand, a good substitute could be avocado oil or regular vegetable oil.
Seasonings: Salt, black pepper, and crushed red pepper flakes. These give the soup its zest and depth. Adjust the spice level to your liking.
Onion and Garlic: The classic fragrant duo in many dishes. Chopping them finely will ensure they blend well into the soup.
Canned Tomatoes: These complement the roasted tomatoes and add more depth to the soup. If you don't have whole tomatoes, crushed tomatoes work too.
Fresh Herbs: Fresh basil leaves and a sprig of rosemary. They bring a fresh and aromatic touch to the soup.
Vegetable Broth: This is your soup's liquid base. You can also use chicken broth or even water with a bouillon cube if that's what you've got in your pantry.
How to make roasted tomato soup
Roast the tomatoes
The first step for the roasted tomato soup is to roast the tomatoes. You want to look for Roma or plum tomatoes, which are the oblong shaped tomatoes, and find the most ripe ones you can get. Then slice them in half, drizzle olive oil, salt and pepper over them and roast.
If you'd like to toss in some garlic in the pan, then you have good taste, my friend! I love that idea! This process is very similar to my Crostini with Roasted Tomatoes, so you can double up on tomatoes here or sneak one on top of a crostini 😉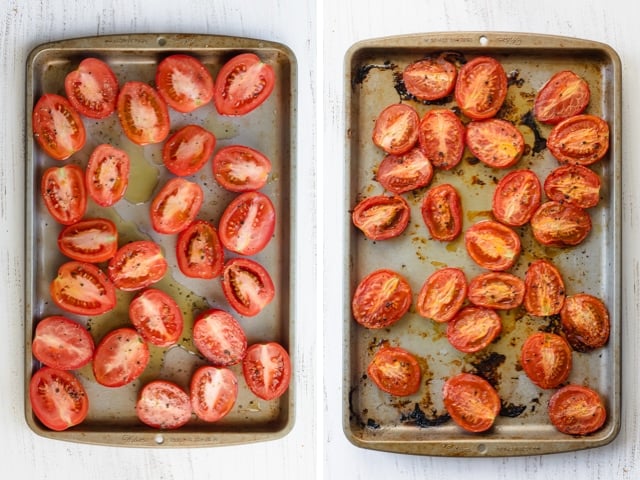 Cook the soup base
While the tomatoes are in the oven, you can get started on cooking the soup base to make this homemade tomato soup. You'll need olive oil, chopped onions, garlic and red pepper flakes. Cook until the mixture becomes soft and fragrant.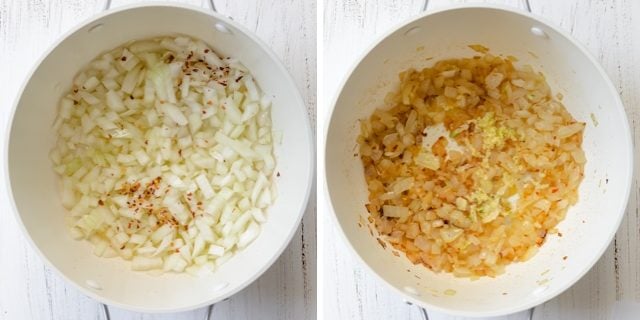 Next, add the whole canned tomatoes (and make sure to include their yummy juices!) and cover that with vegetable broth. Then you're going to turn off the heat (or you can leave it on simmer) and wait until the roasted tomatoes are finished.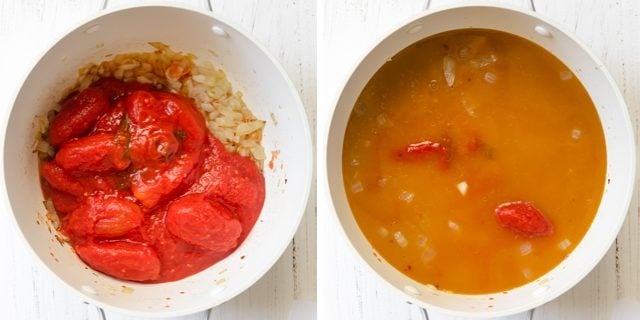 Combine everything together
Now that the tomatoes are done roasting, you can add the fresh basil and any other herbs you're using (hello fresh garden rosemary!) along with the juicy roasted tomatoes. Bring everything to a boil and simmer the roasted tomato soup for 40 minutes uncovered.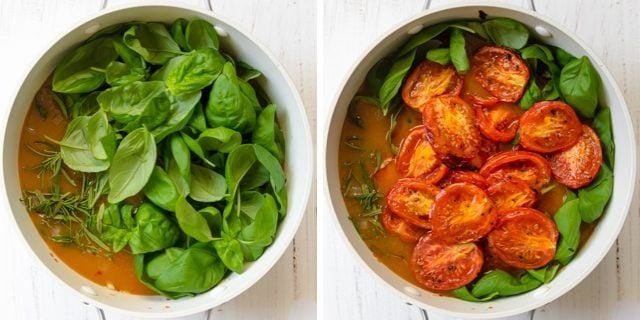 After it's simmered, it's time to blend the roasted tomato soup. I use an immersion blender and do it right in the pot. You can also transfer the soup to a blender in batches to blend that way as well.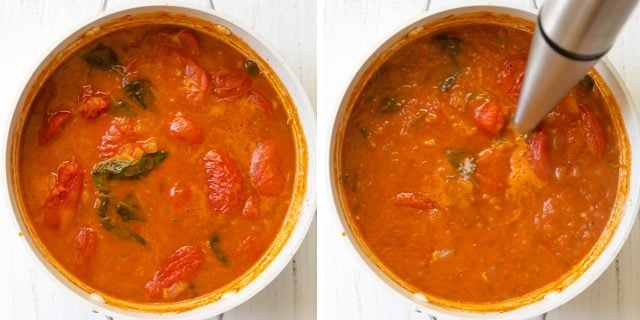 Without even using any cream, you'll notice the soup will transform to a velvety smooth consistency with a rich and flavorful aroma. It's homemade tomato soup time!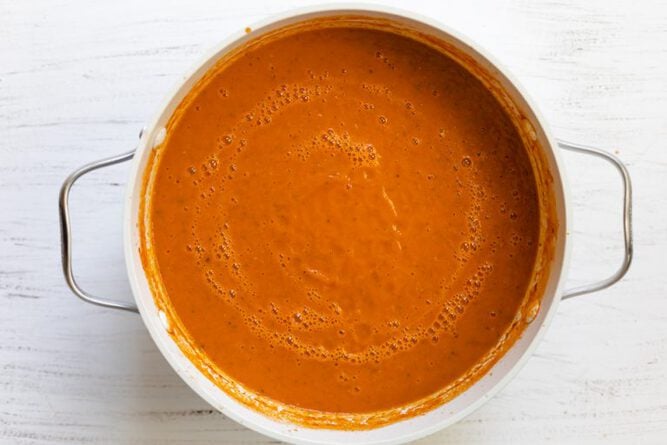 Tips for making the best homemade tomato soup
Use the ripest and reddest tomatoes you can find. The tomatoes are the star of the recipe, so pick them carefully to deliver the best flavor!
Roast the garlic with the tomatoes for a deeper flavor. You can do this instead of cooking them in the pot with the onions and olive oil.
Blend in batches if using a regular blender. Hot tomato soup can create pressure and overflow the blender. So, instead of filling it all the way to the top, fill it halfway and blend in portions. Then, combine everything in the pot.
Let the soup rest. After cooking, let the soup sit for about 10 minutes off the heat. This helps the flavors come together even more.
Be flexible with the fresh herbs. Basil goes the best with roasted tomato soup, but really any herbs will work here: try rosemary, thyme, oregano, cilantro, dill or a combination.
Remedy bitter tasting tomatoes by adding sugar or cream. If you have ripe tomatoes, you shouldn't have this problem. But if you find that the soup tastes bitter, you can add unsweetened coconut milk, sour cream (for non vegan option) or just a teaspoon of sugar.
Popular substitutions & additions
Mix in pesto. After blending, stir in a couple tablespoons of basil or sun-dried tomato pesto for an extra layer of flavor and a richer texture.
Sprinkle parmesan on top. Before serving, sprinkle some freshly grated Parmesan cheese over the soup. If there is a perfect match for tomatoes, it's definitely cheese!
Try different herbs. Instead of basil and rosemary, try rosemary, thyme, oregano, cilantro, dill or a combination.
Boost with veggies. While the main focus in this soup are roasted tomatoes, tossing in some roasted bell peppers or carrots can make the soup even more flavorful and heartier.
How to store & reheat roasted tomato soup
Once you've let the soup cool to room temperature, pour it into an airtight container or mason jar and store it in the fridge.
When you're ready for another serving, just pour what you need into a pot and warm it up over medium heat. If it's thickened a bit in the fridge, you can add a splash of broth or water to get it back to its original consistency.
How long will this tomato soup last in the fridge?
Your roasted tomato soup will stay fresh in the fridge for up to 5 days.
Can I freeze tomato basil soup?
If you want to store it for longer, you can freeze this soup. Simply pour the cooled soup into freezer-safe containers or resealable bags, leaving a little space at the top to allow for expansion. Once frozen, your soup should stay fresh for up to 3 months. When you're ready to eat, just thaw it overnight in the fridge and then reheat on the stove.
Frequently asked questions
My soup tastes bitter. How can I fix it?
If you have ripe tomatoes, you shouldn't have this problem. But if you find that the soup tastes bitter, you can add unsweetened coconut milk, sour cream (for non a vegan option) or just a teaspoon of sugar to fix it.
Should I peel the tomatoes?
This might come down to preference, but there's no need to peel the tomatoes. You will blend the roasted tomatoes with the liquid so the presence of the tomato peel doesn't affect the end results. If you decide you want to, here's a quick guide on how to peel tomatoes that might help.
What are the best tomatoes for soup?
Any kind of tomatoes will work. But since we're roasting the tomatoes and blending them, I would recommend looking for the ripest reddest ones you can find. That will yield the sweetest flavor for the roasted tomato soup.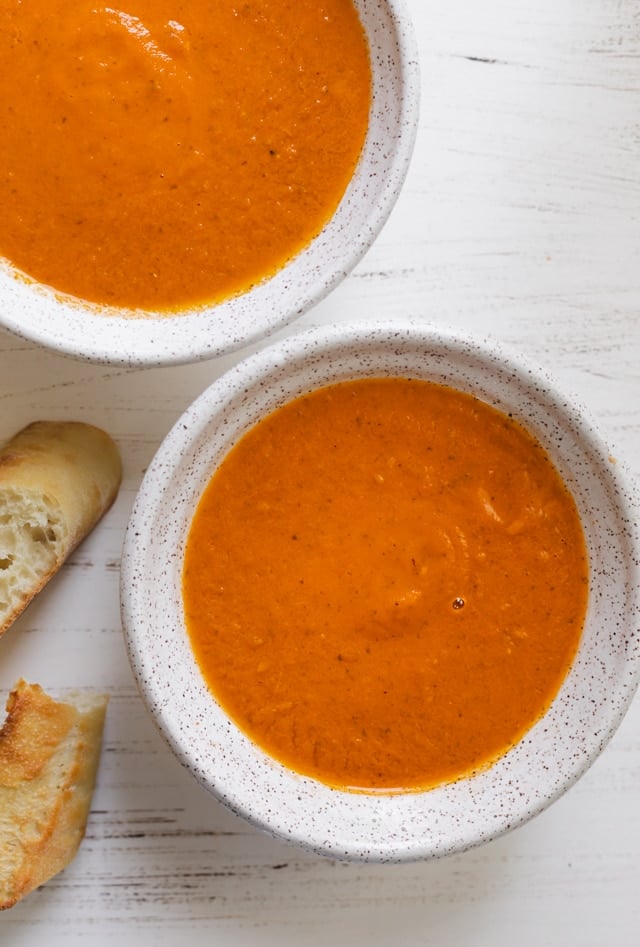 What to eat with tomato soup?
A Grilled Cheese Sandwich is my favorite thing to eat with a warm bowl of homemade tomato soup! Here are some other great ideas that go well with this soup:
For more soup recipes:
This roasted tomato soup is seriously one of the easiest soups you can make that's so full of flavor – the best way to use those garden tomatoes and herbs you may have from the end of summer. It's a healthy, silky smooth homemade tomato soup that definitely tastes better than the canned version.
If you've tried this healthy-ish feel good Roasted Tomato Soup recipe or any other recipe on FeelGoodFoodie, then don't forget to rate the recipe and leave me a comment below! I would love to hear about your experience making it. And if you snapped some shots of it, share it with me on Instagram so I can repost on my stories!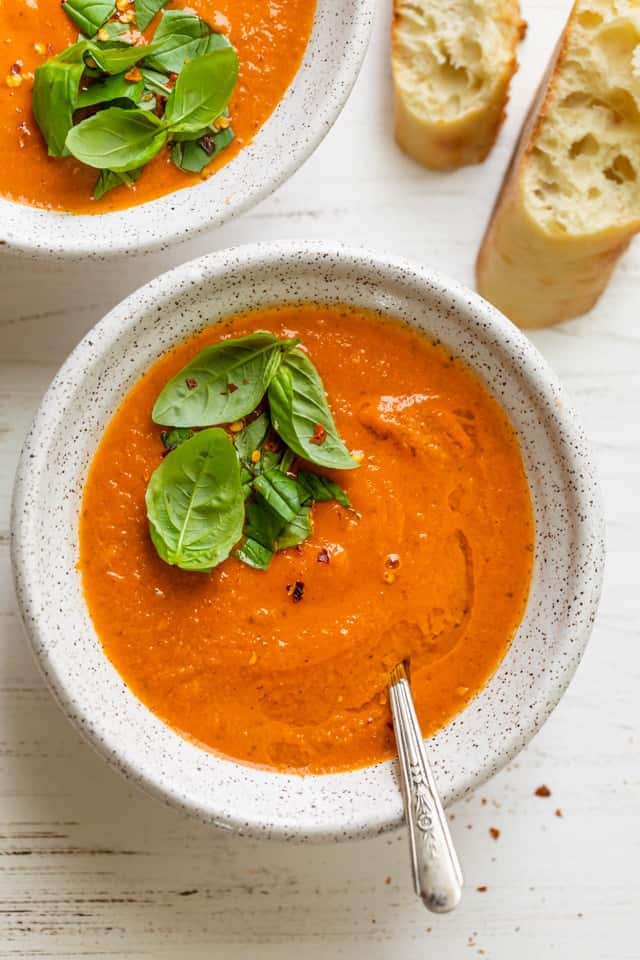 Roasted Tomato Soup
This Roasted Tomato Soup is made with simple pantry items along with juicy ripe tomatoes and fresh basil, then blended into a creamy flavorful homemade soup
Ingredients
3

pounds

ripe plum tomatoes

cut in half lengthwise

1/4

cup

extra virgin olive oil + 2 tablespoons

2

teaspoons

salt

1

teaspoon

black pepper

1

large onion

chopped

6

garlic cloves

minced

1/4

teaspoon

crushed red pepper

1

28-ounce

canned whole peeled tomatoes

with their juice

1 ½

cups

fresh basil leaves

packed

1

sprig rosemary

1

quart

vegetable broth
Instructions
Preheat the oven to 425°F. Toss together the tomatoes, ¼ cup olive oil, salt, and pepper. Spread the tomatoes in 1 layer on a baking sheet and roast for 35-40 minutes.

Heat 2 tablespoons of olive oil in a large stockpot over medium heat. Add onions and red pepper flakes, and cook, stirring occasionally until the onions are translucent, about 10 minutes. Add the garlic and sauté for 1 more minute. Add the canned tomatoes, basil, rosemary and vegetable broth.

Transfer the oven-roasted tomatoes (and their liquid) into the stockpot. Bring the mixture to a boil and simmer uncovered for 40 minutes. Use an immersion blender or regular blender to blend the soup to a smooth consistency.
Notes
Recipe: Inspired by the roasted tomato basil soup from the fabulous Ina Garten.
Storage: Store any leftovers in an airtight container. They will last about 5 days in the fridge and reheat really well. If you're serving with cream, I recommend adding after your reheat the soup to avoid is cream curdling.
Freezing Instructions: Cool the soup completely after cooking, then place in freezer safe containers or bags. You can freeze in individual portions or in larger quantities for up to 3 months. When ready to eat, just thaw in the fridge before reheating on the stovetop or in the microwave.
Equipment: I love using my Cuisinart Smart Stick hand blender for blending soups. It's quick and easy and gets me the perfect consistency, without any chunks of vegetables leftover. And it's easier to transferring the soup in batches to a blender.
Substitutes: For best results, follow the recipe as is. However here are some common substitutes that would work well in this recipe.
You can skip the canned tomatoes if you prefer, but I love the combination of canned and roasted in this recipe. If you do so, you can double the roasted tomatoes and you may need to add some tomato paste to brighten the color.
Feel free to use dried basil if necessary. Although if you can find fresh basil, it really transforms the flavor of the recipe.
Nutrition
Calories:
154
kcal
,
Carbohydrates:
17
g
,
Protein:
3
g
,
Fat:
10
g
,
Saturated Fat:
1
g
,
Sodium:
1518
mg
,
Potassium:
723
mg
,
Fiber:
4
g
,
Sugar:
10
g
,
Vitamin A:
2647
IU
,
Vitamin C:
41
mg
,
Calcium:
64
mg
,
Iron:
2
mg
Nutrition information provided is an estimate. It will vary based on cooking method and specific ingredients used.