Turkey Panini
Jump To Recipe
Prep:
Cook:
Serves:

1 person
If you have lots of leftover food from Thanksgiving, try this easy turkey panini recipe, made with turkey, thyme, cranberry sauce and melty provolone cheese
Author:

Yumna Jawad

Posted:
Turkey Panini
It's the day after Thanksgiving! My belly is full, my heart is full and our fridge is full of so many leftovers! And like many of you, I'm wondering what to do with leftover turkey. My favorite and easiest thing to do with leftover turkey is sandwiches. This turkey panini is an easy way to use up the leftover turkey and I'll share more ideas below (because I've been there, done that!). Let's start with the turkey panini and work our way to other yumminess!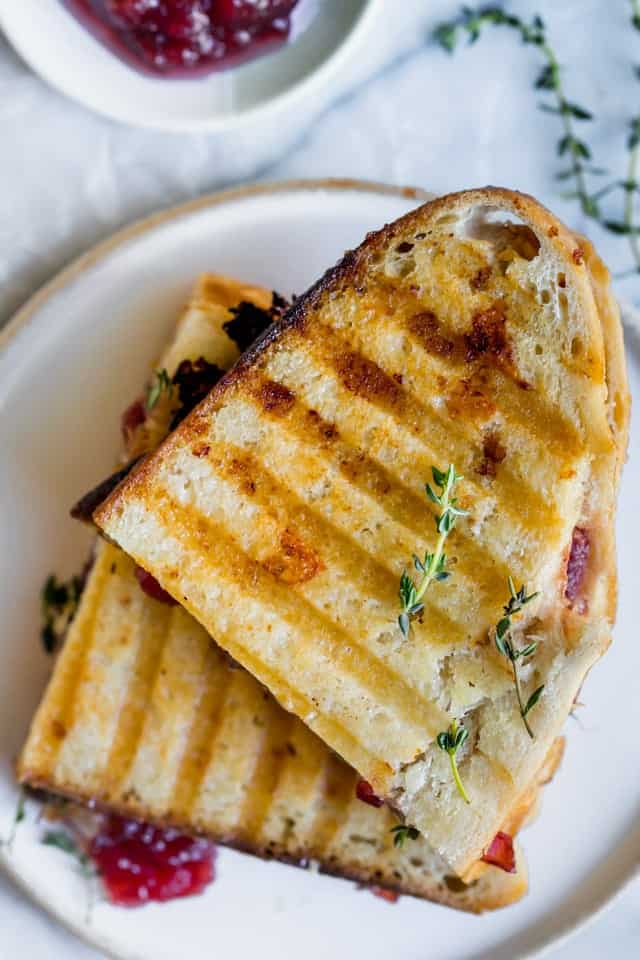 MY LATEST VIDEOS
How to make a turkey panini
To start, set out the ingredients to include in your turkey panini. There's obviously going to be turkey and cheese and bread. Try a rustic bread like thick sourdough, focaccia, ciabatta or a whole grain baguette. You want to avoid light and airy breads because they don't grill as easily and sometimes get flat or soggy.
I like to keep it simple with those ingredients and add some leftover cranberry sauce and fresh thyme. For the sandwich, I recommend using spray olive oil or mayonnaise to coat both sides of the sandwich. I used mayonnaise here because I like the taste of it with the turkey.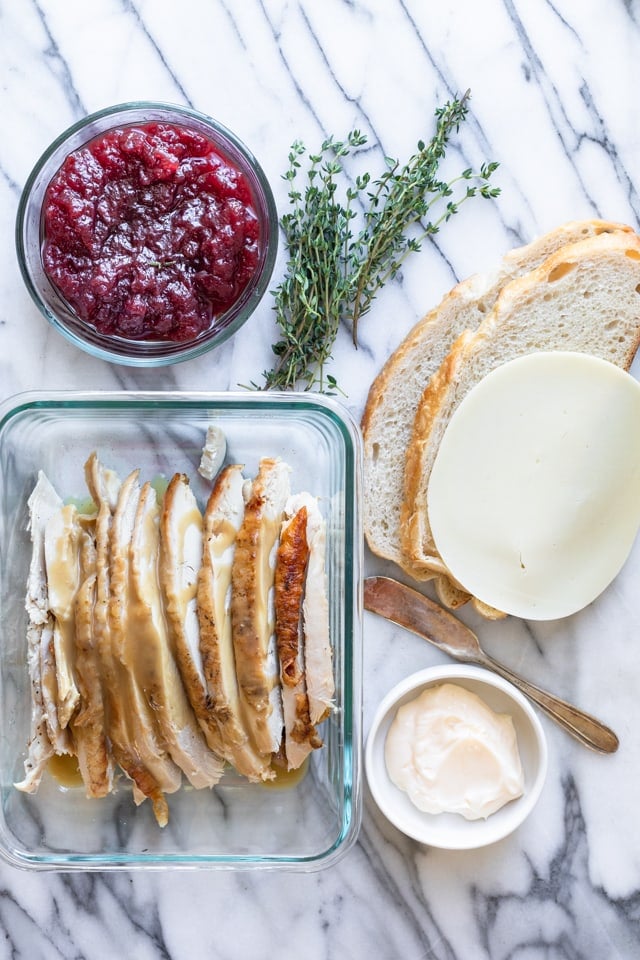 Now it's time to layer the sandwich. Try to do a mix of white meat and dark meat in the turkey panini. The white meat is leaner but the dark meat is juicer. So I find a balance between the two. I also love loading it with fresh thyme because it just screams thanksgiving and brings out all the flavors of the ingredients.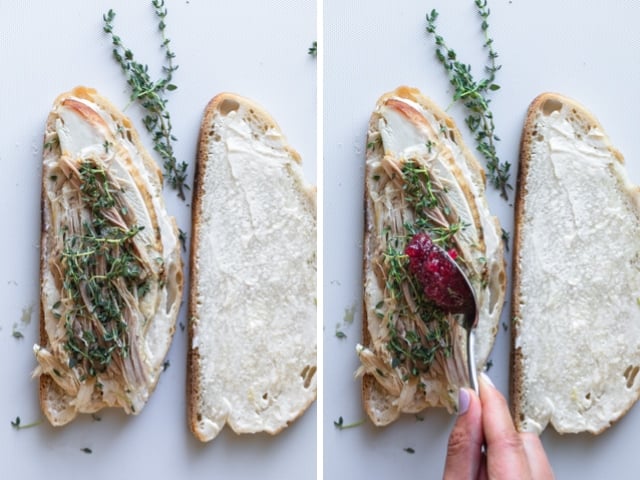 Continue assembling the sandwich and add any other ingredients you'd like. You can throw in some stuffing, some vegetables like brussels sprouts, or even some mashed potatoes. I don't bother adding any gravy, sauce or dressing. There's usually some leftover gravy right on the turkey breast from the way I store it. And the mayo and cheese give the panini plenty of sauciness! If you are going to add anything, I would recommend just a little extra gravy. Stay away from mustard which can really overpower the taste of the turkey panini.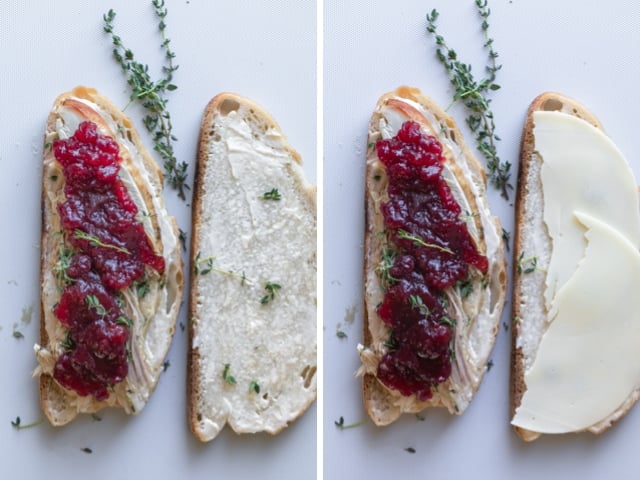 Once everything is layered on, place the cheese last, carefully close the sandwich and place it on the panini maker. If you don't have a panini grill, you can heat a skillet large enough to fit the sliced bread. No need to spray the skillet since we already have mayonnaise (or olive oil) right on the outside of the sandwich. You'll want to cook the turkey sandwich for 2 minutes per side, gently pressing down on top of the sandwich with a spatula as you cook. This will ensure even cooking.
The sandwich is done when it's golden brown and the cheese is melted. This turkey panini will satisfy your cravings for leftover turkey, solve any problems for what to do with leftover turkey and make your belly so happy. It has a perfectly golden crispy crust, juicy tender turkey on the inside and a mix of salty provolone cheese with sweet and tart cranberry sauce that makes for a tasty easy meal after a big holiday feast.
What to do with leftover turkey
If you ended up with lots of leftover turkey, here are some other great recipes of what to do with it. Try a couple of the recipes below from my favorite bloggers. And if it's still too much turkey, you can certainly freeze the turkey and store it for up to 3 months. Just be sure to remove all the bones so the turkey meat is ready to go and be used in any of the recipes below. This will be a lifesaver when you're looking for last minute meal ideas!
I hope you try the turkey panini and I hope you try those other amazing recipe ideas and not be left worrying what to do with leftover turkey. But hey, in the end, that's a good problem to have, so gobble gobble gobble!
If you make this healthy-ish feelgood Turkey Panini recipe, please be sure to leave a comment and/or give this recipe a rating! I would love to hear about your experience making it. And if you snapped some shots of it, share it with me on Instagram so I can repost on my stories!
Turkey Panini
If you have lots of leftover food from Thanksgiving, try this easy turkey panini recipe, made with turkey, thyme, cranberry sauce and melty provolone cheese
Course: Sandwiches
Cuisine: American
Keyword: Holidays, leftover sandwich, leftover turkey, Lunch, Sandwiches, thanksgiving, Thanksgiving leftovers
Servings: 1 person
Calories: 577 kcal
Ingredients
3 ounces sourdough bread 2 slices sliced about ½ inch thick
1 tablespoon mayonnaise
3 ounces turkey breast
2 tablespoons cranberry sauce
1 slice provolone cheese
1 tablespoon fresh thyme leaves
Instructions
Heat a panini press or skillet to medium high heat.

Spread the mayonnaise on both sides of the bread. Lay the slices down on a clean work surface. Place the sliced turkey breast on top of one slice of bread. Add the fresh thyme leaves, then the cranberry sauce and finally the provolone cheese.

Cover the sandwich with the other slice of bread.

Transfer the sandwich to a panini press or hot skillet. Press together gently to help the whole sandwich stick together. Cook it until the bread is crisp and golden and the cheese is melted, about 3-4 minutes.

Slice the sandwich in half and serve immediately.
Recipe Video
Recipe Notes
Storage: I would recommend consuming the sandwich right when it is made. However, you can store any leftovers in an airtight container in the fridge for one day. To reheat, place is back in the panini maker or in a toaster oven for 1-2 minutes until it's warm and the cheese has melted.
Substitutes: For best results, follow the recipe as is. However since it's a leftover turkey sandwich, there is so much room for customization to make it your own.
Equipment: It's so fun to make sandwiches in my panini press. I have the Cuisinart 5-in-1 Griddler – pretty much a magic appliance in the my kitchen that does so much! If you don't have a panini grill, you can use a skillet and cook the sandwich for 2 minutes per side, pressing down with a spatula as you cook.
Nutrition Facts
Turkey Panini
Amount Per Serving
Calories 577 Calories from Fat 189
% Daily Value*
Total Fat 21g 32%
Saturated Fat 7g 35%
Cholesterol 71mg 24%
Sodium 955mg 40%
Potassium 395mg 11%
Total Carbohydrates 62g 21%
Dietary Fiber 3g 12%
Sugars 14g
Protein 36g 72%
Vitamin A 11.6%
Vitamin C 13.6%
Calcium 28.9%
Iron 26.5%
* Percent Daily Values are based on a 2000 calorie diet.