This post may contain affiliate links. Please read our disclosure policy.
Banish those winter blues with a cozy, comforting and delicious soup! I've gathered 20 of my favorite healthy soup recipes to warm the soul and fill you with goodness. Loaded with vibrant veggies and power packed protein, there's a soup in here for everyone.
Homemade soups are some of the most satisfying and nourishing foods you can slurp! There's nothing quite like a steamy bowl of rich and vibrant soup to give you that warm and cozy feeling, especially during the winter months. From chicken soups to veggies packed bowls of lick-able loveliness , I've rounded up 20 of my favorite healthy soups.
Tips for making soup recipes
Keep ingredients bite sized. You want your veggies and proteins to fit on the spoon for nice and convenient bites; plus it helps the ingredients cook more evenly.
Simmer that pot! Simmering is your friend when it comes to soups. If you boil your soup too long, your veggies will become too mushy.
Sweat your aromatics. Veggies such as onions, celery and carrots (also called mirepoix) along with garlic are the building blocks of many of my soups soup. Sauté them first before adding other ingredients and the broth to release all the flavors!
Go big and double up your ingredients! Soups are so easy to make in large batches, they are also super freezer-friendly. Get a large pot or two and double or triple the recipe ingredients.
Make your own stock. Whether you're looking for chicken stock or vegetable stock, I share both recipes for easy homemade recipes you can make. They add so much flavor, and they're cheaper than store-bought!
Best healthy soup recipes
Soup
Try this vegan Mediterranean White Bean Soup for lunch or dinner. It's a quick gluten free soup recipe that's filled with vegetables and plant-based protein
Soup
This Easy Chicken Noodle Soup recipe is my all-time favorite winter soup, made with simple ingredients and stocked with nutrients for the cold season!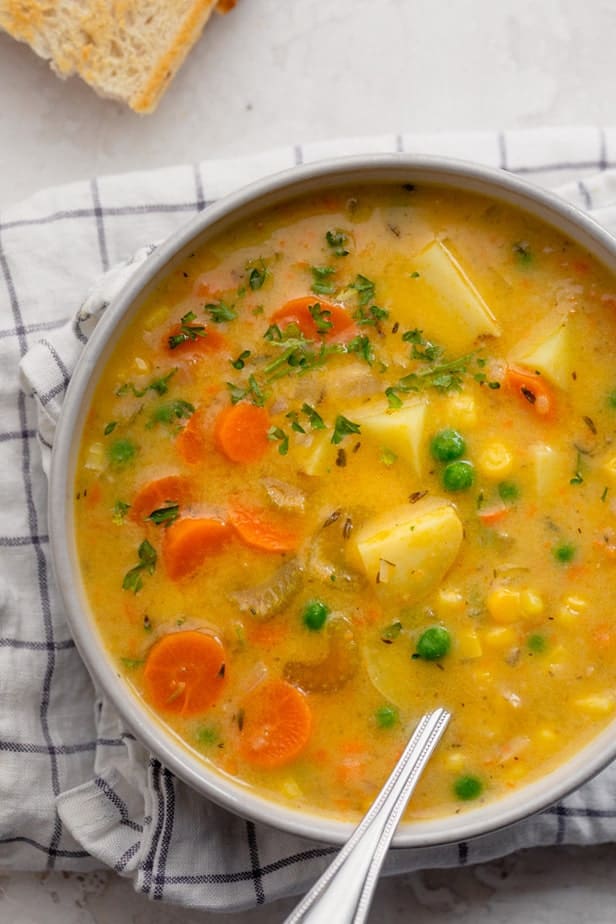 Soup
This Creamy Vegetable Soup is a cozy, comforting vegan recipe that's gluten-free, easy-to-make & loaded with veggies- great for lunch or as a dinner starter
Soup
This roasted butternut squash soup is an easy, heart-warming and comforting recipe for the fall/winter. It's smooth and creamy but is actually dairy-free!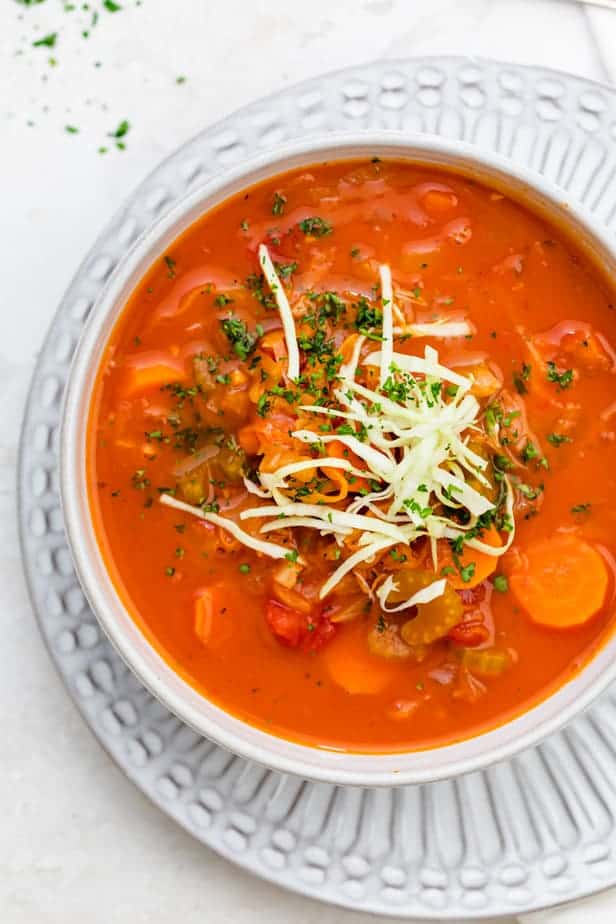 Soup
This Tomato Cabbage Soup is vegan, easy to make and low in calories. It's a delicious, light & healthy lunch that is inspired by the detox cabbage soup diet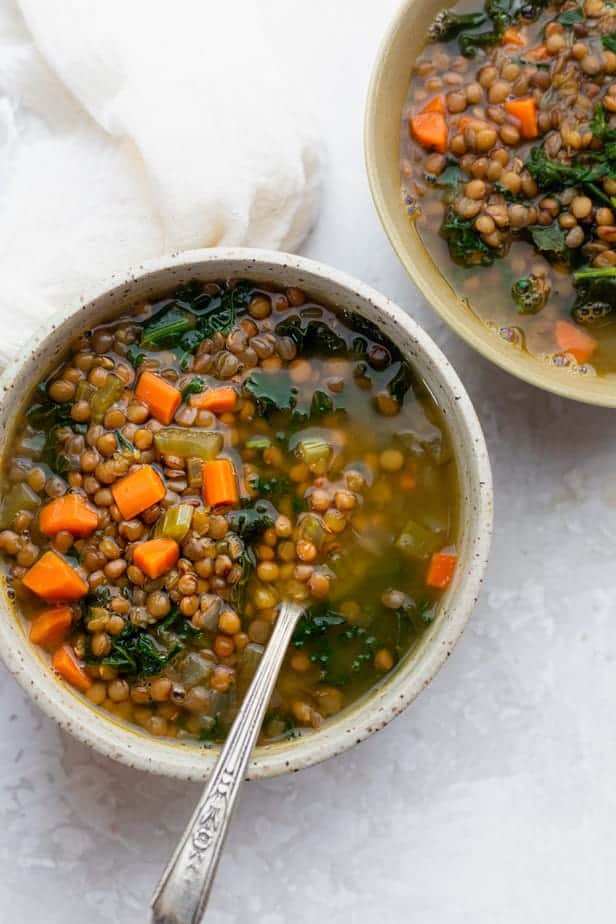 Soup
Lentil Kale Soup is a hearty vegan recipe that is easy to throw together with green lentils, onions, celery, carrots and kale – 13 grams of protein/serving!
Soup
Warming and hearty, this wild rice mushroom soup is simple and easy to make. Made with a medley of mushrooms, this vegan one pot meal is full of flavor.
Soup
This vibrant and creamy vegan Carrot Ginger Soup is made with roasted carrots and coconut milk. It comes together quickly and easily and is perfectly spiced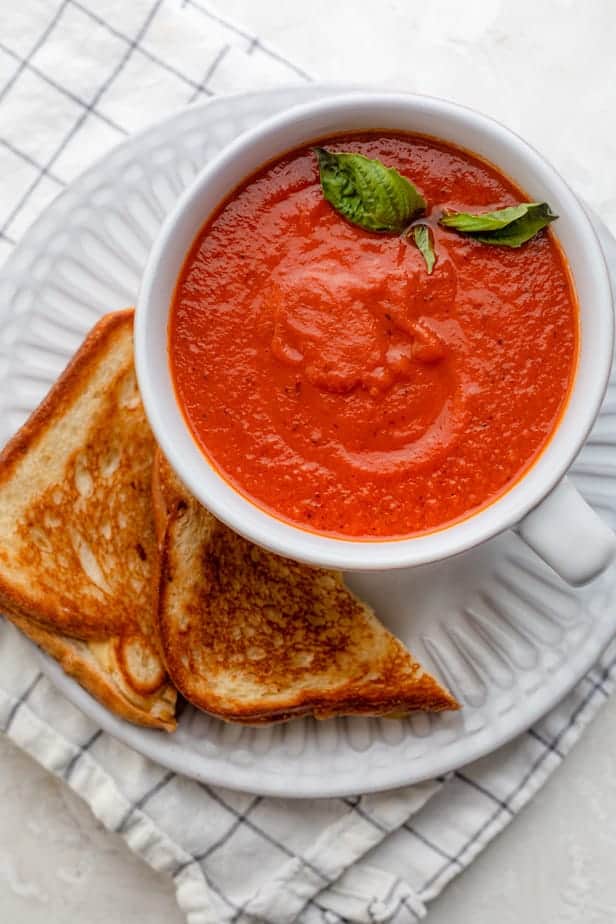 Soup
Make a delicious tomato soup on the stovetop with just 5 ingredients! It's a soul warming recipe with minimal preparation and perfect with grilled cheese!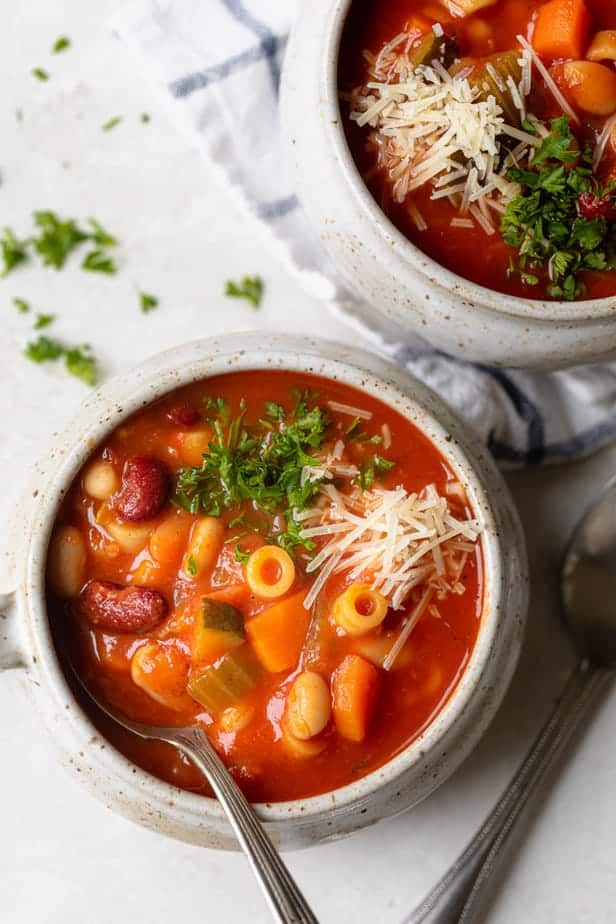 Soup
Vegetarian Minestrone Soup is based on the hearty classic Italian recipe that's loaded with beans, vegetables and pasta in a seasoned aromatic tomato broth!
More healthy soup recipes to try:
More recipe collections to check out:
If you any of these Favorite Healthy Soup Recipes or any other recipe on FeelGoodFoodie, leave me a comment below! I would love to hear about your experience making the recipes. And if you snapped some shots of it, share it with me on Instagram so I can repost on my stories!