Vegan Detox Cabbage Tomato Soup
Jump To Recipe
Prep:
Cook:
Serves:

6 bowls
This Vegan Detox Cabbage Tomato Soup is an easy, low-calorie, healthy soup that is perfect for anyone dieting, cleansing or detoxing, without a sacrifice of flavor!
Author:

Yumna Jawad

Posted:
Vegan Detox Cabbage Tomato Soup
Remember the fad Cabbage Soup Diet? It was popular a few years ago, and like most fads, it pretty much just faded. The essence of the diet was eating cabbage soup 2-3 time a day along with a lot of other fruits and vegetables and an allotted list of foods added each day, like brown rice and chicken. People loved this diet when it came out because it was a great way to lose weight easily in a short amount of time.
But we all learn that eventually it catches up with you and that's the worst way to lose weight. What happens after a few days is you realize your body is missing key nutrients to stay healthy, and it leaves you craving the foods you've avoided >> then the weight piles on again.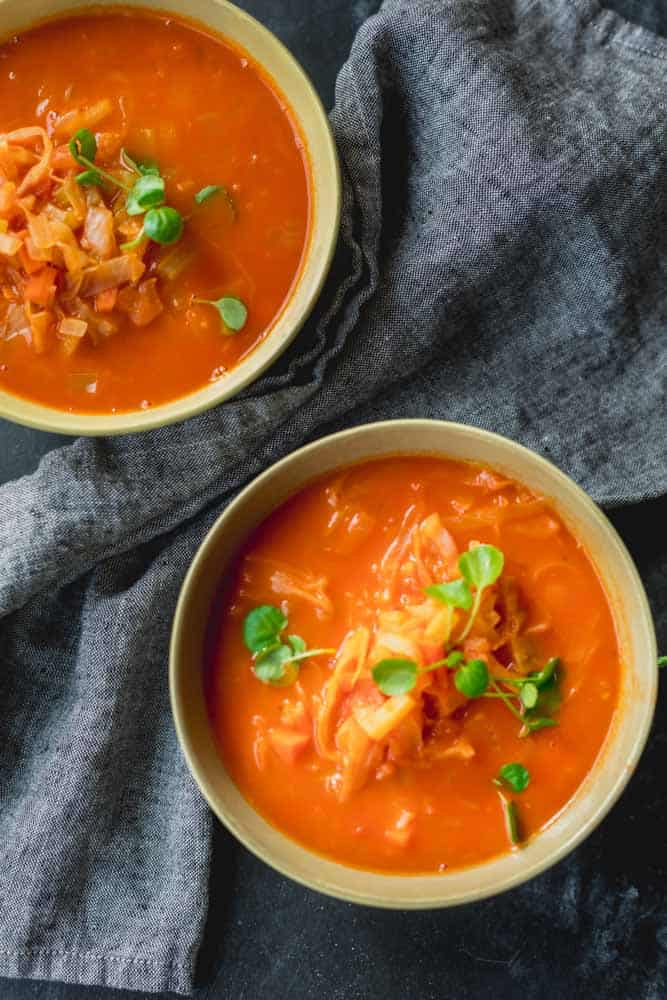 When I heard about this a few years ago, I also tried it and created my version of the soup with this Vegan Detox Cabbage Tomato Soup. Well, I never actually followed the diet more than one day, but I fell in love with the soup, so I still make it often!
Yes, the soup is low in protein, low in complex carbs and low in fats, so it may leave you craving something more satisfying. But I think it works wonderfully as a soup for lunch or an appetizer at dinner when you want something light or want to detox after a weekend of heavy eating. But you need to make sure to get key nutrients in the other foods you eat through the day.
I really hate any diet that limits any food group, so I am not a proponent of the cabbage soup diet, but I am 100% proponent of my Vegan Detox Cabbage Tomato Soup.
Try it, Love it, Share it!
Hope you try this recipe for Vegan Detox Cabbage Tomato Soup. Please tag me #feelgoodfoodie so I can see all your fabulous recreations on Instagram, Facebook, Pinterest and Twitter!
1 Tbsp olive oil
1 medium onion, chopped
2 garlic cloves, crushed/minced
3 celery stalks, chopped
3 long carrots, chopped
Salt and pepper, to taste
1 tsp oregano
1/2 tsp cayenne (or to taste)
1 15 oz can, diced tomatoes
4 oz tomato paste
6 cups vegetable broth (or water)
1/2 head cabbage, chopped
Instructions
Heat olive oil in a large pot over medium heat.
Add onions, garlic, celery and carrots and saute for a few minutes until fragrant and tender.
Season with salt and pepper to taste, oregano and cayenne.
Stir in the diced tomatoes and the tomato paste and mix well with the other ingredients.
Add the vegetable broth or water and bring to a boil.
Stir in the cabbage and simmer for 20 minutes until cabbage softens.
Taste the soup and adjust seasoning as needed.
Serve and enjoy!