This post may contain affiliate links. Please read our disclosure policy.
For those seeking a refreshing twist on a classic dish, look no further than this Cucumber Gazpacho. The heart of this recipe is the hothouse cucumber, blended with creamy, protein-packed Greek yogurt and given just the right kick with jalapeño. This green cucumber gazpacho is what cold soups are made of!
Table of Contents
You know, there's something undeniably refreshing about a good gazpacho. Especially when it's as vibrant as this Cucumber Gazpacho. And making it? So easy. Everything goes into the blender, and out comes this gorgeous, green cold soup. Top it with a few garnishes, and you've got yourself a bowl of pure, freshness. It's so good I don't even know how to describe it – you've just got to taste it!
Why you'll love this easy cucumber gazpacho
Simple Ingredients, Big Flavors: With everyday ingredients like green onions, lemon, and fresh parsley, this gazpacho proves that you don't need a long list to create a dish that's full of depth and character.
Easy to Make: No complicated steps or techniques; just blend and chill! Perfect for both kitchen novices and seasoned chefs alike.
Healthy and Nutritious: Not only is this gazpacho so good, but it's also packed with nutrients. Hydrating cucumbers, bone-strengthening Greek yogurt, and a mix of herbs and veggies rich in vitamins and antioxidants!
Perfect for Entertaining: Serve it as a starter at dinner parties or enjoy it as a light lunch. Its vibrant green is sure to impress guests and spark conversations.
Ingredients to make Creamy Cucumber gazpacho
Hot House Cucumber: Typically larger and seedless, Hot House cucumbers offer a crisp, refreshing base for the soup.
Green Onions: These give a subtle onion flavor without overpowering the dish.
Lemon: Incorporating both the juice and zest ensures a zesty tang, which balances the creamy elements.
5% Fat Greek Yogurt: This creamy addition brings depth and consistency to the gazpacho. Its tangy profile complements the other fresh ingredients.
Fresh Parsley: Apart from its vibrant green hue, half a cup of chopped parsley infuses the soup with a herby undertone.
Jalapeño: By seeding the pepper, I'm aiming for a hint of spice without too much heat. Adjust to your liking.
Chives: These provide another layer of mild, oniony flavor, different from green onions. Two
Olive Oil: Not just for texture, but also for a rich, fruity undertone that binds the flavors together.
Seasonings: Salt, pepper, and red pepper flakes ensure a well-balanced flavor.
How to make Cucumber Gazpacho
Place all of the gazpacho ingredients in a high-speed blender.
Process until smooth and bright green.
Tips for Making the Best Cucumber Gazpacho
Blending Technique: To achieve the perfect consistency, make sure to use a high-speed blender. It breaks down the cucumber and other ingredients to give that smooth, velvety texture.
Taste and Adjust: Before chilling, take a taste. Depending on the tanginess of your yogurt or the heat of your jalapeño, you might want to adjust the seasonings slightly.
Chill Before Serving: This is more than just for the sake of tradition. As you mentioned, not only does chilling allow the flavors to meld and develop, but it also brings out the refreshing quality of the cucumber, making it a delightful experience in every spoonful.
Fresh Ingredients: Especially when dealing with a dish as straightforward as gazpacho, the quality of your ingredients will shine through. Fresh cucumbers and herbs will make a noticeable difference.
Popular Substitutions & Additions
Swap the parsley for other greens. You can really use any tender green herb like cilantro or basil, or even microgreens.
Add watermelon. You can really add any fruits you'd like to this gazpacho, but watermelon with its high water content works really well here with the cucumber flavor.
Yogurt Alternatives: If you're looking to go dairy-free, coconut yogurt or almond-based yogurt can work as a replacement, though they might alter the flavor profile a bit.
Mint: Want to add an extra layer of freshness? Throw in a few mint leaves during the blending process.
Avocado: For a creamier texture and a richer flavor, add half an avocado to the blend.
Bell Peppers: Swap out jalapeños for bell peppers if you're not a fan of heat. This gives a sweet, crunchy dimension without the spice.
Tomatoes: Incorporate a ripe tomato for a slight twist, adding depth and a subtle sweetness to the gazpacho.
How to Store Cucumber Gazpacho
To properly store cucumber gazpacho, transfer it into an airtight container, ensuring there's minimal air inside. This helps maintain its freshness and prevent it from absorbing any fridge odors. Keep it in the coldest part of your fridge, usually the back, away from the door where the temperature fluctuates the most.
How long will Cucumber Gazpacho last in the fridge?
Cucumber gazpacho will keep in the fridge for up to 3 days. Since cucumber is mostly made up of water, the gazpacho may separate. If that happens, simply whisk it before serving, or return it to the blender for a few seconds.
Frequently asked questions
Can I use regular cucumbers instead of hot house ones?
Yes, but be aware that regular cucumbers may have more seeds and a slightly thicker skin, which could affect the texture.
Do I Have to Peel the Cucumbers?
No, you don't necessarily have to peel the cucumbers, especially if you're using hot house cucumbers which have a thinner skin. However, if you're using regular cucumbers with thicker skin or if you prefer a smoother texture for your gazpacho, peeling is recommended. Additionally, the skin can add a deeper green color to your gazpacho. Always ensure you wash the cucumbers thoroughly if you decide to keep the skin on.
Should I Drink It or Eat It with a Spoon?
Cucumber gazpacho can be both drunk and eaten with a spoon. Its consistency typically lies somewhere between a drinkable smoothie and a soup. How you choose to eat it really comes down to personal preference and the occasion.
In the realm of refreshing dishes, cucumber gazpacho holds its ground. It's a blend of simple ingredients, each bringing a unique layer of flavor and freshness to the table. Whether you're sipping it by the pool or spooning it at a dinner party, this gazpacho promises to be an amazing dish.
More cucumber recipes:
If you try this feel good Cucumber Gazpacho recipe or any other recipe on Feel Good Foodie, then don't forget to rate the recipe and leave a comment below! It helps others who are thinking of making the recipe. We would love to hear about your experience making it. And if you snapped some shots, share it on Instagram so we can repost on Stories!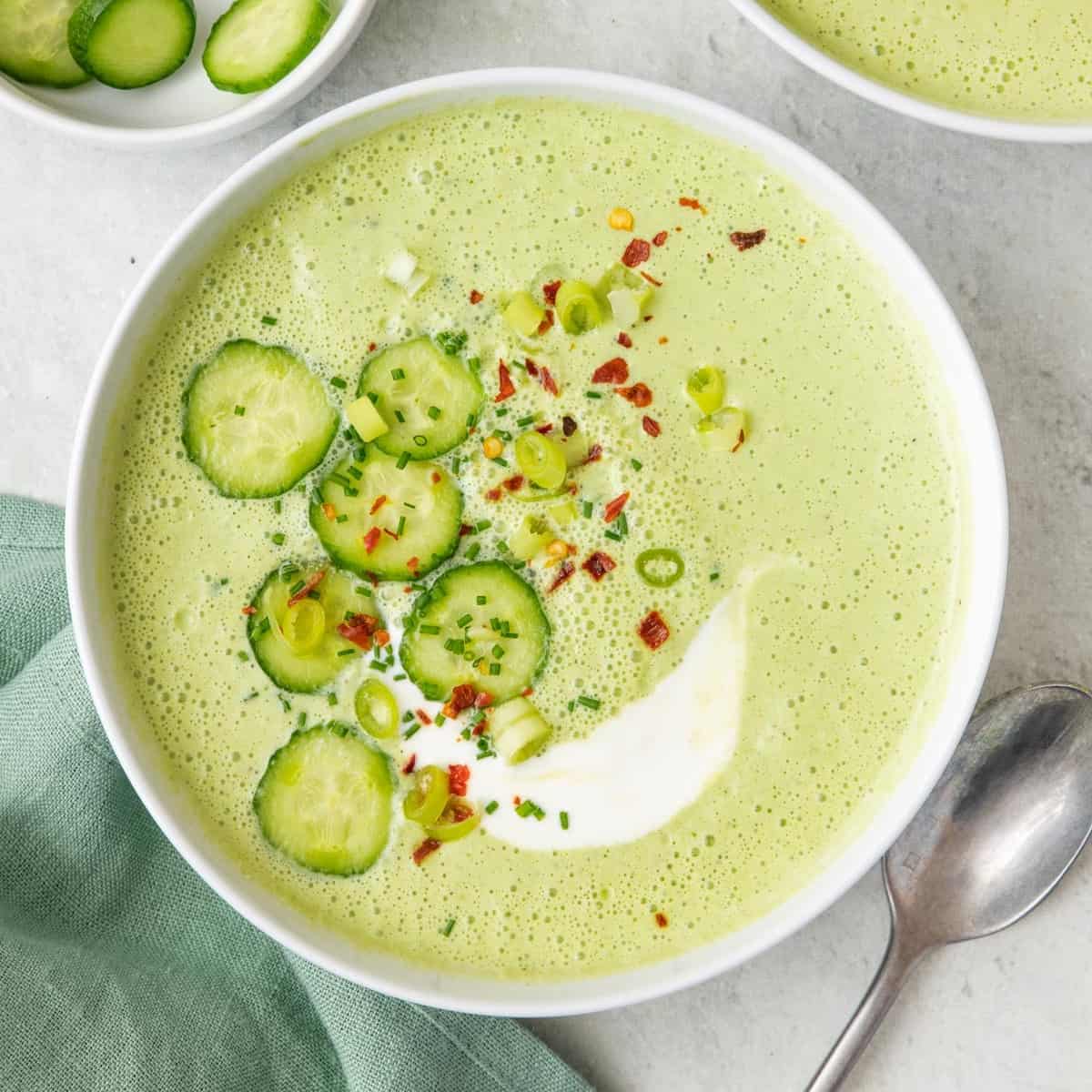 Cucumber Gazpacho
This cucumber gazpacho is creamy, bright, and delicious! The vibrant green color makes it fun to eat, and the flavor does not disappoint!
Ingredients
For the Gazpacho:
For Garnish:
1

Persian cucumber

thinly sliced

1

green onion

thinly sliced

3-4

chives

minced

Red pepper flakes

1

tablespoon

Greek yogurt

thinned with 1 teaspoon lemon juice
Instructions
Place all of the gazpacho ingredients in a high speed blender and process until smooth and bright green. Chill for at least 1 hour before serving.

Divide into 4 small bowls and garnish with sliced cucumber, green onions, chives, red pepper flakes and thinned yogurt and enjoy.
Notes
Serving size is about 12 ounces (1 ½ cups)
Nutrition
Calories:
124
kcal
,
Carbohydrates:
9
g
,
Protein:
7
g
,
Fat:
8
g
,
Saturated Fat:
1
g
,
Polyunsaturated Fat:
1
g
,
Monounsaturated Fat:
5
g
,
Trans Fat:
0.003
g
,
Cholesterol:
3
mg
,
Sodium:
320
mg
,
Potassium:
331
mg
,
Fiber:
2
g
,
Sugar:
4
g
,
Vitamin A:
997
IU
,
Vitamin C:
34
mg
,
Calcium:
102
mg
,
Iron:
1
mg
Nutrition information provided is an estimate. It will vary based on cooking method and specific ingredients used.