This post may contain affiliate links. Please read our disclosure policy.
Beans are the epitome of a well-stocked pantry and I'm going to share below 16 healthy bean recipes. You can make these recipes using the canned beans probably already sitting in your pantry. Full of plant-based protein and fiber, beans fit into vegan, vegetarian, or flexitarian diets. Plus, canned beans boast calcium, folic acid, iron, and no cholesterol!

Lightly dressed in a grain bowl, a bean shows its personality. Pureed with vegetables, they add a lovely dairy-free creaminess to soups. Right now, your favorite can is sitting there on the kitchen shelf asking, "Where have you bean?"
Whether you are looking for recipes for canned black beans, pinto beans, kidney beans or black beans, there will be a healthy, hearty and nutritious recipe here that you will love!
These quick and easy dishes are my favorite canned beans recipes and they are perfect go to's when you are short on time and want a delicious and healthy family meal.
Tips for cooking with canned beans
Rinse the beans before using. That's because that liquid is starchy and full of sodium, so it will affect the final results of the recipe. There are some recipes that do call for using that liquid, but none of my recipes.
Simmer canned beans for 30 minutes or more in soups or stews for the beans to fully adopt the flavors of the dish. This also helps them break down slightly to thicken the meal without adding flour or cornstarch.
Substitute one bean for another based on availability, remembering that white beans generally have a milder flavor than pinto or kidney beans. Black beans are sweetish. See this chart by the Bean Institute (yes, there's a Bean Institute!) for flavor profiles of popular varieties.
Do not leave any leftover beans in the can. If you only use a partial can of beans, decant the rest into a glass or plastic container to get the best flavor out of the remaining contents. Beans left in the can taste metallic.
Bean recipes
Below are some of my favorite bean recipes, whether you're looking for entrees, soups, handhelds or appetizers. These recipes are very flexible and you can use them as inspiration to build on and adjust based on the ingredients you have on hand.
Entrees
Fava beans and chickpeas, seasoned with parsley, cumin, and jalapeno, take the leading role in a Middle Eastern breakfast favorite. Black and pinto beans play supporting parts in yummy bowls. Using beans instead of chicken and beef can help add protein for easy vegan or vegetarian meals. Here are four ideas that you can use for inspiration.
Ful Medames is a popular Middle Eastern breakfast recipe that's made with cooked fava beans and cumin, then topped with a garlicky, lemon olive oil sauce!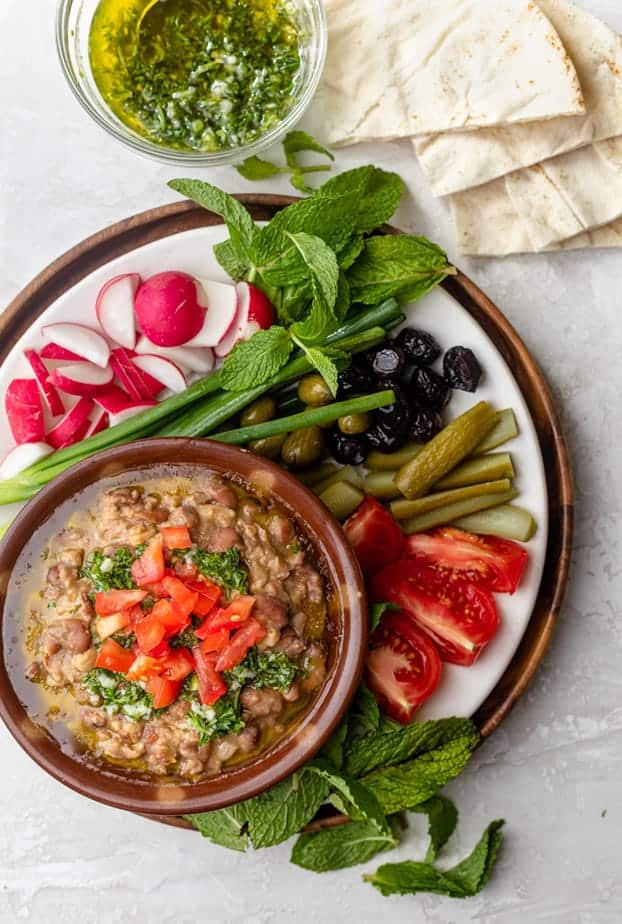 This Tex Mex Breakfast Bowl is a delicious, easy, protein-packed meal with a spicy Southwestern sweet and smoky taste and topped with fresh salsa & avocados.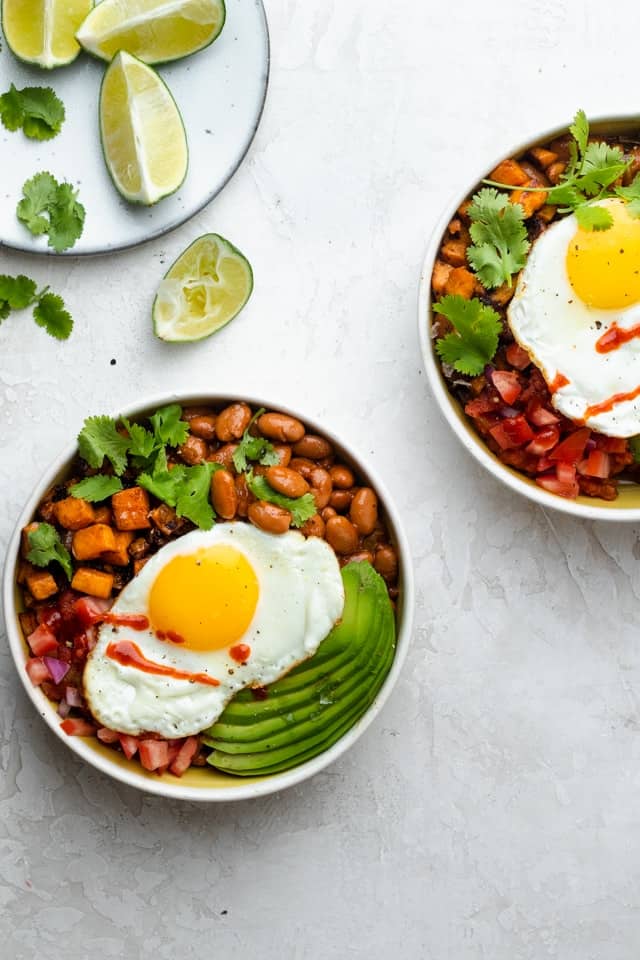 Inspired by the popular Chipotle dish, this Chicken Burrito Bowl is bursting with color, flavor, and nutrition – the ultimate healthy dinner any night!
Grain bowls are a healthy and nutritious meal that is perfect for meal prep and quick and easy dinners. Simple to make and loaded with fresh ingredients.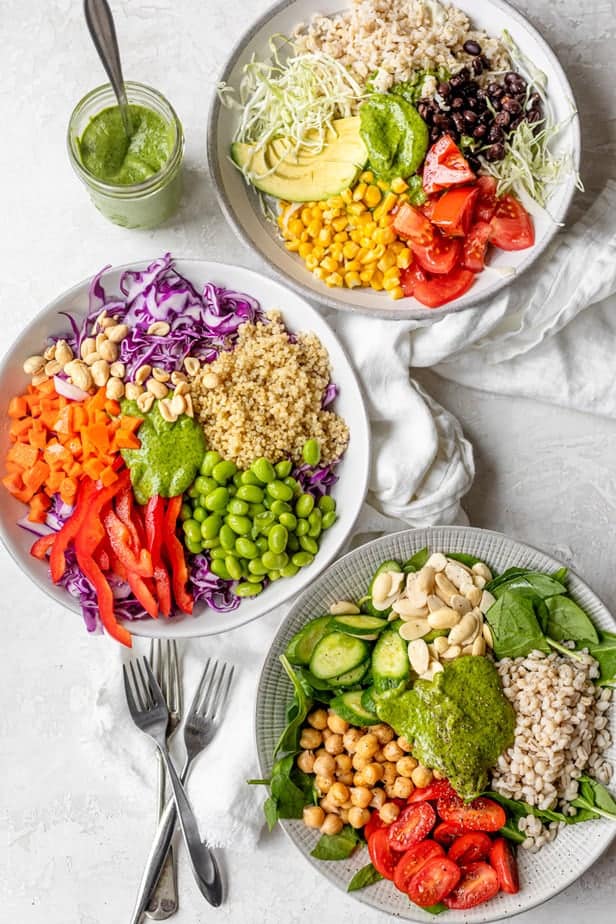 Soups and Chilis
Soups and Chilis are probably two of the most popular recipe destinations for canned beans. Use white beans in Mediterranean White Bean Soup, Easy White Chicken Chili, and Minestrone. Tortilla soup calls for black beans, and my Sweet Potato Chili throws a three-bean party with black, kidney and pinto beans. You can also add beans to other recipes like cabbage soup, vegetable soup, or even lemon rice soup.
Try this vegan Mediterranean White Bean Soup for lunch or dinner. It's a quick gluten-free soup recipe that's filled with vegetables and plant-based protein
This Vegetarian Tortilla Soup is just as hearty & flavorful as the chicken version. It's spicy and full of plant-based protein like quinoa & black beans!
This Sweet Potato Chili is basic in ingredients but sophisticated in flavor – it has a sweet smoky taste and is packed with a healthy dose of protein and fiber!
This White Chicken Chili only takes 10 minutes to prep and is full of hearty, healthy, and nutritious ingredients. Perfectly spiced and finished with your favorite chili toppings for a favorite family meal.
Vegetarian Minestrone Soup is based on the hearty classic Italian recipe that's loaded with beans, vegetables, and pasta in a seasoned aromatic tomato broth!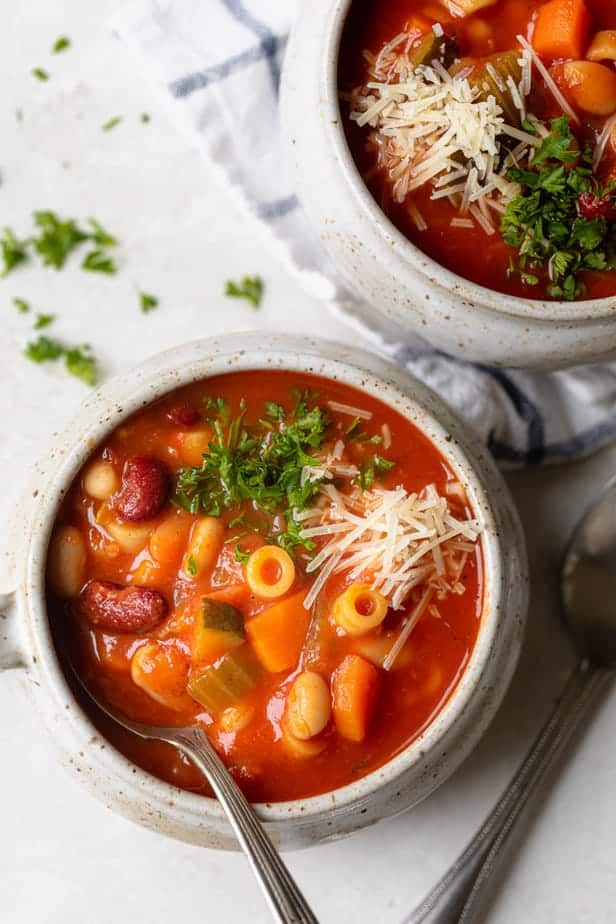 Handhelds
In four of the recipes below, beans step in to replace the usual meat or poultry. They are all loaded with protein and provide filling sandwiches, burgers, quesadillas and tacos.
This Black Bean Burger recipe is made with salsa and pantry staples mixed in one bowl – a hearty, healthy protein-packed dinner with a Southwestern flair.
This Avocado White Bean Sandwich is made with the most amazing vegan spread that is full of protein and calcium – you'll want it on all your sandwiches!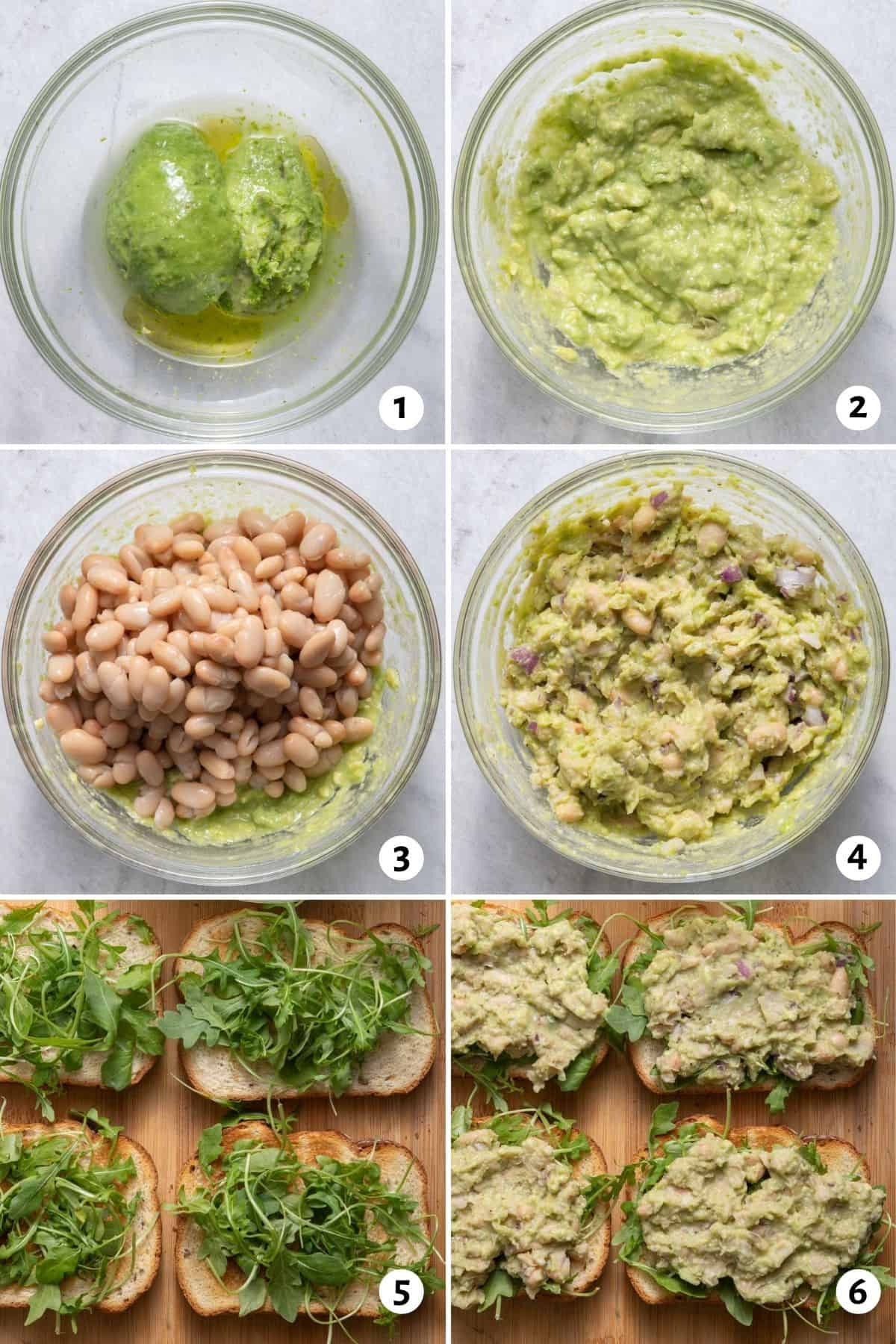 Ground Beef Taco Burritos are a family favorite and a easy weeknight meal to throw together that is full of flavor and texture!
This vegan quinoa burger recipe is easy, healthy and packed with protein. There's no food processor required and it comes together quickly in one bowl!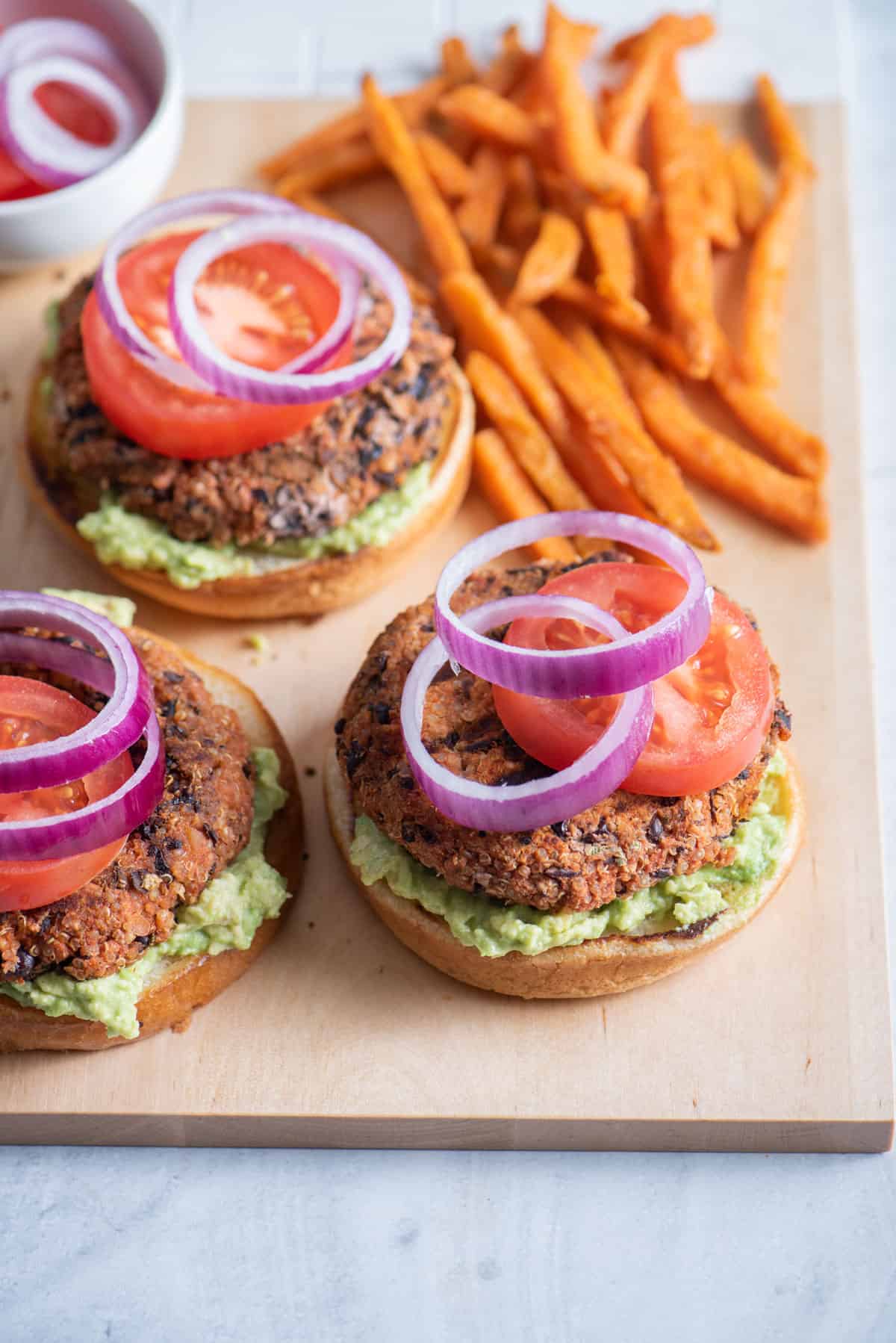 Taco Tuesday is happening with these Ground Beef Tacos with Napa Cabbage and Guacamole. Create a fun DIY assembly for the kids and let them get creative!
Appetizers
Beans contribute loads of protein to any kind of salsa or dip recipe. Here, canned black beans amp up the Latin American flavor.
These Bean and Cheese Quesadillas are so easy to throw together. Vegetarian refried beans, cheese, and mini wontons wrappers make a cheesy game day snack or appetizer!
This Shrimp Avocado Bean Salsa is a bright, zesty & healthy recipe you can enjoy as a salad or dip with tortilla chips – perfect for super bowl snacking!
Frequently asked questions
Do I need to drain and rinse my canned beans?
Usually, yes. Many recipes include that step.  Most cooks agree that the salty, starchy bean liquid detracts from recipes. Plus, rinsing removes sodium. In act, rinsing canned beans can remove over 40 percent of the salt in canned beans.
How long do canned beans last?
The date on the can is "best by". The Canned Food Alliance says that all canned goods are okay for two years from the date of processing. Most can go longer. They just might not taste very nice. Bad smells and visual evidence of the beans disintegrating signal poor quality.

Make sure not to buy any cans that are bulging, rusty or badly dented. Even a tiny crack in the can is enough to let in bacteria and cause food-borne illness.
Can I substitute dried beans for canned?
Each 15-ounce can contains about 1.75 cups of cooked, drained beans, which is about ¾ cup (4.5 ounces) of dried uncooked beans. On the other hand, if a recipe calls for 1 cup of dried beans, you can use two 15-ounce cans to substitute.
How do you store leftover canned beans?
Store any unused beans in an airtight container for up to 3-4 days in the fridge, not in the can.. You can also freeze the opened canned beans in a freezer safe container for up to 2 months. Thaw frozen beans in the fridge overnight or add the directly into soups and stews to cook.
Do canned beans need to be cooked?
Canned beans are already pre cooked, so you don't need to cook them to enjoy them. They are a great quick and easy way to add protein and fiber to a salad straight out of the can!
For more recipe collections
If you try any of these recipes with canned beans or have more suggestions for easy pantry meals, I'd love to hear from you! And if you snapped some shots, share it with me on Instagram so I can repost on my stories!