This post may contain affiliate links. Please read our disclosure policy.
So you bought a bunch of instant coffee to make Whipped Coffee and now you have no idea what to do with it?! Cooking and baking with instant coffee is a great way to harness its unique and complex flavors. Coffee does not have to be just for your morning cup. It can be used in so many delicious dishes!
Here are some of my favorite ways to use instant coffee along with suggested recipes to try out!
Marinade with meat and chicken
Coffee can add great depth to a marinade or even a dry rub for cooking steak, turkey or chicken. As the meat soaks in the marinade, it absorbs that flavor and really adds a nice earthy dimension while it cooks. You can make your own homemade coffee rub to make recipes like Coffee Rubbed Steak (from Food Faith Fitness) or reverse seared coffee marinated steak (from Slow The Cook Down).
Blend into smoothies or milkshakes
Adding instant coffee to smoothie recipes is not only a great way to add flavor and texture to those drinks, but it also provides added caffeine without the need to brew a cup of coffee. This is also a great way to get the full benefits of coffee beans. While I used regular coffee in my Breakfast Coffee Smoothie, this works perfectly with instant coffee as well.
Add to oatmeal or overnight oats
Instant coffee blends seamlessly with oatmeal, creating a tasty, caffeinated superfood!
It can complement oatmeal recipes that already have chocolate in them. Add coffee and cocoa powder, and oatmeal tastes like mocha. Add instant coffee to this Chocolate Peanut Oatmeal and it tastes like peanut butter pie! And if you add coffee, cinnamon, honey, and raisins, and it tastes like oatmeal cookies. For a quick hit of coffee and cinnamon, try this microwave cinnamon coffee oatmeal – delicious.
Coffee perks up so many oatmeal recipes – you can get creative and whip up loads of flavors!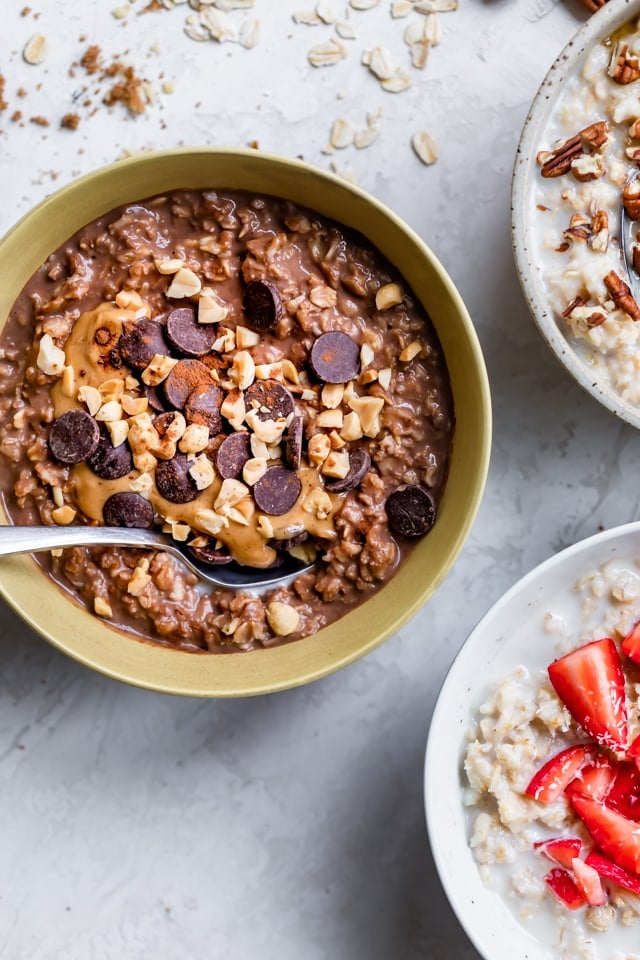 Make frozen coffee treats
While I used cold brew in my Cappuccino Nice Cream recipe, you can substitute it with some instant coffee diluted with water.  You can also try these Homemade Coffee Ice Cream.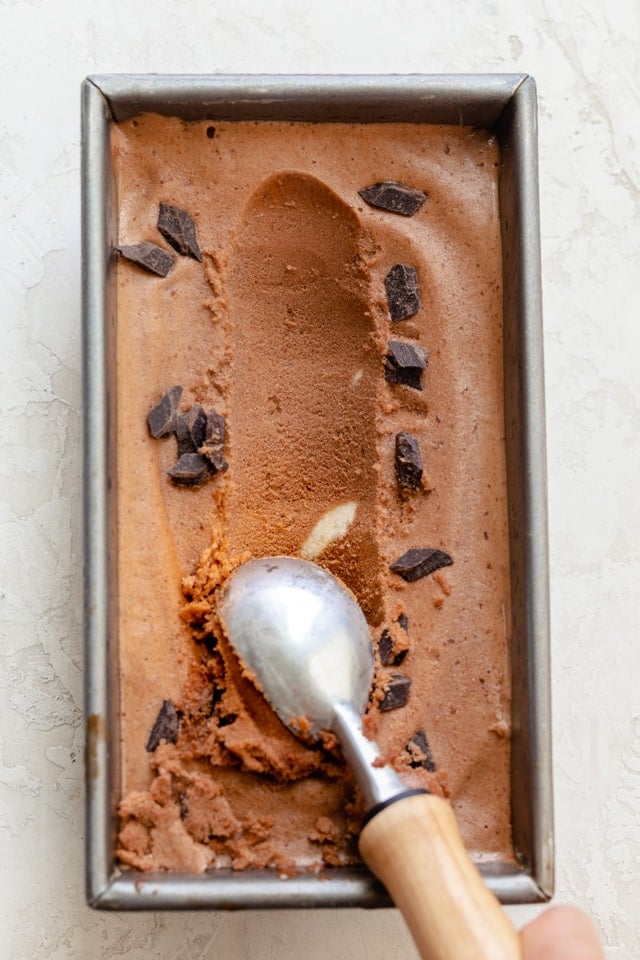 Add to your baking batter
Instant coffee makes chocolate taste more like chocolate, it balances out brown sugar and adds a unique bitterness to baked goods.
Both good cocoa powder and coffee should be a bit bitter, and they will often have subtle fruit and spice notes. So it's not surprising that adding coffee to cake batter will boost these flavors in the cocoa. If you're afraid of ending up with a coffee-flavored cake, don't worry. A teaspoon of instant coffee or a cup of brewed coffee won't overpower the chocolate flavor.
Instant coffee greatly enhances and intensifies the chocolate flavor in chocolate brownies, delicious Tiramisus (like the one below from A Cozy Kitchen), addictive cookies and more – without turning your treat to mocha-flavored. It works behind the scenes to let other ingredients shine, much like a pinch of salt takes the flavor of cookies from flat to robust, without adding any savory flavor.
Enhance savory dishes
Coffee is a great addition to sweet recipes such as cakes, cupcakes, and ice cream. Coffee is being used more and more in gourmet savory dinner dishes and for good reason! It's an earthy and delicious ingredient that brings a unique flavor to savory dishes.
Coffee in chili? Most certainly yes! Coffee can help play up the flavors in the chili, so it's a fun ingredient to experiment with when kicking your chili game up a notch.
Root vegetables also pair well with coffee, as they sweeten when you cook them, and the coffee helps to intensify that natural sweetness. Roast some beets and carrots with coffee for a colorful side. If you're after something heartier try these delicious mashed sweet potatoes with tahini and coffee.
Even salads can benefit from coffee! Make a coffee vinaigrette for your salad, you can even pour over grilled meats and vegetables.
Instant coffee can add a little kick to butter. This butter, will melt right into your toast or biscuits, it's a fun and creative spin on a classic.
Other Delicious Recipe Collections
If you try any of these instant coffee recipes, I'd love to hear from you! And if you snapped some shots, share it with me on Instagram so I can repost on my stories!