This post may contain affiliate links. Please read our disclosure policy.
This Whipped Coffee recipe is all the rage these last couple weeks. This is a type of Korean coffee known as Dalgona coffee. It was recently popularized through a viral TikTok video showing how simple and delicious it is. It's one of those recipes that is so easy to make, but looks really fancy. It's a coffee shop type of coffee drink we can enjoy at home!
In a very short week, I have read up so much about this whipped coffee recipe and made 5 rounds of it myself. I'm slightly obsessed and want everyone to make this right away! After being very caffeinated this week, I've learned so much about the best ways to make whipped coffee and things to watch out for. See my tips and frequently asked questions below.
What is whipped coffee?
Whipped coffee is also known as Dalgona coffee and it is very popular in South Korea. It's also common in Greece where it's called Frappe Coffee and in India where it's called Beaten Coffee. The trending name for it from TikTok though is just whipped coffee.
To make it, just mix equal parts instant coffee, granulated sugar and water. The mixture will go from liquidy to super thick and creamy. Then spoon the mixture over milk of choice, either iced or hot. And that's it – easy simple creamy frothy whipped coffee!
How do you make whipped coffee?
Start with 1, 2 or 3 tablespoons each of instant coffee, sugar and water. The equal parts 1 tablespoon is ideal for 1 serving. But you can double or triple the recipe (which is what I did below to emphasize the texture through the volume). When you first mix it together it will just look like a concentration of instant coffee.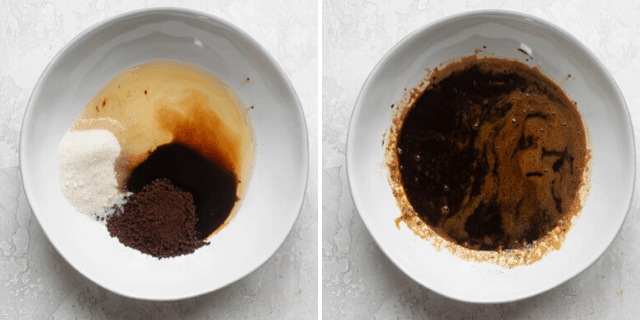 After a few minutes of whisking, you'll notice that the consistency will go from liquidy looking dark coffee to a lighter thicker consistency.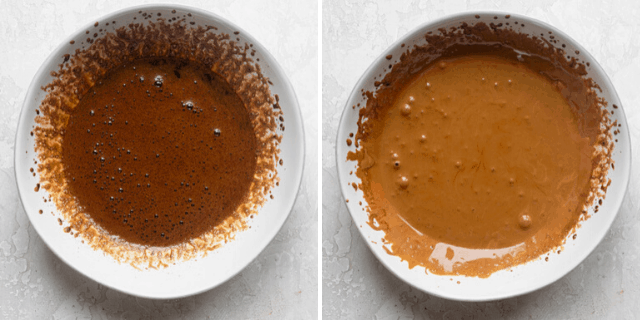 But keep whisking at that point because you'll soon notice that it will get even lighter in color to create a creamy, frothy whipped coffee – an irresistible coffee recipe. It will almost look like peanut butter. You'll know you're done when you have formed peaks on the whisk. You'll see it's much thicker and keeps its shape.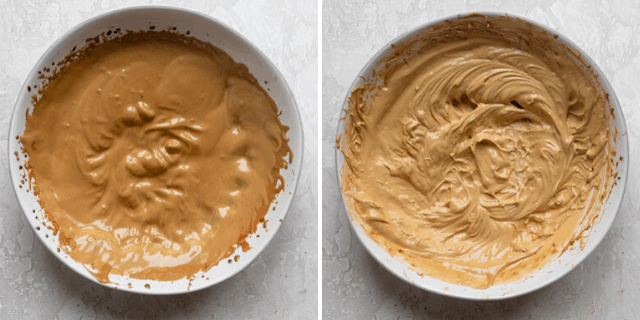 When you're done whisking the mixture, you're ready for the final step of the whipped coffee recipe. Just spoon that mixture over milk or water, give it a stir and enjoy it. You can have it over iced or warmed milk. You can even serve it over iced water or warm water, similar to an Americano.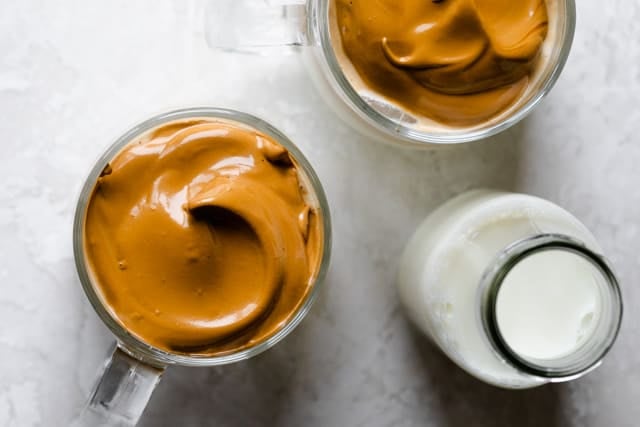 Watch this video to learn how to make whipped coffee.
Tips for making whipped coffee
Use hot water for best results. The hot water is not necessary. It will still whip up nicely with cold or room temperature water. However, I found that the hot water works faster.
Use an electronic mixer to make it faster. The first time I made this, I had my husband whisk it for me because my hands were tired after a couple minutes whisking. A stand mixer or milk frother work really well and they're much faster! It will still take at least 5 minutes.
Whisk the ingredients in a bowl, not in a mug or jar. That's because the dalgona coffee gets fluffy and whipped through the mixture interacting with the air. So a tall container like a mug or jar won't allow enough air to circulate around.
Mix the whipped coffee with a spoon or straw before sipping. It's fun to serve the whipped coffee recipe on top of the drink, but to enjoy it fully, mix it around to incorporate the flavor. It will look like a frappuccino at that point.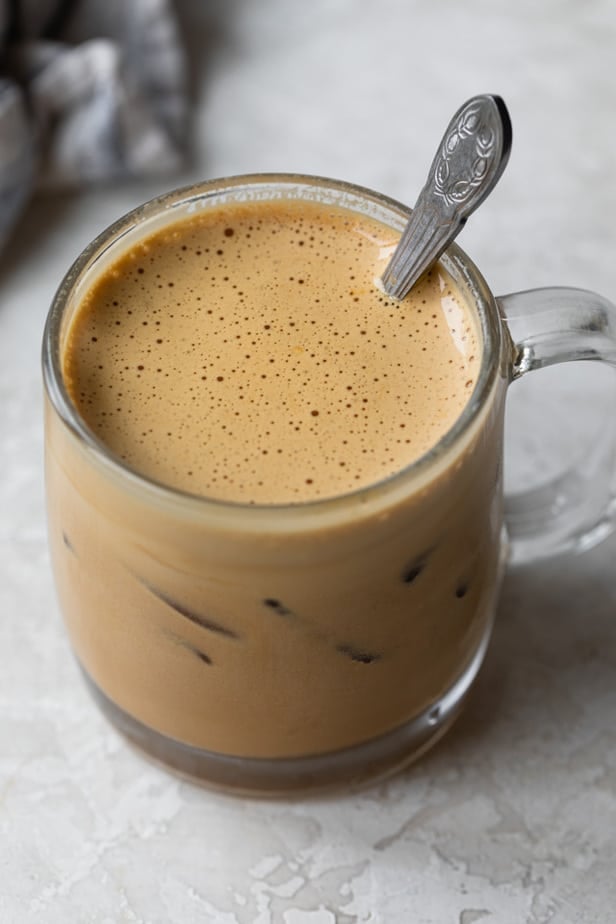 Other serving suggestions
So this whipped coffee is the ultimate treat with iced milk. But I've seen a lot of people serve it with many types of desserts. Make sure to whip it enough to get peaks if you're adding it to desserts. Here are some great options that would go great with this whipped coffee:
Frequently asked questions
Can I use regular ground coffee?
Unfortunately no, the whipped coffee recipe doesn't work with regular ground coffee, because that needs to be brewed before it becomes palatable. You have to use instant coffee to make it.
What kind of sugar is best for whipped coffee?
This works best with granulated sugar. However, there are different types of granulated sugar that you can use – traditional white sugar, cane sugar, brown sugar, coconut sugar or even raw sugar.
Can I make it with less sugar, no sugar or sugar alternative?
Yes you can skip the sugar, reduce the sugar or use a sugar alternative like Stevia, but it won't lighten as much or fluff up as much in that case.
Which instant coffee is best to use?
You can use any brand of instant coffee you have. I like Nescafe and it's very popular and widely available, so I always have it in my pantry.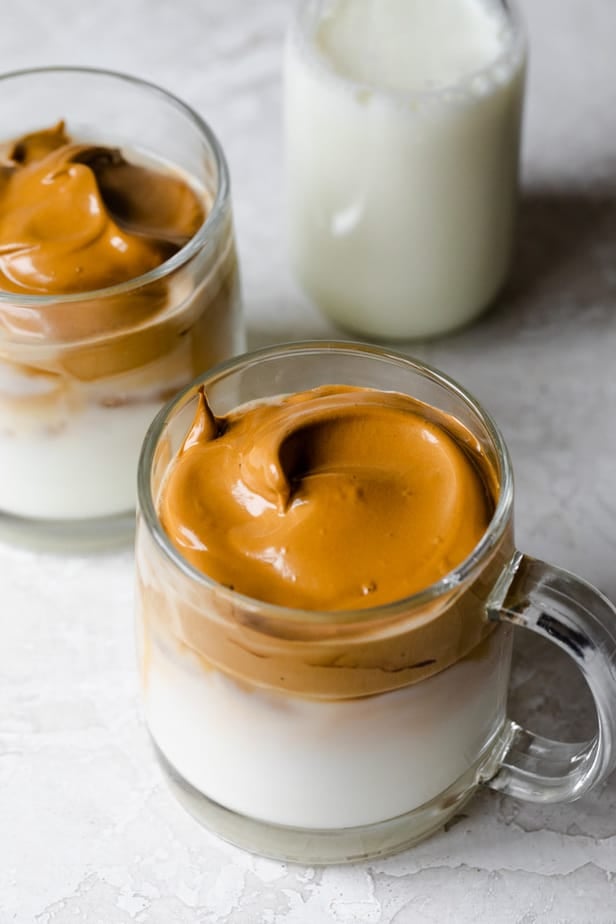 This whipped coffee is such a fun drink to make at home and it's aesthetically pleasing to look at. Check out what all the rage is about and give it a try this weekend. You won't miss the coffee shop! And if you have more instant coffee leftover, be sure to check out 6 more ways to use instant coffee!
For more coffee recipes
If you've tried this healthy-ish feel good Whipped Coffee recipe or any other recipe on FeelGoodFoodie, then don't forget to rate the recipe and leave me a comment below! I would love to hear about your experience making it. And if you snapped some shots of it, share it with me on Instagram so I can repost on my stories!
Whipped Coffee
Whipped Coffee Recipe is made with only 3 ingredients whisked together – instant coffee, sugar & water – a creamy, frothy mixture served over iced/warm milk
Ingredients
2

tablespoons

instant coffee

2

tablespoons

granulated sugar

2

tablespoons

boiling water

16

ounces

milk

for serving
Instructions
Place the instant coffee, sugar and water in a bowl.

Use a whisk, hand mixer or frother to combine. It will take about 5-15 minutes depending on the type of whisk you use. Look for a thickened consistency that's much lighter in color.

Serve it as a creamy topping over any milk of choice – iced or hot.
Notes
Storage: If you make extra, you can store any unused whipped coffee in the fridge for up to 5 days. You can whip it again to make it more frothy and lighter in color.
Equipment: The fastest way to make this is with a stand mixer whipped coffee. But you can also use a hand mixer or a milk frother (Amazon affiliate links). It helps ease the work on your hands.
Nutrition
Calories:
202
kcal
,
Carbohydrates:
27
g
,
Protein:
8
g
,
Fat:
7
g
,
Saturated Fat:
4
g
,
Cholesterol:
23
mg
,
Sodium:
100
mg
,
Potassium:
476
mg
,
Sugar:
23
g
,
Vitamin A:
367
IU
,
Calcium:
263
mg
,
Iron:
1
mg
Nutrition information provided is an estimate. It will vary based on cooking method and specific ingredients used.