This post may contain affiliate links. Please read our disclosure policy.
This coconut oil coffee is not something new, and has been around for a long time, but it was recently made popular again because of the creation of Bulletproof Coffee. That's basically coffee supplemented with MCT oil, which is actually extracted from coconut oil. Research shows there are benefits of using both types of oils in your coffee for that boost of energy.
Oil in my coffee? It might sound bizarre, but it's actually pretty delicious and may actually have health benefits if you have it in moderation. Just add a about a teaspoon to your cup of coffee (with or without creamer) and the result is a creamy frothy delicious coconut oil coffee.
Health Benefits of Drinking Coconut Oil Coffee
If you're not a coffee drinker, there's no reason to start drinking coffee after reading this post. Keep in mind that coconut oil is a saturated fat and having that frequently may not be the best option for everyone. Yet research suggests that enjoying this drink maybe once a week as a treat is not only delicious but can have some strong healthy benefits like the following:
Increase Energy: Coconut oil is a "thermogenic" food, which means it generates heat in your body. When you eat it, it can help you create energy and burn more fat. Combine that with coffee, and you'll be a caffeine machine!
Improve Metabolism: The caffeine in coffee is known to give your metabolism a push. And coconut oil is largely considered a natural laxative which means it helps to improve your digestion. Combining those two ingredients has a big impact on your digestive system.
Boost Immune: One of the main fatty acids found in coconut oil is lauric acid, which can actually help fight germs and bacteria.
Ingredients & substitutions
Coffee: Use your favorite coffee. This recipe will work well with freshly brewed or instant coffee, or even espresso.
Coconut oil: Use extra virgin coconut oil if you can as this is less processed. Regular will work though if you can't find this.
Milk: The milk is optional if you sometimes like to enjoy your coffee with creamer. It sweetens the coconut oil coffee and makes it more creamy. You can use any kind you like.
Spices: These spices are all optional, but they are a great way to add more flavor. Try cinnamon and cayenne for a really warming drink. You can also try ginger, nutmeg and ground cloves.
How to Make Coconut Oil Coffee
Mix the coconut oil with coffee
Start by brewing your your coffee as you normally do.
Measure the coconut oil into the coffee. There's no need to melt it before hand because the hot coffee will melt it.
Use a blender or frother to blend it up until you notice that the coffee reaches a lighter brown color and it's basically done!
customize it to your taste
Just like any coffee drink, customizing is makes it unique. Add some creamer or milk of choice if you'd like.
Add as much of the cinnamon and cayenne pepper as you'd like.
Make sure to froth it again to blend the milk and spices well.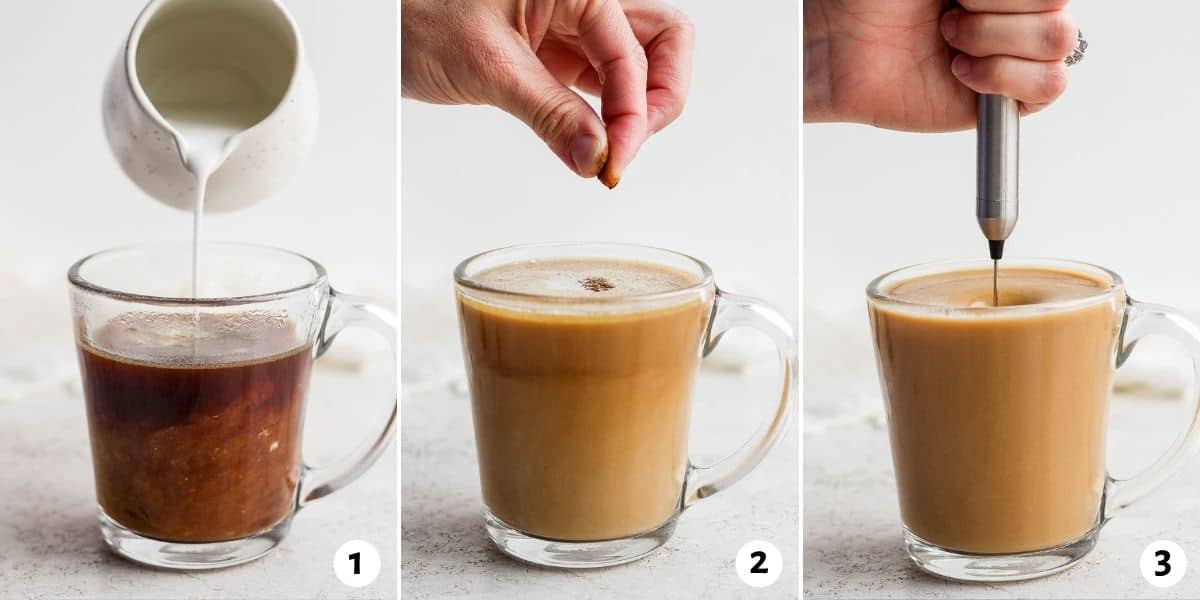 coconut oil coffee recipe video
Tips for Making This Coconut Oil Coffee Recipe
Sweeten the coconut oil coffee. If you normally sweeten your coffee, you can do so here with sugar, honey, maple syrup or stevia. But if you don't normally take your coffee sweetened, you should be fine.
Customize the coffee drink. You can even add some flavored syrups or tailor it to your own coffee tastes. It can also work well if you cool it in the fridge.
Use extra virgin coconut oil that is cold pressed and unrefined. That way you know it's not processed or chemically treated coconut oil and you reap more of its benefits.
Frequently Asked Questions
Does coconut oil in coffee help you lose weight?
Coconut oil can help to boost your metabolism, so it can help you burn more calories and aid with weight loss. It's also more effective than other fats to satiate your hunger, so a cup in the morning can help you avoid snacking before lunch.
How much coconut oil should you consume each day?
Coconut is a fat, so it's best not to overdo it. It is recommended that two tablespoons a day is a good amount to aid weight loss and make the most of its other health benefits although I personally only enjoy it once a week.
Is it good to drink coffee in the morning?
Coffee contains a lot of antioxidants and it can, in the short term, help memory and concentration. Because of the caffeine, it's best not to drink more than a couple of cups a day, but one can definitely provide some health benefits.
So, maybe you'll try this this weekend! Or maybe you'll pass, but hopefully you've learned more about the amazing benefits of adding coconut oil in your coffee.
For more warm drink recipes
If you try this healthy-ish feel good Coconut Oil Coffee recipe or any other recipe on Feel Good Foodie, then don't forget to rate the recipe and leave a comment below! It helps others who are thinking of making the recipe. We would love to hear about your experience making it. And if you snapped some shots, share it on Instagram so we can repost on Stories!
This Coconut Oil Coffee recipe was originally published on May 20, 2018. The post has been updated to include a more detailed explanation of the ingredients, a detailed recipe video along with new step-by-step photos.
Coconut oil Coffee
This easy coconut oil coffee recipe is similar to Bulletproof Coffee. It has a smooth and creamy taste, and may have strong health benefits.
Instructions
Pour hot coffee into a large mug along with the coconut oil. Use a frother to blend the coffee with the coconut oil until the mixture lightens in color and becomes frothy, about 1-2 minutes.

Add any extra ingredients you'd like including warm coconut milk, cinnamon and/or cayenne pepper and give it a quick blend for an additional 30 seconds.

Serve immediately.
Equipment
Notes
Storage: If you make extra, you can store any unused coconut oil coffee in the fridge for up to 3 days. Enjoy it cold afterwards or heat it in the microwave.
Nutrition
Calories:
73
kcal
,
Carbohydrates:
1
g
,
Protein:
1
g
,
Fat:
8
g
,
Saturated Fat:
5
g
,
Polyunsaturated Fat:
1
g
,
Monounsaturated Fat:
1
g
,
Sodium:
167
mg
,
Potassium:
117
mg
,
Fiber:
1
g
,
Sugar:
1
g
,
Vitamin A:
105
IU
,
Vitamin C:
1
mg
,
Calcium:
157
mg
,
Iron:
1
mg
Nutrition information provided is an estimate. It will vary based on cooking method and specific ingredients used.