This post may contain affiliate links. Please read our disclosure policy.
Made too much food this holiday season? Got a ton of leftovers? Well, you'll be thankful for these 20 Recipes with Leftover Mashed Potatoes! Creamy, dreamy mashed potatoes can elevate so many recipes, from casseroles to bread rolls, I've rounded up my favorites.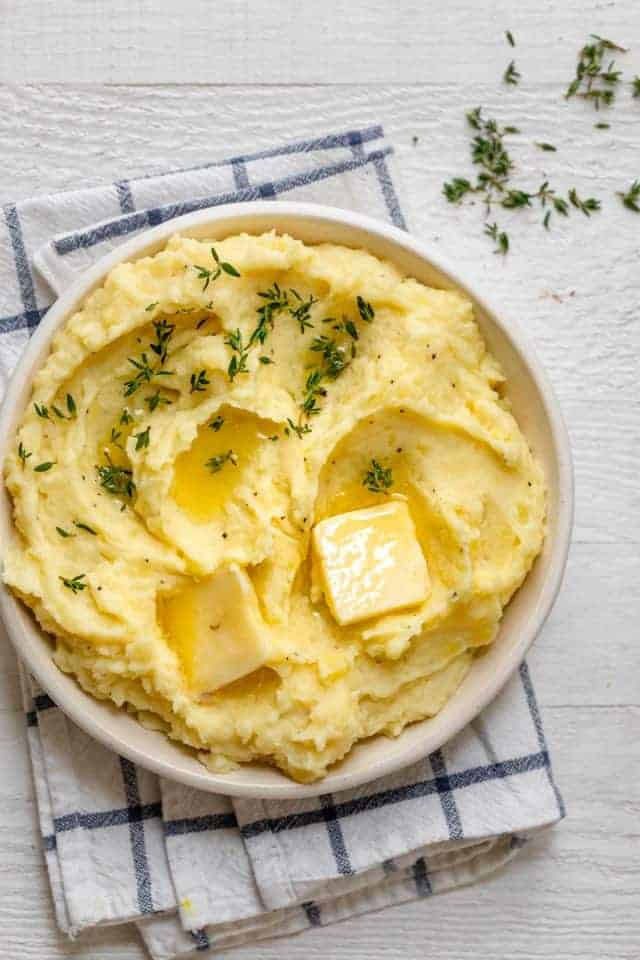 Mashed potatoes aren't just for the holidays; they are for life! Give your mashed potatoes a second life with 20 creative, delicious and easy recipes with leftover mashed potatoes. Breakfast, brunch, lunch, or dinner can do with a dollop of mash spread on top of pies, fried into fritters or even used in soup! Read on for mouthwatering recipes amped up with yummy mash.
Tips for using leftover mashed potatoes
Remember proper storage is key for your potatoes. Use an airtight container and keep them on the highest shelf in your fridge. You can store them for up to four days.
Freeze mashed potatoes if you have too much. Potatoes don't typically freeze well but mashed potatoes are the exception. Mix your mash with some butter and cream to make sure they freeze up well. Scoop mash into freezer safe bags and freeze for up to 6 months.
Defrost by placing the mashed potatoes in the refrigerator and thawing overnight. If you want to speed things up, you can gently reheat on the stovetop or in the oven, slow cooker, or microwave.
Stir in some sour cream or cream cheese to give them a thicker, more creamy, consistency after reheating. This helps for however you might be using the potatoes.
Recipes with mashed potatoes
Vegetarian Shepards Pie is a meatless take on a classic comfort dish. Swap the meat for mushrooms and quinoa & it all gets smothered in a rich gravy sauce.
This Turkey and Mashed Potato Casserole is BIG on leftovers and so easy! Just sauté some onions and garlic, add the leftover turkey, the gravy and voila, the filling is ready. Then, cover with leftover mashed potatoes, sprinkle a whole lot of parmesan cheese and bring it to the oven until the top is bubbly and golden brown.
These Mashed Potato Pancakes are so easy to make and quick to cook. With perfectly crispy edges, they make for a great weeknight side dish!
Duchess Potatoes Casserole with Leftover Mashed Potatoes are the epitome of good taste and smack of dinner parties, perfect for party season! Duchess Potatoes simply transform a mashed potato into a thing of beauty!
Spinach and Garlic Potato Patties are delicious and flavorful patties prepared with a mixture of mashed potatoes, spinach, and garlic. A simple and delicious way to use up that mash!
Loaded Mashed Potato Cakes. These Mashed Potato Cakes make an amazing side dish, light dinner, or lunch! They are the perfect way to enjoy leftover potatoes and the flavor combinations are endless.
Easy Potato Dumplings are simple, easy, and quick and a great way to use up leftover Mashed Potatoes. They are great sautéed in butter with added sautéed onions. If you like potatoes, I think you will fall in love with this simple yet tasty side dish.
Cheesy Baked Mashed Potatoes will be a huge hit with your friends and family! They're creamy, rich, and perfect to make ahead. This will be your new go-to mashed potato recipe!
These 3 Ingredient Hash Brown Egg Nests are great for breakfast or brunch with an easy homemade hash brown tutorial or simply swapping the hash browns for leftover mashed potatoes – they're easy, delicious, & cute!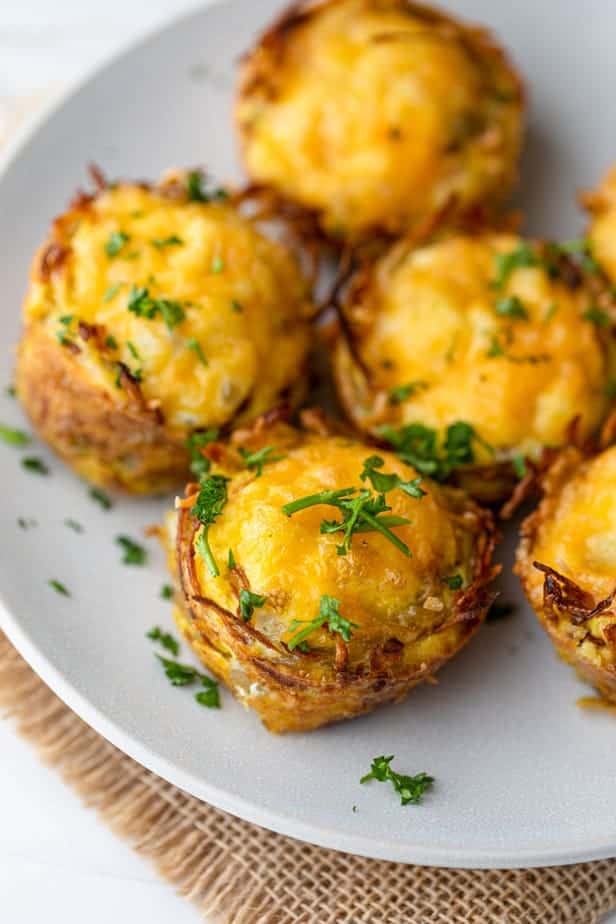 Mashed Potato Croquettes are the stuff from which dreams are made! Soft, warm, comforting, and the perfect use of leftover mashed potatoes.
These Bubble and Squeak Patties are an appetizer version of the potato and cabbage dish called Bubble and Squeak. Created to use up leftover mashed potatoes and vegetables, it's crispy delicious!
These Mini Crab Cakes are easy to make and perfectly crispy. Crab and leftover mashed potatoes are coated in panko bread crumbs and shallow fried, they are packed full of flavor. Perfect as an appetizer, finger food, or main meal. They can be made ahead of time and are a real crowd pleaser.
Yes! Leftover mashed potatoes make for fantastically fluffy yet simultaneously crunchy Cheesy Leftover Mashed Potato Waffles! Easy to make and perfect for breakfast, brunch, lunch, or dinner!
Crispy on the outside, fluffy on the inside, put those spare spuds to good use with a quick-fix recipe for Leftover Mashed Potato Balls.
Turn leftover mash into hearty gnocchi! This easy homemade Leftover Potato Gnocchi is light, pillowy, and ready in 20 minutes! Making mashed potato gnocchi with your leftovers is a quick and delicious way to mix things up.
If you've ever had classic pierogi (and even if you haven't) you'll be blown away by this Cheesy Pierogi Lasagna! Leftover mash is spread between layers of lasagna noodles and cheese, so good!
Leftover Mashed Potato Rolls are a sweet and delicious way to use up any flavor of leftover mashed potatoes. The best thing? It also doesn't matter what you've put in your mashed potatoes. Cream cheese, butter, garlic, herbs, broth, they turn out amazing!
Make these crispy, creamy, cheesy Leftover Mashed Potato Puffs for a quick grab n' go breakfast option. The result is very similar to my freezer friendly baked egg cups, but these are So. Much. Creamier. thanks to the mashed potatoes. Long live the leftovers!
Easy Leftover Mashed Potato Soup is a delicious way to use up mashed potatoes from Christmas or Thanksgiving – stovetop or slow cooker recipes included! This recipe is so great because there is virtually no prep and doesn't involve any fancy equipment – making this a great hearty soup you can make without feeling drained the day after a big meal.
These traditional Cod Fish Cakes are crispy, seasoned to perfection and taste like home – comfort food at it's finest. Just a couple cups of leftover mashed potato needed to whip up a nice batch of these beauties!
More recipe round ups to check out
If you try any of these Recipes with Leftover Mashed Potatoes or any other recipe on FeelGoodFoodie, leave me a comment below! I would love to hear about your experience making the recipes. And if you snapped some shots of it, share it with me on Instagram so I can repost on my stories!