This post may contain affiliate links. Please read our disclosure policy.
Made a big pot of mashed potatoes this holiday season? Got a ton of leftovers? Well, you'll be thankful for these 22 Recipes with Leftover Mashed Potatoes! Creamy, dreamy mashed potatoes can elevate so many recipes, from casseroles to bread rolls, I've rounded up my favorites.
Table of Contents
Mashed potatoes aren't just for the holidays; they are for every day! Give your leftover mashed potatoes a makeover with 22 simple recipes. From breakfast, brunch, lunch, or dinner you can do a ton with even just a dollop of mashed potatoes spread on top of pies, fried into fritters or even used in soup!
Why you should cook more recipes with Leftover Mashed Potatoes
Helps reduce food waste. No one likes watching the food you've spent time and money on go to waste. Give them a makeover by repurposing holiday mashed potatoes into other delicious dishes.
Saves time during meal prep. With the base component of a recipe already cooked, you save time and can quickly whip up a delicious meal during busy days. Whether it's a quick weeknight dinner or last-minute lunch, using leftover mashed potatoes facilitates efficient meal prep.
Lets you enjoy deliciously comforting food. Mashed potatoes are a classic comfort food and turning them into new dishes gives that familiar, cozy experience all over again.
Mashed potatoes can be easily customized. This traditional family-friendly dish can be transformed into crowd-pleasing meals, from potato pancakes to comforting casseroles to potato rolls – there's something for everyone.
Tips for using leftover mashed potatoes
Remember proper storage is key for your potatoes. Use an airtight container and keep them on the highest shelf in your fridge. You can store them for up to four days.
Freeze mashed potatoes if you have too much. Potatoes don't typically freeze well, but mashed potatoes are the exception. Mix your mash with some butter and cream to make sure they freeze up well. Scoop mash into freezer-safe bags and freeze for up to 6 months.
Defrost by placing the mashed potatoes in the refrigerator and thawing overnight. If you want to speed things up, you can gently reheat on the stovetop or in the oven, slow cooker, or microwave.
Stir in some sour cream or cream cheese to give them a thicker, more creamy, consistency after reheating. This helps for however you might be using the potatoes.
Different Types of Mashed Potato Recipes
best recipes with leftover mashed potatoes
Whatever mashed potatoes you served for the holidays, it would be a shame to let that creamy goodness go to waste. Learn how to use leftover mashed potatoes to create mouthwatering breakfast favorites, hearty casseroles, and small bites that are fit for a party! Plus, you'll love the healthy recipes for leftover mashed potatoes that are rich in flavor but feel lighter with better-for-you ingredients.
Breakfast and Brunch Recipes with Leftover Mashed Potatoes
Casserole Recipes with Leftover Mashed Potatoes
Healthy Recipes with Leftover Mashed Potatoes
Potato Tuna Cakes – Hearty and delicious, these savory tuna cakes come together quickly with mostly pantry staples and leftover mashed potatoes. They're great when you're needing a protein-rich and satisfying meal. Plus, they can be pan-fried or baked in the oven, making it one of my favorite healthy recipes for leftover mashed potatoes.
Mashed Potato Salad – This is a different kind of potato salad but so good and has those irresistible familiar flavors. Mashed potatoes are tossed with hard-boiled eggs, chopped celery, and green onions and dressed with a tangy dressing for a mouthwatering salad that tastes even better the next day.
Leftover Potato Gnocchi – Turn leftover mash into hearty gnocchi! This easy homemade gnocchi recipe is light, pillowy, and ready in 20 minutes! Pair gnocchi with sauteed mushrooms with garlic for one of the best and simple recipes with leftover mashed potatoes.
Spinach and Garlic Potato Patties – These delicious and flavorful bites are made with mashed potatoes, sauteed onion, spinach, and garlic and pan-fried in good-quality olive oil. It's a creative and delicious way to use up that mash!
Easy Leftover Mashed Potato Soup – There is virtually no prep or fancy equipment involved – you can whip this up on the stovetop or let it simmer in the slow cooker. It's a delicious, hearty soup that can be lightened up with chicken stock and yogurt instead of heavy cream.
Tex-Mex Mashed Potatoes – These Papas con Chile are pure magic. It's a delicious way to give your mashed potatoes a makeover by sprucing them up with sauteed veggies, including onions and bell peppers. Add these to your list of healthy recipes for leftover mashed potatoes.
Small Bites with leftover Mashed Potatoes
frequently asked questions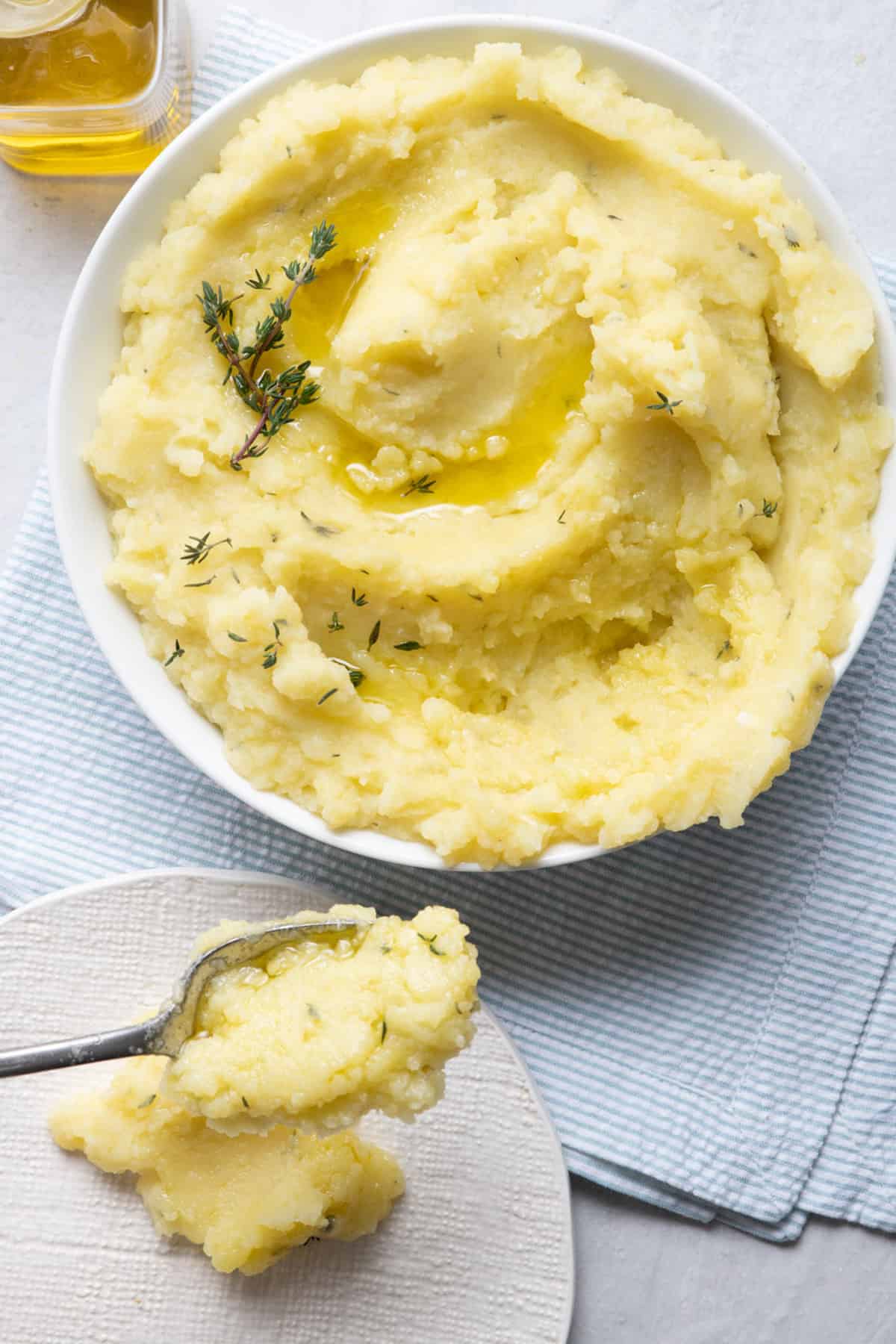 These recipes with leftover mashed potatoes offer a tasty solution to food waste, providing practical and versatile options for breakfast, lunch, and dinner and healthy ideas that the whole family will love. I hope these simple recipes with leftover mashed potatoes inspire you to get creative in the kitchen and give them new life.
full list of recipes
Check out the picture cards for all the recipes listed above. You can click on any of the recipes cards to take you directly to those recipes.
For more similar roundup of recipes, be sure to check out: Leftover Turkey Recipes, Holiday Appetizers, Christmas Cookie Recipes, and Viral Recipes.
If you found this recipe roundup for Recipes with Leftover Mashed Potatoes helpful or if you try any recipe on Feel Good Foodie, then don't forget to rate the recipes! It helps others who are thinking of trying out this tutorial and we would love to hear about your experience. And if you snapped some shots, share it on Instagram so we can repost on Stories!