This post may contain affiliate links. Please read our disclosure policy.
Turn leftover turkey recipes into delicious dishes! Here's over 30+ Leftover Thanksgiving Turkey recipes that are anything but boring. From super sandwiches to cozy casseroles, that turkey is going far!
Table of Contents
With this delicious list of Thanksgiving leftover turkey recipes, you'll never have to worry about using up that holiday bird! Turkey is such a versatile bird, it takes on so many flavors and seasonings. Adding juicy turkey meat to sandwiches, soups, casseroles, and pasta not only uses up leftovers, it can also elevate a recipe to the next level! Read on for 31 Leftover Thanksgiving Turkey recipes that'll knock your festive socks off! If you made my Thanksgiving turkey or dry brined turkey breast and you're loaded with lots of turkey meat, make sure you bookmark this collection of easy leftover turkey recipes.
Why you should cook more Leftover Turkey recipes
Helps you reduce food waste. Repurposing your leftover Thanksgiving turkey minimizes food waste and is a cost-effective way to create additional meals without needing more groceries.
Saves you time. Because turkey naturally pairs well with other traditional seasonal foods like cranberry sauce, stuffing, and mashed potatoes – you can really maximize that initial investment in time and whip up any of these Thanksgiving leftover turkey recipes in no time.
It allows you to get creative. Experimenting with leftover turkey allows you to flex your creativity and think outside the box, trying new flavor combinations and cooking techniques.
Make family-friendly meals. These simple leftover turkey recipes are very kid-friendly and can be enjoyed by people of all ages. There's something for everyone – from quesadillas to pasta bakes to hearty soups. You can be sure you'll find something that your whole family can enjoy!
Tips for using leftover Thanksgiving turkey
Be sure to carve the remaining turkey before storing it. You may not have room in the fridge for a whole turkey, especially with the other leftovers. So carve the turkey before you store it. It's also easier to carve at room temperature than after refrigerating.
Sprinkle on fresh herbs to liven up your bird. Sprinkle the tops of casseroles, pasta, and soups with turkey friendly herbs like sage, basil, or fresh parsley.
Don't keep leftover turkey meat longer than 4 days in the fridge. You can always freeze leftovers, just in case you get turkey overload!
Keep things festive with holiday garnishes. Tis the season for cranberry, walnuts, and all those classic winter garnishes. Top your turkey salads with walnuts, toasted pecans, roasted pumpkin seeds, and use up that cranberry sauce in turkey sandwiches.
Don't forget the sides. Whatever sides, sauces, and toppings you use for your Thanksgiving, use them for the leftovers too! But if you're running low, you can quickly roast butternut squash halves, roasted acorn squash, or Instant Pot spaghetti squash.
BEST LEFTOVER TURKEY RECIPES
Enjoy the seasonal flavors of Thanksgiving dinner long after the guests leave by transforming leftovers into flavorful meals. From the simplicity of small bites that are great as appetizers, brunch idea, or even a light meal to simple leftover turkey recipes to satisfy you during that lunch hour. Fall in love with turkey all over again with these easy leftover turkey recipes that feature a collection of hearty soups, casseroles, and leftover turkey recipes for dinner that the whole family will love.
TURKEY LEFTOVER IDEAS FOR SMALL BITES
Thanksgiving Leftover Egg Rolls – All your favorite Thanksgiving flavors stuffed in a crispy, golden brown egg roll and paired with a tangy cranberry relish for dipping sauce. Perfection in every bite.
Turkey Bites – A savory blend of turkey, asiago cheese, hot sauce, garlic chili sauce, and a touch of refreshing dill make the perfect little appetizers. These turkey bites are not only flavorful and satisfying but also a creative and easy way to repurpose leftover turkey.
Turkey Cranberry Puff Pastry Bites – Perfect for an easy brunch or appetizer before the big meal. The filling made with turkey, cranberries, celery, and green onions can be made ahead of time, making this appetizer a sure winner!
Leftover Turkey Cranberry Melts – Give your holiday turkey a makeover with these tasty bite-size melts. Toasty bread slices are topped with cranberry sauce, shredded turkey meat, havarti cheese, and some peppery arugula for an addictingly delicious appetizer!
Leftover Turkey Taquitos – Serve these either as a hearty appetizer or a light lunch, but either way – they'll become one of your favorite easy leftover turkey recipes. Tender turkey is tossed with cream cheese, sour cream, chili powder, cumin, and garlic powder, and wrapped in corn tortillas before they're fried until perfectly golden brown.
Thanksgiving Leftovers Quesadilla – Similar to bean and cheese quesadillas but these tasty bites feature all the Thanksgiving flavors wrapped in a golden crispy tortilla shell. Made with turkey, cranberry sauce, shredded cheese, and fresh sage and cooked on the skillet until cheese is melty and oh-so-delicious!
SIMPLE LEFTOVER TURKEY RECIPES FOR LUNCH
Turkey Salad Sandwich – Leftover turkey meat is mixed with Greek yogurt, cranberries, diced celery, and onions and scooped into your favorite rolls. Soft dinner rolls or skillet yeast rolls work great but your favorite store-bought version will work great.
Turkey Panini – One of my favorite turkey leftover ideas is making a tasty sandwich using classic Thanksgiving flavors like tender turkey meat, cranberry sauce, and a little bit of gravy tucked between sandwich bread and pressed in a panini maker.
Leftover Turkey Pot Pie Empanadas – These hand pies are filled with a mouthwatering blend of vegetables and leftover turkey meat and are baked to golden brown perfection. Use store-bought empanada dough for ease and convenience or homemade pie crust if you're feeling adventurous.
Healthy Leftover Turkey Wrap – You'll love this simple-to-prepare and delicious wrap recipe. With tender chunks of turkey, cranberry sauce, and roasted butternut squash tucked in a flour tortilla for an incredibly mouthwatering turkey lunch.
Leftover Thanksgiving Sliders – When it comes to simple leftover turkey recipes, nothing is easier than repurposing leftovers in buttery rolls and baking them to mouthwatering perfection. These sliders have all your favorites nestled in Hawaiian rolls and served warm for that oh-so-good cheese pull.
Turkey Cobb Salad – This is a tasty seasonal spin on the traditional cobb salad, featuring roasted turkey, butternut squash, dried cranberries, hard-boiled eggs, goat cheese, and tossed in a refreshing apple cider vinaigrette.
Thanksgiving Leftovers Everything Bagel – Looking for the ultimate brunch meal that gives leftover turkey new life? This healthy leftover turkey recipe is it. Spread creamy cranberry sauce on an everything bagel and fill it with Thanksgiving leftovers and fried eggs. The savory and sweet combo is irresistibly delicious!
EASY LEFTOVER TURKEY SOUP RECIPES
Turkey Rice Soup – This is the homemade turkey soup you've been looking for. With tender chunks of leftover turkey and fresh veggies in every bite, it's healthy, hearty, and delicious! It'll quickly become one of your favorite Thanksgiving leftover turkey recipes.
Easy Turkey Pho – Light and so flavorful, this soup is the perfect way to warm up on a chilly day. The broth is flavored with fish sauce, star anise, cloves, cinnamon, and ginger for a flavorful kick. Loaded with tender shreds of turkey, rice noodles, and fresh herbs, this easy turkey soup brings a comforting Vietnamese twist to your post-holiday meals.
Slow Cooker Leftover Turkey Soup – This soup is hearty, satisfying, flavorful, and oh-so-delicious! It's the perfect soup to "set it and forget it" while you spend time with your family. It's also one of the best turkey leftover ideas because you can make it in advance and freeze for a rainy day later.
Healthy Leftover Turkey and Black Bean Soup – When I think about healthy leftover turkey recipes, this southwestern soup comes to mind. It's packed with fresh flavor from veggies, lime juice, and cilantro and bursting with aromatic herbs. Top with your favorite fixings and you have a delicious soup the whole family will love.
Turkey Chili – Is there anything better than a warm bowl of chili on a cold day? Pair it with vegan cornbread, and you have a match made in heaven. This chili is loaded with flavor from sauteed onions, crushed tomatoes, chicken stock, and seasonings. The addition of hearty shreds of leftover turkey takes it over the top.
Turkey Noodle Soup – This easy-to-make soup tastes like it's been cooking all day. Ideal for those looking for healthy leftover turkey recipes for dinner that doesn't take a long time to make. This comfort food is easy, satisfying, and oh-so-good!
Turkey Pot Pie Soup – Have all the comforting flavors of chicken pot pie but in soup form and using leftover turkey instead. It's just as good and so hearty with chunks of potatoes, carrots, celery, peas, and turkey in every bite!
HEARTY CASSEROLES WITH LEFTOVER TURKEY
Cheesy Leftover Turkey Casserole – Creamy, indulgent, and oh-so-delicious. This cheesy casserole dish features leftover turkey smothered in gravy (use homemade gravy to take it over the top!), cornbread, peas, and carrots and is oven-baked to golden perfection.
Turkey Shepherd's Pie – When it comes to leftover turkey recipes for dinner, few dishes are more comforting than a hearty meat pie. If you're a fan of Shepherd's pie, you will love this version. It has the warm flavors of creamy and saucy vegetable-meat mixture topped with fluffy mashed potatoes.
Turkey Butternut Squash Casserole – Transform your leftover turkey into this delicious and hearty casserole. Full of amazing flavors that pair perfectly with tender chunks of turkey, a rich, creamy sauce, butternut squash, and cheesy deliciousness.
Turkey Enchiladas – Loaded with vibrant flavors, these enchiladas are absolutely delicious and the perfect way to use up leftover turkey. If you're looking for healthy leftover turkey recipes, this option offers a satisfying and healthy version with Mexican-inspired flavors.
Turkey Spaghetti Bake – Enjoy the comfort of spaghetti in this easy bake made with leftover Thanksgiving turkey, crushed tomatoes, Italian seasoning, and loads of cheesy goodness. This delicious crowd-pleaser meal will stand out among all the leftover turkey recipes – healthy and satisfying in every bite.
LEFTOVER TURKEY RECIPES FOR DINNER
HOW TO STORE LEFTOVER TURKEY RECIPES
Mind the recipe storage instructions. Most recipes will have suggestions for how to store the dish properly and for how long. It's important that you follow those recommendations.
Store different components separately. Keep the turkey meat separate from other components such as leafy greens, stuffing, or gravy to help preserve the individual textures and flavors.
Avoid refreezing. Once you've thawed and reheated frozen turkey, it's best not to refreeze it again as that will affect the texture and taste of the leftovers. If possible, freeze in smaller portions to avoid the need to thaw the whole dish.
Portion control. Divide the larger quantities of leftovers into smaller, meal-sized portions before storing. This will help to cool the dish faster and allows you to reheat only what you need. It also makes meal prep easy.
FREQUENTLY ASKED QUESTIONS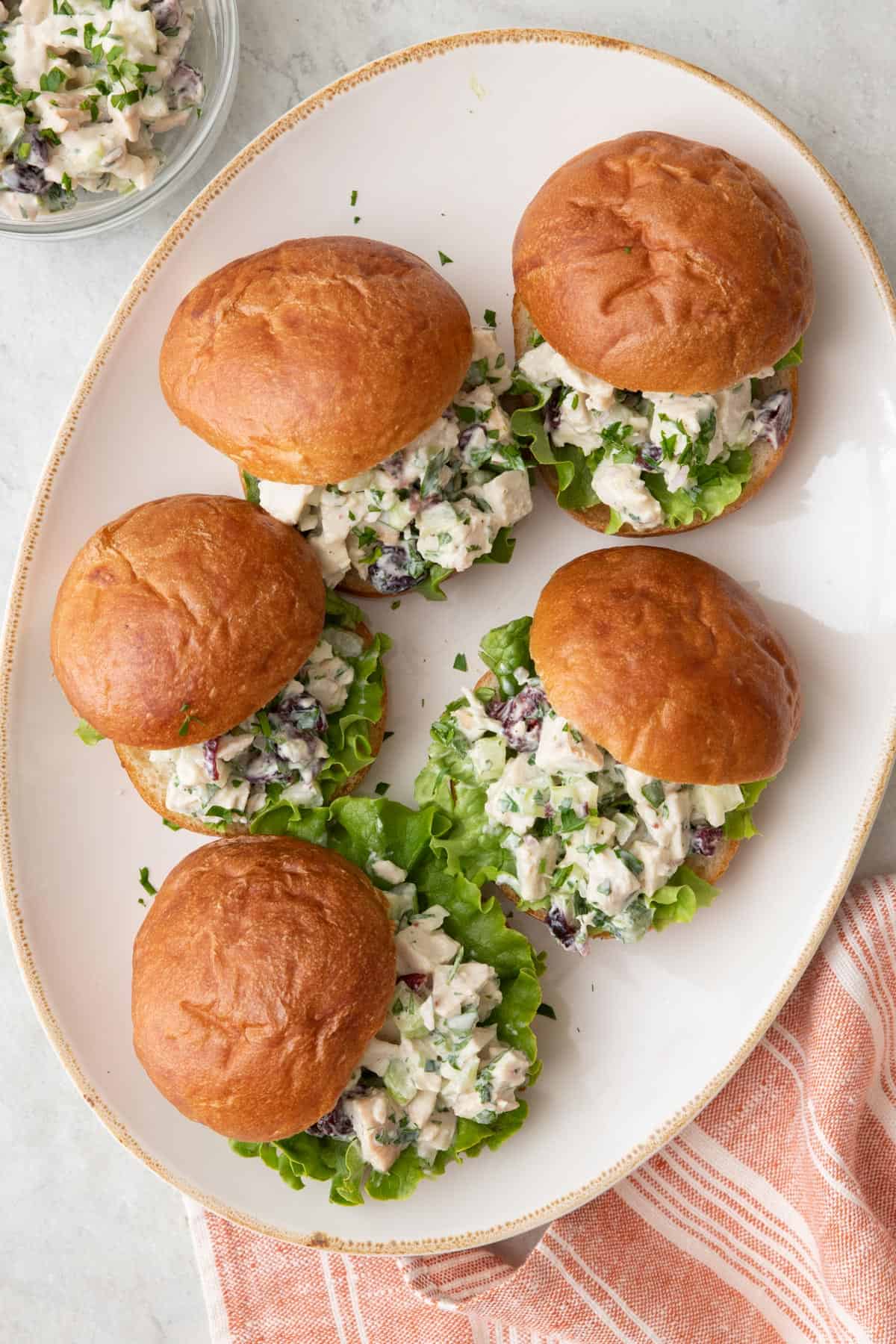 I hope this collection of tasty turkey leftover ideas inspires you to make the most of this seasonal bird. From turkey sandwiches to the comforting warmth of dinner casseroles, these recipes not only reduce food waste but also offer delicious creativity to your post-holiday meals.
FULL LIST OF RECIPES
Check out the picture cards for all the recipes listed above. You can click on any of the recipes cards to take you directly to those recipes.
For more similar roundup of recipes, be sure to check out: Leftover Mashed Potatoes Recipes, Fall Recipes, Recipes that are Great for Leftovers, and Pumpkin Recipes.
If you found this recipe roundup for Leftover Turkey Recipes helpful or if you try any recipe on Feel Good Foodie, then don't forget to rate the recipes! It helps others who are thinking of trying out this tutorial and we would love to hear about your experience. And if you snapped some shots, share it on Instagram so we can repost on Stories!