This post may contain affiliate links. Please read our disclosure policy.
Want to get started with Meal Prepping? The whole idea can be intimidating, but it doesn't have to be. Relax and enjoy this guide on how to meal prep. It can save you time, money, and sanity, because waiting until 5 p.m. to decide what's for dinner every night is exhausting.
What is meal prep?
If meal planning is sketching out and then shopping for a week's worth of dinners, meal prepping takes that situation a step further. Meal prep is making those planned meals (or parts of them) ahead of time so you hit the kitchen running at mealtime. Keep in mind:
Map out your menu
Like any project, the planning is paramount. Here are some things to think about and tasks to get started.
what are the different types of meal prep?
Ready-to-eat or ready-to-heat meals:
There are literally the whole enchilada. A meal you've prepared in entirety – like a pan of enchilas that are ready to re-heated. Think, also, about the components of something like a Chinese chicken salad that are completely cooked, chopped, and ready to be dressed.
Freezer meals:
Kick it old school with big batch cooking. All those recipes that say "freeze well?" Double them and freeze half for later: spaghetti sauce, quiche, soup, stew, etc. Freeze key recipe building block ingredients, too, like grilled chicken breasts or roasted cauliflower, too.
Fresh Ingredient prep
This takes two forms: prep produce regularly used like cut carrots and celery for lunch boxes, or salad greens for dinner. But also chop ahead, for instance, cutting up onions and garlic for week's worth of cooking or dicing all the veggies you'll be pan roasting tomorrow.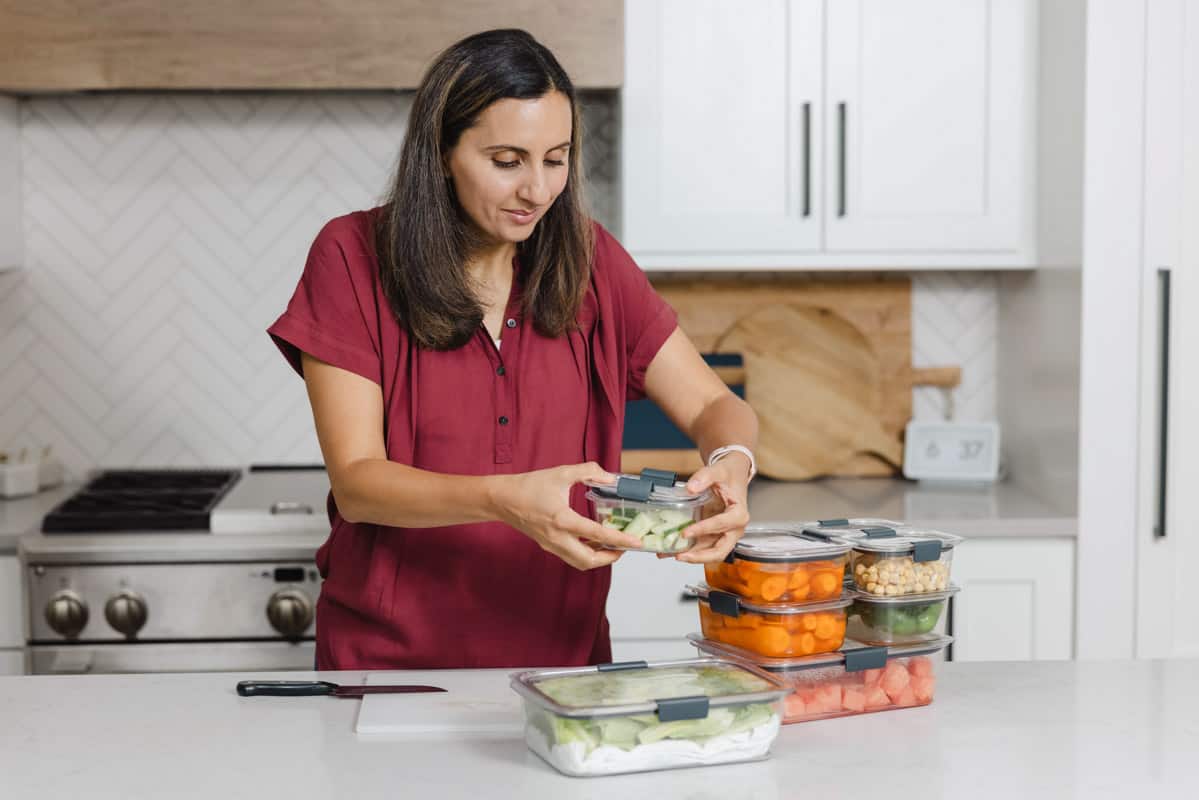 Cooked ingredient prep
Die-hard meal preppers lean hard into this. Make a large amount of protein like roast chicken, flank steak, or beans and use it creatively in different dishes for days. (Roast chicken, chicken pot pies, chicken quesadillas, etc.) Also do this with grains like quinoa, rice, or farro.
BEST containers for meal prepping
Tips for meal prepping
Ramp up slowly. Start small by prepping a few ingredients or one or two meals a week. One easy way to begin is by washing and readying (chopping or portioning) all your fresh produce as soon as you return from the store or farmer's market.
Be mindful of how long various foods keep in the fridge. That was your efforts don't go to waste with food thrown away.
Label and date your food. Colorful painter's tape and a Sharpie marker are great for labeling containers.
Keep a pantry full of your most-used non-perishables. Items like rice, grains, pastas, canned tomatoes, and beans, as well as a well-stocked spice cabinet makes it easy to trick out just a few fresh ingredients.
Frequently asked questions
What is the best way to store meal-prepped food?
It varies dish by dish and ingredient by ingredient. Go by directions in the recipe or look up your specific ingredients. Many things – oatmeal, chicken – last about four days. Quinoa will be good for seven.
How do I stay motivated to meal prep?
Start small, give it a try, and hopefully you will see the effort of making an extra meal on Sunday, prepping produce ahead, or big batch cooking reaps rewards that outweigh the efforts. Remember, it takes a while to build a habit.
What can I do if the prep seems like too much work?
It is work. So go easy. Space out your tasks. Do not try to do everything in one day. Shop one day. Prep the next, and reward your efforts with take-out or pizza on that night.
When it comes to meals, having the ingredients in the house and ready to go is more than half the battle.
If you find this guide for How to Meal Prep useful, we'd love to hear from you! Please leave a comment below! It helps to create a dialogue with others who find this article. And if you snapped some shots of any of these tips and tricks, please share them on Instagram so we can repost on Stories!