This post may contain affiliate links. Please read our disclosure policy.
Learn how to make muesli with this easy-to-follow tutorial! Made with old-fashioned oats, a selection of raw nuts, seeds, a hint of cinnamon, and naturally sweetened with dates and raisins, this homemade muesli is healthy, filling, and ridiculously tasty. But what's even better is that it's incredibly easy to make and can be stored for up to two months! Follow the steps below to make your own batch of muesli energy-boosting breakfast.
Table of Contents
Packed with wholesome ingredients and major flavor, this homemade muesli is a must-try! Whether you're looking for a convenient on-the-go option or a nourishing bowl of goodness at home, learning how to make muesli cereal will be a game-changer for you. Plus, you can mix and match the muesli ingredients to make this recipe work for your wallet and taste buds!
what is muesli?
Muesli is a European-inspired cereal that can be eaten hot or cold, typically made from a blend of whole-grain wheat, rolled oats, nuts, seeds, and dried fruit. You can enjoy it cold as a breakfast cereal with milk, hot like oatmeal, or you can even try the traditional Swiss method, muesli mixed with yogurt and grated apples overnight and enjoyed the next day. It's a great alternative to sugary cereals if you're looking to try something new for breakfast.
WHY learn to make Your own muesli
Cost-effective. If you're a big fan of muesli, making it homemade is much more cost-effective than buying store-bought pre-packed versions. Purchasing the ingredients in bulk and making larger batches saves you money in the long run.
Great way to use leftover nuts, seeds, and dried fruit. Because there are no set measurements or ingredients for muesli, you can have a variety of ingredients depending on what you have and your preference.
Nutrient-Packed Breakfast: Muesli is rich in fiber and packed with essential nutrients. Making it a regular part of your diet can give you the right start each morning, with its mix of healthy fats, proteins, and carbohydrates.
No Added Sugars or Preservatives: Store-bought cereals often come with hidden sugars and preservatives. When you make your own muesli, you know exactly what's going into it.
Ingredients to make Muesli
Old-fashioned oats: Commonly known as rolled oats, they form the base of muesli and provide a hearty, chewy texture. Oats have a mild, nutty flavor that blends with other ingredients well.
Oat or wheat bran: Though this ingredient is optional, bran adds a slightly coarse texture and enhances the overall flavor.
Sliced almonds: Almonds provide a satisfying crunch and slightly sweet flavor. Thanks to the fat content, it also adds a subtle richness to the muesli.
Chopped walnuts: Walnuts bring more variety in flavor and texture, adding depth to the overall taste profile.
Pumpkin seeds: Packed with nutrition, these seeds offer a pleasant nutty flavor and a touch of earthiness to the muesli.
Flaxseeds: These oval-shaped seeds are considered a superfood, and for a good reason. They are packed with omega-3 fatty acids, dietary fiber, and various other nutrients. You can use either brown or golden flaxseeds in this muesli recipe.
Chopped dates: Adding natural sweetness, moisture, and a caramel-like flavor to muesli. Chopped dates also add a contrasting texture with their pleasant chewy consistency.
Raisins: Similarly to dates, raisins also contribute natural sweetness and a soft, chewy texture.
Cinnamon and salt: The cinnamon adds a warm, fragrant taste and a sweet aroma to muesli, while the salt helps to balance the overall flavors, enhancing the sweetness and adding depth.
HOW TO MAKE muesli
There are many ways to make muesli, and this recipe is inspired by Bob's Red Mill Old Country Style Muesli which is one I frequently buy.
Add the oats, wheat bran, almonds, walnuts, pumpkin seeds, flaxseeds, cinnamon, and salt to a baking sheet.
Combine and spread evenly across the sheet.
Toast in a preheated oven until crunchy and golden brown.
Remove from oven and allow to cool for a little bit before adding dates and raisins. Toss the mixture to combine everything.
TIPS FOR making muesli
Don't worry about the exact ingredients or measurements. The most important ingredient is the oats. From there, everything else is a suggestion. This is a basic guide to how to make muesli cereal, so feel free to get creative and mix and match.
Skip the toasting. If you don't have time, you can skip the toasting step. I think it helps to bring out the nutty flavor of oats and makes the nuts and seeds taste better, especially if you're starting with raw nuts and seeds.
Add chewy ingredients last. If toasting, add the chewy ingredients like dried fruits towards the end to prevent them from drying out.
Control the sweetness. To keep the sweetness in check, you can rely on the natural sweetness of the dried fruits.
how do you eat muesli?
With milk: pour your choice of milk (dairy or non-dairy milk, like almond milk will work) over the muesli. Top with sliced bananas or fresh berries, and enjoy it like cereal.
With yogurt. Make a fancy yogurt parfait topped with fresh berries and a drizzle of honey, or simply mix muesli into a bowl of homemade yogurt for a hearty snack.
As a topping: Sprinkle muesli on top of smoothie bowls or oatmeal to add crunch and nutrition.
Soaked overnight: Combine muesli with your choice of liquid (milk, yogurt, or water) and let it soak overnight in the refrigerator. This allows the muesli to soften and become more digestible. This works especially well with untoasted muesli.
POPULAR SUBSTITUTIONS & ADDITIONS
Change the nuts. While almonds and walnuts are always a classic choice, you can use your favorite nuts to add flavor, texture, and nutritional value. Try cashews for their creamy, buttery flavor. Or hazelnuts for a distinct nutty taste. Pecans and pistachios would also make a great choice.
Swap the seeds. Don't just limit yourself to pumpkin seeds and flaxseeds. Consider adding chia seeds, sunflower seeds, sesame seeds, or even hemp seeds.
Add dried coconut flakes. For a wonderful tropical flavor and pleasantly chewy texture, add coconut flakes or shredded coconut.
Add brown sugar. If you prefer a slightly sweeter taste, add a little brown sugar to the muesli cereal. It's best to start low and adjust the sweetness to avoid overpowering the other flavors.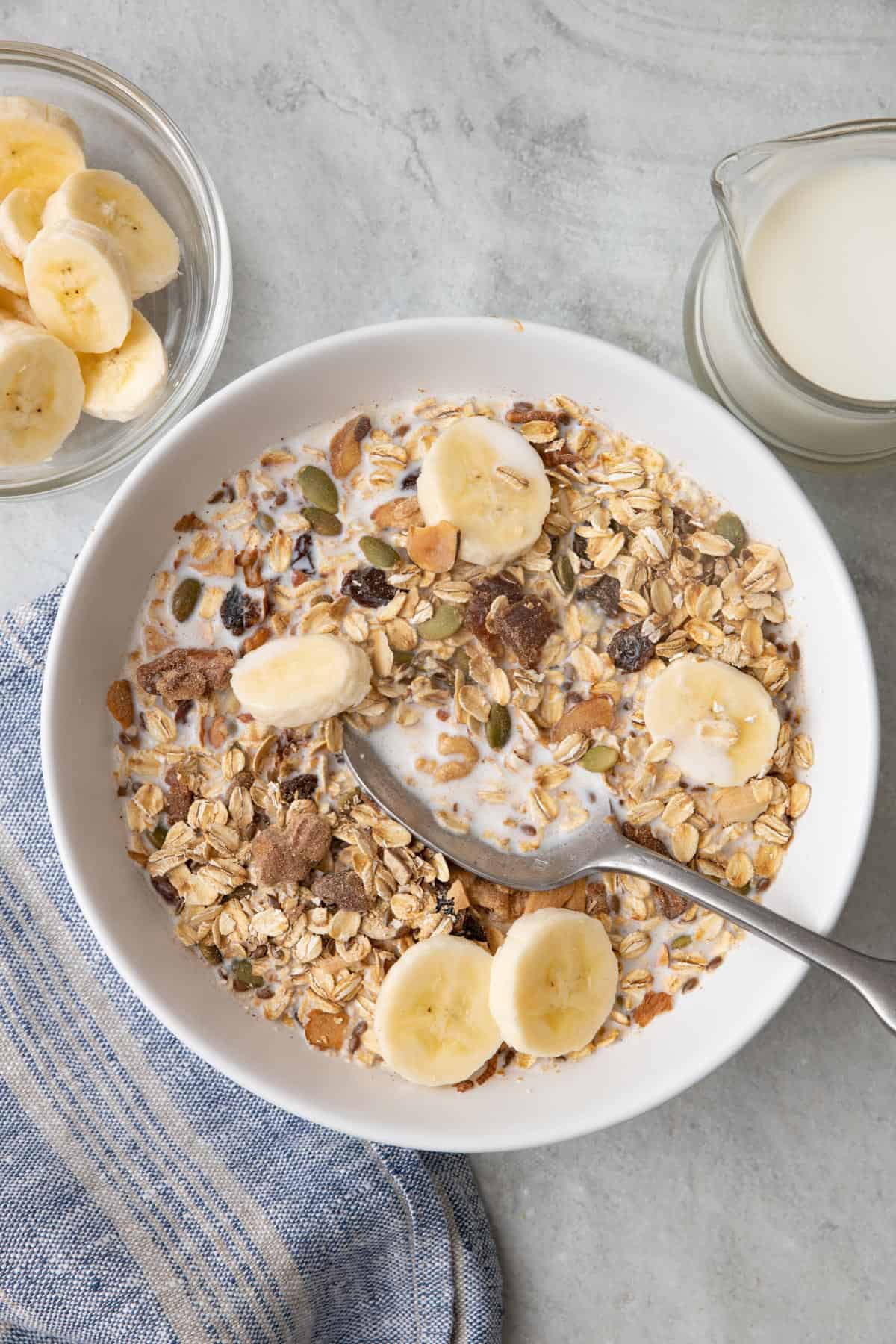 HOW TO STORE muesli
Store your muesli in an airtight container or a large glass jar to prevent moisture and air from entering, which can cause the muesli to become stale. Store in a cool, dry place in your pantry or the refrigerator. When stored at room temperature, muesli can last up to 2 months.
HOW LONG WILL muesli LAST IN THE FRIDGE?
You can store the muesli in the refrigerator for up to 4 months to prolong shelf life.
CAN I FREEZE homemade muesli?
While you certainly may freeze muesli, it is not recommended if you intend to eat it as a topping or cold cereal, as the freezing and thawing may affect the texture. The moisture in the muesli ingredients can lead to clumping and loss of crunchiness when thawed. This isn't a problem if you are going to eat it hot or soaked overnight. It should last about 6 months in the freezer.
FREQUENTLY ASKED QUESTIONS
Is muesli the same thing as granola?
No, muesli and granola are not the same. Granola is baked with sweetener and oil, resulting in a crispy, clumpy texture. Muesli, however, is raw and is not as crips it also doesn't have added sugars or oils. It's usually soaked in milk or yogurt before eating to soften its texture, whereas granola can be enjoyed as is.
Does muesli need to be cooked?


Traditional muesli is eaten raw and uncooked. Some people prefer to soak muesli cereal in milk, yogurt, or water to soften the oats and make them easier to chew. In this recipe, we lightly toast muesli ingredients until they are crisp and golden. This creates a different texture and flavor and an overall enjoyable bowl of muesli cereal.
Can I make a larger batch of muesli?
Absolutely! Making a larger batch of muesli is a great time-saving and cost-effective option. Just ensure you store it in an airtight container in a cool, dry place to maintain freshness. This way, you'll have ready to go breakfast or snack option whenever you need it.
And now, you know how easy it is to make muesli at home with ingredients you likely already have. Not only is homemade muesli delicious and nutritious, but it also comes with endless possibilities for customization.
MORE cooking tutorials:
If you found this tutorial for How to Make Muesli helpful or if you try any recipe on Feel Good Foodie, then don't forget to rate the recipe and leave a comment below! It helps others who are thinking of trying out this tutorial and we would love to hear about your experience. And if you snapped some shots, share it on Instagram so we can repost on Stories!
How to Make Muesli
Learn how to make homemade muesli with a few simple ingredients! It's the cereal you can eat hot or cold with milk or yogurt and even soak overnight for a quick breakfast on the go!
Ingredients
Instructions
Preheat the oven to 350°F.

Combine the oats, wheat bran, if using, almonds, walnuts, pumpkin seeds, flaxseeds, cinnamon and salt in a large baking sheet. Toast for 20 minutes.

Remove the baking sheet from the oven and allow the mixture to cool for 10 minutes.

Add the dates and raisins and toss the mixture until everything is evenly combined. Serve immediately or allow it to cool completely, and store at room temperature in an airtight container for up to two months.
Notes
Suggested serving size is ¼ of a cup. This batch makes about 6 cups total, or 24 servings. Storage: store at room temperature in an airtight container for up to two months.
Nutrition
Calories:
94
kcal
,
Carbohydrates:
12
g
,
Protein:
3
g
,
Fat:
4
g
,
Saturated Fat:
0.5
g
,
Polyunsaturated Fat:
2
g
,
Monounsaturated Fat:
1
g
,
Trans Fat:
0.001
g
,
Sodium:
26
mg
,
Potassium:
129
mg
,
Fiber:
3
g
,
Sugar:
2
g
,
Vitamin A:
5
IU
,
Vitamin C:
0.1
mg
,
Calcium:
21
mg
,
Iron:
1
mg
Nutrition information provided is an estimate. It will vary based on cooking method and specific ingredients used.