This post may contain affiliate links. Please read our disclosure policy.
Breakfast is the most important meal of the day, and one of my favorite ways to start the morning is with a bowl of steel cut oatmeal with lots of tasty toppings! Learn how to cook steel cut oats perfectly on the stovetop for a healthy and hearty breakfast for the whole family. And be sure to check out my baked steel cut oatmeal too!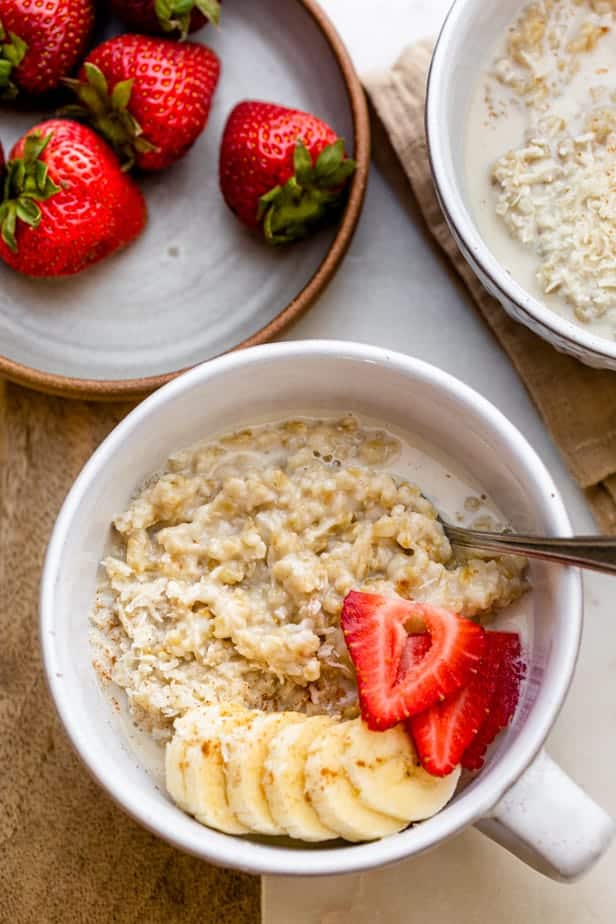 Steel cut oats are healthy carbs!
Our bodies need good carbs, like oatmeal! Actually 50% of the calories we eat in a day should technically come from carbs. So I love fueling my body with good-for-you-carbs like whole grains. This steel cut oatmeal recipe is just that – a creamy, comforting carbolicious breakfast made with minimally processed steel cut oats.
Ingredients
Water: To cook the oats. Plain tap water is just fine. Add the oats to boiling water.
Salt: A little salt does wonders for plain oats and brings out their natural nutty flavors, without it, it can be quite bland. I like to use kosher salt for a milder salt flavor, but Himalayan or table will work well.
Steel cut oats: Steel cut oats are less processed than other types and contain so much goodness. They require a slightly longer cooking time as they are thicker, but it's a very easy process.
RECIPE VIDEO TUTORIAL
How do you cook steel cut oatmeal
Bring the water and salt to a boil in a small sauce pan.
Add the steel cut oats which will create bubbles in the water and then lower the heat to low.
Cook until the water is absorbed. You want to stir occasionally and scrape the bottom of the pan so nothing sticks and you get a creamy texture.
Once the water is fully absorbed and the oats are fluffy, remove from the heat and let the oats stand for a few minutes, covered with a lid.
Then you can transfer the oats to a bowl, add a splash of milk and add on whatever toppings you'd like. Each 1 cup of steel cut oats makes 4 servings of cooked steel cut oats.
What's the difference between steel cut and rolled oats
Both types of oats are essentially the same but they differ in how they're processed. I've actually learned quite a lot about this from the farmer's markets and talking to farmers who sell various types of oats. I even got to use a rolling machine once to literally roll oats. So here's the rundown about rolled oats versus steel oats.
Rolled Oats
To make rolled oats as the name implies, the oats are pressed flat with steel rollers. This helps to make them flatter and easier to cook. And even within the rolled oats "family", you'll notice in grocery stores that there are three types of rolled oats:
Old fashioned oats are steamed and then rolled flat. They take the longest to cook, but they have the best texture.
Quick cooking oats are partially cooked and then rolled pretty thin. They cook faster than old fashioned oats, but the texture is softer.
Instant-oats are completely cooked, dried and then rolled and cut. This makes them the fastest kind to cook, but probably not the best from a texture point of view. These are great for quick breakfast with hot water or for babies.
Steel Cut Oats
And again as the name implies here, these types of oats are cut and not rolled. They basically look like cut up brown rice and they are very coarse, so they take the longest among all the oats to cook. And because they are minimally processed, they are also the healthiest types of oats to eat.
It can be tedious to cook them though. It's not like just popping a bowl of oats and milk in the microwave with instant gratification. Steel cut oats usually require either a lot of time in a pressure cooker, oven or pot.
Topping Suggestions
Just like regular oatmeal, there are endless topping ideas for steel cut oatmeal. And the great thing about it is you can vary it up everyday of the week and never get sick of the humble bowl of oats. Here are some ideas to get your started.
Fruit: Fresh fruit like bananas, berries and apples; dried fruits like raisins, cranberries, apricots, dates or coconut; frozen fruits like berries or mangoes, jams, fruit zest or applesauce.
Nuts & Seeds: Almonds, walnuts, pecans or peanuts; chia seeds, ground flaxseeds, sunflower seeds or pumpkin seeds. You can also do any nut butter or seed butter.
Cooked Grains: Quinoa, amaranth or wheat germ. You can cook them separately or with the oatmeal. You can also add granola.
Spices: Cinnamon, cardamom, nutmeg, pumpkin spice or ginger.
Dairy: Splash of any type of milk or creamer or a dollop of yogurt
Protein Powder: If you're trying to add more protein to your diet, I recommend half the normal scoop.
Sweeteners: Honey, maple syrup, brown sugar or agave syrup.
Tips for Making This Recipe
Add milk to the boiling water. The recipe calls for 3 cups of water for every cup of oats. However, you can add between ¼ and 1 cup of milk to make it more creamy. You can also just add it after it's cooked, which is what I prefer to do.
Don't walk away from the oats while cooking them. Sometimes, oats can foam up when you're cooking on the stovetop, and if that happens, just remove from the heat for a few seconds until it settles down.
Make the oatmeal softer by lengthening the cooking time. My suggested cooking time is 15 minutes which comes out perfectly. But you can add an extra 5-10 minutes with a little extra water or milk, as needed, to get even more tender oatmeal.
Add coconut oil or butter for a more creamy texture. You can use 1 tablespoon of fat for every 1 cup of steel cut oats. I like stirring it in during the last 10 minutes of cooking.
Toast the oats before adding the liquid. To bring out more of the nutty texture of the oats, you can toast them with some coconut oil or butter before adding the liquid. They taste so good like this!
Turn the heat down once you've added the oats to the water. If you keep the heat on high the bottom will burn quickly and it will be a nightmare to clean up! Turn the stovetop down to a low or medium-low heat.
Frequently asked questions
Can you make oatmeal ahead of time?
Yes, this is a great make-ahead breakfast! If you have leftovers, they can be kept covered in the fridge for up to 5 days. You can reheat them in a pot on the stovetop and stir in a little more water or milk to loosen it up and get your desired texture.
Why do you add salt to the oats?
I highly recommend you add a little salt to the oats during cooking, without it, it can taste pretty bland. The salt helps to bring out the natural nuttiness and toasty flavors of the oats.
Why eat steel cut oats?
Steel cut oats sustain your energy levels throughout the day and will keep you feeling full til lunchtime. They are a great source of iron and fiber and have a low glycemic index. Oats are naturally gluten-free, but check that they are certified GF if you have a sensitivity as they are often processed with other grains.
This recipe for steel cut oats is so simple but it will leave you feeling full and satisfied, and give you the energy to face the day. Have fun with all the toppings!
For more oatmeal recipes:
If you've tried this healthy-ish feel good Steel Cut Oatmeal recipe or any other recipe on FeelGoodFoodie, then don't forget to rate the recipe and leave me a comment below! I would love to hear about your experience making it. And if you snapped some shots of it, share it with me on Instagram so I can repost on my stories!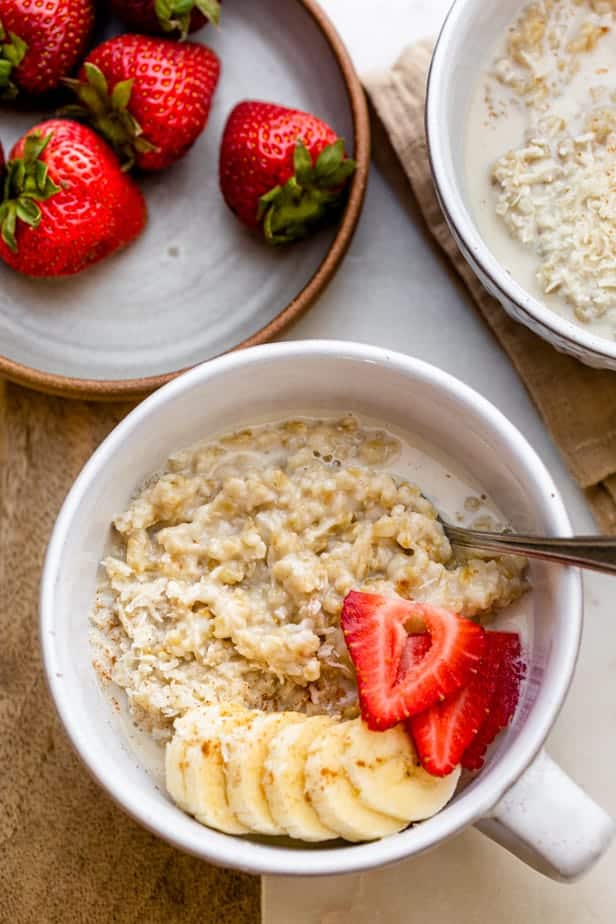 Steel Cut Oatmeal
Learn how to make perfect steel cut oatmeal on the stovetop using my tips and guidelines – a cheap, easy and healthy breakfast for a family or meal prepping
Instructions
Place the water and salt in a medium saucepan and bring to a boil over high heat.

Add the steel cut oats, reduce heat to a low simmer. Cook until the water is absorbed, about 15 minutes, stirring occasionally and scraping along the bottom and sides of the pan to prevent sticking.

Remove from heat and let stand covered for a couple of minutes. Enjoy with your favorite toppings. Yields about 3 cups.
Notes
Storage: Store any leftovers in an airtight container. They will last about 5 days in the fridge. Make Ahead Tips: You can make the oatmeal on the stovetop in advance. To reheat, simply add a splash of milk or water and microwave for 1 minute. Substitutes: For best results, follow the recipe as is. However you can add up to 1 cup of milk to the water for a more creamy consistency. * Please note the nutrition label does not include any toppings.
Nutrition
Calories:
206
kcal
,
Carbohydrates:
35
g
,
Protein:
9
g
,
Fat:
4
g
,
Saturated Fat:
1
g
,
Sodium:
206
mg
,
Fiber:
6
g
,
Calcium:
34
mg
,
Iron:
2
mg
Nutrition information provided is an estimate. It will vary based on cooking method and specific ingredients used.