This post may contain affiliate links. Please read our disclosure policy.
This cranberry pecan baked oatmeal is the perfect way to start your day. Fresh cranberries with nutty pecans and old-fashioned oats, with a touch of cinnamon, maple syrup, and orange zest for a fresh, citrusy surprise! Topped with a dollop of homemade maple Greek yogurt, this baked cranberry oatmeal is sure to wake up your taste buds and fuel you for the day ahead.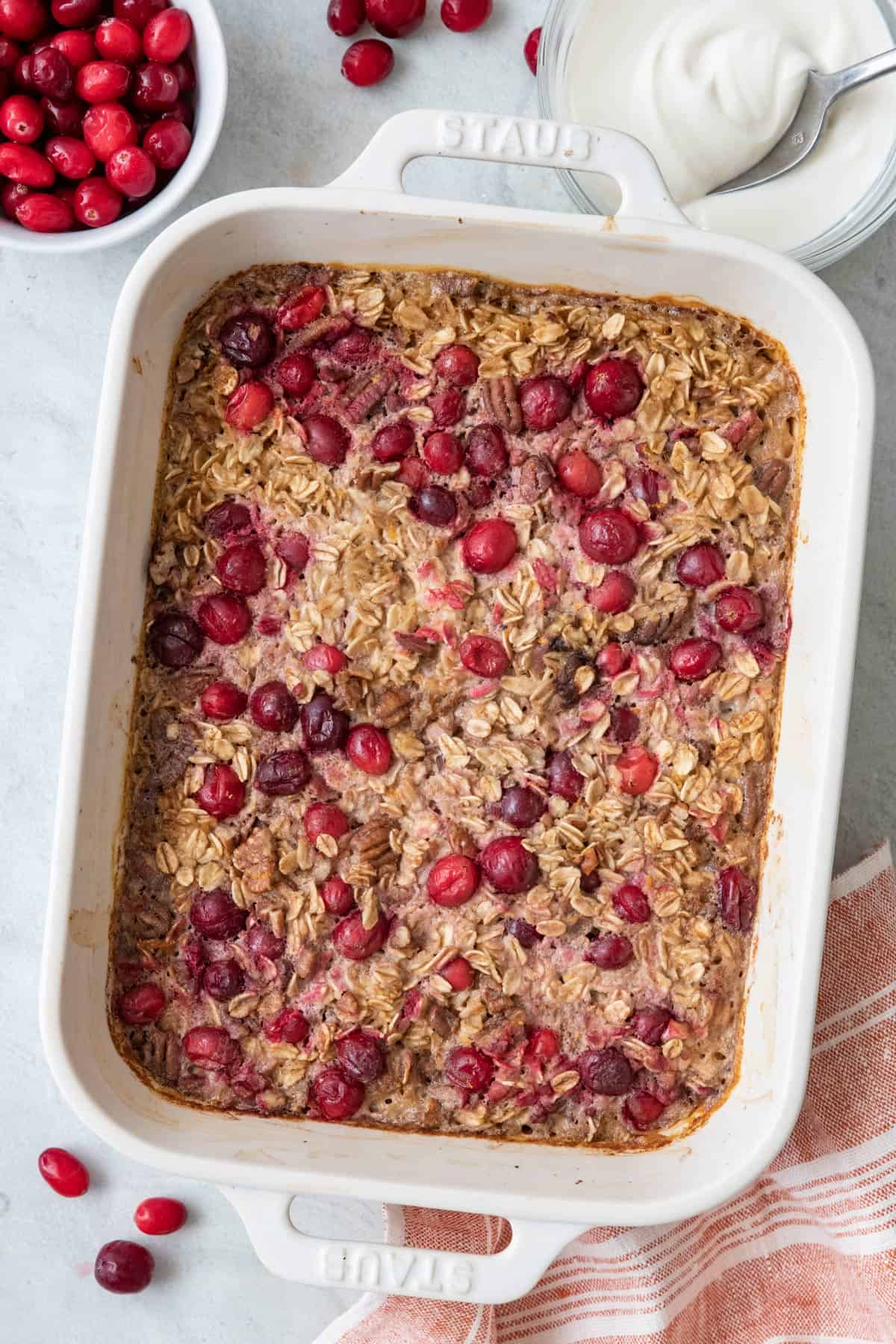 Are you looking for a delicious breakfast recipe that will keep you full all morning long? Look no further than this cranberry pecan baked oatmeal! This dish is bursting with fresh flavor, and it's perfect for a chilly winter morning or to serve as a holiday-baked oatmeal. Oats are a great source of fiber, and they will help to keep you satisfied until lunchtime. Plus, the added protein from the pecans and Greek yogurt will help to power your day!
why you'll love this fresh cranberry oatmeal
Tastes like the holidays. The combination of fresh cranberries, pecans, and maple syrup is so delicious and perfect for the holiday season. You can make this baked oatmeal for a quick breakfast or brunch, and it's sure to delight.
Packed with nutrients. Oats are a great source of fiber, but they also contain other important vitamins and minerals like iron, calcium, and potassium. Not to mention the fresh cranberries, which are also filled with vitamins and minerals, including some that boost your immune system. When combined, this baked oatmeal is a powerhouse of nutrition.
A filling breakfast choice. Many baked oatmeal recipes are loaded with sugar, but this one is free from any sweeteners besides a touch of maple syrup for added flavor. This means it will keep you full longer since your body won't be craving sugar to keep your blood sugar levels stable.
Easy to make. Preparing this recipe takes just minutes – you can even prep it ahead of time and then refrigerate it until you're ready to bake. Simply pop it in the oven when you wake up, and breakfast will be ready in no time!
Ingredients you'll need to make Baked cranberry oatmeal
Old-fashioned oats: Or rolled oats, whichever name you prefer, are what you need to look for to make baked oatmeal. Quick oats don't hold up well in the oven and throws off the overall texture. I recommend going with organic oats if they're available to you.
Cranberries: Fresh cranberries are my first choice for this recipe and are readily available during the holiday season. If you happen to be making this recipe after the holidays, frozen cranberries will also work.
Pecans: You can do a light roast on the pecans before you bake your oatmeal to deepen the flavor or just throw them in as is. You can also use walnuts or sliced almonds if you prefer for this recipe.
Maple syrup: For some added sweetness and depth of flavor, I like to use maple syrup. Just make sure you get real maple syrup and try to avoid products that claim to be maple syrup. Most of the imposter syrups will have corn syrup in the ingredients.
Orange: While you won't be using the flesh of the orange, the zest still packs a punch. You may want to be a little picky when picking out your citrus since you will be using the outside of the fruit.
Milk: I use 2% for this recipe, but you can use whatever milk you have on hand. Almond, soy, or even coconut milk will work great in this recipe too.
Greek yogurt: You want to get plain Greek yogurt so it's not too sweet when mixed with the remaining maple syrup for your topping.
Other ingredients: You'll also need some cinnamon, an egg, a pinch of salt, and some baking powder.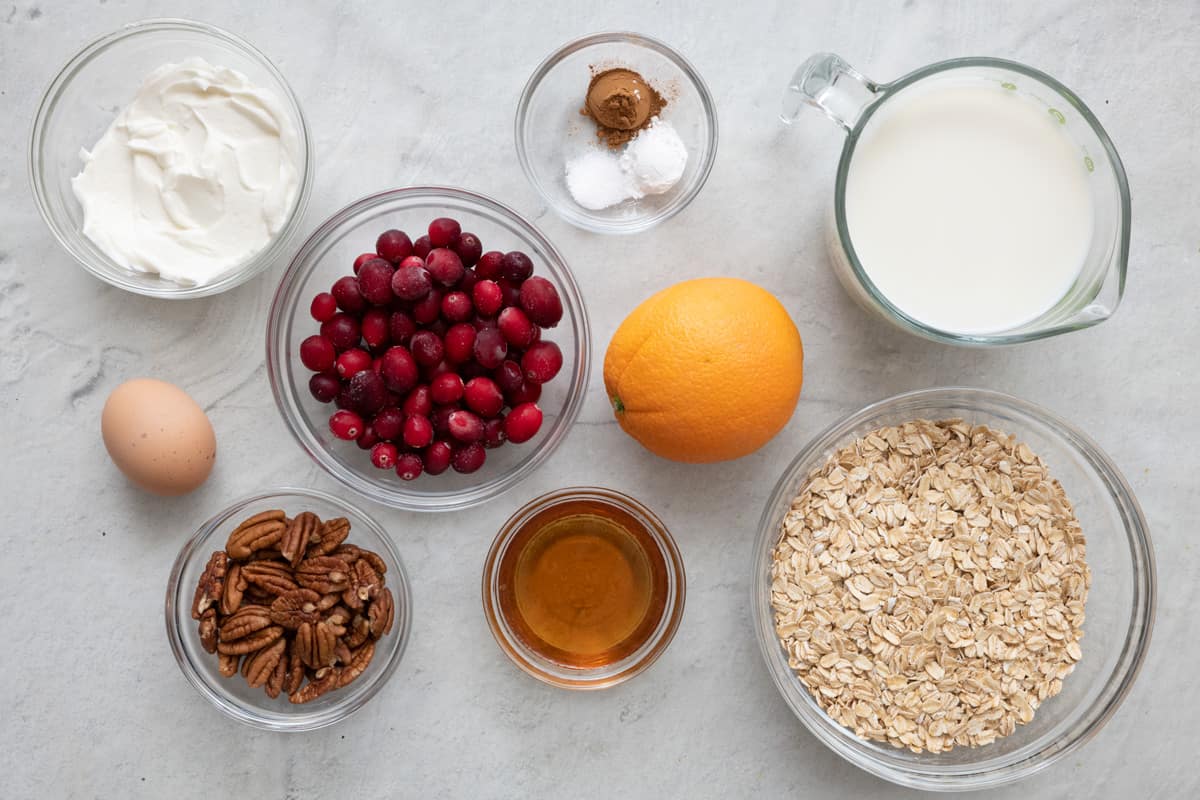 How to make cranberry baked oatmeal
Place the oats, pecans, cinnamon, baking powder, and salt in an oven-safe 8×11-inch baking dish.
Pour the wet mixture over the oat mixture.
Fold in the cranberries. Gently press down to make sure all the oats are covered with the wet mixture.
Bake uncovered in the preheated oven until the top of the oatmeal is golden and the mixture is set.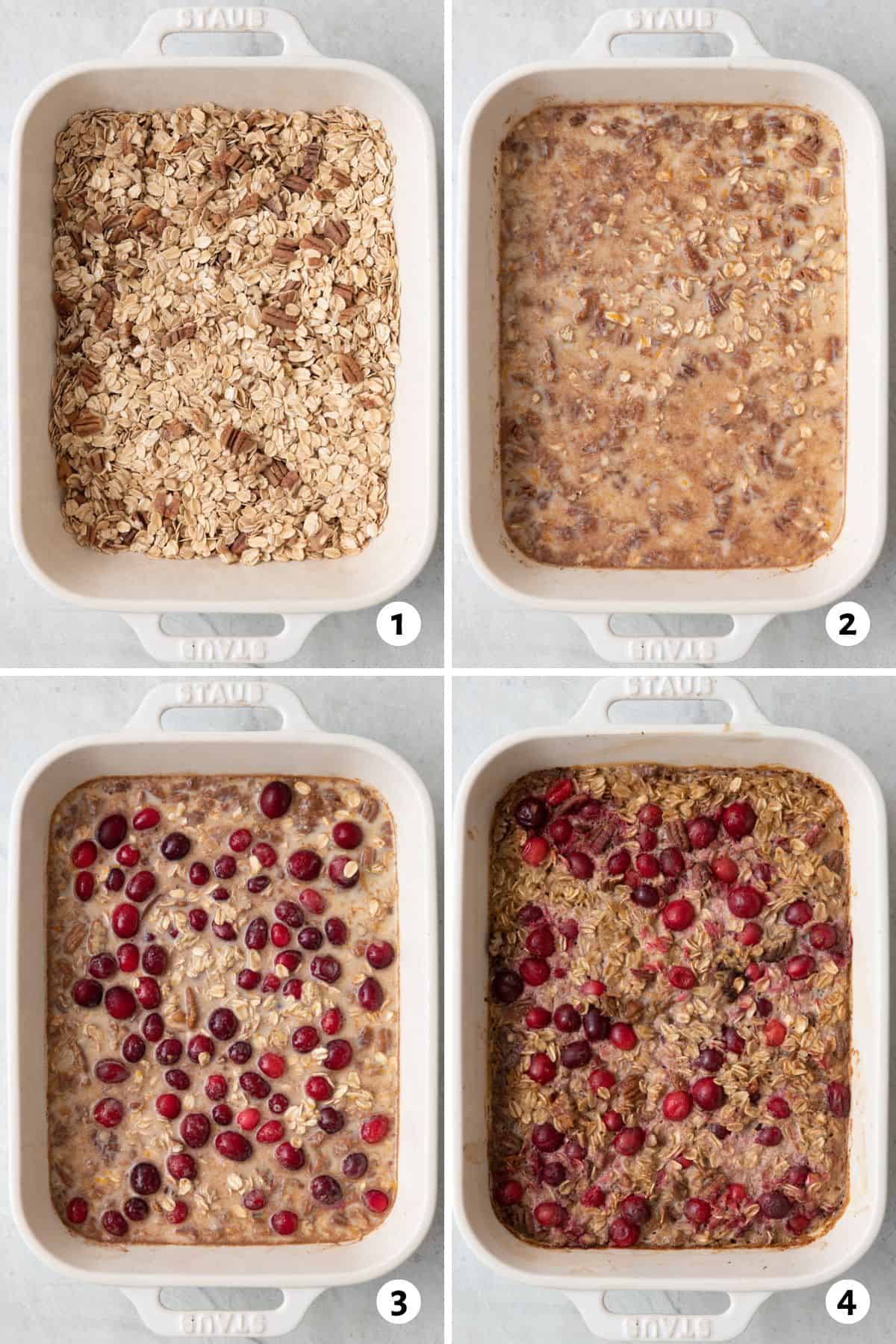 Tips for making the best cranberry baked oatmeal
Cut the cranberries in half to reduce tartness. I love the tartness of cranberries during the winter season in warm baked oatmeal. However, you can lessen it by slicing the cranberries in half.
Don't thaw frozen cranberries if using. There's no need to thaw the frozen cranberries if you're using them instead of fresh. They will bleed their color into the oatmeal and take up unnecessary time. Just fold them in frozen.
Stir to evenly distribute cranberries. Cranberries naturally love to float, so stirring the oatmeal after 10 minutes of baking helps to make sure all the bites have cranberries.
Stay away from quick oats. Quick oats are not designed to hold up well in baking, so they can fall apart and lead to a mushy consistency. Stick with old-fashioned or rolled oats for the perfect baked oatmeal texture.
popular substitutions & additions
Make it vegan. If you prefer to keep the oatmeal plant-based, you can make it with your favorite plant-based milk. Instead of 1 egg, use 2 tablespoons of ground flaxseeds stirred into the wet ingredients. Learn more about how to make a flax egg.
Add some protein. If you're looking to add some extra protein to your oatmeal, stir in a scoop of vanilla or plain protein powder before baking.
Top with whipped cream instead of Greek yogurt. If you prefer a less tangy topping, top your oatmeal with whipped cream or coconut whipped cream instead of Greek yogurt.
Add some spices. If you're looking to add more flavor, sprinkle on some ground ginger or cardamom before baking. You can also use 1 teaspoon of pumpkin pie spice in place of the cinnamon.
how to store & reheat your cranberry oatmeal bake
Let the oatmeal cool completely before storing it in the fridge in the casserole dish with plastic wrap in an airtight container or bag.
To reheat, place a portion of the oatmeal in a bowl and heat in the microwave until hot, about 1-2 minutes.
how long will cranberry oatmeal last in the fridge?
Cranberry oatmeal will last in the fridge for up to 3-4 days.
can i freeze cranberry oatmeal?
Yes, you can freeze cranberry oatmeal by wrapping it tightly in plastic wrap or freezer-safe aluminum foil and storing it in the freezer for up to 3 months.
Frequently asked questions
Can I make this recipe ahead of time?
Yes, you can make cranberry baked oatmeal ahead of time by combining all the ingredients in the casserole dish and storing it in an airtight container or bag in the fridge. You can then bake it when you're ready to serve.
Which is better fresh or frozen cranberries?
There is no definitive answer to this question, as the choice will depend on your personal preferences and what you have available. Fresh cranberries tend to be more tart, while frozen cranberries have a sweeter flavor. Ultimately, it comes down to which you prefer in your baked oatmeal.
How do I know when my baked oatmeal is done?
One good indication that your baked oatmeal is done is if the top is golden brown and the oatmeal feels firm. You can also stick a toothpick or a knife into the center to check for doneness. If it comes out clean, the oatmeal is ready. If there are still wet ingredients on the tester, continue baking for another few minutes.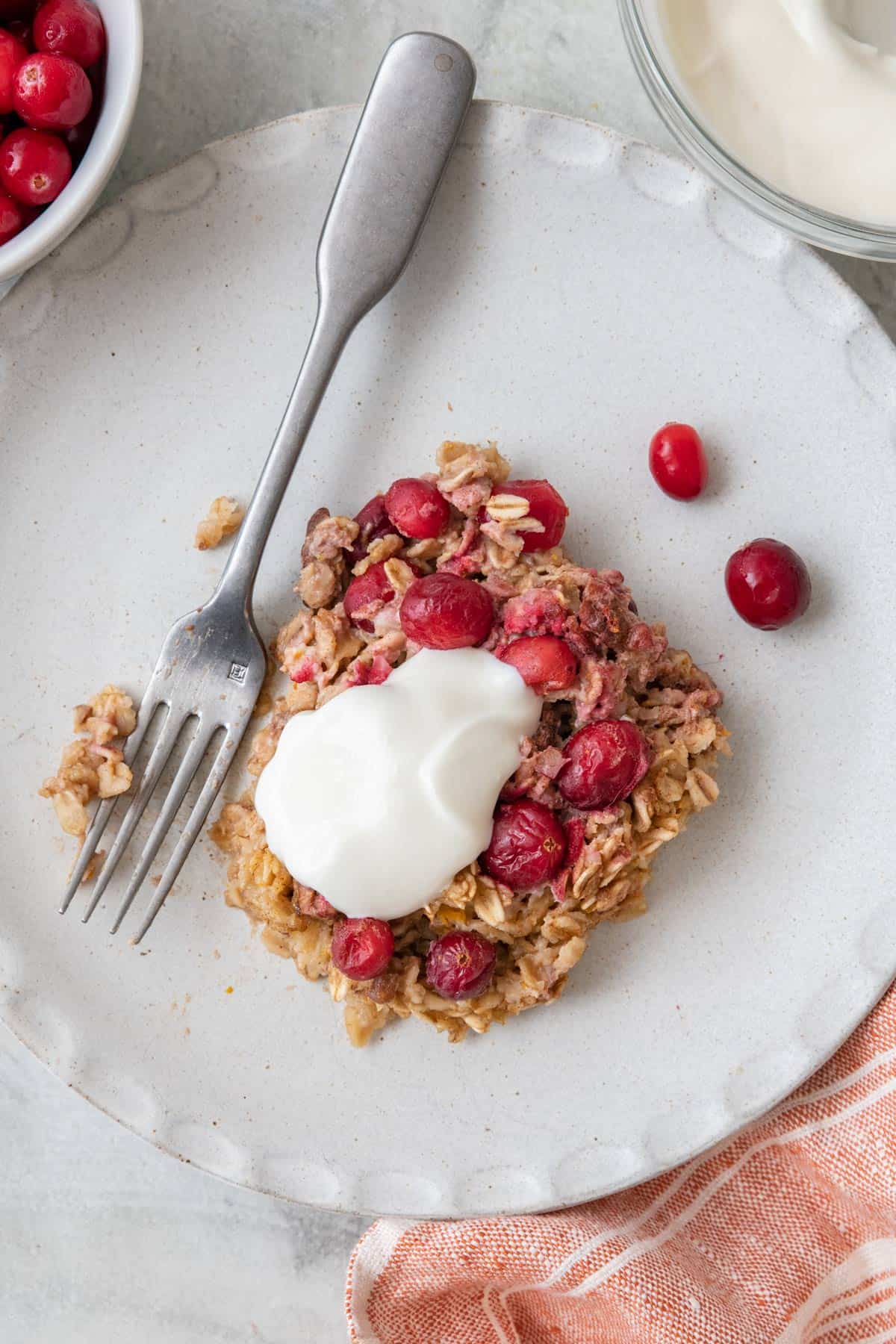 This delicious cranberry pecan baked oatmeal recipe is perfect for a winter breakfast. It's easy to make, and you can customize it with your favorite additions or substitutions. It's also great for the holidays when you have guests over or are looking for a festive breakfast treat. So, why wait? Give this delicious baked oatmeal recipe a try today!
More Oat recipes:
If you try this feel good Cranberry Pecan Baked Oatmeal recipe or any other recipe on Feel Good Foodie, then don't forget to rate the recipe and leave a comment below! It helps others who are thinking of making the recipe. We would love to hear about your experience making it. And if you snapped some shots, share it on Instagram so we can repost on Stories!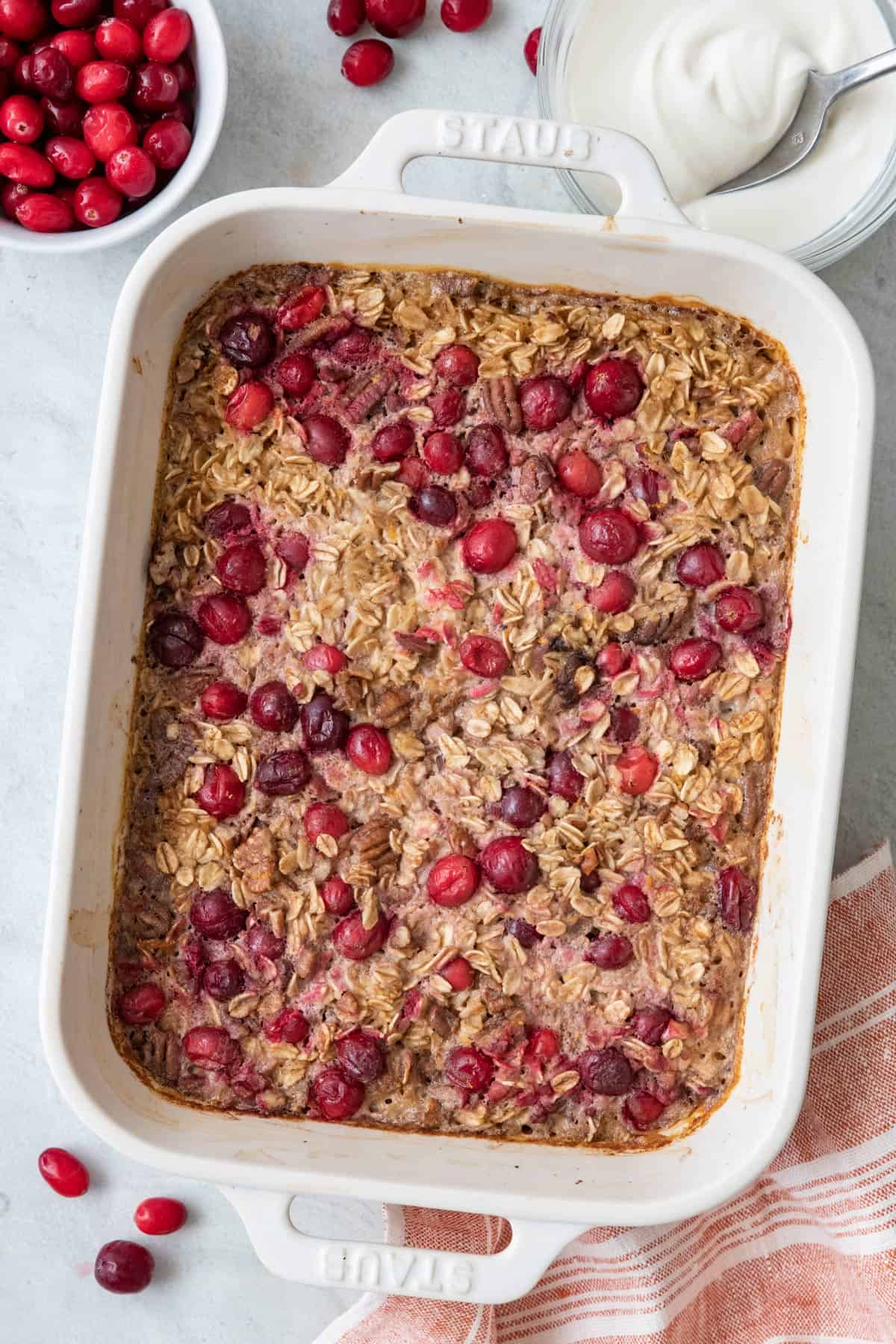 Cranberry Pecan Baked Oatmeal
Cranberry oatmeal baked with pecans, maple syrup and cinnamon and topped with a homemade maple Greek yogurt!
Instructions
Preheat the oven to 375°F.

Place the oats, pecans, cinnamon, baking powder, and salt in an oven-safe 8×11-inch baking dish.

In a small mixing bowl, whisk together the egg, milk, ¼ cup maple syrup, and orange zest. Pour over the oat mixture and fold in the cranberries. Gently press down to make sure all the oats are covered with the wet mixture.

Bake uncovered in the preheated oven until the top of the oatmeal is golden and the mixture is set, about 35-40 minutes. Remove and allow it to cool for 5 minutes.

Whisk the remaining maple syrup with the greek yogurt. Serve the oatmeal with a dollop of the maple greek yogurt. (Slice in half lengthwise, then in 4s to make 8 pieces)
Notes
Tip: Stick with rolled oats for this recipe. Quick oats will not have the same constancy.
Nutrition
Calories:
226
kcal
,
Carbohydrates:
33
g
,
Protein:
7
g
,
Fat:
8
g
,
Saturated Fat:
2
g
,
Polyunsaturated Fat:
2
g
,
Monounsaturated Fat:
3
g
,
Trans Fat:
0.1
g
,
Cholesterol:
26
mg
,
Sodium:
189
mg
,
Potassium:
313
mg
,
Fiber:
3
g
,
Sugar:
16
g
,
Vitamin A:
102
IU
,
Vitamin C:
2
mg
,
Calcium:
150
mg
,
Iron:
1
mg
Nutrition information provided is an estimate. It will vary based on cooking method and specific ingredients used.