This post may contain affiliate links. Please read our disclosure policy.
This Chia Jello is a delicious vegan snack or dessert that's good for you. Made with chia seeds, fruit juice, and an optional sweetener, this refreshing treat is packed with fiber, protein, and omega-3 fatty acids. Plus, it's quick to whip up a batch on the weekend to enjoy all week long.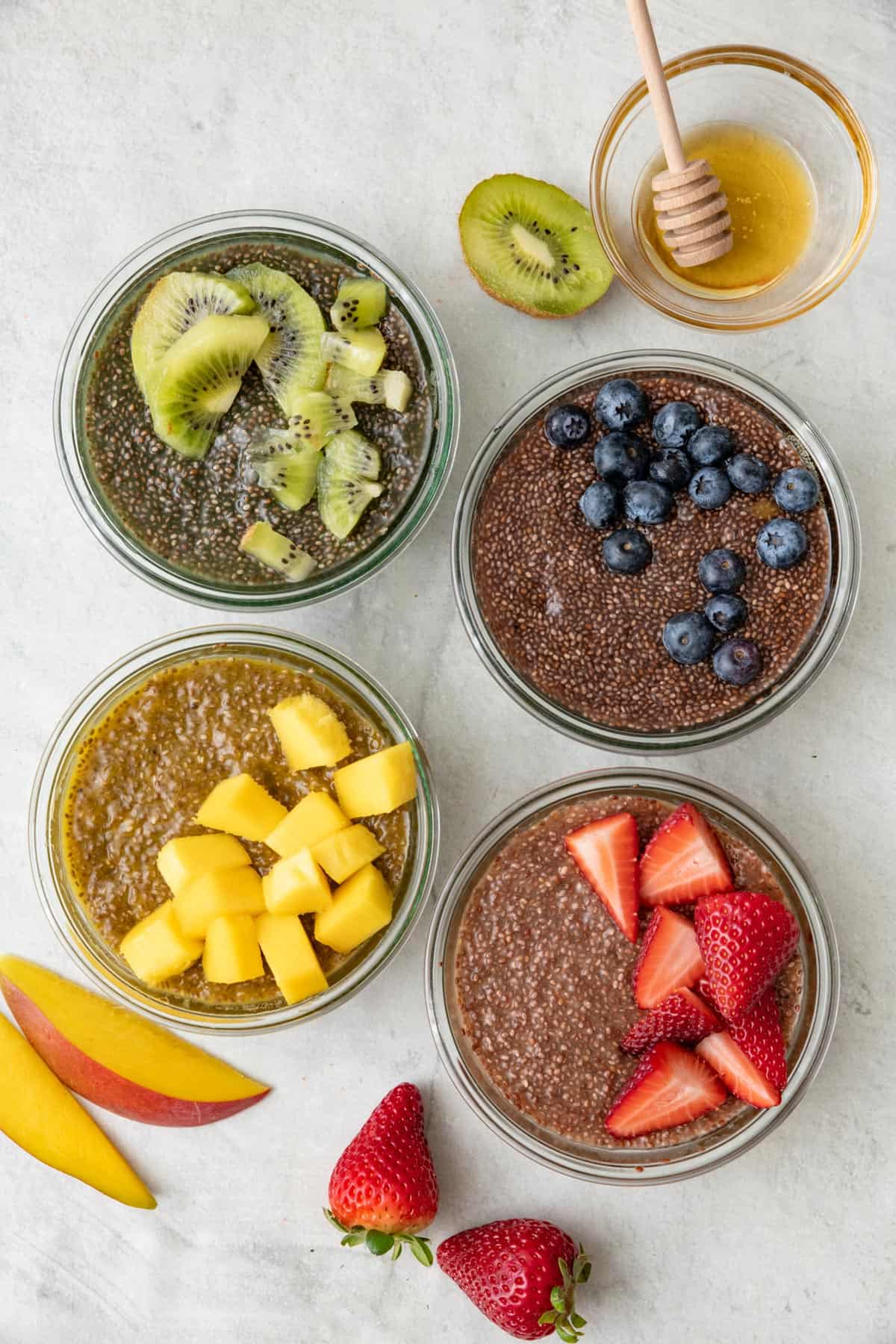 Table of Contents
If you love chia pudding, you will love this fresh spin on it. It's a delicious pick-me-up packed with nutrients. This easy-to-make recipe makes chia jello a perfect snack or sweet treat for anybody, any time of day. Whether you're looking for a quick energy boost or a satisfying dessert after dinner, make this chia jello and enjoy the benefits of this superfood.
Why you'll love this chia seed jello
A delicious way to include chia seeds into your diet. Chia seeds are considered a superfood thanks to their remarkable amount of protein and fiber. Adding chia seeds to your daily diet provides many benefits, such as omega-3 fatty acids and various essential vitamins and minerals.
Easy overnight chia jello recipe. Pop it in the fridge just before bed like overnight oats, and it's ready to eat the next day – no cooking, no fuss!
Tasty, kid-friendly treat. Kids will devour this jello and be none the wiser when it comes to the added nutritional value!
Customize for personal taste. This ratio of chia seeds to juice is a simple base recipe; from there, you can customize and top it with your favorite add-ins for a versatile snack or dessert. You can also adjust the liquid by adding more or less depending on the consistency you like.
Ingredients to make chia jello
Chia seeds: When combined with a liquid, the chia seeds expand and become gel-like, creating a very gelatinous texture, similar to how gelatin and agar agar work in traditional jello. Using chia seeds is an easy vegan alternative to make a gel-like dessert.
Juice: This will be used as the liquid base for the chia jello. Use your favorite 100% fruit juice, such as apple, grape, or pineapple juice. I used mango juice, blueberry pomegranate, green juice, and berry juice.
Honey: Although optional, some may find a bit of sweetener necessary, especially if your juice isn't sweet enough. If you're vegan you can use a different sweetener of choice.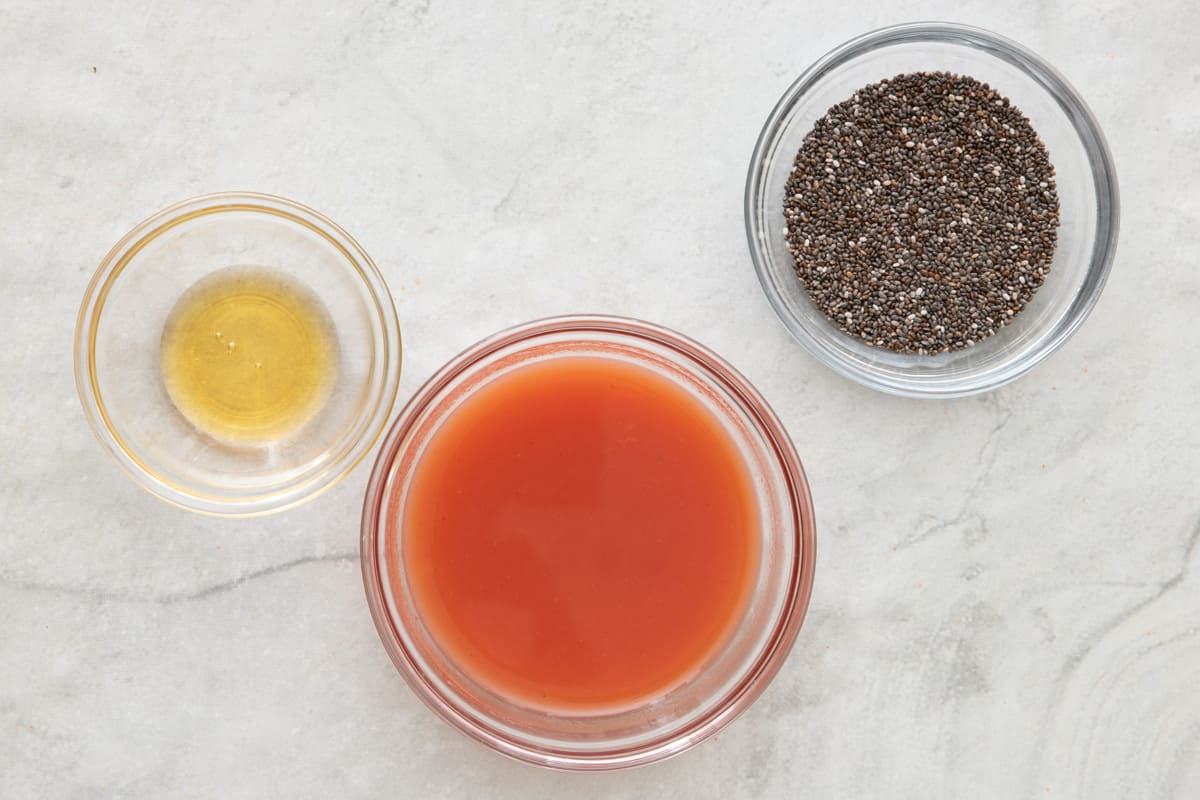 How to make chia jello
Pour the juice into a bowl. Add chia seeds.
Add honey and mix well.
Let it settle for a few minutes, then mix again very well until there are no more clumps.
Cover the bowl and transfer to the fridge to set.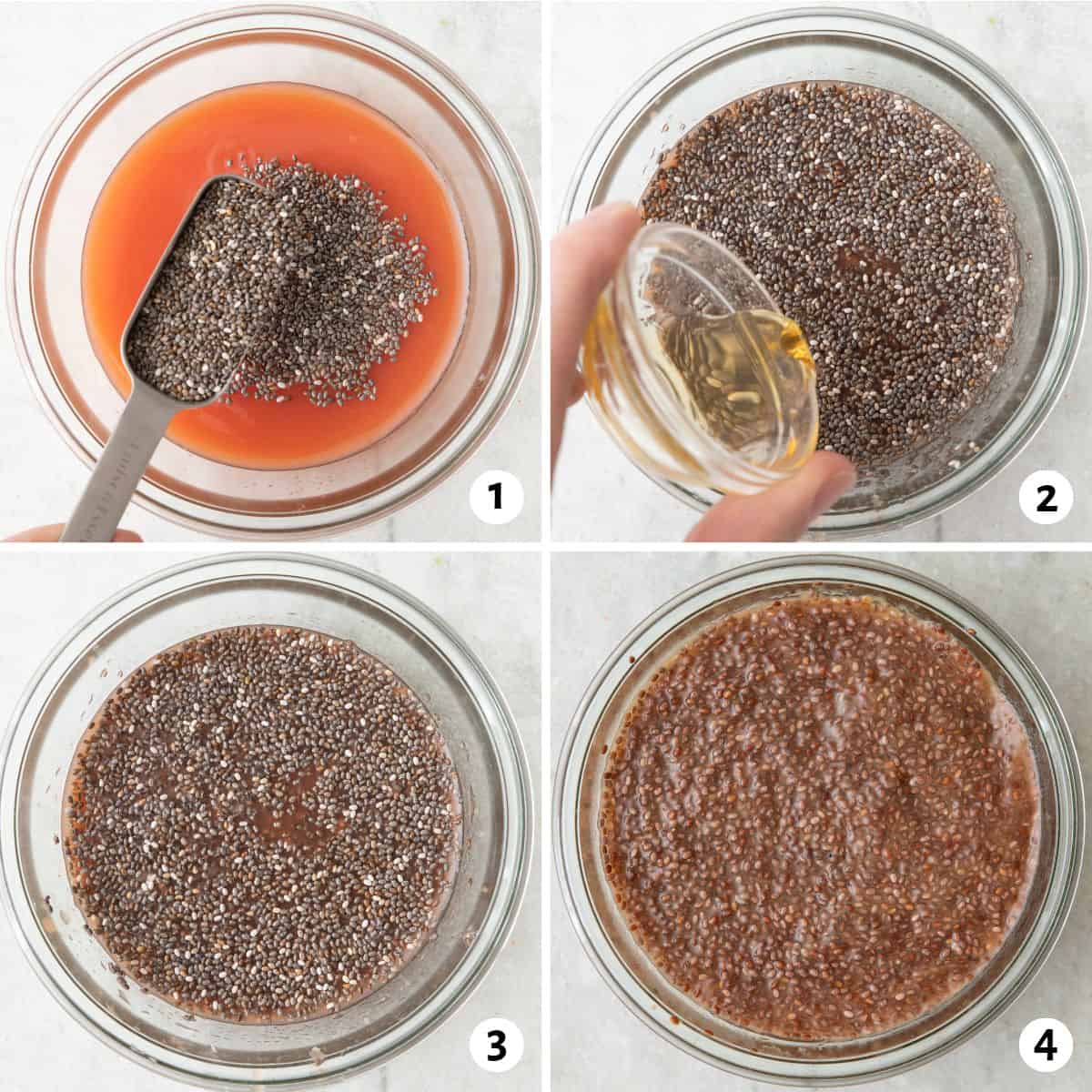 Tips for making the best jello with chia seeds
Stir well. It's important to stir the mixture well and often during the first five minutes to prevent clumping and ensure the even distribution of chia seeds.
Allow plenty of time for the jello to set. Chia seeds work best when you let them soak in the liquid for several hours or overnight. This may be the most challenging part about the recipe, but you want to give them enough time to do their magic.
Serve chilled. Just like regular jello, chia seed jello tastes better when chilled. Plus, it will help the jello to set properly and give it a firmer texture.
Use fresh chia seeds. If your chia jello doesn't gel after two hours, you likely have chia seeds past their prime. Even though chia seeds have a long shelf life, they have an expiration date. The high fiber content may break down over time, reducing their ability to gel.
Popular substitutions & additions
Incorporate fruit puree. Use nectar or a few tablespoons of fruit puree to create a unique texture. Fruit nectar typically contains pulp or fruit pieces, giving the chia jello a thicker consistency and varied texture.
Spice it up. Add warm spices like ground cinnamon, nutmeg, and ginger to apple juice for a chia jello that is excellent for the fall and winter. Or add a touch of chili powder to go with tropical fruit like mango, or pineapple juice.
Endless toppings. Chia jello is delicious as is, but serving it with toppings like fresh fruit, whipped cream, or coconut chips, takes it to another level.
Dress it up as yogurt parfait. Chia jello is a great base for a healthy parfait and would make an excellent breakfast. Add homemade yogurt, top with granola, sliced bananas, and fresh berries, and dig in!
Use your favorite sweetener. Honey is a fantastic choice to add a subtle sweetness. But if you're vegan, you will want to use agave nectar and maple syrup are also great options. Whatever sweetener you choose, taste test before adding it to the chia jello, as some juices are naturally sweeter than others.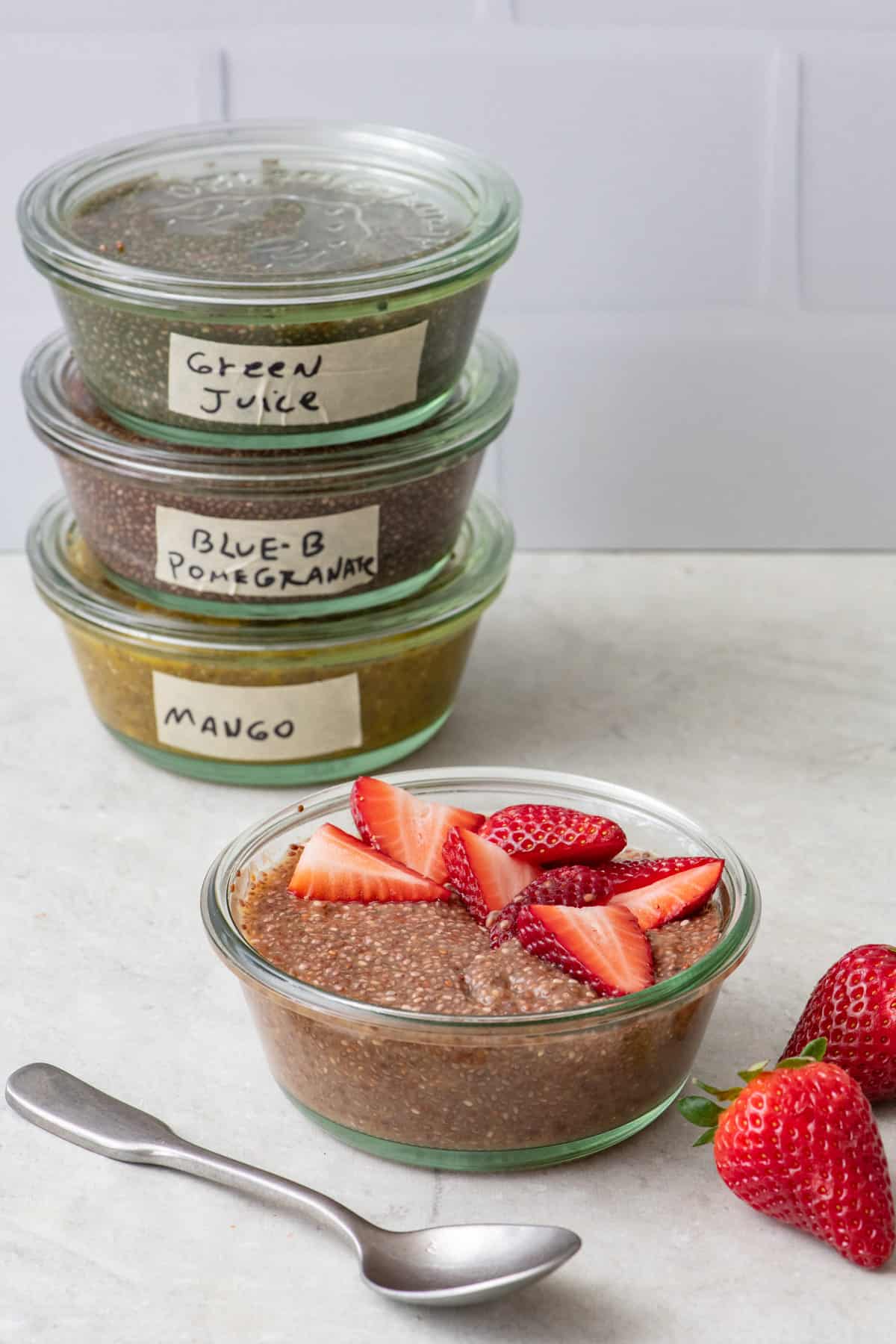 How to store chia jello
Store chia jello in an airtight container like a mason jar or a small single serving jar in the refrigerator.
How long will chia jello last in the fridge?
Chia jello is an excellent make-ahead treat and will last up to 1 week in the fridge.
Can i freeze chia seed jello?
Yes, chia jello may freeze well. Portion into individual serving-size containers and freeze for up to 2 months. Thaw in the fridge overnight. Please note the freezing may cause some separation causing the texture to be slightly different, depending on the type of juice. Stir well before serving, and enjoy. OR No, I do not recommend freezing chia jello as the texture may change, and the seeds may not absorb liquid well when thawed.
Frequently asked questions
How long does it take for chia seed jello to thicken?
It will take at least 2 hours of chilling in the fridge for the chia jello to thicken properly. For best results and flavor, let it sit overnight in the refrigerator.
Why didn't my chia seed jello thicken?
If your chia seeds have still not set after being in the fridge overnight, it's likely that your chia seeds may be bad or expired. While you can still use them in smoothies, and the like they don't expand the same, keep your chia seeds in the freezer for the best shelf-life.
What brand of chia seeds do you recommend?
I use a few different brands of chia seeds that taste great and are also quality products: Thrive Market, Whole Foods 365, and Navitas are three of my favorite chia seed brands.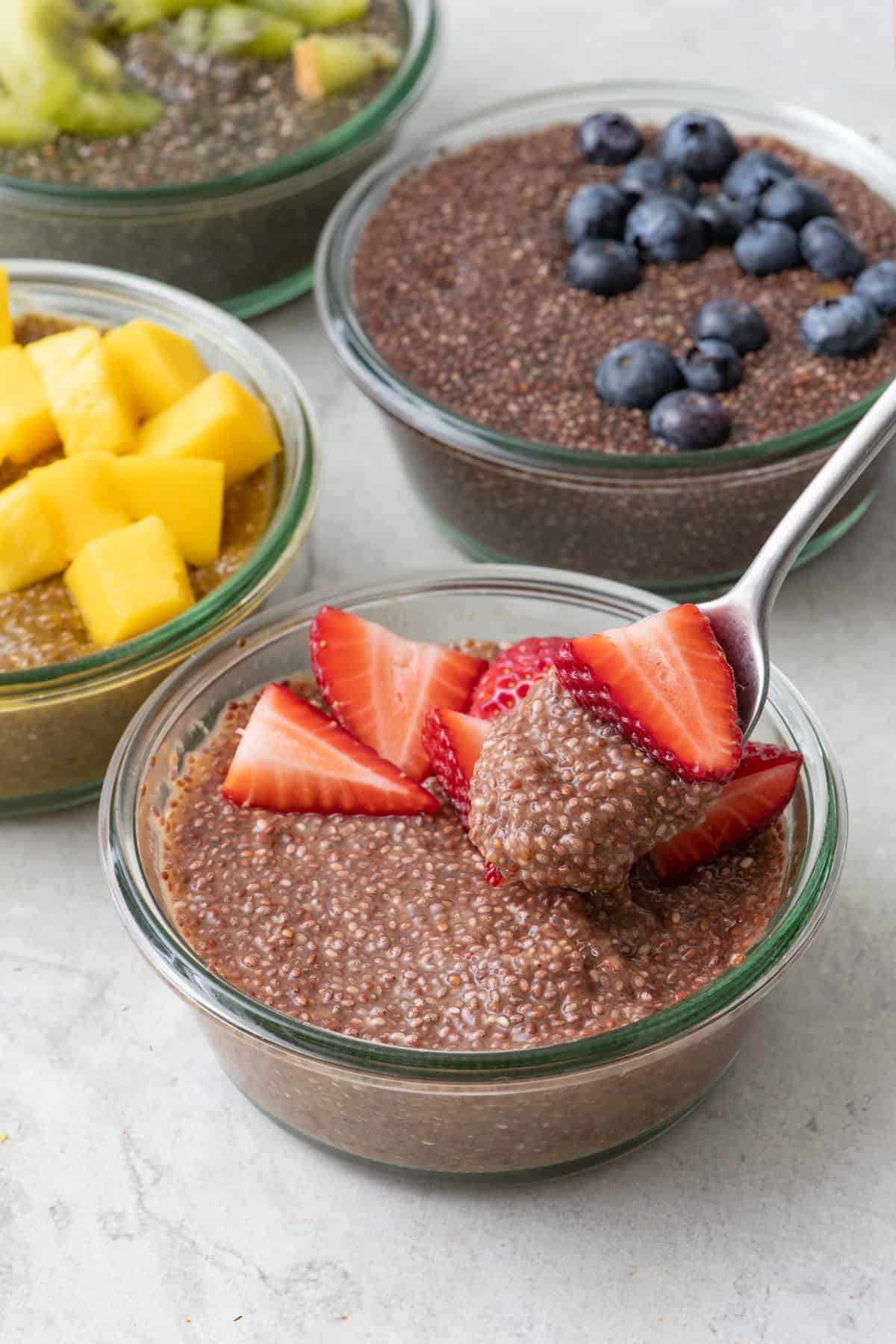 A serving of this superfood jello recipe will satisfy your sweets craving, fill you up, and keep you energized to finish the day strong! With only 2 simple ingredients (3 if using honey or another sweetener), you can have a tasty treat that you can tailor to suit your personal tastes. Top with your favorite toppings for a versatile snack or dessert, and enjoy!
More Snack recipes:
If you try this feel good Chia Jello recipe or any other recipe on Feel Good Foodie, then don't forget to rate the recipe and leave a comment below! It helps others who are thinking of making the recipe. We would love to hear about your experience making it. And if you snapped some shots, share it on Instagram so we can repost on Stories!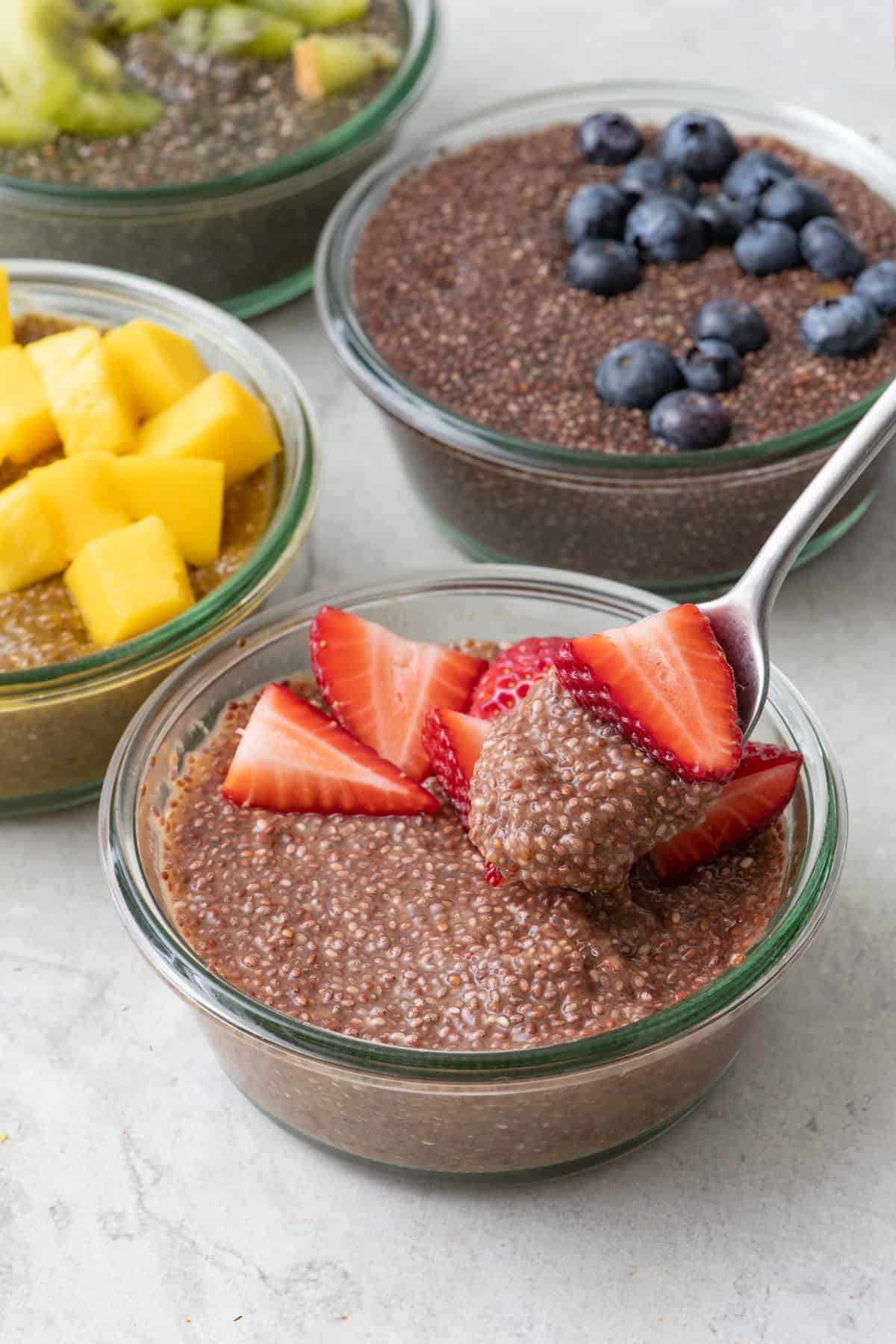 Chia Jello
This Chia Seed Jello is made with only 2 ingredients, chia seeds and your fruit juice of choice! It's packed full of vitamins and omegas, plus kids love it!
Ingredients
2

tablespoons

chia seeds

⅓

cup

juice of choice

1

teaspoon

honey or other sweetener

optional

Fruits for topping
Instructions
Pour ingredients into a jar and mix well. Let settle for 2-3 minutes then mix again very well until you see no clumping.

Cover the jar and store in fridge overnight or for at least 4 hours.

When you're ready to eat it, top with your favorite fruit and enjoy cold!
Notes
Helpful tips: Stir well to prevent clumping and ensure a smooth chia jello. Allow plenty of time for the chia seeds to gel. For best flavor, let it sit in the fridge overnight before serving.
Variations: You can use your favorite fruit juice. You can also use any sweetener of choice. Serve with fresh fruit, coconut chips, cacao nibs, or chopped nuts.
Storage: Store chia jello in an airtight container for up to 1 week in the fridge.
Nutrition information provided is an estimate. It will vary based on cooking method and specific ingredients used.