This post may contain affiliate links. Please read our disclosure policy.
Here are the instructions for making healthy, low-carb zucchini noodles -aka zoodles – three different ways. Shape them using a dedicated spiralizer, a vegetable peeler or zester, or even a plain old knife. Then use them as you would pasta!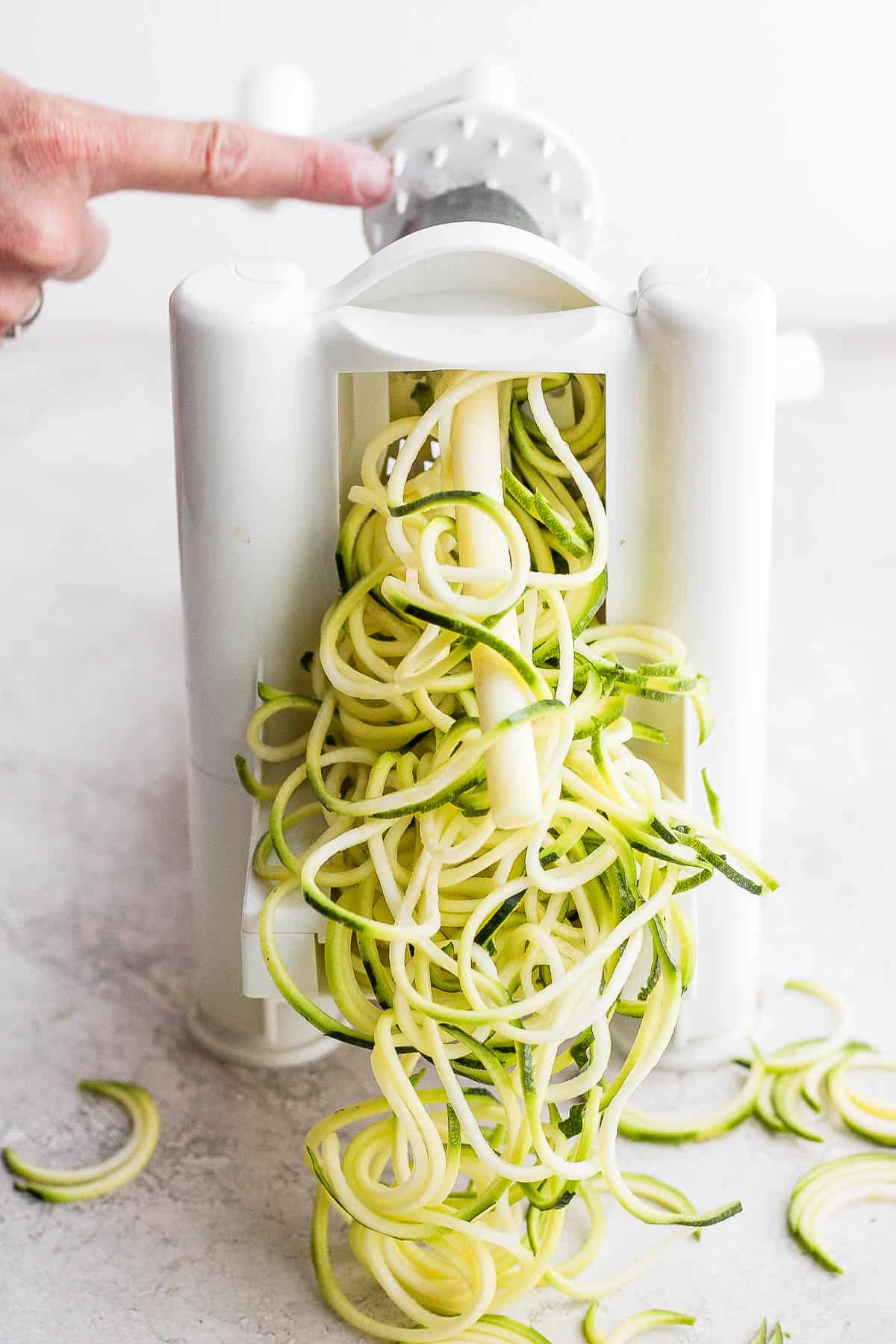 Zoodles sneak more nutrition into a meal by replacing the refined carbohydrates of plain pasta with a vegetable that offers fiber, vitamin A, B and potassium. They are also, obviously, gluten free.
How to make zoodles – 3 ways
To begin any of the three methods, cut off the stem of the zucchini.
using a spiralizer
Of course, follow the directions for your particular brand of spiralizer. There are usually different settings depending on the size you prefer.
But, generally, place the zucchini securely on the spiralizer.
Turn the the handle to make the noodles.
using a peeler
Lay the zucchini flat on your cutting board. Starting at the cut end, run your peeler the length of the zucchini to make strips.
Continue this process until you reach the seeds in the middle. At that point, flip the zucchini over and repeat until you reach the seeded middle again.
Depending on whether you are using a standard peeler, with a smooth blade, or a serrated zester, you will either end up with wide or skinny flat noodles, similar to fettuccine or pappardelle.
using a knife
Slice the squash length-wise into even strips about 1/4″ thick.
Now, stack and hold the slices together.
Continue slicing each strip carefully into long thin strips.
Tips for making zoodles
Rest the zucchini on paper towels after you cut them. This helps to remove extra moisture to keep the zoodles more firm after cooked.
Try to keep the zucchini strips stable if cutting with a knife. To do this, cut your first strip, then rotate the cut side down on the cutting board to have a more stable squash that won't try to roll away.
Choose small or medium zucchinis, which are best for zoodles. The larger kinds have been hanging around the vine and they tend to be bitter, especially their seeds.
Don't peel that zucchini. The thin skin gives color, shape, and extra nutrition to the zoodles.
Recipes with zucchini noodles
Frequently asked questions
How long should I cook my zoodles?
Many prefer the crunch of uncooked zoodles, but there are methods to warm them. You can simply stir into and toss with hot sauce, plunge briefly into boiling water (for literally one minute or less,) or saute for a couple minutes in oil. Be careful not to overcook them.
Can I make zoodles ahead and use them later?
Because of their high water content and tendency to get soggy, zoodles are best freshly made. Those sold in grocery stores have been treated to stay crisp-ish.
How do I avoid soggy zoodles?
After cutting, use the paper towel method above or you can put them in a colander and salt to draw some of the water out. Let sit for about 10 minutes before using.
Like pasta, zucchini's very mild taste makes zoodles a great foil for a huge variety of other flavors. Try them with your favorite sauce!
More KITCHEN RESOURCES:
If you find this cooking resource for How to Make Zucchini Noodles helpful or if you try any recipe on Feel Good Foodie, then don't forget to rate the recipe and leave a comment below! It helps others who are thinking of trying out this tutorial and we would love to hear about your experience. And if you snapped some shots, share it on Instagram so we can repost on Stories!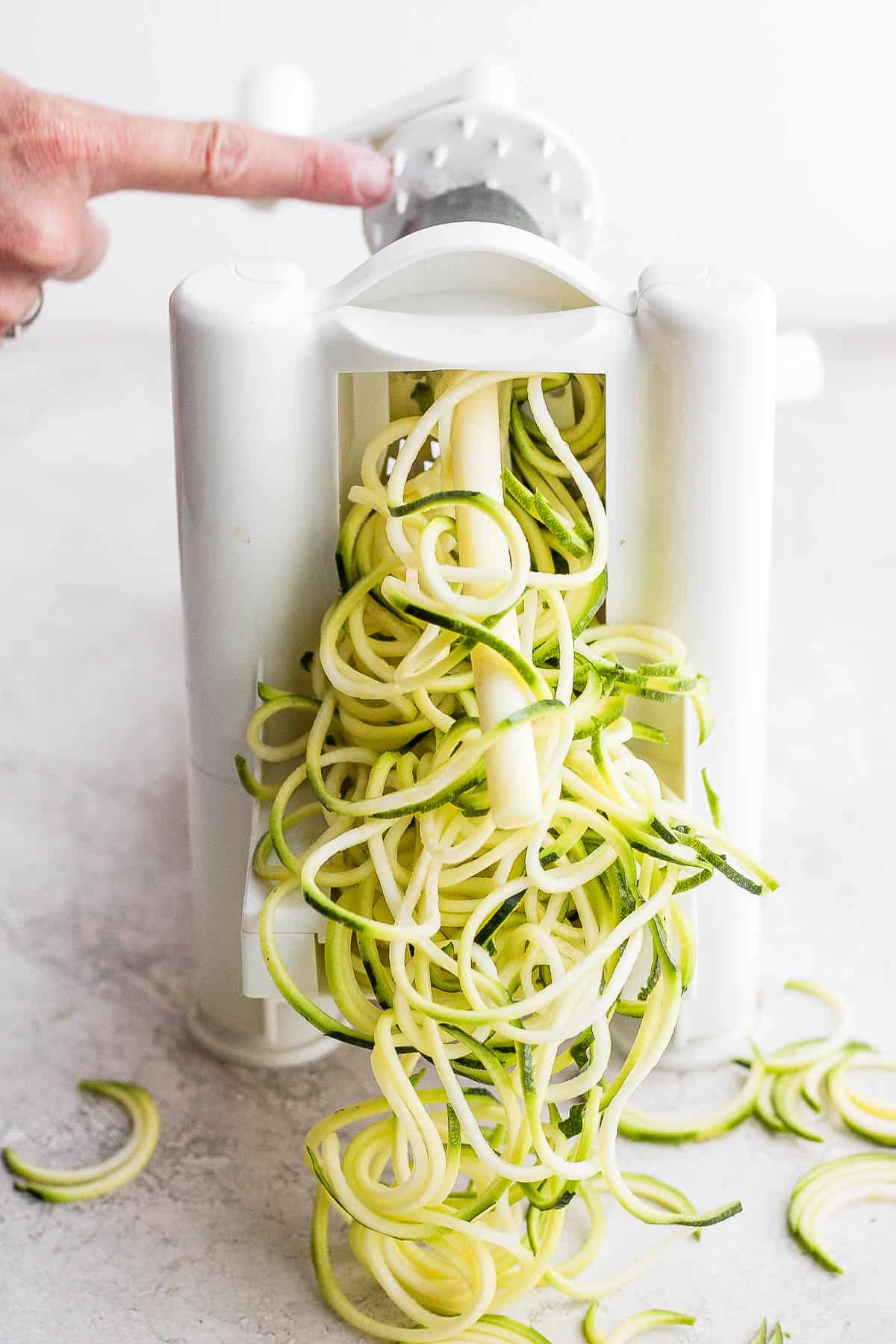 How to Make Zucchini Noodles
Learn how to make zucchini noodles three different ways. This easy step-by-step tutorial is for zoodles using a spiralizer, peeler and knife.
Ingredients
1

zucchini/summer Squash

washed and dried
Instructions
Using a sharp knife, remove the stem end of the squash.

To use a spiralizer, place the zucchini securely on the spiralizer, and turn the handle to make the noodles according to instructions.

To use a vegetable peeler or Julienne Y-peeler, lay the zucchini flat on your cutting board. From the cut end, run your peeler from one end to the other to make strips. Continue this process until you reach the seeds. Flip to the other side and repeat until you reach the seeds again.

To use a knife, slice the squash lengthwise into even strips about ¼ inch thick. Then slice each strip into long thin sticks.

Use the zucchini noodles as desired in a recipe.
Notes
Storage: It's best to enjoy zucchini noodles immediately after creating because they can start to release liquid and become soggy after a few hours. However you can store any leftovers in an airtight container lined with paper towel for up to 3 days.
Photo Credit:
Erin Jensen
Nutrition
Calories:
33
kcal
,
Carbohydrates:
6
g
,
Protein:
2
g
,
Fat:
1
g
,
Saturated Fat:
1
g
,
Polyunsaturated Fat:
1
g
,
Monounsaturated Fat:
1
g
,
Sodium:
16
mg
,
Potassium:
512
mg
,
Fiber:
2
g
,
Sugar:
5
g
,
Vitamin A:
392
IU
,
Vitamin C:
35
mg
,
Calcium:
31
mg
,
Iron:
1
mg
Nutrition information provided is an estimate. It will vary based on cooking method and specific ingredients used.