This post may contain affiliate links. Please read our disclosure policy.
Learn how to make homemade mayonnaise. It is very delicious, and the ingredient list is totally basic – just eggs, oil, mustard, and lemon juice. This healthy, homemade mayonnaise recipe makes a next-level dip for oven-baked fries or air fryer sweet potato fries – air fryer avocado fries – artichokes, asparagus, grilled shrimp, and so much more. Give it a try!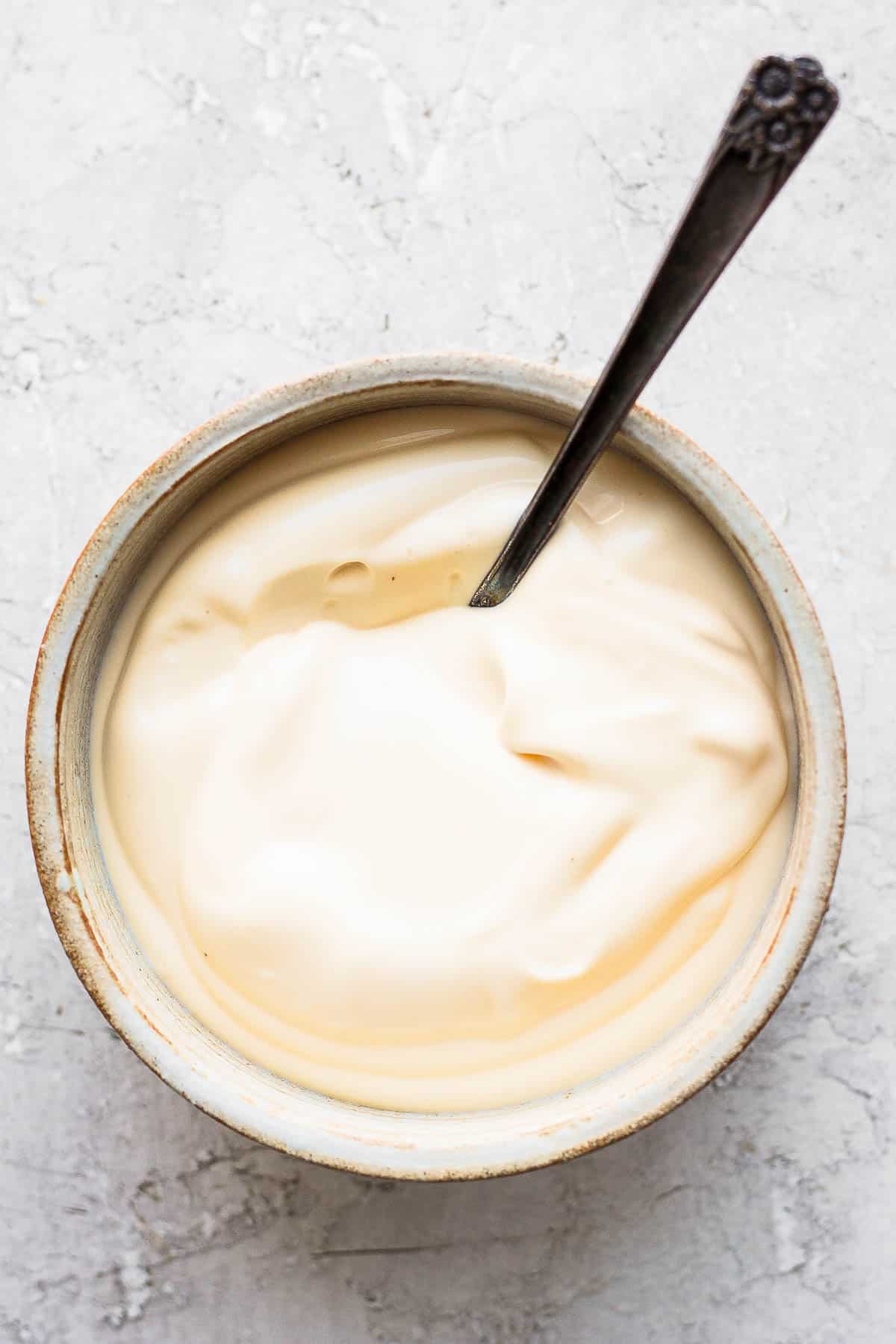 WHY learn how to make mayonnaise at home
Tastes better: Homemade mayonnaise is truly so much yummier than store-bought.
Healthier: Healthy homemade mayonnaise avoids ingredients like corn syrup. Unfortunately, most best-selling brands include high-fructose corn syrup or added sugar. Mayonnaise doesn't need sugar!
Choose your own oil: Make mayonnaise with the neutral cooking oil that meets your dietary needs and concerns. Some people even mix oils to play with the flavor, adding some stronger-tasting oil like olive oil or a super-healthy option like avocado oil.
Turns ordinary food next level. Use homemade mayo in any recipe that calls for mayonnaise, like a shrimp sushi stack or cauliflower potato salad, for instance – and be surprised by the bump it gets.
Ingredients for homemade mayonnaise
Eggs: Size matters here. I use the eggs labeled "large." Bigger eggs will throw off the ratios. Also, the freshest possible eggs you can get taste the best. And, since this is not cooked, using pasteurized eggs, if you want, is the safest option.
Oil: A neutral-tasting oil like canola or vegetable oil works best here. Oils with stronger flavors – like olive oil or avocado oil – can be used but know that their flavor will come out in the mayo. Make sure your oil is fresh. Taste and smell before using. Spoiled oil is no good.
Lemon juice: Adds fresh acid flavor and helps the mayonnaise come together. The same amount of nice white vinegar, like white wine vinegar, serves the same purpose giving a tang but without the citrus flavor.
Dijon mustard: Mustard is not just a flavor here. It helps emulsify the mixture. Dijon – the brownish mustard with seeds visible – creates the spiciest punch but other mustards, even plain old yellow, are fine subs. The same amount of dry mustard works, too.
Salt: Salt brings flavors out and together.
HOW TO MAKE healthy mayonnaise
Put the eggs, lemon juice, and mustard into the food processor.
Process this mixture. Scrape the bowl. Process again.
Now, with the machine continually running – and fitted with a non-splatter top – very, very s -l-o-w-l-y stream in the oil.
Literally, start with just a few drops at a time, making baby dribbles until the mixture emulsifies -turning from a liquid to a creamy texture- as seen in this picture. The process takes a few minutes. Be patient.
Once creaminess has been achieved, it is safe to increase the pouring speed until all oil is incorporated.
Finally, season to taste with salt. Scrape the sides and pulse to distribute the salt. Use immediately or store in the fridge in an airtight container.
TIPS FOR making homemade mayonnaise
Don't use a large food processor. It's important that the ingredients touch the blade before blending them to emulsify them properly. If your big food processor comes with two bowls, use the smaller one. A blender can also work, or an immersion blender can be used with the large, tall cup it comes with. The continuous blending of ingredients with the oil streaming is key to creating the best homemade mayonnaise.
Add or remove oil to change its consistency. Adding more oil while the food processor is running will create thicker mayonnaise.
Use room temperature eggs: Room temperature eggs blend better and create the desired fluffy texture. To bring refrigerator-cold eggs to room temperature, take them out of the fridge 30 minutes before using. To warm quickly, put the eggs in a bowl of warm tap water for five minutes. Don't make the water too hot. You want to take the chill off the eggs, not cook the little guys.
Spice up the flavor: Once your mayo is made, spice it up, with minced herbs, garlic, curry powder, or a hot sauce like sriracha for spicy mayo.
recipes with MAYONNAISE
HOW to STORE homemade mayonnaise
Store in a tightly lidded, airtight container. Recycled jam or mayo jars are great for this.
HOW LONG WILL mayonnaise from scratch LAST IN THE FRIDGE?
Homemade mayo has a fridge life of up to five days.
FREQUENTLY ASKED QUESTIONS
What is the difference between homemade mayonnaise and aioli?
Aioli is homemade mayonnaise made using olive oil and garlic.
Can I make homemade mayonnaise vegan without using eggs?
While I have not tested this, many vegan mayonnaise recipes substitute aquafaba – the liquid from canned chickpeas – for eggs. Three tablespoons of aquafaba equals one egg, so for this recipe, you could try 6 tablespoons of aquafaba and proceed as written.
Why is my mayonnaise not thickening?
It can be hard to say, but not having the ingredients at room temperature and adding the oil too quickly are two big culprits. Here's how the pros suggest fixing liquid or broken mayonnaise. Put the liquid mixture in another container. Clean out your food processor or blender. Now, put one egg yolk or two teaspoons of mustard in the clean vessel. Slowly, add the liquidy "mayonnaise" to this as if you were adding oil at the beginning of the recipe pulsing the entire time. You should thicken.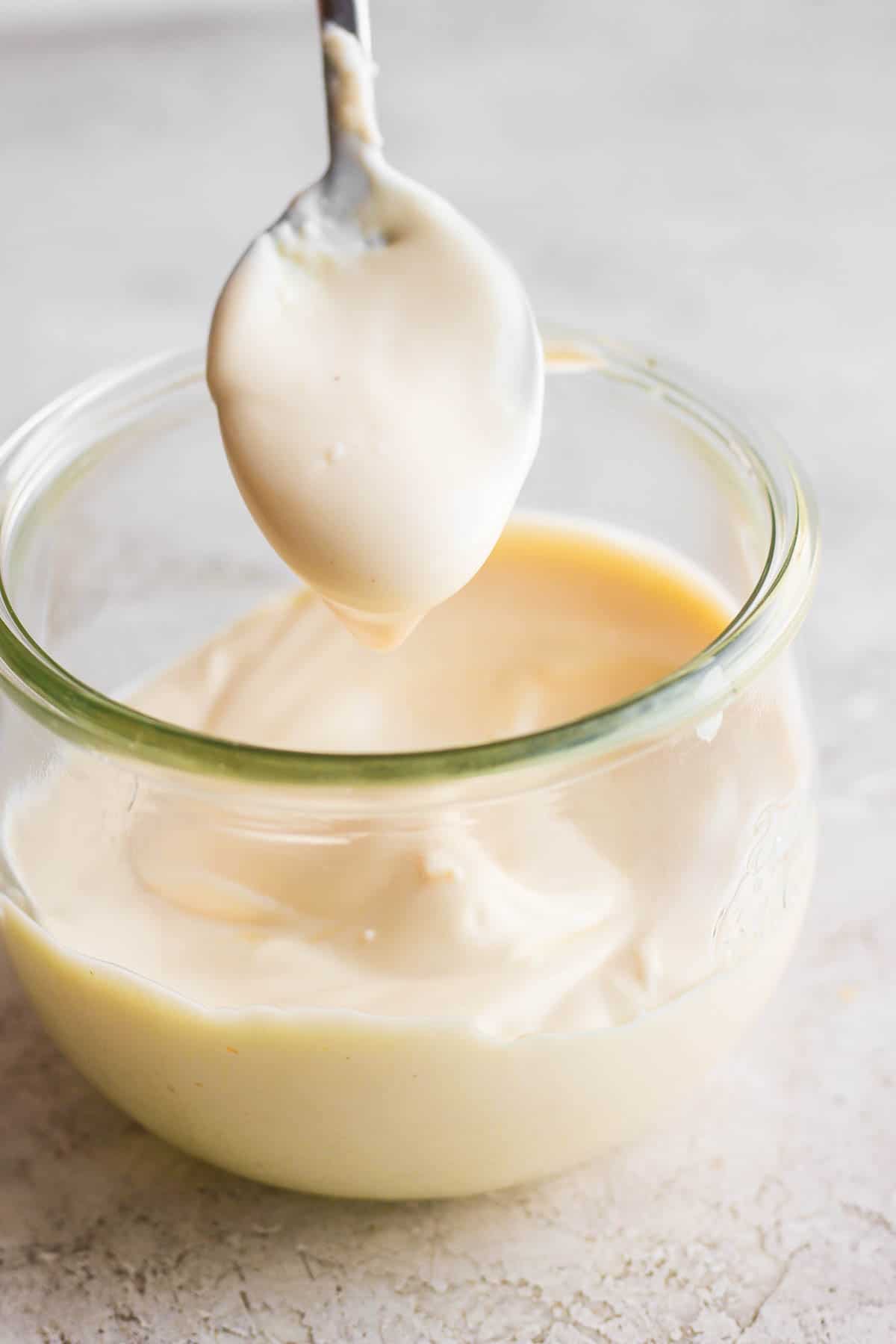 Learning how to make mayonnaise at home can bring all your usual suspects – air fryer sides or grilled salmon – up to restaurant-level yumminess.
MORE condiment tutorials:
If you found this tutorial for How to Make Mayonnaise helpful or if you try any recipe on Feel Good Foodie, then don't forget to rate the recipe and leave a comment below! It helps others who are thinking of trying out this tutorial and we would love to hear about your experience. And if you snapped some shots, share it on Instagram so we can repost on Stories!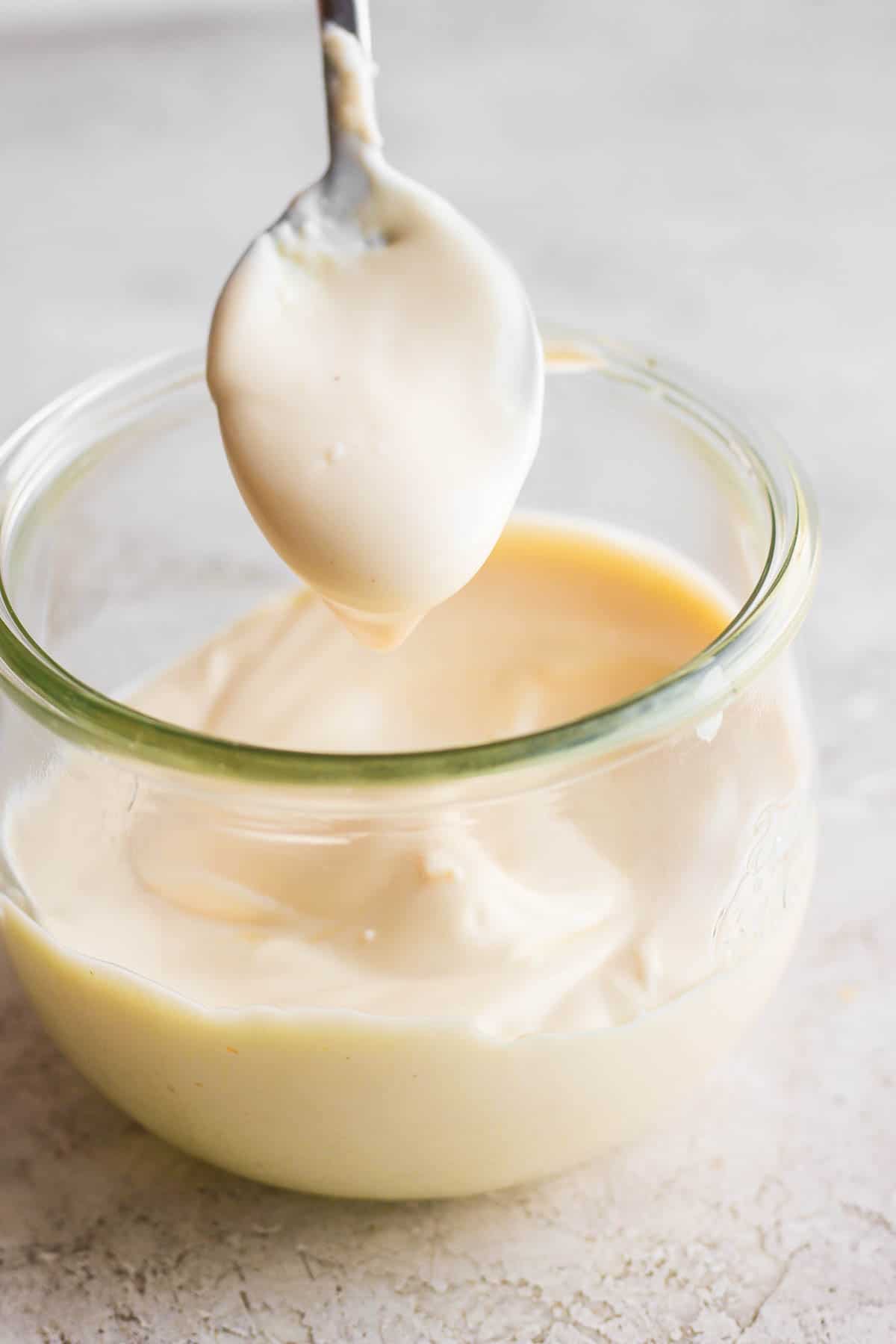 How to Make Mayonnaise
Creamy, and delicious this homemade mayonnaise recipe is easy to make with just 5 ingredients. It's a healthy mayonnaise recipe you're sure to come back to!
Ingredients
2

eggs

at room temperature

1

tablespoon

lemon juice

2

teaspoons

dijon mustard

1 ⅓

cup

neutral oil

canola, vegetable, grapeseed

¼

teaspoon

salt
Instructions
Place the eggs, lemon juice, and mustard into a small food processor, making sure the blade is touching the ingredients to emulsify properly. Process for 30 seconds, stop to scrape down the sides, then process for 30 more seconds.

While the food processor is running, slowly stream in the oil just a few drops at a time until the mixture starts to thicken and emulsify and look creamy. It's important to go slowly in the beginning to ensure it emulsifies properly. Then increase the speed of pouring the oil until all of it is incorporated. It will take about 10 minutes.

Season with salt, scrape down the sides and blend for 30 more seconds. Store in an airtight container in the fridge for up to 5 days.
Equipment
Notes
Storage: A glass jar works best for storing homemade mayonnaise and you can expect it to last for around 5 days in the fridge.  Serving size: 2 tablespoons
Nutrition
Calories:
87
kcal
,
Carbohydrates:
1
g
,
Protein:
1
g
,
Fat:
10
g
,
Saturated Fat:
1
g
,
Polyunsaturated Fat:
3
g
,
Monounsaturated Fat:
6
g
,
Trans Fat:
1
g
,
Cholesterol:
10
mg
,
Sodium:
26
mg
,
Potassium:
5
mg
,
Fiber:
1
g
,
Sugar:
1
g
,
Vitamin A:
15
IU
,
Vitamin C:
1
mg
,
Calcium:
2
mg
,
Iron:
1
mg
Nutrition information provided is an estimate. It will vary based on cooking method and specific ingredients used.