This post may contain affiliate links. Please read our disclosure policy.
This panko crusted sheet pan salmon is topped with a tangy dijon mustard and mayo sauce and features a delicious dusting of herb-infused panko breadcrumbs. It's oven-baked right alongside fresh asparagus, making it a perfect one-pan meal for any night of the week.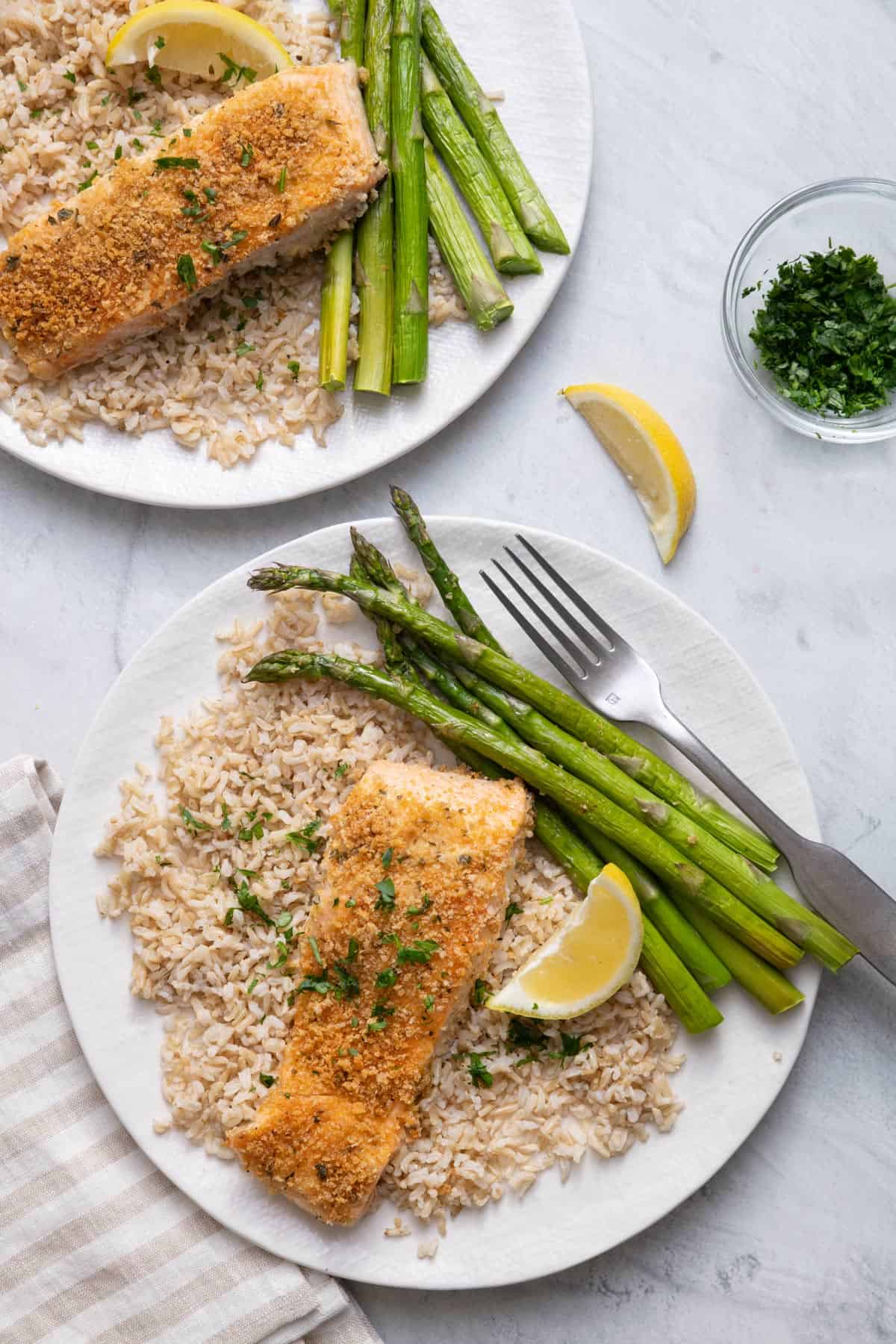 Looking for a quick and easy oven-baked salmon recipe that is healthy and delicious? Look no further! This herb-crusted sheet pan salmon has an irresistible crust on the outside with a tender and flaky inside. The best part? It only takes about 30 minutes from start to finish, making it the perfect weeknight meal.
why you'll love this panko crusted salmon with mayo
Texture. One of the best things about this dish is the texture. The panko breadcrumbs add a delicious and crunchy crust that pairs perfectly with the tender and flaky salmon.
Flavor. This recipe is also packed full of flavor, thanks to the dijon mustard and mayo sauce. The herbs in the breadcrumbs give it a beautiful flavor profile that is sure to please.
Oven baked. This recipe is baked in the oven, making it a hands-off dinner. And, baking it alongside the asparagus means you only have to dirty one pan!
Ingredients to make panko crusted sheet pan salmon
Salmon filets: Fresh, wild-caught salmon filets are best for this recipe.
Panko breadcrumbs: Panko breadcrumbs are a Japanese-style breadcrumb that is larger and flakier than regular breadcrumbs. They add a delicious crunch to this recipe.
Dijon mustard: Dijon mustard adds a beautiful tanginess to the mayo sauce.
Mayonnaise: Mayonnaise binds the sauce together and adds a delicious creaminess.
Herbs: I use a mix of dried thyme, garlic powder, and paprika in my breadcrumbs. You can use any herbs you like or have on hand.
Asparagus: Asparagus pairs beautifully with salmon and is the perfect side for this one-pan meal.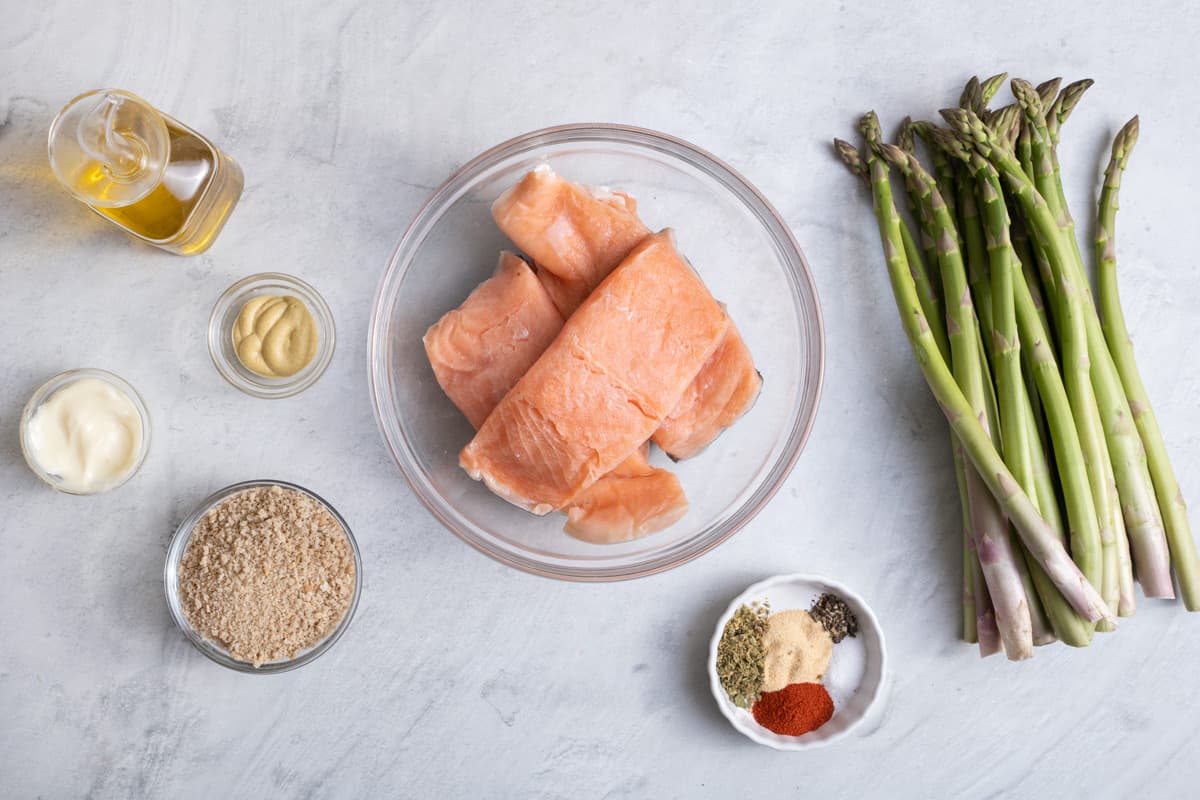 How to make panko crusted salmon
This recipe can be prepped and on the table in about 30 minutes, making it an excellent choice for nights when you don't feel like spending an hour in the kitchen. Here's how to make it:
mix the marinade & panko mixture
In one bowl, you'll start by mixing vegan mayo with dijon mustard, salt and pepper. This marinade is what helps keep the baked salmon moist.
In another bowl, you'll mix the panko breadcrumbs with the herbs: thyme, garlic powder and paprika.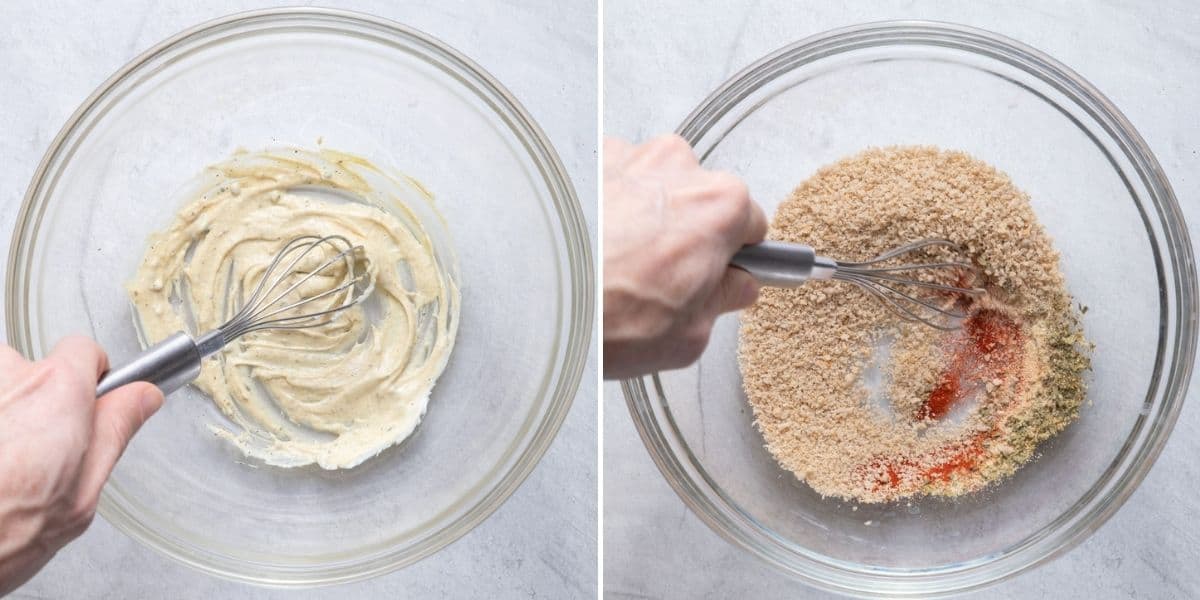 assemble the salmon & bake
Divide the mayo mixture over the salmon. It helps to use the back of a spoon to spread the mixture liberally all over the salmon on the baking sheet.
Sprinkle the panko breadcrumbs mixture on top and pat it down with the back of a spoon to make sure it adheres to the salmon.
Finally add trimmed asparagus spears around the salmon. You'll season these simply with salt, pepper and olive oil.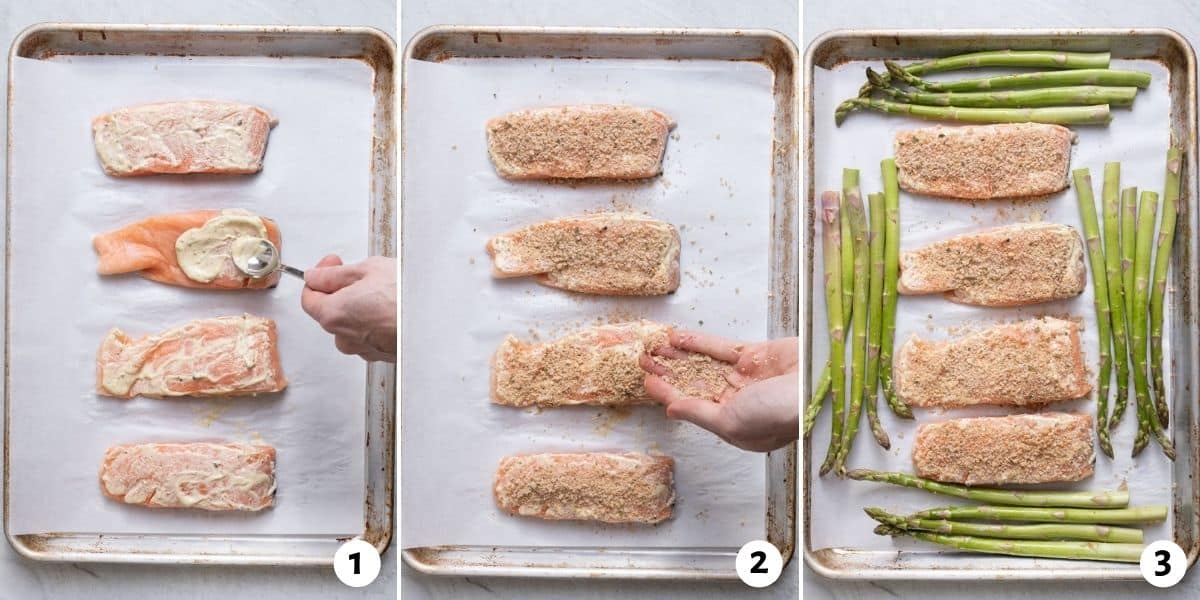 Tips for baking Panko crusted salmon In the Oven
Use parchment paper for easier clean up. The salmon skin can sometimes stick to your baking dish. For ease and convenient, line the baking sheet with parchment paper.
Don't overcook the salmon. Salmon is delicate and can quickly dry out or become tough if cooked too long. I recommend baking it until it is just flaky, which should take about 12-15 minutes, depending on the thickness of your fillets.
Allow your salmon to reach room temperature before baking it. If your salmon is cold when you put it in the oven, it will take longer to cook. Letting your salmon come to room temperature before baking it will help ensure that it cooks evenly and doesn't take too long.
Do the fork check on the salmon. A great way to test if your salmon is done is to use a fork. Gently poke the center of the salmon, and if it flakes easily and looks cooked through, it's ready!
popular substitutions & additions
Use smoked paprika instead of regular paprika for a smoky flavor. If you like things on the spicier side, you can also add a pinch of cayenne pepper to the breadcrumb mixture.
Swap out asparagus for another vegetable. Fresh green beans or Brussels sprouts would be great substitutes for asparagus in this recipe.
Use gluten-free breadcrumbs for a gluten-free meal. If you need to eat gluten-free, simply use gluten-free panko breadcrumbs instead of regular panko in this recipe.
Replace the salmon with a different fish. This recipe would also be delicious with cod, halibut, or trout.
what to serve/pair with your Oven Baked Salmon
how to store & reheat panko crusted salmon
This salmon is best served and eaten straight out of the oven. The breadcrumb topping tends to get soggy when exposed to the cold. But, if you do need to store it, place it in an airtight container and keep it in the fridge.
When you're ready to reheat it, simply bake it in a 350°F oven until warmed through. If you can't get the breadcrumbs back to their crispy state, you can scrape them off and serve the salmon without them.
how long will baked salmon last in the fridge?
Sheet pan salmon will last in the fridge for up to three days. The crust may not survive more than a day or two max in the fridge, but you can always remove it if necessary.
Can you freeze salmon that's crusted with panko?
I don't advise freezing salmon that has been crusted with panko breadcrumbs. The breading texture may not hold up well after being frozen and thawed. You'll most likely lose that crisp, crunchy texture. If you need to freeze this salmon, do so without the breadcrumb topping and add it after thawing and before reheating.
Frequently asked questions
My breadcrumbs aren't sticking to my salmon. What can I do?
Make sure you add enough of the dijon and mayo sauce to the salmon. If your salmon is too dry, the breadcrumbs won't stick. You can also try pressing the breadcrumbs onto the salmon with your fingers or the back of a spoon to help them adhere.
What internal temperature should salmon be cooked to?
Depending on how down you like your salmon, I would shoot for an internal temperature of 125-130°F. This will give you a nice, medium center. If you like your salmon more cooked through, cook it to an internal temperature of 145°F. If you like your salmon med-rare, you'll want to shoot for 120°F.
Should I sear my salmon before I bake it?
You don't need to sear salmon before baking it, but if you want a little extra flavor and color, you can sear it in a castiron skillet on the stove over medium-high heat for about 30 seconds per side. Don't add the mayo sauce until after you've seared the salmon.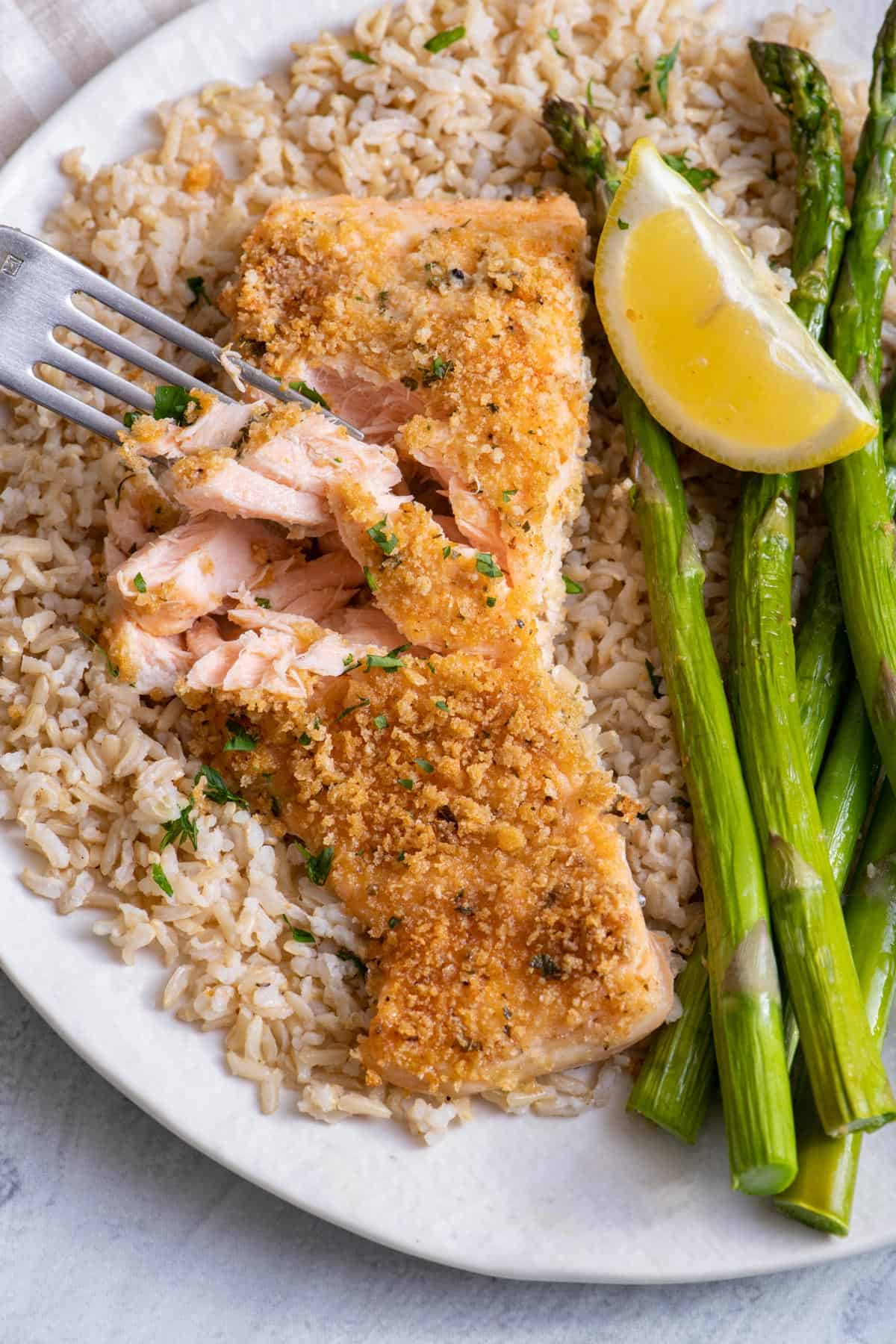 This oven-baked salmon recipe is a great way to cook fresh, healthy salmon. The panko breadcrumb topping adds a delicious crunchy texture, and the dijon mustard and mayo give it a tangy flavor. If you're a fan of salmon, you'll definitely want to give this recipe a try!
More salmon recipes:
If you try this feel good Panko Crusted Salmon recipe or any other recipe on Feel Good Foodie, then don't forget to rate the recipe and leave a comment below! It helps others who are thinking of making the recipe. We would love to hear about your experience making it. And if you snapped some shots, share it on Instagram so we can repost on Stories!
This Panko Crusted Salmon recipe was originally published on April 19, 2018. The recipe has not been modified, but the post now includes new step-by-step photos for how to make the salmon recipe.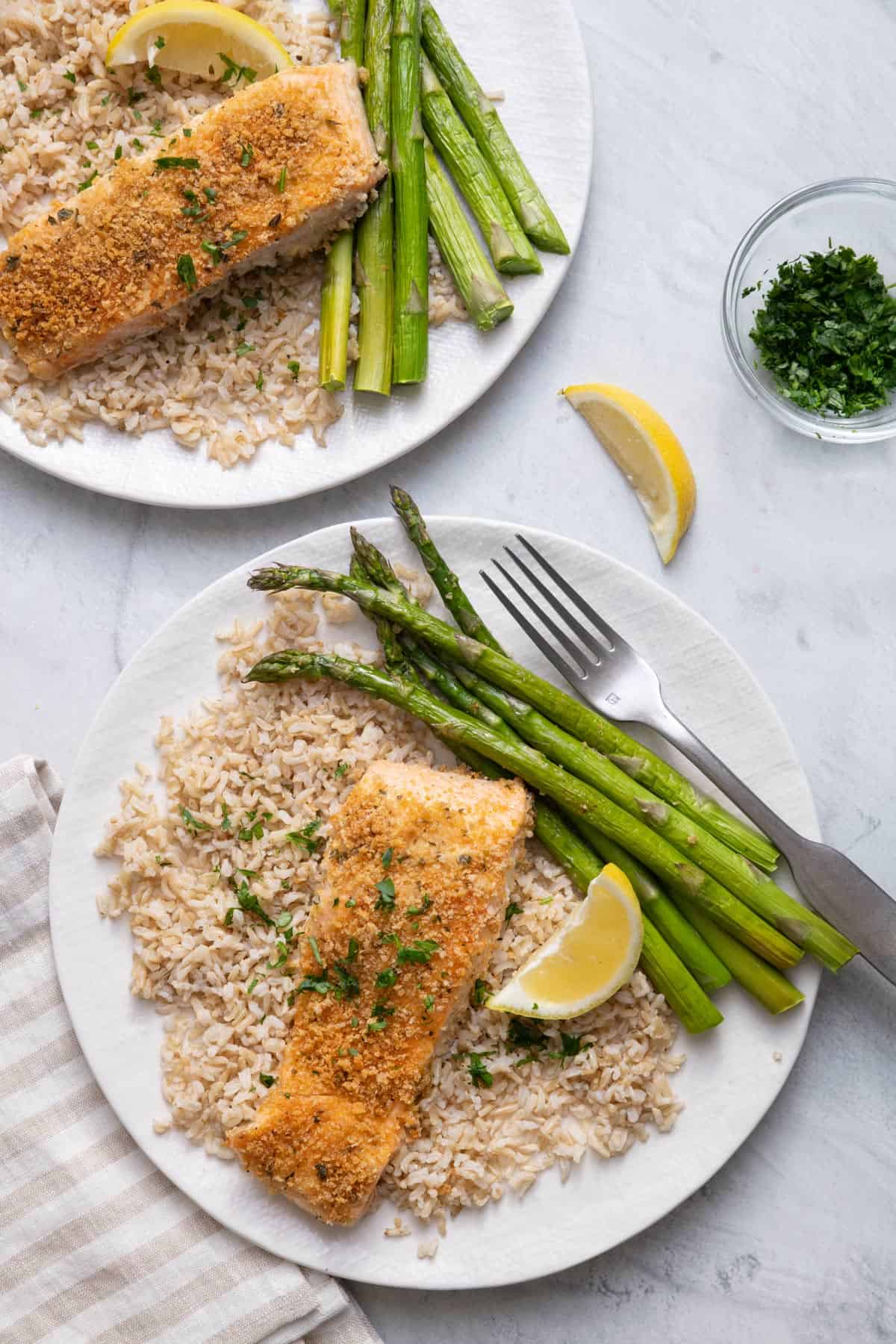 Panko Crusted Salmon
This Panko Herb Crusted Sheet Pan Salmon is coated with a mayo marinade and crispy panko breadcrumbs, then oven baked until golden and flaky
Ingredients
For the asparagus
12

ounces

asparagus spears

1

tablespoon

olive oil
Instructions
Preheat the oven to 400°F. Line a rimmed baking sheet with parchment paper. Pat the salmon dry with paper towels and place on the baking sheet.

In a small bowl, whisk together the mayonnaise, mustard, salt and pepper until well combined.

In another small bowl, combine the panko breadcrumbs, thyme, garlic powder and paprika.

Spoon the mayonnaise mixture evenly over the salmon fillets to coat them. Then sprinkle the panko mixture over the salmon and press down firmly with the back of a spoon to adhere the breadcrumbs to the salmon.

Add the asparagus next to the salmon on the baking sheet. Drizzle with olive oil and season with salt and pepper. Toss gently to coat with the seasoning.

Bake in the oven until the salmon is flaky and the panko breadcrumbs are golden brown, about 12-15 minutes, depending on the thickness of the salmon. Serve immediately, with rice and lemon wedges if desired.
Notes
Storage: Keep any leftovers in an airtight container in the refrigerator for up to 3 days.
Nutrition
Calories:
209
kcal
,
Carbohydrates:
10
g
,
Protein:
17
g
,
Fat:
11
g
,
Saturated Fat:
2
g
,
Polyunsaturated Fat:
4
g
,
Monounsaturated Fat:
5
g
,
Trans Fat:
1
g
,
Cholesterol:
40
mg
,
Sodium:
451
mg
,
Potassium:
562
mg
,
Fiber:
3
g
,
Sugar:
2
g
,
Vitamin A:
848
IU
,
Vitamin C:
6
mg
,
Calcium:
51
mg
,
Iron:
3
mg
Nutrition information provided is an estimate. It will vary based on cooking method and specific ingredients used.