This post may contain affiliate links. Please read our disclosure policy.
Need help learning how to cut asparagus? Don't worry – I've got you covered! I love asparagus! It's a springtime favorite that is delicious and nutritious that can be added to a variety of dishes. You can grill it, boil it, and even bake it with cheese! In this post, I will teach you step-by-step how to trim your asparagus – so it's always tender, never woody, and ready for any recipe.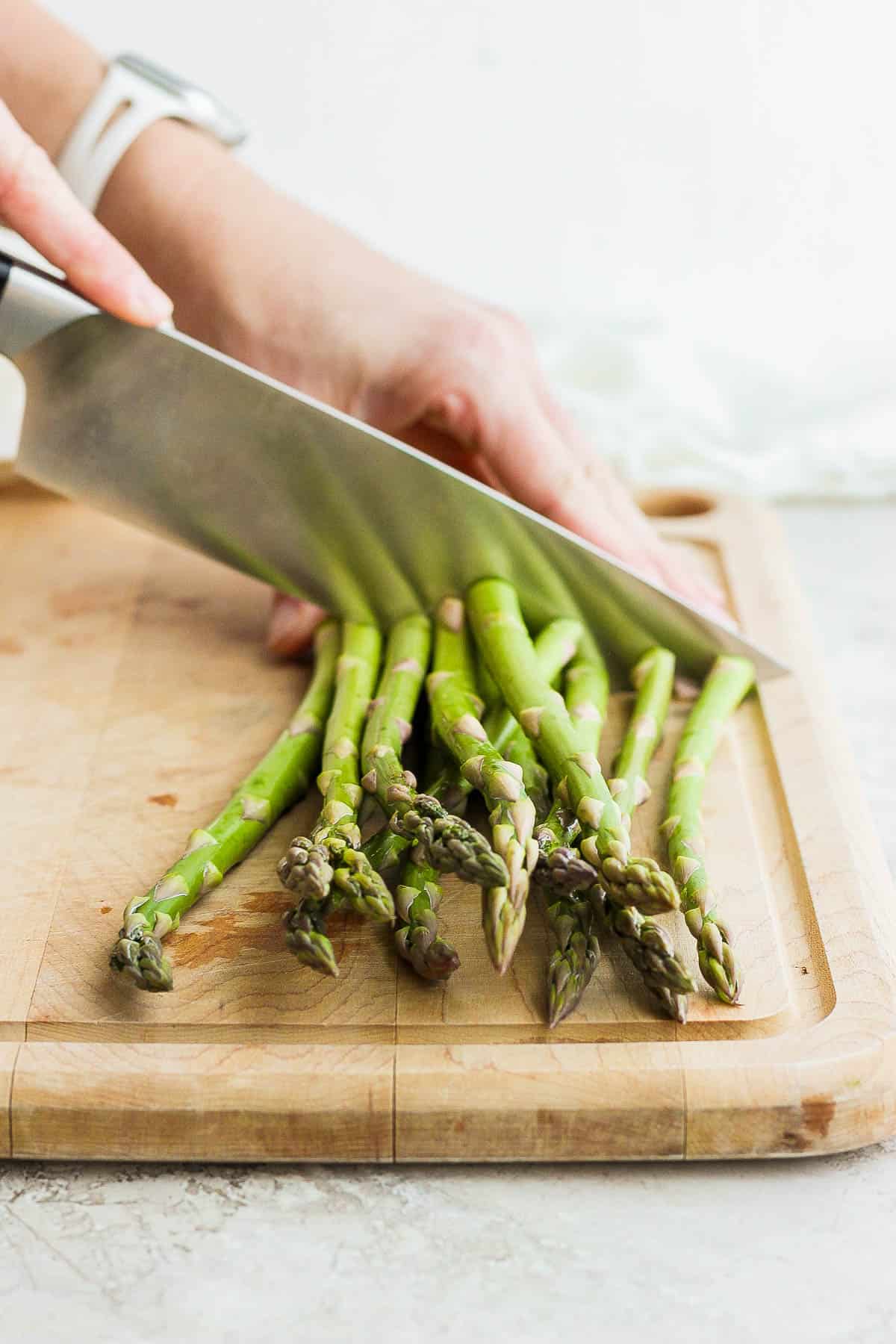 WHY learn to cut asparagus properly
Stalks will be more tender without the harder, denser ends.
Great tasting veggies leave no bad taste memories with the vegetable resistant (i.e. children and less adventurous adults.)
Cutting off the woody ends is more time efficient than shaving the ends of each stalk with a vegetable peeler.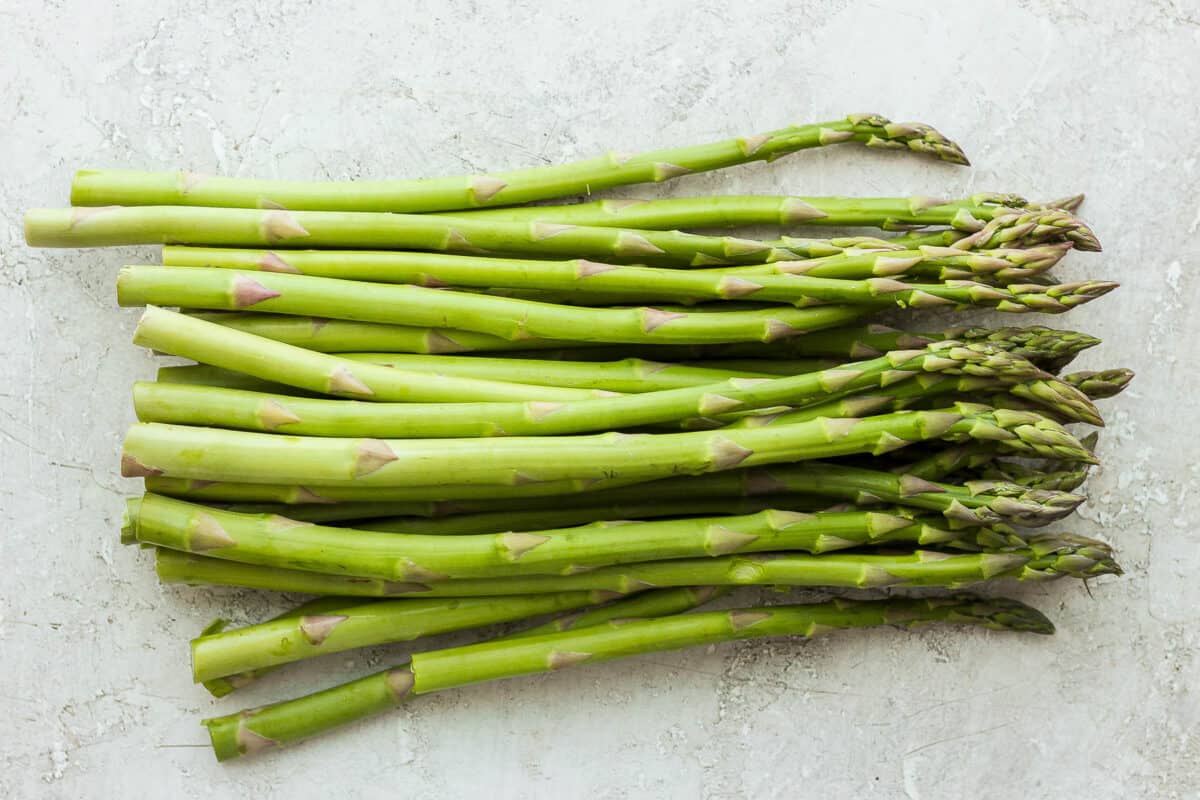 how to wash asparagus
Fill a bowl or rectangular baking dish with cold water and soak the asparagus for a few minutes. Rotate so the stalks and tips both get submerged.
Rinse off. That should rid the stalks and tips of any unpleasant sandiness.
Pat dry with a towel.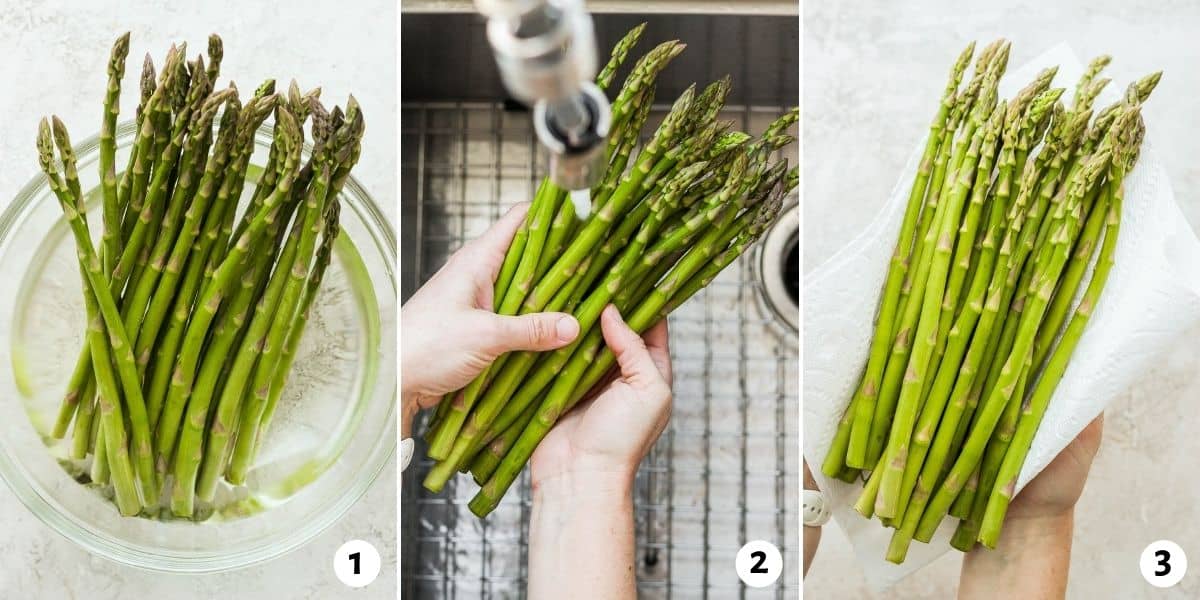 HOW TO cut asparagus – step by step
Put about half the bunch of asparagus – of whatever amount fits comfortably – across a large cutting board. Line up the spears.
With a long, sharp knife, cut off the tough woody parts at the bottom, usually one to two inches. To know how much to cut off the bottom of an asparagus stalk look for the place where the stalks turn from light green/white to a darker green. Cut the asparagus at that point where the color changes.
Repeat with the remaing asparagus spears. Use immediately in recipes.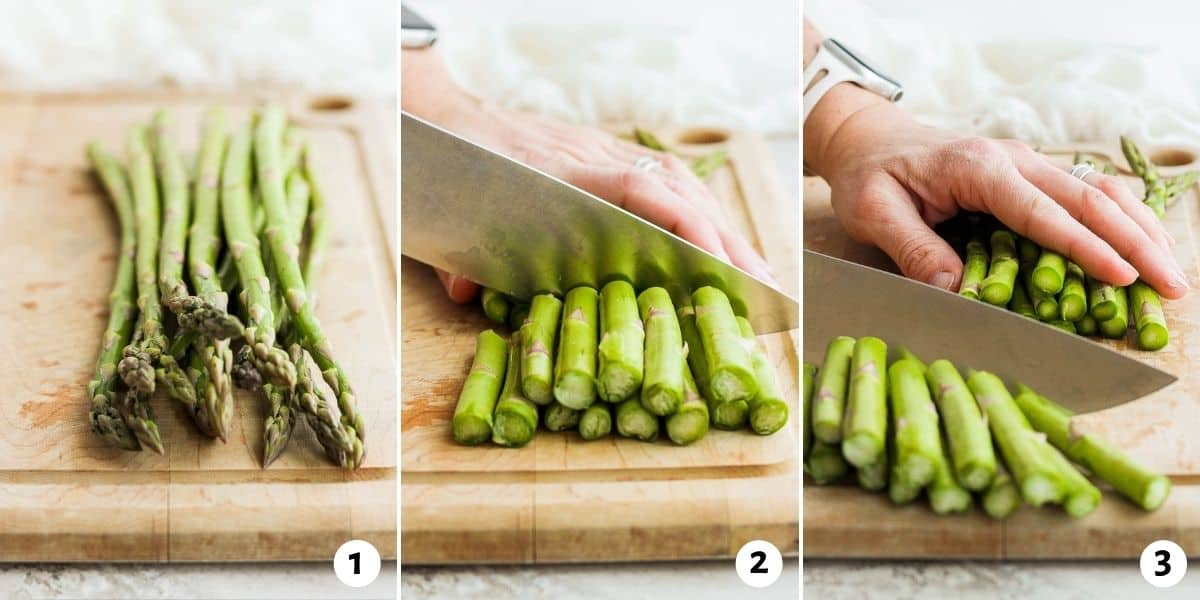 TIPS FOR cutting (OR TRIMMING) asparagus
Use a very sharp knife. Always. A dull knife will leave you sawing through the fibers. No fun!
Cut small pieces on the diagonal. If you are slicing asparagus in into small pieces, for a stir-fry or pasta dish, this type of cut brings out the best flavor.
Use the color demarcation as your cutting guide. The whole bunch may not be uniform.
Don't toss the woody ends of the asparagus. Although they are more tough and woody, you can slice up these ends as thinly as possible, which will break up the fibers. Then you can use them stir fries or soups.
recipes with asparagus
HOW TO STORE asparagus
Fill a clean jar with about an inch of water. Stand the cut asparagus in the jar, stalk end pointing down.
Cover with a plastic bag and place in the fridge. They will last up to four days.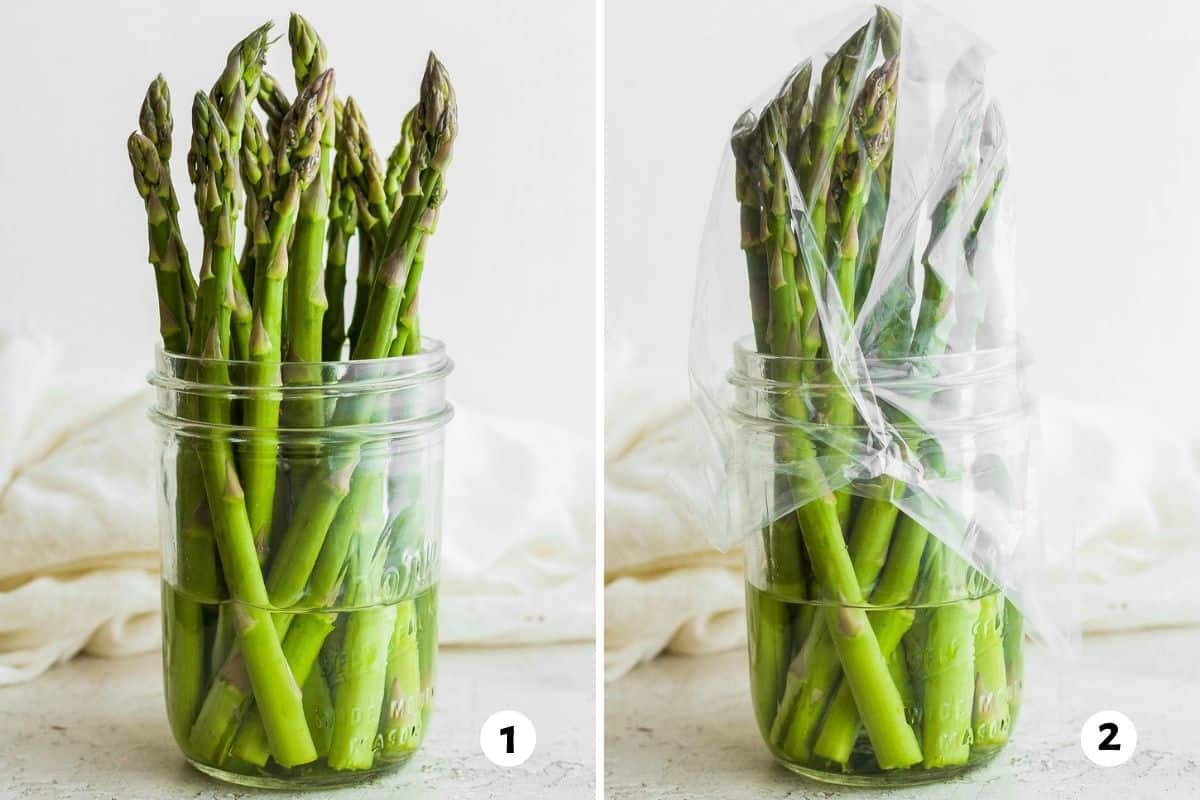 FREQUENTLY ASKED QUESTIONS
How much of the bottom of asparagus do you cut off?
It depends on the batch. Look for the color change on the stalk. If that is not apparent, do a test cut at about an inch up. If that doesn't seem like enough, try moving up another half an inch.
Do you have to peel asparagus?
Cutting off the woody ends of the stalk should give you a tender bunch of asparagus. If you feel your batch is very tough, peeling won't hurt, but under normal circumstances, it is not necessary. The exception is white asparagus which always requires peeling.
Is snapping asparagus the best way to cut off the woody ends?
Snapping is not recommended. While this method will get rid of the fibrous ends, it tends to also take a good chunk of the asparagus that you actually want to eat with it. If you're going to try it, hold the asparagus firmly by each end and bend the ends toward you as if you are bending in half. It "should" snap apart where the woody bit meets the tender bit.
Are the thinner asparagus better? Do I have to trim them as well?
All asparagus benefits from a trim and the pencil-thin variety are no more tender than the thicker ones. The width of the stalk represents the age of the plant which produced it, with older plants making thicker stalks. The plants produce for several years.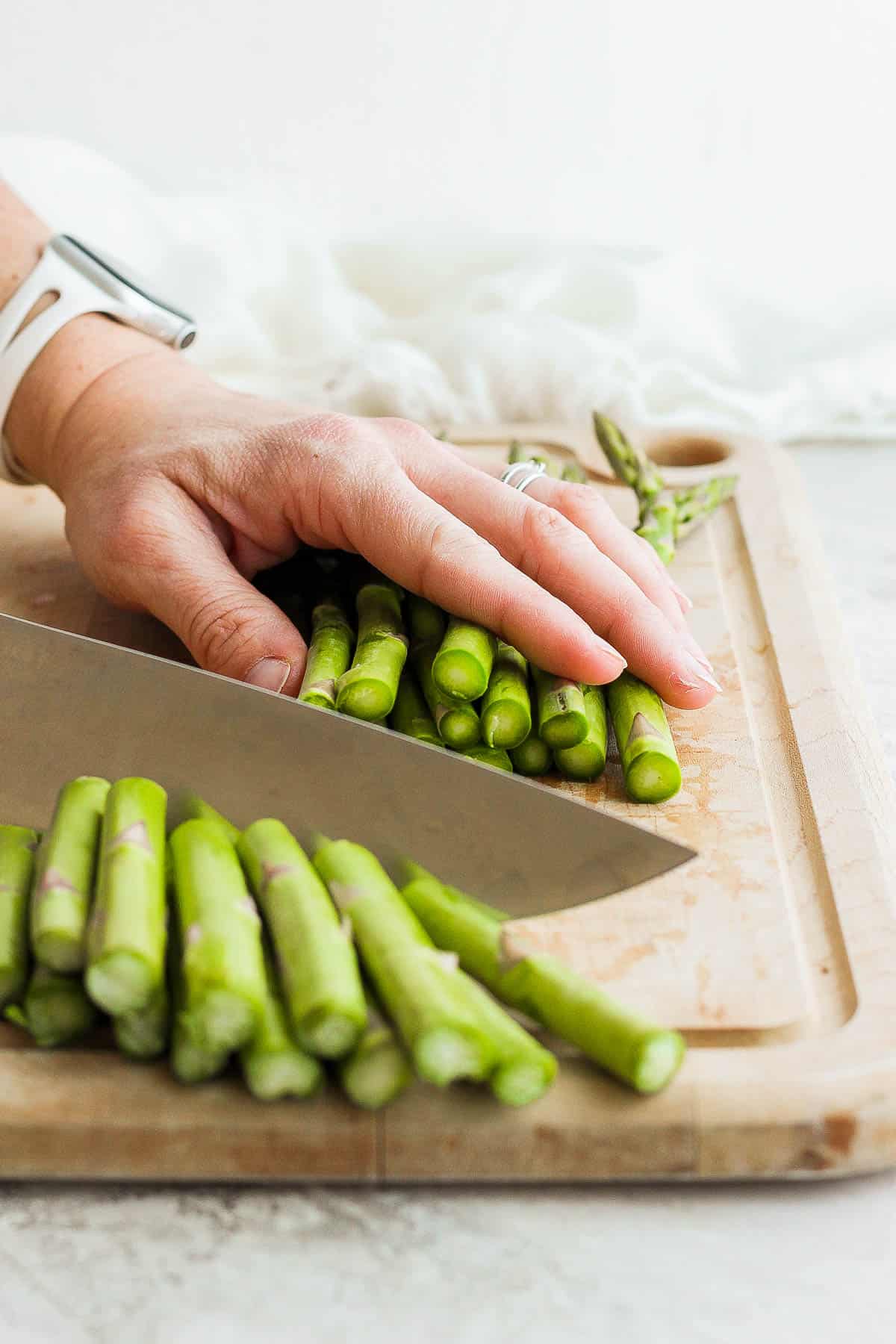 Now that you know how to cut asparagus, you are ready for asparagus season! There are so many great ways to add this most spring-like of vegetables to your recipes.
MORE Vegetable cutting tutorials:
If you found this tutorial for How to Cut Asparagus helpful or if you try any recipe on Feel Good Foodie, then don't forget to rate the recipe and leave a comment below! It helps others who are thinking of trying out this tutorial and we would love to hear about your experience. And if you snapped some shots, share it on Instagram so we can repost on Stories!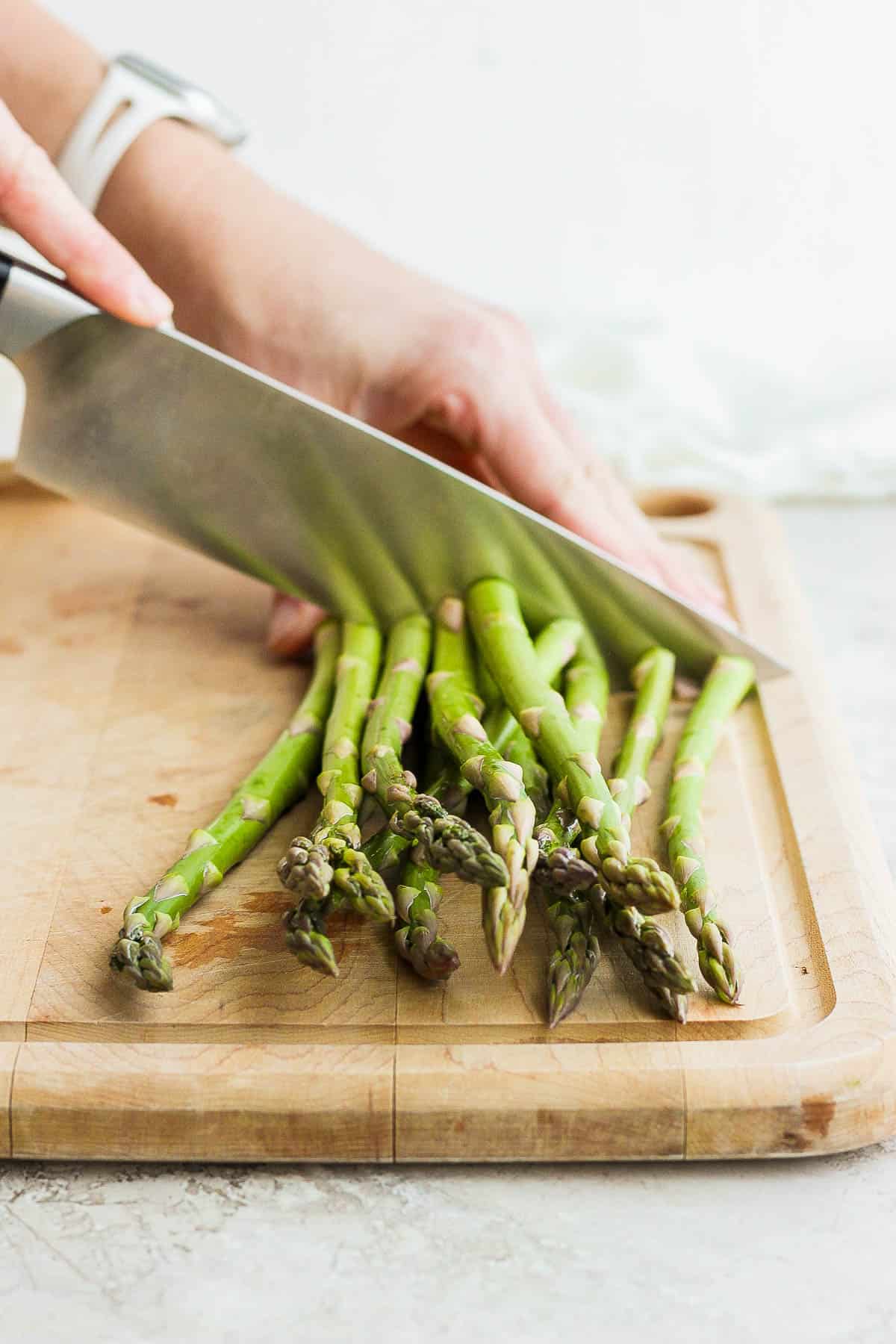 How to Cut Asparagus
Learn how to cut asparagus perfectly with this easy step-by-step tutorial! This easy method will help figure out where exactly to trim asparagus.
Instructions
Fill a bowl with cold water and soak the asparagus for a few minutes. Remove the asparagus from the bowl and rinse off. Pat dry with a paper towel.

Place half the asparagus on a large cutting board with the spears lined up. Using a large sharp knife, cut off the bottom tough woody parts, about 1-2 inches. You'll notice the color turns from green to white and that's the spot to make the cut.

Repeat with the remaining asparagus spears. Use immediately in recipes as desired.

If you have leftover cut asparagus, stand them up in a glass jar with about 1-inch of water. Then cover with a plastic bag for up to 4 days.
Notes
Storage: Store any cut asparagus

standing them up in a glass jar with about 1-inch of water. Then cover with a plastic bag for up to 4 days in the fridge.
Nutrition
Calories:
23
kcal
,
Carbohydrates:
4
g
,
Protein:
2
g
,
Fat:
1
g
,
Saturated Fat:
1
g
,
Polyunsaturated Fat:
1
g
,
Sodium:
2
mg
,
Potassium:
229
mg
,
Fiber:
2
g
,
Sugar:
2
g
,
Vitamin A:
857
IU
,
Vitamin C:
6
mg
,
Calcium:
27
mg
,
Iron:
2
mg
Nutrition information provided is an estimate. It will vary based on cooking method and specific ingredients used.
Photo Credit: Erin Jensen