This post may contain affiliate links. Please read our disclosure policy.
'Tis the season for all things pumpkin! This creamy squash has a delightful, earthy, sweet flavor that works across a rainbow of dishes. Read on for a cornucopia of Fabulous Fall Pumpkin recipes! From smoothies to desserts, pasta to casseroles, there's something for everyone.
Table of Contents
There are so many pumpkin recipes – especially as Fall approaches – I've rounded up my gold star favorites! Pumpkin can feel ubiquitous this time of year, but don't get pumpkin fatigue, there's just so many delicious dishes to be made! Pumpkin adds heft, creaminess, and a subtle sweetness to dishes, it plays well with so many warming spices too. Whether it's pies, pasta, or desserts – you're sure to find something. So fire up your taste buds and read on for my fave Fall Pumpkin Recipes!
Why you should cook more Pumpkin recipes
Nutrient-rich. Pumpkins are packed with nutrition. They're rich in essential vitamins like A, C, and potassium and filled with fiber. Including more healthy pumpkin recipes can help create a more balanced overall diet.
Enjoy seasonal flavors. Pumpkin captures the warm, comforting flavors of autumn. What better way to fully embrace the seasonal spirit than by using this winter quash in your kitchen? Whether you're tasked with creating a holiday menu or simply looking for a tasty weeknight meal, adding pumpkin will help you create that perfect fall coziness.
Versatile ingredient. Pumpkin is remarkably versatile and can be used in sweet and savory dishes. From soups to salads to pies and muffins, there's a wide range of recipes where pumpkin shines.
Pumpkin is simply delicious. When prepared right, pumpkin recipes, whether sweet or savory, are absolutely tasty! Its rich, earthy taste and natural sweetness add a wonderful depth of flavor to dishes, making them satisfying and bursting with flavor.
Tips for using pumpkin in recipes
Steer clear of big pumpkins when selecting fresh ones. Look for small "sugar" or "pie" pumpkins for cooking and baking. These pumpkins are sweeter and have a smoother texture, which is less fibrous. You want your squash to have a dull surface; if it's shiny, that means the pumpkin is not ripe.
Don't throw out the seeds. They make a delicious snack and a wonderful garnish for autumn soups and salads. Learn how to roast pumpkin seeds and how to properly store them so they last you all season long.
Use canned pumpkin puree whenever needed. It retains that wonderful texture and subtle sweetness, and for some recipes, like pumpkin pie, I prefer it since it has less moisture than the fresh variety. But if you have trouble finding canned pumpkin in your local grocery store, why not give homemade pumpkin puree a try?
Roast the squash first to enhance its flavor if using in soups. Roasting a pumpkin elevates any soup to dinner party status!
Bulk up curries and stews with pumpkin. The mild flavor of pumpkin means it soaks up all those aromatic flavors and spices easily, making it a perfect base for those hearty dishes.
Add sweetness to baking recipes with grated pumpkin. It gives a beautifully subtle sweetness to cakes and baked goods. If your grated pumpkin is a little too wet, give it a squeeze before using it and monitor it during baking – the added moisture may mean it needs a bit longer in the oven.
Best Pumpkin Recipes
Pumpkin is the epitome of fall flavor, and if you're looking for easy pumpkin recipes from sun up to sun down, we have you covered. This collection of pumpkin recipes has it all. You'll find delicious recipes to start your day, tasty beverages to sip on, and mouthwatering appetizers that scream autumn! You'll dive into delightful pumpkin recipes for dinner, whether it's a satisfying pasta dish, cozy bowl of soup, or tasty vegetarian pumpkin recipe. And you can finish the day with one of our irresistible pumpkin dessert recipes. There's truly something for everyone!
Breakfast Ideas with Pumpkin
Smoothies & Drinks with Pumpkin
Pumpkin Pie Smoothie – Easy and quick to make with only 5 basic ingredients, this smoothie is a must-try for those seeking delicious pumpkin recipes with a healthy twist. Indulge in the cozy flavors of pumpkin pie in this nutritious blend.
Homemade Pumpkin Spice Latte – This homemade version of a beloved Starbucks fall beverage is just as flavorful and satisfying but with just half the calories and sugar. All you need is 5 minutes and a cozy spot to enjoy comforting autumn in a cup.
Pumpkin Cream Cold Brew – This is another Starbucks favorite you must make this season. Flavored with pumpkin spice and rich in pumpkin flavor, this cold coffee drink takes minutes to make and is perfect once the temperatures drop.
Pumpkin Milkshake – If you live in an area with seasonal confusion, let me introduce you to this magic. This pumpkin milkshake has all the fall flavors transformed into a cool, creamy treat that's perfect for any time of the year. It's a lightened-up version of a pumpkin pie in milkshake form, and it's simply divine.
Harry Potter Pumpkin Juice – Whether or not you're a Harry Potter fan, this pumpkin juice is a must-try. Slightly spicy with a hint of sweetness and rich pumpkin flavor makes it a great choice of beverage for the fall. Serve it over ice or heat it up in a cozy mug.
Pumpkin Spinach Smoothie – Made with spinach, avocado, banana, apple cider, and pumpkin, this smoothie has the fall flavors in a healthy pumpkin smoothie.
Skinny Pumpkin Frappuccino – If you love healthy pumpkin recipes that also feel indulgent and decadent, you will love this pumpkin frap. It's made with cold coffee, almond milk, pumpkin puree, a touch of maple syrup, and warm spices. It'a delicious drink that everyone will love.
Delicious Pumpkin Appetizers
Pumpkin Recipes for Dinner
Vegetarian Pumpkin Recipes
Pumpkin Soup – This simple soup has so much to offer. Filled with nutritious vegetables like carrots, celery, and onions – it provides nutrition and flavor. This savory pumpkin soup is one you'll be coming back to all season long.
Pumpkin Pasta with Crispy Sage – This vegan pasta dish features a dairy-free sauce rich in nutrients with a subtle pumpkin flavor, making it a delightful addition to your collection of pumpkin recipes vegetarian style.
Easy Pumpkin Risotto – Simpler than a traditional risotto, this seasonal rendition of a classic is perfect to serve this fall. It's packed with flavor but quick enough to whip up on a weeknight using just a few simple ingredients.
Vegetarian Spinach Pumpkin Lasagna – This healthy pumpkin lasagna is packed with veggies and cozy spices that make it the best comfort food for fall and winter. Plus, this tasty dish is so freezer-friendly, so double up and freeze it to enjoy later.
Pumpkin Pasta with Toasted Hazelnuts – When it comes to vegetarian pasta recipes, they must be hearty and packed with flavor! This creamy pasta does not disappoint. Made with garlic, pumpkin puree, spinach, and toasted walnuts, this is a perfect dish for a fall dinner party or a quick weeknight meal.
Easy Pumpkin Mac and Cheese – Dress up a classic comfort food with this seasonal gourd. Pumpkin puree adds a smooth and creamy texture, while the cheese adds savory flavor and heartiness.
Roasted Pumpkin Apple Soup – Cozy up to this vegetarian pumpkin recipe on those cool autumn nights. It has a smooth, creamy texture (but no cream!) and strikes the perfect balance between savory, sweet, and spicy flavors.
Pumpkin Dessert Recipes
Frequently Asked Questions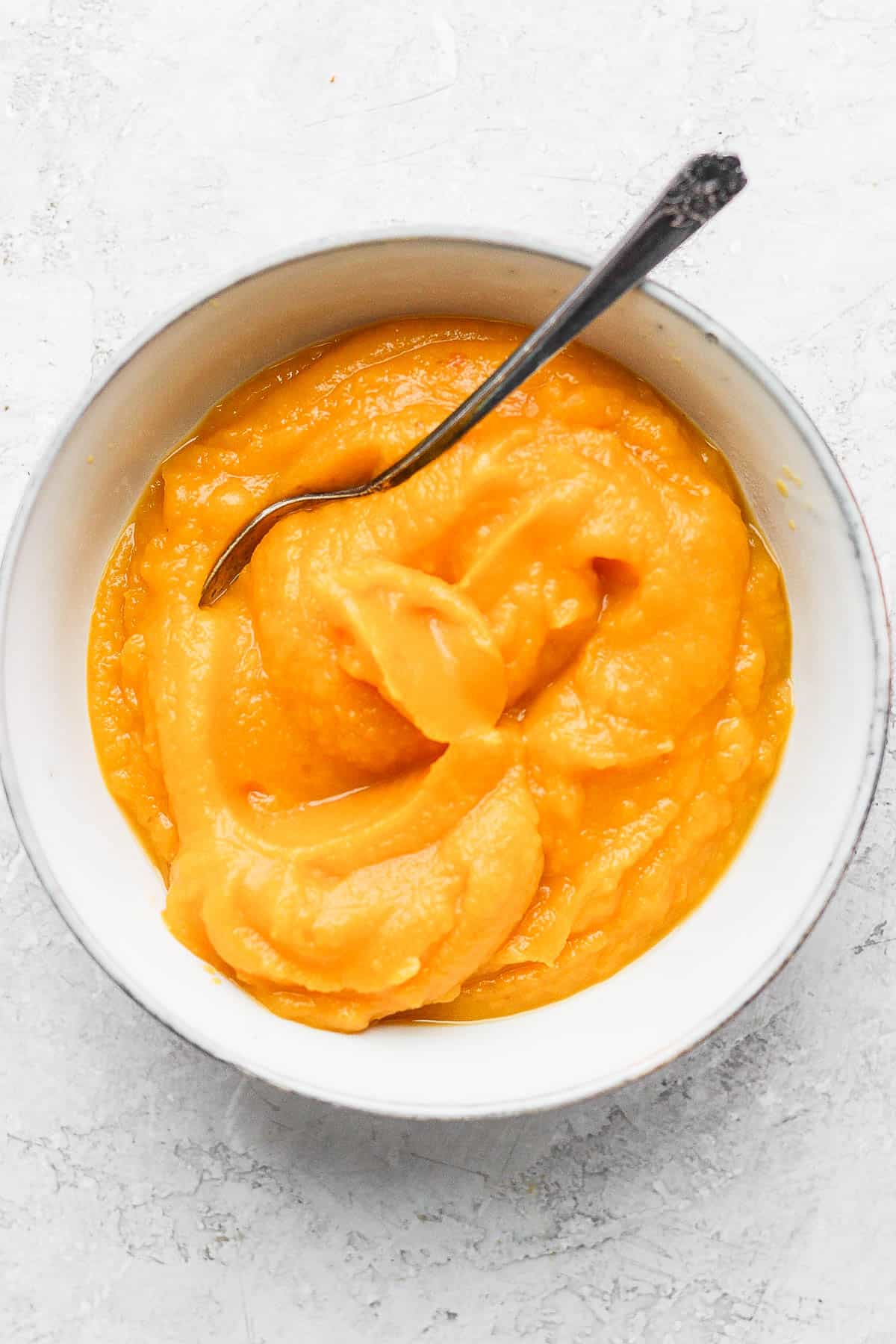 This collection of fall pumpkin recipes has something for everyone! From mouthwatering pumpkin recipes vegetarians will love to wholesome and healthy pumpkin recipes for the whole family. And don't forget to finish the meal with some of the most delightful pumpkin dessert recipes.
full list of recipes
Check out the picture cards for all the recipes listed above. You can click on any of the recipes cards to take you directly to those recipes.
For more similar roundup of recipes, be sure to check out: Recipes to Make this Fall, Best Apple Recipes, Healthy Holiday Appetizers, and Nourishing Soup Recipes.
If you try any of these Pumpkin Recipes or any other recipe on Feel Good Foodie, leave a comment below! We would love to hear about your experience making the recipes. And if you snapped some shots of it, share it on Instagram so we can repost on my stories!