This post may contain affiliate links. Please read our disclosure policy.
I'm so excited to share this vegan pumpkin pie recipe with you! Seriously won't believe how easy it is, and it's so delicious. I promise you; it's the best vegan pumpkin pie you'll try this fall! Completely dairy-free and made with a store-bought vegan pie crust, you can prep this pumpkin dessert in minutes for a delicious Thanksgiving dessert!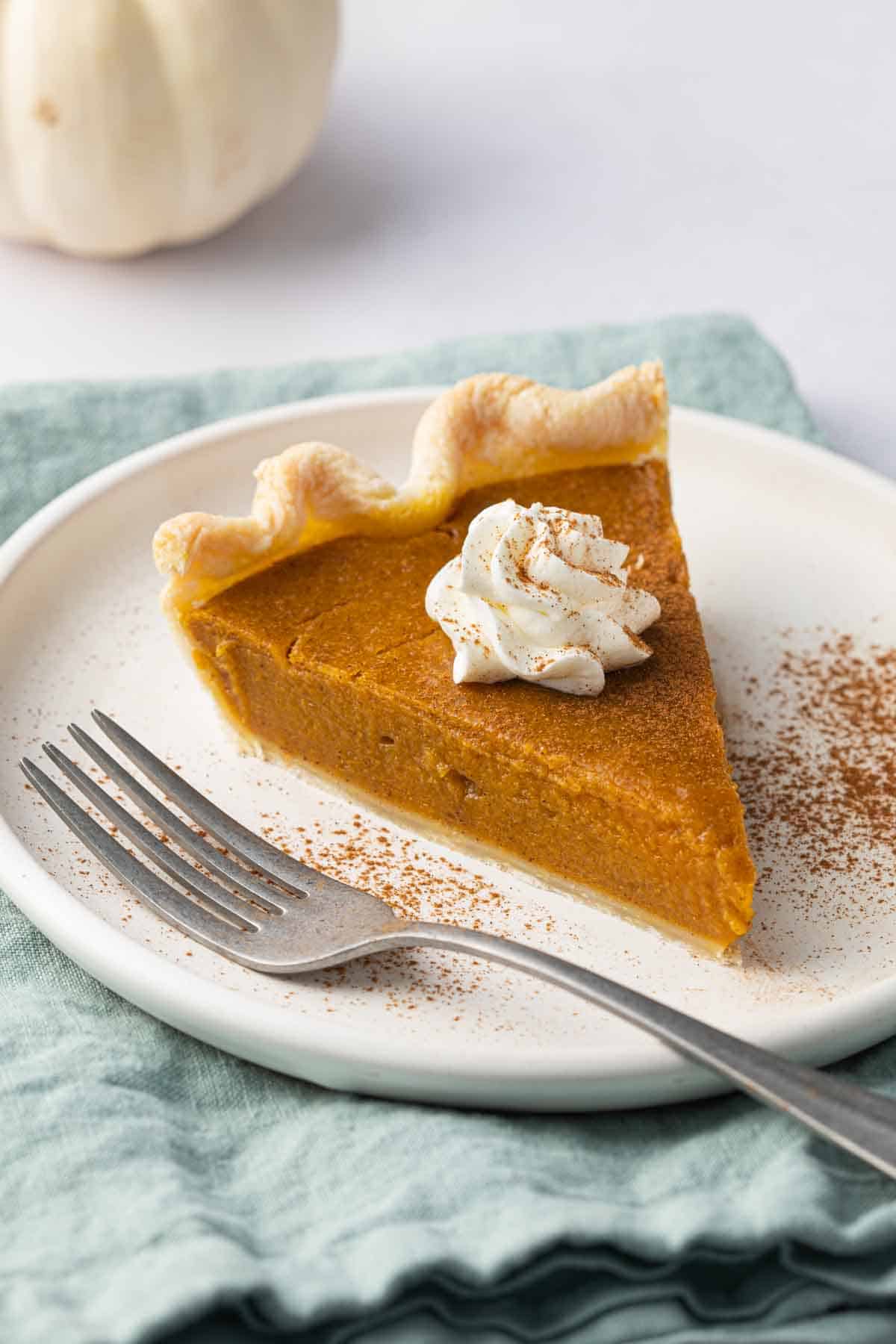 If you've been looking for a delicious vegan pumpkin pie recipe, look no further! This recipe is made with coconut cream and pumpkin puree, and it's sure to please everyone at your Thanksgiving feast. Thanks to the coconut cream, this pie has a rich and creamy texture that will remind you of traditional pumpkin pie without the use of dairy. Best of all, this recipe is quick and easy to prepare – so you'll have more time to enjoy your holiday celebration!
"I made it for my coworkers during thanksgiving week. It was a hit!. The recipe was so easy to follow and it came out super creamy. Yum! I'm going to make it again for my family." – Lili
Table of Contents
Recipe at a glance
Cuisine Inspiration: American
Primary Cooking Method: Baked
Dietary Info: Vegan and Dairy Free
Key Flavor: Pumpkin Pie Spice
Skill Level: Intermediate
Summary
Ingredients to make vegan pumpkin pie filling
Popular substitutions & additions
How to make vegan pumpkin pie
Line a pan with a vegan pie crust.
Prick the base and chill in the freezer.
Measure the filling ingredients in a blender.
Blend until the ingredients are homogenous
Pour the pumpkin batter into the pie crust.
Bake in the preheated oven.
"I am currently on a vegan fast until Christmas, and I wanted to make a vegan pie for Thanksgiving. The recipe was easy to follow, and the pie came out delicious. Nobody in my family could even tell that it was vegan, and they all loved it. Another great recipe from Yumna!" – Mihaela
Tips for making the best vegan pumpkin pie
Use canned pumpkin puree. The water content of pumpkins can vary wildly, so for the most consistent results, opt for canned. Use pure pumpkin puree, not pumpkin pie filling.
Use a blender to combine the filling ingredients. This will ensure that you have a creamy and smooth filling. You can mix it by hand, but it will take longer, and it must be really well combined.
Freeze the pie crust before you add the filling. If you skip this step, you run the risk of ending up with a soggy crust when it's baked. This tip helps it stay crisp after baking.
Let the pie cool in the fridge for at least 4 hours before slicing. If you slice it too early, the filling will not be set. This makes it a great make-ahead dessert for Thanksgiving.
how to store & reheat vegan pumpkin pie
To store vegan pumpkin pie, simply cover it in plastic wrap and store in the fridge. If you want to heat a slice of the pie, simply place it in a microwave-safe dish and heat for about 30 seconds. To reheat a whole pie, you can put it in a 350°F oven for 10 minutes until heated through.
how long will vegan pumpkin pie last in the fridge?
Your pumpkin pie should last about 3-4 days in the fridge. After that the crust may start to get soggy with moisture build up.
can i freeze dairy free pumpkin pie?
You can also freeze the pie before or after baking for up to 3 months. To re-heat, thaw in the fridge overnight and bake in a 350°F oven until heated through.
Super easy and tastes exactly like store bought pumpkin pie. I even used my homemade pumpkin puree which had a little extra moisture than the can so I baked it for considerably longer, almost 45 min longer. So total of 1hr and 45 min baking. No equipment necessary, I was able to mix it all up with a regular spoon and it all blended within, literally, seconds! I mixed for at least 3 minutes just in case. I poured it straight into a frozen pie crust. This couldn't be any easier. Oh and you can't even tell the difference from the non-vegan counterparts. This is great for those sensitive to lactose. – Moni
Frequently asked questions
Can I use fresh pumpkin instead of canned pumpkin puree?
Yes, you can use fresh pumpkin. Simply roast and puree fresh pumpkin or butternut squash. Make sure the puree is thick and has a similar consistency to canned pumpkin. Note that the cooking time might need to be extended as Moni did above due to the excess moisture in the homemade puree.

Can I substitute the coconut cream for vegan whipped cream?
No, you should not substitute the coconut cream for regular whipped cream. Coconut cream is thicker and has a richer flavor than traditional whipped cream, which makes it ideal for vegan pumpkin pie. Additionally, coconut milk will make the filling too watery and may affect the texture of the pie.
Can vegan pumpkin pie sit out at room temperature?
No, you should keep your vegan pumpkin pie refrigerated. If you're planning on serving it and would like to bring it to room temp that is fine – but for general storage you don't want to leave it just sitting at room temp overnight.
How do I avoid cracks on the surface of my pumpkin pie?
Overbaking or sudden temperature changes can cause cracks in your pumpkin pie. Ensure you don't overbake the pie, it should be slighly firm at the edges when jiggled. Allowing the pie to cool to room temperature before putting in the fridge will help as well.
Can I make mini pumpkin pies with this recipe?
Of course! Using the same ingredients, you can follow the recipe for mini pumpkin pies that we've already written for you!
This vegan pumpkin pie recipe is incredibly easy to make, and it's sure to be a hit with both vegans and non-vegans alike. So why wait? Grab some pumpkin puree and coconut cream, and start baking a delicious vegan pumpkin pie today!
More pie recipes:
If you've tried this healthy-ish feel good Vegan Pumpkin Pie recipe or any other recipe on FeelGoodFoodie, then don't forget to rate the recipe and leave me a comment below! I would love to hear about your experience making it. And if you snapped some shots of it, share it with me on Instagram so I can repost on my stories!
This Vegan Pumpkin Pie recipe was originally published on November 6, 2020. The recipe has not been modified but the post now includes new step-by-step photos and helpful tips for how to make the recipe.
Vegan Pumpkin Pie
This vegan pumpkin pie is the best! An easy dump coconut cream & pumpkin filling makes it the perfect dairy-free pumpkin dessert to serve at Thanksgiving.
Ingredients
15

ounces

can pumpkin puree

1

cup

coconut cream

canned coconut milk (use the hardened white part)

⅔

cup

cane sugar

3

tablespoons

cornstarch

1

teaspoon

vanilla extract

3

teaspoons

pumpkin spice blend

½

teaspoon

salt

1

9" vegan pie crust
Instructions
Preheat oven to 325° F. Line a pie pan with the pie crust. Press gently to fill the corners and extend the crust all the way to the edge. Crimp the edge or leave plain.

Prick the base of the crust with a fork several times. Freeze for 15 minutes.

In a blender, combine the pumpkin puree, corn starch, coconut cream, vanilla, sugar, salt, and spices. Blend on low speed until completely combined, smooth, and pale orange.

Carefully pour the pumpkin pie mixture into the frozen pastry in the pie pan, and shake slightly to smooth out the top.

Bake for 55-65 minutes until slightly firm on the edges when jiggled, and dull on top.

Remove from the oven and allow to cool for at least 30 minutes at room temperature before transferring to the fridge to cool completely – at least 4 hours or overnight.
Notes
Storage: Store covered in the fridge for up to 4 days.
Freezing Instructions: You can also freeze the pie before or after baking for up to 3 months. To re-heat, thaw in the fridge overnight and bake in a 350°F oven until heated through,
Substitutes: For best results, follow the recipe as is. However here are some common substitutes that would work well in this recipe.
Instead of coconut cream, you can use heavy cream, but it won't be vegan then.
Instead of cane sugar, you can use regular sugar.
Instead of canned pumpkin, you can use your own pureed pumpkin, but I would recommend removing as much moisture as possible and expect the consistency to vary. I prefer making it with canned pumpkin.
Equipment: I make my the pumpkin pie mix in my Vitamix. It has a low setting to blend everything evenly without turning it into a smoothie.
Nutrition
Calories:
312
kcal
,
Carbohydrates:
39
g
,
Protein:
3
g
,
Fat:
17
g
,
Saturated Fat:
11
g
,
Sodium:
252
mg
,
Potassium:
244
mg
,
Fiber:
3
g
,
Sugar:
19
g
,
Vitamin A:
8824
IU
,
Vitamin C:
3
mg
,
Calcium:
28
mg
,
Iron:
2
mg
Nutrition information provided is an estimate. It will vary based on cooking method and specific ingredients used.