This post may contain affiliate links. Please read our disclosure policy.
If you're not much of a baker, but still want to make a homemade pie for the holidays, this easy apple pie recipe is one you should try! You can use your own pie crust or store-bought and prepare the recipe with very minimal effort and ingredients. It's a great recipe for using up fall apples and is always a crowd favorite at holiday meals!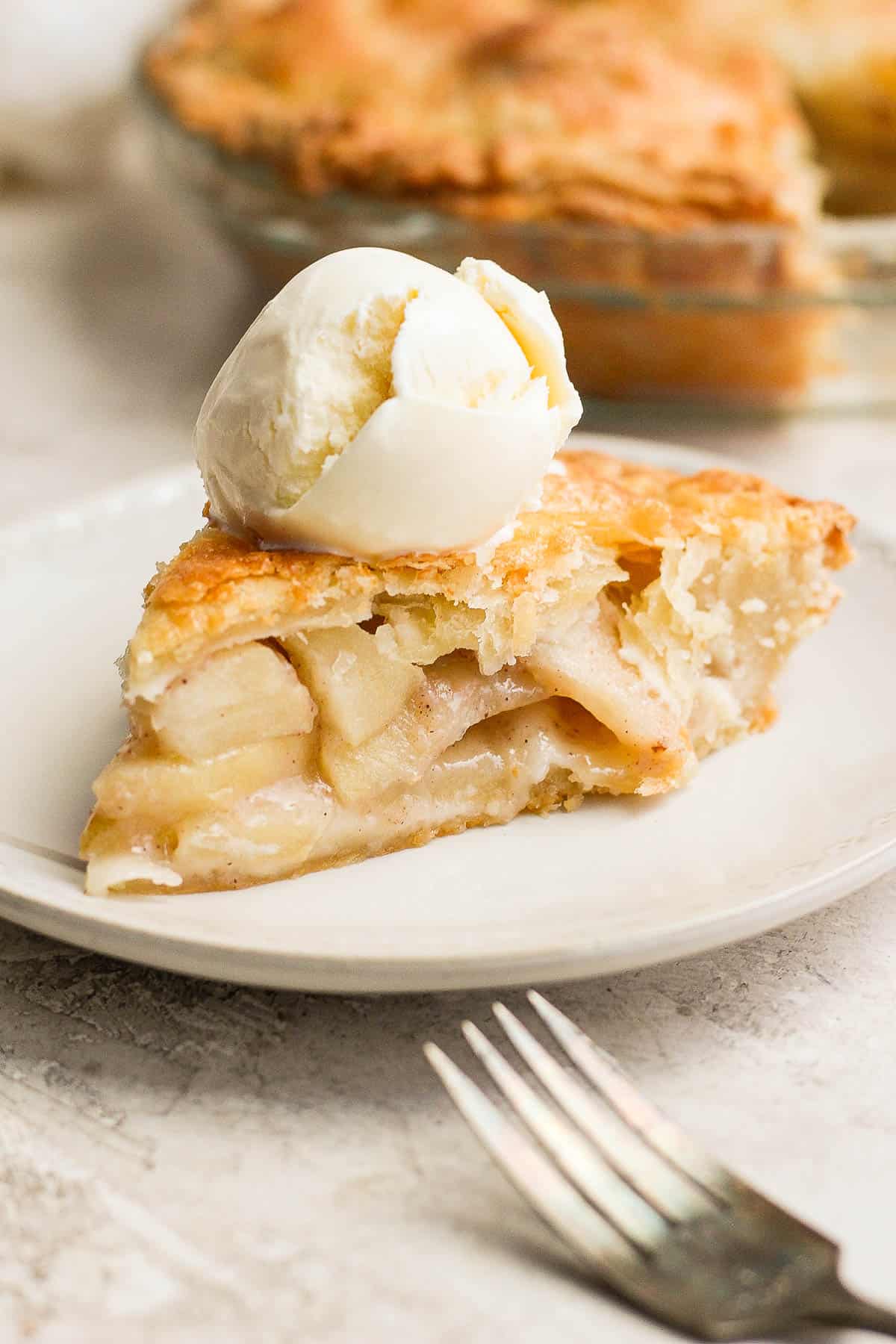 Making a fresh apple pie shouldn't be a 4-hour chore. This simple recipe combines the best of sweet and tart apples with just a hint of spices to create a flavor that's spot on. And if you have some pre-made pie dough, the hard part's already done for you. In just a few steps, you'll have a pie that's perfect for any occasion, without any of the fuss. Give it a try, and let all the fall aromas fill your home!
Why you'll love this simple apple pie recipe
Minimal prep time: Most of the work is in washing, peeling, and slicing the apples. Once that's done, you're basically mixing ingredients together and letting the oven do its job.
Basic ingredients: This apple pie recipe needs everyday items you most likely already have in your pantry. That means you can decide to make a pie on the fly without making a trip to the store.
No overwhelming spices: Some pies overdo it on the spices, but not this one. With just a touch of cinnamon and nutmeg, the natural apple flavor truly shines through.
Versatile apple choices: You're not limited to just one type of apple. By blending sweet and tart varieties, you can achieve that perfect apple flavor balance, and even experiment with your favorite apple types!
Why this pie is so easy to make
If you don't think you have time to make an apple pie, this recipe will change your mind! By using a good quality pre-made store-bought dough, you cut down on so much prep time! The filling is really quick and easy to put together with a handful of ingredients, and there's no need to cook the apples beforehand.
ingredients to make this easy apple pie recipe
Pie Dough: You can use a store-bought or any homemade pie crust you like.
Apples: Use any apples you'd like. Just be sure that you have a mix of baking apples that will break down to help make the sauce, and firm apples give you a good texture. Also pick a balance of sweet and tart apples. Avoid are Red Delicious apples, which get very mushy when baked.
Egg: You'll whisk the egg and brush on top of the apple pie to make it golden and flaky.
Lemon juice: Lemon juice is important in baking apple pies because it helps to prevent the apples from browning. But don't worry, you won't taste the lemon. It just gives it a brighter flavor.
Flour: This thickens the apple pie filling coated all over the apples.
Sugar: To balance the tartness of the apples and lemon juice, the sugar sweetens the apple pie filling.
Cinnamon & Nutmeg: These are quintessential spices when baking any apple pie. They add a warm note and delicious flavor.
How to make apple pie
Wash and peel the apples. Then slice them and toss with lemon juice and sugar. Allow the apples to stand for a short moment, then drain to remove the excess liquid.
Now, toss the apples with flour, cinnamon and nutmeg, and the apples are ready for the crust. There's no need to cook the apples.
Line your pie pan with one piece of pie dough pushing it against the pie pan.
Pace the apples on top of the pie dough in the dish one layer at a time. You want to make them compact with as little space between the apples as possible. This will help them cook evenly. Try to make a mound in the middle of the pie, keeping the edges with less apples.
Place the other pie dough on top of the apples, use a knife to make four slits in the top of the pastry, and trim and crimp the edges. Brush with the beaten egg, making sure to get all the sides.
Bake in the oven until its golden on top and your home smells warm and heavenly!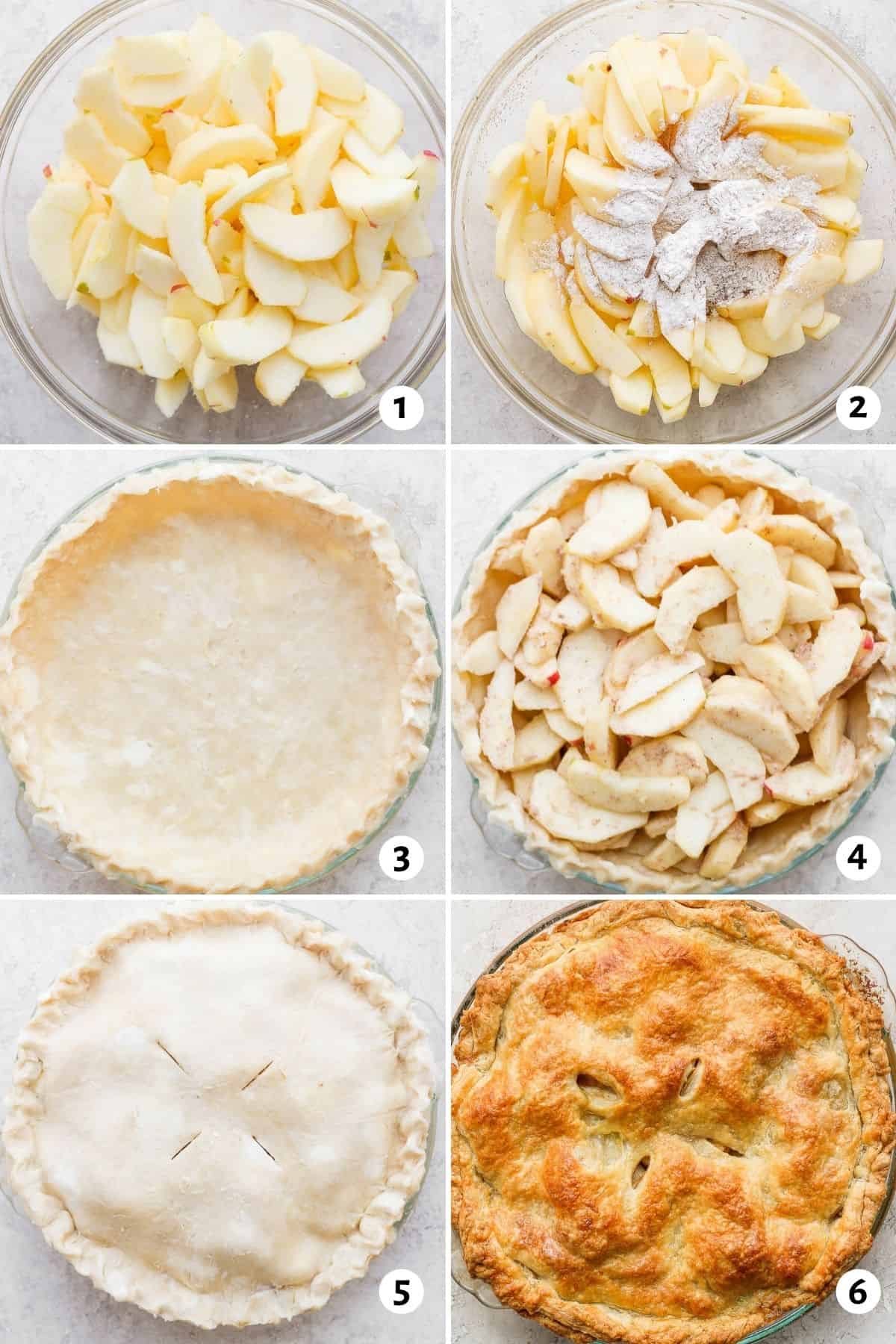 Tips for making the best simple apple pie
Slice the apples, but do not finely chop them. If you cut the apples too small, you run the risk of them cooking too fast and becoming soggy, which will end up releasing too much liquid into the apple pie.
Save the liquid from draining the apples. You'll get about ¼ cup of liquid when you drain the sliced apples with a colander. You can use this to brush the top of the apple pie instead of using the egg wash, which then will make the apple pie vegan.
Keep the pie dough in the refrigerator until you are ready to use it. This is true for homemade pie dough and store-bought pie dough. If the butter in the dough softens too much, it will take away from the crust being flaky.
Make sure that the edges of the pie are properly sealed so that no juices escape. This is also your chance to make a pretty pie crust design, so have fun with it while sealing.
Let the pie cool for an hour before serving. While it's customary to let desserts cool before slicing, it is especially important for this easy apple pie because the apples need a chance to settle and thicken. That ensures the pie holds its shape when you cut into it, and that it's not runny.
Popular substitutions & additions
Brush with butter. Want a richer crust for your easy apple pie? Brush it with melted butter instead of an egg wash before baking. It'll give a beautiful golden sheen and add a layer of buttery goodness.
Sneak in some berries. Mixing in a handful of blueberries or raspberries with the apple filling can add a delicious tangy flavor and a pop of color to every slice.
Use a sugar-free filling. If you're watching your sugar intake, swap out the granulated sugar for a natural sweetener like stevia or honey. You'll still get that sweet taste without the added sugar.
Add orange juice. It tastes sweeter than lemon juice but if that's what you have on hand, it can still ensure your apple pie stays fresh and tasty.
How to store & reheat this easy apple pie
Once your apple pie has cooled to room temperature, cover it tightly with plastic wrap or aluminum foil. Place it in the refrigerator to ensure it remains fresh and retains its delicious flavors.
When you're ready to enjoy another slice, preheat your oven to 350°F. Place the pie slice on a baking sheet and warm it for about 15 minutes or until it's heated through. This method helps maintain the pie's crusty edges and soft filling. For a quicker method, you can place the slice on a microwave-safe plate and heat for 30 seconds to a minute, checking at intervals to make sure it's just right.
How long will fresh apple pie last in the fridge?
Your fresh apple pie will last for about 4-5 days in the fridge. To enjoy it at its best, always ensure it's covered properly to prevent it from absorbing other fridge odors.
Can i freeze fresh apple pie?
If you want to store your apple pie for an extended period, freezing is a great option. Wrap the entire pie or individual slices tightly in plastic wrap and then in aluminum foil. Label it with the date, and you can keep it frozen for up to 4 months. When you're ready to eat, let it thaw in the fridge overnight and then follow the reheating instructions.
Frequently asked questions
Does this pie need to be refrigerated?
Apple pies don't need to be refrigerated after baking. In fact they will keep well for two days at room temperature, so it's a great make ahead dessert. If you do slice the apple pie, just cover it loosely with foil or plastic wrap. Sliced apple pie will keep for an additional 2-3 days if stored in the fridge.
What are the best apples for pie?
You can use any apples you'd like. Just be sure that you have a mix of baking apples that will break down to help make the sauce and firm apples give you a good texture. Also pick a balance of sweet and tart apples. The only apples I would avoid are Red Delicious apples, which get very mushy when baked.
Should I cook the apples before making pie?
No, you don't need to cook the apples before assembling the apple pie filling for the pie. Pre-cooking them means that they cook down and lose liquid and volume. And that can ultimately result in a mushy pie!
Everyone loves this easy recipe especially for Thanksgiving! It's a real crowd pleaser, but made in just a fraction of the time!  With minimal fuss and the benefit of using pre-made pie dough, this recipe ensures you get to enjoy a delicious pie moment anytime you crave it. Plus, its blend of sweet and tart apples, paired with just the right hint of spices, really captures the essence of classic apple pies. So, go ahead and give it a try! The filling is so delicious and full of flavor – you'll be lucky if you have any leftovers!
More easy pie recipes
If you've tried this healthy-ish feel good Easy Apple Pie recipe or any other recipe on FeelGoodFoodie, then don't forget to rate the recipe and leave me a comment below! I would love to hear about your experience making it. And if you snapped some shots of it, share it with me on Instagram so I can repost on my stories!
If you try this healthy-ish feel good Easy Apple Pie recipe or any other recipe on Feel Good Foodie, then don't forget to rate the recipe and leave a comment below! It helps others who are thinking of making the recipe. We would love to hear about your experience making it. And if you snapped some shots, share it on Instagram so we can repost on Stories!
This Easy Apple Pie recipe was originally published on November 20, 2019. The post has been updated to include a more detailed explanation of the ingredients and substitutions along with new step-by-step photos.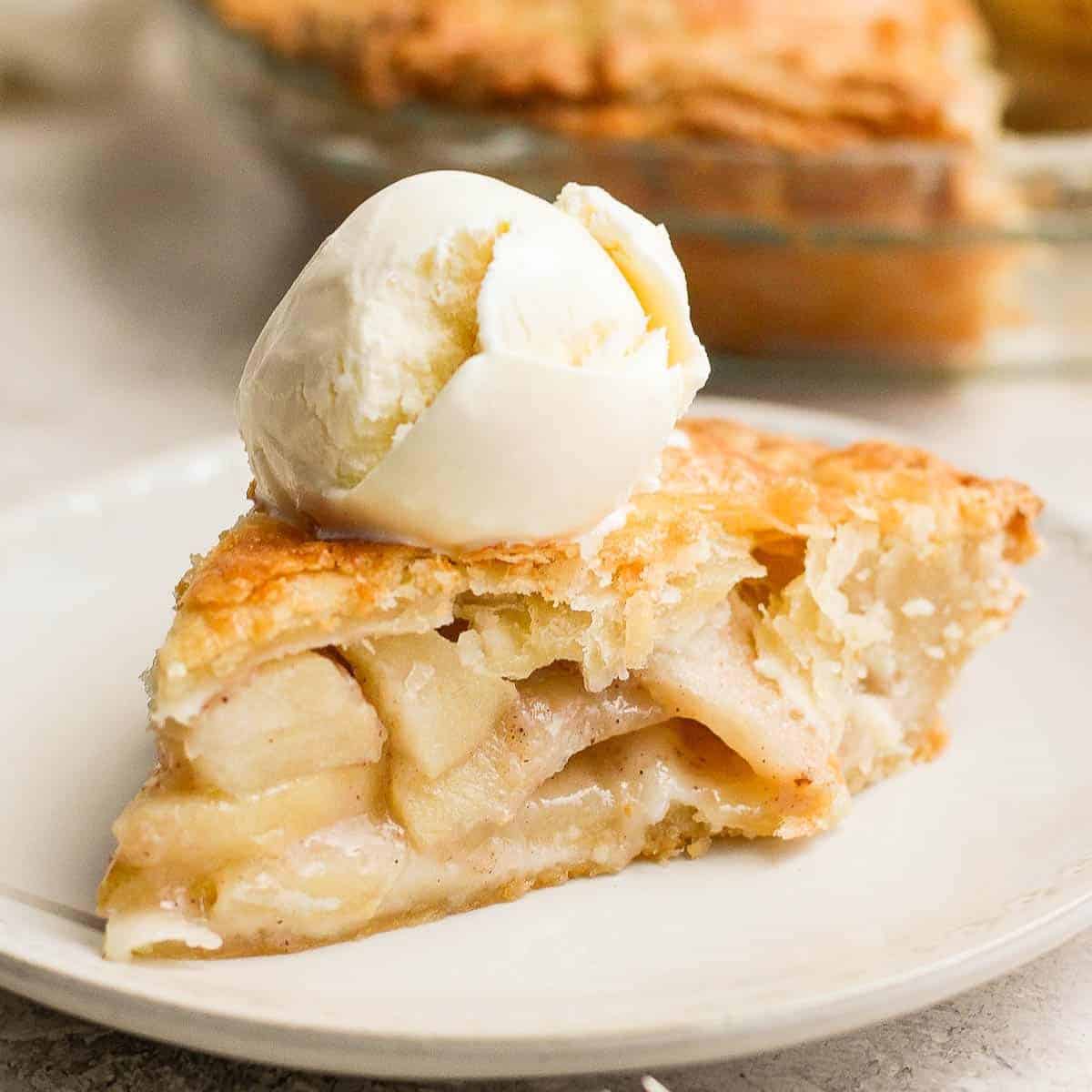 Easy Apple Pie
This easy apple pie is a quintessential fall recipe that you can make with pre-made pie dough and basic ingredients- perfect for Thanksgiving
Ingredients
2

pastry dough

pre-made (9-inches)

3

tablespoons

all-purpose flour

¼

cup

granulated sugar

¼

teaspoon

nutmeg

¼

teaspoon

cinnamon

6

apples

seeded, sliced (sweet and tart varieties)

1

teaspoon

lemon juice

1

large eggs

whisked
Instructions
Preheat oven to 375°F with a baking tray.

In a large bowl, combine the sugar, lemon juice, and the apples, let stand for 15 minutes. In a second bowl combine flour, nutmeg, and cinnamon.

Line a 9-inch pie plate with one of the pie dough, allowing it to droop over the edges slightly. Drain the sliced apples in a colander, add flour and spice mixture, toss to combine place the apple mixture into the bottom crust evenly.

Place the second pie dough over the apple mixture and gently press to ensure it is sitting well on top of the apples. Use a knife to cut a hole the size of a quarter in the center of the pie dough to allow the steam to escape. Trim and crimp the edges. Brush the top of the pie with the whisked egg.

Place the pie in the preheated oven on the baking tray for 35 minutes. Rotate and reduce heat to 325°F and bake for an additional 25 minutes. Remove from the oven and place on a cooling rack for one hour before slicing.
Notes
Storage: Store any leftovers in an airtight container. They will last about 3-4 days in the fridge.
Substitutes: For best results, follow the recipe as is. However here are some common substitutes that would work well in this recipe.
Feel free to use a homemade pie crust instead of a store-bought one.
To make it vegan (granted your pie crust is vegan), simply use the drained pie juice liquid to brush the top of the pie crust or you can even use almond milk.
Nutrition
Calories:
451
kcal
,
Carbohydrates:
55
g
,
Protein:
6
g
,
Fat:
24
g
,
Saturated Fat:
6
g
,
Cholesterol:
20
mg
,
Sodium:
162
mg
,
Potassium:
191
mg
,
Fiber:
4
g
,
Sugar:
21
g
,
Vitamin A:
103
IU
,
Vitamin C:
7
mg
,
Calcium:
17
mg
,
Iron:
2
mg
Nutrition information provided is an estimate. It will vary based on cooking method and specific ingredients used.
Photo Credit: Erin Jensen