This post may contain affiliate links. Please read our disclosure policy.
These Pumpkin Banana Muffins bring a delicious twist to your fall baking! Banana makes the perfect pairing with warm fall spices and pumpkin, and it also adds some natural sweetness to this easy pumpkin muffin recipe.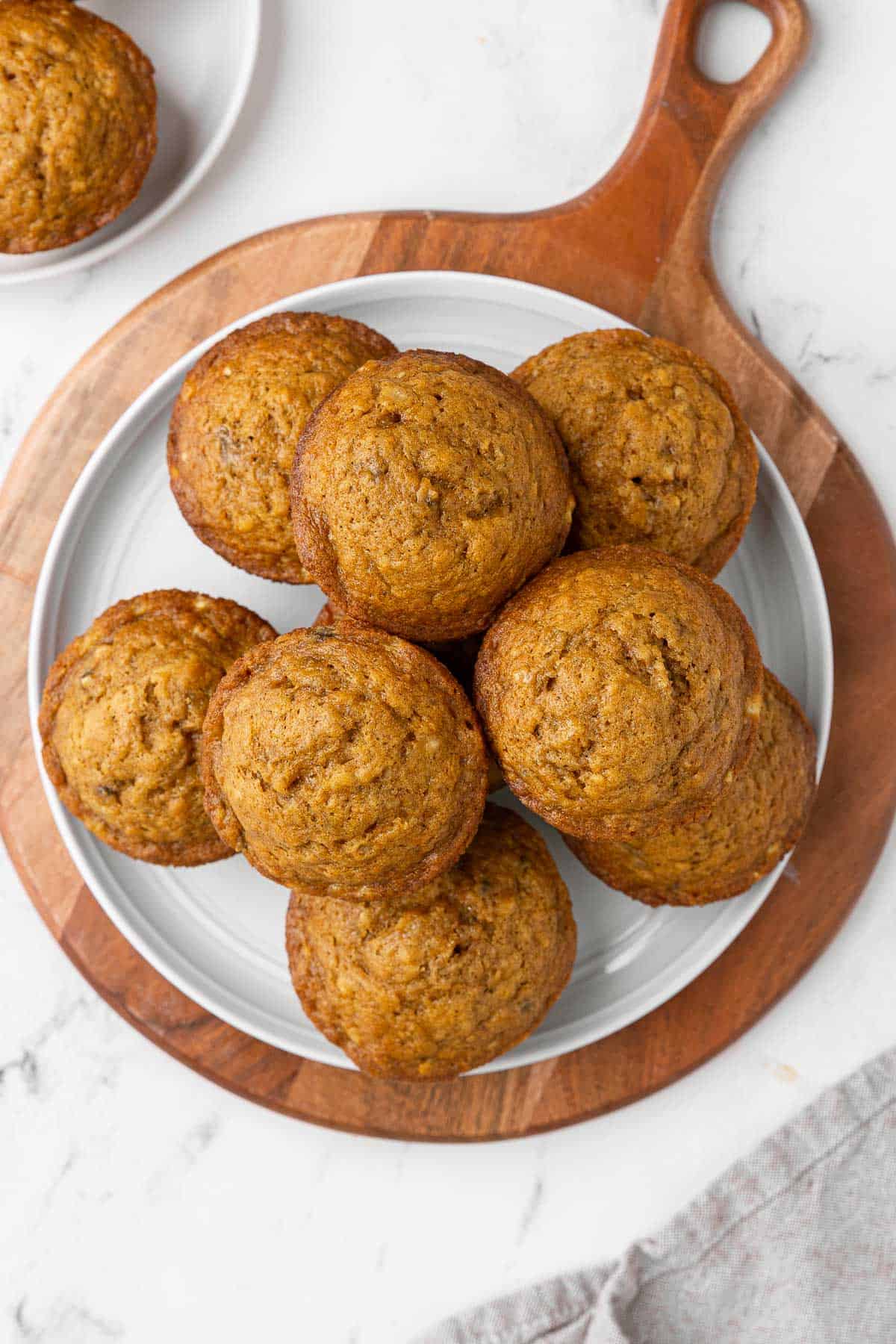 Table of Contents
Banana muffins are one of my all-time favorites, whether they're loaded with blueberries (that would be my Blueberry Banana Muffins) or topped with chewy oats (as in my Healthy Banana Nut Muffins). But when fall rolls around, it's time to switch up my muffin game with these easy Pumpkin Banana Muffins.
At first, you may wonder whether pumpkin and banana pair well together in a muffin recipe. I get it! The pumpkin has a mild, subtly sweet taste on its own, though—it's the cozy fall spices and ripe banana that give these muffins their signature flavor. Pumpkin is added to the mix for a moist batter, beautiful orange color, and lots of nutrients, including vitamins A and C.
As with most muffin recipes, you'll find that this Pumpkin Banana Muffins recipe is a cinch to make, and they're a hit with kids too. Tuck them into lunchboxes with a smear of sunflower seed butter, or keep them on hand in the freezer for a grab-and-go breakfast on busy school mornings!
Why you'll love these Pumpkin Spice Banana Muffins
Soft texture: The combination of pumpkin and mashed ripe banana gives these muffins an irresistible tender crumb.
Cozy fall flavor: This muffin recipe has all the warm flavors of fall thanks to the cinnamon, nutmeg, and ginger. If you can't resist pumpkin spice everything when it starts getting chilly outside, you're going to love these muffins.
A round-the-clock muffin: Enjoy a Pumpkin Banana Muffin for breakfast, have one as an afternoon pick-me-up, or warm one up in the microwave for a treat after dinner. Basically, any time is a good time for these muffins!
Simple to make: Minimal effort, maximum deliciousness—what more can you ask for? You'll need just a few minutes to mix together the muffin batter, then 20 minutes of baking time. This is the kind of recipe you can whip up without clearing your schedule for the day.
Ingredients to Make Pumpkin Banana Muffins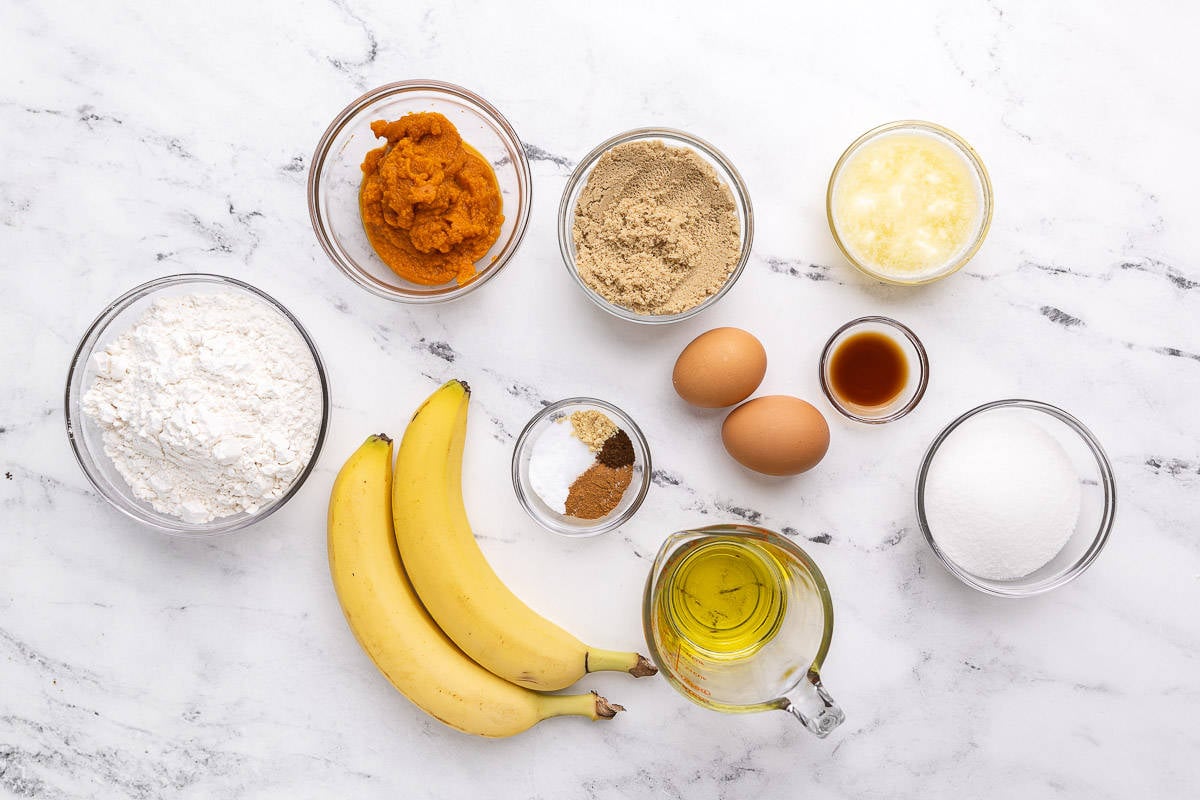 All-purpose flour: Lightly spoon this into your measuring cups rather than scooping it. If you scoop it, you'll compact the flour in the cup and end up using more than you actually need.
Baking soda: Baking soda gives these Pumpkin Banana Muffins their rise.
Spices and salt: Cinnamon, ginger, and nutmeg for a warm fall flavor, and salt to enhance the overall flavor of these muffins.
Sugar: You'll need granulated white sugar and light brown sugar.
Olive oil: You can use another type of oil, like canola or vegetable oil, but I love to bake with olive oil because I always have it on hand.
Melted butter: Using a combination of butter and oil in these muffins gives us the benefits of both—namely, richness and a moist crumb.
Eggs: Let these come to room temperature. Room temperature eggs hold more air when beaten, which means your muffins will rise a little bit higher!
Bananas: Not only do darker bananas add more sweetness, they also have a more distinct banana flavor.
Pumpkin puree: I recommend using canned pumpkin puree. Be sure to buy pure pumpkin puree, not pumpkin pie mix, which is sweetened and spiced.
Vanilla extract: Like salt, vanilla enhances the flavor of a recipe.
Popular substitutions & additions
Make gluten-free Pumpkin Banana Muffins. Substitute a measure-for-measure gluten-free all-purpose flour for the standard all-purpose flour. (I don't recommend substituting a single gluten-free flour, like almond or coconut, as the entire recipe would have to be reformulated.)
Veganize your muffins. Plant-based butter and flax eggs can be used to make these Pumpkin Banana Muffins vegan.
Add a topping. A sprinkle of coarse sugar adds a great crunch to the tops of the muffins, or you can scatter a few old-fashioned oats and sugar over the tops before baking.
Try some mix-ins. If you're not opposed to raisins, they make an excellent addition to these muffins; although it's not a must, I like to soak them in apple cider for a few hours first so they're infused with fall flavor and extra plump. Chocolate chips or chopped toasted nuts are great too.
How to make Pumpkin Banana Muffins
Once you mash the banana, the hard work is done! Which is another way of saying: this Pumpkin Banana Muffins recipe is easy to make. Here's what you'll need to do.
Make batter
Whisk together the dry ingredients in one bowl. In a second bowl, whisk together the sugars, butter, oil, and eggs until the mixture is smooth and all of the ingredients are well-incorporated. [Image 1]
Add the mashed banana, pumpkin, and vanilla extract to the bowl with the wet ingredients. Whisk to combine. [Image 2]
Pour the dry ingredients into the wet ingredients. [Image 3]
Use a spatula to fold the dry ingredients into the batter just until combined—you don't want there to be any streaks or lumps of flour in the batter, but you also want to be careful not to over-mix. [Image 4]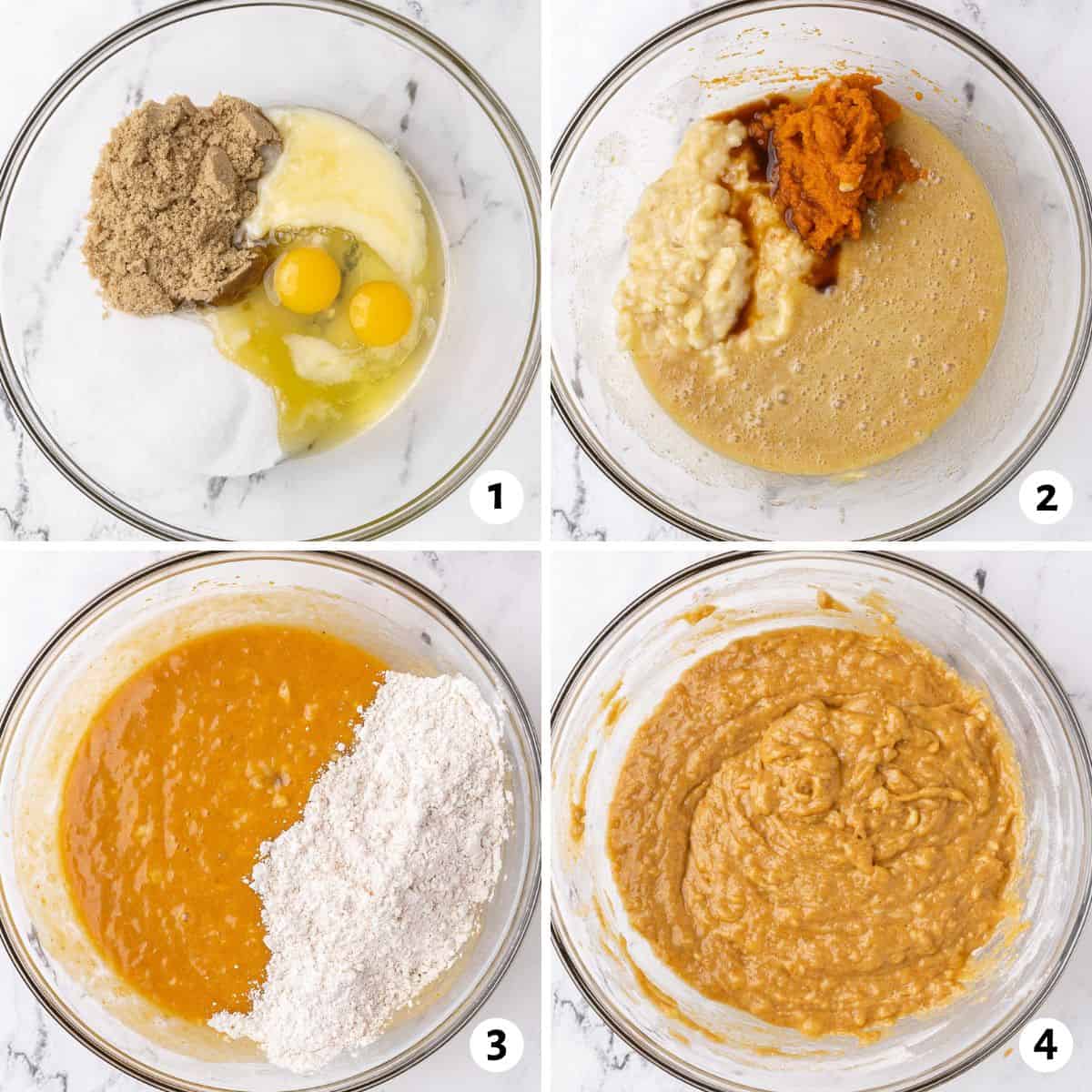 Bake muffins
Divide the finished muffin batter into the greased cavities of a muffin pan. Fill each ¾ of the way full. [Image 1]
Bake the Pumpkin Spice Banana Muffins until they're lightly browned along the edges and a toothpick inserted into the center of a muffin comes out clean. [Image 2]
Tips for making the best pumpkin banana muffins
Make sure the muffin tin cavities are well-coated. Because the muffins will rise, you want to ensure that not only the inside of the cups are coated, but also the edges where the tops of the muffins might stick.
Use ripe bananas for the best flavor. They should have a good number of dark speckles—or even be completely brown. As long as the bananas haven't started to ferment, they can be used in baking.
Mash the bananas on a flat surface. This is one of my favorite tricks for banana recipes. Mashing bananas on a flat surface, like a clean plastic cutting board, is quicker than mashing them in a bowl.
Don't over-mix the batter. Over-mixing is one of the most common mistakes people make in baking. The more you mix, the more the gluten strands in the flour activate—which means tough muffins without a lot of rise. As soon as you see that there are no more streaks of flour in the batter, stop stirring.
Let the muffins cool completely. The baking process continues even after you remove muffins, cakes, and breads from the oven. This means it's important to let them fully cool before giving them a try. I promise, the wait will be worth it!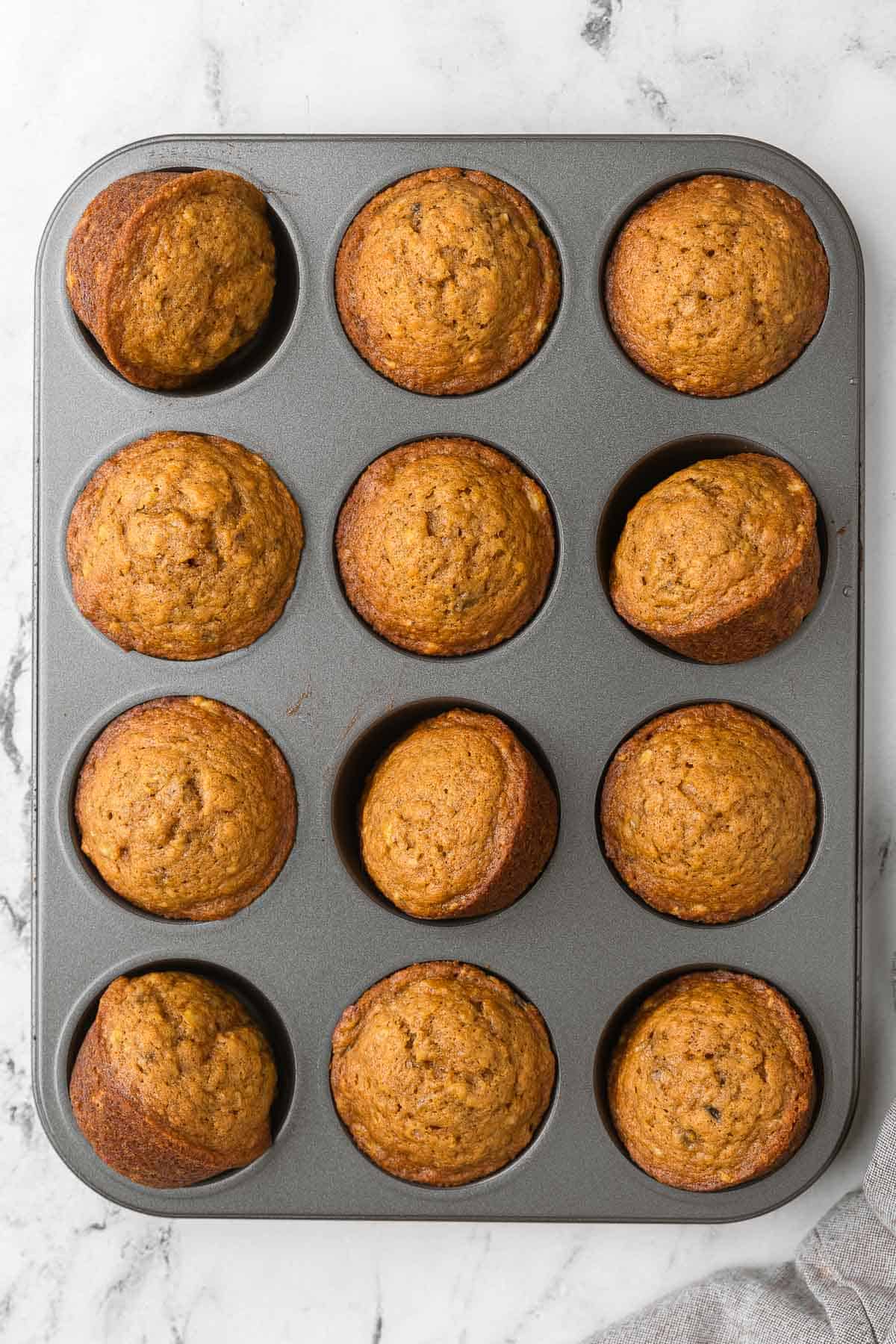 How to store pumpkin banana muffins
Store these muffins in an airtight container at room temperature for up to 3 days.
How long will pumpkin banana muffins last in the fridge?
Muffins can be stored in the refrigerator for up to a week in an airtight container. While refrigerating isn't ideal, it does extend the storage life of these muffins a few more days without freezing them.
Can i freeze pumpkin Spice banana muffins?
Yes, you can freeze these muffins. Place the cooled muffins in a freezer bag or airtight container and store in the freezer for up to 3 months. When ready to eat, let them thaw at room temperature or warm them up in the microwave for 15 seconds at a time until they're heated through.
Frequently asked questions

Can I use homemade pumpkin puree?
I don't recommend using homemade pumpkin puree; it can be quite inconsistent from one batch to the next, which means it's unpredictable in baking. If you do want to use it, place it in a colander lined with a cheesecloth and then set the colander in your kitchen sink. Let this sit for 30 minutes so some of the liquid can drain off. This will leave you with a thicker puree similar to the kind that comes in a can.

What can I substitute for pumpkin puree?
Canned butternut squash puree is the best substitute for pumpkin puree if pumpkin puree is sold out near you. In fact, you probably won't even notice the difference!

Is extra-virgin olive oil safe for baking?
While I can't speak for all recipes, it's perfectly fine to use extra-virgin olive oil in these Pumpkin Banana Muffins. They're baked at 350ºF, which is well below olive oil's smoke point of 410ºF.

Can I use non-ripe bananas for baking?
It's best to use ripe bananas, as they'll add more sweetness and banana flavor to the muffins. Your muffins will be bland if you use unripe bananas.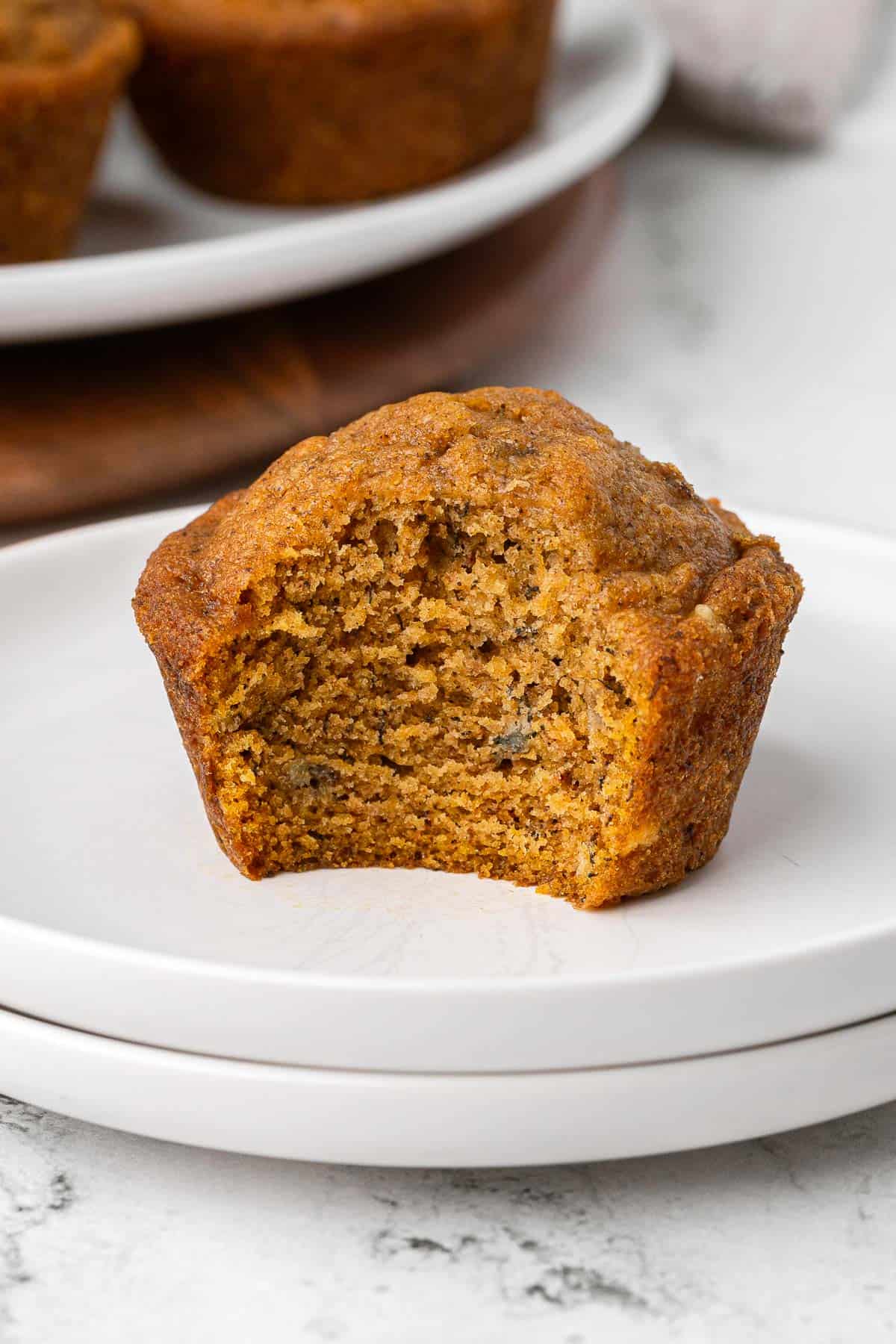 Between their cozy fall flavor and super moist texture, there's a whole lot to love about these Pumpkin Banana Muffins. With a few simple ingredients and minutes of effort, you can have a batch ready and waiting for breakfast and beyond!
More muffin recipes:
If you try this feel good Pumpkin Banana Muffins recipe or any other recipe on Feel Good Foodie, then don't forget to rate the recipe and leave a comment below! It helps others who are thinking of making the recipe. We would love to hear about your experience making it. And if you snapped some shots, share it on Instagram so we can repost on Stories!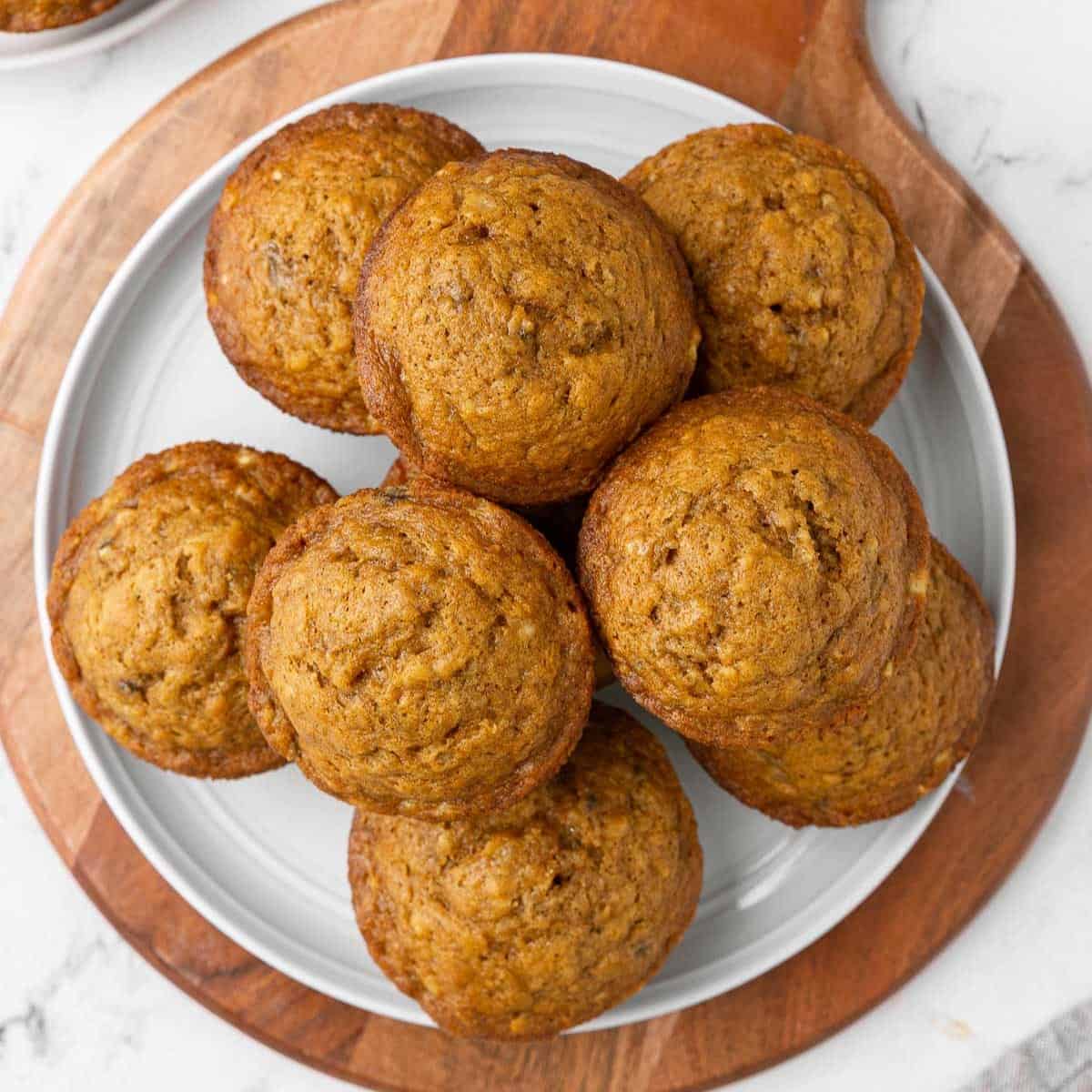 Pumpkin Banana Muffins
These Pumpkin Banana Muffins are moist and perfectly balanced with warm spices and ripe banana sweetness, making them perfect for fall.
Instructions
Preheat the oven to 350˚F and spray a 12-count muffin tin with non-stick spray.

In a medium bowl, whisk the flour, baking soda, cinnamon, ginger, nutmeg and salt together. Set aside.

In a large bowl combine sugar, brown sugar, olive oil, butter and eggs. Whisk for about 2 minutes, or until smooth and well combined. Add banana, pumpkin and vanilla and whisk until combined.

Add dry ingredients to the wet ingredients and fold together with a spatula until no streaks of flour remain. Fill each muffin cavity about ¾ full, then bake for about 18-20 minutes, or until a toothpick inserted in the center comes out clean.
Notes
Storage: Store these muffins in an airtight container at room temperature for up to 3 days. Freezing: Place the cooled muffins into a freezer bag or airtight container and store in the freezer for up to 3 months. When ready to eat, let them thaw at room temperature or warm them up in the microwave for 15 seconds at a time until they're heated through.
Nutrition
Calories:
230
kcal
,
Carbohydrates:
35
g
,
Protein:
3
g
,
Fat:
9
g
,
Saturated Fat:
3
g
,
Polyunsaturated Fat:
1
g
,
Monounsaturated Fat:
5
g
,
Trans Fat:
0.2
g
,
Cholesterol:
37
mg
,
Sodium:
232
mg
,
Potassium:
134
mg
,
Fiber:
1
g
,
Sugar:
20
g
,
Vitamin A:
1758
IU
,
Vitamin C:
2
mg
,
Calcium:
21
mg
,
Iron:
1
mg
Nutrition information provided is an estimate. It will vary based on cooking method and specific ingredients used.