This post may contain affiliate links. Please read our disclosure policy.
Looking for a simple, yet flavorful savory pumpkin dish? This Vegan Pumpkin Pasta might just be what you're after. With ingredients like rigatoni pasta, fresh sage, thyme, and pumpkin puree, it's a no-fuss recipe that doesn't skimp on taste. The addition of marinara sauce and almond milk gives the pumpkin pasta sauce a creamy texture, making it a satisfying meal for anyone wanting to enjoy the comforting flavors of fall. It's also a great way to use up any leftover pumpkin during the fall after using ½ a cup here and there.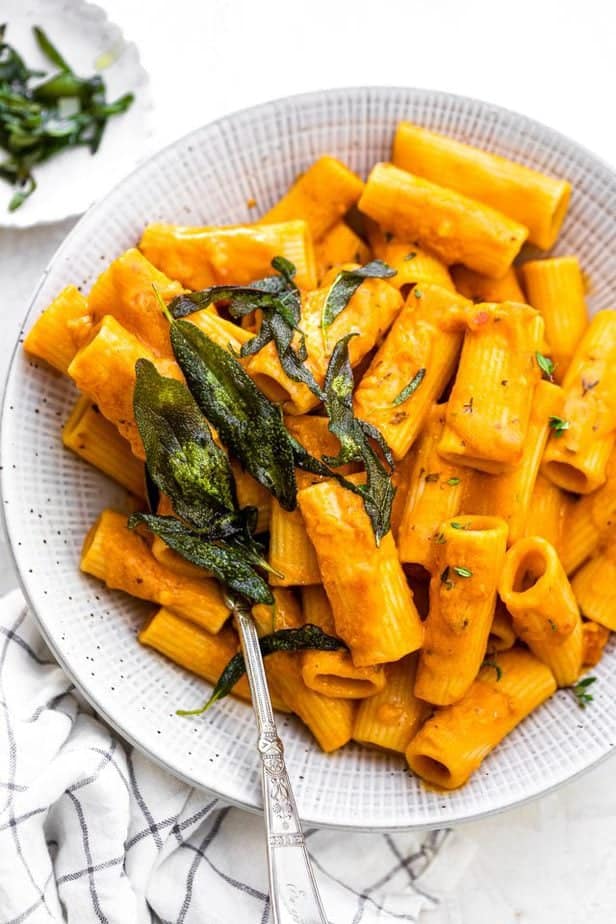 I've got to say, this vegan pumpkin pasta has been a real staple for my autumn dinners. There's something about the combination of sage and pumpkin that just feels right – it's hearty, comforting, and just the kind of meal you want to tuck into after a long day. The whole dish is surprisingly easy to put together. You will have a heaping plate of pumpkin pasta ready to be eaten in just 20 minutes! It's a simple and wholesome choice for those busy nights. So, if you're a pumpkin fan like me, this recipe is definitely worth a try.
Why you'll love this easy vegan pumpkin pasta
Subtle pumpkin flavor. While many pumpkin dishes can be overwhelmingly sweet or intense, this pasta finds a balance. Perfect for those trying a savory pumpkin dish for the first time.
Looks gorgeous. It's not just about the taste! The warm, orange hue of the pumpkin sauce, contrasted with the greens from sage and thyme, makes for an eye-catching meal.
Plant-based. This vegan pumpkin pasta gets its creamy goodness from almond milk and pumpkin puree, so it's a meal you can feel good about. It's perfect if you're vegan, lactose intolerant, or just looking to add more plant-based meals to your week!
Nutrient-dense. Pumpkin is a great source of fiber, vitamin A, and antioxidants. Plus, with garlic, thyme, and sage in the mix, you're also getting a dose of nutrients that promote good health.
Ingredients to make Pumpkin Pasta
Pasta: Rigatoni is the choice here, but feel free to use penne, fusilli, or even spaghetti. Just make sure to follow the package instructions for that perfect al dente bite.
Extra Virgin Olive Oil: The base for the sauté. You could also use avocado oil or regular olive oil if that's what you've got.
Sage and thyme: They give this dish its distinct aroma and taste. If you don't have fresh herbs on hand, dried ones work too. Just use them sparingly since they're more potent.
Garlic: Fresh is best, but in a pinch, garlic powder or minced garlic from a jar will do.
Pumpkin Puree: Grab a can or make your own. Just ensure it's pure pumpkin without added sugars or spices.
Marinara Sauce: This adds some tang and richness. If you're out, crushed tomatoes with a pinch of salt and Italian herbs can work.
Almond Milk: Go for unsweetened almond milk here. It's creamy and keeps things dairy-free.
Salt and pepper: Basic, but really important!
RECIPE VIDEO TUTORIAL
How to Make Pumpkin Pasta
Heat the olive oil and fry the sage in it. You'll use the sage to serve with the pumpkin pasta. But, it's also a great way to flavor the oil. When it's dark and crispy, remove as much of it as you can and set aside.
In that same pan, add the garlic and thyme and cook until the garlic is fragrant. Then add the pumpkin puree and marinara sauce. Bring the mixture to a boil, then lower the heat to low.
Slowly add the milk to the skillet, whisking as you pour.
Continue whisking until the milk is fully incorporated into the pumpkin sauce.
Add the cooked drained pasta on top of the sauce.
Toss it all together until the pasta is fully covered with the sauce.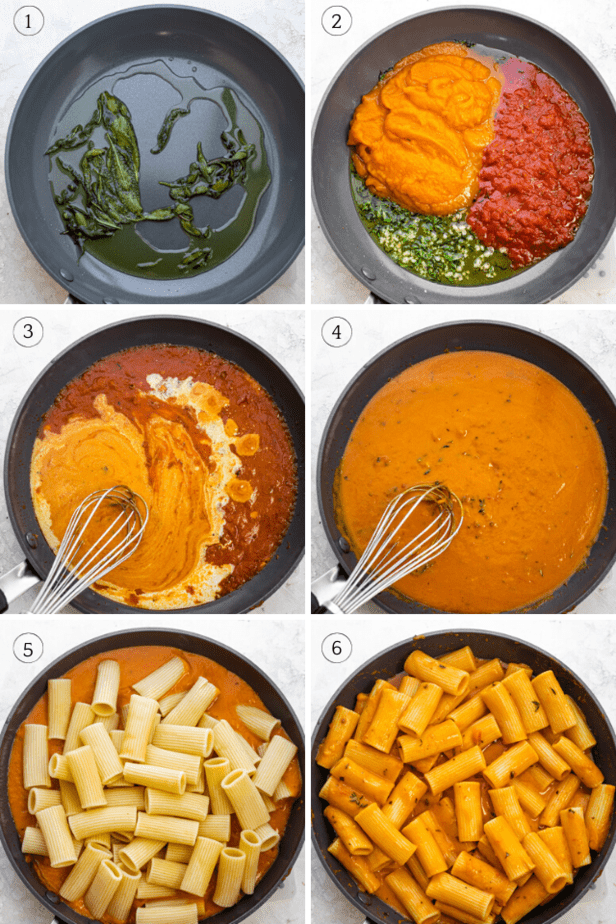 When it's all done, serve it with the crispy sage. If you think that part is optional, I guess it kinda is. But I think it totally makes the recipe so unique. It adds a crunchy savory taste that pairs so well with the creamy tender pasta. Plus it's a great way to use up leftover sage you might have during the holidays.
Tips for Making THE BEST vegan pumpkin sage pasta
Salt the pasta water. Salt penetrates the pasta while boiling, allowing it to get properly flavored. It's much harder to flavor pasta after it's been cooked, and you will most likely end up using way more salt than needed. Plus, we're going to be using this salted pasta water in the lemon ricotta pasta sauce!
Cook the pasta al dente. I highly recommend cooking the pasta al dente, so it has a nice bite to it even after it's been tossed in the warm pumpkin sauce. You don't want it to become soggy after you toss it in the sauce for a couple minutes.
Use gluten-free pasta instead. This sauce works well with any pasta of choice, so feel free to switch it around. You can also use zucchini noodles or butternut squash noodles if you want to make it low-carb.
Use pumpkin puree not pumpkin pie filling. The cans sit right next to each other on shelves, so it's easy to mistake them for each other. But you want to make sure the only ingredient is pumpkin puree so the pumpkin pasta isn't sweet.
Popular substitutions & additions
Protein Boost: For an extra protein punch, throw in some cooked chickpeas or tofu cubes. They blend in nicely and make the dish even more filling.
Change the Spices: While sage and thyme are classics with pumpkin dishes, why not try a sprinkle of nutmeg or a dash of smoked paprika? They can give a whole new dimension to the pasta.
Gluten-Free Pasta: For those watching their gluten intake, grab a 1:1 gluten-free pasta substitute. There are plenty of options in stores now, from rice to chickpea-based varieties.
Different Milks: Not a fan of almond? Oat milk, soy milk, or even coconut milk can be fantastic alternatives. Each brings its own unique flavor and texture to your vegan pumpkin sage pasta.
How to store & reheat Pumpkin Pasta
Storing this pasta is super easy! Just scoop any leftovers into an airtight container and place it in the fridge.
When you're ready for round two, the microwave is your quickest bet. Spoon out the portion you want into a microwave-safe bowl, and microwave it for a couple of minutes, stirring halfway through. If you prefer the stovetop, just heat it in a pan over medium heat, adding a splash of water or almond milk to keep the creaminess.
How long will Pumpkin Pasta last in the fridge?
This vegan pumpkin pasta should stay tasty in the fridge for about 3-4 days. After that, it might start losing some of that fresh flavor, so it's best to enjoy it before then.
Can i freeze pumpkin pasta?
This pasta can be frozen! Just make sure it's cooled down fully before transferring to a freezer-safe container or bag. It should keep well for up to a month. When you're ready to enjoy it again, let it thaw in the fridge overnight before reheating.
frequently asked questions
Can I make this Vegan Pumpkin Pasta spicy?
Absolutely! If you like a bit of heat in your dishes, try adding a pinch of red pepper flakes or a small diced chili pepper when sautéing the garlic.
Can I use butternut squash instead of pumpkin?
Yes, butternut squash has a similar texture and sweet taste like pumpkin. Just roast, blend it into a puree, and use it in the recipe as you would with pumpkin.
Can I turn this into a Pumpkin Pasta Bake?
Sure! Once you've mixed the pasta and sauce, transfer it to a baking dish, sprinkle with some vegan cheese, and bake until bubbly and golden.

Pumpkin Pasta is made with a healthy pasta sauce is dairy-free and loaded with nutrients and vitamins from the pureed pumpkin and tomato-based sauce. There is a subtle pumpkin flavor, but even the pickiest eaters will hardly notice it! And if you like this, be sure to check out my no-stir pumpkin risotto!
Fore more vegan pasta recipes, check out:
If you make this healthy-ish feelgood Pumpkin Pasta recipe, please be sure to leave a comment and/or give this recipe a rating! I would love to hear about your experience making it. And if you snapped some shots of it, share it with me on Instagram so I can repost on my stories!
This Pumpkin Pasta recipe was originally published on October 17, 2017. I'm re-sharing it today with more step-by-step photos.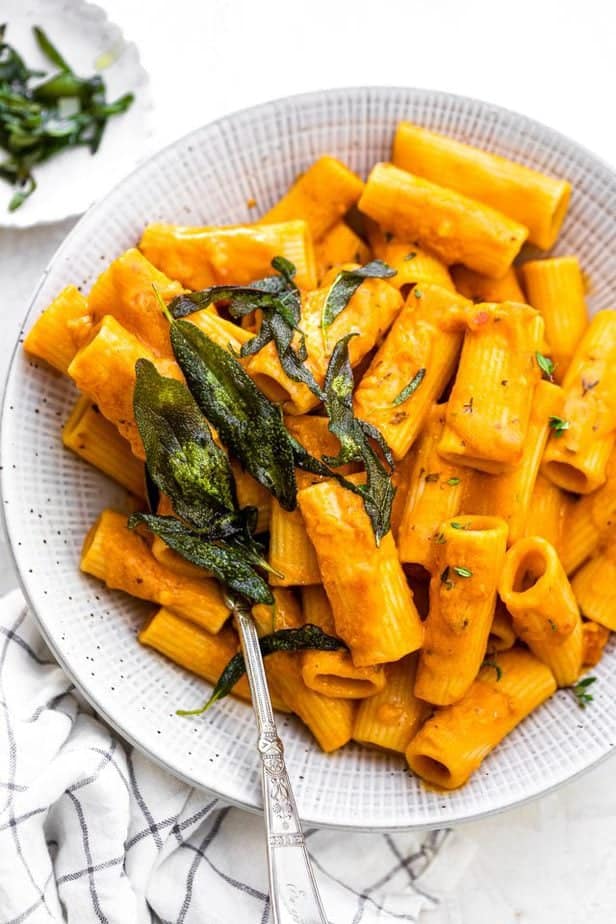 Pumpkin Pasta with Crispy Sage
This vegan Pumpkin Pasta is a savory fall-inspired recipe made with a dairy-free sauce that is full of nutrients and vitamins with a subtle pumpkin taste.
Ingredients
12

ounces

Rigatoni pasta

or other variety

2

tablespoons

extra virgin oil

5-10

fresh sage leaves

sliced

2

garlic cloves

minced

1

tablespoon

fresh thyme

1

cup

pumpkin puree

1/2

cup

marinara sauce

1/2

cup

unsweetened almond milk
Instructions
Bring a large pot of salted boiling water to a boil. Add the pasta and cook, uncovered al dente according to package instructions. Drain and set aside with a little pasta water to keep it from sticking.

In a large skillet, heat the olive oil at medium heat. Add the sage and stir frequently until the sage gets dark and crispy. Remove the sage and set aside in a small bowl.


Add the garlic and thyme to the oil leftover in the skillet and cook until the garlic gets lightly toasted and fragrant, about 1 minute. Add the pumpkin puree and the marinara and stir to combine with the garlic and herbs. Season with salt and pepper. Bring to a boil.

Add the unsweetened almond milk to the skillet and simmer the sauce for about 5-7 minutes until it thickens. Stir in the pasta and toss to coat with the sauce

Serve with the reserved crispy sage, if desired.
Equipment
Notes
Storage: Store any leftovers in an airtight container. They will last about 3-4 days in the fridge. When ready to enjoy, just add a splash of milk to keep the sauce from drying out.
Make Ahead: You can make the sauce up to 3-4 days ahead of time and freeze it for up to 3 months. Then just heat through a large pan, and toss with pasta.
Substitutes: For best results, follow the recipe as is. However here are some common substitutes that would work well in this recipe:
To make it gluten-free, you can use any gluten-free pasta of your choice.
To make the sauce more creamy, you can use heavy cream or more milk.
Feel free to substitute the fresh garlic for garlic powder, and the fresh thyme for dried thyme (1 teaspoon)
Nutrition
Serving:
1
g
,
Calories:
276
kcal
,
Carbohydrates:
47
g
,
Protein:
8
g
,
Fat:
6
g
,
Saturated Fat:
1
g
,
Sodium:
140
mg
,
Potassium:
285
mg
,
Fiber:
4
g
,
Sugar:
4
g
,
Vitamin A:
6499
IU
,
Vitamin C:
5
mg
,
Calcium:
57
mg
,
Iron:
2
mg
Nutrition information provided is an estimate. It will vary based on cooking method and specific ingredients used.