This post may contain affiliate links. Please read our disclosure policy.
Try these tuna cakes the next time you're craving something savory, protein-rich, and satisfying. These potato tuna cakes are made with a few basic pantry staples, so it's easy to whip up quickly in one bowl and can then either be shallow-fried or oven-baked.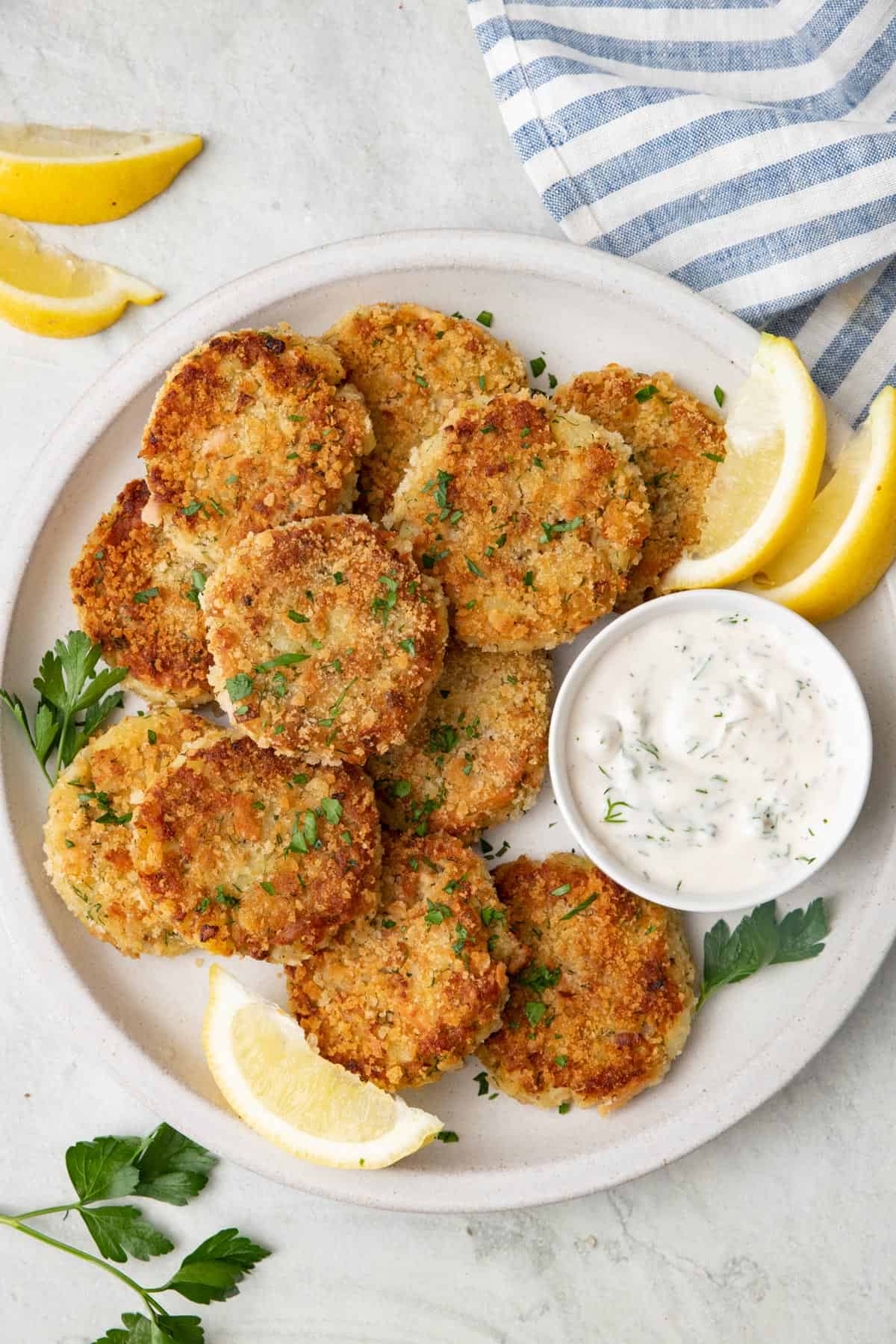 Table of Contents
This tuna cake recipe checks all those boxes and then some. The inside is soft and pillowy, made with wholesome Yukon gold potatoes, shallots, dill, and tuna that are then paired with the crispy crunch from the panko breadcrumbs, making it satisfying in flavor and texture. Paired with a squeeze of fresh lemon and creamy tzatziki on the side – you can't go wrong! Whether you're cooking tuna patties for one or feeding a crowd, these are a must-try!
Why you'll love these Potato Tuna Cakes
Quick and Easy to Make: You're essentially a hop, skip, and jump away from a delicious meal. From start to finish, you can have these cakes ready in under 30 minutes. It's straightforward with no fancy techniques needed, making it perfect for a quick weeknight dinner or a hassle-free lunch.
Budget-Friendly: Utilizing canned tuna and a few basic ingredients, this tuna recipe won't break the bank. It's a fantastic way to create a gourmet-like meal without the hefty price tag.
Adaptable: Feel like switching things up? This tuna patty recipe gives you the flexibility to add in your favorite herbs or swap shallots for onions. You could even try different dipping sauces to find the combo that suits you best.
Kid-Friendly: If you've got little ones at home, this is a great way to introduce them to tuna. The cakes are fun, and handheld, and the familiar taste of potatoes paired with the crispy outer layer might just win them over.
Ingredients to make Tuna patties
Tuna: The star of the recipe is the canned tuna. Use wild albacore tuna for the best taste and consistency. If you'd like, you can use tuna packed in olive oil for an extra richness in flavor.
Potato: The potato helps the tuna bind together and creates a substance for the tuna cakes. Any potato works, and you can even use leftover mashed potatoes. You'll need 1 packed cup in that case.
Shallots: These add flavor to the tuna cakes, and it's really easy to mince shallots. Feel free to use red onions or green onions instead.
Egg: The egg helps with binding all the ingredients together so you're not left with tuna cake pieces in your frying pan.
Panko breadcrumbs: For the crispy texture that's common in tuna cakes, panko breadcrumbs work best. You can use regular breadcrumbs if that's all you have.
Seasoning: Some salt, pepper, and fresh dill work well in this recipe. Feel free to add other seasonings like garlic powder or oregano and different herbs like chives or cilantro.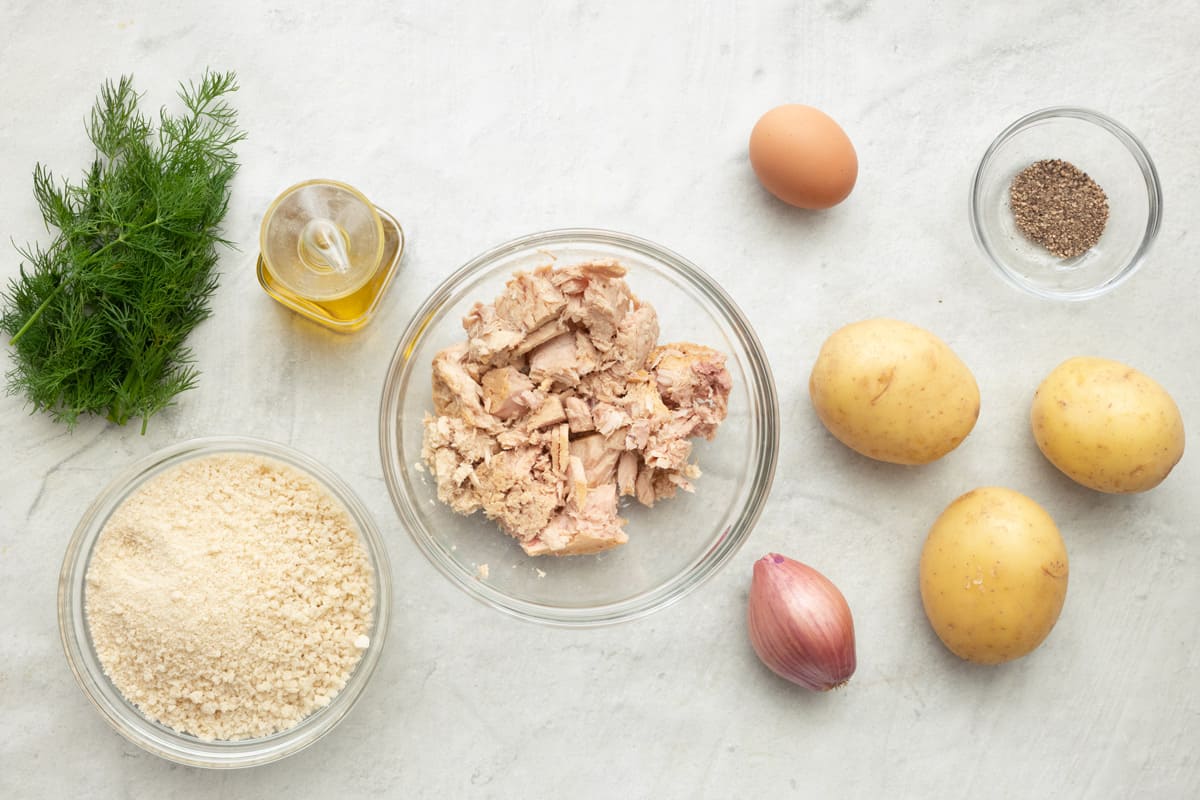 How to make tuna cakes with potatoes
Start by boiling some potatoes. You can peel off the skin or leave them on for more texture and fiber.
Mash the boiled potatoes in a large bowl.
Add the tuna, breadcrumbs, seasoning, shallots and dill on top.
Use a fork to combine well until the mixture comes together.
Shallow fry the tuna cakes on a heated pan with some olive oil.
You'll know they're done when the mixture holds well together and the panko breadcrumbs are golden and crispy.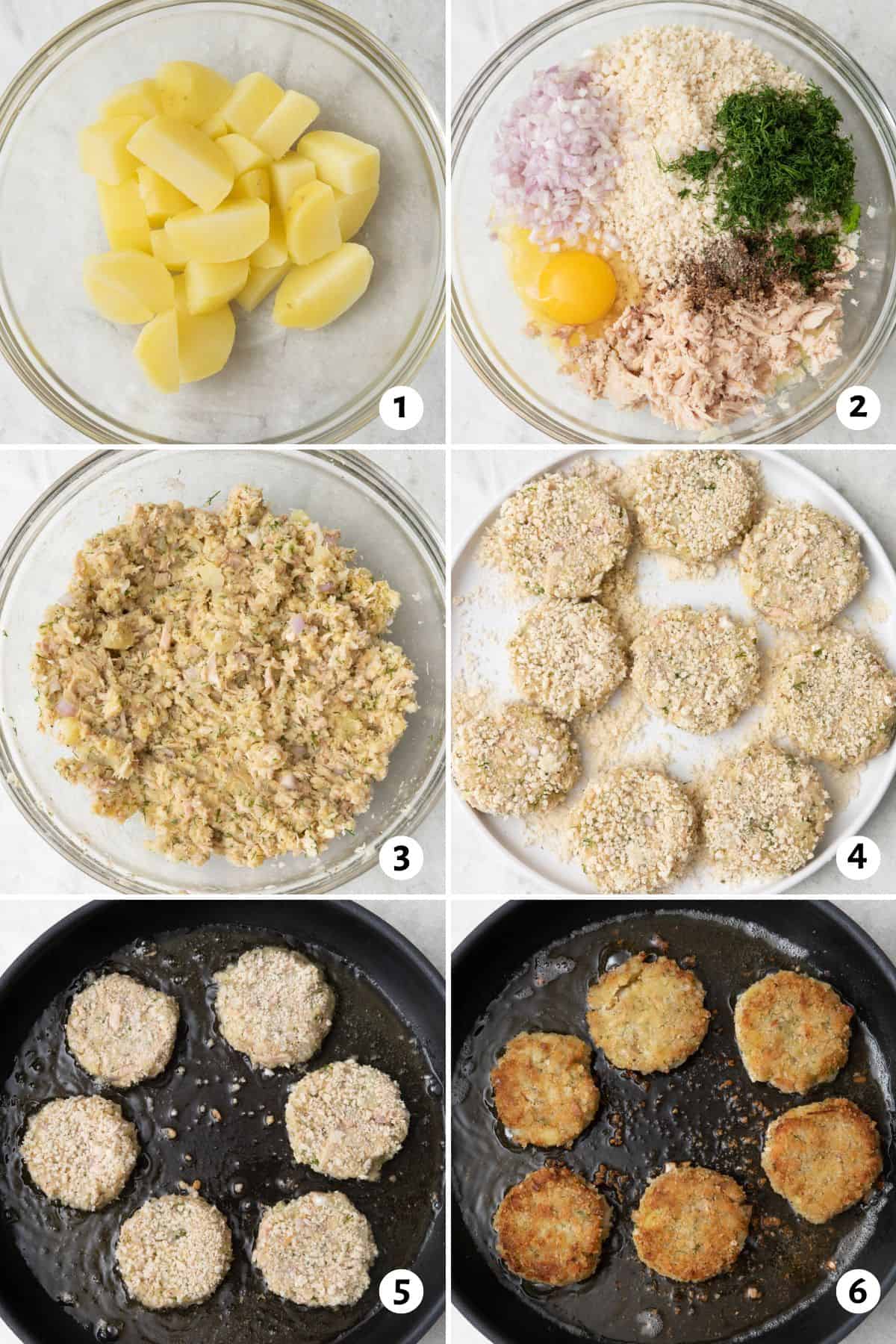 Tips for making the best tuna cakes
Drain your tuna. This is especially important if using tuna packed in water. It will
help everything bind together while keeping the flaky texture of the tuna intact.
Resist the urge to flip too soon. Ideally, you only want to flip your tuna cakes once. The less you move them around the less likely they are to fall apart so try and wait until the 4-5 minute mark to flip.
Wipe the pan between batches. Since this recipe makes about 12 tuna potato cakes, you'll need to cook them in two batches. If there's leftover panko in the pan though, it can make the second batch look darker in color.
Make it faster by skipping the panko coating on the outside. Instead, you can just toss it all together at once. I like the panko on the outside, though, for a crisp factor.
Popular substitutions & additions
Substitute the breadcrumbs to make these cakes gluten-free. Ground oats or almond flour would be delicious and still bind well with the ingredients.
Use whatever herbs you have on hand. The combination of dill and potato is a
classic, but feel free to use parsley, oregano, or even rosemary. Dried herbs are
okay, too!
Different Potatoes: If you don't have Yukon gold potatoes on hand, you can use russet or red potatoes instead. Adjust the boiling time accordingly to ensure they are tender enough to mash.
Vegetables: Enhance the nutrition and color by adding finely julienned vegetables such as bell peppers, zucchini, or carrots into the mixture.
Different Dipping Sauces: While the recipe recommends tzatziki sauce, you can try it with other sauces like tartar, cocktail sauce, or a simple mix of mayo and lemon juice for a fresh and tangy touch.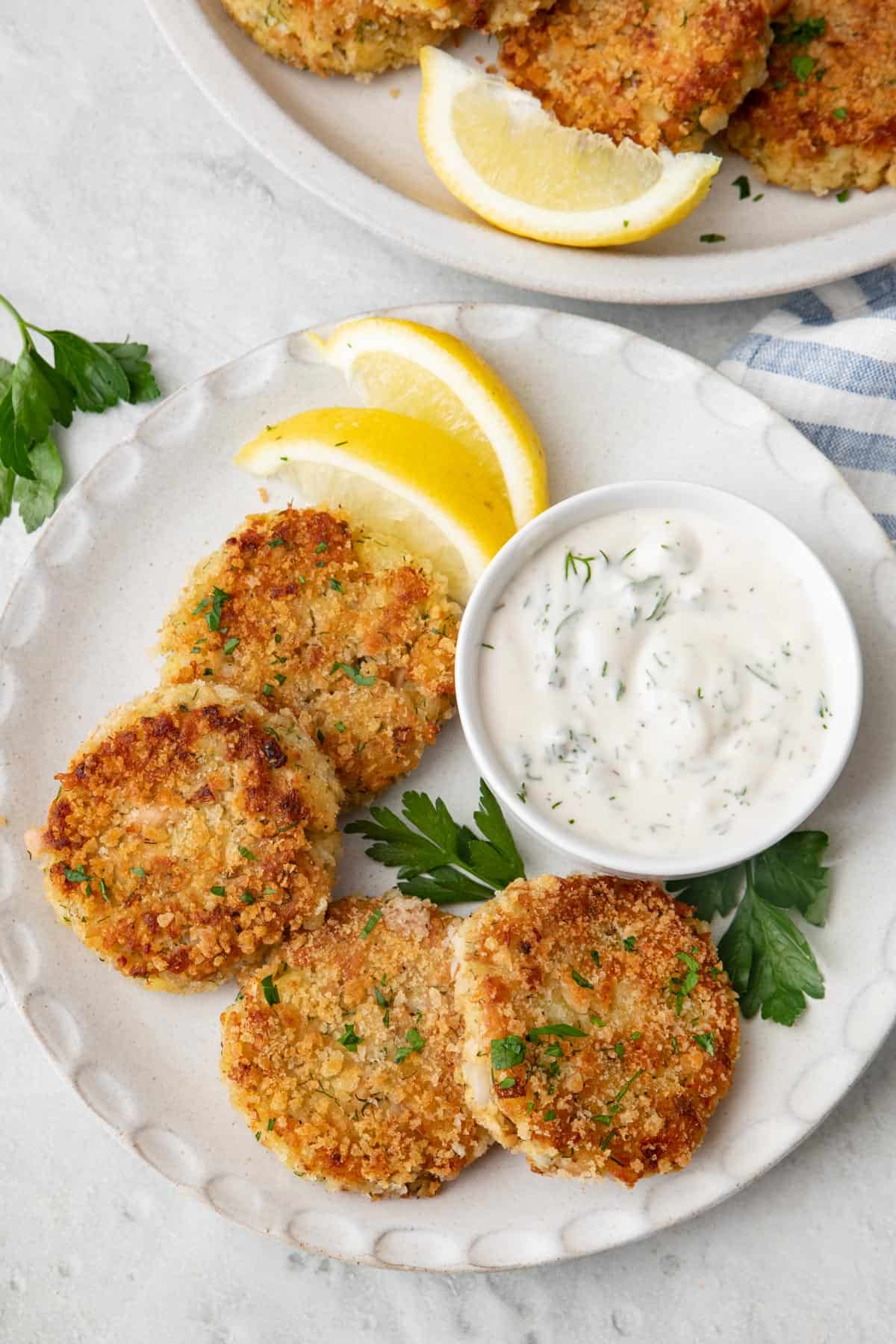 What to serve with tuna patties
How to Store & Reheat Tuna Cakes
Storing: Allow the tuna cakes to cool down to room temperature before storing. Place them in an airtight container, separating layers with parchment paper to prevent them from sticking together. They should be stored in the refrigerator.
Reheating: When you're ready to enjoy the cakes again, you have a couple of options. For reheating in the oven, preheat it to 375°F. Place the tuna cakes on a baking sheet and warm them for about 15-20 minutes if refrigerated, or 30-35 minutes if frozen, until they are heated through and regain their crispiness. For a quicker option, you can use a microwave, but keep in mind that they might not be as crispy. Microwave them on a microwave-safe plate, covered with a paper towel, for 1-2 minutes until heated through.
How Long Will Tuna Cakes Last in the Fridge?
Tuna cakes can safely be stored in the refrigerator for up to 3-4 days. Be sure to store them properly in an airtight container to maintain their freshness and prevent them from absorbing unwanted flavors from the fridge. Whenever you're ready to enjoy them again, just follow the above reheating instructions for a meal that's almost as good as fresh.
Can i freeze potato tuna cakes?
Yes, you can freeze the tuna cakes either before or after cooking. Separate the cakes with parchment and place in a freezer safe container. They will keep for up to 3 months.
If you are freezing uncooked patties, thaw them in the fridge overnight before cooking as per the recipe. If freezing cooked cakes you can cook them right from frozen in the oven at 400F for around 10 minutes.
Frequently asked questions
Can I use canned salmon instead of tuna?
Yes, you can easily substitute canned salmon for the tuna in this recipe. Just ensure to drain the salmon well before using it to maintain the right texture for your cakes.
Why did my tuna cakes fall apart while cooking?
If your tuna cakes are falling apart while cooking, it might be because the mixture is too wet. Ensure that you drain the tuna and potatoes well before mixing. Additionally, you can add a bit more breadcrumbs to help bind the mixture better if you feel like it's too wet or add an additional egg.
Can I make the tuna cakes ahead of time?
Absolutely, you can prepare the tuna cakes ahead of time and store them uncooked in the refrigerator for up to a day. When you're ready to cook, just take them out of the fridge, let them come to room temperature for about 15 minutes, and then proceed with the cooking instructions in the recipe.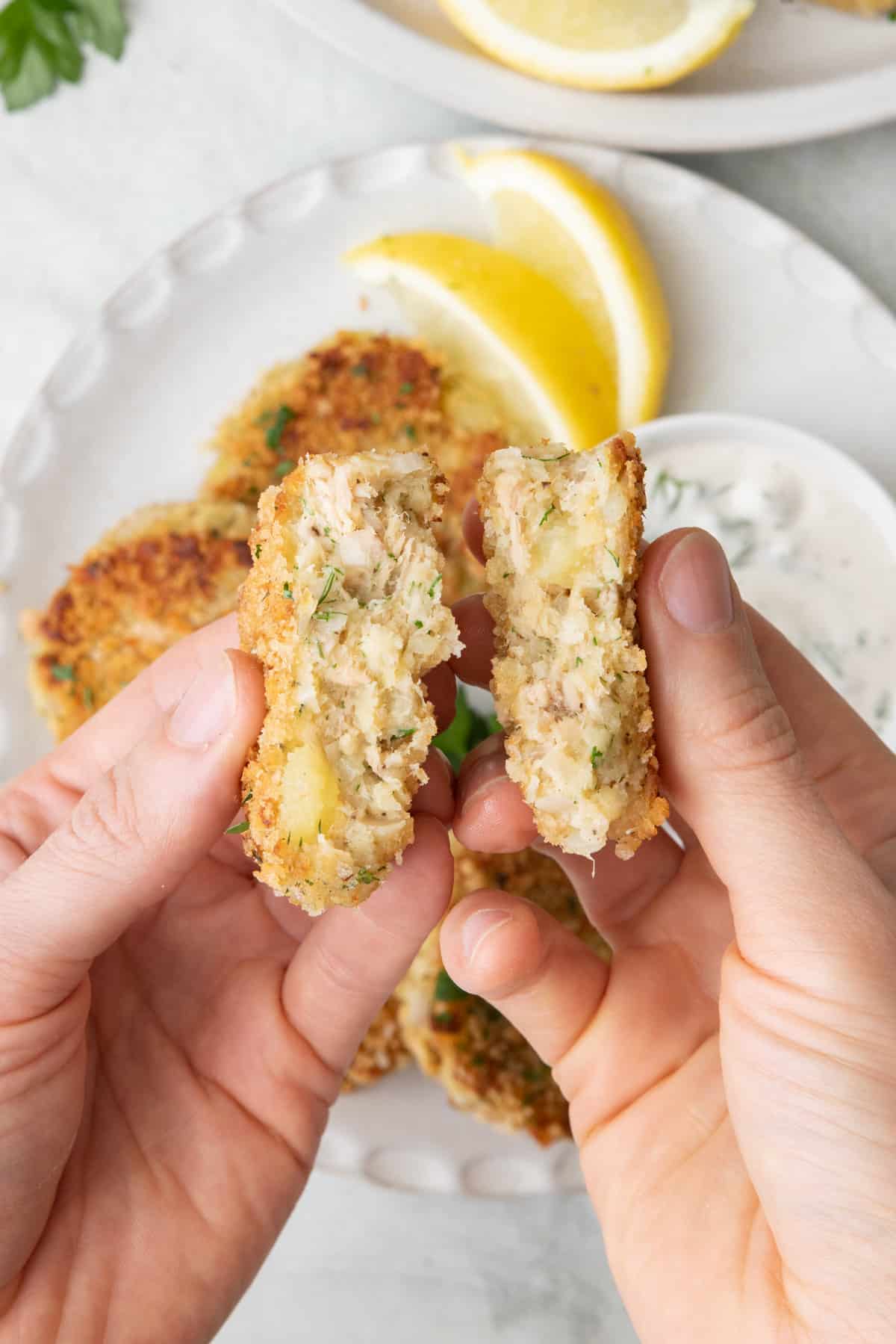 Perfectly crisp and delicious, these tuna cakes are a fun way to switch up your dinners using basic pantry staples. Enjoy them for lunch, dinner or as an appetizer.
More appetizer recipes:
If you try this feel good Potato Tuna Cakes recipe or any other recipe on Feel Good Foodie, then don't forget to rate the recipe and leave a comment below! It helps others who are thinking of making the recipe. We would love to hear about your experience making it. And if you snapped some shots, share it on Instagram so we can repost on Stories!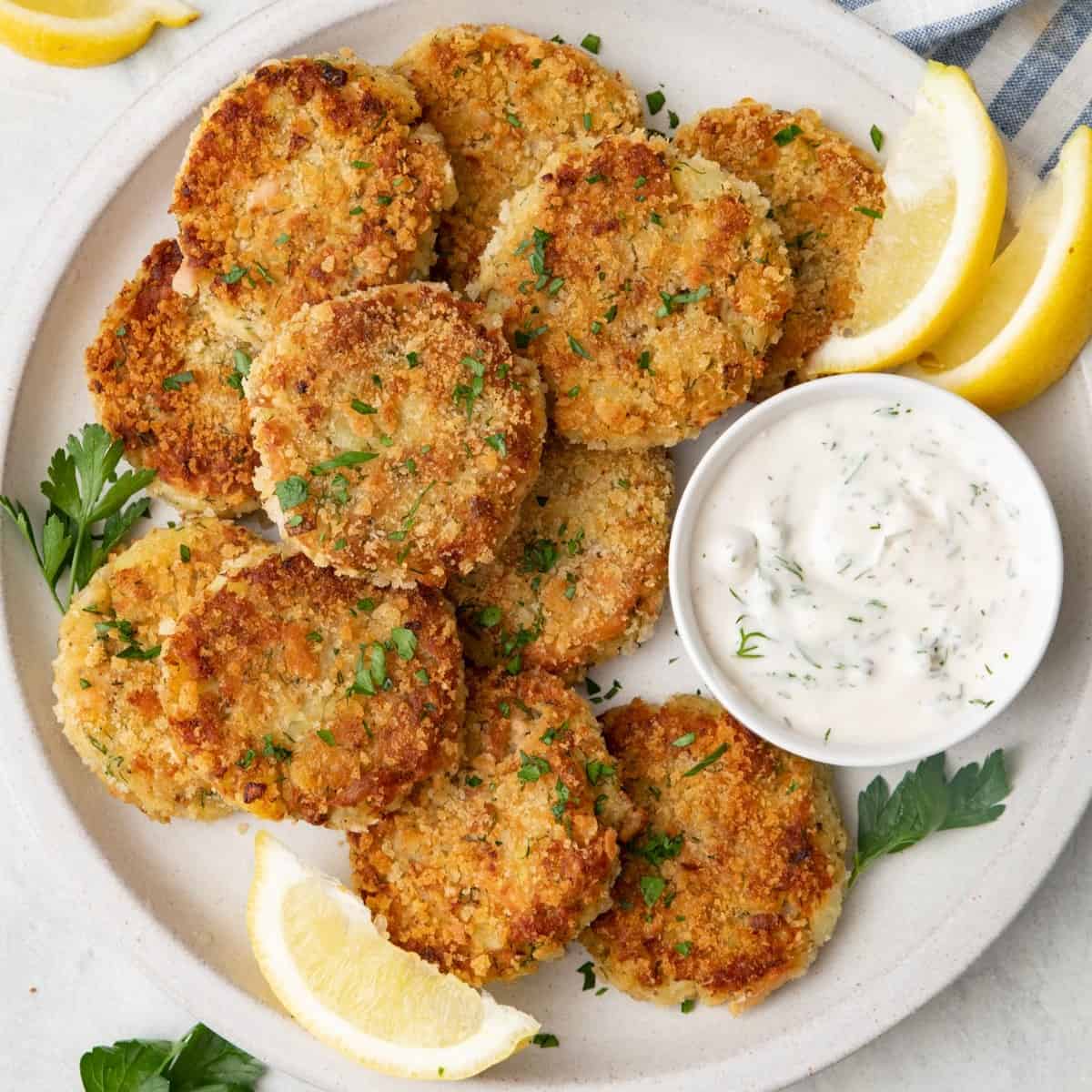 Potato Tuna Cakes
Hearty and delicious, these savory potato tuna cakes are easy to put together with pantry staples. Enjoy as an appetizer or on top of a salad
Ingredients
½

pound

Yukon gold potatoes

peeled and cut into 1-inch cubes

salt

to taste

2 5-

ounce cans

tuna

packed in water, drained

1 ½

cups

panko breadcrumbs

divided

1

egg

1

small shallot

finely chopped

2

tablespoons

finely chopped dill

plus more for garnish

½

teaspoon

black pepper

4

tablespoons

avocado oil

divided

Lemon wedges

for serving

Tzatziki sauce

for dipping
Instructions
In a medium pot, cover potatoes with 3 inches of heavily salted, cold water. Bring to a boil and cook until knife tender, 10-12 minutes. Drain.

Add potatoes to a large bowl. Mash with a fork or masher. Add tuna, 1 cup of the breadcrumbs, egg, shallot, dill and black pepper, and mix until combined. Scoop ¼ cup of tuna mixture and shape into ¾-inch thick discs.

Toss the tuna cakes in the remaining breadcrumbs.

Line a baking sheet with paper towels. Heat 2 tablespoons oil in a large skillet over medium high heat. Add 6 tuna cakes and cook until golden brown, 4-5 minutes per side. Transfer to prepared baking sheet. Repeat with the remaining oil and tuna cakes. Top with dill and serve with lemon wedges and tzatziki sauce, if desired.
Notes
Storage: These are best served immediately, but you can store leftovers in the fridge in an airtight container for up to 3 days.
Freezing Instructions: You can also freeze the individual tuna cakes before or after cooking. Thaw overnight in the fridge before cooking or reheat from frozen if already cooked in the oven at 400°F for 7-10 minutes. They will not be as crisp this way.
Substitutes: For best results, follow the recipe as is. However here are some common substitutes that would work well in this recipe.
Instead of canned tuna, you can make these with canned salmon.
Instead of panko breadcrumbs, you can use rolled oats or almond flour.
Nutrition
Calories:
245
kcal
,
Carbohydrates:
21
g
,
Protein:
13
g
,
Fat:
12
g
,
Saturated Fat:
2
g
,
Polyunsaturated Fat:
2
g
,
Monounsaturated Fat:
7
g
,
Trans Fat:
0.01
g
,
Cholesterol:
46
mg
,
Sodium:
268
mg
,
Potassium:
324
mg
,
Fiber:
2
g
,
Sugar:
2
g
,
Vitamin A:
110
IU
,
Vitamin C:
17
mg
,
Calcium:
63
mg
,
Iron:
2
mg
Nutrition information provided is an estimate. It will vary based on cooking method and specific ingredients used.