This post may contain affiliate links. Please read our disclosure policy.
This Chickpea 'Tuna' Salad is a great alternative to the traditional, where the tuna is replaced with mashed chickpeas for a vegetarian recipe that is rich in protein, full of fiber, and easy to make. Just 10 minutes for a quick, easy lunch full of crunchy fresh vegetables that are so great when you're looking for a healthy option or change. Serve just like tuna or chicken salad on bib lettuce, sliced bread, or in a wrap.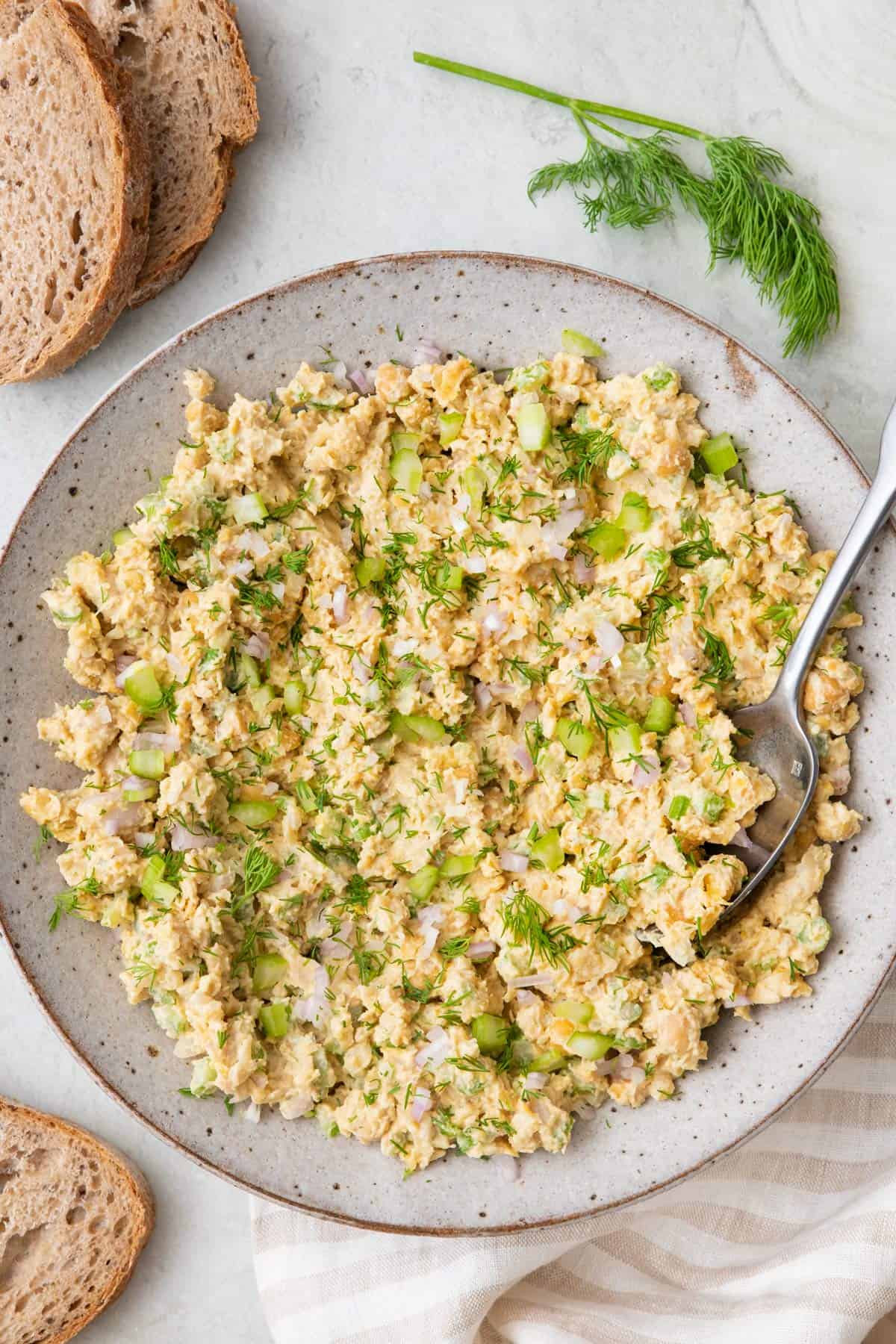 If you loved my turkey salad or chicken salad recipes, this change-up using chickpeas is a surprising replacement with its heartiness and big flavor. The chickpeas have amazing texture and flavor, and the Greek yogurt adds a creamy consistency and delicious tang. It is made even more creamy with a few tablespoons of aquafaba, the liquid from the chickpeas. Combine these with crunchy onions, crisp celery, and refreshing dill, you'll find this is equivalent to my other cold salad recipes in texture and taste.
Table of Contents
Why you'll love this Vegetarian Tuna Salad
It's a delicious alternative. This chickpea salad has all the same tasty ingredients as my tuna salad. We love a good tuna salad recipe, and this chickpea version holds up to the creamy dressing and sharp, crunchy onions and crisp celery for a delicious bite.
Healthy, good-for-you ingredients. It's high in protein and fiber to keep you full and energized throughout the day.
Really great texture that mimics tuna. When you mash the chickpeas into a chunky consistency and mix them with similar ingredients, it resembles tuna salad's texture.
So good for lunch. There are so many possibilities to serve this creamy vegetarian chickpea salad. Serve it on artisan bread, leafy lettuce, in a wrap, on top of a salad, or with chips or pita for dipping. Plus, it only takes 10 minutes to make!
Ingredients to make Chickpea 'Tuna' Salad
Chickpeas: I like to use low-sodium canned chickpeas so we can incorporate some of the liquid (aquafaba) into the salad and not add much more salt to the recipe. If you have the time, cook the chickpeas from dry, and reserve some soaking liquid before draining.
Yogurt: I use Greek yogurt instead of mayo for a more nourishing alternative with a fantastic tangy flavor. It's super creamy and packs some really great health benefits with probiotics and protein.
Onions & celery: The best part of cold salads is the crunchiness from the vegetables against the creamy base and soft chickpea mash. Shallots are my favorite with a neutral onion taste, but any onion will work depending on what you may have on hand.
Tahini: This sesame seed butter combined with the yogurt act as an emulsifier and substitute for mayo. It has a deep earthy flavor that enhances the dressing and is so flavorful when combined with lemon and mustard. Plus I always love adding a little Mediterranean twist to my recipes when possible!
Flavoring: The zest and juice of lemon, Dijon mustard, salt, pepper, and fresh dill enrich the flavor of this chickpea salad. You can swap the citrus for lime, use any herb you like, and even switch up the mustards for a slightly different flavor.
For serving: You can serve this on pita bread, flatbread, or dinner rolls, or keep it light and serve it in a lettuce wrap or over a fresh spring mix as a salad.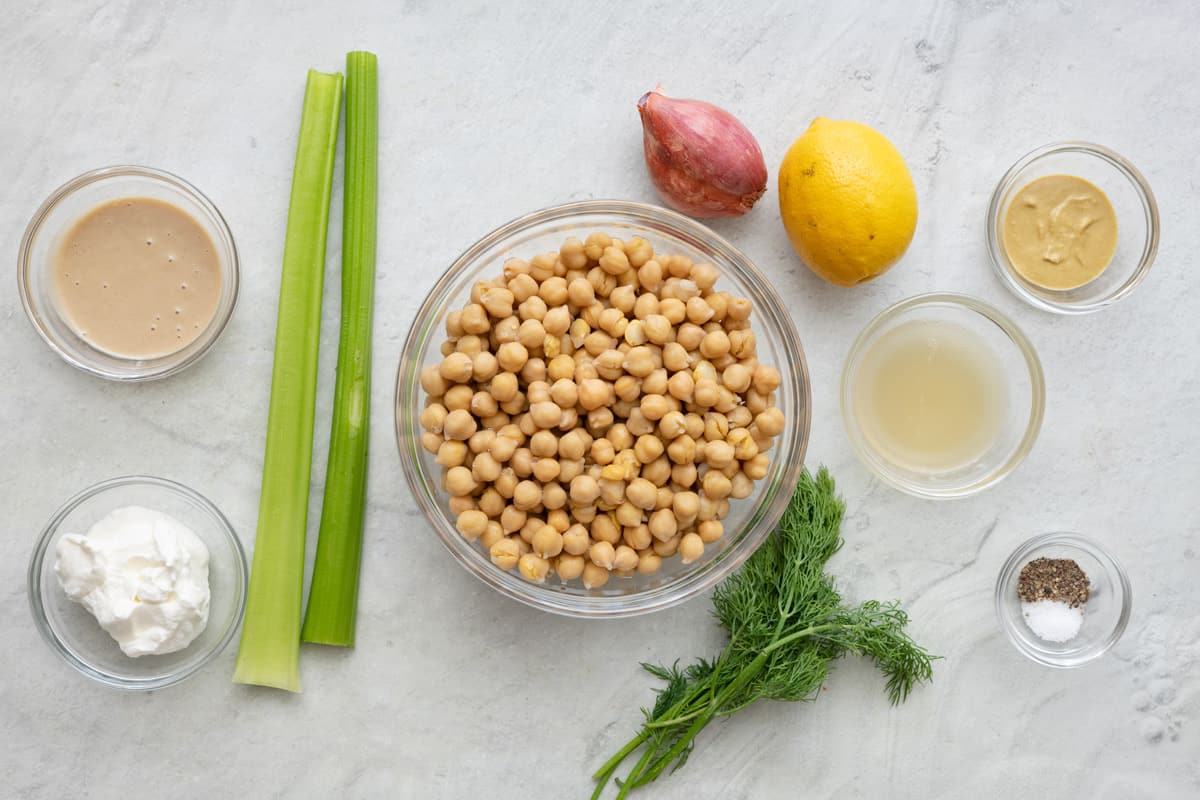 How to make Vegetarian 'Tuna' Salad with Chickpeas
Place the rinsed chickpeas in a bowl with the reserved liquid.
After mashing them with a potato masher, add the diced celery and diced shallots, folding them together to combine.
Pour in the dressing made of tahini, lemon, yogurt, mustard, and seasonings.
Add the dill and mix everything together until combined.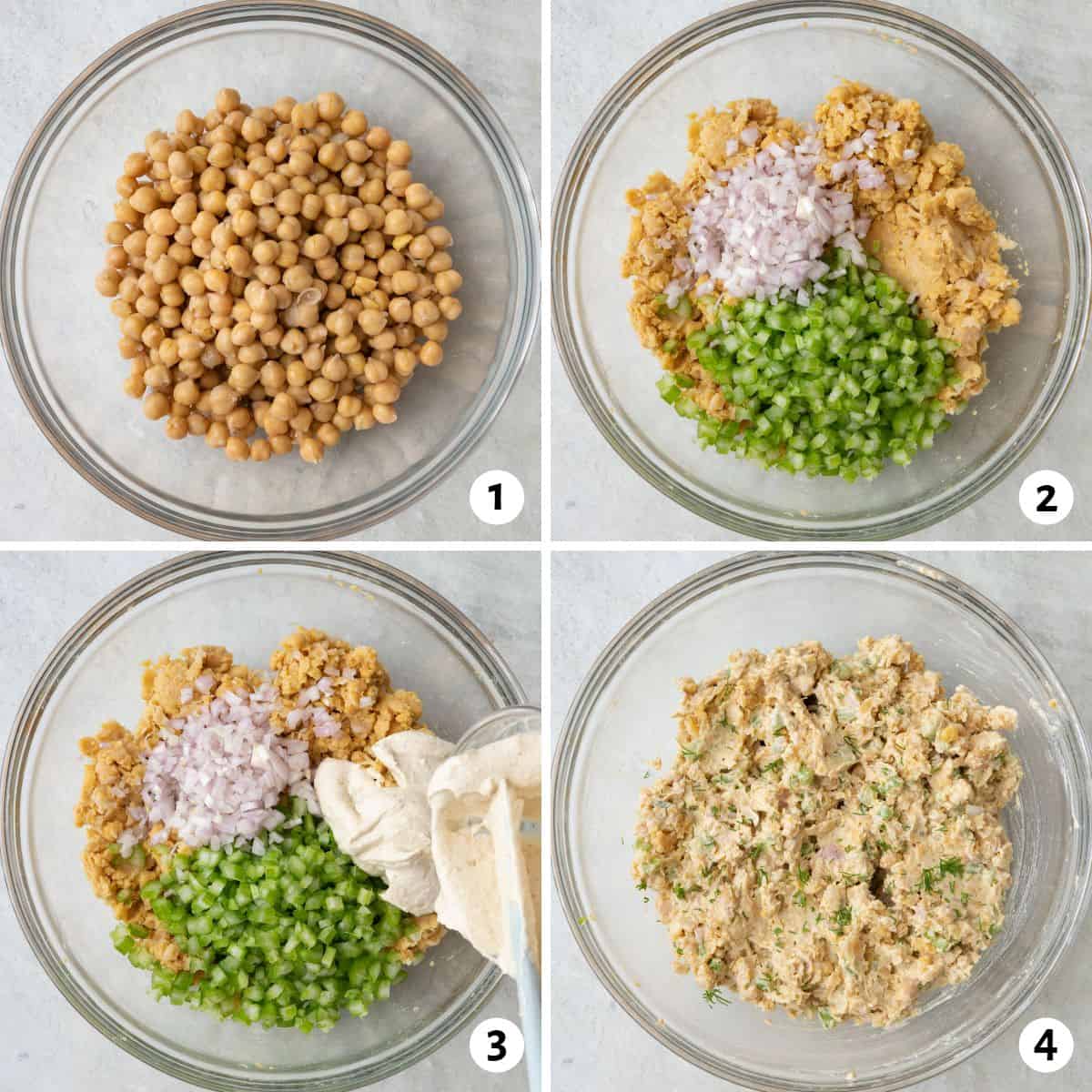 Tips for making Vegetarian Chickpea 'Tuna' Salad
Don't skip the aquafaba! Aquafaba, or the liquid in a can of chickpeas, has many uses, but I like to use it in this recipe to give the chickpeas a creamy consistency and make them easier to mash. You can also add a little to your blender when making hummus for a super smooth end result.
Blend in a food processor if you prefer. I think the fork works really well here, especially if you use the aquafaba, but it does require some elbow grease. If you do use a food processor, don't over process the chickpeas. You want them to have a mashed but chunky consistency and not turn into hummus.
Let it rest and chill first. You can absolutely dive right in, but if you allow the chickpea salad to chill out in the fridge for a few hours, the flavors will develop over time.
Double the recipe. This is such a delicious and hearty recipe that you'll love having leftovers to enjoy as another meal or for snacking on. Eat one day on bread for lunch and have it again over a bed of lettuce with extra vegetables the next. And as mentioned above, the flavor just gets better as it sits.
Popular substitutions & additions
Make it vegan. This is an easy swap to make this chickpea tuna salad vegan. Instead of Greek yogurt, use a non-dairy kind, such as almond yogurt, or you could use tahini or oil even.
Add capers or pickles. Because we're trying to emulate that fishy salty taste of tuna, capers or even pickles work so well in this recipe.
Add more vegetables. Choose crunchy additions, such as chopped red peppers, broccoli, or shredded carrots.
Mash avocado into the mix. When mashing the chickpeas, include avocado for a healthy addition.
Substitute the mustard. Instead of Dijon mustard, swap it out for spicy mustard or skip it altogether and use a dill relish for a sour bite to this chickpea salad.
Spice it up. Add a spicy seasoning like red pepper flakes or cayenne to kick up the heat. Chopped fresh or pickled jalapenos or hot sauce would be pretty tasty, too.
What to serve with Creamy Chickpea Salad
How to store Vegan 'Tuna' Salad
Store in an airtight container in the fridge for up to 5 days. It may separate a little while it sits, so give it a quick stir before serving to redistribute the ingredients. This chickpea salad is great for meal prep. Separate into individual containers with sides of fresh fruit, veggies, and lettuce or bread for handhelds or chips for dipping.
Can I freeze Chickpea Salad?
I don't recommend freezing chickpea salad because a few ingredients lose their consistency and texture, such as the dairy of Greek yogurt and the freshness and crispness of the fresh vegetables.
Frequently asked questions
Is chickpea salad vegan?
You can make this recipe vegan by swapping Greek yogurt for non-dairy yogurt.
Is chickpea salad healthy?
Swapping traditional ingredients such as tuna for chickpeas and mayo for yogurt help keep this chickpea salad healthier than its heavier counterpart. It has a good dose of fiber and protein for a lunch recipe that keeps you full.
What can I use instead of Greek yogurt for chickpea salad?
You can use an unsweetened non-dairy alternative such as coconut yogurt or almond yogurt for a vegan chickpea tuna salad. Or, swap for mayo if you like.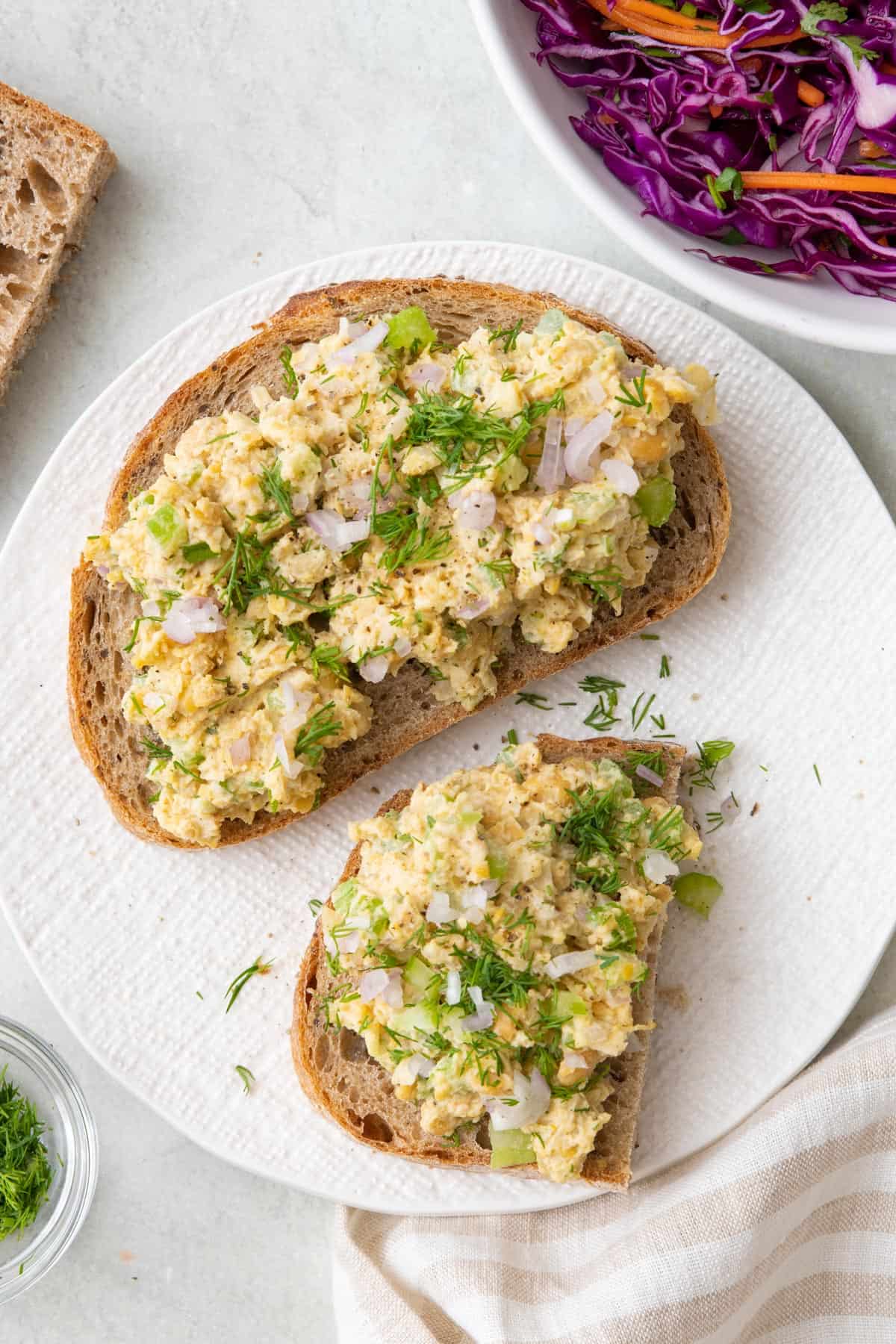 My vegetarian version of a traditional tuna salad uses chickpeas to create a wholesome and delicious recipe that is quick and easy to make. This chickpea salad is full of healthful ingredients from the dressing ingredients of yogurt and tahini, creating a wonderful flavor loaded with crisp vegetables and fresh herbs. This is a fantastic recipe to whip up for a quick lunch and keep leftovers to meal prep for the week.
More Salad recipes:
If you try this feel good Chickpea 'Tuna' Salad recipe or any other recipe on Feel Good Foodie, then don't forget to rate the recipe and leave a comment below! It helps others who are thinking of making the recipe. We would love to hear about your experience making it. And if you snapped some shots, share it on Instagram so we can repost on Stories!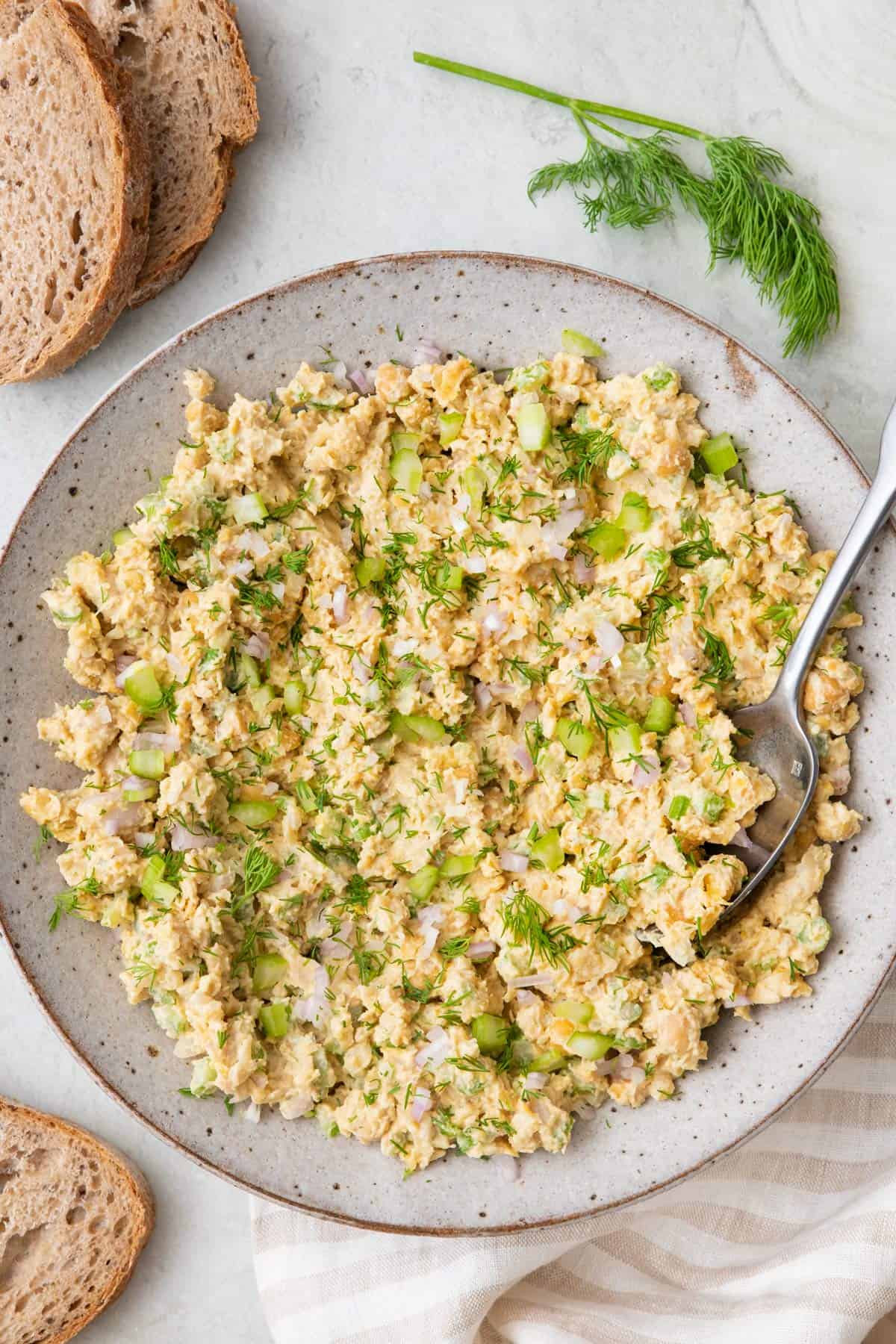 Chickpea 'Tuna' Salad
Delicious chickpea 'tuna' salad recipe with healthy ingredients like Greek yogurt, fresh vegetables and herbs, and chickpeas. It's a quick lunch and a delicious change from a traditional fish or chicken salad.
Instructions
Rinse and drain chickpeas, reserving about 2 tablespoons of the liquid from the can. In a large bowl, combine chickpeas and reserved liquid. Use a potato masher to mash the chickpeas to your desired consistency. Add celery and shallots and fold until incorporated.

In a small bowl, whisk together the tahini, lemon, Greek yogurt, Dijon mustard, salt, pepper. When the dressing is smooth, pour over the chickpeas, then sprinkle with dill. Mix together until combined. Serve immediately, or store in the fridge in an airtight container for up to 3 days.
Nutrition
Calories:
408
kcal
,
Carbohydrates:
62
g
,
Protein:
22
g
,
Fat:
10
g
,
Saturated Fat:
1
g
,
Polyunsaturated Fat:
4
g
,
Monounsaturated Fat:
3
g
,
Cholesterol:
1
mg
,
Sodium:
211
mg
,
Potassium:
706
mg
,
Fiber:
17
g
,
Sugar:
11
g
,
Vitamin A:
91
IU
,
Vitamin C:
4
mg
,
Calcium:
135
mg
,
Iron:
7
mg
Nutrition information provided is an estimate. It will vary based on cooking method and specific ingredients used.