This post may contain affiliate links. Please read our disclosure policy.
These oven-baked sweet potato chips are a delicious and healthy snack that is sure to satisfy your chip craving! Not only are they crispy and flavorful, but sweet potato chips are also perfect for batch snack prep. Plus, they are super easy to make – all you need is a few simple ingredients and a baking sheet with a cooling rack.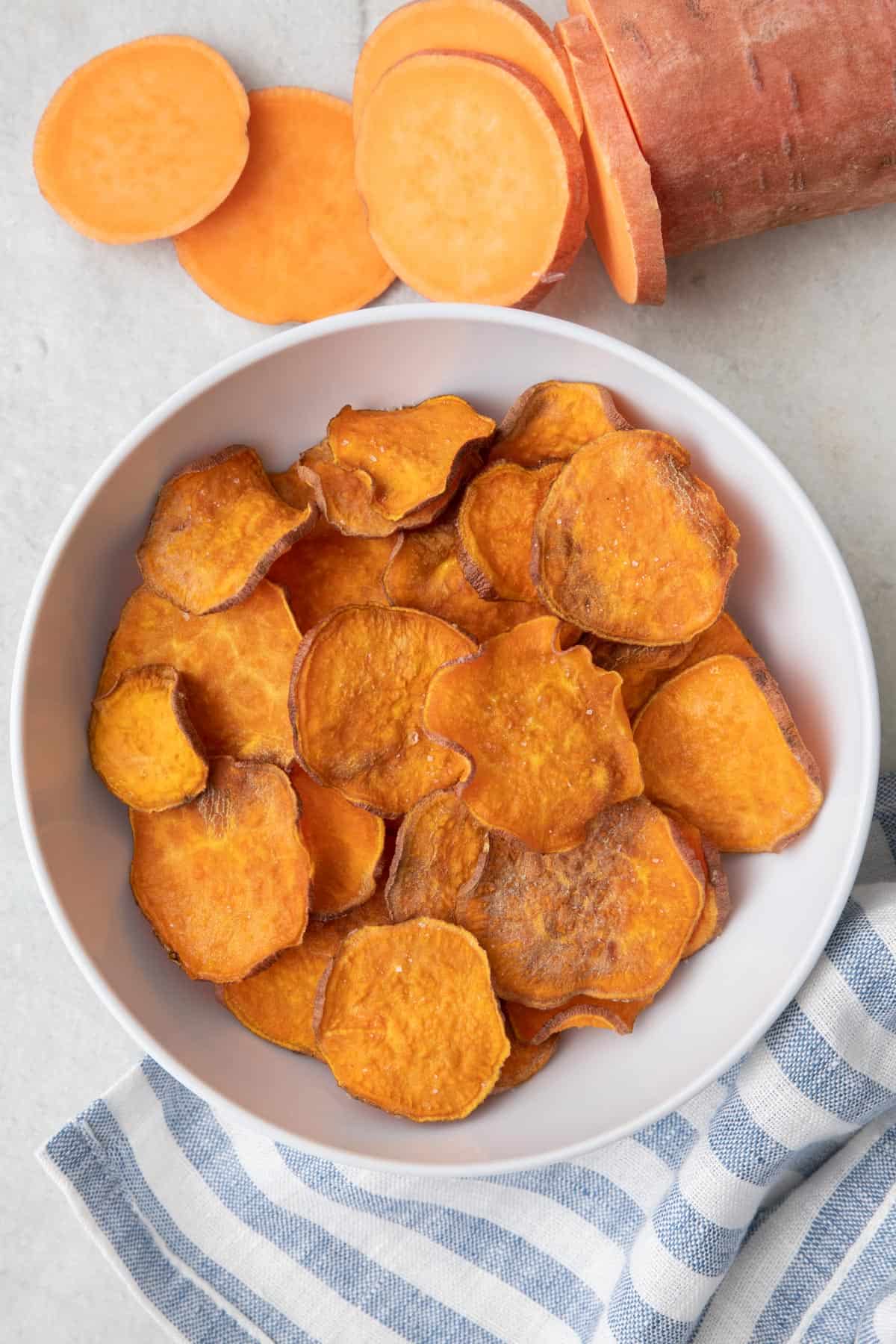 A crispy sweet potato chip made in the oven? Is that even possible? Yes, yes, it is! The secret is in the thickness of the chip and the elevation from the cooling rack. Thin slices of sweet potatoes and the oven's low temperature produce a baked chip that is crunchy, delicious, and nutritious. Sweet potatoes are a great source of fiber, potassium, and vitamins A and C. They're also a good source of antioxidants. So why not ditch the processed snacks and make your own sweet potato chips instead? Let's get started!
Table of Contents
Why you'll love these baked sweet potato chips
Free of preservatives. Store-bought sweet potato chips are often full of additives and preservatives. By making your own chips from scratch, you avoid all that unnecessary junk.
No deep frying is necessary. Instead of deep-frying the potatoes, you just need to bake them in a low-temperature oven. This makes the chips much healthier and less messy.
Light, crispy texture. The low temperature and thin slices of sweet potatoes give them a light, crispy texture that is perfect for snacking.
Healthy and nutritious. Sweet potatoes are full of essential vitamins and minerals. Baking them in the oven allows you to enjoy all their health benefits without any unhealthy fat or oil.
Easy to customize flavor-wise. Add extra herbs and spices to your chips for a tasty twist on the classic sweet potato chip.
Ingredients to make sweet potato chips
Sweet potato: Look for sweet potatoes that are firm with smooth skin. Avoid buying giant sweet potatoes as they are harder to cut, especially if you are using a knife.
Oil: Choose a neutral oil such as olive oil or avocado oil and avoid the temptation to add more.
Salt: Use sea salt to enhance the flavor of your chips.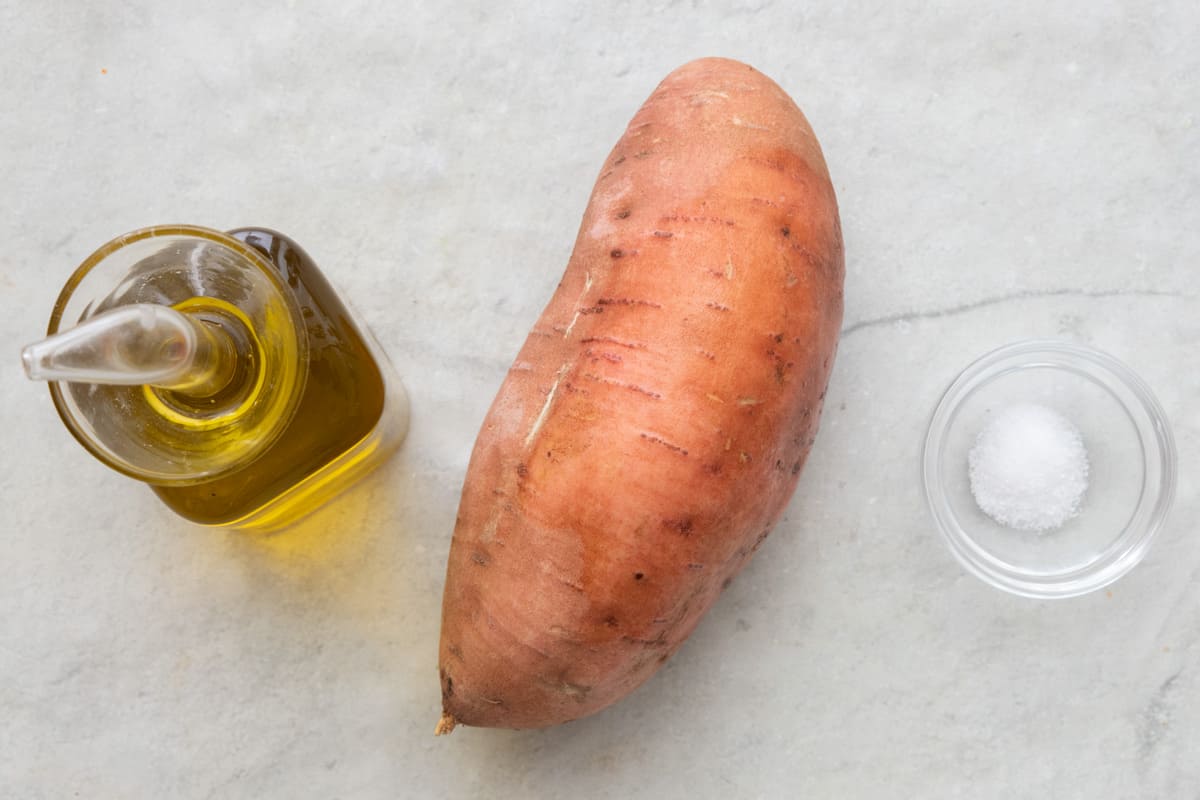 How to make sweet potato chips in the oven
The hardest part of making sweet potato chips in the oven is waiting for them to crisp up, and even that doesn't take much time. After you slice, the oven does all the work!
Prepare the Sweet Potato
Using a sharp knife, cut the sweet potatoes into thin, even slices.
Transfer the sweet potato slices to a large bowl and toss them with the oil and salt.
How to Bake Sweet Potato Chips
Arrange in a single layer on the cooling rack.
Bake until curling and browning around the edges. Let cool completely on the cooling rack.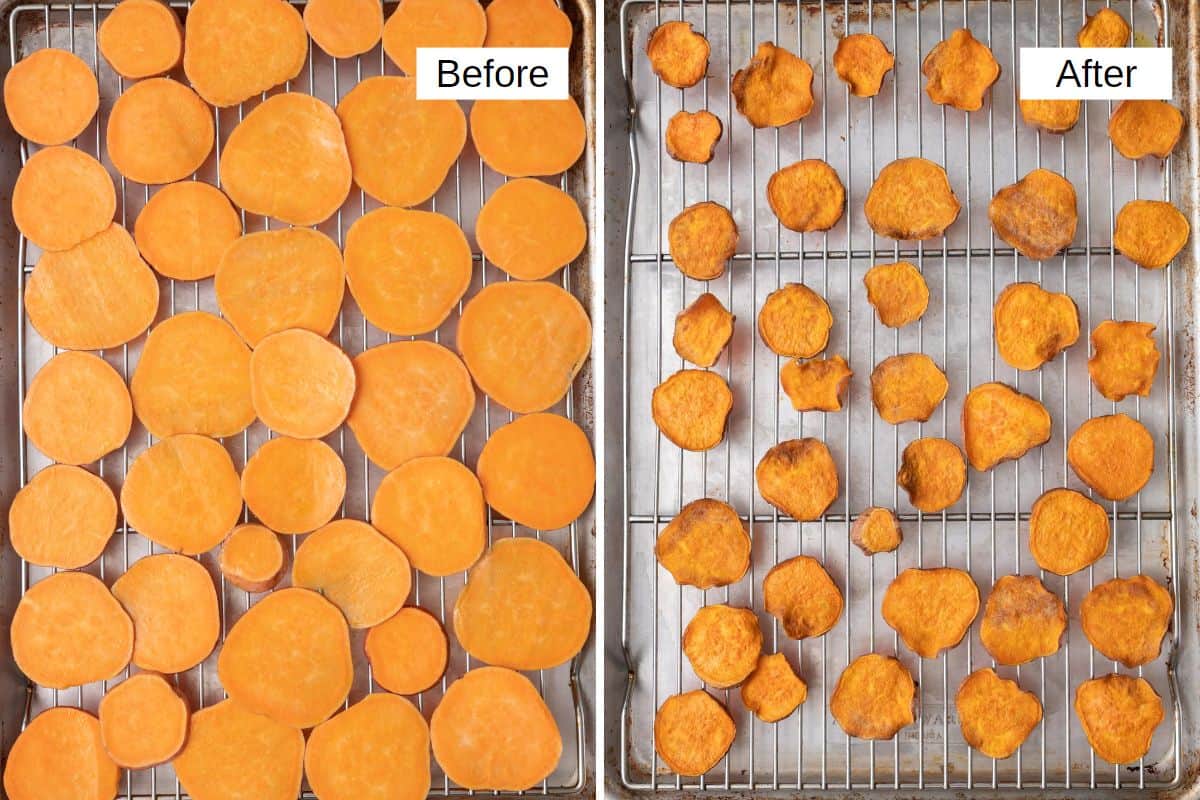 Tips for making the best baked sweet potato chips
Use a mandoline for even slicing. The more even your chips are cut, the more evenly they'll bake and crisp up! Don't run out and buy one, but if you own one, this is a great time to use it!
Turn on the convection. Additional air circulation really helps the chips to crisp up. If your oven has a convection setting, drop the temperature to 275°F and turn on the convection!
Choose thin sweet potatoes. A thinner sweet potato will yield slices with a smaller diameter, which will dry out and crisp up easier in the oven than slices with a larger diameter. In this case, bigger is not better!
Go for organic. If you have the option to purchase organic sweet potatoes, go for it! Organic sweet potatoes are grown without the use of synthetic pesticides, so you can rest assured that your chips will be free of any nasty chemicals.
Popular substitutions & additions
Try other root vegetables. You can make chips from regular potatoes, carrots, parsnips, and beets too! This recipe works well for all of them. The time may need to be adjusted some, but in general, the process and cooking temp are the same.
Experiment with seasoning. Try adding herbs and spices like smoked paprika, garlic powder, or chili powder for a flavor twist on the classic salted sweet potato chips.
Try using a flavored oil. A flavor-infused oil like garlic or chili oil will add a punch of flavor to your chips.
What to serve/pair with your crispy sweet potato chips
How to store sweet potato chips
Once your chips are baked and cooled, the best way to store them is in an airtight container. They will last for about 4-5 days when stored this way.
Frequently asked questions
Can I use an air fryer to make these sweet potato chips?
Absolutely, if you have an air fryer, you can use it for a smaller batch of sweet potato chips. Arrange the sweet potato slices in the air fryer basket in a single layer and fry at 325°F for 10-12 minutes, stopping every 5 minutes to rearrange the chips in a single even layer.
Do I have to use oil?
No, although your chips may not get as crispy. The oil also adds a little flavor. If you choose not to add oil, you may need to lower the oven temp to 275°F and increase the cooking time for a longer, low and slow cook. Essentially we want the oven to dehydrate the chips, so low and slow is the way to go.
Do I have to leave the skin on?
If you want to, you can peel your sweet potato. I like to leave the skin. Sweet potato skin is not only edible but packed with nutrition. Leaving the skin adds flavor, texture, and a nice contrast of color!
More easy chip recipes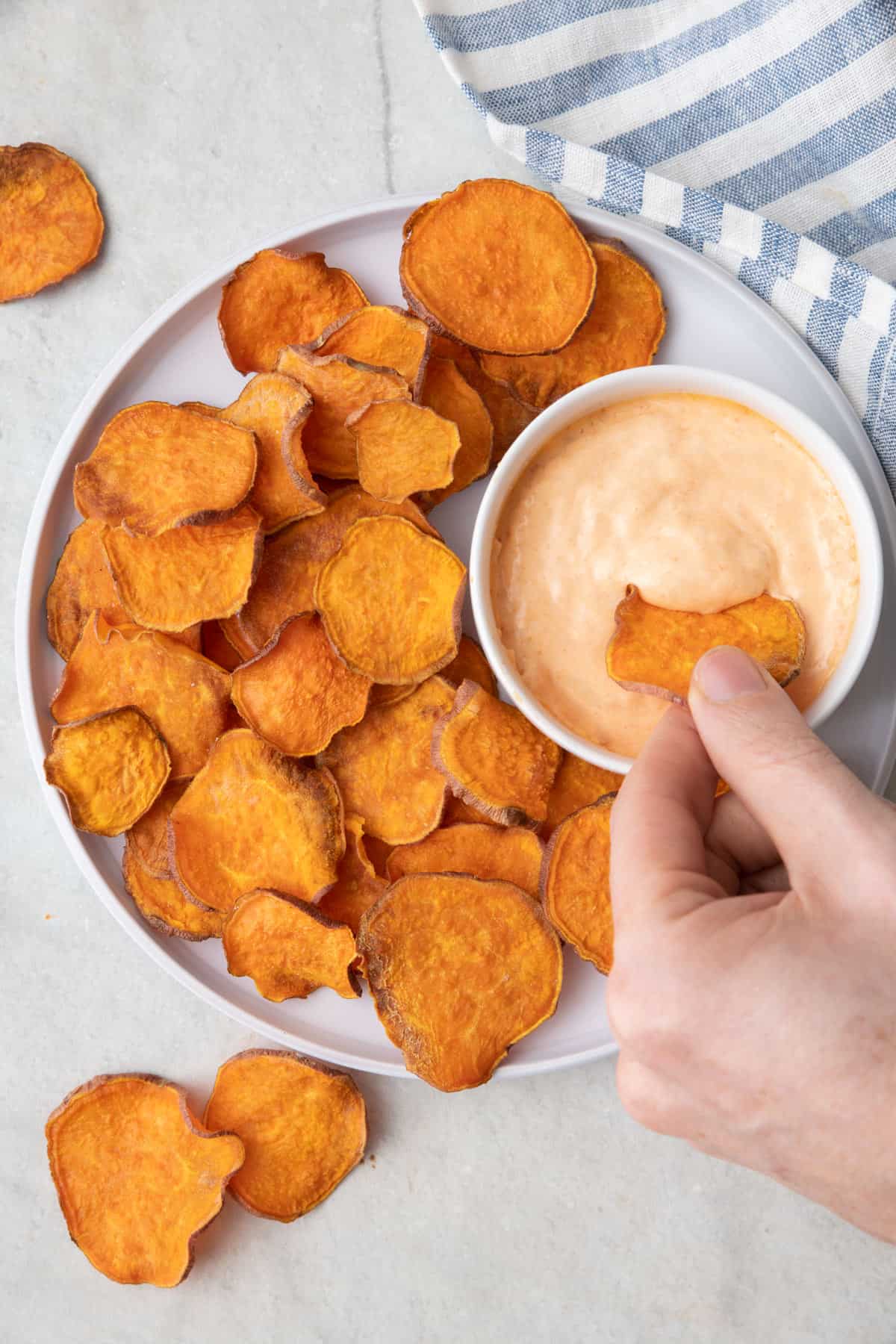 Making homemade sweet potato chips is a great way to enjoy the classic snack without all of the added ingredients and preservatives that can be found in store-bought versions. Plus, you get to control your own flavor and seasoning combinations. So next time you're craving something salty and crunchy, turn on your oven and whip up a batch of these delicious oven-baked sweet potato chips! Try them with spicy mayo or avocado cream!
More sweet potato recipes
If you try this feel good Sweet Potato Chips recipe or any other recipe on Feel Good Foodie, then don't forget to rate the recipe and leave a comment below! It helps others who are thinking of making the recipe. We would love to hear about your experience making it. And if you snapped some shots, share it on Instagram so we can repost on Stories!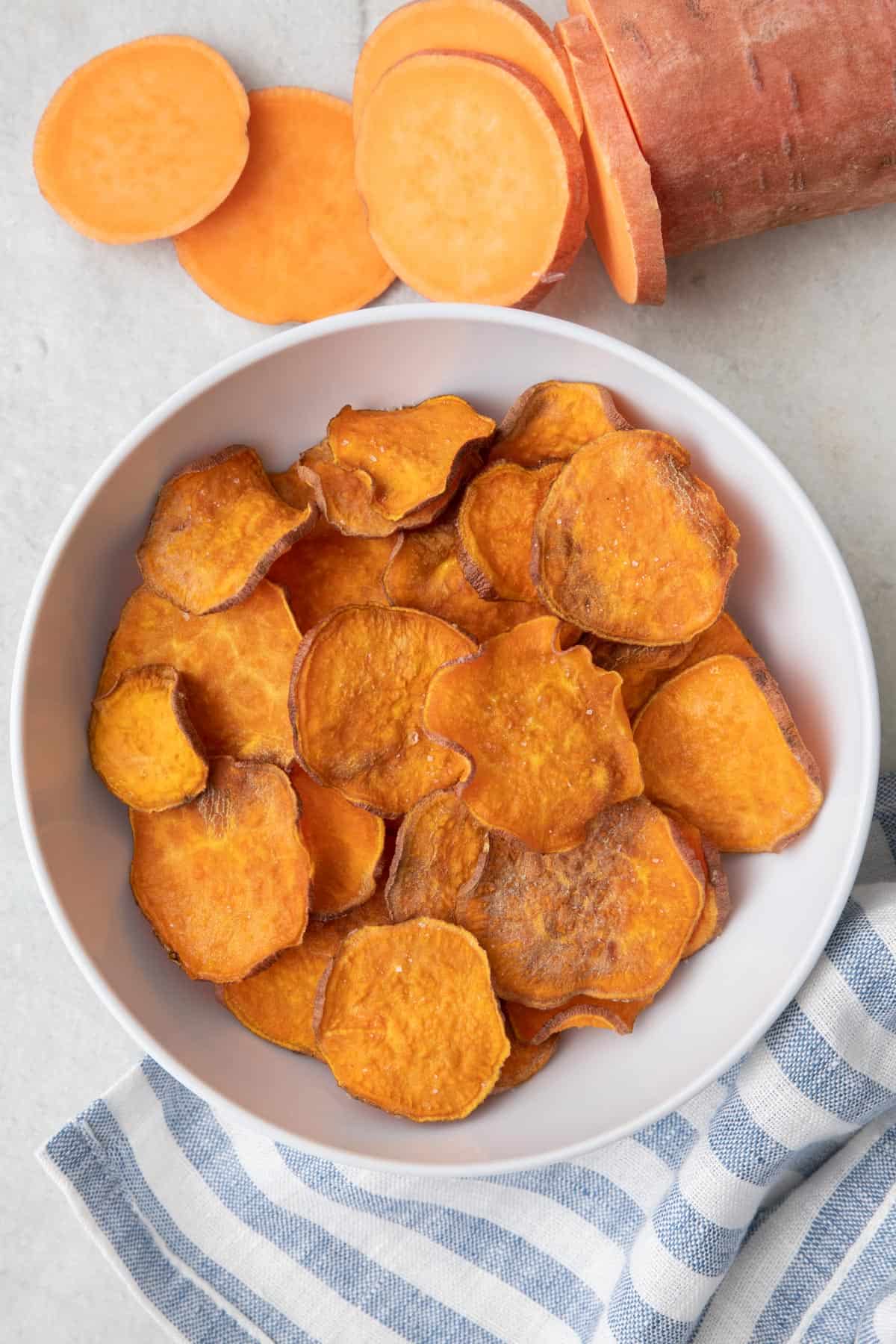 Baked Sweet Potato Chips
These 3 ingredient sweet potato chips are extra crispy and oven baked! If you've wanted to make sweet potato chips in the oven, this is your recipe!
Instructions
Preheat the oven to 300°F. Prepare a baking sheet by fitting it with a large cooling rack.

Using a sharp knife, cut the sweet potatoes into thin, even slices, no more than ⅛-inch thick. Transfer the sweet potato slices to a large bowl and toss with the oil and salt. Arrange in a single layer on the cooling rack (some slight overlap is ok).

Bake for 30-40 minutes, flipping every ten minutes, or until curling and browning around the edges. Let cool completely on the cooling rack, then store in an airtight container.
Notes
Tip: Use a mandolin for even, thin slices. This ensures that each and every chip is the same thickness, so you don't end up with a few crispy chips and a handful of soggy ones.
Nutrition
Calories:
159
kcal
,
Carbohydrates:
23
g
,
Protein:
2
g
,
Fat:
7
g
,
Saturated Fat:
1
g
,
Polyunsaturated Fat:
1
g
,
Monounsaturated Fat:
5
g
,
Sodium:
353
mg
,
Potassium:
381
mg
,
Fiber:
3
g
,
Sugar:
5
g
,
Vitamin A:
16031
IU
,
Vitamin C:
3
mg
,
Calcium:
34
mg
,
Iron:
1
mg
Nutrition information provided is an estimate. It will vary based on cooking method and specific ingredients used.