This post may contain affiliate links. Please read our disclosure policy.
This light and fluffy Moroccan Couscous Salad is a perfect summer dish! It's packed with bright flavor from the fresh lemon vinaigrette dressing. Tender chickpeas pair well with crunchy cucumbers, peppery radishes, and sweet bell peppers. The toasted almonds give it a nice crunch, and the kalamata olives add a delicious salty finish. This flavor-packed salad will tantalize all your senses!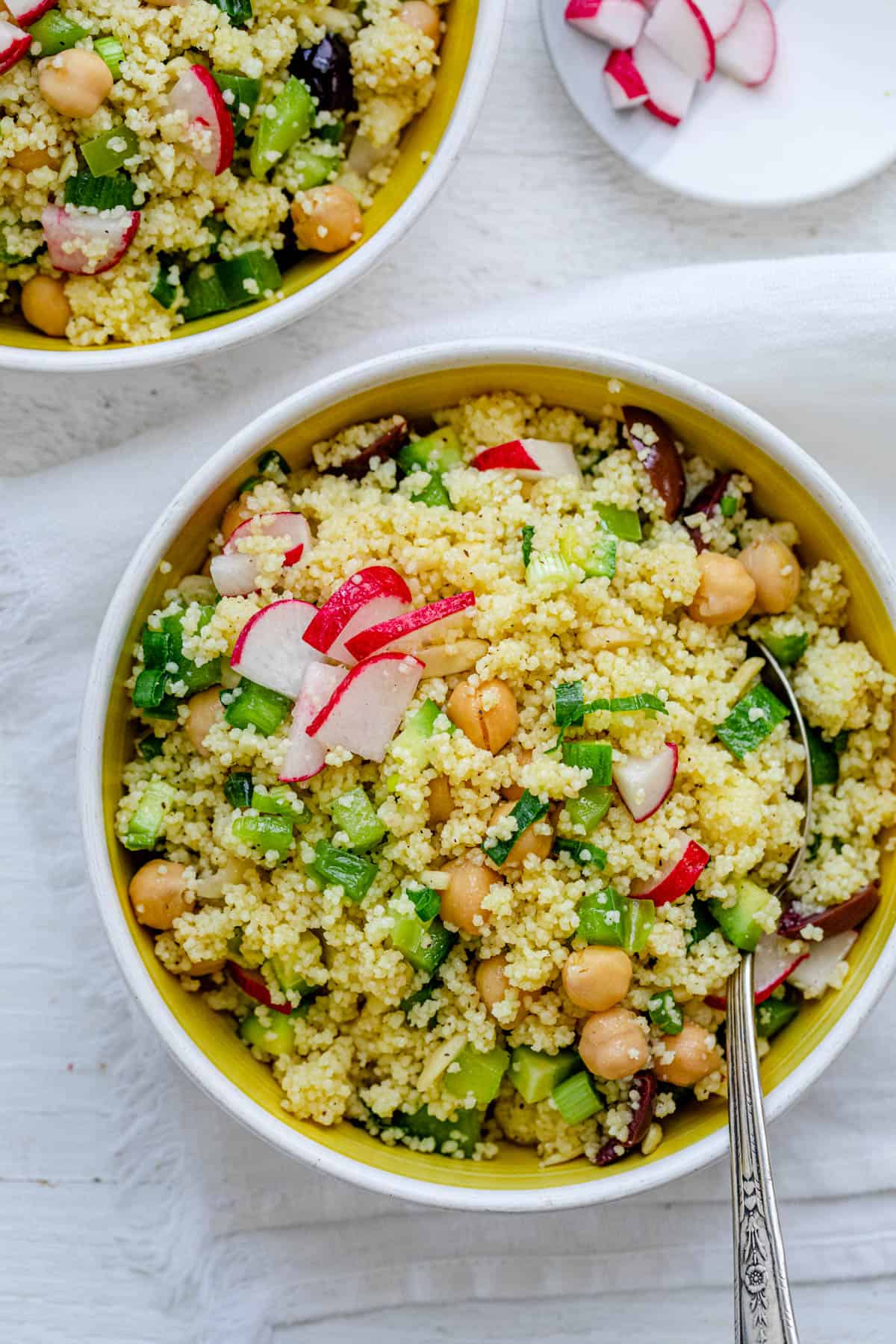 Salads can be so boring. Lettuce, tomatoes, and a vinaigrette are about as interesting as it gets, right? Wrong! This Moroccan couscous chickpea salad is anything but boring. It is full of flavor and texture, thanks to the addition of delicious ingredients, all of which marry together perfectly. The result is a salad that will have you coming back for more and more. And, it's so easy to make! Just follow the simple recipe below.
why you'll love this summer couscous salad
Refreshingly light. This salad is the perfect summer dish! It's light and refreshing, yet still filling and satisfying. You get protein from the chickpeas, healthy fats from the olives and almonds, and plenty of vitamins and minerals from all the fresh vegetables.
Quick & easy to make. Simply cook the couscous, chop up the veggies, and mix everything together with a homemade lemon vinaigrette dressing. The couscous salad comes together in just a few minutes!
Packed with flavor. This salad is packed with fresh and vibrant flavors. The lemon dressing is zesty and bright. The couscous is fluffy and tender. The vegetables are crunchy and fresh. And the olives and almonds add a delicious salty finish.
Perfect for entertaining. Whip it up for parties, potlucks, and barbecues. It can be made ahead of time and served at room temperature. It's also vegetarian and dairy-free, so it's perfect for guests with dietary restrictions.
Ingredients you'll need for a Moroccan couscous salad
Like with any good couscous salad, you're going to have two parts to this dish: the couscous and the salad dressing. I like to make my own, but you can keep things simple by using a store-bought salad dressing.
Couscous Salad Ingredients
Moroccan couscous: While you can use any type of couscous you want for this recipe, I prefer Moroccan. It's smaller and has a bit more of a bite to it than regular couscous. If you're using another type of couscous, grab my tips for how to cook any type of couscous.
Chickpeas: I like to use canned chickpeas for this salad. They're already cooked and ready to go, which saves time. Just make sure to drain and rinse them before adding them to the salad.
Cucumber: I like to use Persian cucumbers because they're small and have thin skin. But, you can use any type of cucumber you like.
Radishes: I love the peppery flavor of radishes in this salad. They add a nice crunch and contrast well with the sweetness of the bell peppers.
Bell peppers: I used green bell peppers because that's what I had on hand. But, feel free to use any color you like.
Kalamata olives: Olives are a must in any good Moroccan dish! They add a delicious salty flavor that takes this salad to the next level.
Almonds: Toasted almonds give this salad a nice crunch. You can also use pistachios, walnuts, or pecans.
Green onions: Green onions add a bit of onion flavor without being overpowering. You can also use red onions if you prefer.
Dressing Ingredients
Lemon juice: I prefer fresh lemon juice, but you can use bottled if that's what you have.
Olive oil: I like to use extra virgin olive oil for this dressing. But, you can use any type of olive oil you like.
Honey: Honey adds a touch of sweetness to the dressing. You can also use agave nectar or maple syrup.
Garlic: Fresh garlic always tastes best, but you can use jarred minced garlic in a pinch.
Ground cumin: Cumin is a key ingredient in Moroccan cuisine. It adds a warm, earthy flavor to the dressing.
Salt & Pepper: I like to use kosher salt for this dressing. But, you can use any type of salt you have on hand.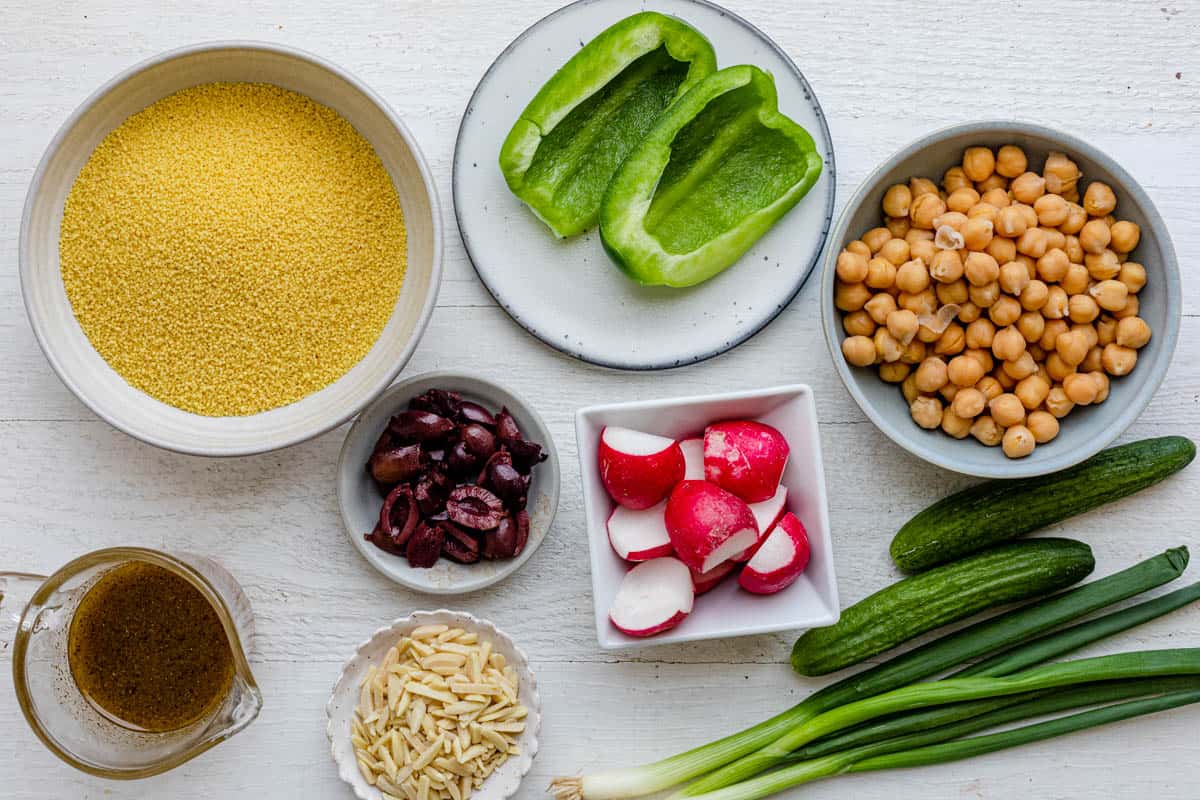 How to make a couscous chickpea salad
If you intend to serve this salad chilled, it's best to cook the couscous ahead of time. So it has enough time to cool down before adding it to the salad.
Cook the Couscous
In a pot, bring water to a boil. Add couscous.
Stir vigorously until most of the liquid is absorbed then cover and remove from heat to steam.
Fluff with a fork and transfer to a large salad bowl to cool down.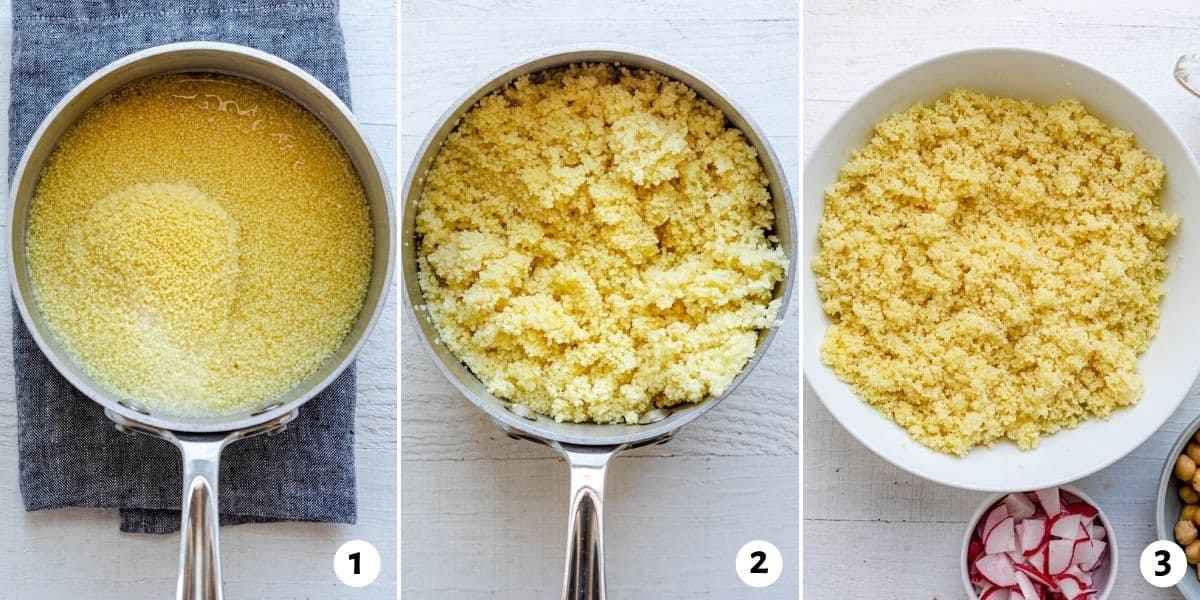 toss couscous with the Salad
Prepare the salad ingredients and dressing. Add them to the cooled couscous.
Toss gently to combine.
Tips for making a couscous salad
Make the dressing ahead of time. If you are able to, make this couscous salad dressing at least 24 hours in advance to really give the flavors time to meld together.
Add additional protein in the form of meat. This couscous salad is delicious on its own, but you can also add grilled chicken, shrimp, or lamb if you want to make it a heartier meal.
Make it vegan. If you want to make this salad vegan, simply omit the honey from the dressing recipe.
Serve it warm or cold. This salad can be served warm or cold. If you want to serve it warm, simply cook the couscous according to the package directions and add it to the salad while it's still hot.
Step up your couscous. Instead of going from box to boiling water, try toasting your couscous with olive oil or butter for a nuttier flavor. You can also add seasonings to your water (or even use broth!) like cumin, garlic powder, or coriander.
popular substitutions & additions
Out of Moroccan couscous? You can use pearled couscous or even quinoa in a pinch. I don't recommend using the largest size of couscous, Lebanese, as it feels clunky in this salad.
Don't have time to make your own dressing? You can definitely use a store-bought dressing if you're short on time. Just look for something with a similar flavor profile (lemony, bright, herby) as this dressing.
Need more veggies? Feel free to add in any of your favorite vegetables. Carrots, tomatoes, and zucchini would all be delicious in this salad. You could even grill some eggplant or squash to add-in.
Make it a meal. This salad can easily be turned into a main dish by adding in some grilled chicken, shrimp, or lamb. You could also add feta or goat cheese for an additional protein boost.
what to serve with Moroccan couscous chickpea salad
how to store couscous salad
I recommend storing your couscous salad in an airtight container or mason jar. The dressing can be stored separately from the salad, or you can dress the whole salad and then store it. If you dress the entire salad, just know that the couscous will absorb some of the dressing and can get soggy and mushy.
If you are making this salad with the intention of leftovers, I would suggest only dressing the amount of salad you plan on eating. Store the extra salad and dressing in the fridge, and then dress it right before you eat it.
How long will couscous salad last in the fridge?
This couscous salad will last in the fridge for up to four days. After that, the couscous will start to get mushy, and the veggies will start to wilt.
Frequently asked questions
Is quinoa and couscous the same thing?
No, quinoa and couscous are not the same things. Couscous is made from semolina wheat, while quinoa is a seed. They have different textures and cook times but can often be used interchangeably in recipes.
Should I cook my couscous al dente?
Yes. For this salad, it is better to cook your couscous al dente, so it has a little bite to it. If you cook it too long, it will get mushy and won't hold up as well in the salad.
How do I toast couscous?
Toasting couscous is easy! Just add the couscous to a preheated skillet with a pat of butter or drizzle of olive over medium heat. Cook, stirring frequently until the couscous is golden brown. This will take about five minutes.
Couscous salad is the perfect dish for summertime entertaining. It's light, refreshing, and can be made ahead of time. This Moroccan couscous chickpea salad is packed with flavor and has a homemade dressing that will take your salad to the next level. Trust me. Your guests will be asking for the recipe!
So, what are you waiting for? Let's get cooking!
More Mediterranean salad recipes:
If you try this feel good Chickpea Couscous Salad recipe or any other recipe on Feel Good Foodie, then don't forget to rate the recipe and leave a comment below! It helps others who are thinking of making the recipe. We would love to hear about your experience making it. And if you snapped some shots, share it on Instagram so we can repost on Stories!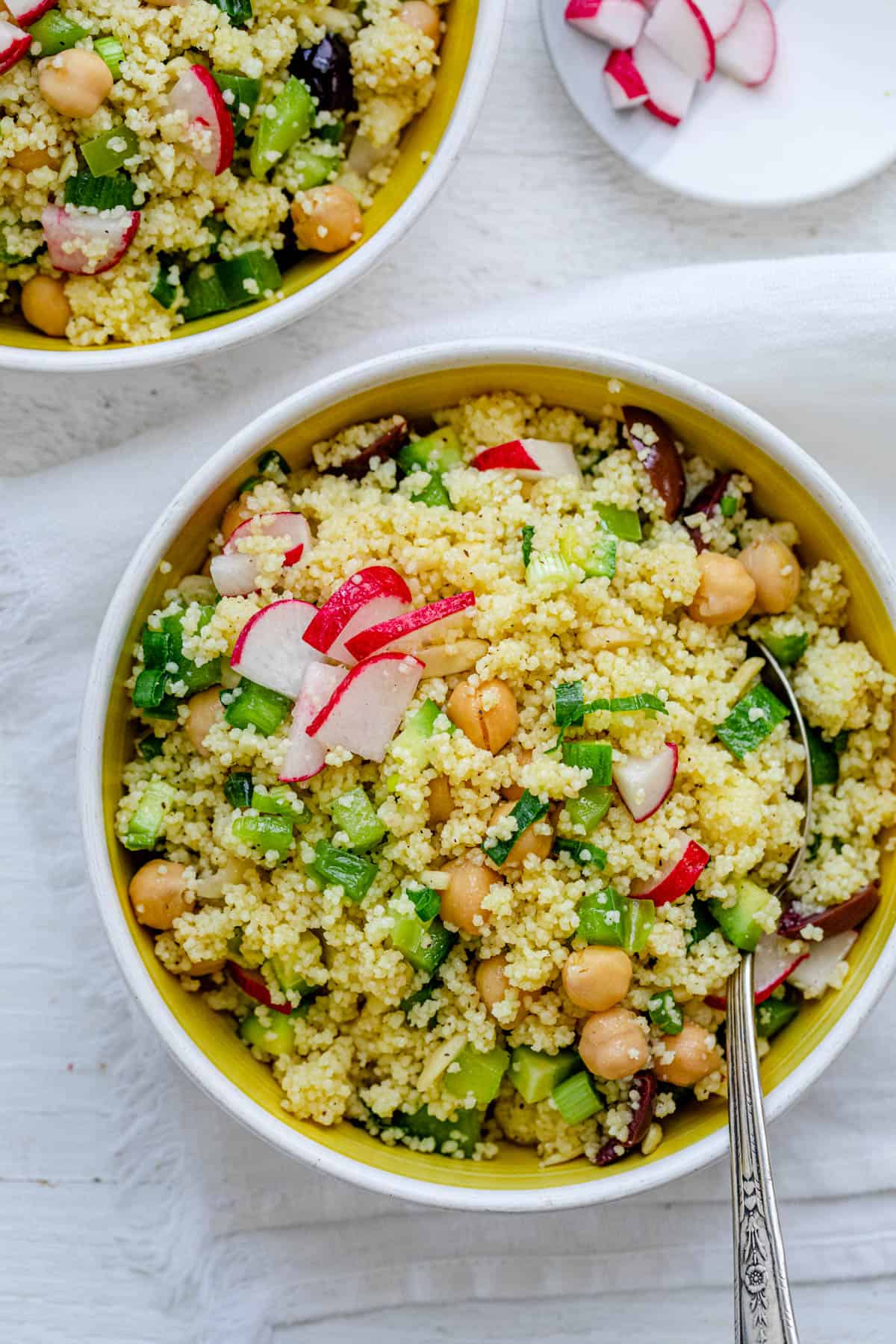 Chickpea Couscous Salad
This easy Moroccan couscous salad with chickpeas is the perfect summer salad! It's filling, and full of bright flavors from the lemony vinaigrette.
Ingredients
1 ½

cups

Moroccan couscous

1 ½

cups

water

1 15

ounce

can chickpeas

rinsed/drained

2

Persian cucumbers

small diced

½

green bell peppers

small diced

¼

cup

radish

thinly sliced

2

tablespoons

slivered almonds

toasted

2

tablespoons

kalamata olives

sliced

2

green onions

sliced
Instructions
In a small pot, bring water to a boil. Add couscous, stir vigorously until most of the liquid is absorbed, about 30 seconds.

Remove from heat and let stand, covered, for 5 minutes. Fluff with a fork and transfer to a large salad bowl to cool down.

Prepare the salad ingredients and dressing. Add them to the cooled couscous. Toss gently to combine.

Enjoy at room temperature, or cover and refrigerate until cool, about 1 hour.
Notes
Storage: If you know you're going to make enough for leftovers dress the salad in individual portions and store the salad and dressing in separate airtight containers. When stored separately this couscous salad with keep for up to 4 days in the fridge. If stored dressed you're looking at around 48 hours max before it gets mushy and unappetizing. 
Nutrition
Calories:
544
kcal
,
Carbohydrates:
77
g
,
Protein:
16
g
,
Fat:
20
g
,
Saturated Fat:
2
g
,
Polyunsaturated Fat:
3
g
,
Monounsaturated Fat:
12
g
,
Sodium:
688
mg
,
Potassium:
601
mg
,
Fiber:
11
g
,
Sugar:
8
g
,
Vitamin A:
261
IU
,
Vitamin C:
25
mg
,
Calcium:
108
mg
,
Iron:
3
mg
Nutrition information provided is an estimate. It will vary based on cooking method and specific ingredients used.