This post may contain affiliate links. Please read our disclosure policy.
This Strawberry Arugula Salad is a delicious combo of textures, flavors, and pure freshness. It's a light yet satisfying salad that feels like summer with every bite. This arugula salad recipe combines the juicy sweetness of strawberries with the peppery punch of arugula, crunchy pecans, the creamy saltiness of feta cheese, fresh basil, and a tangy strawberry vinaigrette. It's so good! Plus, you can easily turn it into a light meal with the addition of protein.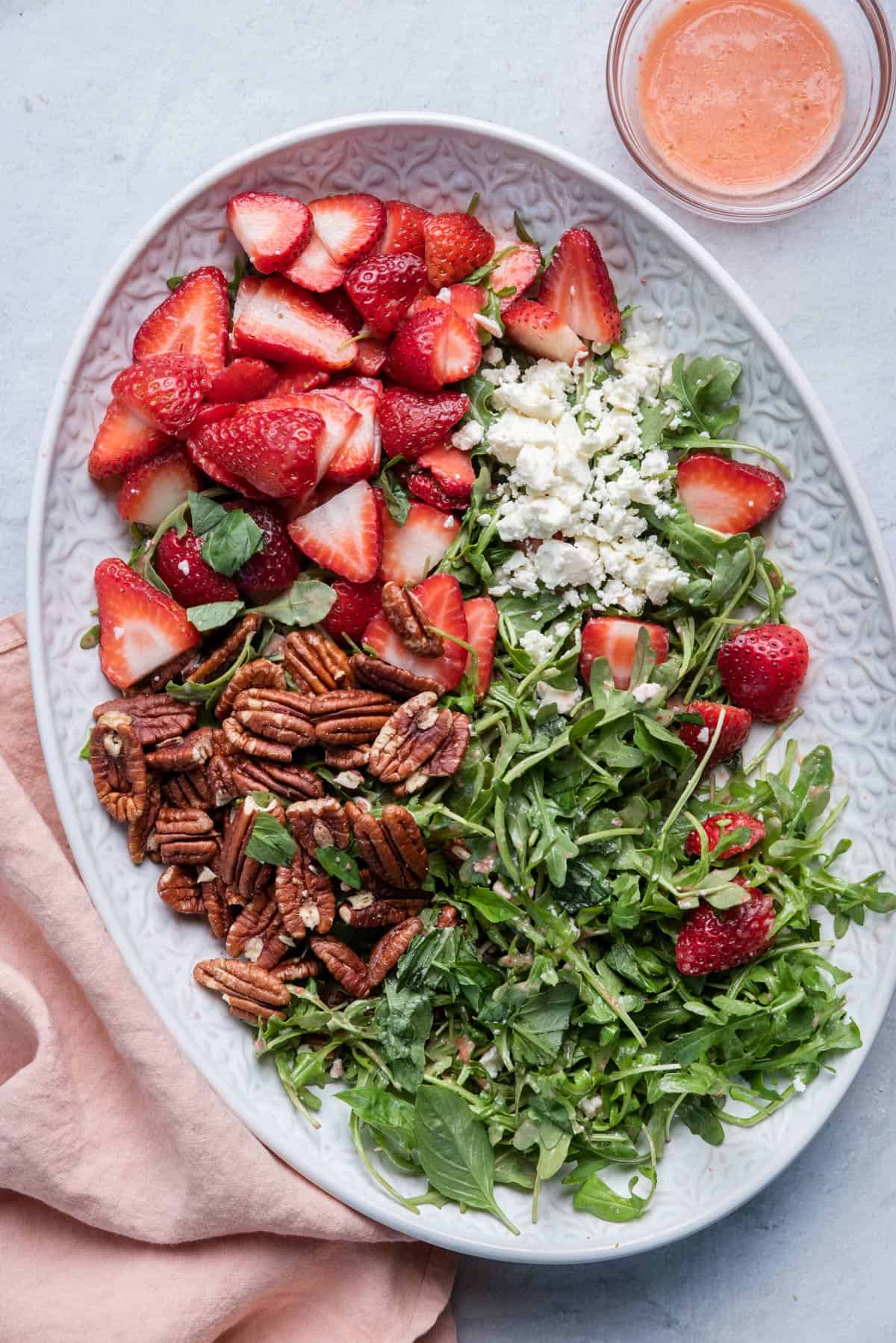 Table of Contents
This simple and easy strawberry arugula salad is so light and refreshing. The strawberry vinaigrette is really what makes this salad! Made from fresh strawberries, this dressing is a unlike anything else you've had. It's fresh, slightly sweet, tangy, and so easy to whip up right at home. The best part? It adds such a unique, refreshing flavor to the salad that really pulls all the ingredients together. You won't find any store-bought dressing that can compete with it. In a nutshell, this strawberry arugula salad is more than just a dish. It's an experience of flavors and textures that you definitely won't want to miss out on
Why you'll love this Strawberry Arugula Salad With Feta
All the Textures: This salad brings together a fantastic mix of textures. You've got the leafy arugula, the juicy strawberries, the creamy feta, and the crunchy pecans. It's this variety that keeps each bite interesting and has you coming back for more.
Beautiful Presentation: The fresh greens, bright strawberries, and the blush of the dressing make for a plate that's as appealing to the eye as it is to the taste buds. It's just the thing when you want to add a dash of color and class to your meal.
Fresh and In-Season: This salad is a great way to enjoy the bounty of the season. The sweet strawberries and crisp arugula really showcase the best of what's fresh and available right now. Plus, it's a great excuse to take a trip to your local farmer's market or raid your garden.
Quick to Assemble: Don't let the fancy look fool you; this salad is easy and quick to put together. Both the salad and the dressing are straightforward, making it a snap to whip up even on busy weeknights.
ingredients & substitutions
Strawberries: They should be the freshest possible and you can count on them for the perfect level of sweetness for not only the salad but also the dressing.
Arugula: The arugula is also a power player in this dish with its spicy kick. Again, the fresher, the better. The leafy texture complements the other ingredients perfectly.
Pecans: These add a lovely crunch and elegant flavor, but you can use any other nuts instead, like walnuts or cashews. Try making your own candied walnuts for a sweet crunchy addition!
Basil: This adds an aromatic sweet flavor to complement the strawberries. Feel free to swap it for parsley or dill.
Dressing: Made with strawberries, olive oil, shallot, vinegar, and Dijon mustard, the dressing has a bright pink color and sweet flavor that adds brightness to the salad.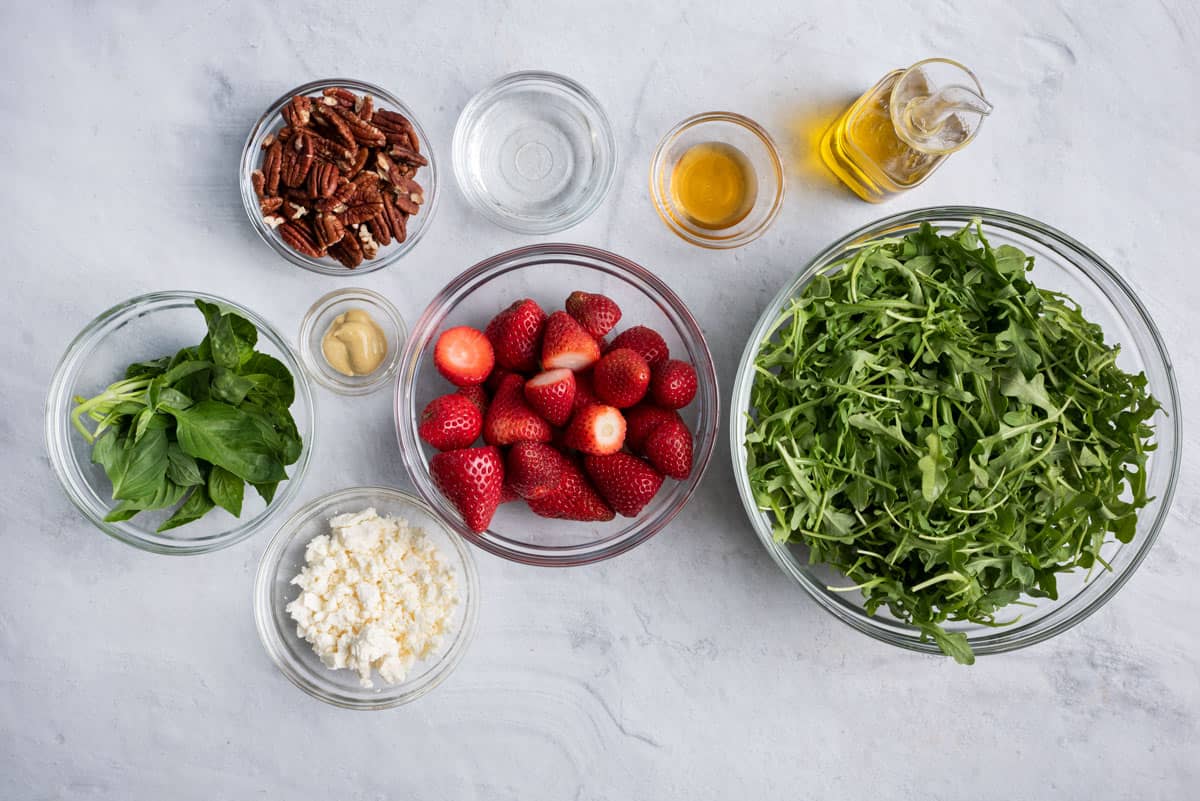 how to make A strawberry arugula salad:
Quick to assemble, the Strawberry Arugula Salad is unforgettably colorful and flavorful. It is easily going to become one of those salads you make that everyone quickly asks for the recipe!
make the strawberry Vinaigrette dressing
In a blender, food processor, or small chopper, mix together the strawberries, olive oil, vinegar, shallot, and Dijon mustard.
Process until the dressing is smooth and creamy with no lumps.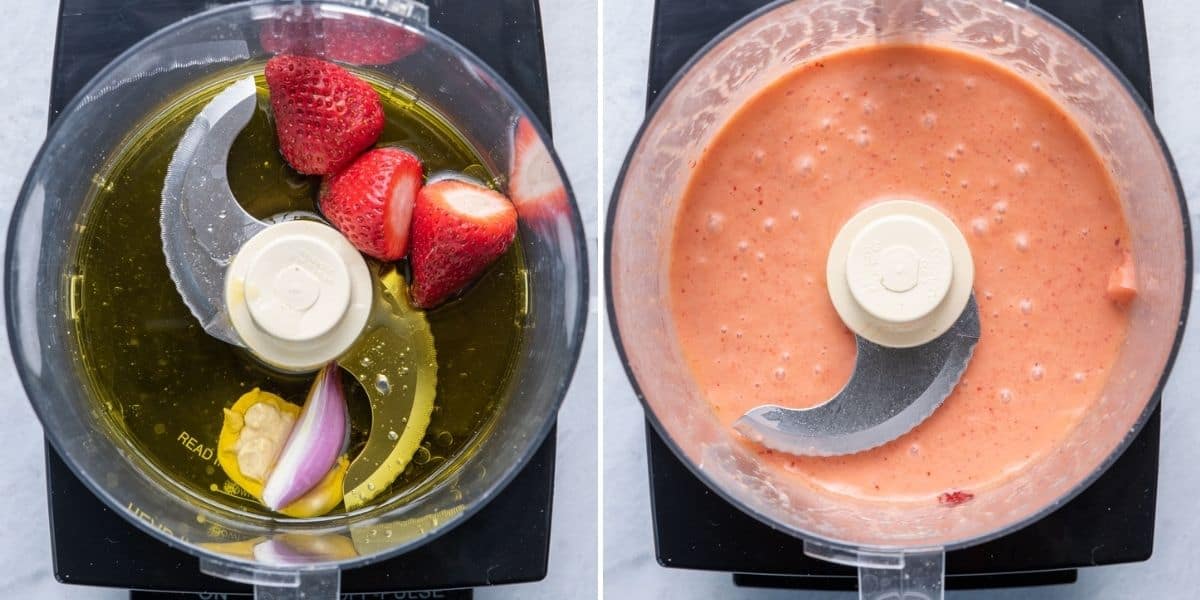 Make the strawberry arugula salad
Place all the ingredients together in a large bowl.
Add the dressing right before serving.
Toss gently to combine.

Tips for making the best strawberry arugula salad
Wash Your Greens: First things first, you want to start with clean, fresh arugula. Be sure to wash it well to remove any dirt or grit. If you have a salad spinner, use it to remove excess water. If not, gently pat it dry with a kitchen towel. You want the leaves to be dry so the dressing adheres well and the salad doesn't get watered down.
Timing the Dressing: Apply your dressing just before you're ready to serve. Arugula can wilt and lose its appealing crunch if it's left sitting in the dressing for too long.
Choose Ripe Strawberries: When it comes to strawberries, the riper, the better. They bring a natural sweetness to the salad that's hard to beat. Avoid using thawed frozen strawberries, as they can be too soft and mushy for a salad.
Toss with Care: Remember to toss your salad gently. The ingredients are delicate and can get squashed if handled too roughly. You want to preserve the structure and texture of the strawberries and arugula.
Serve Fresh: This salad is best served fresh immediately after it's made. The vibrant flavors and crisp textures are at their peak right then. If you're making it for guests, you can prepare the components ahead and assemble it just before serving.
Season Well: Don't forget to season your salad. A little bit of kosher salt can enhance the flavors and balance the sweetness of the strawberries and dressing.
Popular Additions and Substitutions
Green Alternatives: If you're not a fan of arugula or just want a change, try substituting it with spinach, kale, or mixed greens. Each leafy green brings its unique flavor profile to the table, giving the salad a different twist every time.
Cheese Choices: Swap out the feta cheese for some tangy goat cheese or creamy blue cheese. Each type of cheese can add a distinct touch to the overall flavor of the salad.
Swap out the pecans: If pecans aren't your favorite, try substituting them with almonds, walnuts, or sunflower seeds. Toasting them slightly will enhance their flavor, contributing to the overall crunchiness of the salad.
Protein Punch: Make this salad a full meal by adding some grilled chicken, shrimp, or tofu. This would not only increase the protein content but also add a satiating element to the salad.
Fruit Substitutes: Swap out the strawberries for some ripe peaches, juicy blueberries, or tangy raspberries for a whole new flavor profile. Be creative and play with the season's best offerings.
What to Serve With A Strawberry Arugula salad
How to Store Leftover Strawberry Arugula Salad
This strawberry Arugula Salad is best enjoyed fresh. However, if you have leftovers, it's important to store them properly to maintain their freshness.
Without Dressing: If you anticipate having leftovers, it's a good idea to keep the dressing separate.
With Dressing: If the salad is already dressed, try to consume it within a few hours. The acid in the dressing can make the arugula wilt, and the strawberries become mushy.
The Dressing: You can store the extra strawberry vinaigrette in a sealed container in the refrigerator for up to a week.
How long will Strawberry Arugula Salad last in the fridge?
If stored properly, undressed Strawberry Arugula Salad can last for up to 2 days in the fridge. However, for the best texture and flavor, it's recommended to consume it as soon as possible.
Frequently Asked Questions
Why did my salad wilt?
If the dressing is on the salad too long, the arugula will wilt. If you are storing the salad in the refrigerator, the temperature might be too cold, will also wilt the arugula.
What if the dressing is too thin?
If the dressing is too thin, add a few more strawberries to thicken it up a bit.
If I swap out the strawberries in the salad, should I do that in the dressing too?
You can do that. However, the amount of fruit you use in the dressing will depend on the type of fruit.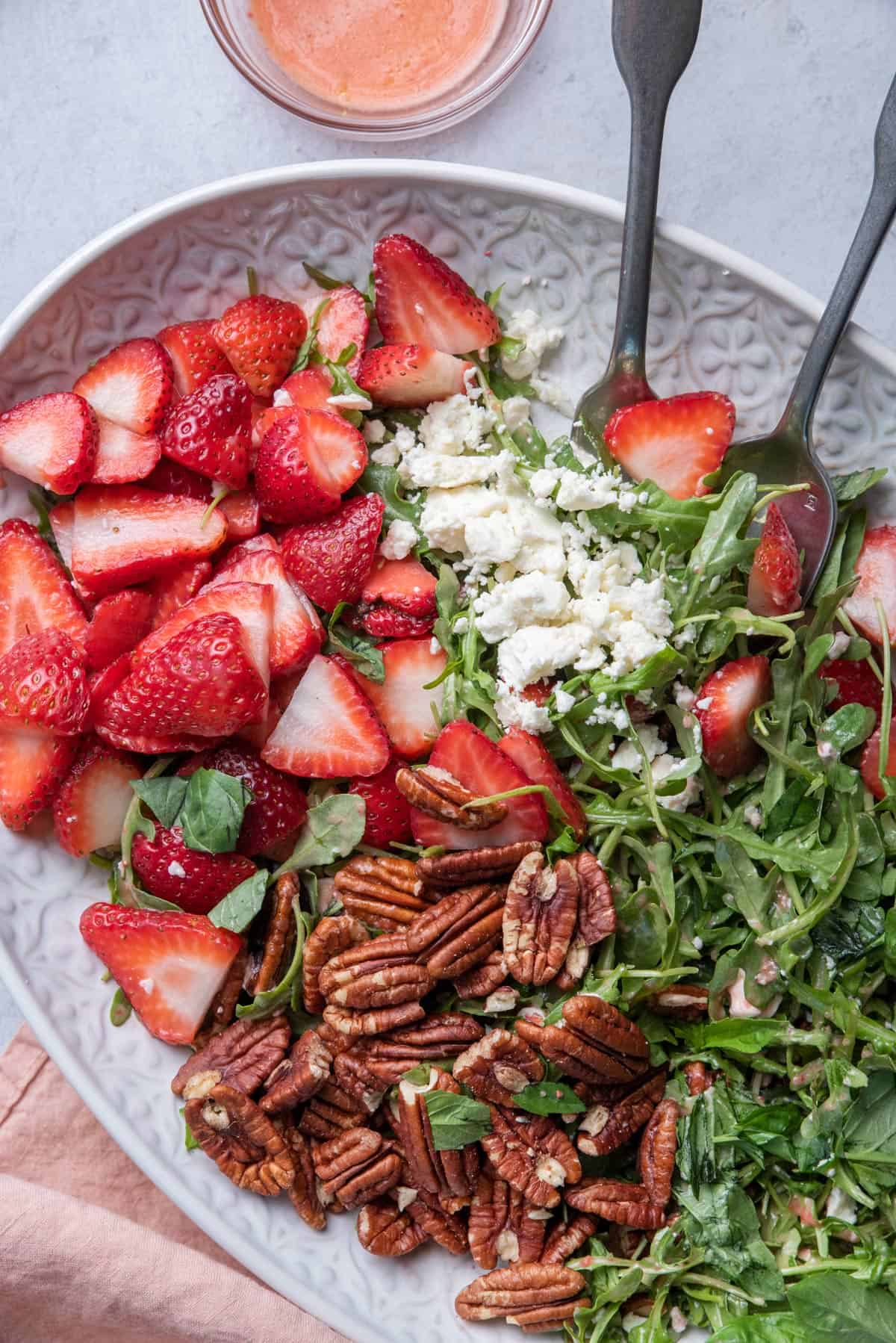 Whether you're looking for a light lunch, a side dish for a barbecue, or a show-stopping salad for a gathering, this strawberry arugula salad recipe is sure to impress. So go ahead and indulge in all the goodness this delicious salad offers!
For more salads with fruit:
If you've tried this healthy-ish feel good Strawberry Arugula Salad recipe or any other recipe on FeelGoodFoodie, then don't forget to rate the recipe and leave a comment below! It helps others who are thinking of making the recipe. We would love to hear about your experience making it. And if you snapped some shots, share it on Instagram so we can repost on Stories!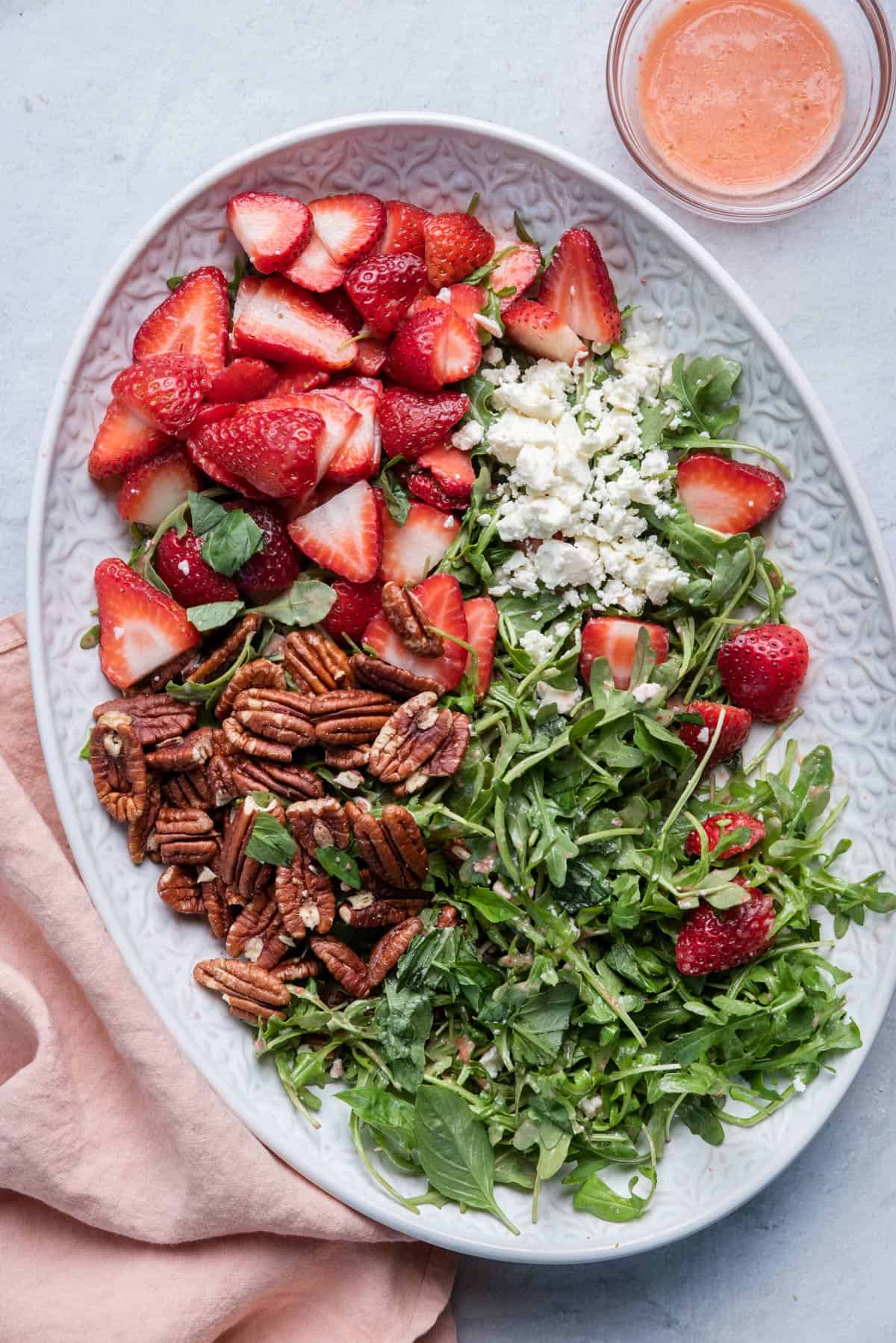 Strawberry Arugula Salad
Super simple strawberry and arugula salad with crunch pecans, salty feta, and sweet strawberries. It's finished off with a fresh strawberry vinaigrette!
Ingredients
1

pound

strawberries

tops removed

5

ounces

fresh arugula

¾

cup

pecans

½

cup

crumbled feta cheese

½

cup

chopped fresh basil
Instructions
Thinly slice all strawberries and reserve 3 large berries for the dressing.

Make the dressing. In the bowl of a food processor or a high speed blender, add reserved strawberries, oil, balsamic vinegar, Dijon, shallot, water and honey. Process until smooth and creamy, adding more water if necessary. Season with salt and pepper to taste.

On a large serving platter or in a large serving bowl, mix arugula, berries, pecans, basil, and feta. Drizzle with vinaigrette and serve immediately.
Notes
Storage: The salad can be stored without the dressing, covered in the fridge for a couple of days. The dressing will keep well for up to a week. Add the dressing just before serving.
Nutrition
Serving:
1
g
,
Calories:
432
kcal
,
Carbohydrates:
40
g
,
Protein:
9
g
,
Fat:
31
g
,
Saturated Fat:
6
g
,
Cholesterol:
11
mg
,
Sodium:
173
mg
,
Potassium:
843
mg
,
Fiber:
14
g
,
Sugar:
9
g
,
Vitamin A:
964
IU
,
Vitamin C:
49
mg
,
Calcium:
313
mg
,
Iron:
5
mg
Nutrition information provided is an estimate. It will vary based on cooking method and specific ingredients used.