This post may contain affiliate links. Please read our disclosure policy.
Watermelon Blueberry Salad is a refreshing, easy, crowd pleasing recipe that you need to make this summer! Watermelons are plentiful this time of the year. So, if you're looking for something a little extra to do with that chopped watermelon, how about tossing it with blueberries, honey and lime juice? That's as easy as it gets for this thirst-quenching delightful summer "salad"!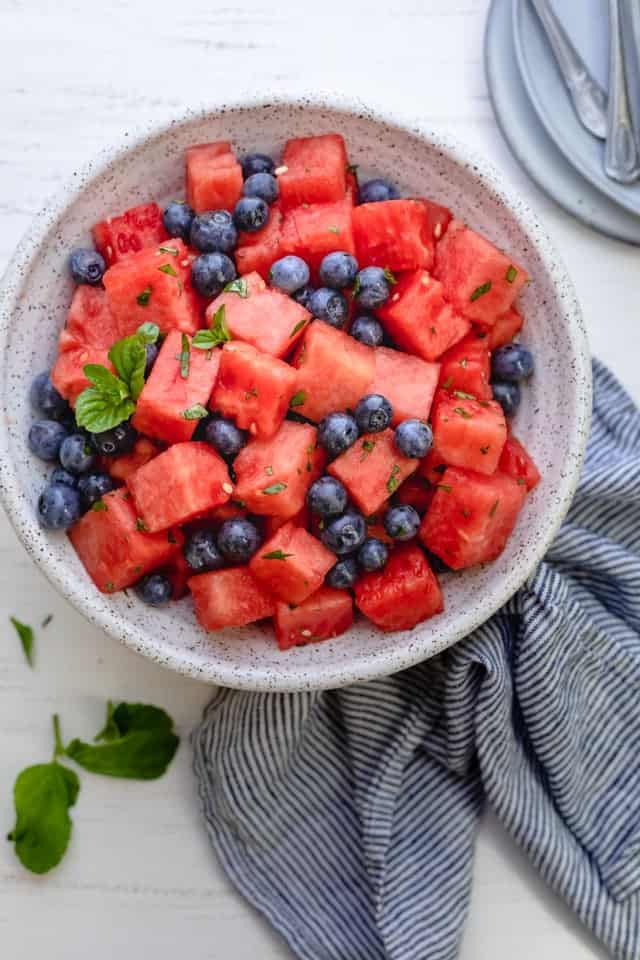 Benefits of watermelon
Watermelon is loaded with health benefits that give you those feel good vibes. So I highly recommend it as a go-to dessert in the summertime. It's sweet, full of good carbs and satisfies cravings for something sugary and refreshing. Here are my favorite health benefits for watermelon:
It's hydrating: It's called watermelon for a reason. In the summer, eating fruits like watermelon is a great way to stay hydrated when you want a break from water. It's actually a secret little trick to meet your hydration quota for the day.
It's low in calories: The calories in watermelon actually make it so you can enjoy it like a dessert or in recipes like this watermelon blueberry salad. Each cup is about 45 calories, which is a generous amount of fruit. So I say go for two cups and you'll still keep your calories at bay.
It has good carbs. Don't worry too much that it's 10 grams of carbs per cup of watermelon. Those carbs are great after a workout when your muscles are thirsty for replenishing their glycogen stores. The usable carbs in watermelon help with exercise recovery.
It's loaded with lycopene: That pink color is from lycopene, which is an antioxidant that is good for your heart health and helps fight cancer.
How to cut a watermelon
I cut a dozen or two watermelons each summer. From my experience, this is the best way to cut a watermelon.
Start by cutting the watermelon in half. Then place it on the cut side down and cut the skin off. Now you're left with a peeled half moon. Slice it down the middle. Then form slices horizontally.
Check out my other tips for how to cut a watermelon.
Then you can turn it over on its slide and slice again horizontally and then vertically until you get perfect little cubes.
How to make watermelon blueberry salad
Now that you have the watermelon chopped, it's time to make this watermelon blueberry salad. Place the cut watermelon in a large bowl along with the blueberries.
Add some fresh mint if you'd like. Then whisk together two parts honey to one part lime juice (or lemon juice) and pour all over.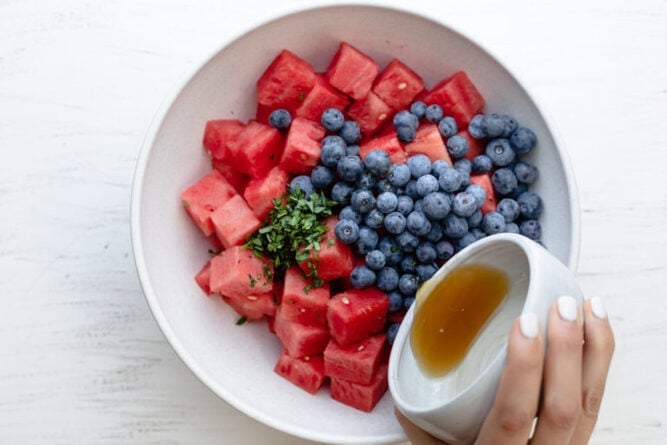 Give it all a good toss, and the watermelon blueberry salad is ready. You can serve it as is or chill it for one hour before serving. The salad will start to release water over time, so it's best to enjoy it immediately.
How to pick a watermelon
Check its weight compared to its size. The watermelon should feel relatively heavy for its size. That means it's packing in lots of juices! So pick it up and get a feel for it.
Look for a field spot on the watermelon. This is usually a large patch on one side of the watermelon that has a light and creamy yellowish tone. If it does, it's a signal of ripeness.
Aim for a symmetrical shape. It can be round or oval, but symmetry is important. That usually means the watermelon had consistent sun and water in the field, which will translate to an even ripeness all around.
Tap (bang) it to check for firmness. This means that it's not too ripe (and mushy). This is the test my kids love to do!
Now you'll be picking the perfect watermelons all summer long, and I hope you try this watermelon blueberry salad with one ripe and juicy watermelon. It's a great snack to have for your family, makes for a refreshing appetizer or dessert at a barbecue and it's always a hit at parties! Add more texture by sprinkling some homemade candied walnuts on top.
If you have some leftover and it's starting to get watery, feel free to throw it all in a blender and make yourself a watermelon cooler…no extra ingredients needed!
More summer fruit desserts/fruit salads:
If you've tried this healthy-ish feel good Watermelon Blueberry Salad recipe or any other recipe on FeelGoodFoodie, then don't forget to rate the recipe and leave me a comment below! I would love to hear about your experience making it. And if you snapped some shots of it, share it with me on Instagram so I can repost on my stories!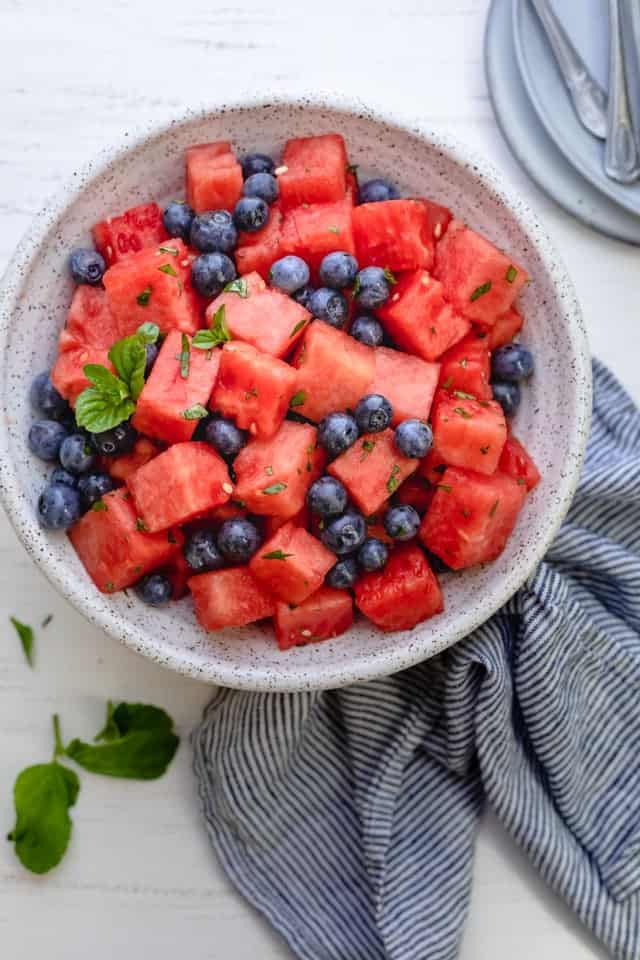 Watermelon Blueberry Salad
This Watermelon Blueberry Salad is tossed with mint, lemon and honey. It's an easy, healthy, refreshing summer recipe for picnics, barbecues and potlucks.
Ingredients
6

cups

watermelon

seeded, chopped

1

cup

blueberries

2

tablespoons

honey

1

tablespoon

lime

1/2

teaspoon

fresh mint

chopped
Instructions
Place the seeded, chopped watermelon in a large bowl.

In a small bowl, combine the honey, lime juice and mint. Pour over the watermelon. Add the blueberries and toss gently to coat. Chill until ready to serve.
Notes
Storage: Store any leftovers in an airtight container. It's best to consume it within 24 hours but it will keep well for up to 3 days.
Substitutes: For best results, follow the recipe as is. However here are some common substitutes that would work well in this recipe.
Instead of lime juice, you can use lemon juice.
Instead of honey, you can use maple syrup or agave syrup.
Feel free to use other herbs instead of mint like basil.
Serving Size: One serving is about 1 cup of watermelon and ⅙ cup blueberries.
Nutrition
Calories:
81
kcal
,
Carbohydrates:
21
g
,
Protein:
1
g
,
Fat:
1
g
,
Saturated Fat:
1
g
,
Sodium:
2
mg
,
Potassium:
189
mg
,
Fiber:
1
g
,
Sugar:
18
g
,
Vitamin A:
880
IU
,
Vitamin C:
15
mg
,
Calcium:
11
mg
,
Iron:
0.4
mg
Nutrition information provided is an estimate. It will vary based on cooking method and specific ingredients used.