This post may contain affiliate links. Please read our disclosure policy.
Start your morning with the Sheet Pan Pancakes for an easy-to-make breakfast with so many add-in possibilities! There's something for everyone to enjoy, even the picky eaters, when you can split the batter into different flavors. Whether you love fresh berries or sweet additions like chocolate chips, this pancake recipe is quick to prepare and bakes in the oven in no time! Your hands are free to get your morning going instead of standing over the stove flipping pancakes.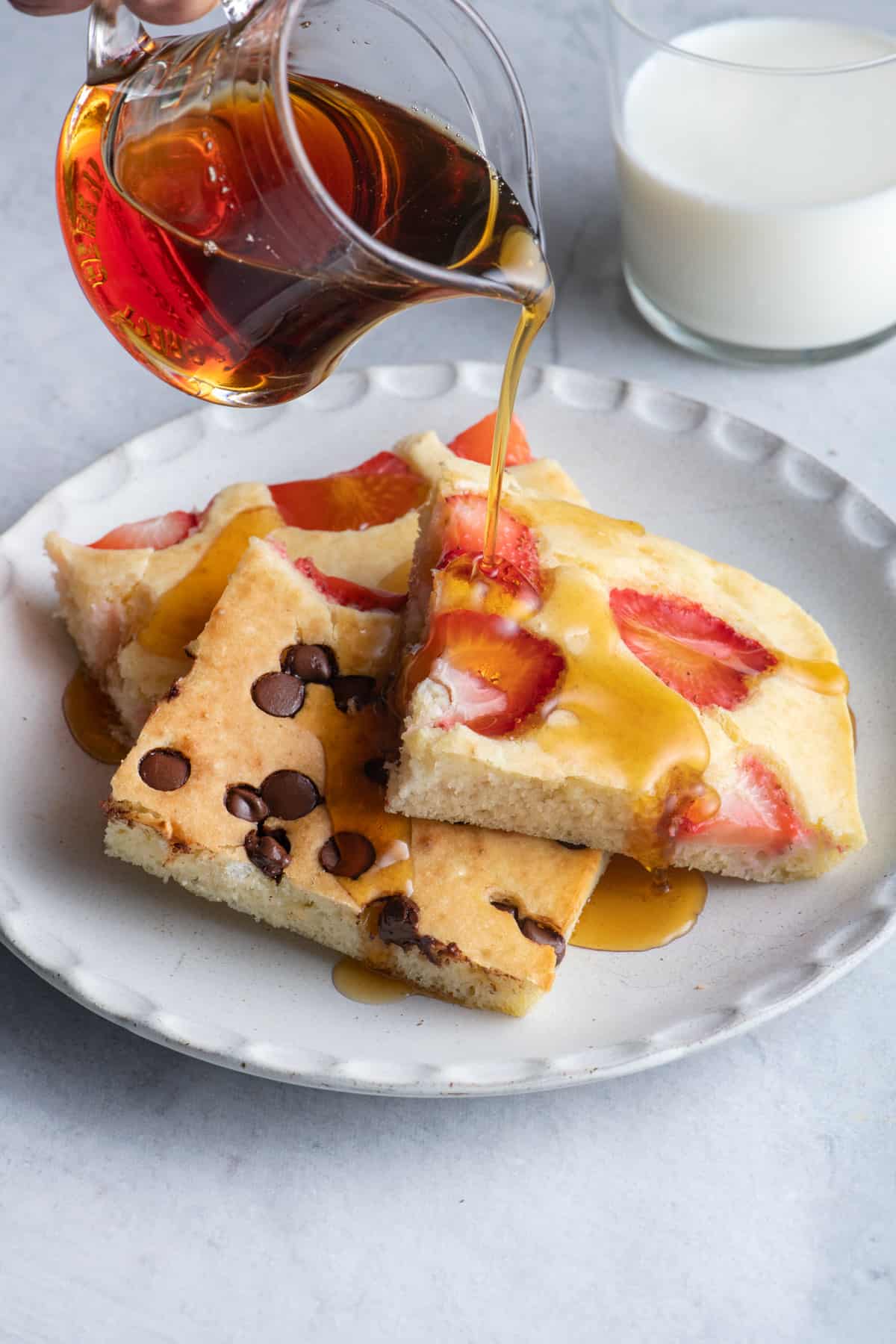 Sheet pan pancakes are perfect for a quick family breakfast and feeding a crowd if you're planning a special occasion get-together. These baked pancakes are ideal for serving many people without all the extra work. Standing over a frying pan and flipping just a few pancakes at a time can be daunting, so this recipe is precisely what you need to make a bunch of pancakes that bake up in about 15 minutes.
What are Sheet Pan Pancakes?
Sheet pan pancakes are a quick and easy pancake recipe made for baking. The difference between making traditional pancakes in a skillet and these sheet pan pancakes is simply baking the batter in a thin layer on a baking sheet. You'll have perfectly fluffy pancakes customized with whatever toppings you're craving baked right into the batter. Pancakes in the oven make cooking a family breakfast that much easier, and the kids will love all the possibilities of creating their favorite pancake flavor combo.
why you'll love this Sheet Pan Pancakes Recipe
All the possibilities for add-ins. Once you add the batter to the sheet pan, you can sprinkle in your favorite fresh fruit, chocolate chips, shredded coconut, granola, or whatever you're craving!
A winner for kid's breakfast ideas! If you have a picky eater, this is an excellent option for breakfast. It allows them to see and feel what they're eating and choose what they want to add. Plus, for kids who love getting involved in the kitchen, you'll offer a simple and fun breakfast they can help make.
No fuss pancake recipe. All the ingredients are mixed in one bowl for a quick and easy pancake batter. Once you pour it into the sheet pan and added toppings, it's hands off from there! Place in the oven to bake into a soft and tender pancake and cut into squares for everyone to dive in and enjoy their favorite pancakes.
Ingredients to make Easy Sheet Pan Pancakes
There are just 8 simple and standard ingredients to make pancakes in the oven, and you likely already have most of these in the pantry or fridge.
Dry ingredients: flour, sugar, baking powder, and salt.
Wet ingredients: milk, eggs, melted butter, and vanilla extract.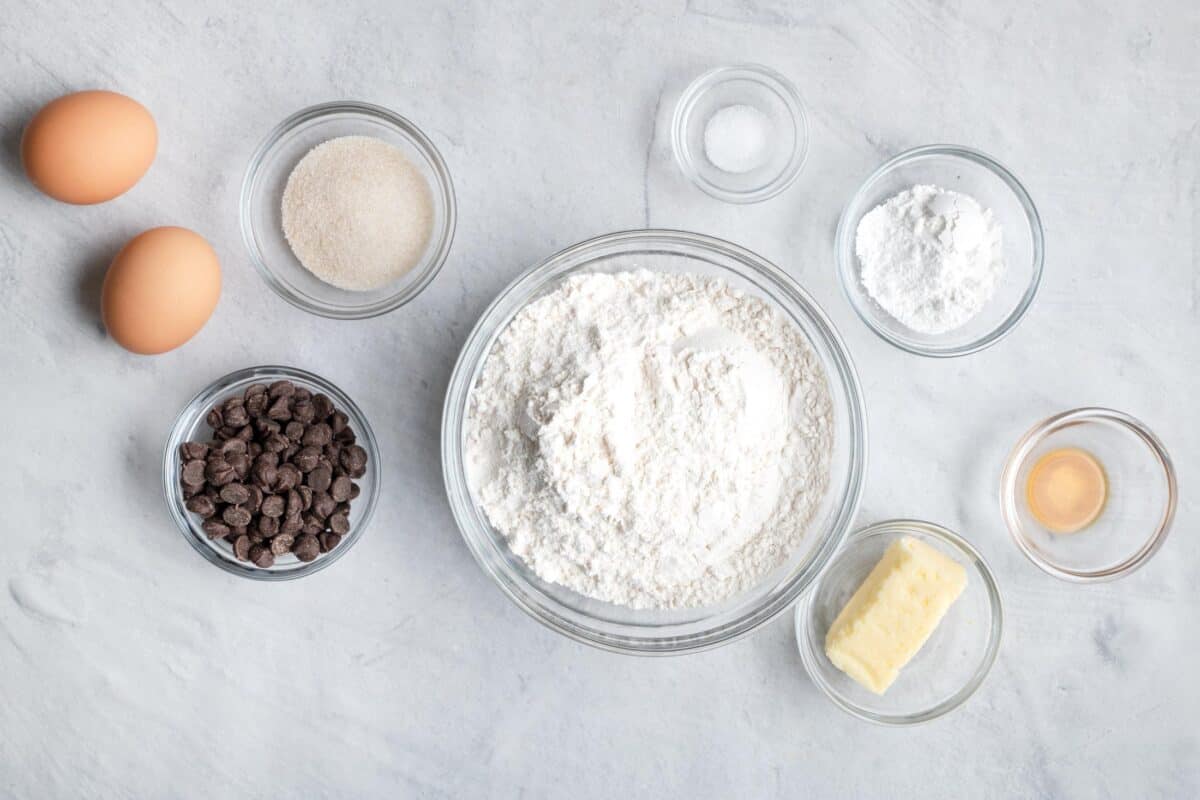 How to make Sheet Pan Pancakes
Preheat the oven and grab a bowl, whisk, and sheet pan to make this easy pancake recipe with your favorite add-ins.
Mix Batter
Whisk together dry ingredients in a bowl.
Make a well in the flour mix and add in wet ingredients.
Whisk the wet and dry together until fully combined.
A few lumps are okay, and the batter is ready for the sheet pan.
Bake Pancakes in Sheet Pan
Pour the pancake batter onto the prepared pan, spreading evenly. To each corner, sprinkle the chocolate chips, blueberries, strawberries, and bananas.
Bake until lightly golden and cooked through. Cut and serve immediately.
Tips for making Pancakes on a Sheet Pan
Use parchment paper for good safety. If you have a good sheet pan and grease it well, this should not be necessary because no pancakes will stick to the pan. However, the parchment paper will help if your pans are older or foods tend to stick to them.
Try to avoid frozen fruits as toppings. While you can use any toppings you'd like, the idea of sectioning the sheet pan pancakes might get lost if the frozen fruit juices start to bleed into other non fruit sections.
Make sure to spread evenly. Use the back of a spatula or lightly tap the sheet pan on the counter before popping it in the oven to remove any air bubbles and ensure even baking.
Use the right size baking sheet. While testing this recipe, the result is to give you the same favorite fluffy pancake as if cooking in a pan, so the size of the baking sheet matters. If too small, the batter may overflow and not cook thoroughly. If too large, you'll have a thin pancake that may overcook. So for the best fluffiest sheet pan pancakes, I recommend using a 13 by 18-inch rimmed baking pan.
Don't overmix. When whisking together the wet and dry ingredients, you want to combine them until it starts to come together, but you can still see small pea size lumps. If you continue to mix it past this part, gluten develops, resulting in a tough, chewy pancake instead of the ideal tender and fluffy pancake.
popular Pancake substitutions & additions
Making sheet cake pancakes is so much fun, and you can really get creative with all the flavor possibilities. Switch out or add a few more ingredients for a delicious bite. Mixing in the add-ins to the batter incorporates them into the pancake for a burst of flavor in every slice!
Make a cinnamon swirl sheet pan pancake. Combine cinnamon, brown sugar, and melted butter. Add dollops of the mix to a section of the sheet pan pancake batter and use a knife or toothpick to swirl the cinnamon into the batter. You can then add bananas, top with baked apple slices, or leave it as is.
Try chocolate pancake batter. Stir in cocoa powder with the dry ingredients and mix as instructed. You'll have a rich, thick pancake batter to add toppings. Chocolate chip chocolate pancakes or walnut chocolate pancakes would be really delicious and yummy. Even strawberries, raspberries, or bananas would pair well with cocoa pancakes.
Add nuts. Sprinkle walnuts, pecans, almonds, or your favorite nutty addition into the batter before baking. Use a spatula or spoon to gently push them down or stir them in before pouring the batter into the sheet pan to fully incorporate them.
Switch up the chips. Our family loves chocolate chips, especially in pancakes, but you can also use white chocolate chips or another flavored baking chip.
what to serve with your sheet pancakes
how to store & reheat Sheet Pan Pancakes
Baked sheet pan pancakes are best when freshly made. If saving leftovers, let them cool and transfer to an airtight container or wrap them tightly. To reheat, place them on a sheet pan, cover them with foil, and reheat in a 350°F oven. Start checking after five minutes. Or put in the microwave with a damp paper towel or microwave-safe cover on top, and heat at 30-second intervals until hot.
how long will Baked Pancakes last in the fridge?
Sheet pan pancakes with add-ins such as fresh fruit will last in the fridge for up to 2-3 days when tightly wrapped in plastic wrap or stored in refrigerator bags.
can I freeze Cooked Pancakes with Fruit added?
Yes, slice into squares and freeze for up to 3 months. When you're ready to serve the frozen pancakes, let them thaw in the fridge. Then place the pancakes on a baking sheet and cover them with foil to reheat.
Frequently asked questions
What is the trick to making sheet pan pancakes fluffy?
Use room-temperature ingredients for fluffier pancakes. This will keep your butter get nice and melty to incorporate into the batter. Using baking powder and not over-mixing the pancake batter are also key to getting tall, tender, fluffy pancakes.
How long does it take to bake pancakes?
Cook sheet pan pancakes in the oven at 425°F for 15-17 minutes. Use the toothpick method to check for doneness for around 15 minutes. If it comes out clean, they are ready to be removed from the oven.
Can I make these pancakes dairy-free?
Absolutely! Switch out the dairy ingredients for plant-based butter and milk alternatives. You can use soy, oat, or almond milk.
Why are these pancakes baked at such a high temperature?
Pancakes baked in a very hot oven allow the baking powder to react more quickly and assist in the perfect rise. You'll have fluffier pancakes that cook quicker!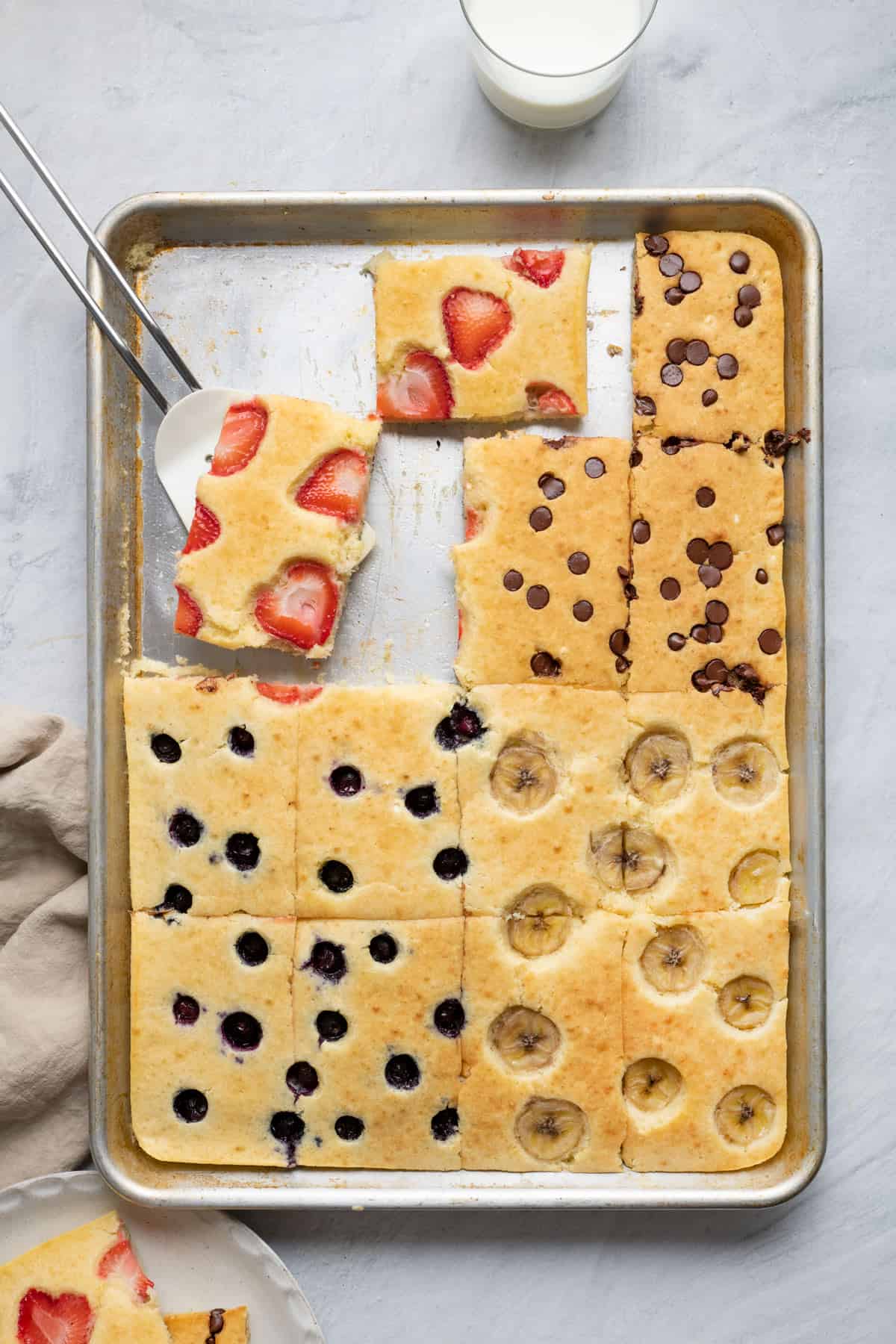 This fluffy sheet pan pancake recipe is easy to make and comes together quickly to feed your family or serve a crowd. Not only can you choose what to add in, but you can section out the pancakes for more variety—chocolate chips for some, fresh fruit baked in for others, and pancakes for everyone to love.
More pancake recipes:
If you try this feel good Sheet Pan Pancakes recipe or any other recipe on Feel Good Foodie, then don't forget to rate the recipe and leave a comment below! It helps others who are thinking of making the recipe. We would love to hear about your experience making it. And if you snapped some shots, share it on Instagram so we can repost on Stories!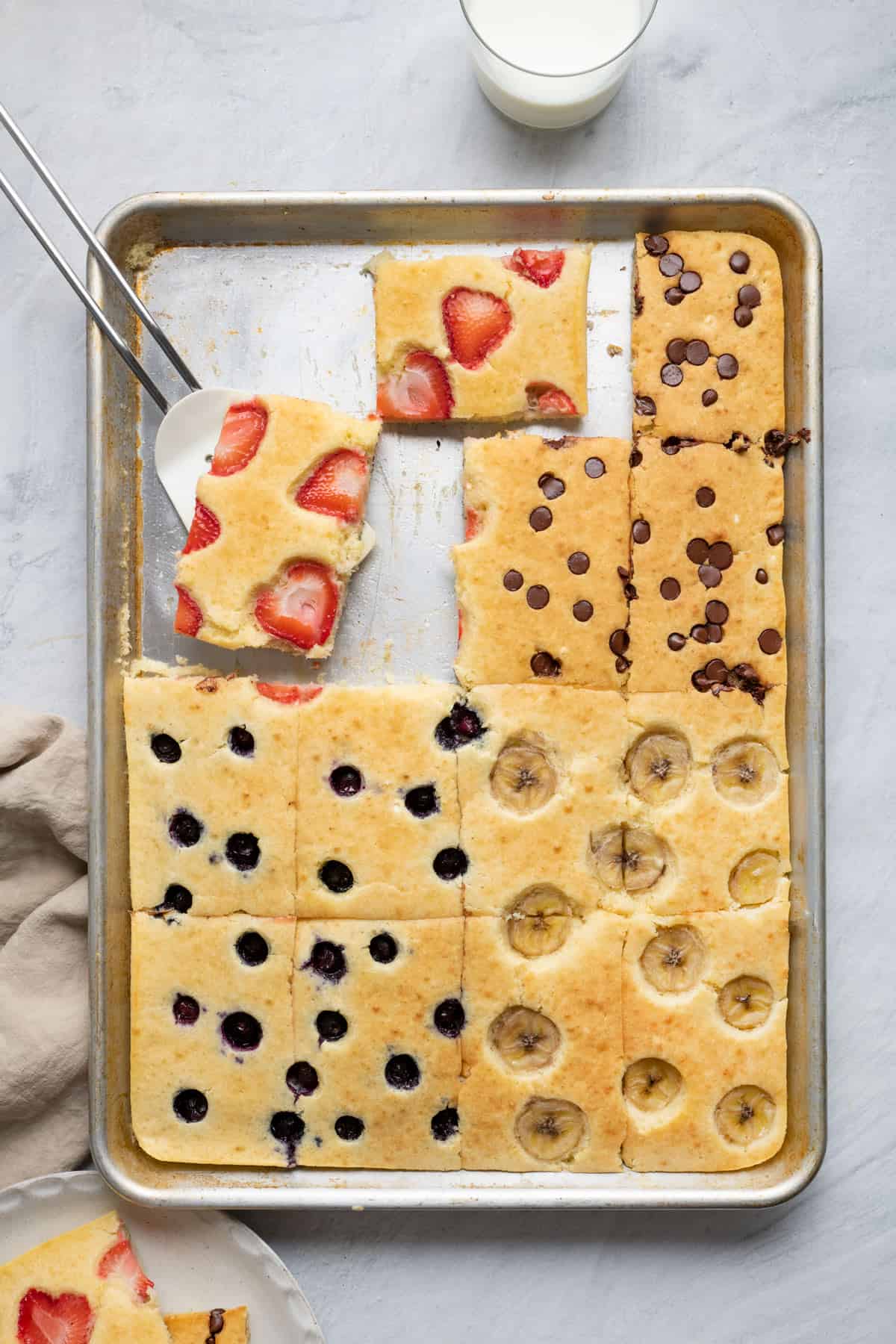 Sheet Pan Pancakes
Whether you want an easy and delicious pancake breakfast for the family or looking to serve a crowd, Sheet Pan Pancakes have all the flavor of traditional fluffy pancakes without all the work!
Ingredients
Toppings of choice
chocolate chips, blueberries, strawberries, bananas
Instructions
Preheat the oven to 425°F degrees. Generously grease a 13×18 baking sheet with cooking spray.

In a large bowl, whisk together the flour, sugar, baking powder and salt. Make a well in the center of the dry ingredients and slowly whisk the milk, eggs, melted butter and vanilla extract into the dry ingredients until well combined; some lumps are fine.

Pour the pancake batter onto the prepared pan, spreading evenly.

Sprinkle the chocolate chips in one quadrant, blueberries in another, strawberries in another and finally, bananas in the last quadrant. Bake until golden brown, 15-17 minutes.

Divide into 12 portions and serve immediately with maple syrup, if desired.
Notes
*Nutrition does not inlude topping additions.
Nutrition
Calories:
349
kcal
,
Carbohydrates:
50
g
,
Protein:
10
g
,
Fat:
12
g
,
Saturated Fat:
7
g
,
Polyunsaturated Fat:
1
g
,
Monounsaturated Fat:
3
g
,
Trans Fat:
0.3
g
,
Cholesterol:
84
mg
,
Sodium:
310
mg
,
Potassium:
605
mg
,
Fiber:
1
g
,
Sugar:
8
g
,
Vitamin A:
444
IU
,
Calcium:
292
mg
,
Iron:
3
mg
Nutrition information provided is an estimate. It will vary based on cooking method and specific ingredients used.