This post may contain affiliate links. Please read our disclosure policy.
If you're looking for a fresh and bright new twist for your weekend pancakes or something more unique to serve your mom on Mother's Day, these Lemon Ricotta Pancakes are definitely worth a try. They sound fancy and they look fancy, but essentially they are a simple pancake recipe made with typical pantry items. The only difference is we use ricotta instead of butter or oil and they're infused with lemon juice and lemon zest.
If you're thinking that cheese doesn't belong in pancakes, don't think of the cheese as playing a savory role like in lasagna, but more of a sweet role, like in cannolis or other Italians desserts. You won't actually taste the ricotta in the recipe. It helps add moisture and fat to the lemon ricotta pancakes batter without the need for oil or butter. The end result is a seriously soft and perfectly fluffy pancakes that are great for spring or summer!
How to make lemon ricotta pancakes
Like most pancake recipes, you'll have the typical dry ingredients and the typical wet ingredients. Mix both together and then cook the pancake batter. It's quite simple to make without any fancy steps or equipment.
Dry ingredients
In a small bowl whisk together the flour, baking powder, salt and sugar. The sugar can go in the dry ingredients or in the wet ingredients.
Wet ingredients
The wet ingredients include the typical milk and eggs. Normally with pancakes, you'll add vanilla extract and some type of fat to help add moisture to the pancakes. With these lemon ricotta pancakes though you'll swap the vanilla extract for lemon juice and lemon zest. And instead of butter or oil, you'll use ricotta. Those two ingredients mixed into the wet batter are what make this recipe stand out!
What kind of ricotta should you use? You can use whole or low-fat ricotta. I prefer to use whole fat ricotta because it gives them a creamy richness and it's more flavorful. But low fat works just as well. Same goes for the milk. You can use what you like. Whisk everything together until well blended.
Mix batter and cook pancakes
Now it's time to mix the wet and dry ingredients together until you don't see anymore flour streaks. Remember, lumps in pancake batter are totally fine, so be careful not to over mix.
Now, heat a griddle or large nonstick skillet over medium-low heat, spray cooking oil or melt some butter and cook the pancakes. Use ⅓ cup or ½ for each pancake, and you'll make anywhere from 6 to 10 pancakes. They will be golden brown, soft and fluffy with an aromatic lemony flavor.
You can top these lemon ricotta pancakes however you like. Add some butter and maple syrup on top, add some slices of lemon for presentation and serve some fresh fruit on top or on the side. Raspberries, strawberries and blueberries are a wonderful accompaniment to the fresh lemon flavor!
Tips for making lemon ricotta pancakes
Beat the egg whites separately. For extra light and fluffy pancakes, you can beat the egg whites separately and then fold them into the wet batter. This does take more time, and it's the way the original recipe was written by Food & Wine. But, it's what makes them unique for a special occasion if you have the time.
Don't over-mix the batter. Lumps are good in pancake batter. To avoid over-mixing, mix the wet ingredients separate from the dry ingredients and then combine everything together. If you overmix the batter, you basically overwork the gluten which creates more tough and dense pancakes.
Use a measuring cup for evenly round pancakes. This helps to make sure the pancakes are all even so they stack nicely and evenly. It also helps you control the pouring situation for the pancakes.
Be patient when cooking the pancakes. I recommend you keep the temperature of the pan at low to medium-low heat when cooking pancakes. You want to watch for the edges starting to brown lightly and then you can flip the pancakes. Another test is to see if you can easily slide a spatula under the pancakes, they're ready for flipping.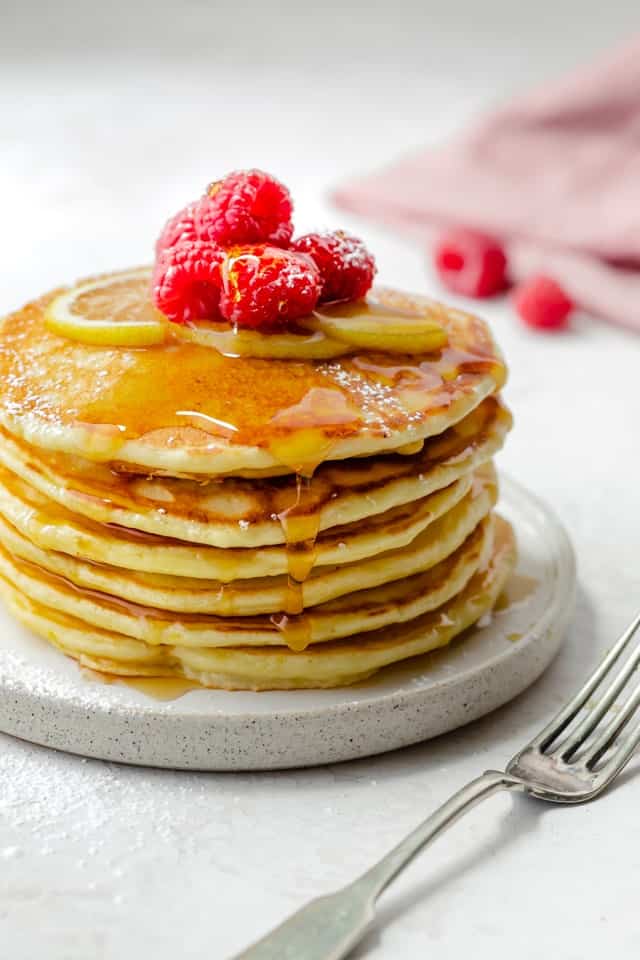 More pancake recipes:
These lemon ricotta pancakes are a fun change from everyday pancakes. The ricotta cheese adds a rich texture and the lemon juice and lemon zest add a bright fresh flavor. They have a perfect balance or tartness and sweetness from the lemon juice and the sugar. They are such a great breakfast or brunch idea and some of the best pancakes you may try! I love how rich, fluffy and flavorful they are!
If you've tried this healthy-ish feel good Lemon Ricotta Pancakes recipe or any other recipe on FeelGoodFoodie, then don't forget to rate the recipe and leave me a comment below! I would love to hear about your experience making it. And if you snapped some shots of it, share it with me on Instagram so I can repost on my stories!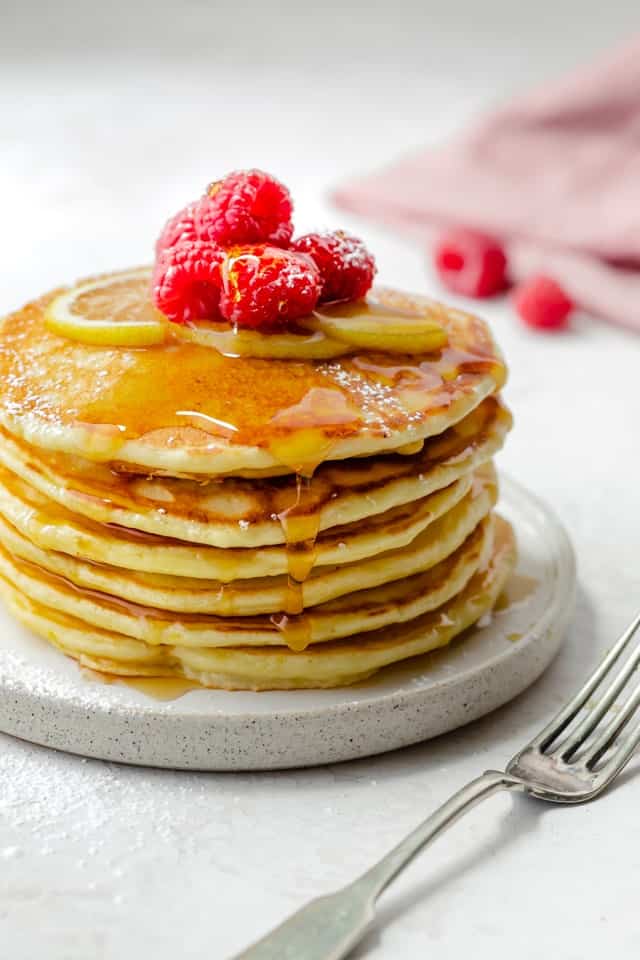 Lemon Ricotta Pancakes
This Lemon Ricotta Pancakes recipe makes soft and fluffy pancakes with a hint of lemon zest flavor. They have a bright and fresh flavor and easy to whip up!
Instructions
In a large bowl, whisk the flour with the baking powder, salt and sugar.

In another medium bowl, whisk the milk, eggs, ricotta, lemon juice and lemon zest. Whisk the wet ingredients into the dry ingredients until just incorporated.

Heat a nonstick griddle over medium-low heat. Melt butter on the surface or spray with cooking oil spray.

Pour ⅓ cup of the batter into the hot griddle. Cook for 2-3 minutes, until small bubbles start to form on the top and the edges firm up. Flip the pancake and cook for another 1-2 minutes until the pancake is cooked through and golden brown on the bottom.

Serve immediately with maple syrup.
Notes
Recipe: This recipe was adapted from Food & Wine. Instead of whipping the egg whites separately though, it was quicker to whisk the complete eggs with the wet ingredients.  Although their original method yields more fluffy pancakes if you have the time.
Storage: Store any leftovers in an airtight container. They will last about 3-4 days in the fridge.
Freezing Instructions: Cool the pancakes, then place them between layers of wax paper, then place in an airtight container or freezer-safe bag. Freeze for up to 3 months. To reheat, place in the microwave for 1-2 minutes or in the oven at 350ºF until they're hot and heated through, about 5-7 minutes.
Substitutes: For best results, follow the recipe as is. However here are some common substitutes that would work well in this recipe.
Instead of regular milk, you can use any plant-based milk.
I tested this recipe with a whole wheat white flour, but it will work with other all purpose flours.
To make this gluten-free, use an all-purpose gluten-free flour mix. Do not substitute only almond flour or only coconut flour.
You can replace granulated sugar with other types of sweeteners of choice.
* Please note the nutrition label does not include any toppings.
Nutrition
Calories:
338
kcal
,
Carbohydrates:
48
g
,
Protein:
14
g
,
Fat:
10
g
,
Saturated Fat:
5
g
,
Cholesterol:
145
mg
,
Sodium:
393
mg
,
Potassium:
426
mg
,
Fiber:
1
g
,
Sugar:
10
g
,
Vitamin A:
415
IU
,
Vitamin C:
7.8
mg
,
Calcium:
245
mg
,
Iron:
3
mg
Nutrition information provided is an estimate. It will vary based on cooking method and specific ingredients used.