This post may contain affiliate links. Please read our disclosure policy.
Want to learn how to make jam? Every homemade jam recipe uses the same technique: boil fruit, sugar, and lemon juice together until it thickens. Make it with strawberries, raspberries, apricots – any fav fruit! This super-simple jam recipe is a fun summer project, and it skips the tedious hot-water processing.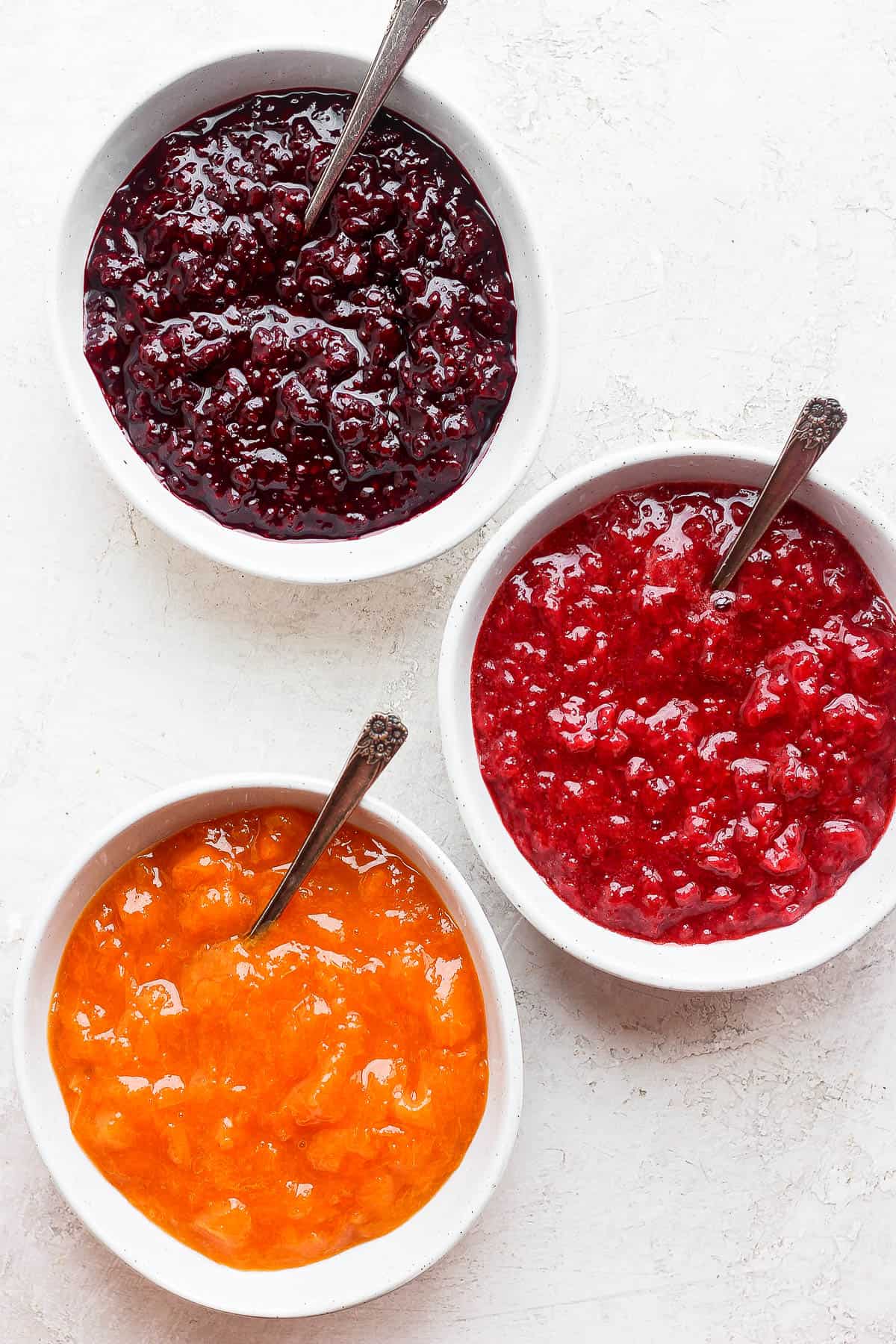 This method skips the shelf-stabilizing, hot-water processing, which involves boiling the filled jars in hot water. So, it is sometimes called refrigerator jam, because it is always stored in the refrigerator.
WHY learn to make your own jam
Preserve in-season fruit. This recipe takes advantage of the bountiful, fresh, and well-priced seasonal berries and stone fruits at your supermarket, farm stand, or maybe even in your backyard!
Control sugar. Although sugar is a necessary ingredient that helps the fruit mixture reach its set point, you can add a bit more or less, and homemade jam almost always uses less than commercial preparations. Plus, homemade contains no other unwanted sweeteners like high fructose corn syrup.
Discover fun combinations. Strawberry or strawberry-blueberry? Peach-raspberry? Why not? Give them a try.
Adds another skill to your cooking repertoire: Learning how to make this easy jam is a gateway to making similar recipes like chutneys or savory jams. Bonus: they all enhance meals and are very cool homemade gifts.
HOW TO MAKE jam
First, mix cut-up fruit or small berries with sugar and let it sit. Next, add the lemon juice. Bring the whole thing to a boil, then stir and watch until it reaches a gel consistency. Finally, pour it into jars. Easy! I use cold plates to test for doneness. Remember, put them in the freezer before you begin cooking.
Cook on Stovetop
After placing three small plates in the freezer for later testing, combine the fruit, sugar, and lemon juice in a non-reactive heavy-bottomed saucepan. If time permits, let the fruit and sugar mixture sit overnight before adding the lemon juice and cooking.
Now, turn the heat to medium. As the fruit starts to cook, mash down the fruit with a potato masher or a fork to encourage the release of juices and help the fruit break down a little.
When the sugar has totally dissolved, turn the heat up to high and cook until thickened, stirring frequently.
After about 15-20 minutes, the mixture should look more like finished jam and be ready for testing.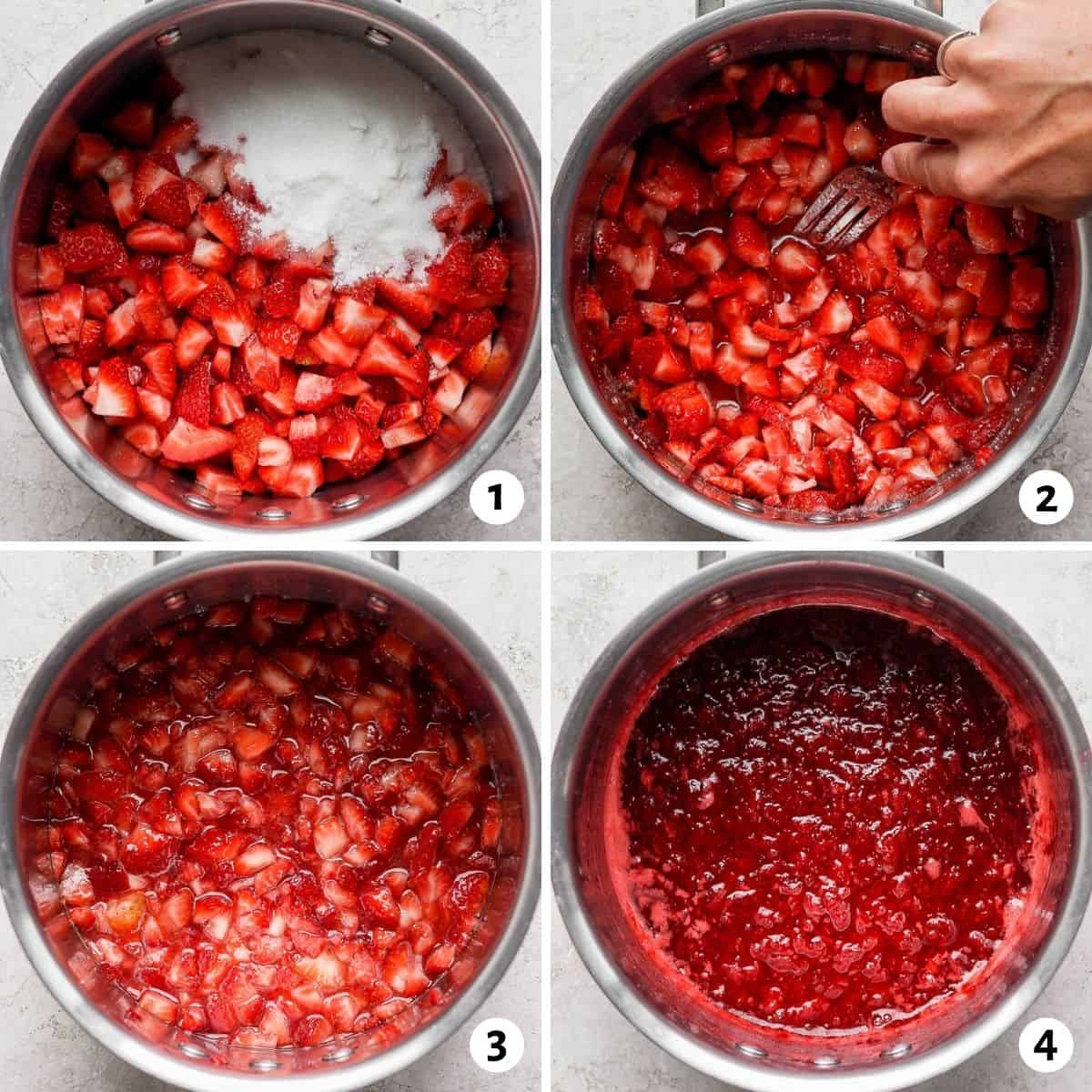 Test the Jam and Store
After taking the pot off the burner and a frozen plate from the freezer, drop a small amount of jam onto the frozen plate. Let it cool a moment, then run a spoon or finger down the middle.
If you can see a plain road through the jam, as shown, with clean edges that are not closing in on themselves, then it is ready. If it runs back together, cook for a few more minutes and test again.
Finally, turn off the heat and pour into clean mason jars. Cool the mixture and then store it in the refrigerator.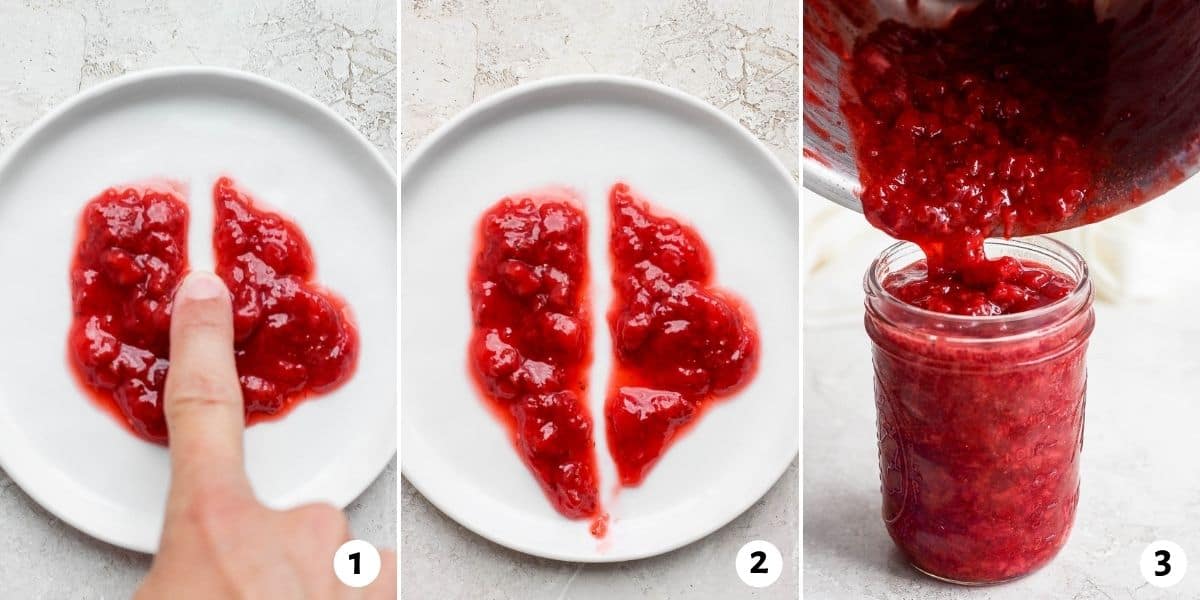 TIPS FOR making homemade jam
Allow the sugar and fruit to sit overnight. This will ensure that the fruit can be preserved, especially if making a chunky jam. Cover and keep in a cool place.
Make sure to immediately funnel hot jam into jars if canning. It's important to leave ¼" of space at the top and process according to the jar manufacturer's instructions.
Test early and often. Test early so you do not overcook. The mixture can become overly jelled, or the sugar could potentially caramelize.
Double-check with another test: You can also use an instant-read or candy thermometer to check the jam's temperature. It gels around the range of 217° – 220° – depending on the recipe. If you live at a high altitude, add 8 degrees above the boiling point of water in your area to find the gelling point. There is also the sheet test, where the finished jam should drip off a spoon onto a sheet, not in individual droplets.
Use nice fruit, not too ripe. Fruit is the centerpiece of jam. A bland or sour-tasting batch of fruit will not yield yummy jam. Also, overripe fruit has lost a lot of its pectin (the natural chemical that helps it gel) and does not work as well as slightly underripe fruit.
recipes to make with jam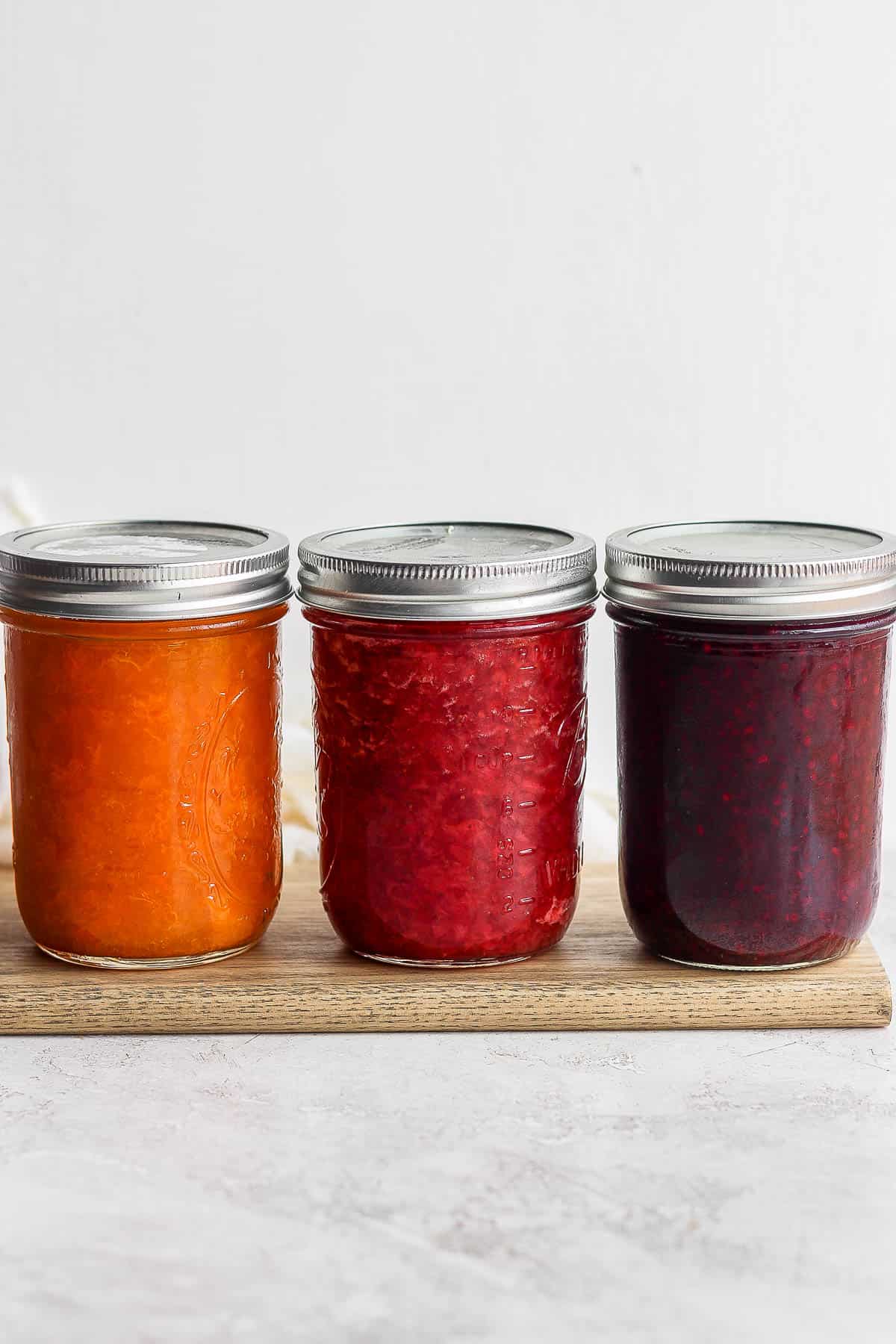 HOW TO STORE homemade jam
Store the homemade jam in a tightly lidded container in the refrigerator.
HOW LONG WILL jam LAST IN THE FRIDGE?
This homemade jam will last for at least 3 weeks in the refrigerator.
CAN I FREEZE jam?
Yes, you can freeze jam, but if you are doing so, leave room (at least ¼ inch- ½ inch) for expansion at the top of your mason jars and make sure your jars are freezer safe, so they do not crack. Frozen jam is best used within six months.
FREQUENTLY ASKED QUESTIONS
What is a non-reactive pan, and why does it matter when making jam?
Reactive pans, where aluminum, cast iron, or copper comes into direct contact with food, can give foods a metallic taste and/or discolor them. Think black cast iron pans and saucepans made from 100 percent aluminum with no stainless steel lining. Stainless steel pans, aluminum pans lined in stainless steel, and cast iron coated in enamel (like Le Creuset or some Lodge dutch ovens are fine.)
Do I need to sterilize my jars and lids when making refrigerator jams?
You do not need to sterilize jars and lids when making refrigerator jams because the jars and lids are not being prepared for long-term, shelf-stable storage. Of course, they should be clean!
Can I use plastic containers to store refrigerator jams?
Yes, you can pour refrigerator jam into plastic containers, but because the jam is very hot when finished, let it cool to lukewarm before pouring it into plastic containers. Otherwise, the containers might melt or warp.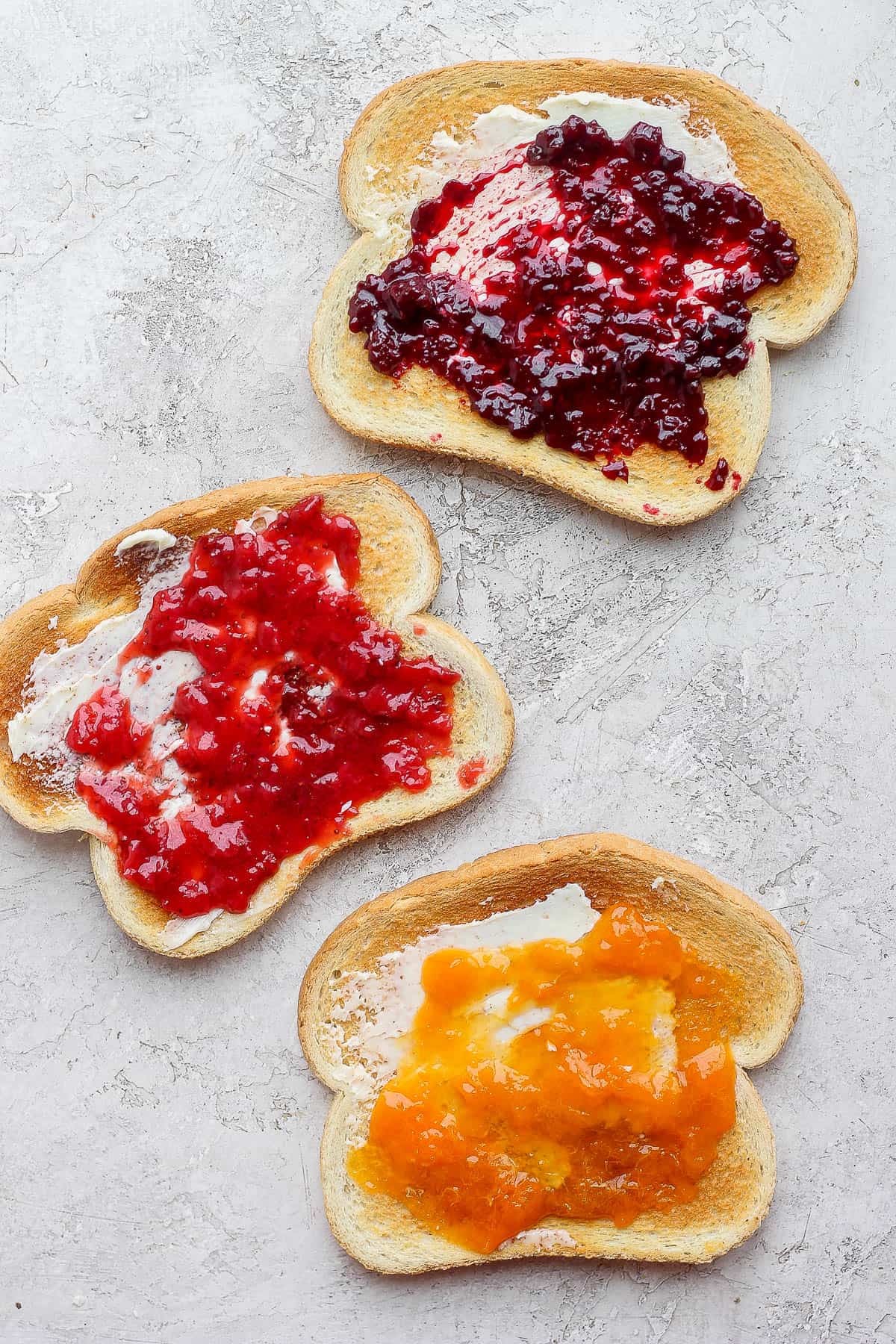 Homemade jam is a delicious way to use the season's fresh berries and stone fruits, and you might be surprised at the fresh, fruity flavor that hits way better than store-bought.
MORE cooking tutorials:
If you found this tutorial for How to Make Jam helpful or if you try any recipe on Feel Good Foodie, then don't forget to rate the recipe and leave a comment below! It helps others who are thinking of trying out this tutorial and we would love to hear about your experience. And if you snapped some shots, share it on Instagram so we can repost on Stories!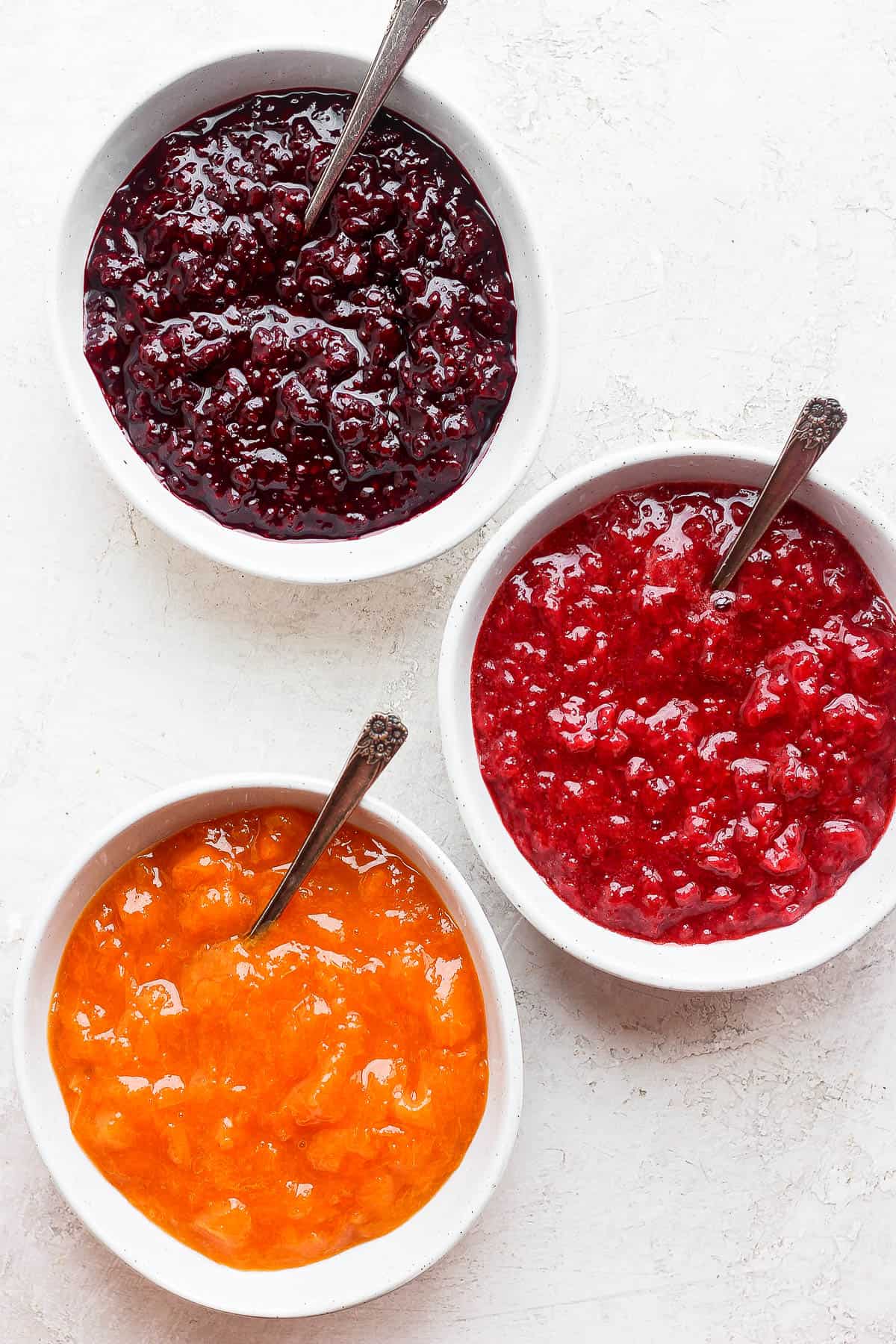 How to Make Jam
Ever wanted to make homemade jam? This recipe will show you how to make jam out of any fruit to enjoy for breakfast, as a snack, or even on desserts!
Ingredients
1

pound

fruit

chopped (strawberries, apricots, blackberries, etc.) (about 5 cups).

¾

cup

granulated sugar

3

tablespoons

lemon juice
Instructions
Place 3 small plates in the freezer to use later for testing the jam.

Combine the fruit, sugar and lemon juice in a non-reactive heavy bottomed saucepan over medium heat. Mash the fruit with a potato masher or large fork to help break it down.

Once the sugar has dissolved, turn the heat up to high and cook until thickened, stirring frequently, about 15-20 minutes.

To check for doneness, drop a small amount of jam onto a small frozen plate. Let cool for a moment, then run a spoon or finger through the jam. If you can draw a line with clean edges that don't drip, then it is ready. If it runs back together, then cook for a few more minutes.

Turn off the heat and transfer the jam into 2 clean 8-ounce mason jars. Cool the mixture, then store in the refrigerator for up to 3 weeks.
Notes
Tip: Don't skip the plate testing. To make sure your jam has the right consistency, you really don't want to skip this step! 
Nutrition
Serving:
2
Tablespoons
,
Calories:
46
kcal
,
Carbohydrates:
12
g
,
Protein:
1
g
,
Fat:
1
g
,
Saturated Fat:
1
g
,
Polyunsaturated Fat:
1
g
,
Monounsaturated Fat:
1
g
,
Sodium:
1
mg
,
Potassium:
46
mg
,
Fiber:
1
g
,
Sugar:
11
g
,
Vitamin A:
4
IU
,
Vitamin C:
18
mg
,
Calcium:
5
mg
,
Iron:
1
mg
Nutrition information provided is an estimate. It will vary based on cooking method and specific ingredients used.