This post may contain affiliate links. Please read our disclosure policy.
Flakey and moist this oven-baked cod is infused with the brightness of fresh lemons with subtle earthy notes of thyme and garlic. Severed with succulent blistered tomatoes and perfectly al dente roasted green beans, it's a five-star meal straight out of your oven.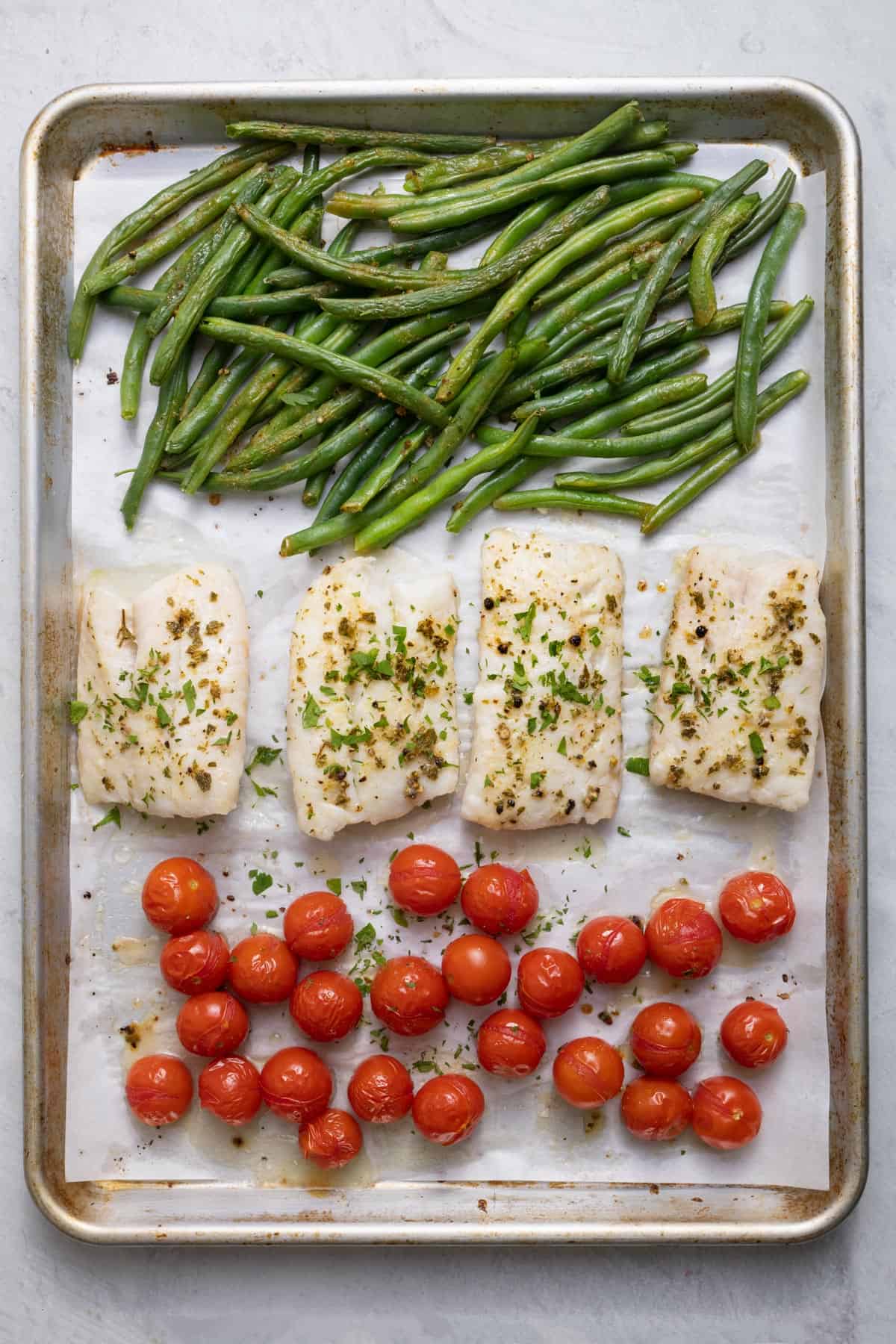 This oven baked cod is the answer to the question, what's for dinner tonight. It's one of those effortless healthy, beautiful sheet pan meals that are ready in 15 minutes. It's easy to make, easy to clean up, and an easy way to get a nutritious meal at the end of a long day!
This baked cod with lemon is a simple dinner recipe loaded with flavor and rich in protein. The cod comes out of the oven fork-tender and is perfectly flakey. It's melt in your mouth good! Pair it with a side of green beans, cherry tomatoes, and couscous, and you've created quite a delicious meal.
why you'll love this healthy baked cod
This baked fish recipe goes from the fridge to the dinner table in just 20 minutes!
Sheet pan meals are perfect for busy weeknights, who doesn't love not having a huge mess to clean up.
This cod recipe is BIG on flavor and lighton calories making it a healthy meal you actually want to eat!.
Ingredients to make oven baked cod
Cod fillets: Fresh or frozen cod will work for this recipee.
Cherry tomatoes: The tomatoes add a nice balance of sweetness and acidity!
Fresh green beans: Cooking the green beans in the oven still leaves a little bit of their crunch.
Olive oil: Olive oil works best for this recipe but avocado oil or even coconut oil could work.
Lemon juice: Lemon juice adds the perfect ctirus flavor.
Couscous: Adding couscouse is a great alternative to rice.
Chopped parsley: Full of vitamin C and rich in antioxidants it's a perfect topping for these baked cod fillets.
Seasonings: Dried thyme, garlic powder, salt and pepper add depth to your fish while elevating your veggies.
How to make OVEN BAKED COD FISH
Add the cod fillets, the fresh green beans, and the cherry tomatoes to a prepared sheet pan.
Drizzle on the olive oil and add the seasonings.
Use a brush to evenly distribute your seasoning blend across the cod, green beans and cherry tomatoes.
Tips for making baked cod with lemon
Pat the cod dry. You don't want any moisture on the cod before baking it. The olive oil and seasoning will not adhere as well to a damp cod fillet. Using a clean paper towel, pat it dry, and then proceed with the recipe steps.
Make softer green beans. If you prefer soft green beans oven al dente you can boil them for 3 minutes on the stove before roasting in the oven. You'll want to make sure you dry the green beans completely before roasting if you use this method.
Don't crowd the cod too closely on the sheet pan. While the tomatoes and green beans don't have to be perfectly spread out, try to keep some space between each cod fillet so they don't steam in the oven but roast instead.
popular substitutions & additions
Use brussel sprouts. If you want to use fresh Brussel sprouts instead of green beans, go for it. They taste great roasted as well.
Add some spice. Seasoning the fish fillets with cayenne pepper is a great way to kick up the heat.
Drizzle with butter. To add a bit more fat and flavor you can melt a little bit of butter to apply to the fillets before pulling them from the oven.
Add panko for a crispy cod fillet. Oven baked cod with panko is a delicious recipe, too! To make your cod crispy, season your bread crumbs with the same thyme, garlic, salt and pepper you use on the fillet. Make an egg wash and dip the fillets in the wash followed by the seasoned panko.
what to serve with your sheet pan cod
Couscous. I used fine couscous with the cod and veggies which just needs to soak in hot water without the need the need for direct heat from a stovetop. It's a fast and delicious choice that I love using when I'm busy. Grab my tips for cooking three kinds of couscous.
Rice. White or brown rice are both great options to pair with fish as well.
Roasted Veggies. Roasted Delicata Squash is delicate and a tad bit sweet and would be a great texture with baked cod.
how to reheat & store baked cod
Store any leftovers in an airtight container in the fridge until you're ready to reheat. To reheat this recipe, you can pop it back in the oven at 325 for 10-15 minutes just until warmed through.
how long will baked cod last in the fridge?
Fish doesn't have a long shelf life compared to other proteins—plan on eating the leftover cod within 3 days of cooking it.
can i freeze baked cod fillets?
I don't recommend freezing cod after it's been cooked. It doesn't hold up well to freezing.
Frequently asked questions
What internal temperature should cod be cooked to?
For cod to be considered safe to eat, you need to cook it to an internal temperature of 145 degrees. Keep in mind that your fish will continue cooking for a few minutes after it's pulled from the oven.
How do you know when cod is done baking?

If you don't have a meat thermometer, you can test the cod with a fork to help determine if it's ready to eat. Put the fork into the thickest part of the cod at a slight angle. Twist the fork a tiny bit and see if a piece of cod easily breaks off or flakes. If it does, then your cod is most likely done baking. The only way to be 100% certain is by taking its internal temperature.
Why was my cod tough?

Tough cod is an indicator that you overcooked it. This is where having a meat thermometer comes in so handy! Keep in mind as well that the size of the cod fillets is going to dictate the final cooking time. If you have extremely thin fillets, you'll want to start checking them around the 7-minute mark. The same goes for thick fillets. Make sure to adjust your cooking time depending on what you're working with.
Have fun baking up this simple cod recipe. It's the perfect recipe to get a healthy fish dinner on the table fast!
More sheet pan recipes:
If you try this healthy-ish feel, good Oven Baked Cod recipe or any other recipe on Feel Good Foodie, then don't forget to rate the recipe and leave a comment below! It helps others who are thinking of making the recipe. We would love to hear about your experience making it. And if you snapped some shots, share it on Instagram so we can repost them on Stories!
This Oven Baked Cod recipe was originally published on February 15, 2017. The recipe has not been modified, but the post now includes new step-by-step photos for how to make the cod recipe.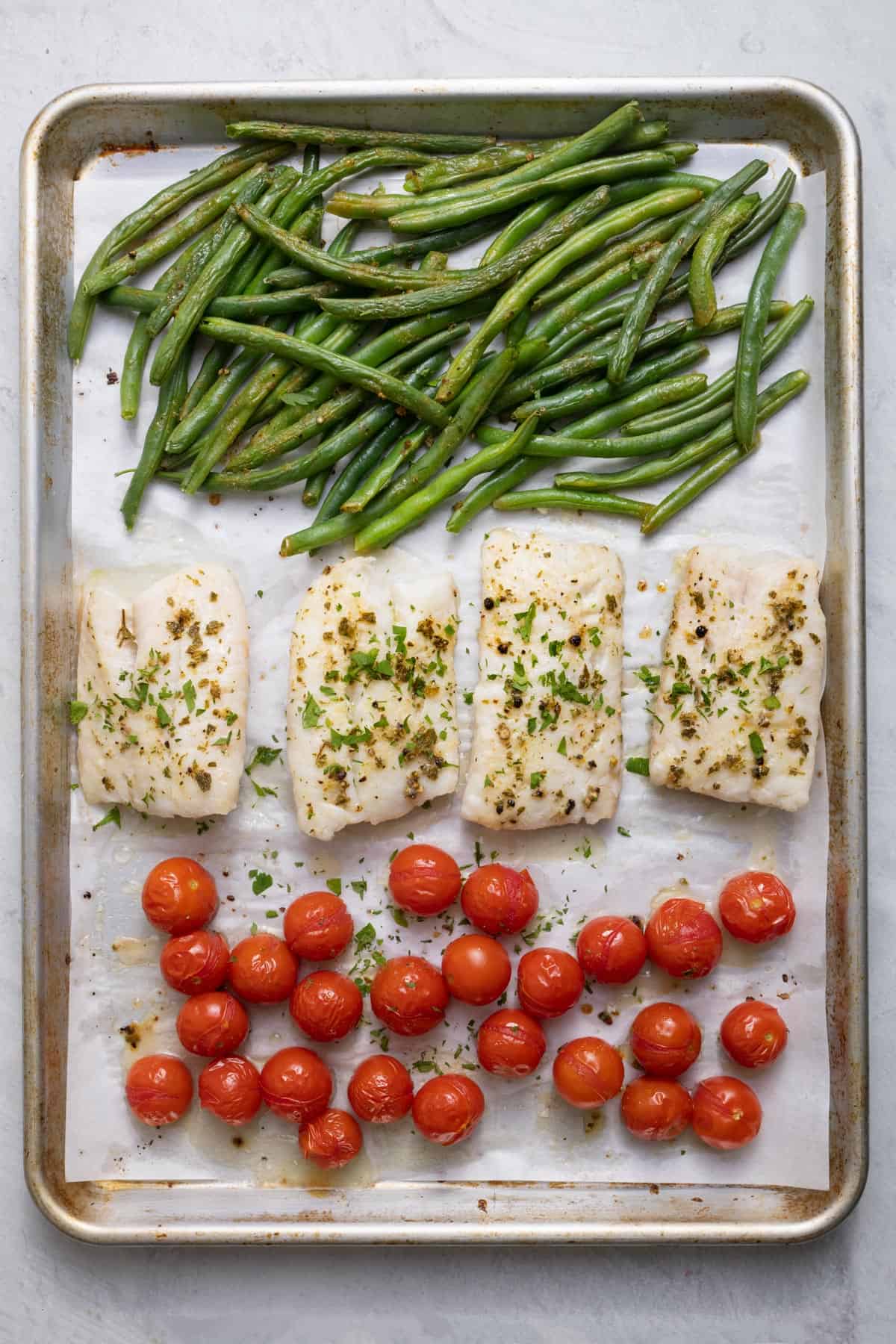 Oven Baked Cod
Oven Baked Cod with Green Beans and Tomatoes that you can easily whip up in 15 minutes on a busy weeknight and customize with any seasonings!
Ingredients
4 8-

ounce

cod fillets

1

pint

cherry tomatoes

12

ounces

fresh green beans

Salt and pepper

to taste

2

tablespoons

olive oil

2

tablespoons

lemon juice

1

teaspoon

dried thyme

½

teaspoon

garlic powder

Fine couscous

for serving

Chopped parsley

for serving
Instructions
Preheat the oven 400°F. Line a baking sheet with parchment paper.

Pat the cod dry with paper towels and place in the middle of the sheet pan in a single layer. Add the cherry tomatoes on one side and the green beans on the other side. Season the cod and vegetables with salt and pepper to taste.

Drizzle the olive oil and lemon juice over the cod. Season with thyme and garlic powder. Use a brush or your hands to spread the marinade on the cod and brush any remaining marinade over the vegetables.

Place the pan in the oven and bake until the cod looks flaky and tomatoes begin to soften, about 12-15 minutes.

Serve the cod with the green beans and tomatoes over couscous or any other grains and spoon the juices from the baking dish over the cod.
Notes
Storage: Store any leftovers in an airtight container for up to 3 days.
Nutrition
Calories:
299
kcal
,
Carbohydrates:
12
g
,
Protein:
43
g
,
Fat:
9
g
,
Saturated Fat:
1
g
,
Polyunsaturated Fat:
1
g
,
Monounsaturated Fat:
5
g
,
Cholesterol:
98
mg
,
Sodium:
148
mg
,
Potassium:
1388
mg
,
Fiber:
3
g
,
Sugar:
6
g
,
Vitamin A:
1266
IU
,
Vitamin C:
43
mg
,
Calcium:
86
mg
,
Iron:
3
mg
Nutrition information provided is an estimate. It will vary based on cooking method and specific ingredients used.