This Pan Roasted Brussel Sprouts recipe is an easy way to prepare brussel sprouts that frees up the oven - it's a tasty side dish perfect for Thanksgiving
November 19, 2018
If you're looking for some side dishes to prepare for Thanksgiving that free up the oven, this pan roasted brussel sprouts recipe is your best bet! When I cook brussel sprouts, I usually opt for roasting them in the oven.
But preparing the brussel sprouts in a pan creates just as wonderful a taste and texture. The sprouts get crispy and caramelized on the outside while getting fully cooked and tender on the inside. Try this and it will be your go-to last-minute recipe for brussel sprouts!
How to Make Pan Roasted Brussel Sprouts
To start, you need to prepare the brussel sprouts by washing them, cutting off the stems and then slicing them in half. This part is tedious and can be time consuming. But using only a pound of brussel sprouts isn't so bad. You can usually wrap this step up in 10 minutes.
And if you're preparing this for Thanksgiving, I highly recommend doing this step 2-3 days in advance.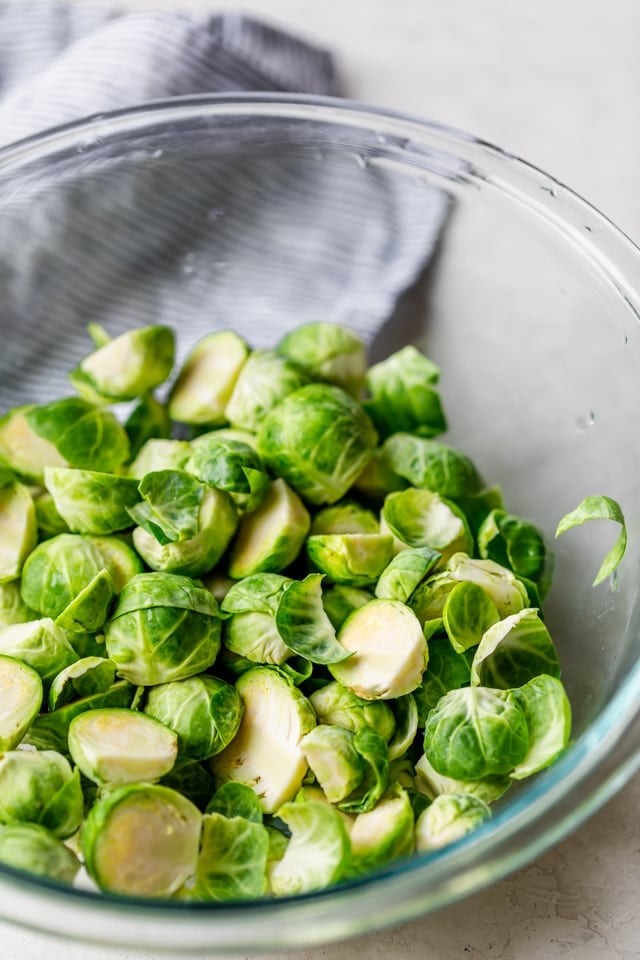 Next comes the flavor part of the recipe! For a unique and rich flavor, use both olive oil and butter, heating them together in a large skillet until they start shining and become very hot. Then add the sliced garlic and pan fry the garlic just enough to get a golden brown color. Then quickly remove from the heat and set the garlic aside. These will be used to garnish the dish. And you pretty much just used them to flavor the oil/butter combination.
Now you can transfer the prepared brussel sprouts and place them cut-side down on the pan. If you're using pearl onions or regular onions, you can throw these in there at this point too. I try not to touch the brussel sprouts for a few minutes here. This allows them to get a wonderful caramelized flavor and soak up the garlicky olive oil butter.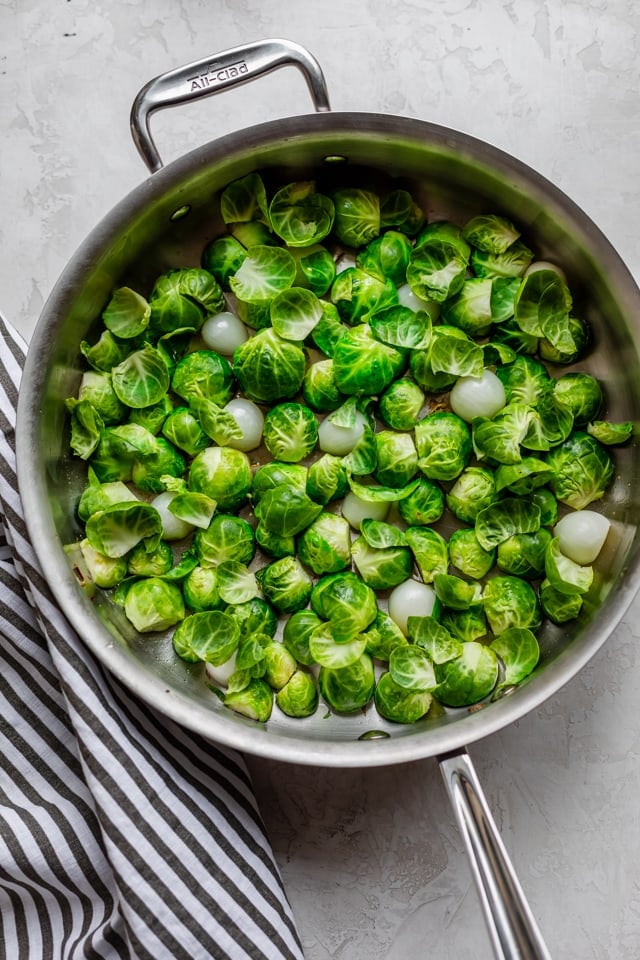 After that, you can start stirring frequently until the outside of the brussel sprouts (and any leaves that fell) get toasty. Be careful not to overcook the brussel sprouts, which happens when the outer layers become completely brown. You can tell they're over cooked if their color turns drab and they can become soggy. They should be bright green still with a hint of golden brown and pretty firm.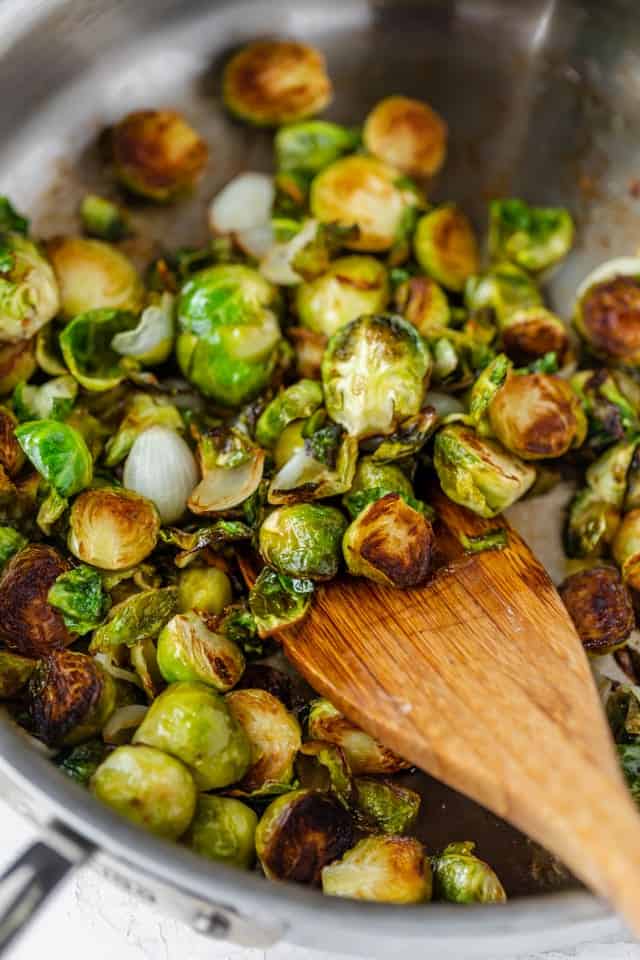 Once they're fully cooked, you can serve them with the pan roasted garlic you made earlier. I added cranberry just for color and garnish but that's not really part of the recipe. Get ready to devour this easy brussel sprout recipe!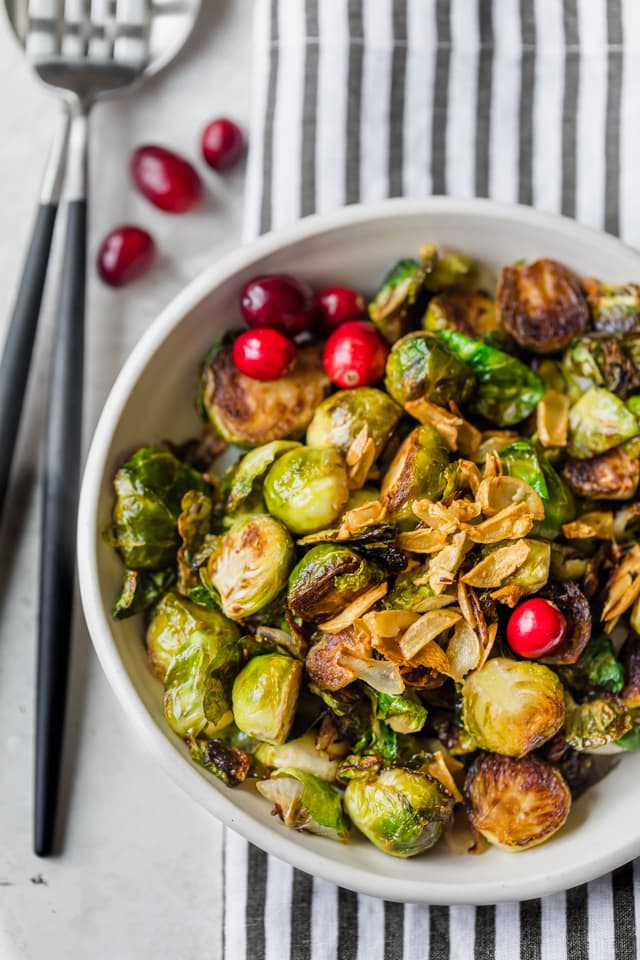 Tips for Cooking Brussel Sprouts
Have a large enough skillet when cooking the brussel sprouts so as not to crowd them on top of each other on the pan. This will ensure that each sprout can get enough heat in the initial pan roasting and reduce any chance of soggy sprouts. For 1 pound of brussel sprouts, I used my 1 1/2 quarter saucepan, which fit perfectly.
Use smaller Brussel sprouts instead of the more popular large ones that are often sold in the grocery stores. The smaller ones have better flavor and also cook faster, which is great for the pan roasting method. Sometimes the organic ones are the smaller ones.
Buy fresh brussel sprouts if possible for this recipe to ensure they don't get soggy when cooking.  However, if you're using frozen brussel sprouts, be sure to allow them to fully thaw before pan roasting them.
These pan roasted brussel sprouts are incredibly quick and easy to throw together as a last minute addition to your Thanksgiving spread or as a side dish for any weeknight meal. No need to turn on the oven and wonder about roast temperatures and times. Just pan roast them for 7-10 minutes and they're done! They're toasty, tasty and a very healthy side dish to add to your meal.
If you make this healthy-ish feelgood Pan Roasted Brussel Sprouts recipe, please be sure to leave a comment and/or give this recipe a rating! I would love to hear about your experience making it. And if you snapped some shots of it, share it with me on Instagram so I can repost on my stories!
More Brussel Sprouts Recipes
Pan Roasted Brussel Sprouts
This Pan Roasted Brussel Sprouts recipe is an easy way to prepare brussel sprouts that frees up the oven - it's a tasty side dish perfect for Thanksgiving
Print
Pin
Rate
Ingredients
1

tablespoon

olive oil

1

tablespoon

butter

2

garlic cloves

sliced

1

pound

brussel sprouts

halved

6-8

pearl onions

peeled/halved (optional)

Salt and freshly ground black pepper

1/2

lemon

juiced
Instructions
Trim the stems off brussel sprouts and then cut in half lengthwise.

In a large skillet, heat the olive oil and butter over medium high heat. Add the garlic and cook until fragrant, about 1 minute. Remove the garlic from the pan and set aside.

Add the brussel sprouts and pearl onions and cook, stirring occasionally, until brussel sprouts are fork tender and golden brown, about 8-10 minutes. Once caramelized, season with salt and pepper, stir in the lemon juice and toss the garlic back in the pan.

Serve immediately.
Notes
Storage: Store any leftovers in an airtight container. They will last about 4-5 days in the fridge.
Make Ahead Tips: You can easily prepare the brussel sprouts in advance since trimming the ends and halving them is the most time consuming part of the recipe. I would not recommend cooking the garlic in advance since the cooking process of the garlic is what helps flavor the oil used to cook the brussel sprouts.
Substitutes: For best results, follow the recipe as is. However here are some common substitutes that would work well in this recipe.
To make this vegan, substitute the tablespoon of butter for olive oil
If you can't find pearl onions, you can use half a small onion, chopped
If you prefer to skip the garlic, that's fine. You can also sprinkle garlic powder on the brussel sprouts instead.
Nutrition: 1 pound of brussel sprouts is generally equal to 5 average servings. If serving this for Thanksgiving with many other sides, this could easily serve more people. Yet the nutrition label accounts for 5 servings
Nutrition
Calories:
103
kcal
|
Carbohydrates:
12
g
|
Protein:
3
g
|
Fat:
5
g
|
Saturated Fat:
1
g
|
Cholesterol:
6
mg
|
Sodium:
44
mg
|
Potassium:
420
mg
|
Fiber:
4
g
|
Sugar:
3
g
|
Vitamin A:
755
IU
|
Vitamin C:
85.9
mg
|
Calcium:
51
mg
|
Iron:
1.4
mg