This post may contain affiliate links. Please read our disclosure policy.
These broccoli & cheese hand pies are similar to savory turnovers, featuring a golden crunchy crust and bursting with cheesy flavor. This is an easy appetizer recipe that's perfect for feeding a crowd. They take very little time to prep and are made with simple ingredients.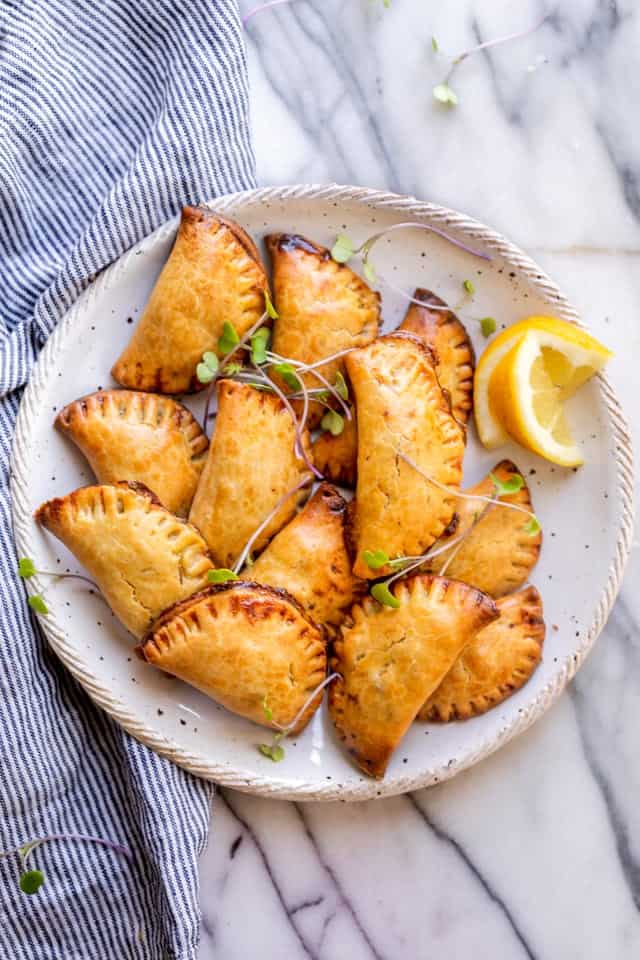 It's entertaining season, but it doesn't have to be mean being stuck in the kitchen for hours when you're expecting guests! I love making quick and easy finger foods that my guests can munch on while I'm getting dinner ready to served. These broccoli and cheese hand pies (also known as turnovers) are the perfect appetizers for situations like that!
Why These Savory Hand Pies are So Good!
Simple to make
Require very few ingredients
Vegetarian
Crunchy and cheesy!
Yup, that checks off a lot of boxes for me! And these hand pies will not disappoint.
How do you bake hand pies?
First of all, in order to simplify the process for hand pies, I recommend buying ready-made pie crust. I've found that there are some great options that are vegan with minimal ingredients. So it saves me time making pie dough and gives me the piece of mind that the ingredients are pure and simple.
For the turnover filling, you can buy some grated broccoli or grate it using a food processor.
Then transfer the grated broccoli to a pan and saute with onions and garlic. You can also mix everything in a bowl, but I prefer cooking the onions and garlic with the broccoli for a couple minutes just to soften the vegetables and bring out the flavor.
Next you'll add the sour cream and cheese to the mixture. This makes it easier to scoop and stay put inside the hand pies.
Speaking of hand pies, how cute are these mini cut-out pie dough? I used the mouth of a cup and cut these out and repeated until I ran out of pie dough. Also a large cookie cutter works for these. Then I stuffed them with the broccoli and cheese mixture.
Then it's baking time! You can certainly fry these as well, but I say why bother making a mess. The hand pies only need about 20 minutes in the oven, and it's all hand-free. You'll still get that golden crunch outside that's similar to frying.
When they come out of the oven, the insides of these turnovers are soft, creamy and cheesy. And the outside is a golden beautiful crust that gives a satisfying crunch when you bite on it.
Also, don't forget to serve them with lemon wedges! Just a little squeeze of lemon juice on these hand pies really brightens up the flavor and adds a fresh zing to the cooked broccoli and cheese filling
Tips to make hand pies
Cut the broccoli small: If you don't have something to grate the broccoli with, you can just use a knife to chop the broccoli. But if you're doing so, I recommend cutting the broccoli into small bite-sized pieces. That way you can fit more broccoli into each hand pie.
Soften the vegetables: The last thing anyone wants when biting into a crunchy warm savory turnover is to get a crunchy or raw onion. The baking time definitely helps to soften the vegetables, but not quite enough. So I recommend sauteeing the onions and broccoli in a pan before stuffing the hand pies. It helps take the strong bite out of the onions and helps to mix all the flavors properly.
Make sure to seal the edges: Adding egg wash on top has two purposes. First it gives the hand pies the golden crunchy crust we all crave. But second, it also helps to bind the dough together. Before adding the egg wash though, you should press the sides together with a fork or even with your fingertips to properly seal. This helps keep the stuffing inside the hand pies.
Frequently Asked Questions
How long do these savory hand pies keep?
You can store any leftovers in an airtight container in the fridge and they will keep for 3 to 4 days. You can also assemble the pies completely, brush them with the egg wash, then freeze on a baking sheet. When frozen, store in a ziplock bag or airtight container. When you're ready to bake them, add 10 minutes to the baking time.
What's the best dough to use for Broccoli & Cheese Hand Pies?
For ease and convenience, I used a ready made dough pie for these savory appetizers. Of course, if you have a favorite dough recipe and have the time you can use that. Puff pastry would also work well.
What do you serve savory hand pies with?
I like to serve these as finger food appetizers, they are flavorful and textured and I don't feel like they really need an accompaniment other than a wedge of lemon to squeeze on top. I like garnishing the dish with some fresh greens like microgreens here. You can also place the hand pies on a bed of lettuce, arugula or spinach for a festive colorful dish.
These adorable little broccoli & cheese hand pies are packaged up into perfect hand-held appetizers that are easy to prepare and loved by everyone! That's why I love making them so much when I'm entertaining or taking an appetizer to a friend's house. It's basically a turnover or mini pot pie that's portable, convenient comfort food at its best!
For more appetizers, check out:
If you make this feel good Broccoli & Cheese Hand Pies recipe, please be sure to leave a comment and/or give this recipe a rating! I would love to hear about your experience making it. And if you snapped some shots of it, share it with me on Instagram so I can repost on my stories!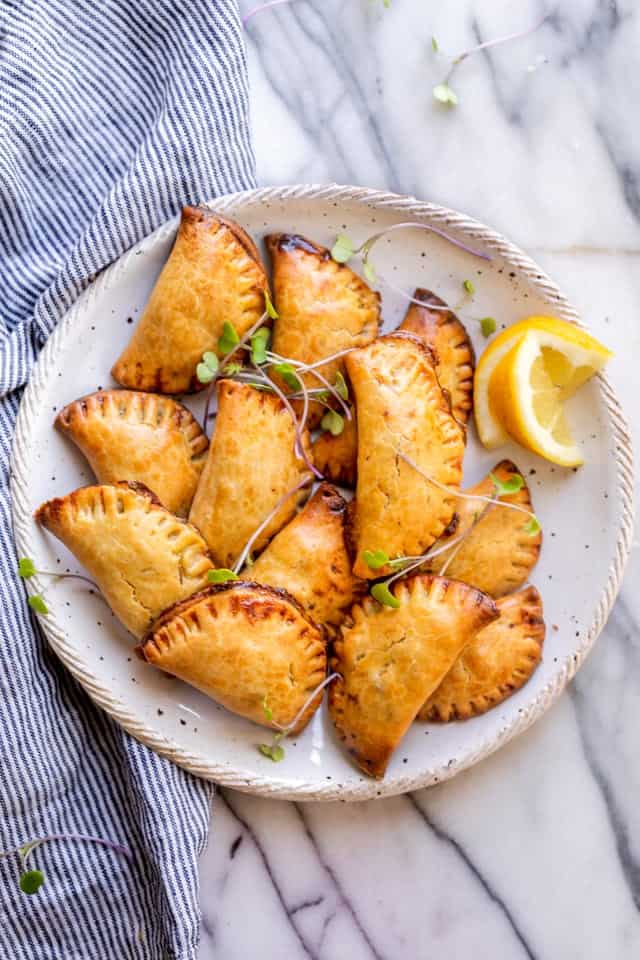 Broccoli & Cheese Hand Pies
These broccoli & cheese hand pies are similar to savory turnovers featuring a golden crunchy crust and bursting with cheesy flavor – easy appetizer recipe
Ingredients
1

tablespoon

olive oil

1

small onion

finely chopped

1

garlic clove

minced

1

head broccoli

grated

1

cup

shredded cheddar cheese

¼

cup

sour cream

2

sheets ready-made pie dough

Egg wash
Instructions
Preheat oven to 375 °F. Line a sheet pan with parchment paper.

Heat the olive oil in a large skillet, then sauté the onions for 5 minutes until they soften. Stir in the garlic and broccoli and cook for 2-3 more minutes, until the broccoli is crisp-tender.

Remove from heat, then stir in cheddar cheese and sour cream, and mix until well blended; set aside.

Cut out 3-4" rounds from the ready-made pie dough.

Place about 1 tablespoon of the broccoli and cheese mixture in the middle if each round, being careful not to overfill them. Fold the pie dough over to make a semi-circle and press the edges together to seal. You can also use a fork to crimp the edges.

Brush the rounds with egg wash. Bake for 20-22 minutes until crispy and golden. This will make about 24.
Notes
Storage: Store any leftovers in an airtight container. They will last about 3-4 days in the fridge.
Make Ahead Tips: You can make the mixture up to 2 days in advance and then stuff the hand pies with the broccoli and cheese mixture when ready.
You can also assemble them completely, brush them with the egg wash, then freeze on a baking sheet. When frozen, store in a ziplock bag or airtight container. When you're ready to bake them, add 10 minutes to the baking time.
Substitutes: For best results, follow the recipe as is. However here are some common substitutes that would work well in this recipe.
Instead of pie dough, you can use puff pastry. Watch the baking time as it may vary. You want to make sure it's puffed and golden as the signal that they're ready.
You can leave out the cheese and sour cream, but they help to bind the mixture together. You can also use vegan substitutes for the dairy.
If you prefer to make this egg free, you can spray some oil on top of the hand pies before baking them in the oven. Alternatively, brushing them with almond milk works as well.
Equipment: I used the Kitchen Aid food processor to grate the broccoli. You can use any other food processor you have or simple use a grater or knife.
Nutrition: Please note that the nutrition label provided is an estimate only. It will vary based on the specific ingredients used. The nutrition label assumes the mixture makes 24 hand pies and each serving is for two.
Nutrition
Calories:
208
kcal
,
Carbohydrates:
18
g
,
Protein:
5
g
,
Fat:
12
g
,
Saturated Fat:
5
g
,
Cholesterol:
12
mg
,
Sodium:
195
mg
,
Potassium:
216
mg
,
Fiber:
2
g
,
Sugar:
1
g
,
Vitamin A:
440
IU
,
Vitamin C:
46
mg
,
Calcium:
104
mg
,
Iron:
1.2
mg