This post may contain affiliate links. Please read our disclosure policy.
If you're looking for a healthy low-carb game day snack to add to your spread for Super Bowl Sunday, make these delicious oven baked Buffalo Cauliflower Bites. No, they don't taste like chicken wings. But they are definitely healthier and just as spicy and delicious! It's a really easy recipe to make with simple ingredients that will wow your friends!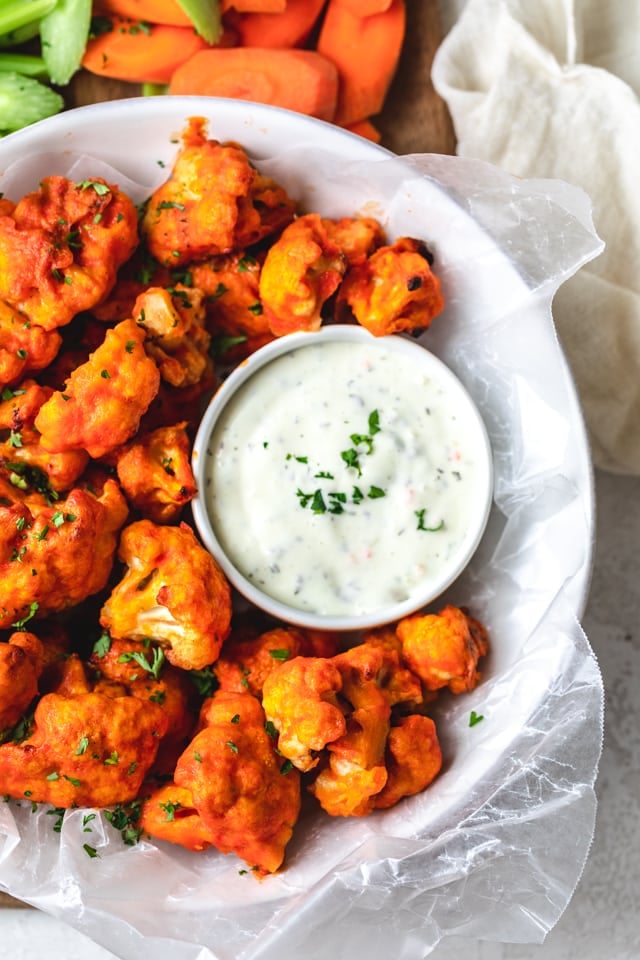 There are many variations of these cauliflower wings. I make mine healthier by using water instead of milk for the batter, making my own buffalo sauce (less fat that way), and using less batter to coat the cauliflower. They come out of the oven hot and crispy, and pair so well with the cool and creamy ranch dressing. It's an easy crowd-pleasing appetizer or delicious snack!
Ingredients
Cauliflower: Cauliflower is one of my favorite veggies! Low in calories and carbs and loaded with fiber and nutrients. These cauliflower wings are a great healthy option.
Flour: Use all purpose or a gluten-free flour for a nice crispy coating.
Seasonings: Garlic powder, paprika, salt and pepper.
Hot sauce: Use your favorite hot of buffalo sauce to toss the cauliflower in.
Butter: To make these cauliflower wings vegan, use a plant based butter.
Lemon juice: Use fresh lemon juice for a nice tang.
How to make buffalo cauliflower bites
There are two main parts to make these buffalo cauliflower wings. First is the batter to coat and crisp the cauliflower. And second is the buffalo sauce that will bind to the batter and flavor the cauliflower.
Step 1: make the batter
The batter is equal parts flour and water and whatever spices you want. I like to keep the spices simple and use paprika and garlic powder. The mixture consistency will be pretty thick and almost like a paste.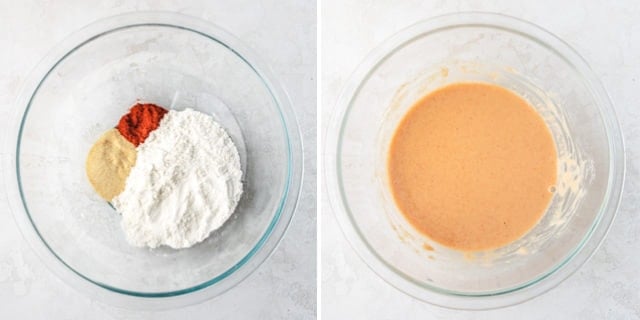 Step 2: coat the cauliflower with the batter
You can throw the cauliflower right in the bowl to coat it with the batter. Or, you can shake it up in a plastic bag. Just make sure it's well coated and then you can transfer it to a baking dish.
Be sure not to simply transfer it all together from the bowl or bag onto the baking sheet. Instead, place the battered cauliflower on a time to limit the excess batter and spread apart. This step helps to make sure the baked cauliflower is not soggy.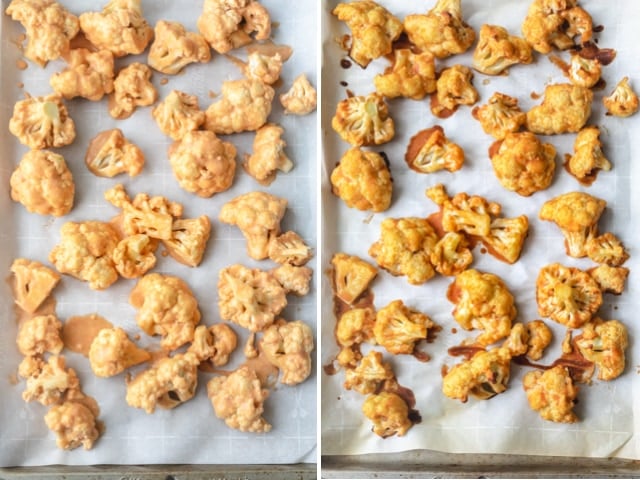 When they come out of the oven, they will be crispy and you can basically enjoy them as is. But we're making cauliflower buffalo wings over here!
Step 3: make buffalo sauce and coat with cauliflower
Buffalo sauce is basically hot sauce and butter. Generally it's 2 parts hot sauce to 1 part butter. To make it healthier, I make my own buffalo sauce with a lot less butter. I also add some lemon juice to give it a fresh zing. This does make them more spicy though, so feel free to taste and adjust before you add the buffalo sauce to the cauliflower.
Use a brush if you have one to coat the cauliflower with the sauce. Or you can dip them in the sauce using a spoon. Return to the baking dish and bake again. When they're done baking, you want to make sure the buffalo sauce is adhered to the cauliflower, and it's crisp and golden in color.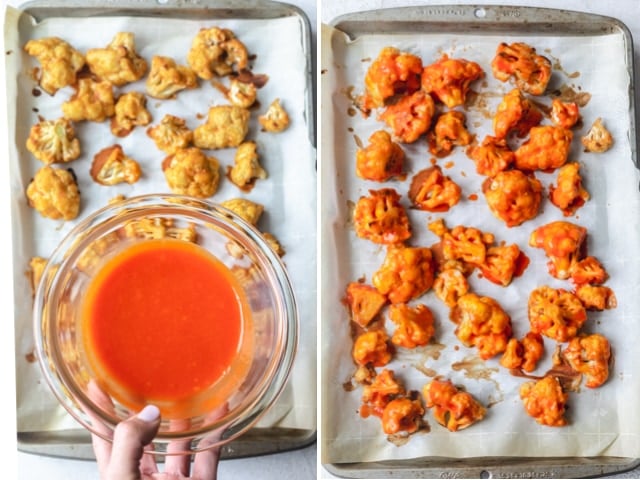 I love how easy these buffalo cauliflower bites are to make! They are a healthy vegetarian alternative to traditional buffalo wings. I've been obsessed with cauliflower for low-carb everything lately. Is there anything cauliflower can't do?!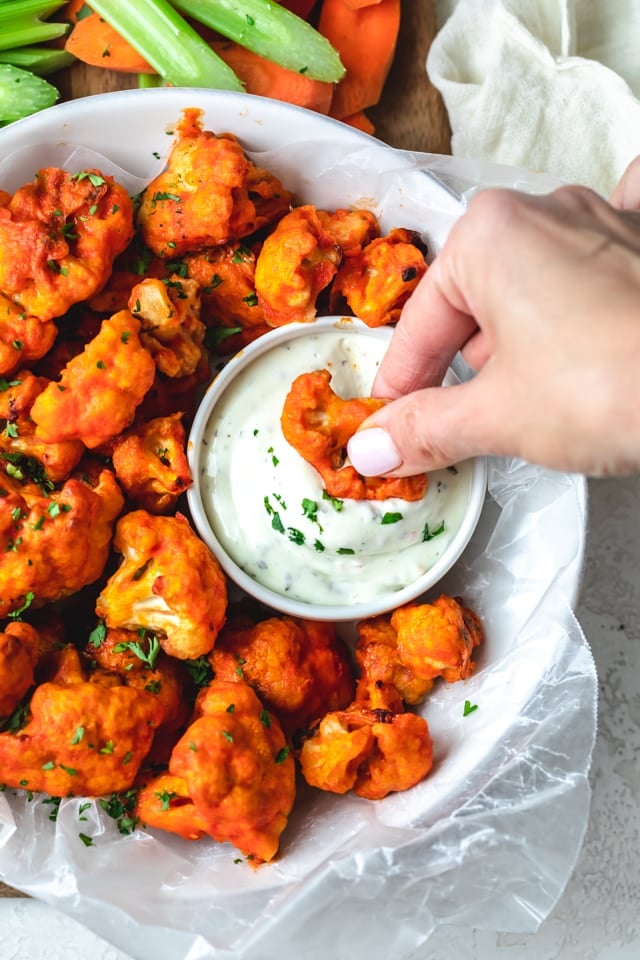 Tips for making buffalo cauliflower bites
Cut the florets large. They should be about half the size of traditional chicken wings but still bite-sized. If you cut them too small, they end up becoming mushy and won't crisp up as nicely when you bake them in the oven.
Use a colander to drain the cauliflower after coating it with batter. Although this step is not crucial, it really helps to add just enough batter to coat the cauliflower without using too much that it's smothered in the flour/water mixture.
Bake the cauliflower on parchment paper. You can also coat a cookie sheet with oil so the batter doesn't stick. Parchment paper is great for an easy clean-up, no sticking and less oil. Sometimes the batter might still stick to the parchment paper, so be sure to flip them halfway through for even crispness.
Bake right before serving. As wonderful and crispy as these are straight out of the oven, they do soften up when they start cooling and especially by the next day. So enjoy them fresh out of the oven for the best taste and texture!
Make it in the air fryer! Air fry at 375°F for 10 minutes. Then add the sauce and return for 5 more minutes. It comes out even more crispy in the air fryer!
Frequently asked questions
What do you serve with buffalo cauliflower?
I love serving my healthy buffalo bites in the same way you would serve wings; with celery, carrot and ranch dressing. To keep things healthy, serve them with my Homemade Healthy Ranch Dip.
Can you make this in the air fryer?
Yes and I think it comes out even better in the air fryer. Cook first at 375°F for 10 minutes. Then add the sauce and return for 5 more minutes. Just make sure not to overcrowd the air fryer.
How do I make it less spicy?
Warning, these buffalo cauliflower bites sure have a bite! If you want them to be less spicy, use ⅓ cup hot sauce instead of ½ cup and use 2-3 tablespoons of butter. You can also swap the hot sauce and butter for ½ cup store-bought mild buffalo sauce.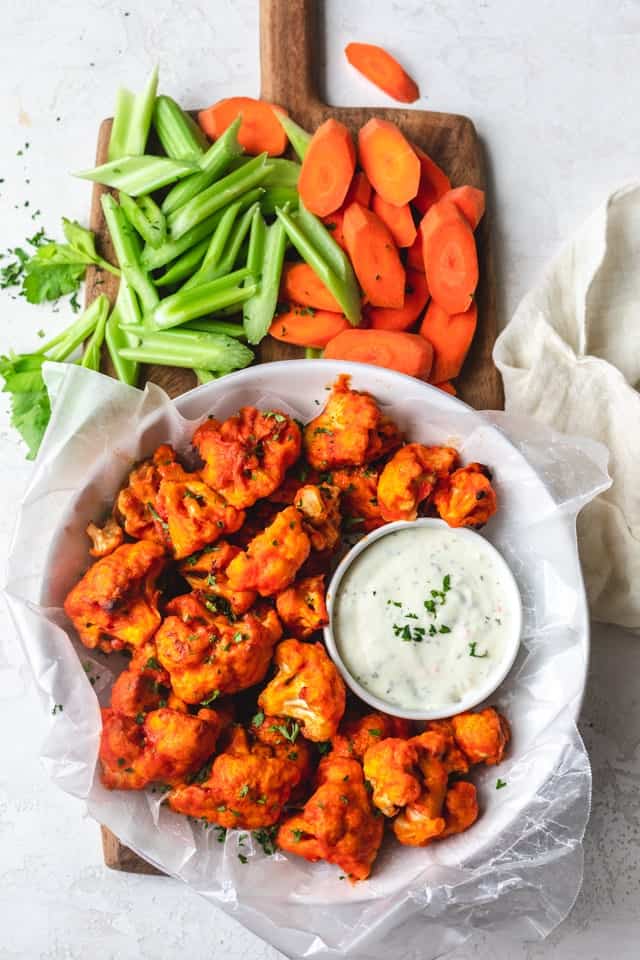 I love this healthy vegetarian appetizer option that's baked and not fried. These spicy buffalo cauliflower bites are battered and baked to perfection in the oven with a small amount of butter. They are big on flavor and won't disappoint your guests for snacking.
If you've tried this healthy-ish feel good Buffalo Cauliflower Bites recipe or any other recipe on FeelGoodFoodie, then don't forget to rate the recipe and leave me a comment below! I would love to hear about your experience making it. And if you snapped some shots of it, share it with me on Instagram so I can repost on my stories!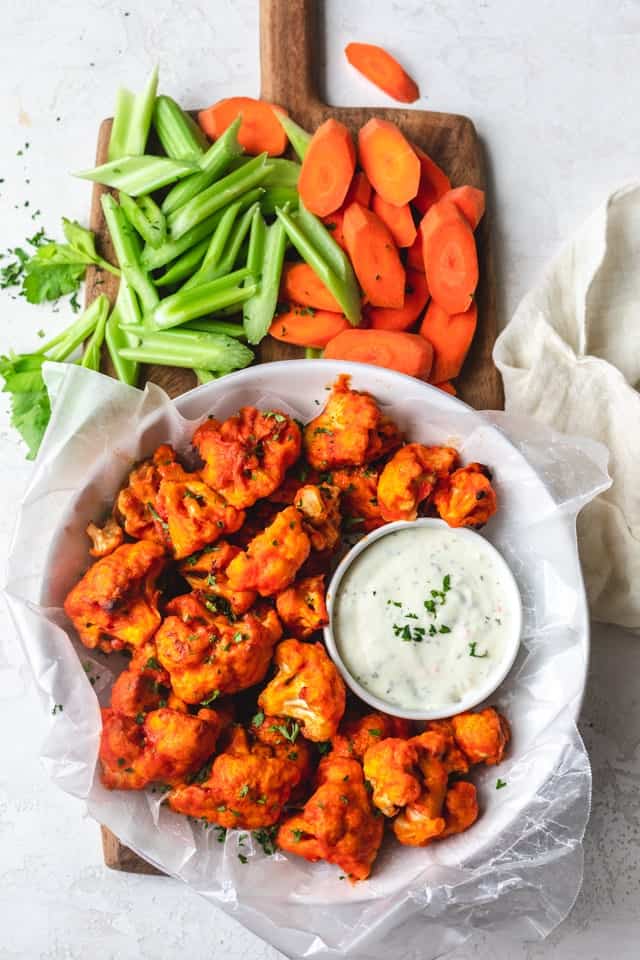 Buffalo Cauliflower Bites
Check out this vegetarian healthy-ish Buffalo Cauliflower Bites made with a few simple ingredients and paired with ranch dressing – perfect for game day!
Instructions
Preheat oven to 450°F. Grease a baking sheet with cooking spray or line it with parchment paper.

In a large bowl, whisk flour, water, garlic powder, paprika, salt and pepper until batter is smooth. Add cauliflower to batter and toss to coat.

Spread cauliflower onto the prepared baking sheet in a single layer with space between them. Bake in the preheated oven until lightly browned, about 20 to 25 minutes, flipping over halfway through.

In another small bowl, combine the hot sauce, melted butter and lemon juice until well blended. Brush the buffalo sauce mixture on the cauliflower.

Return to the oven and bake until they start to brown, about 15 minutes.

Serve hot with ranch dressing, celery and carrots, if desired
Notes
Storage: Store any leftovers in an airtight container. They will last about 3-4 days in the fridge but they are best eaten within the first few hours. To re-crisp, heat them in the oven or in a toaster oven, not in the microwave.
Substitutes: For best results, follow the recipe as is. However here are some common substitutes that would work well in this recipe.
To make it gluten-free, you can substitute almond flour or another gluten-free flour 1:1 ratio. You can also use corn starch. This just helps to create a crispy texture and bind the buffalo sauce to the cauliflower bites
To make it vegan, replace the butter for vegan butter or olive oil. You can also buy a vegan pre-made buffalo sauce
To add your own unique flavor, you can switch out the garlic powder and paprika for other spices you prefer. 
* Please note the nutrition label does not include the ranch dressing or the carrots/celery.
Nutrition
Calories:
127
kcal
,
Carbohydrates:
21
g
,
Protein:
4
g
,
Fat:
3
g
,
Saturated Fat:
1
g
,
Cholesterol:
7
mg
,
Sodium:
864
mg
,
Potassium:
519
mg
,
Fiber:
3
g
,
Sugar:
3
g
,
Vitamin A:
380
IU
,
Vitamin C:
92.5
mg
,
Calcium:
32
mg
,
Iron:
1.7
mg
Nutrition information provided is an estimate. It will vary based on cooking method and specific ingredients used.