This post may contain affiliate links. Please read our disclosure policy.
Elevate your knife skills and learn how to cut a whole chicken at home. This easy guide will walk you through breaking down a whole raw chicken piece by piece (into 8 pieces total) and cover a few reasons why you should learn this skill and how to properly store chicken. I also include a list of some of my favorite chicken recipes.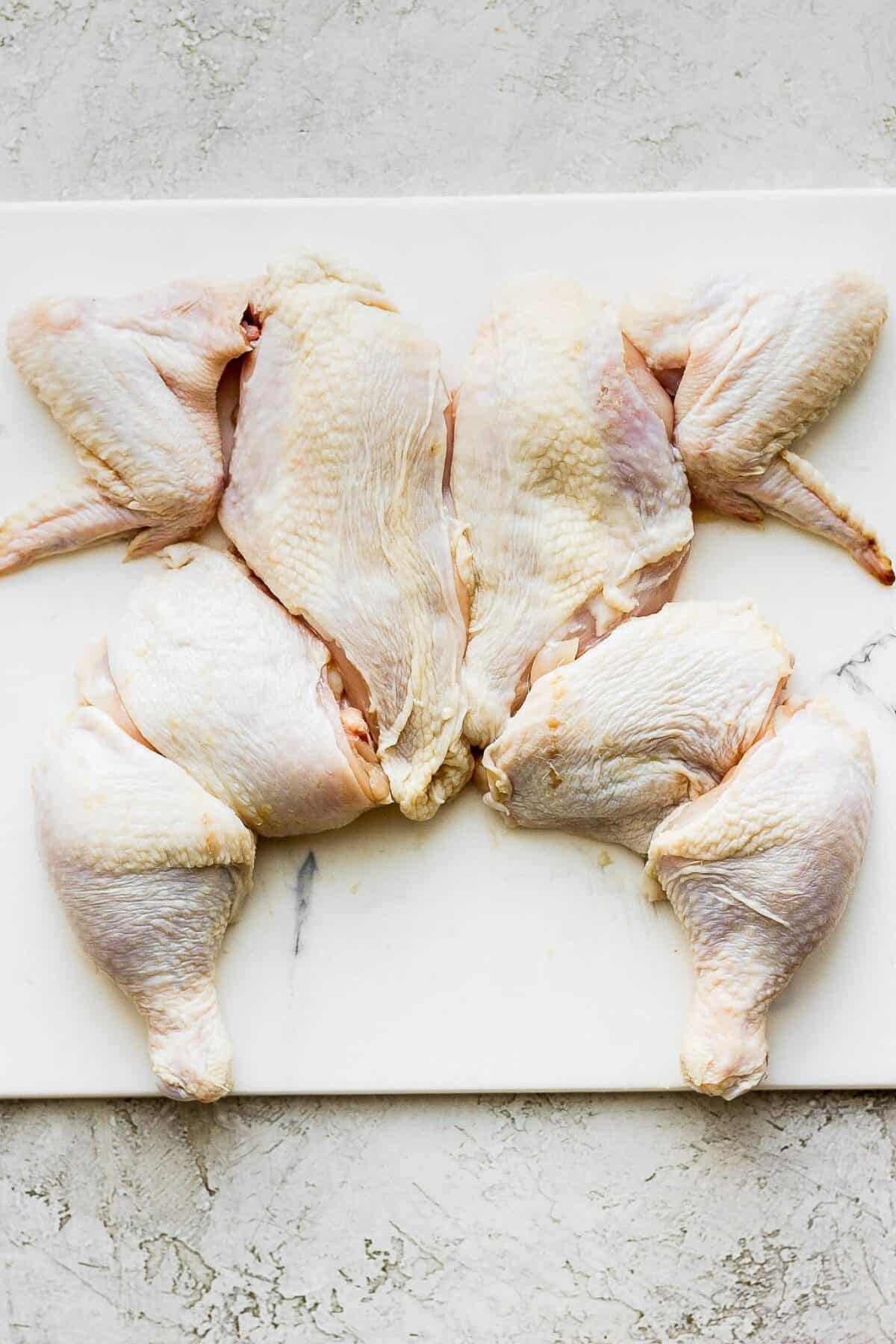 WHY learn to cut your own chicken
It will save a bunch of money! Buying a whole chicken and breaking it down yourself is nearly a third of the price per pound compared to a package of chicken breast or chicken thighs.
One chicken can equate to multiple meals. Depending on the size, you can divide the sections into different recipes. Here's an example of 3 meals you can make from just one whole chicken: chicken nuggets, chicken orzo soup, and grilled chicken thighs and legs.
Improve your knife skills. You'll learn valuable knowledge and understand the parts of a chicken better. This small step will help you become a better cook and improve your knife skills.
Use the leftover parts to make stock. If you're like me, you have a no-waste kitchen. Use the leftover carcass to make your own homemade chicken stock to use in soups, chili, and even a chicken and rice dinner!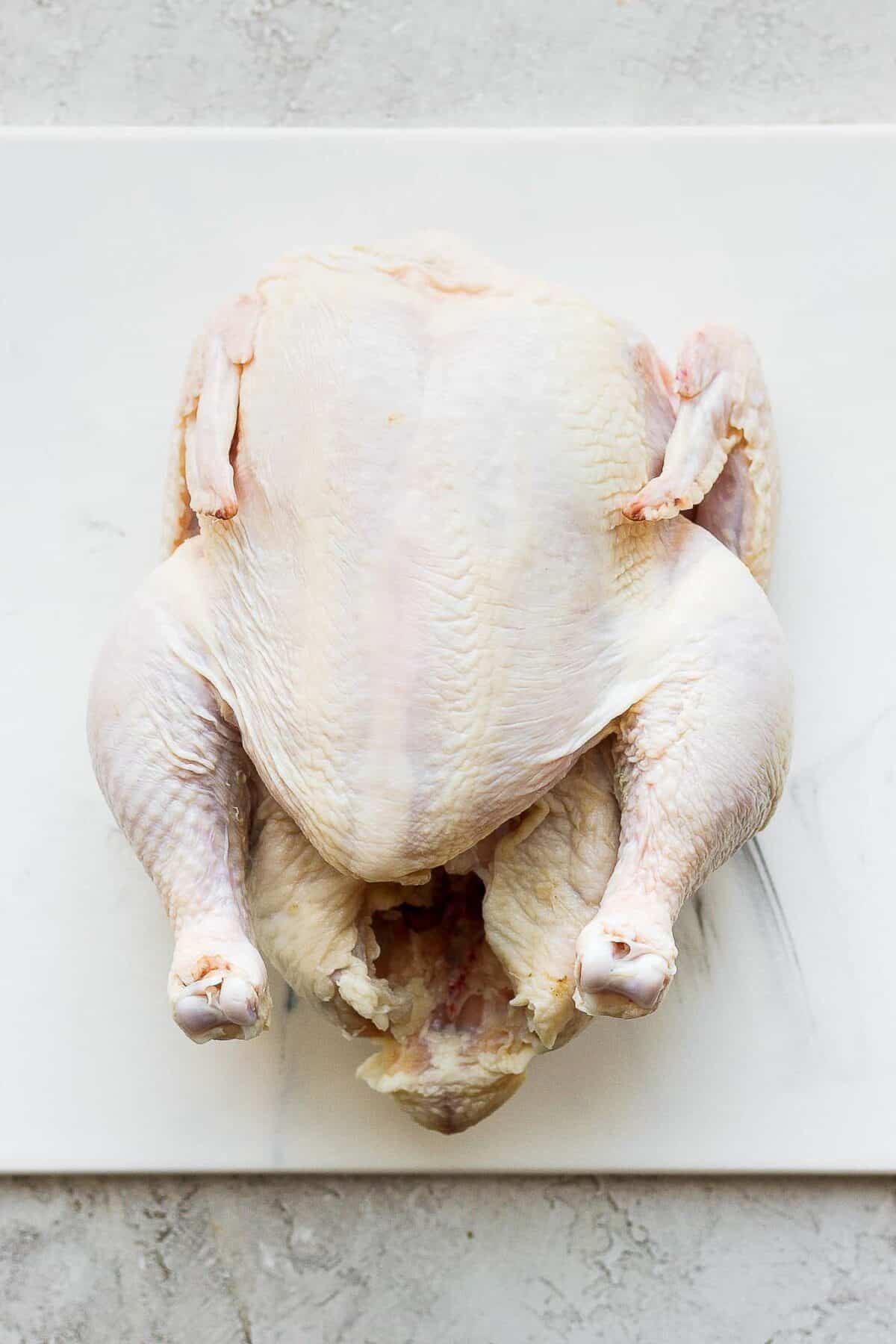 HOW TO cut a whole chicken
After dissembling a whole chicken, you should end up with 8 pieces: two breasts, two thighs, two drumsticks, and two wings. See tips below on how to use the leftover carcass.
With the chicken breast side up, run a sharp knife down the center of the breasts and slice down, splitting in two.
Pull the wing out and remove the first two joint sections by cutting through the socket. Repeat on the other side.
With the leg in hand, run your knife between the breasts to cut the skin and separate them. Continue to pull the leg while cutting and follow through to the joint and cut through.
Once the leg is removed, pull the thigh and separate it from the socket.
To remove the breasts, run the knife from the top of the chicken to the bottom while making multiple passes down through the wishbone and breastplate and all the way to the wing bone.
Cut the breast from the wing bone.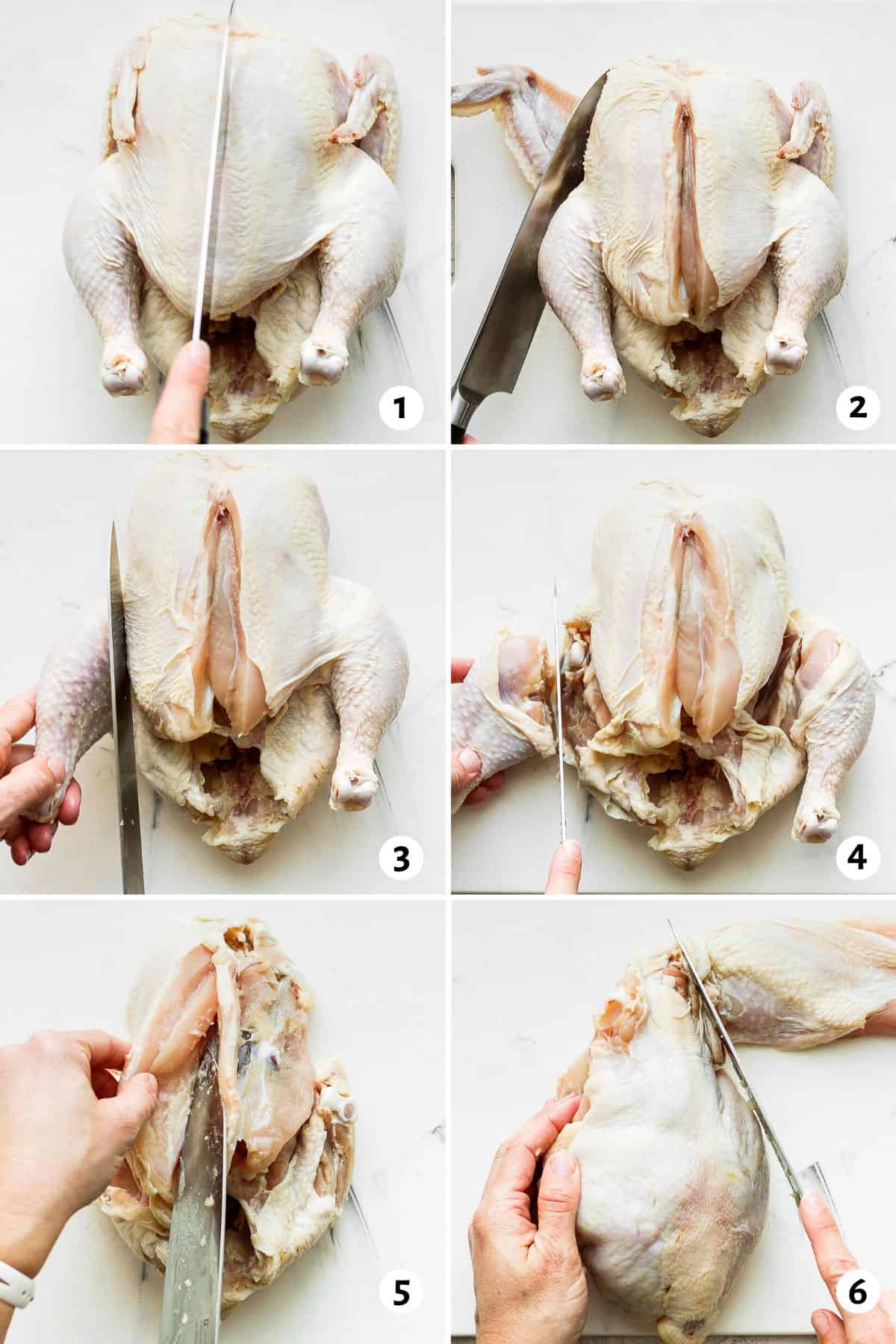 TIPS FOR cutting a whole chicken
Use a sharp knife. Always make sure your knife is sharp for easier cutting. A chef's knife or boning knife will both work.
Make chicken broth or stock from the carcass. Get the most out of the chicken by saving the carcass for chicken stock that can be used to make so many delicious recipes. If you don't have time to make it right away, freeze it in a freezer bag.
Use a plastic cutting board. You'll want to practice food safety when handling raw chicken, and the first step is to use the right cutting board. Plastic is easy to clean and sanitize, unlike a wooden cutting board that allows the bacteria to sink into the wood grain. Wood boards are great for the kitchen but should be avoided for raw meat.
Dry the bird before handling. Because you're using a sharp knife and for easier handling, use a few paper towels to dry the bird first.
Use touch to help guide you while cutting. You can visually see most parts of the chicken but use your fingers to feel for where the knuckle and joints are to help guide you on where to cut.
Leave the thigh and drumstick attached. This tutorial shows you how to cut down a chicken into 8 pieces, but you can skip the step of separating the thigh from the drum for a ¼ chicken portion. This is perfect for roasting chicken legs.
favorite recipes to make with chicken
HOW to Store Raw Chicken
After cutting a whole chicken into separate pieces, store it on the bottom shelf of the refrigerator in an air-tight container, or a zip-top bag, or wrap it into separate pieces with plastic wrap for up to 2 days. Place a container or plate underneath to catch any poultry juice that may leak.
To freeze, wrap the chicken pieces with plastic wrap first, followed by foil, and then place in a zip-top bag for up to 9 months.
FREQUENTLY ASKED QUESTIONS
What knife is best to use for cutting a whole chicken?
A sharp boning knife is perfect for cutting the pieces from a chicken as it is flexible and easy to handle around all the parts of the chicken and bone. A chef's knife is also a good option to cut down through the bones easily.
What cuts do you get from cutting down a whole chicken?
You will get 8 pieces of chicken from a whole one: 2 breasts, 2 wings, 2 thighs, and 2 drumsticks.
How do I cut a whole chicken into 10 pieces?
This is an easy extra step by just cutting each chicken breast into 2 pieces. After breaking down the chicken by removing the wings, thighs, drumsticks, and chicken breasts, simply cut the breast in half.
Why do people buy a whole chicken?
Buying a whole chicken is more budget-friendly, perfect for roasting a whole chicken, and can be broken down into smaller pieces.
Should you wash chicken before cooking?
This can be a heated question, but the CDC agrees that you should NOT wash chicken before cooking. This has the potential for cross-contamination over the surfaces of your kitchen.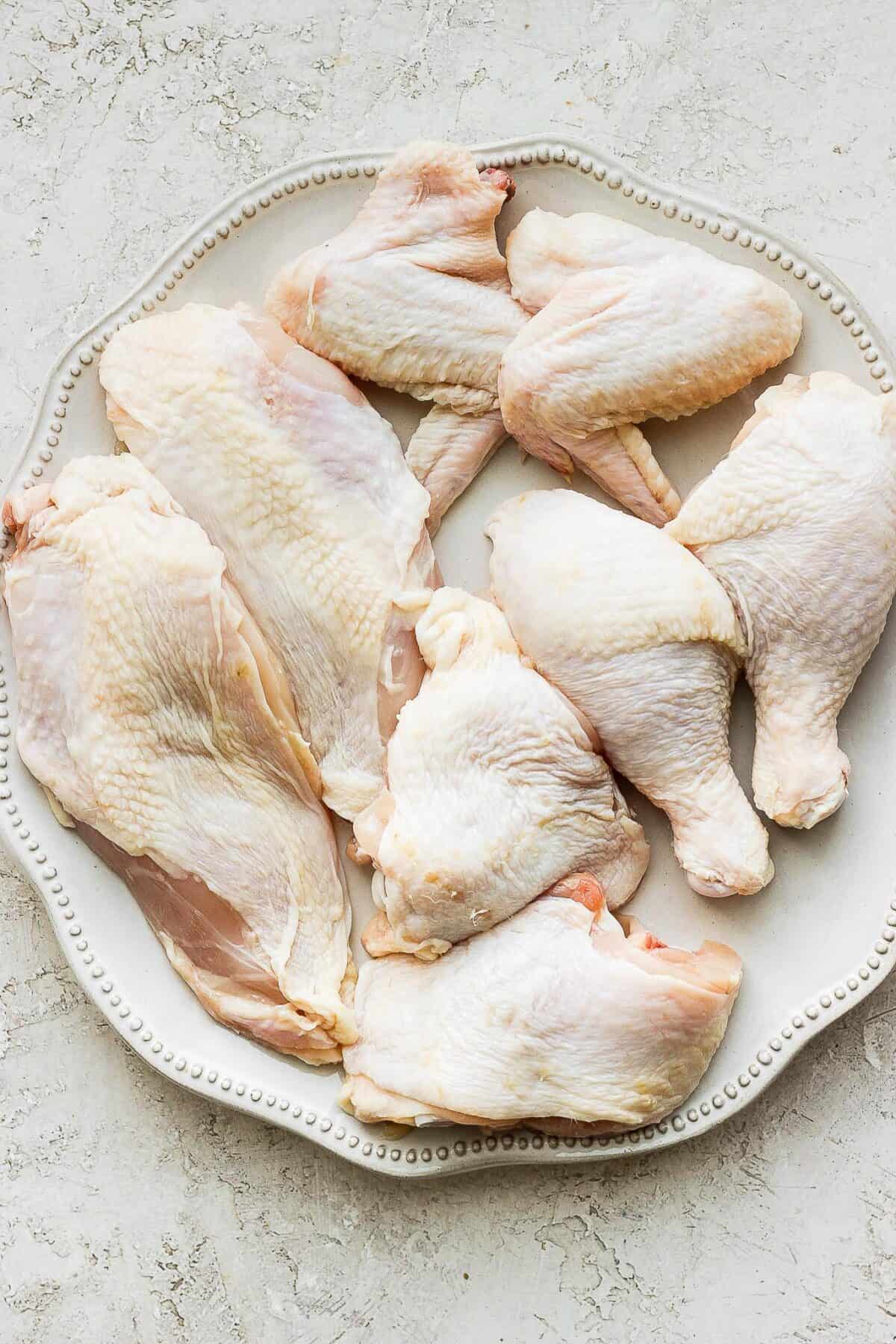 Learning how to break down a whole chicken into 8 pieces is so rewarding to add to your kitchen skills. You'll save money, learn the best way to store it, and create so many recipes to feed your family.
MORE Chicken tutorials:
MORE Knife Skill tutorials:
If you found this tutorial for How to Cut a Whole Chicken helpful or if you try any recipe on Feel Good Foodie, then don't forget to rate the recipe and leave a comment below! It helps others who are thinking of trying out this tutorial and we would love to hear about your experience. And if you snapped some shots, share it on Instagram so we can repost on Stories!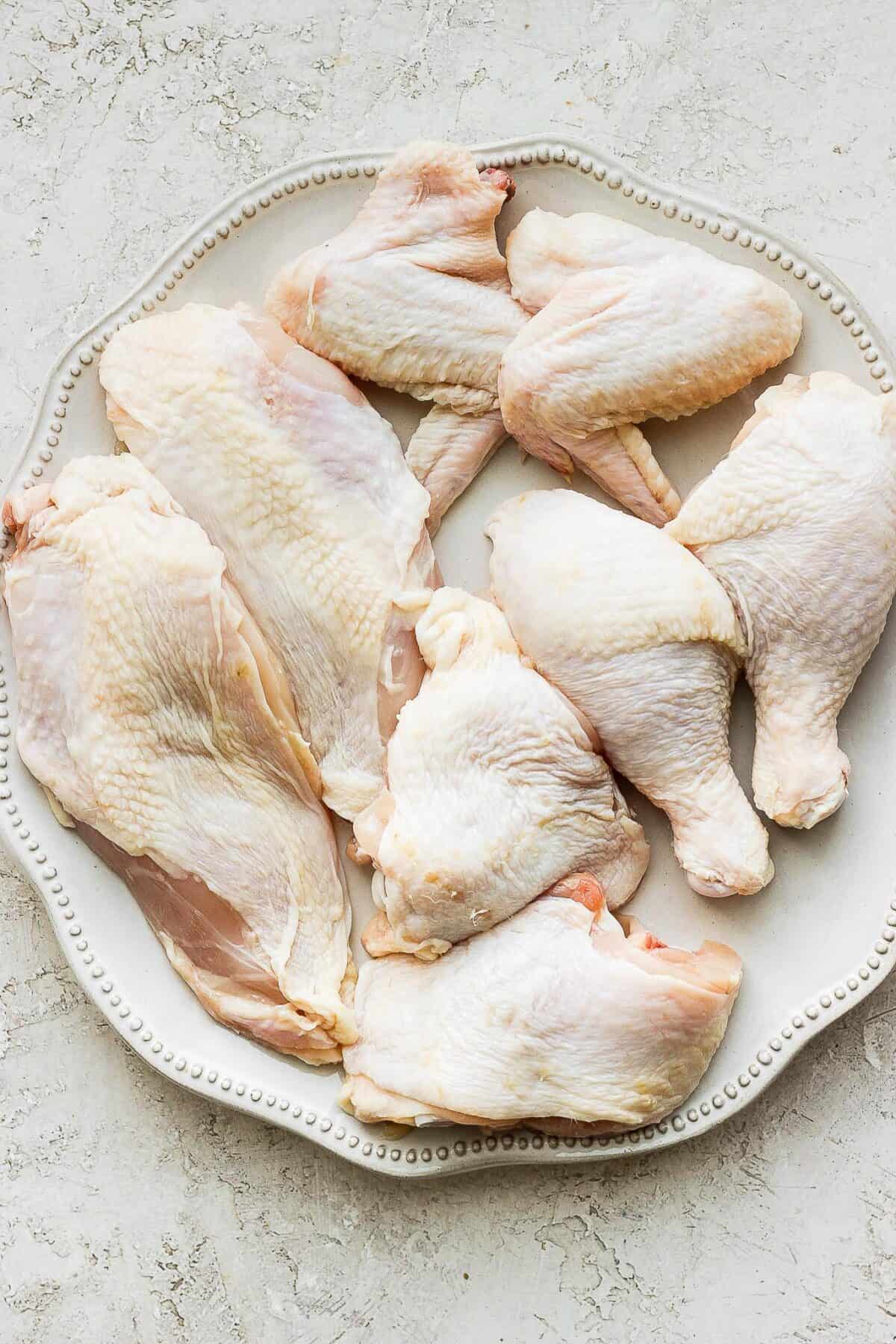 How to Cut a Whole Chicken
Learn how to cut and break down a whole, raw chicken into 8 pieces. Cutting your own chicken at home saves you money and yields more meat.
Instructions
Place the chicken breast side up with the feet of the chicken facing you on a cutting board. Run a sharp knife across the middle of the breasts, at the breast plate.

Remove the first two joint sections of the wing by cutting through the socket on each side of the chicken.

Run a knife along the skin between the legs and the breast meat to separate the two, pulling the legs back to see where you are cutting.

Separate the drumsticks from the thighs by cutting right between the joints.

Run the knife from the far end of the breast towards you and down, following the wishbone and the breastplate, to the wing bone, Make multiple passes with the knife to ensure you are staying close to the breast plate. Pull the breast back with every cut until you are only connected to the wing bone. Cut around the bone using a knife or kitchen shears for a boneless breast.

You should end up with 8 pieces: two breasts, two thighs, two drumsticks and two wings
Notes
Tip: Sharpen your knife before cutting your chicken. This will help make sure you get smooth, even cuts and also help avoid any accidental slips of the knife. 
Nutrition
Calories:
205
kcal
,
Protein:
18
g
,
Fat:
14
g
,
Saturated Fat:
4
g
,
Polyunsaturated Fat:
3
g
,
Monounsaturated Fat:
6
g
,
Trans Fat:
0.1
g
,
Cholesterol:
71
mg
,
Sodium:
67
mg
,
Potassium:
180
mg
,
Vitamin A:
133
IU
,
Vitamin C:
2
mg
,
Calcium:
10
mg
,
Iron:
1
mg
Nutrition information provided is an estimate. It will vary based on cooking method and specific ingredients used.