This post may contain affiliate links. Please read our disclosure policy.
If you're wondering what is the best way to cut up an apple, then this easy and quick tutorial is for you. Who says you need an apple cutter to make gorgeous sliced apples?! Not I! This method keeps you from wasting a ton of flesh with a few simple cuts from an ordinary kitchen knife. No jump, slam, push motion required (if you've used an apple cutter, you know what I am talking about).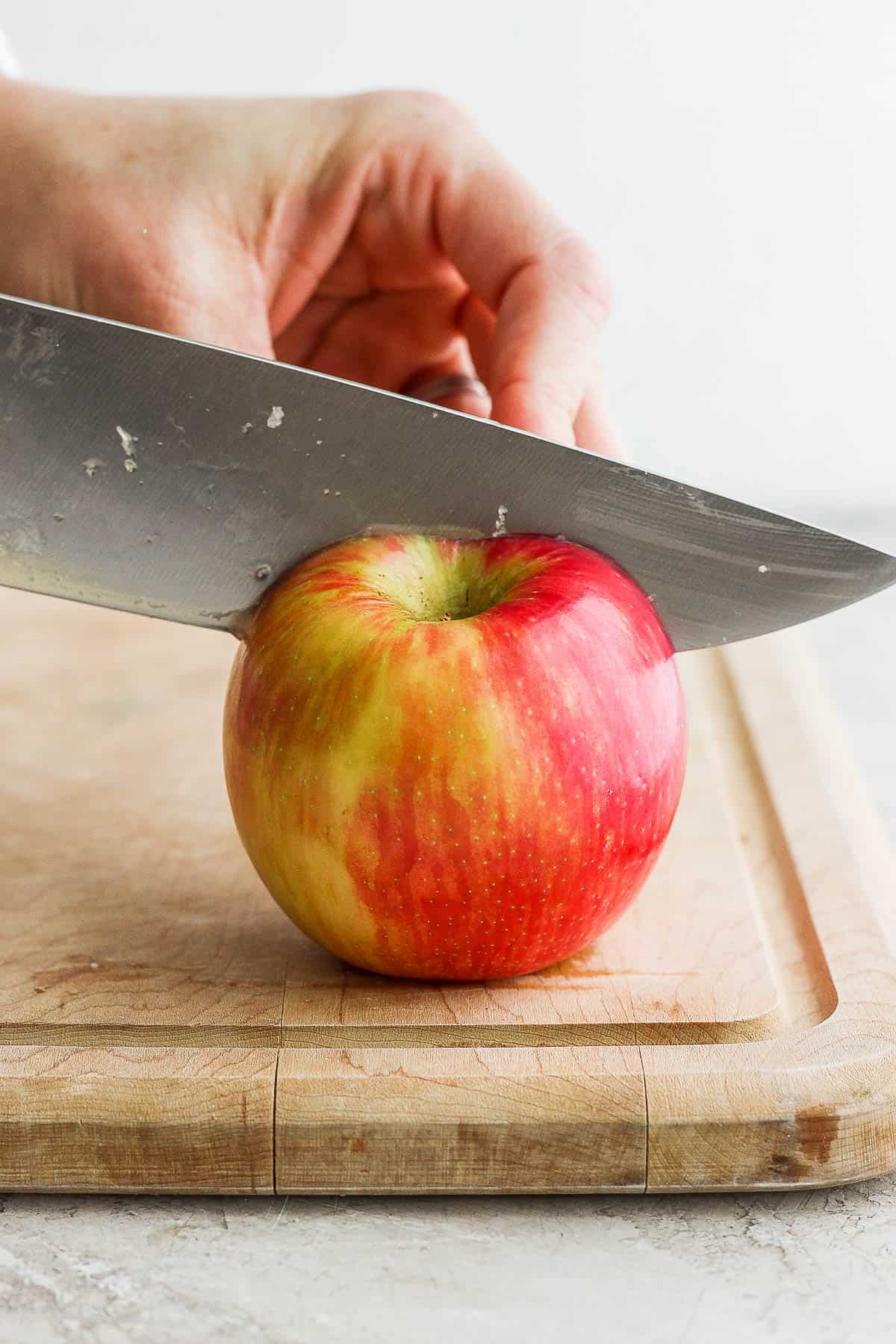 Learn how to cut an apple with a knife to easily add fresh fruit to kids' lunch boxes, enjoy it as a quick snack, and prepare recipes. You can cut them into slices for apple pie, chop them for vegetarian stuffing, or slice them into rings for apple chips. This guide to cutting apples will cover ways to use and cut an apple without a corer.
Why learn to cut an apple?
To make more recipes. Once you've mastered this simple tutorial, you can then make all the apple recipes you've dreamed of and save a ton of money by preparing them yourself. You can slice them or dice them into small or large chunks, depending on the recipe.
Easier to eat. There is nothing wrong with biting into a whole apple, but when you know how to prep an apple, you can make it easy for snacking and more manageable for dunking into dips like these: chocolate peanut butter dip, sweet cream cheese dip, or hazelnut dip.
Make snacking easy and healthy for kids. Having a quick healthy snack available for kids is great to have. You can store cut apples in the refrigerator with a little lemon juice to save you time.
Lunch box snack. When packing a lunch box, apple slices make for a tasty sweet snack and are an easy go-to fruit to add.
HOW TO cut an apple like a pro
Cutting an apple is a breeze. With a sharp knife and a steady cutting board, you'll be amazed at how easy it really is!
easy steps to Cut an apple
With the apple upright on a cutting board, place a knife about a ¼ inch to the side of the stem.
Cut down through the fruit avoiding the stem and core. Place the piece of apple to the side.
Rotate a quarter turn and make a similar cut.
Then, turn again and cut off another piece, avoiding the stem.
Make the last cut and dispose of the core.
Place the pieces cut side down on a cutting board and cut them into slices, thick or thin. You can also rotate the slices and cut them into cubes.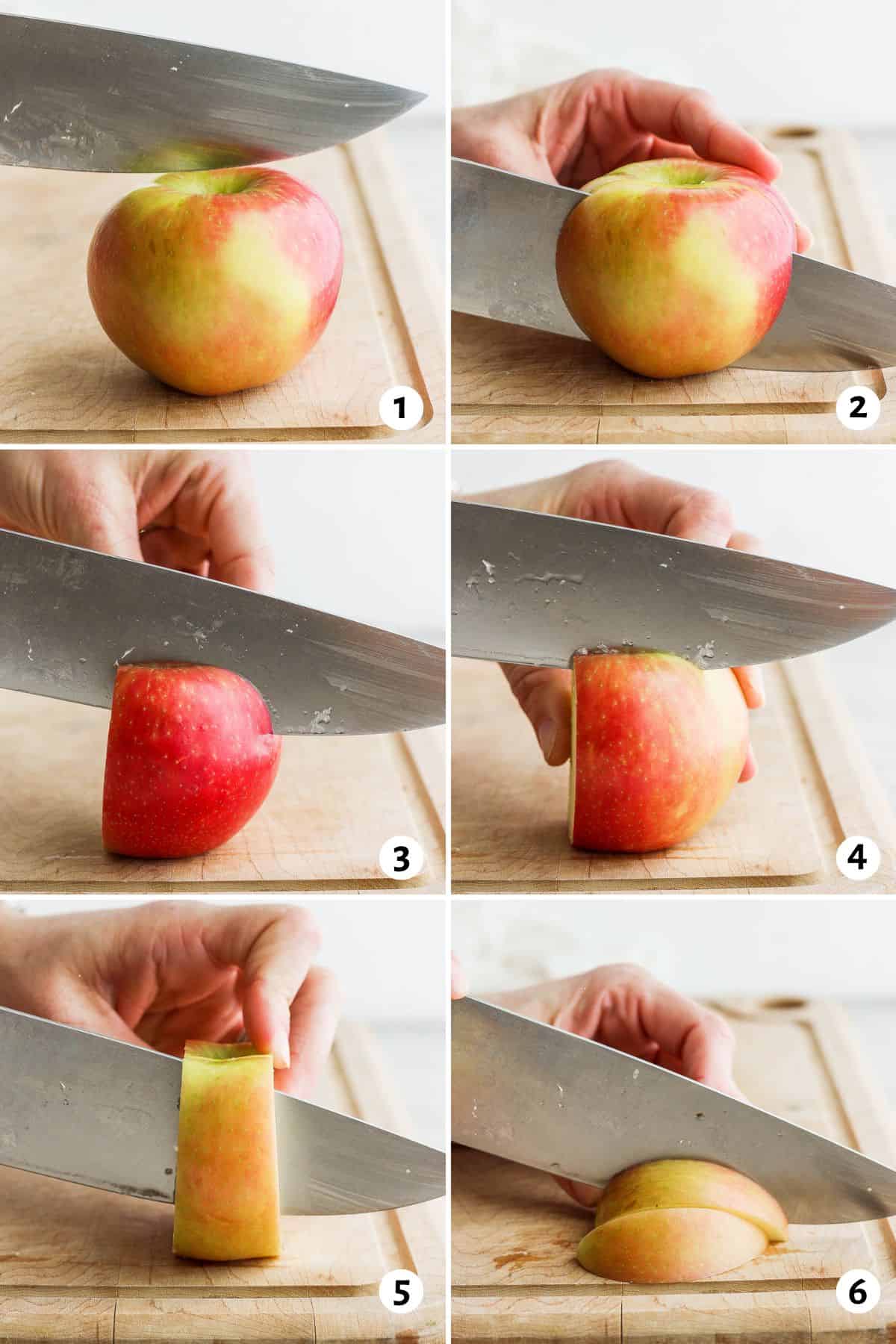 Use lemon Juice to preserve
Squeeze lemon juice over apple pieces.
Toss the apple slices in the lemon juice to fully coat.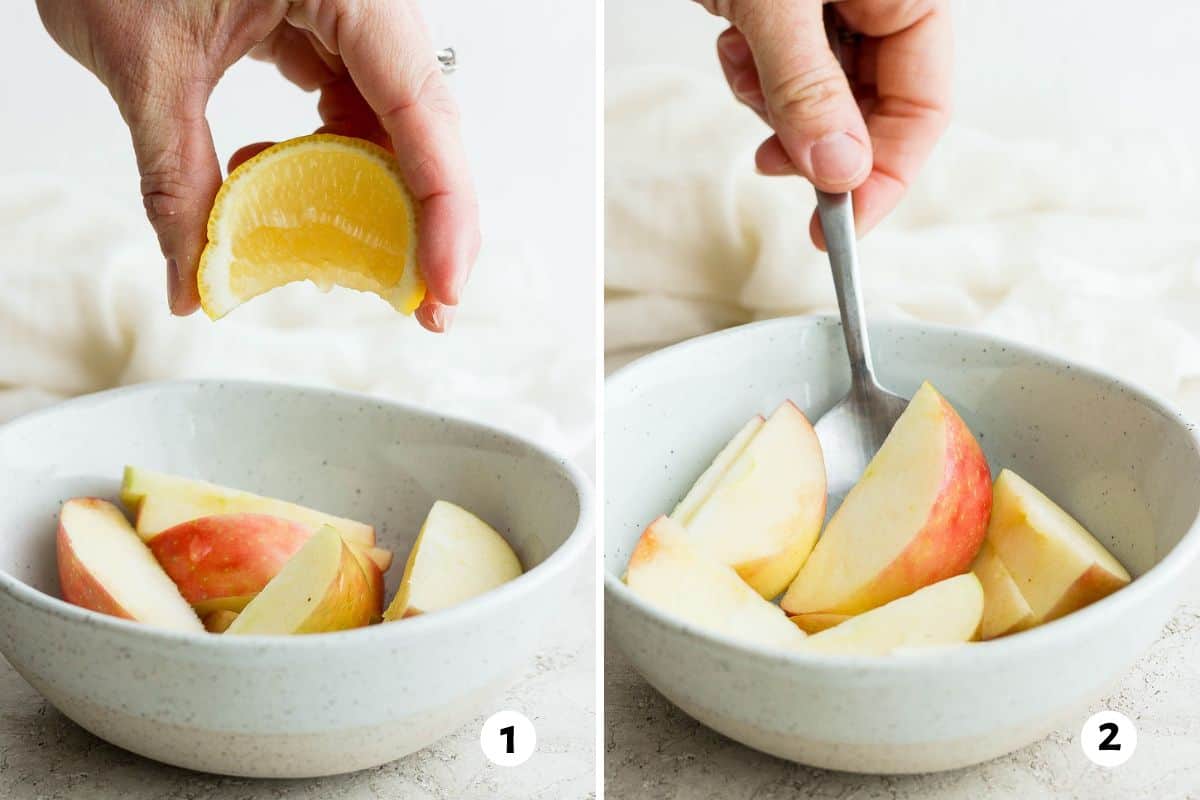 TIPS FOR cutting apples
Peel the apple. Use a vegetable peeler or a paring knife to remove the skin of the apple.
Cut into different size pieces. After cutting around the core with a knife, you can cut the pieces into different sizes. Slice thinly or thick, then rotate the slices and cut into either large or small cubes depending on the use or recipe they will be used.
Level the apple if needed. Sometimes the bottom of an apple can be uneven and make it difficult or awkward to cut. To fix this, trim off a thin piece from the bottom to create an even surface to place on the cutting board before cutting.
Use a rubber band to help reduce browning. That's right, a rubber band! After you've sliced your apple, put all the pieces back together around the core like a puzzle. Secure the rubber band around the outside to keep the pieces together. This helps reduce the oxygen exposure and slow down browning significantly. Perfect for lunch boxes!
recipes with apples
HOW TO STORE cut apples
To store apples after being cut, toss in lemon juice and place them in an air-tight container or sealable bag in the refrigerator.
HOW LONG WILL cut apples LAST IN THE FRIDGE?
Cut apples will last 3-5 days when stored in the refrigerator.
CAN I FREEZE cut apples?
Yes! This is a fantastic way to store apples and can last for months in the freezer. To freeze, lay the apple slices on a baking sheet lined with wax paper, making sure they do not touch and place them in the freezer. Then, once they are frozen, transfer them to a freezer-friendly bag or container.
FREQUENTLY ASKED QUESTIONS
How do you prevent cut apples from turning brown?
Prevent apples from browning by tossing in lemon juice right after cutting. They should also be stored in an air-tight container to reduce the exposure to air after the apple has been cut. If you are cutting a lot of apples at once, you can place them in water with either a small amount of salt or lemon juice. Drain and use immediately or follow the lemon juice method.
Can apples be cut ahead of time?
Yes, cutting apples ahead of time is easy, and when stored properly, you can have apples ready when needed by refrigerating or freezing cut apple pieces.
Should I peel the skin from apples?
This is certainly a preference, but the skin on apples is superior in health benefits. There's an abundance of vitamins, insoluble fiber, potassium, and calcium in just the skin of an apple that is beneficial to overall health. But, if you prefer, then the skin can be peeled before cutting. Some recipes may also call for this step.
Cutting apples is so easy, and with these tips, you'll find new ways to use them up and store them. Whether you use sliced apples for baking, snacking, lunch box, or meal prep, you're now ready to take them on without the help of an apple cutter.
MORE fruit cutting tutorials:
If you found this tutorial for How to Cut an Apple helpful or if you try any recipe on Feel Good Foodie, then don't forget to rate the recipe and leave a comment below! It helps others who are thinking of trying out this tutorial and we would love to hear about your experience. And if you snapped some shots, share it on Instagram so we can repost on Stories!
How to Cut an Apple
Learn how to cut an apple into slices with an everyday kitchen knife! Plus, helpful tips on how to store apples and keep them from browning.
Ingredients
1

apple

lemon juice

optional
Instructions
Place an apple on a cutting board upright with the stem facing up.

Place a sharp knife about ¼-inch away from the stem in either direction, and make a cut all the way down, making sure to avoid the core.

Turn the apple a quarter turn and make another cut about ¼-inch away from the stem. Repeat the process until you have four apple pieces. Discard the core.

Place the apple pieces cut side down and make slices thin or thick slices as desired.

Enjoy apple slices immediately or drizzle with lemon juice to store and enjoy later.
Notes
Tip: Use a rubber band or lemon juice to help keep your apple slices from browning. 
Nutrition
Calories:
95
kcal
,
Carbohydrates:
25
g
,
Protein:
0.5
g
,
Fat:
0.3
g
,
Saturated Fat:
0.1
g
,
Polyunsaturated Fat:
0.1
g
,
Monounsaturated Fat:
0.01
g
,
Sodium:
2
mg
,
Potassium:
195
mg
,
Fiber:
4
g
,
Sugar:
19
g
,
Vitamin A:
98
IU
,
Vitamin C:
8
mg
,
Calcium:
11
mg
,
Iron:
0.2
mg
Nutrition information provided is an estimate. It will vary based on cooking method and specific ingredients used.