This post may contain affiliate links. Please read our disclosure policy.
Learn how to cut dragon fruit into slices, wedges, and cubes with this easy step-by-step guide. This fruit is mildly sweet, full of healthy benefits, and perfect for adding to fruit salads, smoothies, yogurt, and fresh salads. It may seem intimidating, but cutting dragon fruit is easy to master! The pulp is scooped out and used in various recipes like smoothies and salads.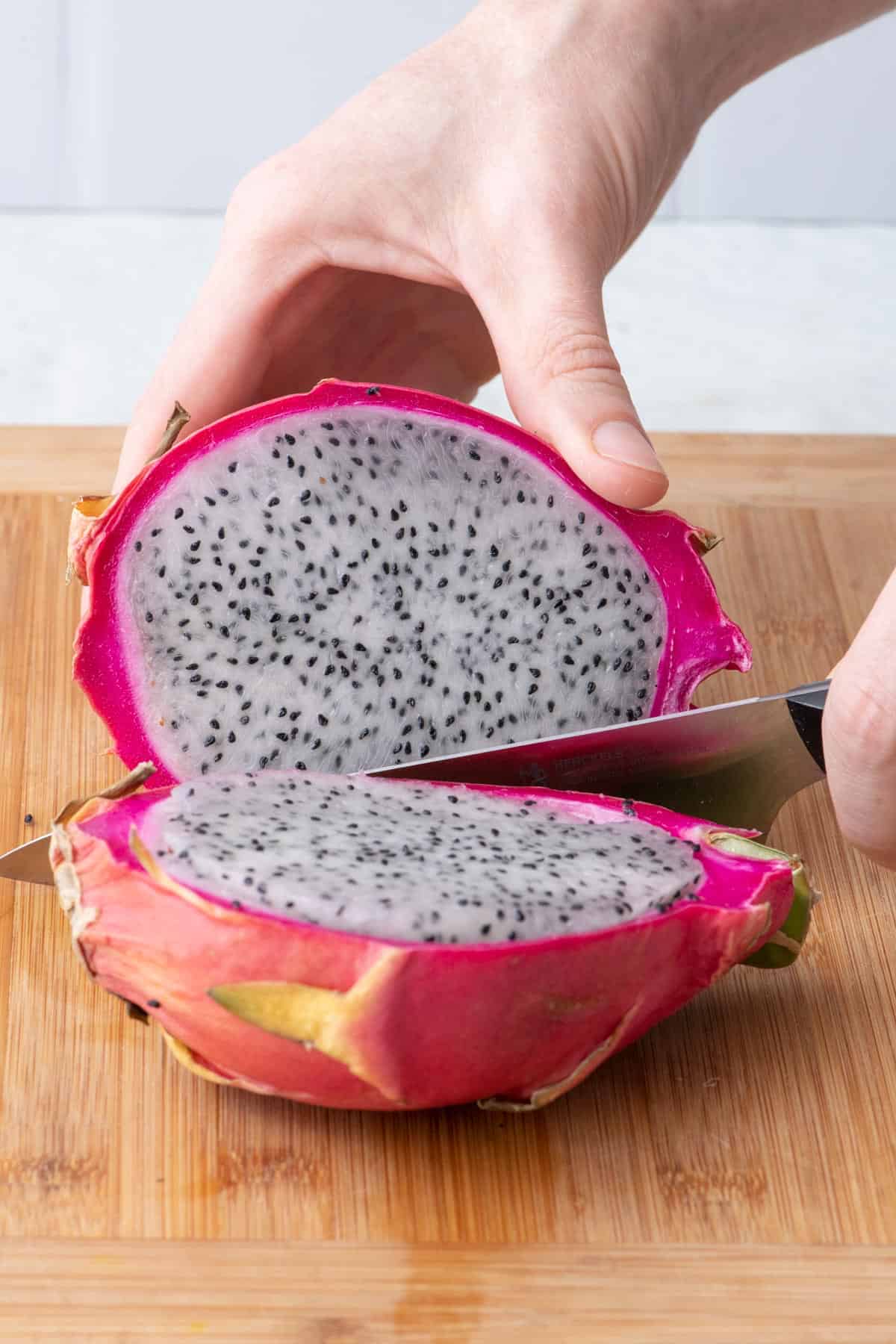 What is Dragon Fruit?
Dragon fruit grows on a blooming cactus plant and can be found year-round, native to Central America and Southern Mexico. It is also known as pitaya. This fruit is known for its bright pinkish-red skin and bright white pulp that is speckled with black seeds. Ripe dragon fruit is slightly sweet and tastes similar to a kiwi and pear combined.
WHY learn to cut dragon fruit
Discover different cuts and recipes to use it in. Dragon fruit may be intimidating at first glance, but once you see how easy it is to cut you'll find more and more reasons to use it in a variety of recipes.
Save money. You can buy dragon fruit that's already been cut, but it's actually cheaper to buy it whole like any fruit and cut it at home.
It's a healthy addition to your fruit options. Dragon fruit has some pretty magical health benefits like easing inflammation, giving a boost to your immune system, and helping with digestion.
HOW TO cut dragon fruit
Cutting dragon fruit is pretty simple and only takes a few steps. Here are the steps to removing the skin and 3 different ways to cut dragon fruit.
How to Remove Flesh from Dragon Fruit
Place the dragon fruit on a cutting board on its side and slice it in half lengthwise.
You will have two halves ready for scooping.
Use a large spoon to press down the inside edge into the flesh and scoop out the entire inside in one piece from each half.
Now that you have removed the flesh from the skin, you can cut it into any shapes and sizes.
How to cut Dragon Fruit into thin Slices
Turn the fruit cut side down and use a sharp knife to slice thin slices crosswise.
Continue to slice all the way from the top to the bottom of each half.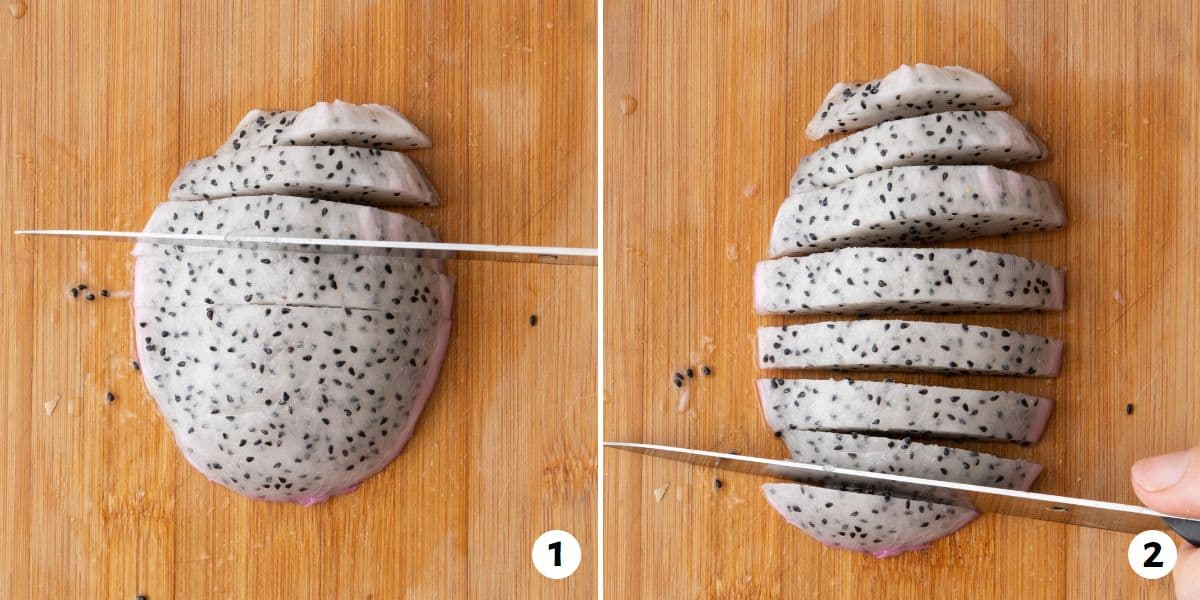 Cut dragon fruit into Wedges
With the fruit cut side down on a cutting board, cut wide slices around the curvature of the scooped-out flesh from top to bottom.
Cut wedges through to each side, about 4 thick slices per half.
Bite-sized Cubes
After cutting into wedges, run the knife crosswise into cubes.
Cut through about 4 times for even large chunks.
TIPS FOR cutting dragon fruit
Choose the shape depending on the recipe. Cubes are perfect for salads and adding to drinks and slices are great for topping an acai bowl.
Use a sharp knife. For a clean, no-fuss cut, make sure to use a straight-edge sharp knife like a chef's knife.
Choose a ripe dragon fruit. For the best flavor and texture, the fruit should be ripe because unripe dragon fruit is basically tasteless. Ripe dragon fruit has bright pink and smooth skin. You can test this much like an avocado by pressing it into the skin with your thumb. If the skin gives then it should be ripe. If it feels mushy, it's probably overripe.
Reserve the shell for plating. If you're displaying the dragon fruit chunks on a table spread then you can use the shell to hold them for a fun, brightly colored dish.
Freeze dragon fruit. Freeze pieces to add to smoothie packs and other recipes.
ways to use dragon
recipes to make with dragon fruit
HOW TO STORE Cut Dragon Fruit
Store dragon fruit after cutting in an airtight container in the fridge.
HOW LONG WILL Cut Dragon fruit LAST IN THE FRIDGE?
Dragon fruit will last in the fridge for up to 3 days.
CAN I FREEZE Dragon Fruit?
After cutting dragon fruit, it's best to enjoy it right away but you can freeze pieces for up to 1 month. Frozen dragon fruit is best used in smoothies because it adds a thick creamy texture. To freeze, lay cut pieces on a baking sheet lined with parchment paper and place in the freezer until solid. Then, transfer to a zip-top bag or container.
FREQUENTLY ASKED QUESTIONS
What does dragon fruit taste like?
Most say that it tastes like a combination of pear, kiwi, and sometimes watermelon combined with a very mild sweetness. This flavor only shines through when ripe, otherwise, it can be pretty tasteless.
Should dragon fruit be refrigerated?
If uncut, dragon fruit does not need refrigeration, but once cut it should be stored in a sealed container and eaten within a few days. It will start to soften and brown the longer it sits after cutting.
Do you eat the skin of dragon fruit?
It can be eaten if thoroughly washed and is better if cooked, but then the skin is leathery and requires a few extra steps to make it worth eating. This guide for eating dragon fruit skin elaborates more on preparing it for recipes.
This guide for cutting dragon fruit in 3 different ways is a quick and easy way to enjoy a new fruit in smoothies, salads, and even more recipes. It's healthy and unique with fantastic texture and mildly sweet flavor.
MORE fruit cutting tutorials:
If you found this tutorial for How to Cut Dragon Fruit helpful or if you try any recipe on Feel Good Foodie, then don't forget to rate the recipe and leave a comment below! It helps others who are thinking of trying out this tutorial and we would love to hear about your experience. And if you snapped some shots, share it on Instagram so we can repost on Stories!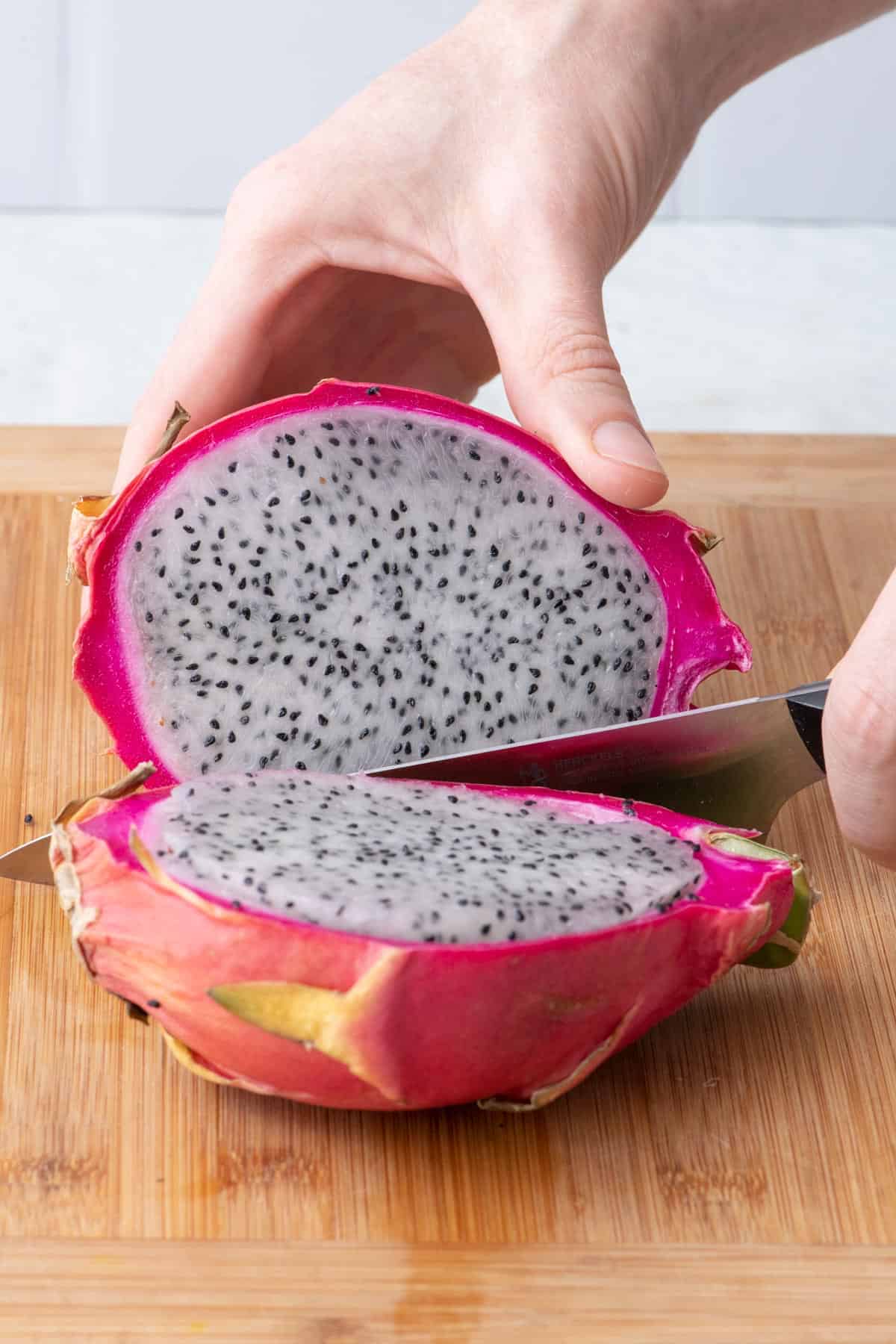 How to Cut Dragon Fruit
This easy step-by-step guide teaches how to cut dragon fruit into slices, wedges, and cubes, perfect for salads, smoothies, and yogurt.
Instructions
Lay the dragon fruit on its side on a cutting board. Using a sharp knife, slice the dragon fruit in half lengthwise.

Use a large spoon to carefully scoop out the flesh into two large halves. Discard the dragon fruit skin.

Cut into desired shapes and sizes. These are my favorite three cuts:

Thin slices: Turn the dragon fruit cut side down, then cut thin slices crosswise from the top to the bottom.

Wedges: Turn the dragon fruit cut side down, then cut wide slices around the curvature of the dragon fruit in the opposite direction as the top and bottom of the fruit.

Bite Sized Cubes: Follow the steps for cutting the dragon fruit into wedges and then cut each wedge into bite-sized chunks.
Nutrition
Calories:
60
kcal
,
Carbohydrates:
9
g
,
Fat:
2
g
,
Sodium:
60
mg
,
Fiber:
1
g
,
Sugar:
8
g
,
Iron:
1
mg
Nutrition information provided is an estimate. It will vary based on cooking method and specific ingredients used.