This post may contain affiliate links. Please read our disclosure policy.
Check out the most beautiful pink-hued beet hummus ever – I'm obsessed with the color!

This beetroot hummus is definitely not an ordinary hummus recipe – it's a fun twist on a classic Middle Eastern spread that everyone loves. Whether you're hosting a party, prepping your weekly meals, or just looking for a quick, healthy snack, this beet hummus is sure to impress.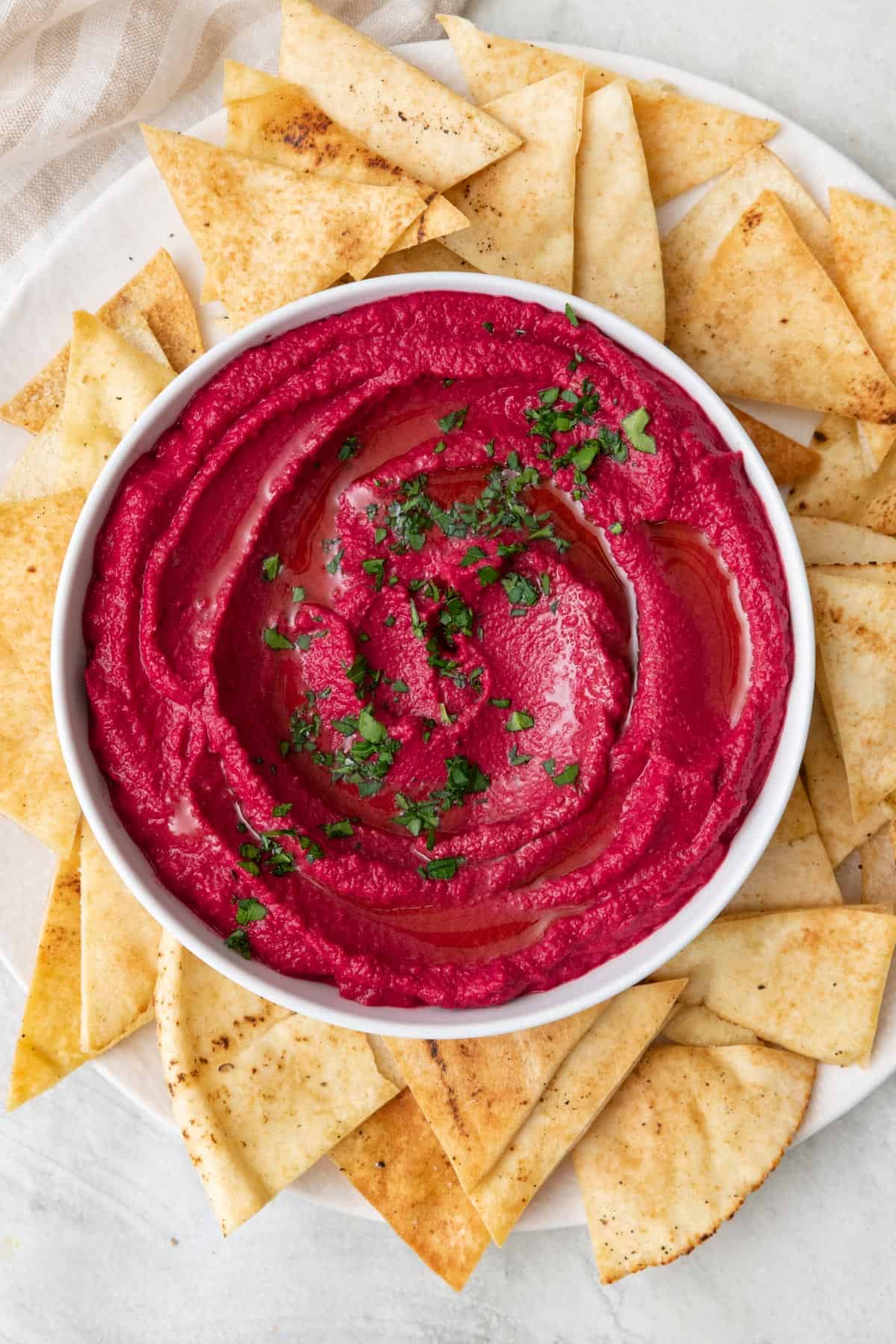 Table of Contents
The best part is that this beet hummus recipe is super easy to make and requires just a handful of simple ingredients. In fact, most of the magic happens in the food processor, which does all the heavy lifting for you. The addition of roasted beet gives this hummus a beautiful pink color and an earthy sweetness that pairs perfectly with the creaminess of the chickpeas and the tang of lemon juice. So, if you're ready to try a new twist on hummus, grab a roasted beet and let's dive in!
Why you'll love this Beetroot Hummus Recipe
Nutrient-Rich: Beets are a fantastic source of fiber, folate, and vitamin C. Combine that with protein-packed chickpeas and you have a seriously nutritious snack.
Batch Cooking: This hummus recipe can be made in larger batches and portioned for future use, offering a quick snack or meal addition whenever you need it.
Sandwich Spread: Not only is this perfect as a dip for pita chips, but it can reinvent your sandwiches and wraps for a more vibrant, tasty lunch.
Fun Activity: Making beet hummus can be a fun kitchen activity to do with kids or friends, especially when it comes to seeing the transformation of colors.
Ingredients to make Beet Hummus
Roasted Beet: Gives the hummus its unique color and earthy flavor.
Chickpeas: Canned from the base, adding texture and a good amount of protein.
Lemon Juice: To bring a touch of acidity and brightness.
Tahini: This sesame paste adds a rich, nutty flavor that's a staple in traditional hummus.
Garlic Cloves: For that indispensable punch of flavor.
Salt: To bring out and enhance all the flavors.
Ice Cubes: They help achieve a super smooth and creamy texture when blending.
Extra Virgin Olive Oil: For drizzling over the top before serving to add a final touch of richness.
Fresh Parsley: A fresh and colorful garnish for serving.
Arabic Style Pita Chips: The perfect crunchy companion for scooping up this delicious beet hummus.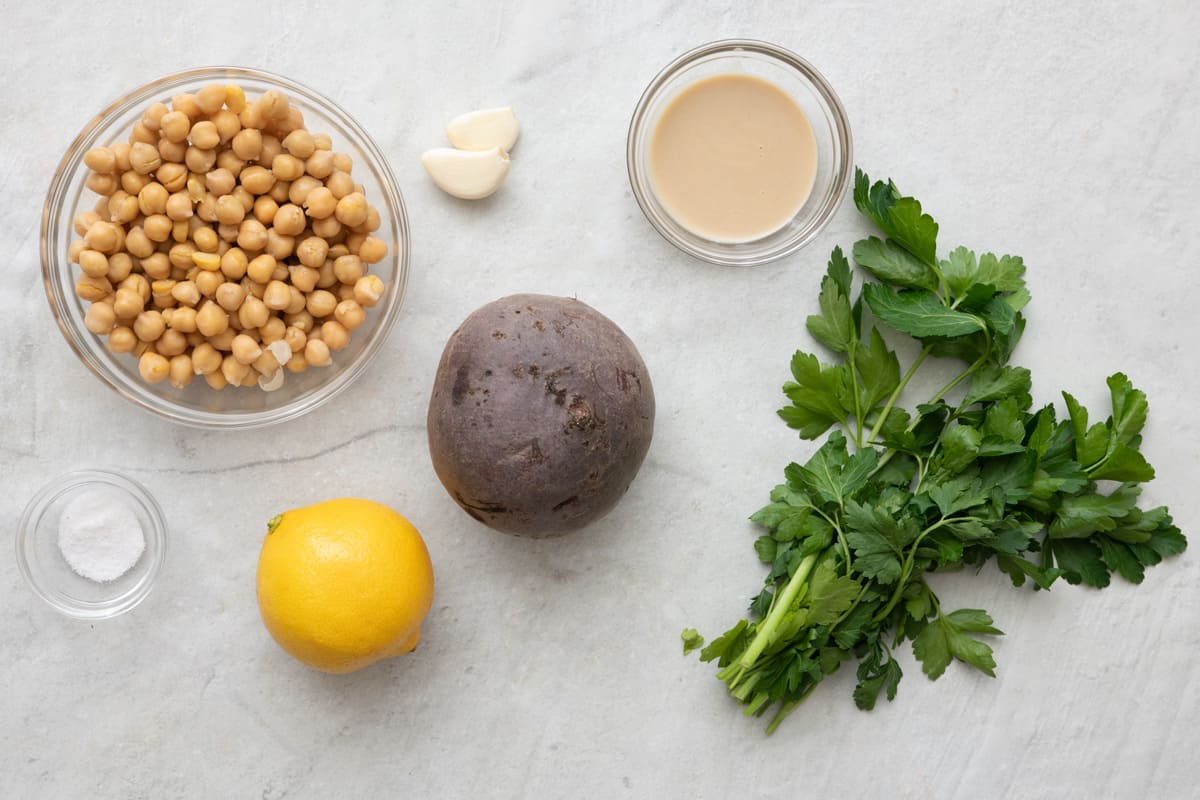 How to make Hummus with beets
Peel the roasted beet and place it in the food processor.
Process to roughly chop the beets.
Add the chickpeas, lemon juice, tahini, garlic, salt, and ice cubes.
Blend until the mixture is smooth with a bright pink color, 3- 5 minutes.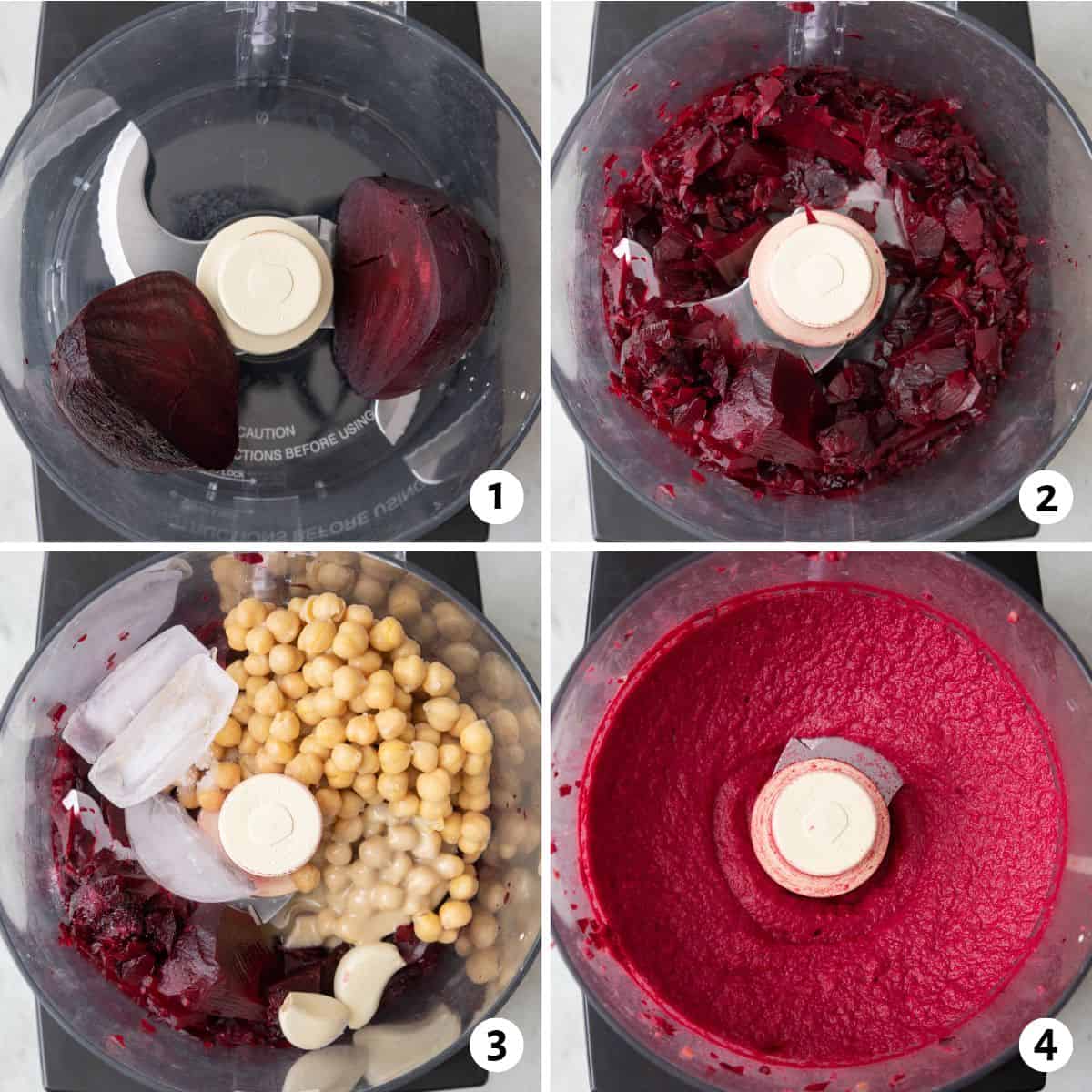 Tips for making the best [secondary kw]
Don't skip the ice cubes. When you blend ice cubes with the mixture in the food processor, it lightens up the color of the beets and creates an ice-cream-like texture. I learned this trick from my dad, who makes the best hummus.
Cook your own chickpeas instead of using canned ones. While I love the convenience of making this quick dip with canned chickpeas, cooking dried chickpeas on the stovetop or instant pot creates the best hummus texture.
Allow the dip to set for the best texture. Leave it in the fridge for at least an hour, and the fat from the tahini will help to solidify the dip and thicken it.
Peel the chickpeas. If you want a smooth, creamy texture peeling the chickpeas is the best way to get it. It can be a tedious process, but if you soak the chickpeas in a baking soda bath! Soak in warm water and 1.5 teaspoons baking soda. It takes about 5 minutes and creates the best texture!
Popular substitutions & additions
Add lemon zest. You can add it in addition to the lemon juice for an extra lemony dip (my fave!) or use it instead of the lemon juice to decrease the liquid in the dip since beets add more moisture to the dip as compared to regular hummus.
Blend in basil or cilantro. If you just throw a couple of leaves into the food processor, it shouldn't affect the color of the beets shining through, and it really gives it so much flavor!
Other Legumes: You could use other legumes, such as white beans or lentils, instead of chickpeas.
Seeds: A sprinkle of sesame seeds or pepitas on top can add a nice crunch.
Avocado: For a creamier twist, try adding a ripe avocado into the mix.
Spices: You could add spices such as cumin or smoked paprika to add a little heat and complexity to the hummus.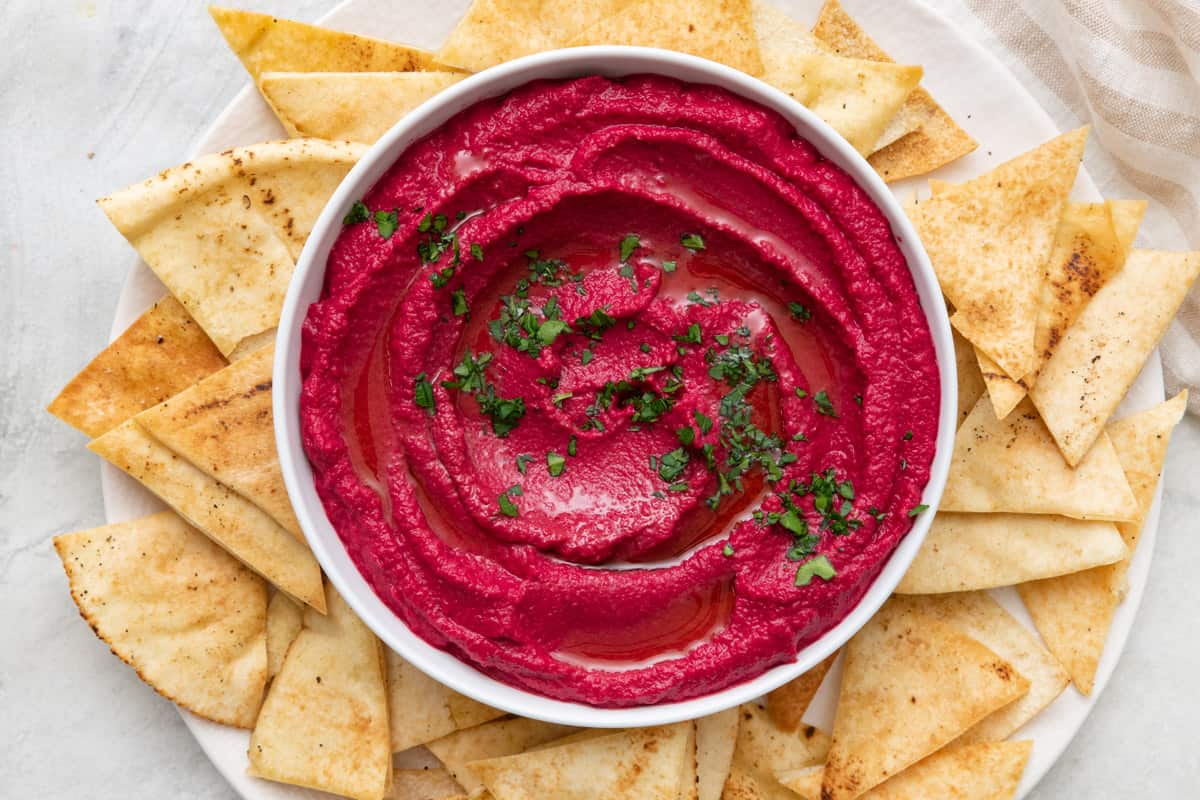 How to serve beetroot hummus
How to Store
Beet hummus is best stored in an airtight container in the refrigerator.
How Long Will Beet Hummus Last in the Fridge?
When properly stored in the fridge, beet hummus can last up to 5-7 days. Always check for any signs of spoilage before consuming.
Can I Freeze Beet Hummus?
Yes, you can freeze it. To do so, place it in an airtight, freezer-safe container, leaving some space at the top as the hummus will expand as it freezes. It can be stored in the freezer for up to 3 months. To thaw, simply place it in the refrigerator overnight. It's worth noting that the texture might change slightly upon thawing but it will still be delicious.
Frequently asked questions
Can I use canned beets instead of roasting fresh beets for the beet hummus?
Yes, you can use canned beets if fresh beets are not available. However, you may need to adjust the taste as canned beets are often preserved with added salt and/or sugar.
What can I use as a substitute for tahini in this recipe?
If you don't have tahini on hand, you can use other nut butters like almond or cashew butter as a substitute. Alternatively, you can make your own tahini at home with sesame seeds and oil.
I don't have a food processor, can I use a blender?
Absolutely! You can certainly use a blender to make beet hummus. Just ensure you blend all the ingredients until you reach a smooth consistency. You may need to pause and scrape down the sides a few times to get all the ingredients well blended.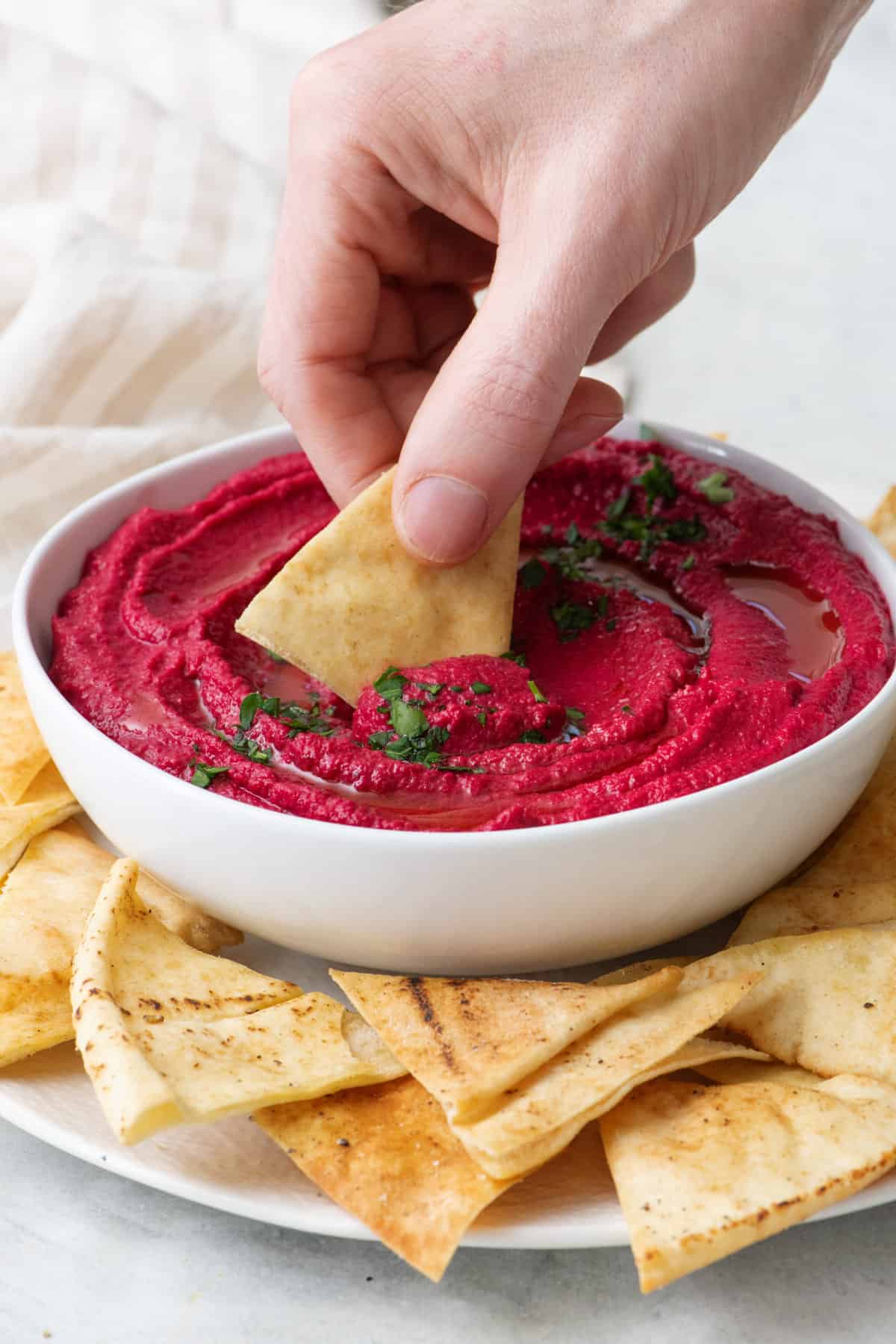 This Beet Hummus is a truly unique and so good! It's an eye-catching and flavorful twist on a classic that's perfect for gatherings or just as a part of your regular snack rotation. Plus, it's a sneaky way to add in some extra veggies!
More hummus recipes:
If you try this feel good Beet Hummus recipe or any other recipe on Feel Good Foodie, then don't forget to rate the recipe and leave a comment below! It helps others who are thinking of making the recipe. We would love to hear about your experience making it. And if you snapped some shots, share it on Instagram so we can repost on Stories!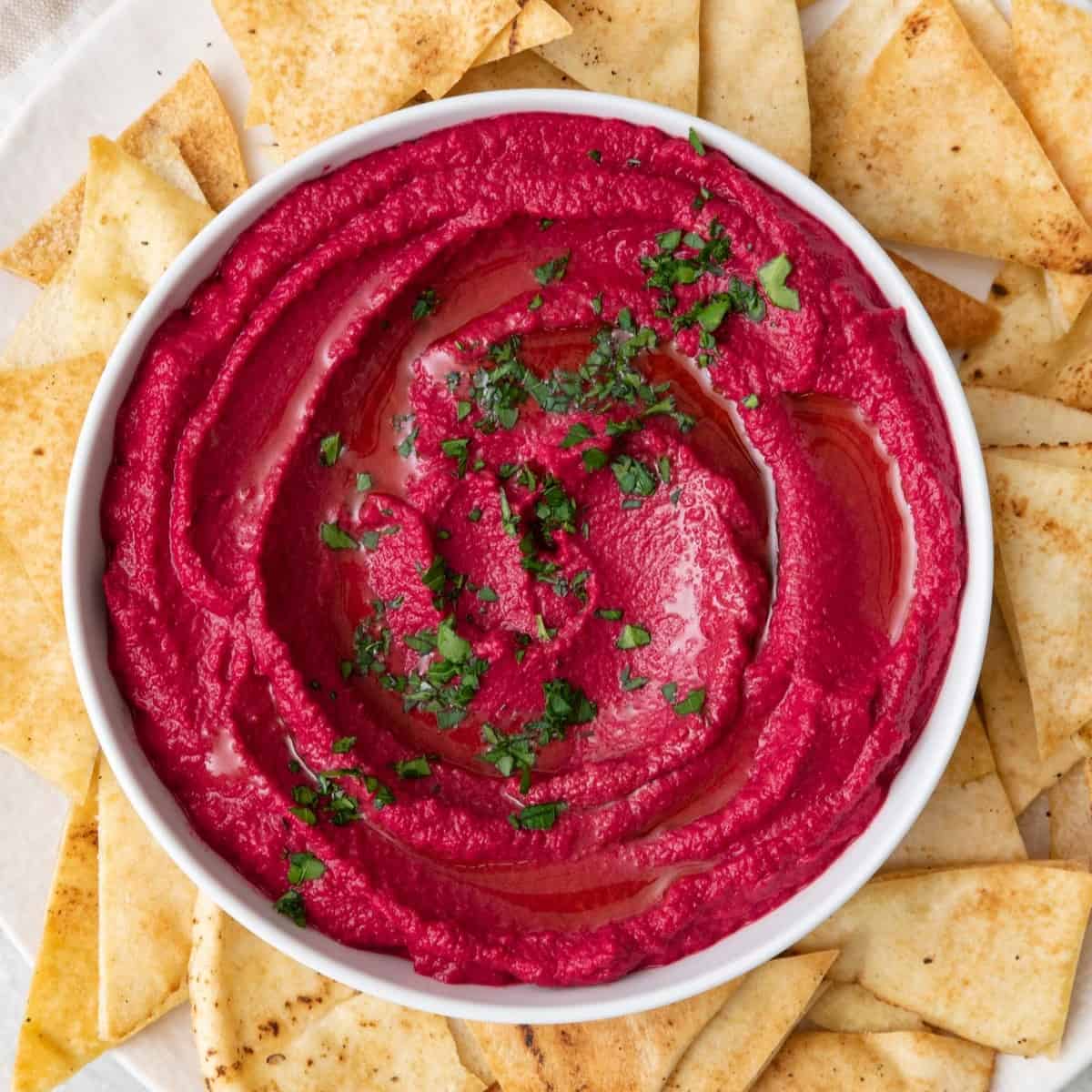 Beet Hummus
This roasted beet hummus is pink, delicious, and fun to eat! Pair it with pita chips and veggies for a snack or appetizer! A perfect way to use up beetroot!
Ingredients
1

medium

roasted beet

cooled

1

15-ounce

can chickpeas

rinsed and drained

2

tablespoons

lemon juice

2

tablespoons

tahini

2

garlic cloves

½

teaspoon

salt

2-3

ice cubes

Extra virgin olive oil

for serving

Fresh parsley

for serving

Arabic style pita chips

for serving
Instructions
Peel the roasted beet and place in the food processor and process to roughly chop the beets.

Add the chickpeas, lemon juice, tahini, garlic, salt and ice cubes. Blend until the mixture is smooth with a bright pink color, 3- 5 minutes.

Serve at room temperature or cold with naan or your favorite dippers.
Equipment
Nutrition
Calories:
166
kcal
,
Carbohydrates:
22
g
,
Protein:
8
g
,
Fat:
6
g
,
Saturated Fat:
1
g
,
Polyunsaturated Fat:
3
g
,
Monounsaturated Fat:
2
g
,
Sodium:
642
mg
,
Potassium:
349
mg
,
Fiber:
7
g
,
Sugar:
3
g
,
Vitamin A:
37
IU
,
Vitamin C:
6
mg
,
Calcium:
61
mg
,
Iron:
2
mg
Nutrition information provided is an estimate. It will vary based on cooking method and specific ingredients used.