This post may contain affiliate links. Please read our disclosure policy.
This Chocolate Chia Pudding is a must-try recipe for anyone who loves chocolate. It brings together the decadence of chocolate with the health benefits of chia seeds for a quick energy boost that's both satisfying and nutritious. If you're looking for a Chocolate chia seed pudding made with a perfect ratio of milk to cocoa powder, maple syrup, and vanilla, this is it.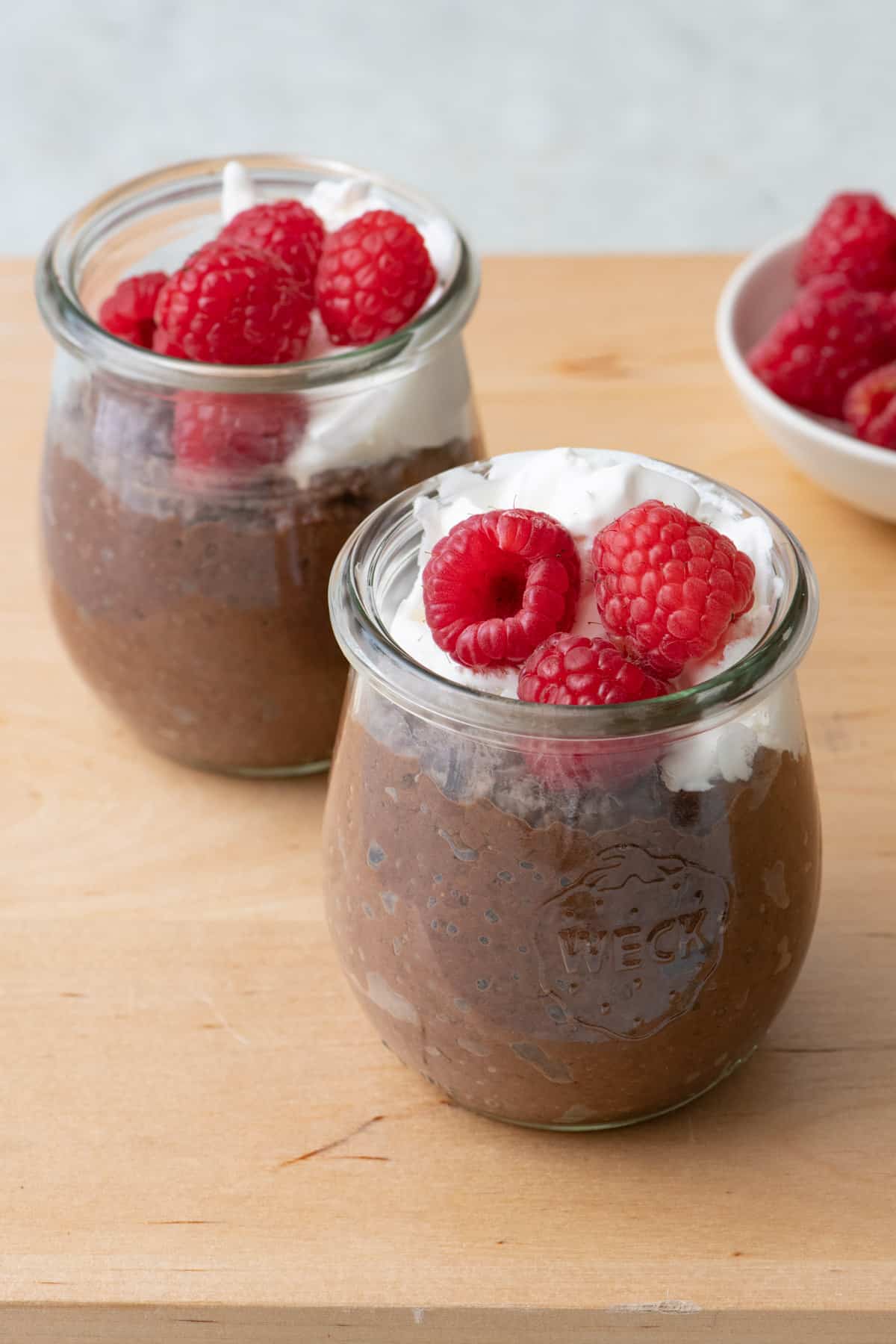 Table of Contents
Ditch store-bought pudding and make this chocolate chia pudding instead. Chia seeds are full of fiber, so they will help you feel fuller longer while adding omega-3 fatty acids to your day! If you love my 3-ingredient Chia Pudding, you will love this easy, rich, chocolatey version. It always hits the spot!
Why you'll love this chocolate chia pudding recipe
Delicious way to eat chia seeds. I love a good chia jello and chia fresca, but there is something about chocolate that just makes chia seeds extra delicious. It no longer becomes an "I need to get in a serving of chia seeds today" type of feeling but an "I can NOT WAIT to eat chia seeds today" type of feeling.
Versatile serving options. You can make a large batch and grab some when you want or divvy it into individual containers for prepared portions for ease and convenience.
Made with simple and wholesome ingredients. This chocolate chia pudding recipe checks off all the boxes for a delicious, healthier treat. Made with maple syrup and nut milk, this recipe is gluten-free, dairy-free, paleo, and vegan.
What are the health benefits of chia seeds
Chia seeds are a superfood because they are loaded with nutrients and have scientifically proven health benefits. Here are the key benefits:
Loaded with antioxidants. It's an essential part of any healthy diet.
Good source of high-quality protein. Chia seeds have more than most plant-based foods, so you'll feel satiated longer.
High in good fats. That includes omega-3 fatty acids, more than even salmon!
Made largely of fiber. In fact, almost all the carbs in chia seeds are fiber, which may help to keep things moving smoothly and promote regularity. Who knew indulging in chocolate chia pudding could help support healthy digestion?
Ingredients You'll Need To Make Chocolate Chia Pudding
Chia seeds: The star ingredient, chia seeds, have the unique ability to absorb liquid and create a gel-like texture, which gives pudding its creamy consistency.
Milk of choice: I like using coconut milk for this recipe because it adds a rich and creamy texture but feel free to use your favorite milk of choice, such as cashew or almond milk.
Cocoa powder: Adds that chocolatey goodness to the pudding, making it a satisfying and rich dessert.
Maple syrup: Use your favorite liquid sweetener for a touch of sweetness. I find that maple syrup pairs well with the chocolate but raw honey or agave syrup are great options too.
Vanilla extract: Adds a deep vanilla flavor to the pudding which really complements the chocolate.
How do you make chocolate chia pudding
This is based on an older recipe I made, but I adjusted some measurements to double the recipe. And I realized that doubling the recipe in a bowl required less liquid. You can play around with the ratio that makes sense for you. After a few tries, I think I landed on the perfect balance.
Add coconut milk, chia seeds, maple syrup, cocoa powder, and vanilla extract to a medium bowl or storage container.
Whisk vigorously to combine well, making sure to incorporate any cocoa powder sticking to the sides and bottom of the bowl.
Cover the chia pudding and refrigerate until thick and creamy.
Give it a good stir and divide it into individual servings.
Tips for making the best chocolate chia pudding
Adjust the ratios to suit your preferences. I like to have a thicker chia seed pudding, so I use a ratio of 1:4 chia seeds to milk. But if you prefer a thinner version, use fewer chia seeds and adjust accordingly.
Stir multiple times. It's not enough to just stir the chocolate chia pudding once and then set it in the fridge. I recommend stirring it well, then letting it sit for 5-10 minutes and stirring it again, making sure there are no clumps. And then, it's ready to be transferred to the fridge.
Use a blender to blend the mixture for a smoother consistency. I recommend this if you're not a fan of the tapioca-like texture of chia seed pudding. It's not necessary, but it will create a more creamy texture.
Freeze any leftover chia pudding. Did you know you can freeze chia pudding and thaw it for a few hours or overnight in the fridge? Just make sure to freeze it in individual servings and use a freezer-safe ziplock bag or glass mason jar.
Popular substitutions & additions
Switch the Cocoa Powder for Cacao Powder. For a richer, dark chocolate taste, use cacao powder instead of Cocoa powder. Cacao powder is cold-pressed raw cacao beans making it extra rich and perfect for dark chocolate lovers. Cocoa powder is made by roasting cacao beans at high temperatures, yielding a milder flavor with slightly sweeter notes and a more familiar chocolate taste. The pudding is delicious either way – it's just a matter of preference!
Mix in fruit puree. Add a tablespoon or two of fruit compote, chia seed jam, or even pumpkin puree to enjoy this during the cold months. Fruit adds freshness and natural sweetness that complements the chocolate well.
Add nut butter. For a more balanced and satisfying treat, add your favorite nut butter, such as almond butter, peanut butter, or cashew butter. It also helps create an extra creamy and velvety texture.
Top with your favorite toppings. Some great options are whipped cream, fresh berries, sliced bananas, cacao nibs, crushed nuts and seeds, and shredded coconut. But don't stop there – the possibilities are endless!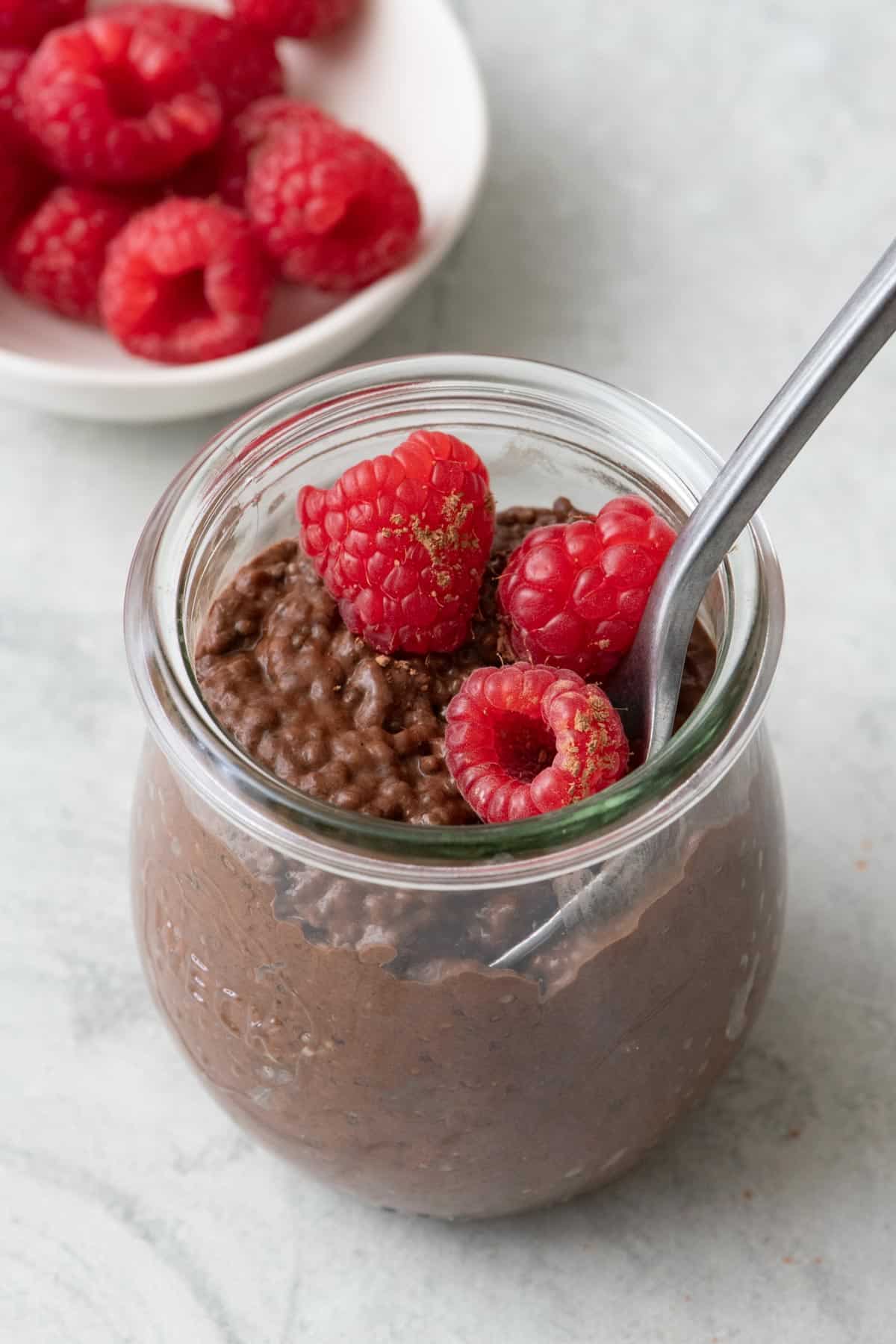 How to store Chocolate chia pudding
Store chocolate chia seed pudding in a closed mason jar or tulip jelly jar in the fridge.
How long will chocolate chia pudding last in the fridge?
Chia pudding is a perfect option for meal prep and make-ahead breakfasts because it can last up to 7 days. So you're welcome to make a big batch to savor it all week long. However, for best flavor, enjoy it within 5 days of mixing.
Can I freeze chocolate chia seed pudding?
Yes, chocolate coconut chia pudding freezes well. Portion into individual serving size airtight containers and freeze for up to 1 month. Thaw in the fridge overnight for a quick snack.
Frequently asked questions
Why didn't my chia seed pudding thicken?
Make sure you are using fresh chia seeds. Expired chia seeds do not expand or absorb as much liquid as fresh. To keep your chia seeds extra fresh, store them in the freezer.
How long does it take for chia seeds to absorb the milk?
Chia seeds typically take around 2-4 hours to absorb the liquid and achieve a pudding-like consistency fully. However, for the pudding to set firmly, I recommend overnight refrigeration.
Is the coconut taste overpowering in the chocolate chia pudding?
Chocolate chia pudding with coconut milk is a wonderful combination. The coconut milk is mild and complementary to the cocoa powder. However, if you prefer, use almond milk for a lighter pudding.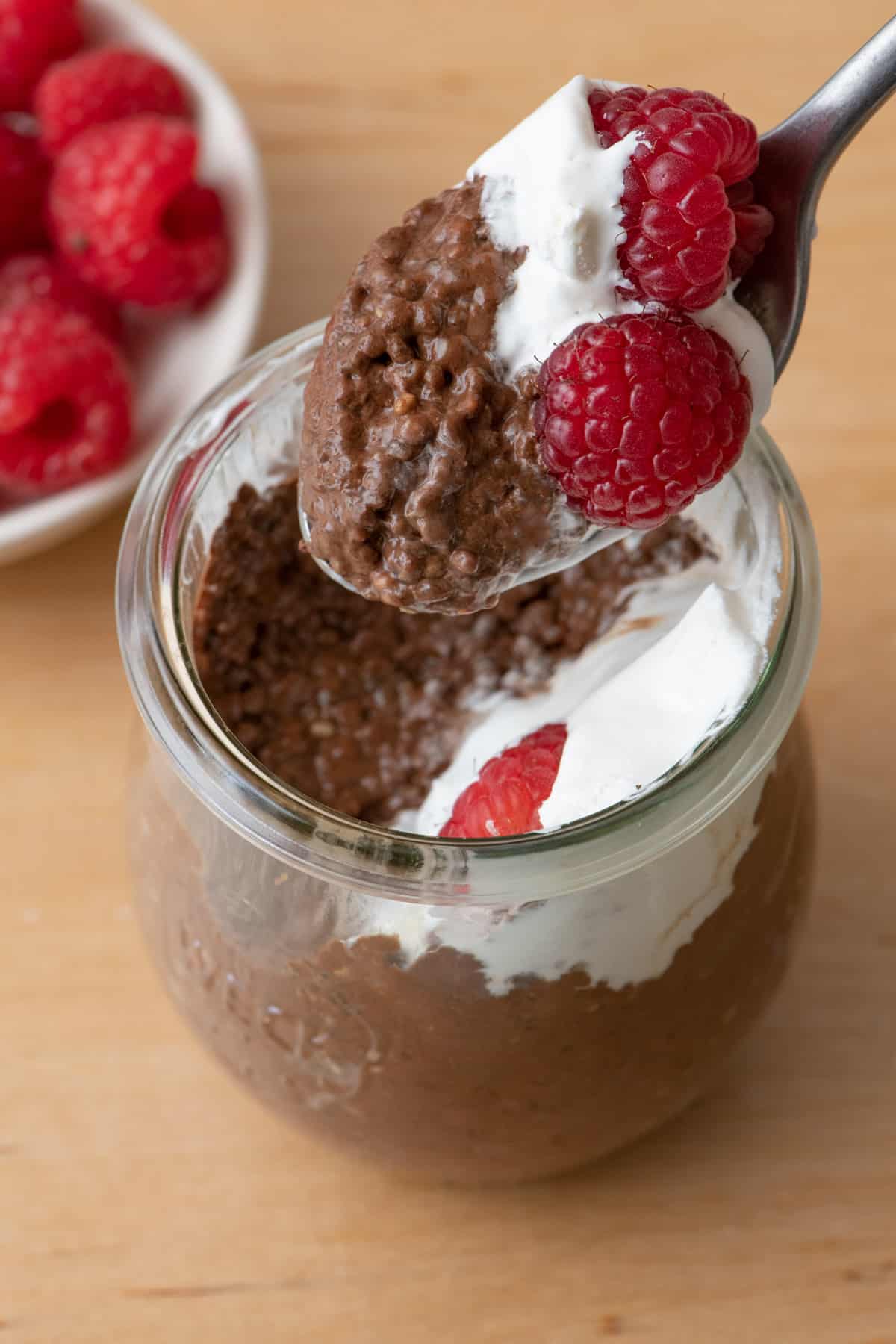 It's no secret that chia seeds have been a hit in the foodie spotlight for a while now, and for a good reason. Chocolate chia pudding can be a simple dessert after a meal or a satisfying snack in the middle of the day. And with just a few ingredients and simple preparation, you can enjoy this treat throughout the week.
More chia seed recipes
If you've tried this healthy-ish feel good Chocolate Chia Pudding recipe or any other recipe on FeelGoodFoodie, then don't forget to rate the recipe and leave me a comment below! It helps others who are thinking of making the recipe. We would love to hear about your experience making it. And if you snapped some shots, share it on Instagram so we can repost on Stories!
This Chocolate Chia Pudding recipe was originally published on December 7, 2017. The recipe has been slightly modified The post has been updated to include helpful cooking tips, frequently asked questions and step-by-step photos, but the recipe has not changed.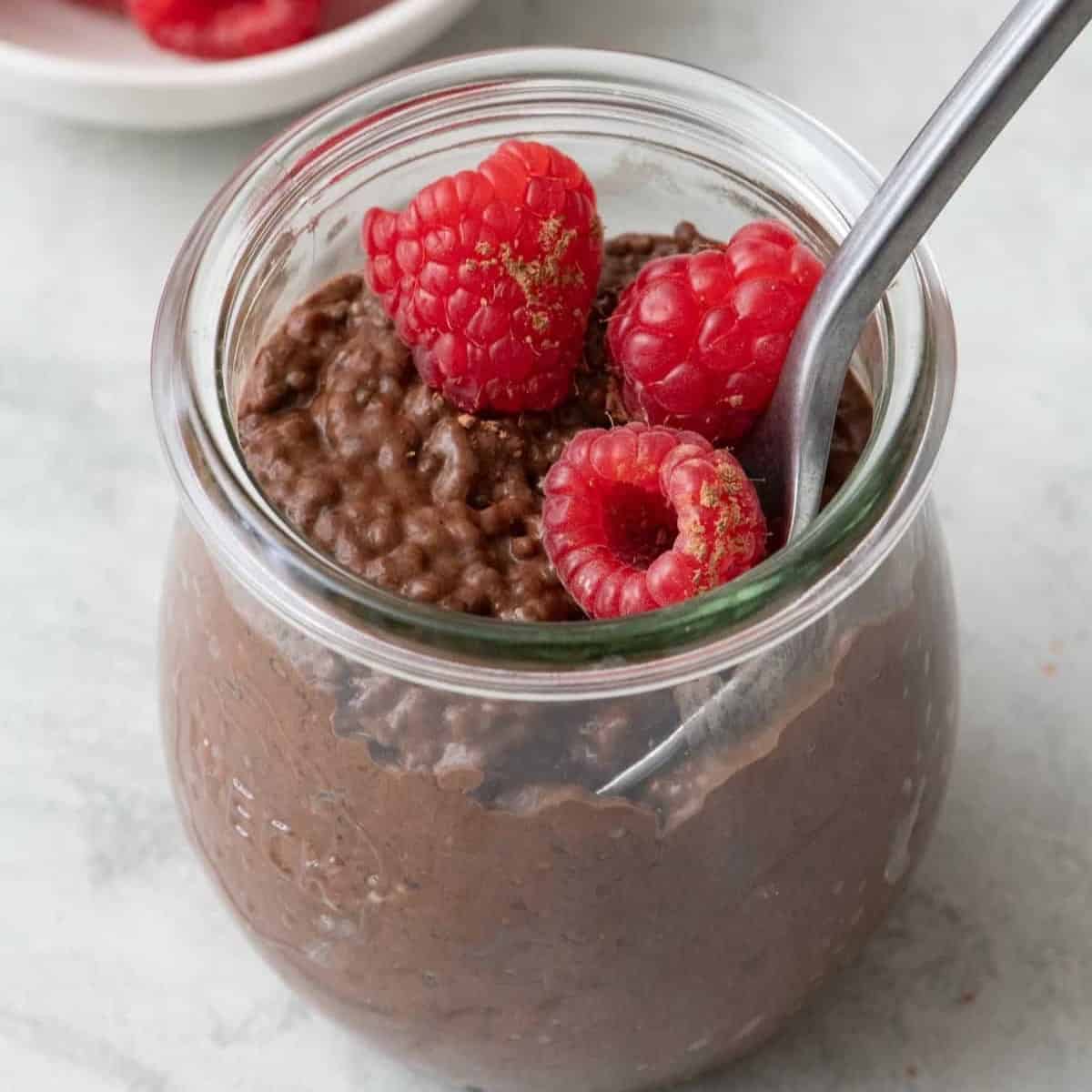 Chocolate Chia Pudding
Chocolate Chia Pudding is a healthy dessert made with chia seeds, milk, cocoa powder and maple syrup. It's a sweet, chocolatey and low-carb feel good treat!
Instructions
Vigorously whisk the milk, chia seeds, cocoa powder, maple syrup and vanilla extract in a medium bowl or storage container, being careful to incorporate any cocoa powder sticking to the sides and bottom.

Cover the chia pudding and refrigerate until thick and creamy, at least 4 hours, or preferably overnight.

Give it a good stir and divide into two servings. Enjoy with fresh coconut whip cream and berries, if desired.
Notes
Storage: Store any leftovers in an airtight container. They will last up to 7 days in the fridge but best within 5 days of mixing.
Freezer Instructions: Did you know you can freeze chia pudding? You can freeze it for up to 3 months in individual servings. Use freezer-safe ziplock bags or small mason jar containers. To thaw, just place in the fridge overnight.
Sourcing: You can find chia seeds at all major grocery stores, usually located with the grains or with oatmeal.
Substitutes: For best results, follow the recipe as is. However here are some common substitutes that would work well in this recipe.
Instead of coconut milk, you can use any other plant-based milk or regular milk.
Replace maple syrup with honey, agave syrup, granulated sugar or another sweetener or choice.
Product Reference: I use these mini tulip shaped jelly jars when I make chia pudding. The chia pudding fills up about half the jar, leaving room for toppings.
Nutrition
Calories:
268
kcal
,
Carbohydrates:
32
g
,
Protein:
6
g
,
Fat:
15
g
,
Saturated Fat:
8
g
,
Polyunsaturated Fat:
5
g
,
Monounsaturated Fat:
1
g
,
Trans Fat:
0.03
g
,
Sodium:
91
mg
,
Potassium:
296
mg
,
Fiber:
11
g
,
Sugar:
12
g
,
Vitamin A:
11
IU
,
Vitamin C:
0.3
mg
,
Calcium:
170
mg
,
Iron:
3
mg
Nutrition information provided is an estimate. It will vary based on cooking method and specific ingredients used.